With countless virtual assistant websites available in the market, finding the right one is like trying to find a unicorn. You know they exist but they're near impossible to find. And you can't just slap a horn on a regular horse and call it a day.
The right virtual assistant company can make all the difference in your business's success. They can help you stay organized, productive, and efficient so you can tackle big projects with ease. But choose the wrong virtual assistant website and you could end up with a virtual assistant who thinks "LOL" means "Lots of Lollipops." Not exactly what you had in mind, right?
Luckily, we've rounded up 16 of the best virtual assistant websites of 2023 so you don't have to go on a wild goose chase. We've evaluated each virtual assistant company based on its services, pricing, customer support, and overall user experience.
By the end of this article, you'll have a better understanding of which virtual assistant services offer what and which is the best fit for you and your business.
16 Best Websites Of 2023 To Hire Professional Virtual Assistants 
Our top 3 picks for best virtual assistant websites are:
Zirtual – Best overall 
VaVa Virtual Assistants – Future-focused virtual assistant website
Wishup – Most systematic approach
We'll now take a closer look at each of the websites and see what sets them apart.
1. Zirtual – Top Pick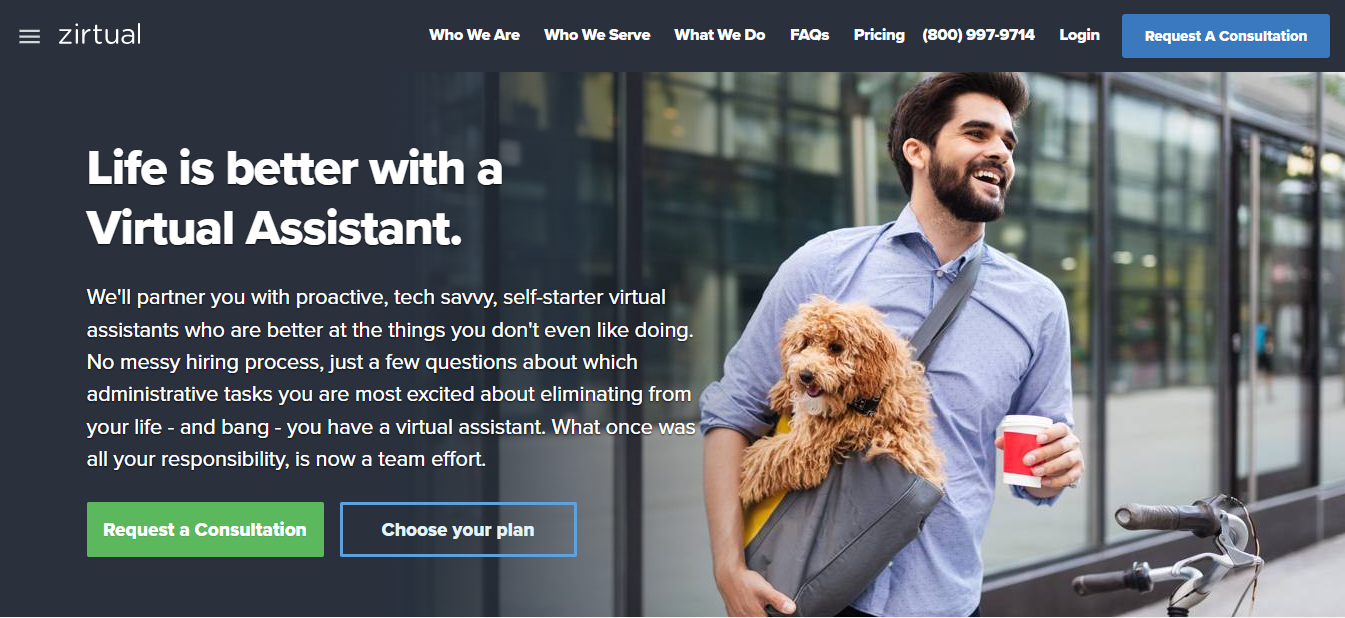 Zirtual is the best website for hiring a dedicated virtual assistant for busy entrepreneurs and high-powered executives. Our virtual assistants are based in the United States and are college-educated and they can save anywhere from 5 to 15 hours per week, giving you more time to focus on what you do best.
But what makes Zirtual truly unique is our commitment to providing a long-term solution with no contracts. Unlike other virtual assistant websites, Zirtual isn't just a short-term fix for a busy week or two. We're in it for the long haul, offering reliable, consistent support for all your needs, such as:
Data entry
Digital marketing
Administrative tasks
Personal assistant needs
Social media management
And when it comes to finding the right virtual assistant, we have a tough hiring process. Every virtual assistant undergoes a full background check and a series of interviews to ensure they're the right fit for the job. Plus, our account managers pair you up with the right virtual assistant based on your needs and preferences.
But Zirtual doesn't stop there. Once we've paired you up with a virtual assistant, we provide ongoing training to ensure they're equipped to handle even more specialized tasks. With Zirtual, you're not just getting a virtual assistant – you're getting a partner who is dedicated to your success.
Zirtual Pricing Plans
Entrepreneur Plan ($549/month): 12 hours of work with 1 user.
Startup Plan ($849/month): 24 hours of work with 2 users.
Small Business Plan ($1249/month): 36 hours of work with 3 users.
Team Plan ($1699/month): 50 hours of work with 5 users.
2. VaVa Virtual Assistants – Future-Focused Virtual Assistant Website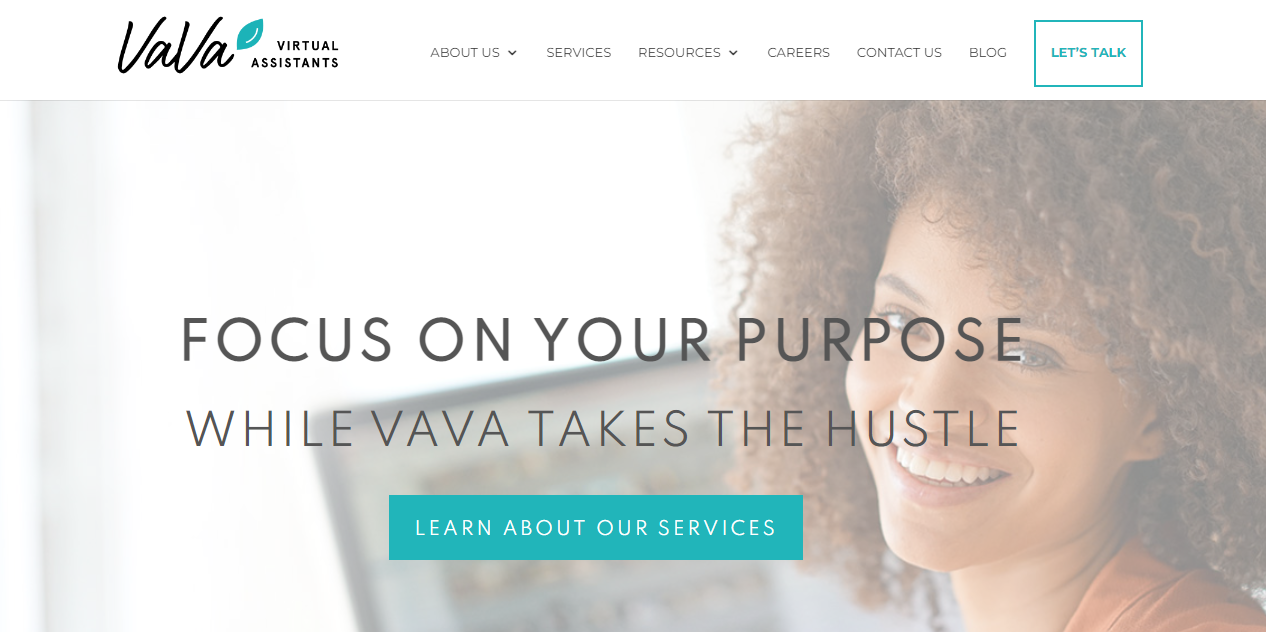 VaVa Virtual Assistants is a leading name in the virtual assistance landscape that was founded in 2011 and is proudly owned by women. They are committed to providing exceptional virtual assistant services to their clients. One unique aspect of their service is that all of their dedicated virtual assistants are based in the US and operate in the same time zone which ensures maximum efficiency and availability for their clients.
In their rigorous selection process, VaVa hires only the top 3% or less of all applications they receive. They also provide test projects and trial periods for their clients to ensure that the virtual executive assistant they are matched with is the perfect fit for their needs. Additionally, VaVa offers a free replacement guarantee for their clients, giving them added peace of mind.
To ensure that clients are paired with the right virtual assistant, VaVa uses a personalized approach that leverages the DISC assessment tool. This tool analyzes a virtual assistant's personality traits based on the dimensions of Dominance, Influence, Steadiness, and Compliance. 
By doing so, VaVa ensures that clients are matched with the virtual executive assistant whose personality best aligns with their unique needs and work style.
VaVa Virtual Assistants Pricing Plan
Custom pricing plans are available on request.
3. Wishup – Most Systematic Approach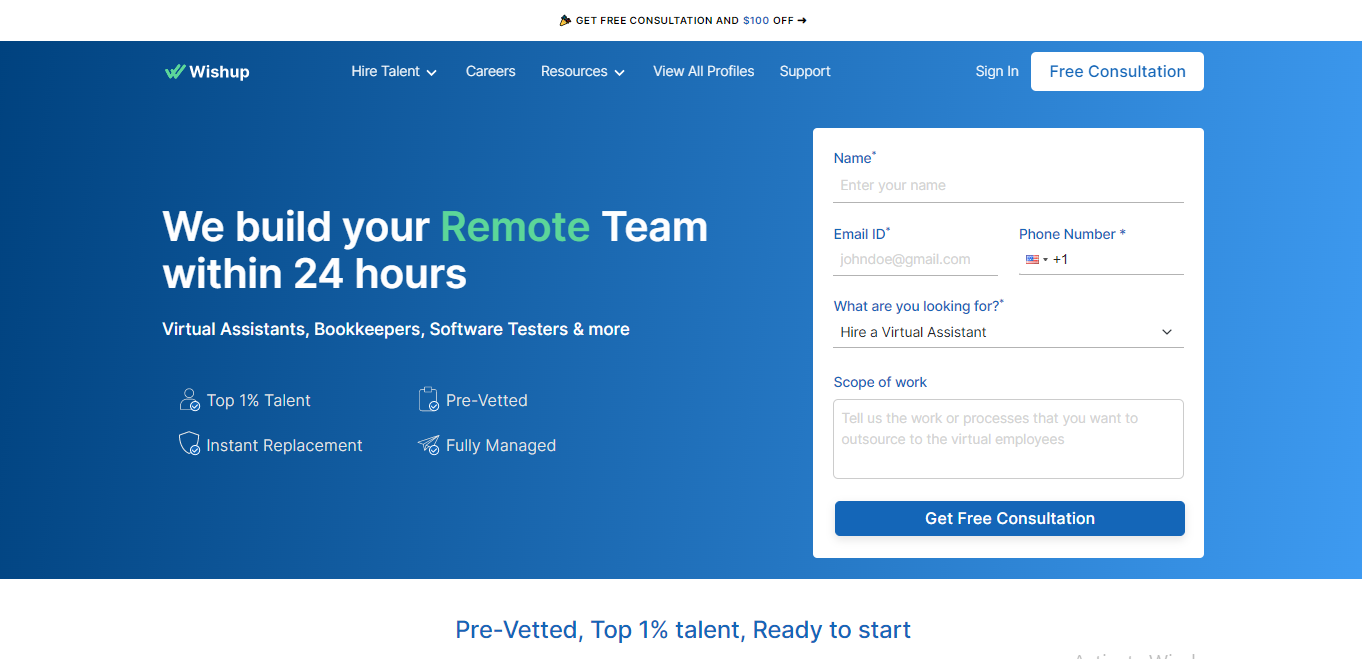 Wishup is one of the top virtual assistant websites that has been making waves in the industry. They select only the top 1% of talent which guarantees the best virtual assistant services with highly experienced virtual assistants who can handle a wide range of tasks efficiently.
With over 500 virtual personal assistants on their team, Wishup has a vast pool of talent to draw from, ensuring that clients receive the support they need, when they need it. Additionally, their virtual assistants are pre-vetted and ready to start from the word go.
Wishup provides a 7-day money-back guarantee which gives clients peace of mind knowing that they can cancel their subscription if they are not satisfied with the service. In case you are unhappy with your virtual assistant, Wishup provides an instant replacement.
Wishup is also known for its speedy hiring process with virtual assistants being onboarded within 24 hours. You can start delegating tasks almost immediately without having to wait around for days or even weeks.
Wishup Pricing Plans
Custom quotes are available on demand.
4. AVirtual – Most Cost-Effective
AVirtual is a leading virtual assistant service provider that was founded in 2015. Their team of virtual assistants is well-trained and experienced in handling administrative support tasks, ensuring that you receive the highest quality service possible.
AVirtual offers up to 50% lower fees than its competitors which makes them an affordable option for businesses of all sizes, especially for the ones who need administrative support but have a limited budget.
AVirtual understands the importance of privacy when it comes to personal and business data, which is why their virtual assistants are trained in 100% confidential handling of personal data. You can trust that your sensitive information is in safe hands with AVirtual.
AVirtual's virtual assistants are available 24/7. They are also highly flexible and can adapt to your unique needs, making them an excellent choice for businesses that require personalized and customized services.
AVirtual Pricing Plans
AVirtual offers custom plans that start at £120/month. 
5. RemSource – Super-Friendly Virtual Assistants
RemSource, a VA company formed in 2009, has emerged as one of the top choices for businesses looking for high-quality virtual assistant services. This experience and expertise have allowed them to hone its processes and services to meet the needs of a wide range of businesses and entrepreneurs. 
RemSource's virtual assistants gel with you and your team seamlessly and are dedicated to creating a personalized experience for each client. They are trained to work closely with you to understand your unique needs and goals. 
All of their VAs are native English speakers which ensures that communication is smooth and effective. RemSource is also known for its virtual assistants being super-friendly. From the moment clients begin working with RemSource, they are greeted with warmth and professionalism.
RemSource Pricing Plans
RemSource provides personalized plans to meet your requirements. Reach out to their team for a customized solution.
6. QuickMonday – Quick Response Time 
QuickMonday is a virtual assistant provider that has gained popularity due to its exceptional service. They stand behind their service and offer a full refund of the monthly fee if the client is not happy with the work performed by the virtual administrative assistant. They respond to clients' requests within two hours with a completed task or a timeline if the task needs more time.
QuickMonday has served over 1000 clients to date which is an indication that the company is a reliable and reputable service provider.  Their virtual assistants are adept at using different tools like Asana, Slack, and Bamboo, which are essential in modern business operations. 
QuickMonday Pricing Plans
Entry ($60/month): 10 hours from VAs having 2-4 years of experience. 
Intermediate ($140/month): 20 hours from VAs having 4-6 years of experience.
Professional ($160/month): 20 hours from VAs having 6-10 years of experience.
Expert ($360/month): 40 hours from VAs having 10+ years of experience.
7. Wervas – Consultative Assistance Approach
Wervas has established itself as a leader in the virtual personal assistant industry. When you hire virtual assistants from them, you get a whole team of assistants working together to ensure your tasks are completed efficiently and effectively. 
Their VAs are known for taking a consultative approach when working with clients. They don't just complete tasks but they also advise you on how best to achieve your business goals. 
In addition to the traditional virtual assistant tasks, Wervas is also trained in providing assistance in web development and app development projects. This is a unique service that sets them apart from other virtual assistant companies.
Wervas Pricing Plans
Plan 1 ($200/month): Offers 200 tasks/month.
Full-time VA ($799/month): Offers 160 hours/month.
8. LongerDays – Ideal For Businesses On A Budget
LongerDays is another leading name in the VA services landscape. Their college-educated virtual assistants are highly adaptable and can mold into your working style in no time. This ensures that the VA is fully integrated into your team and is able to perform tasks with the same level of efficiency as an in-house employee.  
Another key feature of LongerDays' approach is its focus on building a step-by-step set of instructions. When you delegate a task to LongerDays, they turn that task into a system that anyone on the team can use to complete work, allowing for consistency in the output.
LongerDays Pricing Plan
Plan A ($695/month): Offers 16 hours of work. 
Plan B ($995/month): Offers 24 hours of work. 
Plan C ($1625/month): Offers 40 hours of work.
9. Virtual Assist USA – Most Experienced Virtual Assistants
Virtual Assist USA is a well-established virtual assistant service provider that has been in operation since 2008. The company's virtual assistants are based in the United States, and each of them has a minimum of 10 years of experience in their respective fields. You can roll over any unused hours to the following month to get the most out of your virtual assistant service package.
Unlike other virtual assistant services, Virtual Assist USA uses a proprietary personality assessment tool to match their virtual assistants with clients based not just on their skill set but on their work behavior, personality, and communication style. This ensures that clients are matched with the virtual assistant who is the best fit for their specific needs.
Virtual Assist USA Pricing Plans
Option 1 ($570/month): 15 hours at $38/hour.
Option 2 ($1080/month): 30 hours at $36/hour.
Option 3 ($1750/month): 50 hours at $35/hour.
Option 4 (Custom): Special rates based on your requirements.
10. Efficise – Best Value For Money
Efficise has become the preferred choice for companies looking to hire virtual assistants. It offers a state-of-the-art progress tracking system where you can log in and check the progress of any task, at any time. This allows you to keep track of your virtual assistant's work and ensure that they are meeting their deadlines. 
Efficise has a comprehensive training program that equips its virtual assistants with the required skills to handle various tasks such as customer service, data entry, social media management, and administrative tasks. 
Efficise Pricing Plans
Plan 1 ($20/month): 5 tasks of 30 minutes each.
Plan 2 ($45/month): 15 tasks of 30 minutes each.
Plan 3 ($75/month): 30 tasks of 30 minutes each.
Plan 4 ($100/month): 50 tasks of 30 minutes each.
11. Prialto – Powerful Management Systems
Prialto has been in the virtual assistance industry for over 12 years, and during that time, it has established itself as a top name in the industry. The company has robust internal management and quality assurance processes that include regular performance evaluations, feedback sessions, and training programs to ensure that virtual assistants are continuously improving their skills.
Prialto assigns an engagement Manager to each client and also provides backup support to its virtual assistants. This engagement Manager serves as a liaison between you and the virtual assistant while this backup support ensures that your needs are always met, regardless of any unforeseen circumstances.
Prialto Pricing Plans
Yourself ($1350/month): 55 hours of work. 1 user.
Your Team ($4050/month): 165+ hours of work. 3+ users.
Your Organization (Custom Pricing): 440+ hours of work. 8+ users.
12. Task Virtual – Accelerating Your Productivity
Task Virtual was formed in 2015 and has since served over 1300 clients. The company provides a complete dedicated virtual assistance team and their VAs are available 24/7 which allows the clients to delegate tasks at any time of the day. This is particularly useful for businesses with international clients or those that operate in different time zones. 
Another benefit of using Task Virtual is its free trial which allows you to try out the service before committing to a long-term contract. Businesses can trust Task Virtual with sensitive information and be confident that it will not be leaked or stolen since they use secure servers to ensure that all data is protected
Task Virtual Pricing Plans
Pay as you go ($15/hour): Billed on an hourly basis
Part-time ($699/month): Offers 100 hours of work (8 hours a day) with a dedicated assistant.
Full-time ($999/month): Offers 160 hours of work (4.5 hours a day) with a dedicated assistant.
13. VA Talks – Most Flexible
VA Talks is a company that provides exceptional virtual assistance services to its clients. The company has created a top-notch working structure and uses the latest technology to manage tasks. They provide their virtual assistants with all the necessary tools, including state-of-the-art equipment, to ensure that they can work efficiently.
VA Talks places great emphasis on quality assurance to ensure that its virtual assistants provide exceptional service to their clients. The company has a team of supervisors who monitor the virtual assistants' work and provide feedback and guidance to them to help improve their skills and deliver better service.
VA Talks Pricing Plans
VA 10 ($130/month): Includes 10 hours. 
VA 20 ($240/month): Includes 20 hours.
VA 30 ($330/month): Includes 30 hours.
VA 50 ($490/month): Includes 50 hours.
VA 80 ($690/month): Includes 80 hours.
14. Pepper Virtual Assistant – Seamless Transition Procedure
Pepper Virtual Assistant is a leading provider of virtual assistant services that specializes in project management and administrative support. The company has a well-documented onboarding process that makes it easy for clients to start working with their virtual assistants. 
Pepper Virtual Assistant puts a special focus on data security which is essential for any business that deals with sensitive information. The company has taken various steps to ensure that its clients' data is protected at all times, including:
Leased Line ISP
Disabled USB ports
Secure server room
Additional back-up server
Monitored and recorded computer activities
Pepper Virtual Assistant Pricing Plans
Plan 1 ($960/month): 80 hours of work.
Plan 2 ($1400/month): 160 hours of work.
15. Belay – Award-Winning Virtual Assistant Services
Belay was formed in 2010, and since then, it has grown to become a well-known name in the virtual assistant industry. The company has over 1200 team members spread across 48 US states. This is a significant advantage for clients who prefer to work with US-based assistants.
The company's virtual assistants are highly passionate and self-motivated. They are carefully selected through a rigorous recruitment process that involves several video interviews and skills assessments. This process ensures that Belay only hires the best virtual assistants who are equipped with the necessary skills to deliver excellent service to clients.
Belay Pricing Plans
Belay offers custom pricing on demand.
16. Uassist.me – People-Driven System
Founded in 2009, Uassist.me has grown into a reputable company with over 500 skilled virtual assistants. The key feature that makes Uassist.me stand out is its people-driven system where a quality team, a supervisor, and service managers constantly review the performance of virtual assistants. Uassist.me also offers clients the option to test different virtual assistants to find the right fit.
Uassist.me sets up Service Level Agreements (SLAs) and Key Performance Indicators (KPIs) from the very start. SLAs define the level of service that a client can expect from their virtual assistant while KPIs measure the virtual assistant's performance. This ensures that both the client and virtual assistant are on the same page and are working towards achieving the same goals.
Pricing is available on request.
Conclusion
Virtual assistant websites are a great way to outsource tasks and increase productivity but it's important to find the right website that fits your specific needs and budget. When considering the best virtual assistant site, there are several factors to consider, such as the range of services offered, pricing, availability, and customer support. 
Zirtual is the only company that ticks all the boxes. If you're considering hiring a virtual assistant, book a free consultation with us to discuss your needs and get our expert guidance on how to optimize your productivity. With Zirtual's virtual assistant, you can focus on growing your business while delegating time-consuming tasks to a qualified professional. Don't hesitate to take advantage of this opportunity to streamline your operations and boost your bottom line.