Let's get real for a moment. Running a business can be a wild ride. You've got meetings to attend, emails to answer, and a to-do list longer than a roll of toilet paper. It's time to take a step back and delegate some of that workload to a trusty virtual assistant for business. They can help you tackle your daily tasks and free up your time for more important things (like taking a much-needed nap).
Now finding the perfect virtual assistant for your business can feel like searching for a needle in a haystack…or for that one missing sock in the dryer. But that's where we come in. In this article, we've put together a comprehensive list of the 16 best virtual assistant services for your business. 
You'll discover the ins and outs of each site, what services they offer, and how they can help your business reach new heights. By the time you're finished reading this guide, you'll have a better understanding of what you need in virtual personal assistant services and how to find the perfect match for your business.
16 Best Virtual Assistant Services Of 2023 To Help You Get Ahead
We've got the skinny on the top virtual assistant hiring sites and here are the top 3 finalists.
Zirtual – Best overall for creating endless opportunities
Online VA Team – Virtual assistant service perfected
RemSource – Super-friendly virtual assistants
Let's get the detailed review rolling. We've got 16 sites on our list that are all worth checking out.
1. Zirtual – Top Pick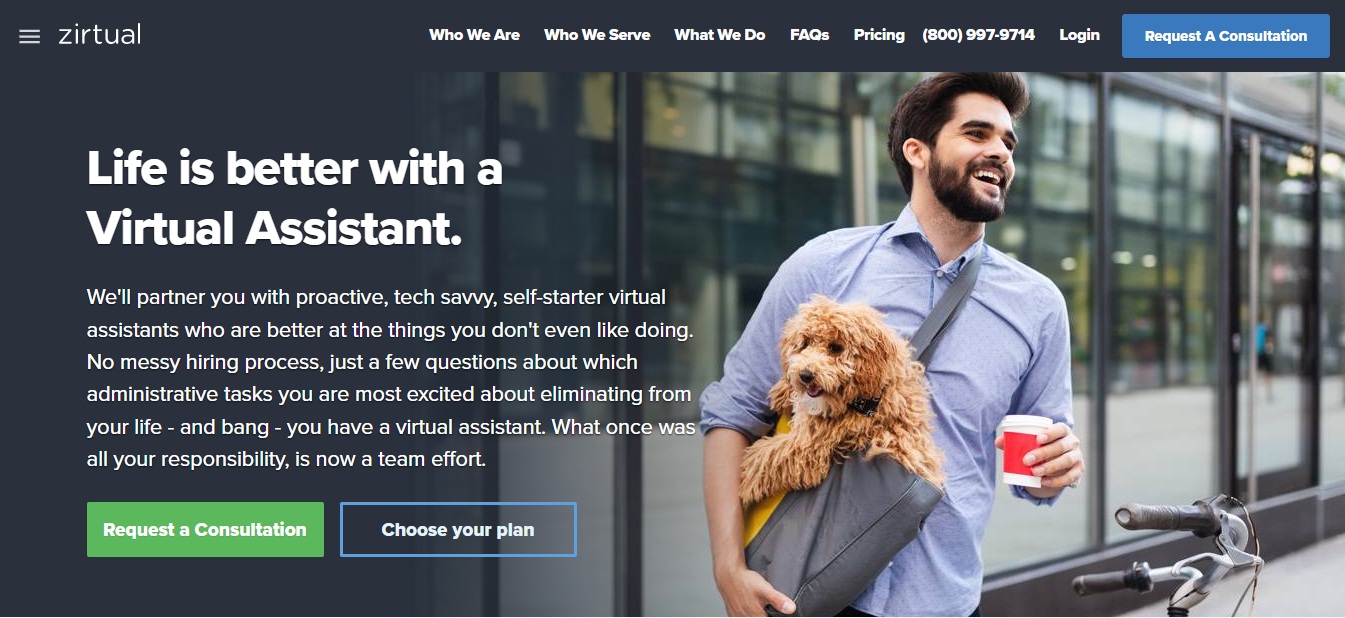 Zirtual is a top-rated virtual assistant service that offers a wide range of administrative support to businesses. With us, you can hire a dedicated virtual assistant who can help you with a wide range of tasks, from daily administrative tasks and social media management to supporting new requirements as they arise.
Our US-based college-educated virtual assistants are highly skilled and able to provide a high level of support to your business. We realize that our virtual assistants are the face of the company and the cornerstone of our business. Therefore, we invest heavily in their training to ensure that they are equipped with the skills and knowledge they need to provide top-notch service to you.
Zirtual's virtual assistants undergo an extensive onboarding process which includes both technical training and professional development. From time to time, virtual assistants also receive ongoing training to stay up-to-date with the latest tools and best practices in the industry.
Another advantage of using Zirtual is our account managers. These individuals are dedicated to finding the right fit for your business. We take the time to understand your needs and connect you with the virtual assistant who is best suited to meet those needs. We also offer a 2-hour response time which is among the quickest in the industry.
Zirtual Pricing Plans
Entrepreneur Plan ($549/month): 12 hours of work with 1 user.
Startup Plan ($849/month): 24 hours of work with 2 users.
Small Business Plan ($1249/month): 36 hours of work with 3 users.
Team Plan ($1699/month): 50 hours of work with 5 users.
2. Online VA Team – Virtual Assistant Service Perfected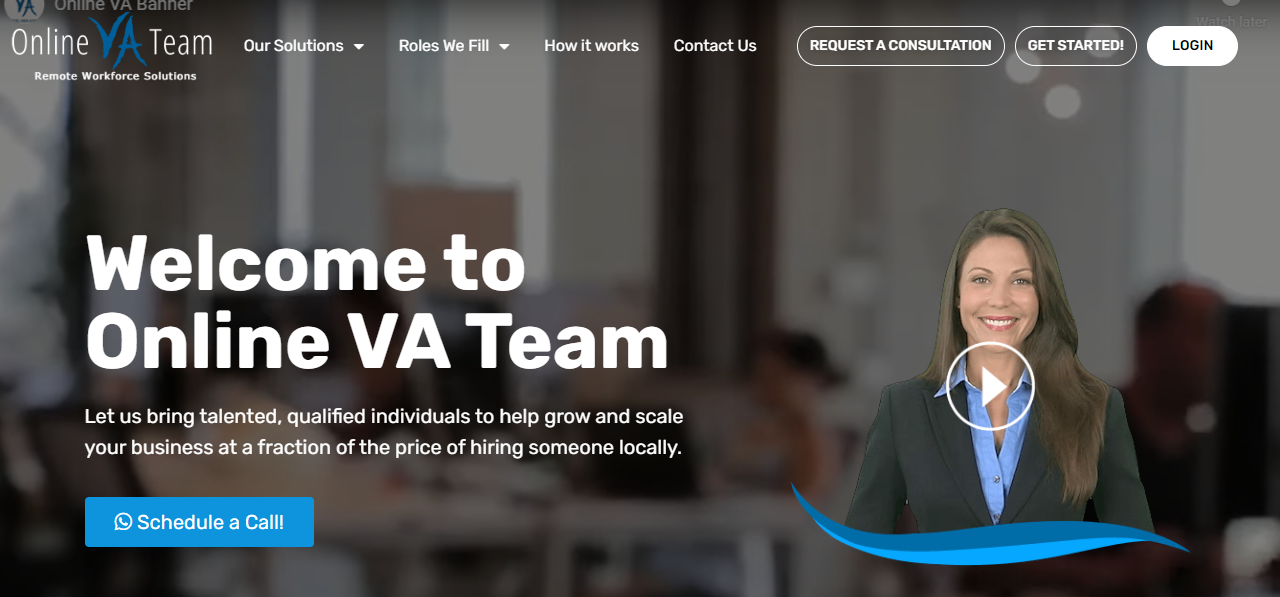 Online VA Team is one of the best virtual assistant companies in the market. They hand-pick only the best talent from some of the top Fortune 500 companies, such as Verizon, AT&T, and TimeWarner. All of their virtual assistants hold at least a bachelor's degree so you know that they have the education and training needed to provide high-quality service. 
Another reason why Online VA Team is such a great virtual assistant company is the time management abilities of its virtual assistants. This allows them to get more done in less time which is crucial for businesses that need to be efficient and productive.
Online VA Team's virtual assistants are known for their exceptional multi-tasking abilities. They have a knack for juggling multiple tasks and priorities at once ensuring that all of their clients' needs are met in a timely and efficient manner. Whether it's handling email correspondence, scheduling appointments, data entry, or managing social media accounts, their virtual assistants are able to handle it all with ease.
Online VA Team Pricing Plans
The Online VA Team offers personalized solutions tailored to meet your specific needs. Contact their sales team for further information.
3. RemSource – Super-Friendly Virtual Assistants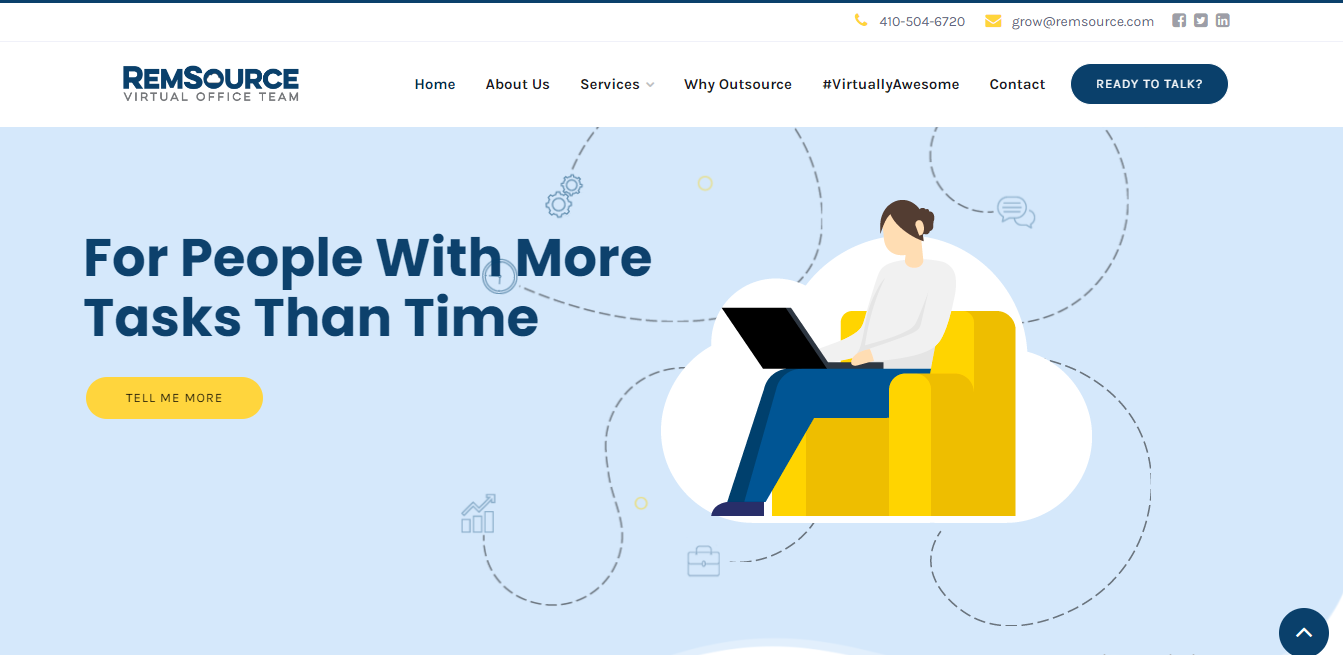 When it comes to virtual assistant services, RemSource is a name that always stands out. Founded back in 2009, this Baltimore-based company has been a trailblazer in the industry and continues to set the bar high. They have a team of virtual assistants that are native English speakers. This is a big deal because, with native English speakers, you can be sure that there will be no language barriers or misunderstandings.
But what sets RemSource apart is not just their language skills, it's their super-friendly and uber-professional approach. The VAs at RemSource are not just good at what they do, they're great at it. They're friendly, approachable, and always willing to go the extra mile to help their clients. 
Another reason why RemSource is a leading name in the virtual assistant industry is that they offer a managed solution with quality control and best practices. This means that you can trust that the virtual assistants you work with will be trained and managed to the highest standards. This guarantees that you'll receive the best possible service, every time.
RemSource Pricing Plans
RemSource provides personalized plans to meet your individual requirements. Reach out to their team for a customized solution.
4. Virtual Assist USA – Turning Virtual Assistance Luxury Into A New Norm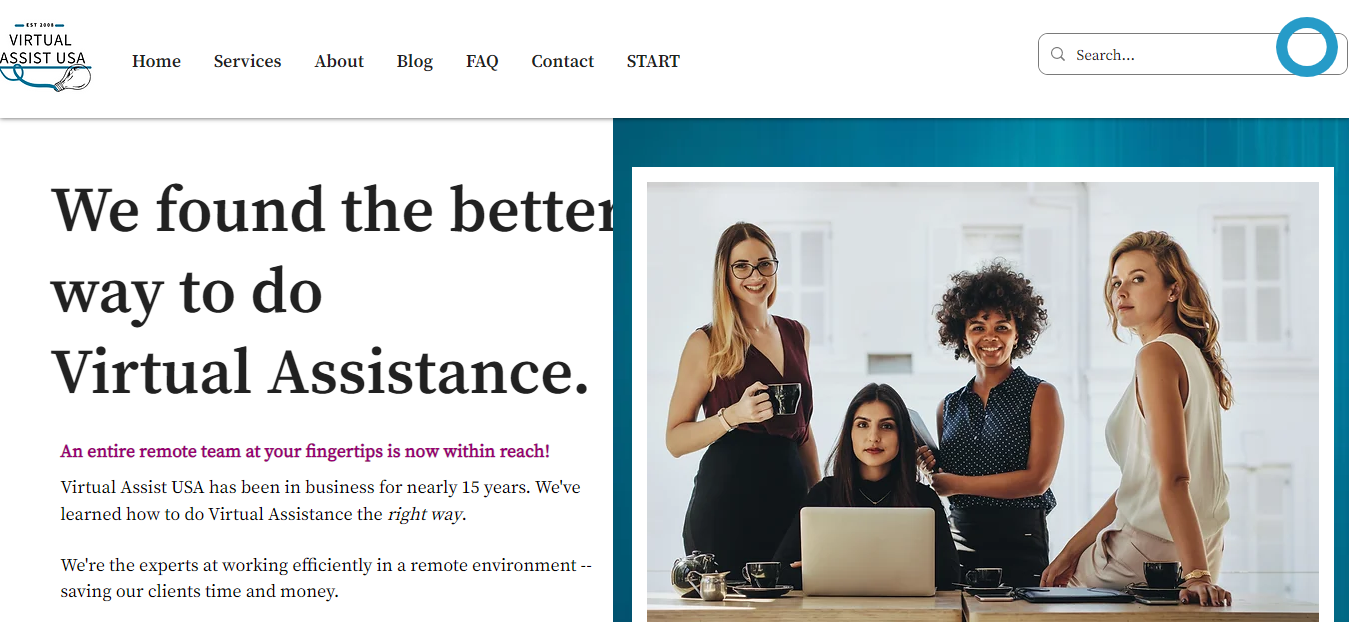 Founded in 2008, Virtual Assist USA is a leading virtual assistant company that has been trusted by some of the biggest names in the business, including Harvard Business Review, Twitter, and IBM. Virtual Assist USA only hires virtual assistants with a minimum of 10 years of experience.
The company takes security seriously and its system is under bank-level security with end-to-end encryption. The HIPAA-compliant Virtual Assist USA offers confidentiality and NDA agreements to all of its clients. One of the most unique aspects of Virtual Assist USA is that their packages don't expire. This means that clients can use their time whenever they want without having to worry about losing any unused time. 
Virtual Assist USA Pricing Plans
Option 1 ($570/month): 15 hours at $38/hour.
Option 2 ($1080/month): 30 hours at $36/hour.
Option 3 ($1750/month): 50 hours at $35/hour.
Option 4 (Custom): Special rates based on your requirements.
5. MyTasker – Most Secure VA Service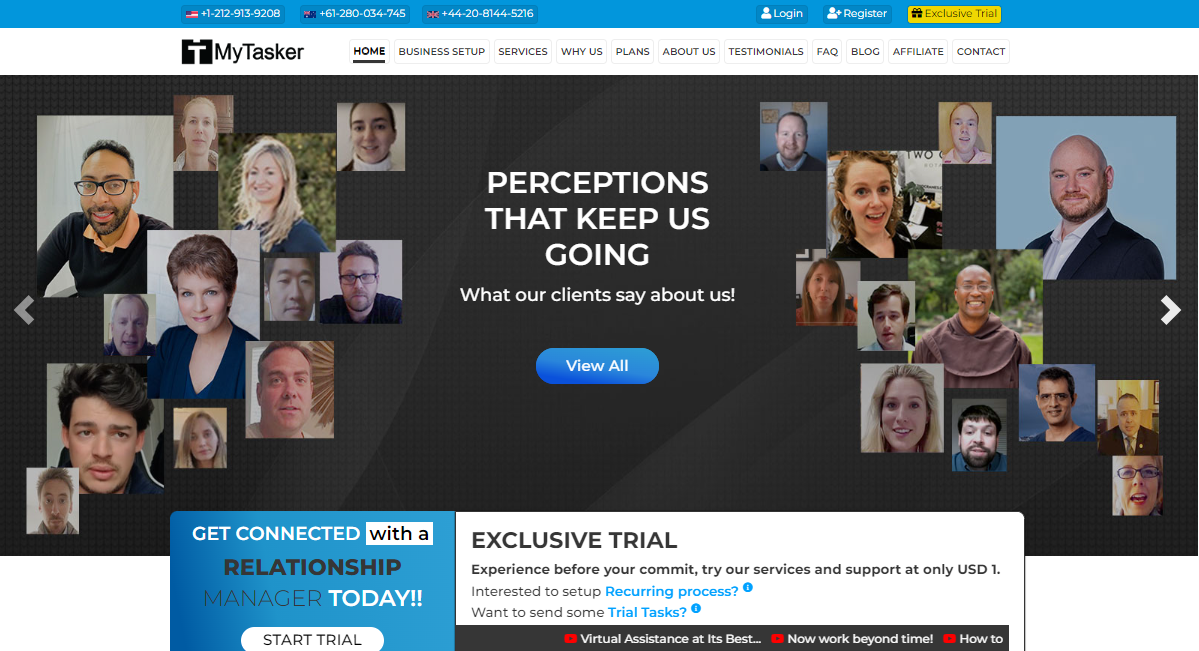 If you're a business owner looking for virtual assistant services, MyTasker stands out among the few companies that can deliver exceptional support. They provide comprehensive support for their clients. The company prepares instructional videos and SOPs for every client. This way, if you ever need substitute support or need to add more VAs to your team on short notice, you'll have all the information you need to get up and running quickly.
One of the standout features of MyTasker is its secure web login portal. When you share your credentials through this portal, you can rest assured that no one will ever see your password since the information is displayed in an encrypted form. At MyTasker, the VAs have an eye for detail and with their result-oriented approach, you can be sure that you'll get the results you need to grow your business.
MyTasker Pricing Plans
VA 10 Hours ($140/month): Offers 10 hours/month.
VA 20 Hours ($250/month): Offers 20 hours/month.
VA 40 Hours ($450/month): Offers 40 hours/month.
VA 60 Hours ($600/month): Offers 60 hours/month.
VA 100 Hours ($900/month): Offers 100 hours/month.
6. Virtual Latinos – Bilingual-Ready Virtual Support With A Personal Touch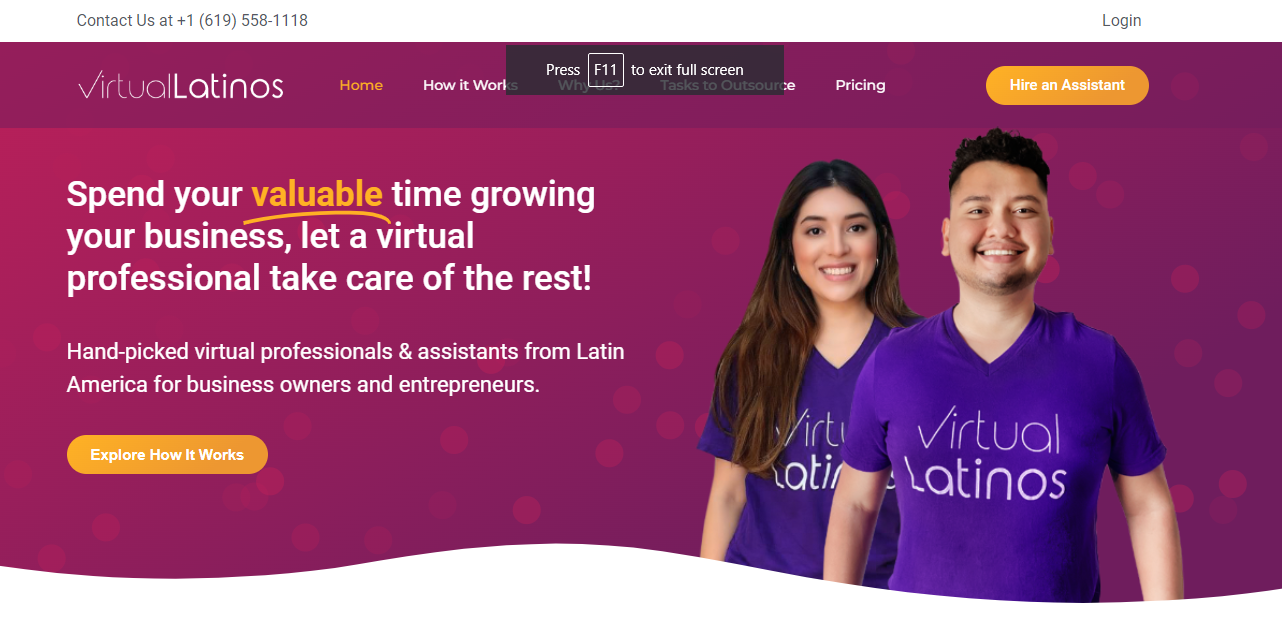 Virtual Latinos is a leading online platform for businesses looking to hire VAs. From digital marketing to handling phone calls, you can assign tasks of all sorts to their virtual assistants. The company has a rigorous vetting process and accepts only the top 5% of applicants, ensuring that only the most qualified and talented VAs make it onto their platform.
Another standout feature of Virtual Latinos is the fact that their VAs are fully bilingual in English and Spanish or English and Portuguese. This allows businesses to reach a wider audience and ensures that they are able to communicate effectively with clients, customers, and partners. Unlike most virtual assistant services, they offer "free" personalized one-on-one consultation to understand you and your business needs.
Virtual Latinos Pricing Plans
Entry Level: Basic virtual assistants at $8-10/hour.
Mid Level: Specialized virtual assistants at $11-15/hour.
Expert Level: Expert virtual assistants at $16-20/hour.
7. TaskBullet – Forward-Thinking Virtual Assistants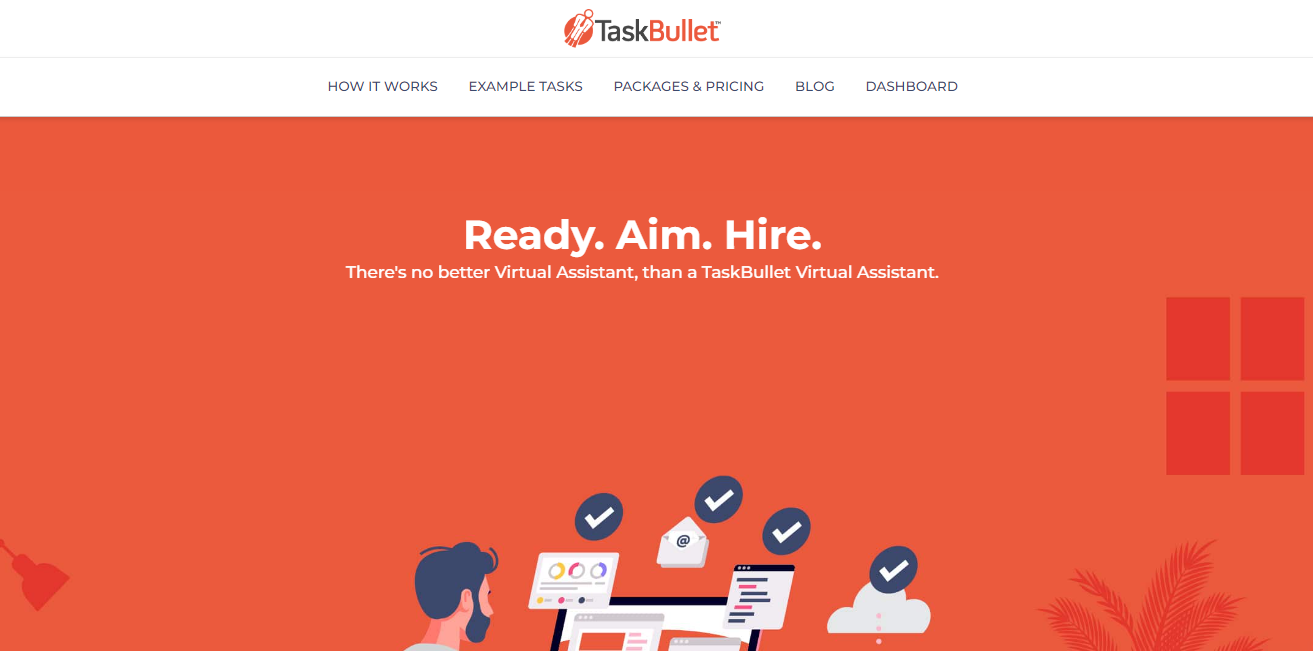 TaskBullet is an online platform that provides you with highly vetted virtual assistants both from the Philippines and the US. What makes TaskBullet different from other virtual assistant companies is its commitment to making the hiring process as seamless and worry-free as possible. TaskBullet offers a free trial so you can see for yourself just how effective their virtual assistants can be.
TaskBullet also provides access to Basecamp Project, making it effortless to organize tasks and communicate with your virtual assistant and allowing for seamless monitoring of their work. Plus, you'll have the added peace of mind of knowing that you have a client success consultant and an engagement manager always available to make sure everything is running smoothly.
TaskBullet Pricing Plans
Philippines-based VAs
Mini Bucket ($150): Provides 10 hours at $15/hour.
Starter Bucket ($220): Provides 20 hours at $11/hour. 
Light Bucket ($540): Provides 60 hours at $9/hour.
Expert Bucket ($1560): Provides 240 hours at $6.50/hour.
US-based VAs
Starter Bucket ($300): Provides 10 hours at $30/hour. 
Light Bucket ($780): Provides 30 hours at $26/hour.
Expert Bucket ($1500): Provides 60 hours at $25/hour.
8. MyOutDesk – Ideal For Businesses In Emerging Markets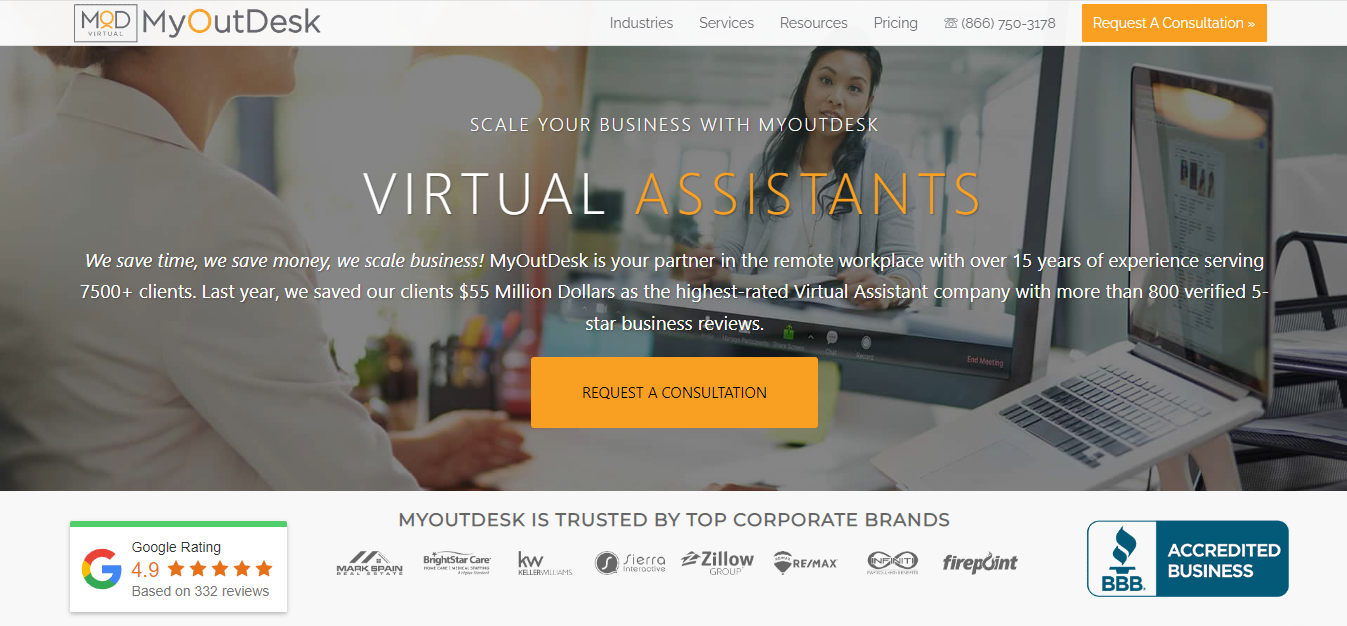 MyOutDesk is a prominent name in the virtual assistant landscape. The company was founded in 2008, making it one of the longest-running VA companies. With a rating of A+ with the Better Business Bureau, MyOutDesk has established itself as a reliable and trusted provider of virtual assistance services.
The company understands the importance of protecting its clients' sensitive information, and as such, performs extensive FBI-grade background checks and vetting for its virtual assistants. MyOutDesk also has a proprietary MyTimeIn Productivity & Time Tracking Software that enables clients to keep track of the work performed by their virtual assistants, thereby helping clients maximize the benefits of their investment.
MyOutDesk Pricing Plans
The pricing plan offered by MyOutDesk starts at $1988/month (charged quarterly).
9. OkayRelax – Virtual Assistance For Every Business Type & Size
With its US roots and global reach, OkayRelax is making waves in the virtual assistant space, and it's not hard to see why. One of the best things about OkayRelax is that it's contract-free. You can use their services as much or as little as you like without being tied into a long-term commitment. OkayRelax takes its responsibility to protect your data very seriously and uses the latest encryption technologies to keep your information safe.
Another standout feature of OkayRelax is its unique dashboard. This task management interface is one of the most user-friendly and visually pleasing on the market. You'll love the way it helps you stay organized and on top of your to-do list and the design is just a bonus.
OkayRelax Pricing Plans
Relief ($29.95/month): Offers 5 tasks. 
Comfort ($99.95/month): Offers 25 tasks.
Relaxed ($399.95/month): Offers 100 tasks.
10. QuickMonday – Ideal For Enterprise Teams 
Since its launch in 2013, QuickMonday has served over 1000 clients and boasts a 99% retention rate. This is a testament to the quality of their virtual assistants and the effectiveness of their services. QuickMonday's virtual assistants are trained in a wide range of technologies, ensuring that businesses can find the right assistant for their specific needs.
The site uses Lastpass, a secure password manager, to safely and securely share passwords with virtual assistants. QuickMonday is also known for its fast response time which is crucial for businesses that need immediate support. Businesses can use virtual assistants on a recurring basis without the need to sign any long-term agreements.
QuickMonday Pricing Plans
Entry ($60/month): Includes 10 hours from VAs having 2-4 years of experience. 
Intermediate ($140/month): Includes 20 hours from VAs having 4-6 years of experience.
Professional ($160/month): Includes 20 hours from VAs having 6-10 years of experience.
Expert ($360/month): Includes 40 hours from VAs having 10+ years of experience.
11. Ruby Receptionists – Best For Live Chat Solutions & Virtual Receptionists 
Ruby Receptionists has become a preferred choice for many businesses because of its team of highly experienced and skilled virtual assistants. They are trained to handle a variety of communication channels such as phone, email, chat, and more. The VAs at Ruby Receptionists are well-versed in using customer data to provide personalized and efficient service. 
Ruby Receptionists offer dynamic integrations with platforms such as Rocket Matter, Clio, and Mycase. The company also takes pride in its rigorous training program. Each Ruby Receptionists virtual assistant is assigned to a specific business, allowing them to get to know your company and its unique needs. This results in a more personalized and effective service experience for your customers.
Ruby Receptionists Pricing Plans
Call Ruby 50 ($230/month): Includes 50 receptionist minutes. 
Call Ruby 100 ($365/month): Includes 100 receptionist minutes.
Call Ruby 200 ($660/month): Includes 200 receptionist minutes.
Call Ruby 500 ($1595/month): Includes 500 receptionist minutes.
12. Tasks Expert – Best Value For Money
Tasks Expert is a leading provider of virtual assistant services, offering businesses access to a pool of talented and highly skilled VAs who are available 24/7. Whether you need help with administrative tasks, customer support, or even highly technical virtual app development, Tasks Expert has the required expertise.
One of the key USPs of Tasks Expert is their free 10-hour trial which allows businesses to try their services without any risk or commitment. Tasks Expert is highly committed to customer satisfaction. If for any reason you are not fully satisfied with the services provided by your VA, Tasks Expert will provide you with a free replacement. 
Tasks Expert Pricing Plans
Plan 1 ($169/month): Includes 20 hours. 
Plan 2 ($239/month): Includes 40 hours.
Plan 3 ($439/month): Includes 80 hours.
Plan 4 ($860/month): Includes 160 hours.
13. VA Talks – Custom-Fit Virtual Assistants
Founded in 2015, VA Talks has made a name for itself in the world of virtual assistance in a short span of time. The virtual assistants at VA Talks are highly proficient with extensive experience in a wide range of industries and fields and are equipped to support businesses of all sizes.
VA Talks offers customized virtual assistant solutions tailored to meet the specific needs of each company. From one-time projects to ongoing support, VA Talks can provide the virtual assistance you need to help your business run smoothly.
VA Talks Pricing Plans
VA 10 ($130/month): Includes 10 hours. 
VA 20 ($240/month): Includes 20 hours.
VA 30 ($330/month): Includes 30 hours.
VA 50 ($490/month): Includes 50 hours.
VA 80 ($690/month): Includes 80 hours.
Full-time VA ($1100/month): For 5 days/week, 22 days/month, and 8 hours/day.
14. Wing Assistant – For Seamless Communication & Monitoring
Wing Assistant is another worthy contender on our list of top virtual assistant services. They provide a dedicated customer success manager who ensures that their clients are getting the most out of their virtual assistance services. Wing Assistant's virtual assistants are dedicated and highly skilled with the ability to provide a wide range of technical and basic administrative tasks.
Wing Assistant's task management app is a powerful tool that makes it easy to manage and track the progress of tasks assigned to virtual assistants. The app features a dedicated chat system, built-in video messaging, a media library, and a Credentials feature, making it easy for businesses to communicate with their virtual assistants and keep track of their work.
Wing Assistant Pricing Plans
Part-time ($499/month): Offers 20 hours of work.
Full-time ($899/month): Offers 40 hours of work.
Full-time 2X ($1699/month): Offers 40 hours of work with two assistants.
15. OnlineJobs.ph – Access The Largest Pool Of Filipino VAs
OnlineJobs.ph is the leading job board for hiring virtual assistants in the Philippines. The platform offers a comprehensive pool of talented virtual assistants from the Philippines known for their strong work ethic and English proficiency. With thousands of active job seekers, it's easy for employers to find the right candidate for their needs.
OnlineJobs.ph offers a user-friendly interface and streamlined application process which makes it easy for employers to post job listings, receive applications, and communicate with job seekers. The job board offers robust security features including secure payment options and time-tracking tools, which help to protect both employers and job seekers. 
The VA rates vary and depend on their proficiency and skills.
16. Wervas – Balancing Affordability & Quality
Founded in 2016, Wervas has quickly established itself as one of the top virtual assistant companies, serving over 600 happy clients and counting. The company understands that small and medium-sized businesses need to be cost-efficient which is why they offer highly affordable services without sacrificing the quality of their work.
Their virtual assistants are available 24/7 ensuring that you can get the help you need, whenever you need it. Whether you're dealing with a time-sensitive issue in the middle of the night or have a question that needs answering on the weekend, Wervas VAs will be available to assist you.
Wervas Pricing Plans
Plan 1 ($200/month): Offers 200 tasks/month.
Full-time VA ($799/month): Offers 160 hours/month.
Conclusion
The virtual assistant revolution is here and there's never been a better time to outsource your administrative tasks. The companies listed in this article provide excellent options for businesses seeking to streamline their administrative tasks.
But if you're looking for the absolute best virtual assistant solution on the market, look no further than Zirtual. With our highly skilled virtual assistant team, we provide a level of support and commitment to customer satisfaction that is unmatched in the industry.
So don't wait, reach out to Zirtual today and discover how we can help you achieve your goals and reach new levels of productivity and efficiency.