Do you often find yourself spending hours sorting through spam emails and trying to find that one important message? Well, you are not alone. Like any business owner, if you're spending more time sorting through your inbox than actually getting work done, we've got the solution for you: email management virtual assistants.
But where do you find these virtual email wizards? Before you start Googling away, let us save you some time. We've done the heavy lifting for you and compiled a list of the 16 best sites to hire email virtual assistants. 
In this article, we'll cover everything from the top players in the game to some hidden gems you may not have heard of. By the end of this, you'll be able to confidently hire a perfect email virtual assistant for your inbox management needs. So sit back and say hello to a cleaner inbox and a happier you.
Top 16 Websites to Hire Virtual Assistant Services For Effective Email Management
Our recommended list of the best 3 websites to hire an email management virtual assistant:
Zirtual – Best overall for getting more done in less time
InboxDone – Taking the stress out of email management
Boldly – Achieve inbox zero every day
We've done the dirty work for you and rounded up the top 16 email management services on the market. We've combed through every nook and cranny and finally found the crème de la crème of email management virtual assistant services.
1. Zirtual – Top Pick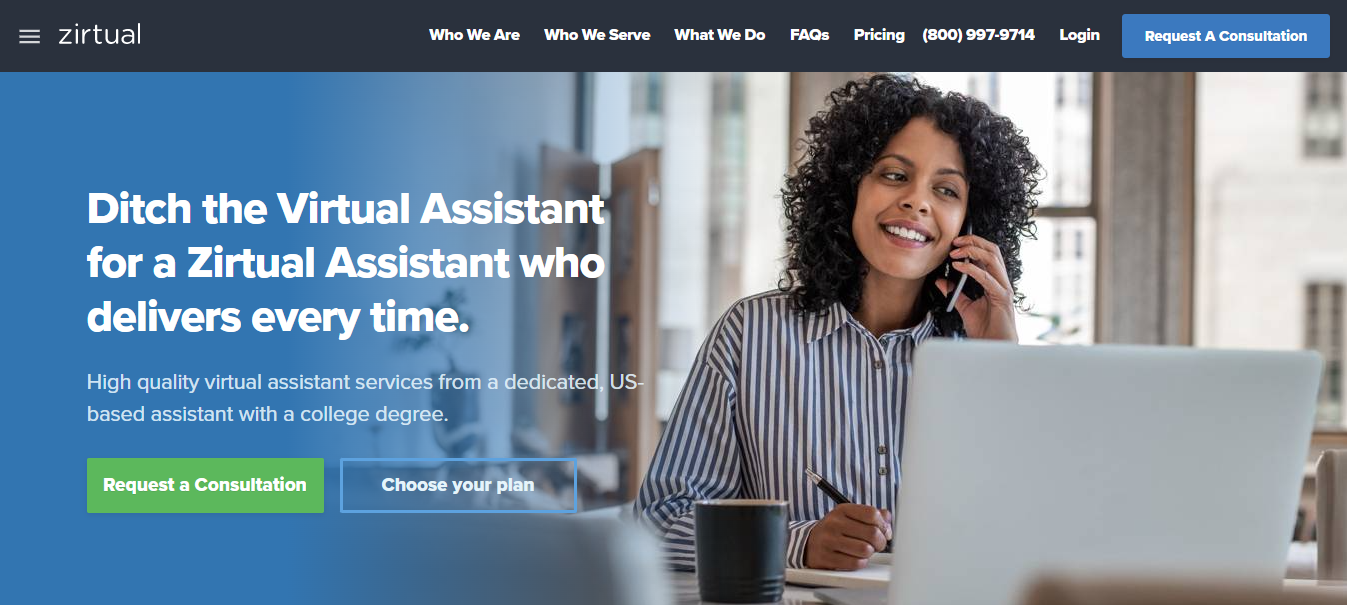 Zirtual was founded in 2011 and has been a leading email virtual assistance provider to individuals and businesses ever since. Zirtual's VAs are highly trained individuals who specialize in managing email inboxes for their clients, helping them to stay organized and on top of their communication.
One of the biggest advantages of using Zirtual virtual assistants for email management is our ability to quickly triage and prioritize messages. We can identify which messages are important and which can be set aside for later, ensuring that nothing falls through the cracks. 
We can also handle tasks such as scheduling appointments, responding to routine inquiries, and even following up on important tasks, freeing up valuable time for our clients. Our Zirtual assistants have expertise in utilizing task management systems such as Evernote, Asana, Basecamp, and Wrike.
Zirtual is known for its rigorous hiring process and comprehensive training program for our virtual assistants. We provide ourselves on hiring only the best and most qualified individuals to join their team.
Once a candidate is selected, they go through a specially designed training program that covers everything from email and calendar management to social media and other administrative tasks. The training program is designed to give each virtual assistant the tools and knowledge they need to succeed in their role.
Zirtual Pricing Plans
Entrepreneur Plan ($549/month): Offers 12 hours of work with 1 user.
Startup Plan ($849/month): Offers 24 hours of work with 2 users.
Small Business Plan ($1249/month): Offers 36 hours of work with 3 users.
Team Plan ($1699/month): Offers 50 hours of work with 5 users.
2. InboxDone – Taking The Stress Out Of Email Management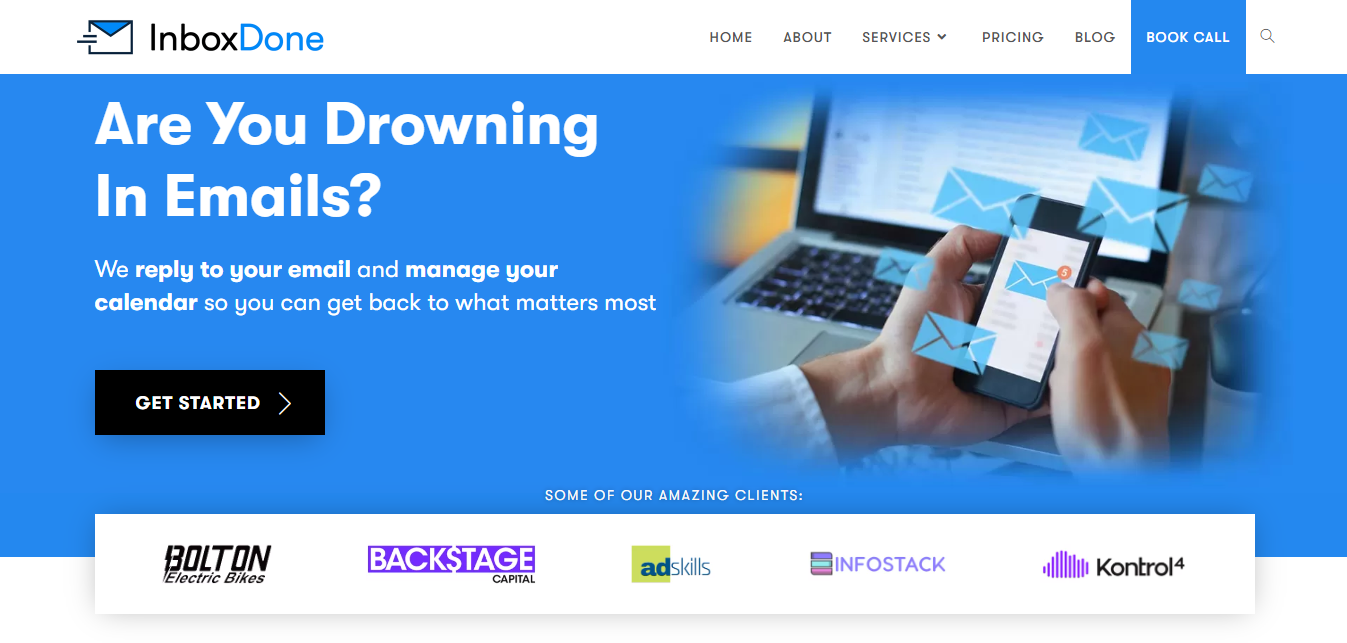 InboxDone is the only company on the market that provides virtual assistants who specialize in email management. They recognize that each individual has different requirements, that's why they provide a team of two assistants for every client. 
These assistants collaborate and adapt to your needs, ensuring that even if one assistant is unavailable due to a holiday or sick leave, the other is fully capable of taking over and providing continued support. This ensures that your inbox is always being taken care of and that you never have to worry about falling behind.
One of the key aspects of InboxDone's service is its unique approach to training its virtual assistants. They have developed a seamless "handover" process, which enables the assistants to learn and understand your work style and preferences, and then gradually take over the task of managing your inbox. 
This ensures that your assistants are fully equipped with the knowledge and skills needed to handle your inbox with the same level of care and attention that you would give yourself.
InboxDone Pricing Plans
BasicPlan ($895/month): Offers 22.5 hours of work.
Personal Plan ($1195/month): Offers 30 hours of work.
Standard Plan ($1795/month): Offers 45 hours of work.
Growth Plan ($2395/month): Offers 60 hours of work.
Team Plan ($2995/month): Offers 75 hours of work.
3. Boldly – Achieve Inbox Zero Everyday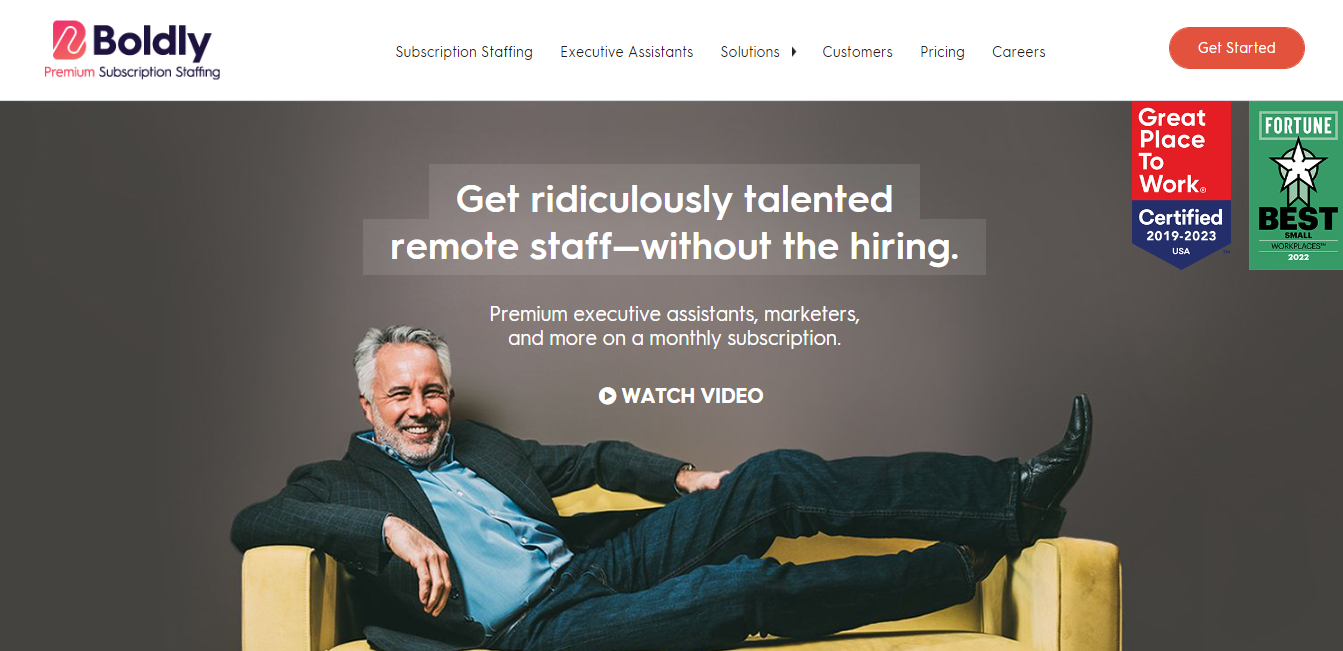 Boldly is a great option to hire email management VAs for business owners across the globe. Its VAs are highly talented and experienced. They have an average of 10-15 years of experience working with global brands like Google, Microsoft, and Amazon. This level of experience and expertise ensures that your emails will be managed with the utmost care and attention to detail.
Boldly's virtual assistants are not just experts in basic email management tasks. They are also skilled in performing specialized email-related tasks like setting up and managing email campaigns, creating and sending email newsletters, and even handling customer service inquiries via email.
In addition to their skills and experience, Boldly offers flexible staffing solutions that can be tailored to your specific needs. Whether you need a full-time virtual assistant or just someone to help out on a part-time basis, Boldly always has the solution. And their onboarding process is hassle-free, so you can get started with your new VA right away.
Boldly Pricing Plans
Plan A ($2200/month): Offers 40 hours of work.
Plan B ($2750/month): Offers 50 hours of work. 
Plan C ($3300/month): Offers 60 hours of work.
Plan D ($4400/month): Offers 80 hours of work.
Plan E (Custom Pricing): Offers up to 160 hours of work.
4. Magic – AI-Driven Efficiency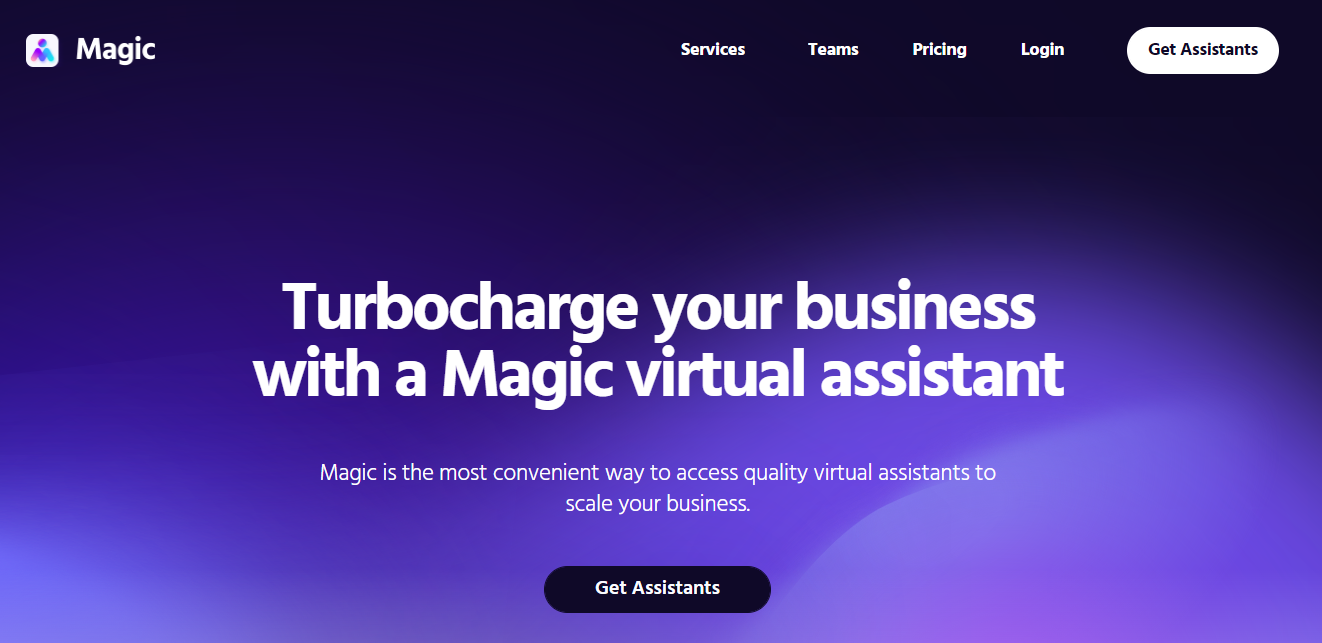 Since its inception in 2015, Magic has become the go-to choice for executives worldwide. Magic is extremely selective when it comes to hiring virtual assistants. They only select 3% of the talent that applies, ensuring that they are working with the best of the best. 
But it's not just about having a qualified virtual assistant – Magic also utilizes proprietary Magic AI to increase efficiency. This means that their email virtual assistants are able to work accurately and complete tasks in a timely manner.
Another benefit of using Magic for email management is scalability. As your business grows, so too will the volume of emails that need to be managed. With Magic, you can easily scale up or down your virtual assistant services as needed, allowing you to keep up with the demands of your business without having to worry about hiring and training new employees.
Magic Pricing Plans
Pricing for the three plans offered is available on request.
5. Outsourcing Angel –  For End-To-End Email Management Solutions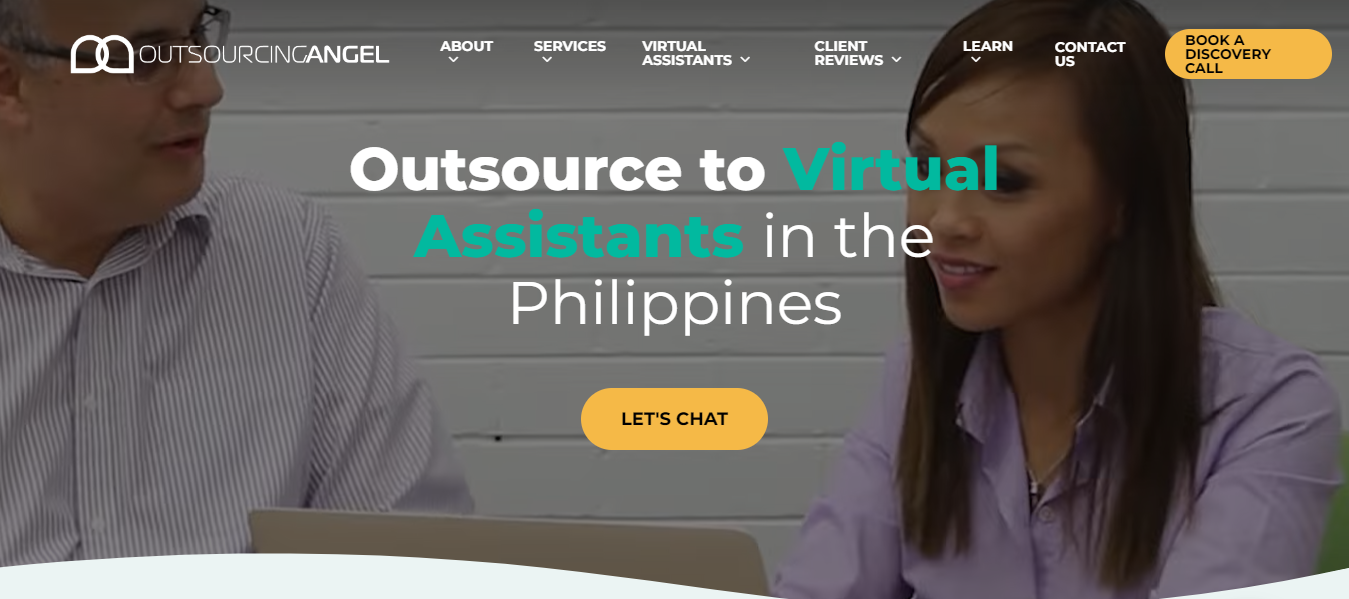 Outsourcing Angel is a premier provider of email virtual assistants. Their core team, based in Australia, is available to support you during your time zone, ensuring that your needs are met promptly and effectively.
Outsourcing Angel's strict 6-step recruitment process only selects the best of the best – English-speaking VAs who are well-educated and adaptable. This guarantees that you'll be working with a VA who can not only handle the volume of your emails and provide support in email marketing efforts but also give valuable insights and suggestions for your business.
In the unlikely event that your current VA isn't the best fit for you, we provide the option to pause your service and find you a new, better-suited virtual assistant at no extra cost.
Outsourcing Angels Pricing Plans
Basic ($1500/month): Offers 20 hours of work per week.
Standard ($3500/month): Offers 20 hours of work per week. The system includes system automation along with VA services.
6. Remote CoWorker – Scalable & Effective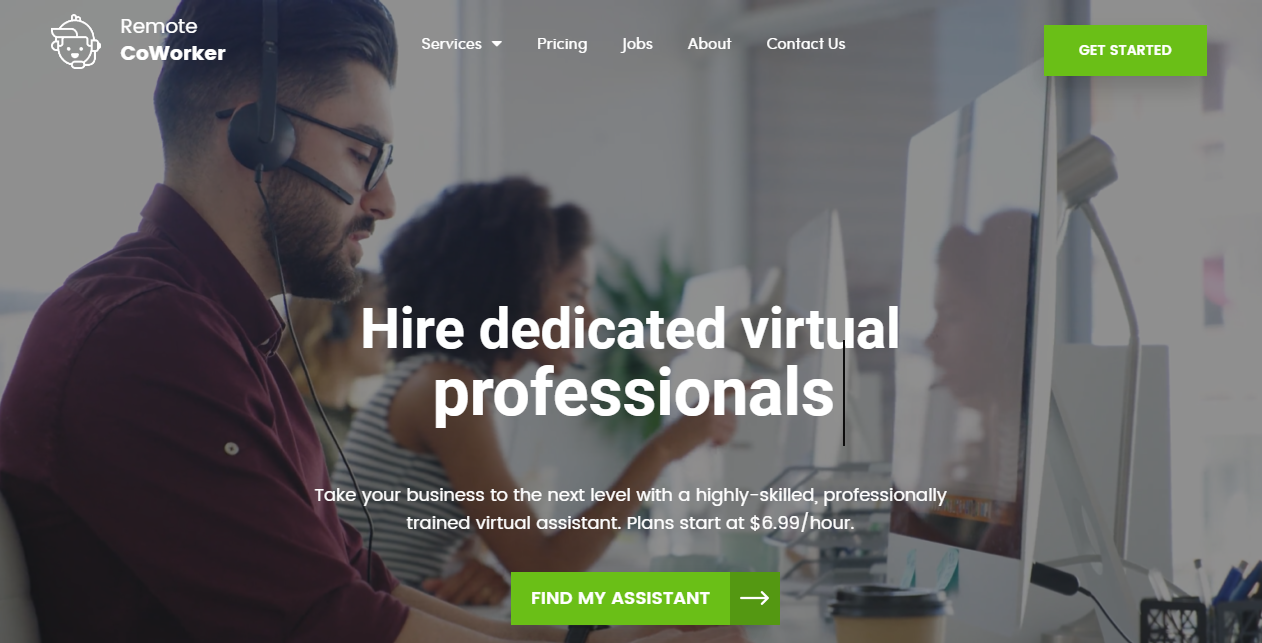 When it comes to finding a virtual assistant to effectively manage your emails and keep your inbox organized, Remote CoWorker stands out as one of the best options available. This company constantly provides its VAs with ongoing CPA training to ensure that they're always up-to-date on the latest best practices. 
They also offer a variety of affordable plans that can be tailored to meet your specific needs. So whether you are looking to hire a VA to create email templates, draft promotional emails, or simply help streamline internal communication, Remote CoWorker is your go-to place.
Remote CoWorker Pricing Plans
Part-time Starter: $7.99/hour.
Full-time Starter: $6.99/hour.
Full-time Bilingual: $9.99/hour.
7. Virtual Gal Friday – Ideal For Startups & SMBs
Virtual Gal Friday is known to provide high-quality, unique virtual assistant services that can help your business thrive. Their team of highly qualified virtual assistants is available to handle a variety of administrative tasks including managing email accounts, drafting unique email messages, creating email marketing campaigns, and follow-ups. 
One of the things that set Virtual Gal Friday apart from other virtual assistant services is its rigorous interview process and background verification. They thoroughly vet all of their virtual assistants to ensure that they are highly qualified and able to provide top-notch support. Outsourced agencies are hired to conduct background checks to verify the authenticity.
Virtual Gal Pricing Plans
Pay as you go ($325): Pay upfront and replenish when all time is used.
VGF Basic ($500/month): Includes 10 hours per month.
VGF Pro ($920/month): Includes 20 hours per month.
VGF Premium ($1680/month): Includes 40 hours per month.
VGF Supreme ($2280/month): Includes 60 hours per month.
VGF Supreme Plus ($2880/month): Includes 80 hours per month.
8. ClearDesk – Most Transparent 
ClearDesk is a revolutionary email virtual assistant service that is designed to help businesses of all sizes save time and money. All VAs are highly-vetted and undergo DISC Personality Test before becoming part of the organization. The company's mission is to provide clear communication to help businesses stay up-to-date on the progress of their projects and improve their bottom line.
ClearDesk is also incredibly cost-effective. In fact, the company claims that its services can help businesses save up to 80% of the cost of a full-time employee. ClearDesk also offers a suite of productivity tools that help businesses stay organized and on top of their tasks. 
This includes performance monitoring, which allows businesses to track the progress of their virtual assistant and make sure that they are meeting their goals.
ClearDesk Pricing Plans
Full-time assistant ($1950-2500/month): College graduates with 2 years of experience.
Specialized assistant ($3500-4500/month): Master's degree holders with 5 years of experience.
9. Fancy Hands – Best Value For Money
Another worthy contender on our list is Fancy Hands. They have a quick 48-72 hour start-up time, which means your VA will hit the ground running and start managing your emails effectively from day one.
When you hire a VA through this company, you can rest assured that they will be thoroughly trained and monitored. One of the things that set Fancy Hands apart from other companies is that they provide a dedicated project manager to oversee your VA's work. 
This means that you'll always have someone to turn to if you have any questions or concerns about how your VA is managing your emails.
Fancy Hands Pricing Plans
Small Plan ($17.99/month): Offers 3 requests.
Medium Plan ($29.99/month): Offers 5 requests.
Large Plan ($74.99/month): Offers 15 requests.
XL Plan ($149.99/month): Offers 30 requests.
10. VA Staffer – High-Caliber VAs For Guaranteed Results
With 8 years of experience in the industry, VA Staffer has a proven track record of providing high-quality email management services to businesses and individuals. They have a team of skilled and experienced virtual assistants who are trained to handle a wide range of email management tasks, including replying to unread emails, building prospect pipelines, and implementing email marketing strategies.
One of the unique features of VA Staffer is its guaranteed results of increasing their reach and improving their ROI within 30 days. This level of commitment to customer satisfaction sets VA Staffer apart from other virtual assistant companies.
VA Staffer Pricing Plans
Dedicated Assitant (Starts at $800/month): Offers 20 to 40 hours per week.
Hourly Plan (Starts at $298/month): Available for 20, 50, and 100 hours.
11. Online VA Team – Most Experienced
Online VA Team is a leading provider of virtual assistant services specializing in email management. They have personally hand-picked top talent from many Fortune 500 companies such as Verizon, AT&T, and Time Warner. These virtual assistants have a wealth of experience and are well-equipped to handle all of your email management needs.
Online VA Team has a team of virtual assistants who are dedicated to their client's needs and are committed to staying with the company for the long term. This ensures that your business will have a consistent and reliable team of virtual assistants who are familiar with your business and can provide top-notch service.
Online VA Team Pricing Plans
Online VA Team provides customized plans. You can get in touch with their sales team for more details.
12. Assistant Match – Most Flexible
Assistant Match is another leading name in the VA industry. Their email management skills are second to none. They have a team of experienced professionals who know how to handle all aspects of email management, from sorting and responding to urgent emails to scheduling and sending outbound communications.
One of the biggest advantages of working with Assistant Match is the flexibility they offer. You are billed on an hourly basis so you don't have to pay extra. Another great thing about Assistant Match is that they are always available to help. 
This level of customer service is truly unmatched in the industry, and it's one of the reasons why so many businesses choose to work with Assistant Match.
Assistant Match Pricing Plans
You have to pay a match fee of $395 which includes a $95 deposit for finding the right candidate. VA services are charged at an hourly rate depending on the expertise.
13. Remote.co – Access To Global VA Talent
Remote.co is a leading job board for remote jobs, including those for email management virtual assistants. The platform offers several unique features that make it a top choice for hiring VAs. One of the key features of Remote.co is its focus on providing high-quality, pre-vetted candidates.
In addition, Remote.co offers a range of resources and support for employers, including a comprehensive guide to hiring and managing remote workers, and a dedicated customer support team to answer any questions or concerns. It is different from other job boards as it focuses on remote work only and it can help you find the perfect VA from anywhere in the world.
Remote.co charges $299 for posting a job that is valid for 30 days.
14. Task Virtual – Most Diverse
Task Virtual ask Virtual is a great option for hiring virtual assistants for email management. They have a diverse pool of virtual assistants that are hired after going through a thorough screening process. 
The wide range of VAs with different skill sets, experiences, and qualifications ensures that you have access to a variety of perspectives and ideas which can be invaluable for email management.
Task Virtual offers tailored solutions for your specific needs which saves you a lot of time and effort as you won't have to spend time training your VA on how to handle your emails. They offer a free trial for their services which allows you to test out their virtual assistants before committing to a long-term contract. 
Task Virtual Pricing Plans
Pay as you go ($15/hour): Billed on an hourly basis
Part-time ($699/month): Offers 100 hours of work (8 hours a day) with a dedicated assistant.
Full-time ($999/month): Offers 160 hours of work (4.5 hours a day) with a dedicated assistant.
15. Use Per Wish – Most Stringent Quality Control Systems
Use Per Wish is another great option to help you keep on top of your email inbox which is an overwhelming and time-consuming task. The company only hires the best virtual assistants who are experts in all basic email management tasks and can help you to sort through your inbox, respond to messages, create labels and set up filters. 
The VAs at Use Per Wish are also pros in email marketing tasks and can assist you to create email templates for campaigns, drafting newsletters, and analyze the performance of your emails. 
They have a multi-layered quality control system in place to ensure that the work done by their virtual assistants is of the highest quality. This includes regular check-ins, performance evaluations, and a dedicated quality control team.
Use Per Wish Pricing Plans
Hour-based subscription ($8/hour): 10 to 60 hours of balance per month.
Part-time subscription ($559/month): Offers assistance for 4 hours a day, 5 days a week.
Full-time subscription ($879/month): Offers assistance for 8 hours a day, 5 days a week.
Unlimited validity subscription (12/hour): Offers unlimited validity with flexible minute-based billing.
16. VA Matchmakers – Most Affordable
VA Matchmakers is last on our list of the best places to hire email management VAs. Their strict "Perfect Match" vetting process ensures that clients receive top-quality service and can trust that their VAs have the necessary skills and expertise to manage their email.
VA Matchmakers employs a unique personality-matching process to make sure that the VA and the client are a good fit, which leads to better communication, collaboration, and overall satisfaction.
The company offers special onboarding tools that streamline the process of hiring a VA. These tools make it easy for clients to get started with their new VA and ensure that the transition is smooth and seamless. 
VA Matchmakers Pricing Plans
VA Matchmakers charges a one-time fee. The VA rates start from $3.5/hour.
Conclusion
Hiring an email management virtual assistant can be a game changer for any business or individual. With so many options out there, it can be overwhelming for many business owners to choose the right one. But the 16 sites listed in this article are a great place to start your search.
Out of all the options, Zirtual stands out as a clear winner with a team of highly qualified and experienced virtual assistants, personalized service, and dedication to meeting the unique needs of each client.
So if you're tired of drowning in a sea of emails and want to take back control of your inbox, book a consultation with us today and let our virtual assistants work their magic. Trust us, your inbox will thank you.