Making a mad dash after the big American Dream may aspire you to achieve bigger goals and live life on your terms. But just when things start booming, you become a part of the American hustle culture instead of living that dream. That's when you need that one experienced US-based virtual assistant that can put these things back in their "zone".
Yes, you heard that right, a US-based virtual assistant who's ready to help you take over the world. But with so many sites claiming US-based virtual assistant services, how do you know which ones are legitimate and then choose the best one? Spotlight, drumroll – this is where we enter as your savior. 
In today's guide, we have reviewed the 16 best, true sites to hire a US-based virtual assistant who can help you with everything under the sun. By the end of this article, you'll be on your way to finding the most perfect US-based virtual assistant that ever walked the earth. 
16 Best Platforms For Hiring Expert US-Based Virtual Assistants
Our top 3 picks for the leading US-based virtual assistant websites are:
Zirtual – Best overall 
Virtual Assist USA – Putting security first
Wishup – Most diverse skill set
Let's now take a look at all 16 platforms and see what they have to offer. 
1. Zirtual – Top Pick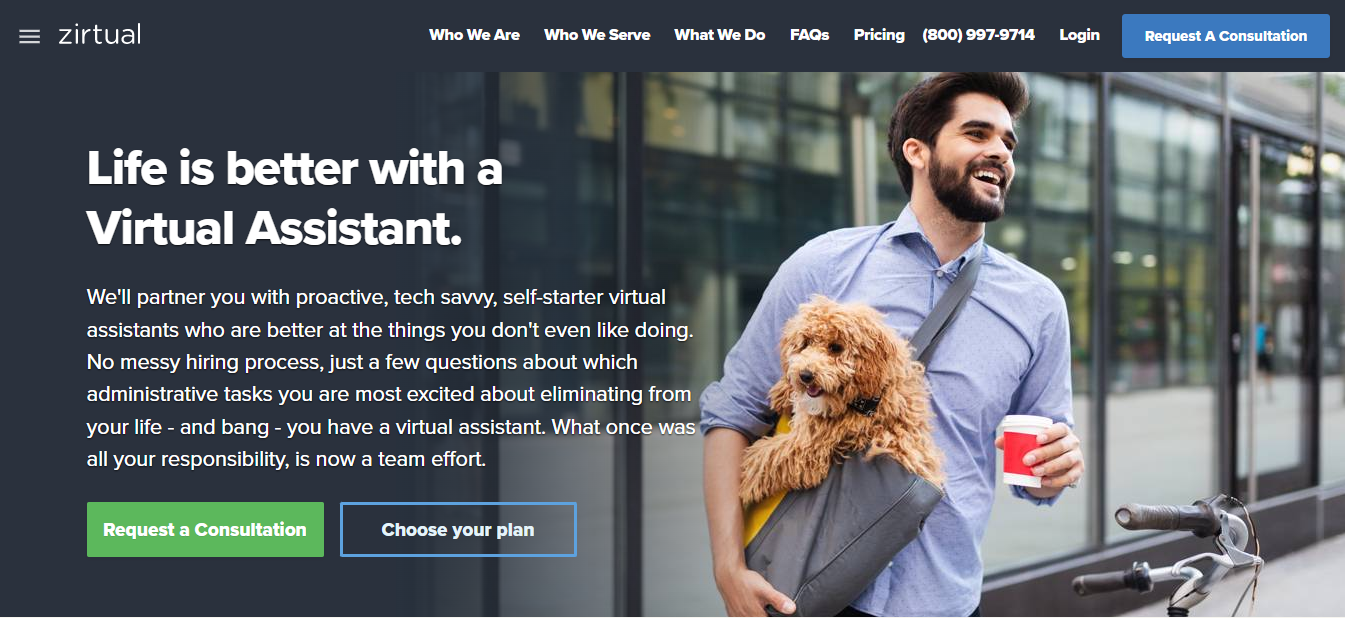 Zirtual is the best place to hire US-based virtual assistants. Our team of US-based virtual assistants is made up of college graduates who are all on top of their respective fields. Not only are our virtual assistants highly skilled but they also have a solid understanding of the US work culture that helps in meeting your needs in a way that aligns with US business practices.
At Zirtual, we take our vetting and hiring process seriously. We evaluate potential candidates based on various factors, including their skills, experience, and tech-savviness. We also conduct thorough background checks to ensure that our virtual assistants have a clean record.
We believe in investing in our virtual assistants so they can be the best they can be. That's why we provide continuous training on the latest tools and trends in their respective fields.
We have streamlined our virtual assistant onboarding process to be the quickest in the industry. Our US-based VAs are trained to start working from the word go so you don't have to spend hours teaching them the ins and outs of your business.
We know that sometimes there are tasks that even the best virtual assistant might not be able to handle. But at Zirtual, we have a team of specialists who can step in and help out whenever needed, and the best part is there's no extra cost to you. With Zirtual, you'll never have to go it alone.
Zirtual Pricing Plans
Zirtual offers 4 premium packages.
Entrepreneur Plan ($549/month): 12 hours of work with 1 user.
Startup Plan ($849/month): 24 hours of work with 2 users.
Small Business Plan ($1249/month): 36 hours of work with 3 users.
Team Plan ($1699/month): 50 hours of work with 5 users.
2. Virtual Assist USA – Putting Security First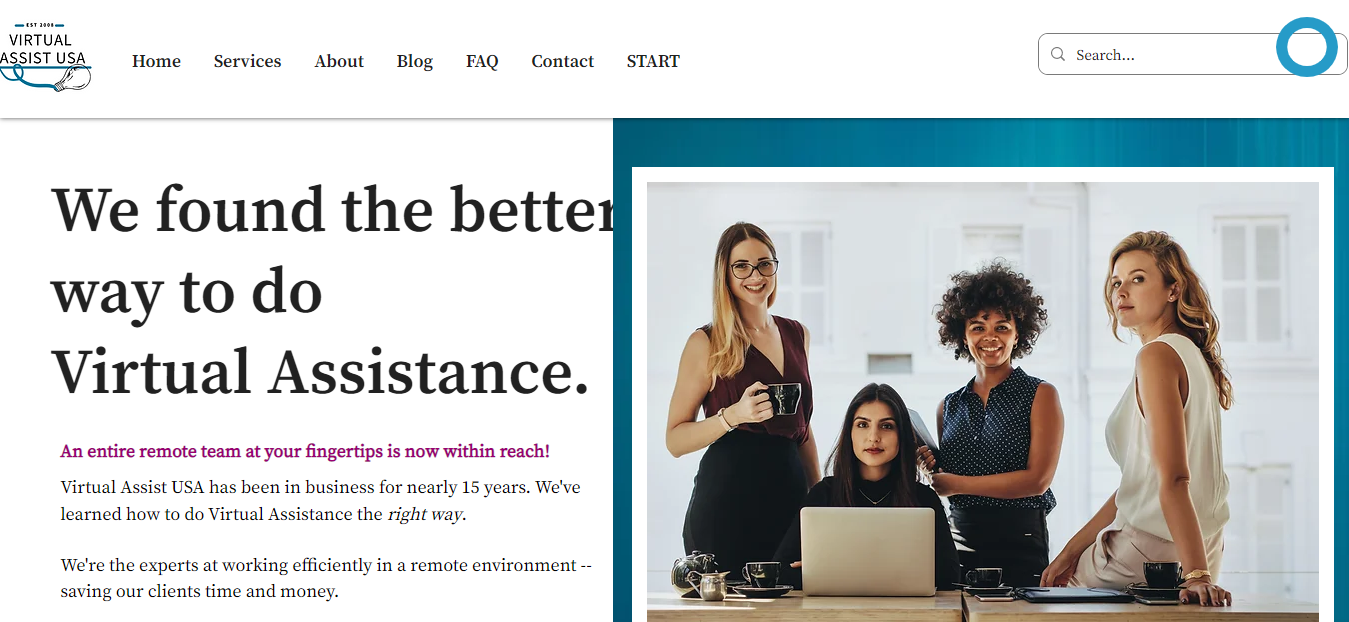 Virtual Assist USA is a leading platform for hiring virtual assistants in the US. They were founded in 2008 and are a certified woman-owned business. With vast experience working on thousands of projects, they have gained expertise in over 50 industries. Big names like Dow Chemical, Tableau, Twitter, and IBM trust Virtual Assist USA for their virtual assistant services. 
Virtual Assist USA has an in-house team of skilled virtual assistants who are trained to ensure bank-level security with end-to-end encryption. They are also HIPAA-compliant and perform complete federal background checks for their virtual assistants, ensuring a trustworthy and reliable team.
Virtual Assist USA's virtual assistant services are unparalleled as they can match you with an assistant in one business day. They provide packages that never expire, giving you the flexibility to use their virtual assistance whenever you need it.
Virtual Assist USA has a team of college-educated virtual assistants with a minimum of 10 years of experience. To make sure you get along well with your virtual assistant, the company uses a special professional personality assessment to match your work behavior personality, and communication style.
Virtual Assist USA Pricing Plans
Option 1 ($570/month): 15 hours at $38/hour.
Option 2 ($1080/month): 30 hours at $36/hour.
Option 3 ($1750/month): 50 hours at $35/hour.
Option 4 (Custom): Special rates based on your requirements.
3. Wishup – Most Diverse Skill Sets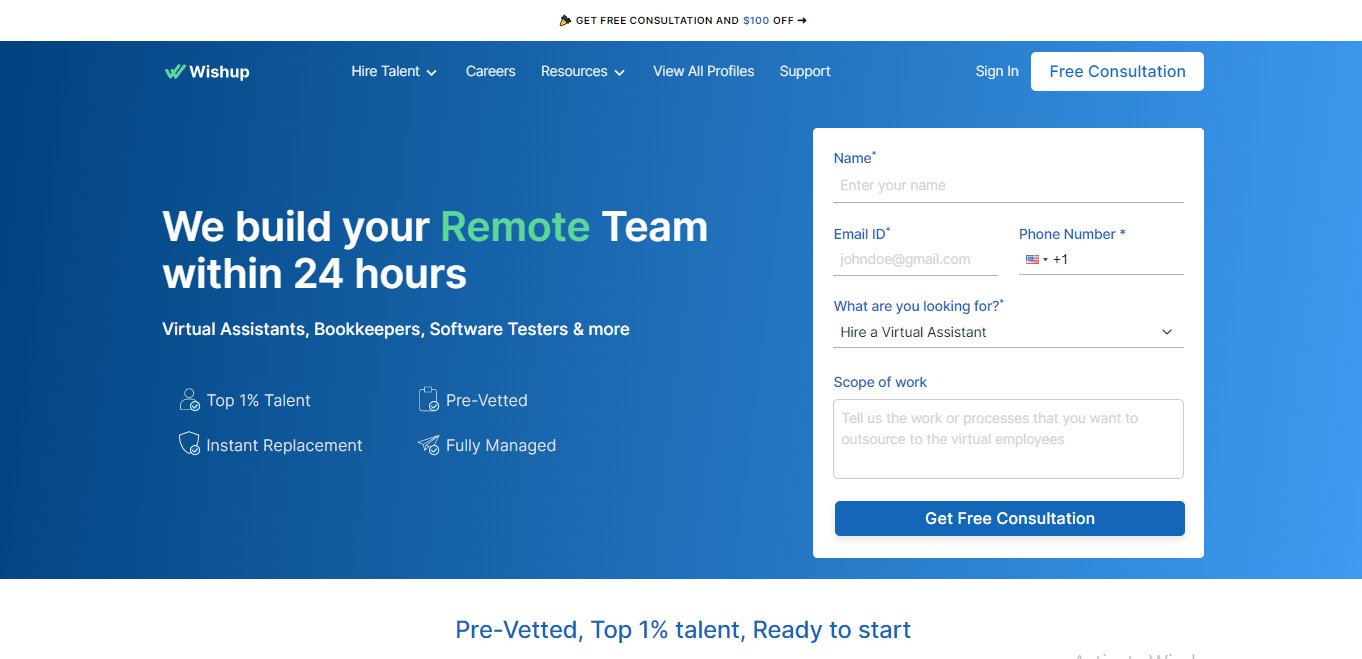 Wishup has been in the business for over 15 years and has served over 500 businesses. They have a team of 500 pre-vetted virtual assistants. They don't just hire anyone off the street but instead put all their potential candidates through a strict screening process that ensures that only the top 1% of talent makes it through. 
With Wishup as your virtual assistant service provider, you'll have access to over 200 services to help you with many specialized and administrative tasks like social media management, data entry, and calendar management. 
You can hire a team of virtual assistants in less than 24 hours and they guarantee a less than 12-hour turnaround time for most tasks. This virtual assistant company also offers a 7-day money-back guarantee. 
When you sign up with Wishup, they take care of everything related to managing your virtual assistants. You'll have access to a fully managed service and they'll assign you an account manager who will be your main point of contact to help you and make sure that you have the support you need.
Wishup Pricing Plans
Wishup provides custom pricing plans for its services.
4. Priority VA – Science-Driven Matching Process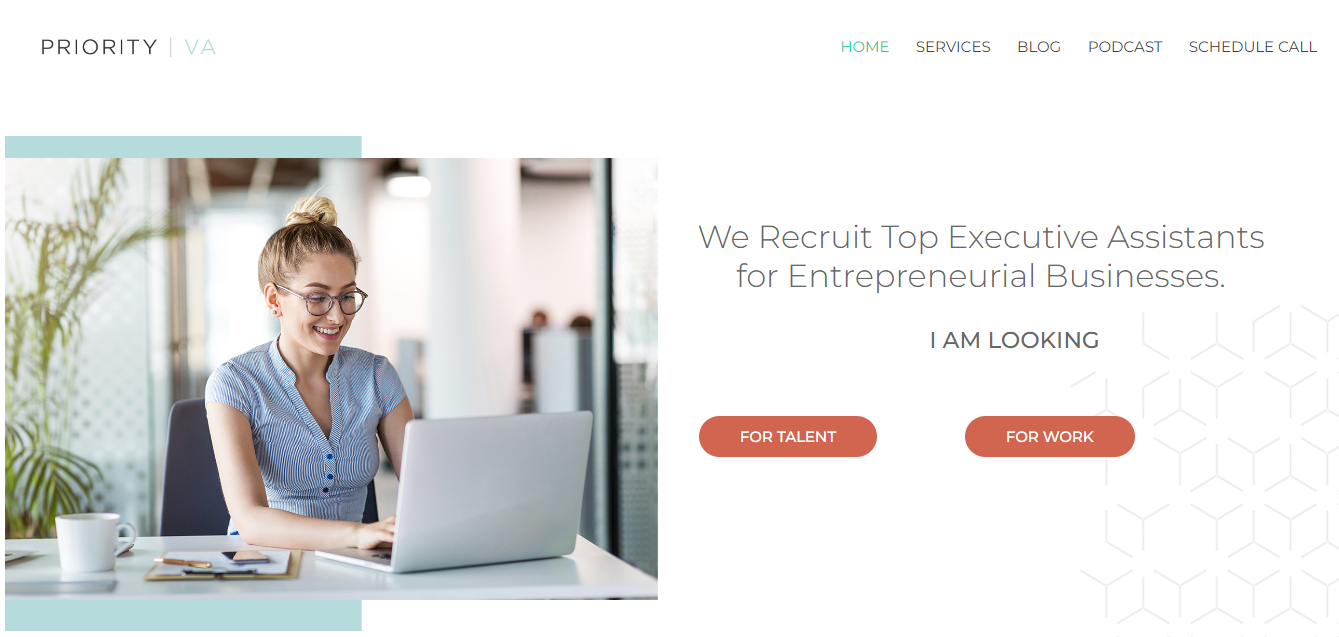 Priority VA has been providing US-based virtual assistants for over a decade. The company's core focus is on building long-term collaborative relationships and they work hard to foster trust and communication from the outset. Priority VA provides 24/7 assistance regardless of the time zone – a huge benefit for small business owners who need a dedicated virtual assistant at all hours of the day and night.
Priority VA has a signature vetting process, known as the Gauntlet that ensures only the most qualified and skilled virtual assistants are selected for their network. They are Kolbe-certified and their matching process is rooted in conative brain research. They take into account an individual's natural talents and strengths and go beyond just matching skills and experience. 
This approach has led to more successful matches between clients and virtual assistants since the matches are based on compatibility rather than just skill sets. Priority VA offers a free 30-minute consultancy call to discuss your specific needs and get a better sense of how they can help you.
Priority VA Pricing Plans
Customized pricing plans are available on demand.
5. GetFriday – Most Economical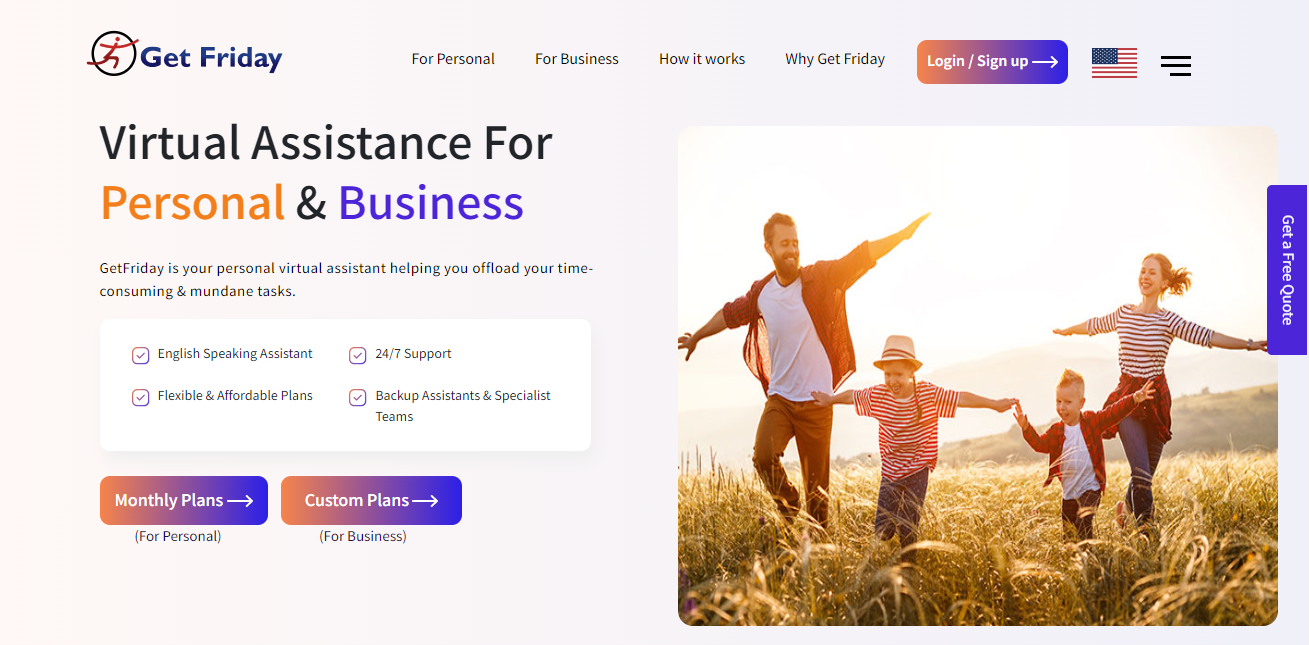 GetFriday was founded in 2005 and has since served over 8,000 clients from 80 different countries. They are an ISO 27001-certified company and store all of your information in encrypted form and handle it according to ISO standards.
When you hire virtual assistants from GetFriday, you get someone who has 15 years of experience in their respective fields. So you can trust that they have virtual assistant skills beyond basic administrative services to handle even the most complex tasks.
At GetFriday, you'll find a team of skilled and diverse graduates. They are always prepared to provide backup assistance or specialized teams for your projects whenever you need them.
GetFriday connects you with a virtual personal assistant within a day. Once you're up and running, they provide an online customer portal where you can keep track of everything your virtual assistant is working on.
GetFriday Pricing Plans
Basic 5 ($65/month): 5 hours of work.
Basic 10 ($120/month): 10 hours of work. 
Basic 20 ($200/month): 20 hours of work.
Custom Plans: Tailor-made quotes.
6. Trusty Oak – Most Detailed Onboarding Process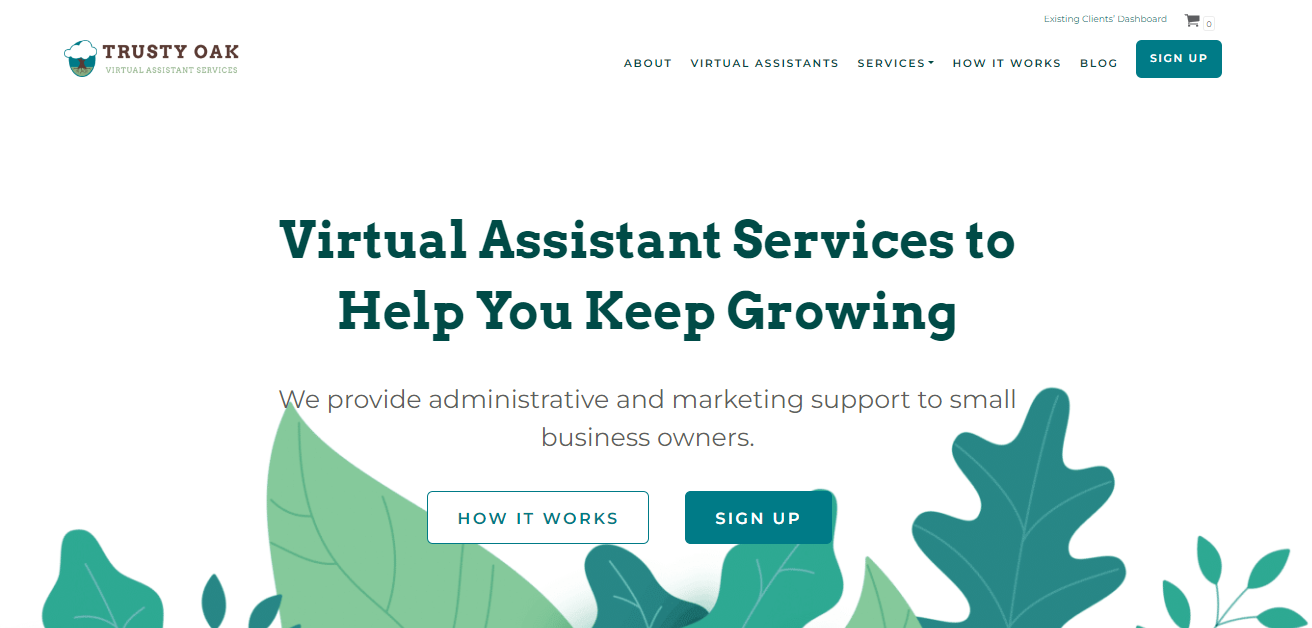 Trusty Oak is an A+ rated, BBB-accredited business that specializes in connecting clients with US-based virtual personal assistants. They operate as a team and your dedicated assistant has the support of the entire Trusty Oak squad, including a Client Success Coordinator who will be with you every step of the way.
When you sign up with Trusty Oak, you'll receive a Growth Starter Pack (GSP) which is tailored to your specific needs and packed with value. This personalized onboarding experience ensures that you get off to a great start with your dedicated assistant with all the necessary tools and resources in your reach. 
They also give free access to Cloverleaf coaching software which helps you and your assistant learn more about each other's work and communication styles. 
Trusty Oak Pricing Plans
Acorn ($449/month): 10 hours of work.
Sprout ($808/month): 20 hours of work. 
Oak ($1,580/month): 40 hours of work.
Grove (2,209/month): 60 hours of work.
7. 24/7 Virtual Assistant – Skilled Resources Without Training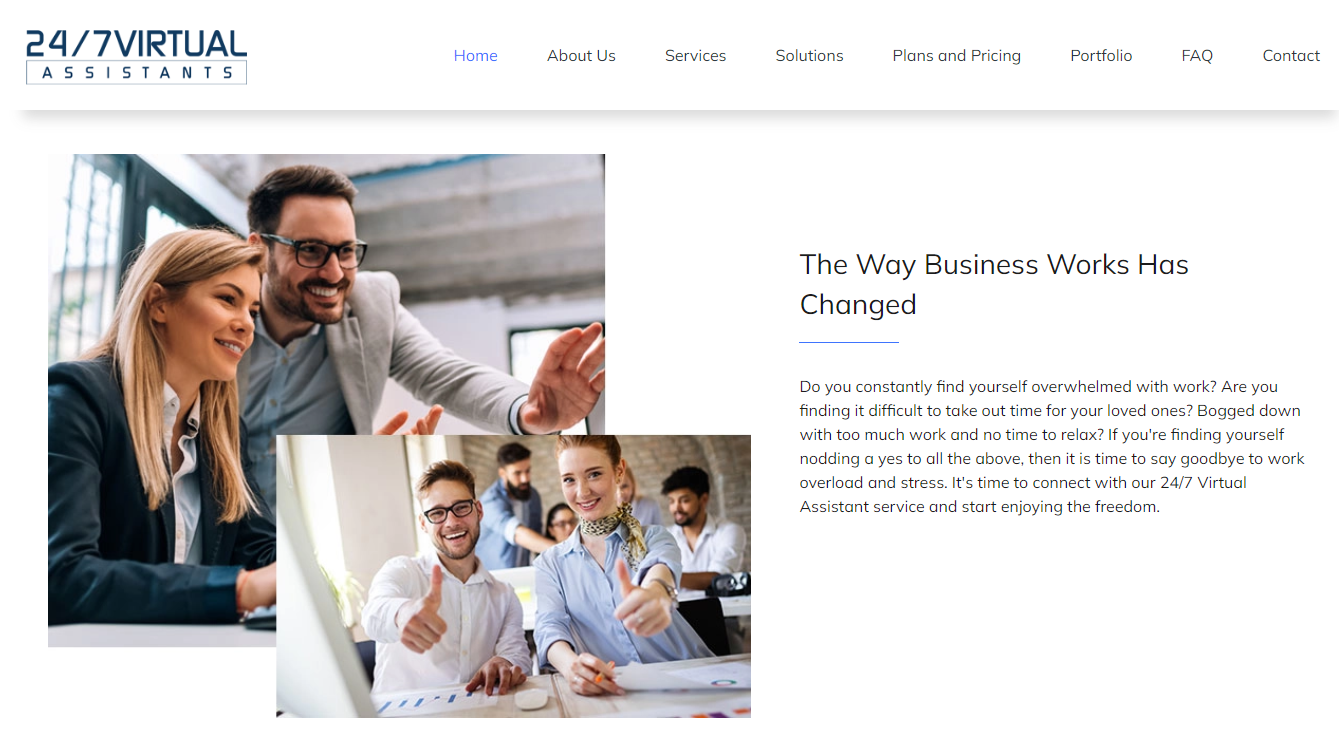 Established in 2006, 24/7 Virtual Assistant is a US-based company that is known for providing affordable solutions to make hiring a virtual assistant affordable even for a small business owner. They have a stringent verification process. They ensure that each virtual assistant has a clean background and is a good fit for the job.
24/7 Virtual Assistant provides constant training for their virtual assistants in form of workshops, refresher courses, and boot camps to make sure that their virtual assistants stay up-to-date with the latest tools and technologies.
Each virtual assistant at 24/7 Virtual Assistant is a self-starter and highly skilled in conducting all tasks with ease and efficiency. You won't have to worry about supervising them every step of the way as they're trained to work independently and deliver high-quality results.
24/7 Virtual Assistant Pricing Plans
Entrepreneur ($349/month): 30 hours of work.
Professional ($549/month): 60 hours of work.
Office ($799/month): 90 hours of work.
Executive ($999/month): 120 hours of work.
VIP ($1,199/month): 160 hours of work.
8. WoodBows – Award-Winning Virtual Assistance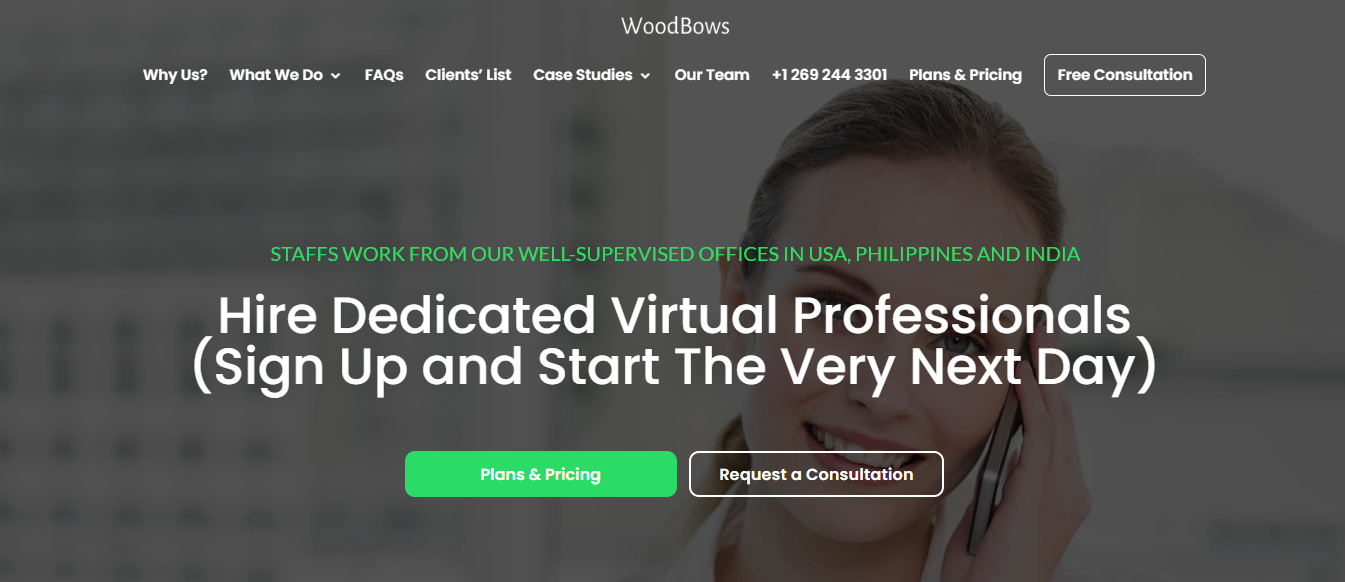 WoodBows is one of the best platforms in the US to find college graduate virtual assistants. They select only the top 3% of virtual assistants who have at least 10 years of experience. And Having served over 1,000 customers, they received the "Best For Customer Satisfaction" award from Forbes USA.
Unlike other virtual assistant platforms where assistants work for multiple clients, WoodBows provides you with a dedicated VA who is solely focused on your tasks and needs. This can save you up to 75% of your time, allowing you to focus on growing your business. They also provide you with free access to TimeDoctor, a powerful tool for monitoring virtual assistants' performance.
Many of their customers have reported an increase in their profits by up to 89%, thanks to the expertise and dedication of their virtual assistants. You can rest assured that your data is secure as they use advanced data encryption technology to protect your sensitive information. 
WoodBows Pricing Plans
Plan A ($599/month): 40 hours monthly.
Plan B ($999/month): 80 hours monthly.
Plan C ($1499/month): 160 hours monthly.
Value Plan (Custom Pricing): Tailor-made solutions.
9. Alive Virtual Assistants – Most Adaptable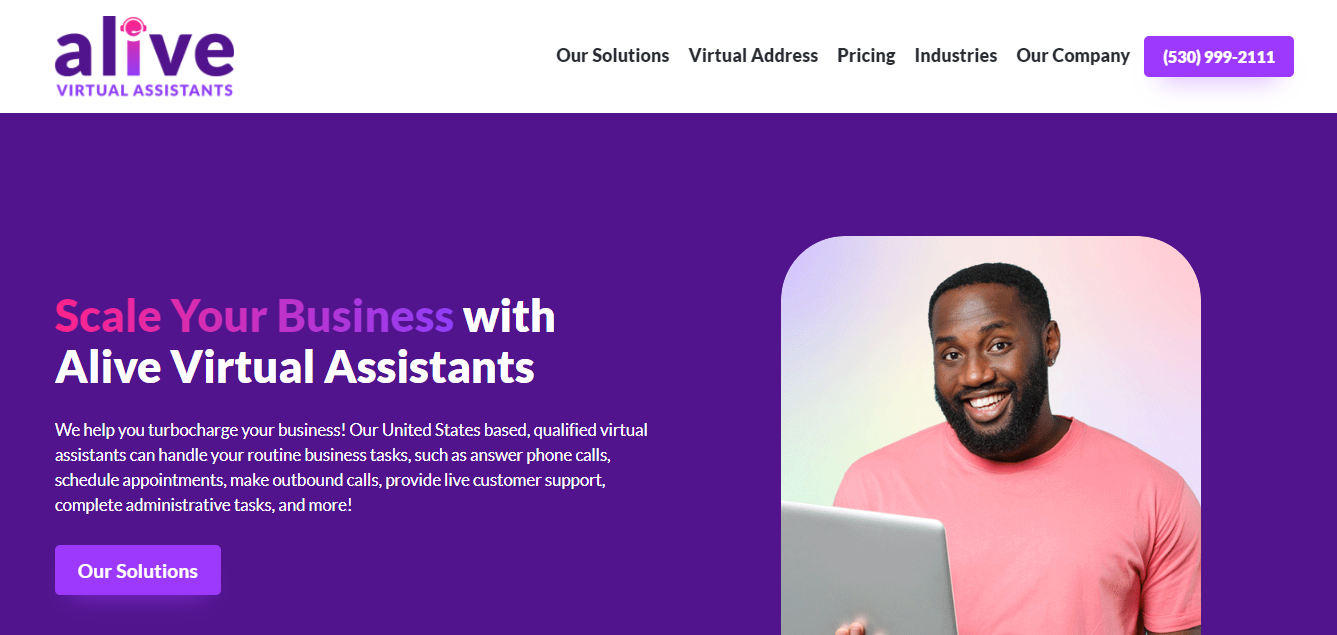 Alive Virtual Assistants has one of the most thorough onboarding processes in the industry. They'll take the time to learn exactly how you want them to represent your business and interact with your customers. This will help VA understand your brand, tone of voice, and customer service approach to make a great impression.
Their virtual assistants get a foundational knowledge of the systems your business uses. They'll plug in quickly and start working with you right away. No need to spend time explaining how your digital marketing software or project management tool works – they are already familiar with 30 software programs and tools.
Alive Virtual Assistants Pricing Plans
Backup Receptionist ($49.95/month): 30 minutes included.
Receptionist & Scheduler ($249.95/month): 200 minutes included.
Full-Service Virtual Assistant ($1,299.95/month): 1,000 minutes included.
10. Virtual A Team – Ideal For Managing Complex Tasks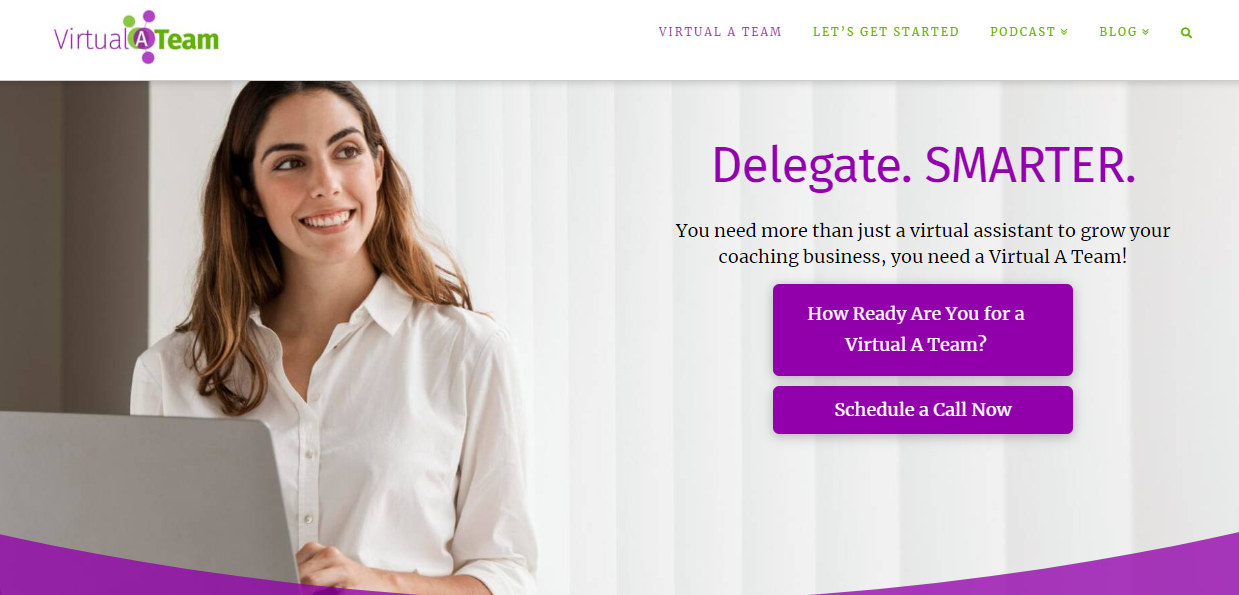 Founded in 2013, Virtual A Team has a small team of 35 virtual assistants who are highly vetted and hand-picked based on their skills and experience. They understand that one of the biggest concerns when hiring a virtual assistant is the risk of the team member disappearing without notice. 
That's why Virtual A Team provides a "Never Without© Guarantee" which ensures that Virtual A Team will always have a replacement ready should any of their team members become unavailable. Their virtual assistants specialize in catering to clients who have complex business needs. They are experts in setting up systems and processes to manage complex projects and tasks. 
Virtual A Team also provides access to a dedicated client portal that includes an extensive list of tools and resources. This helps clients to seamlessly work with their virtual assistants and build their teams effectively. They offer both a money-back guarantee and a satisfaction guarantee. 
Virtual A Team Pricing Plans
You can get in touch with their sales team for custom plans.
11. WorxBee – Honest Accountability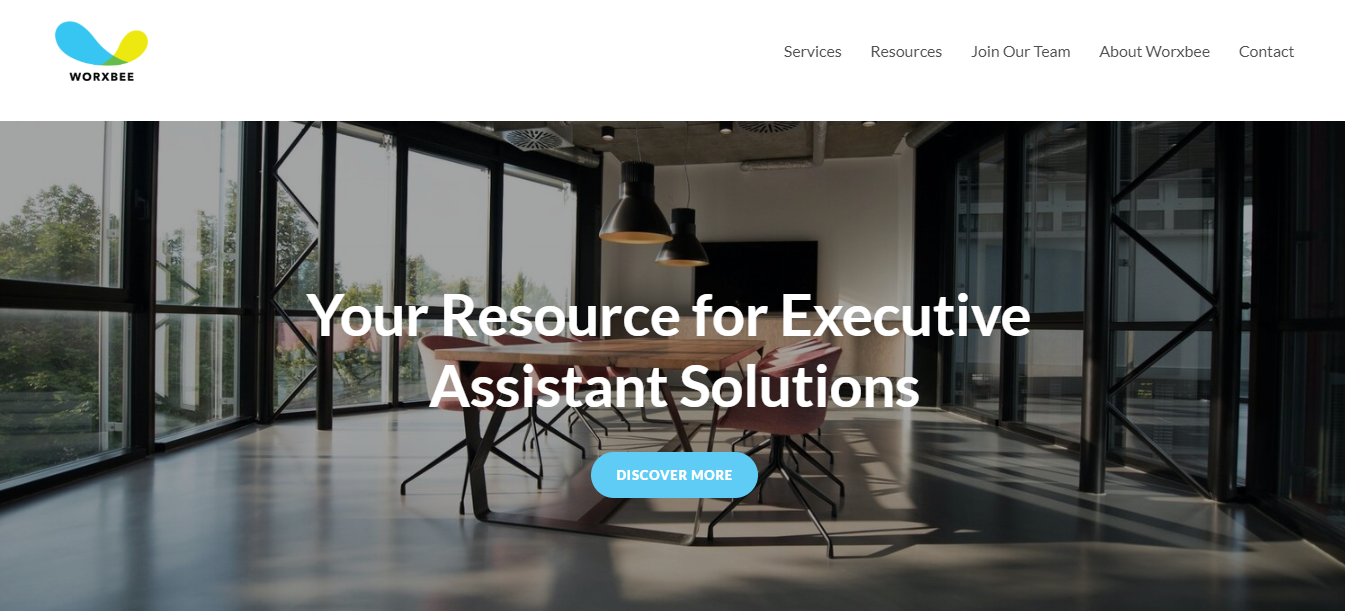 WorxBee is a virtual assistant platform that provides unmatched executive assistant services at Fortune 500 level. They have solutions for both individuals and enterprise teams. With WorxBee, you'll be matched with a virtual assistant based in the US who shares your passion and is committed to making a positive impact on your company's culture and productivity.
WorxBee's virtual assistants are trained in Entrepreneurial Operating System to help you streamline your processes and get everyone on the same page. So not only will you have an assistant to handle your day-to-day tasks but they'll also optimize your business and get it running. The results speak for themselves – some of their clients have reported up to a 40% increase in their income because of this approach.
WorxBee Pricing Plans
WorxBee offers tailor-made plans.
12. Byron – Most Highly-Trained Virtual Assistants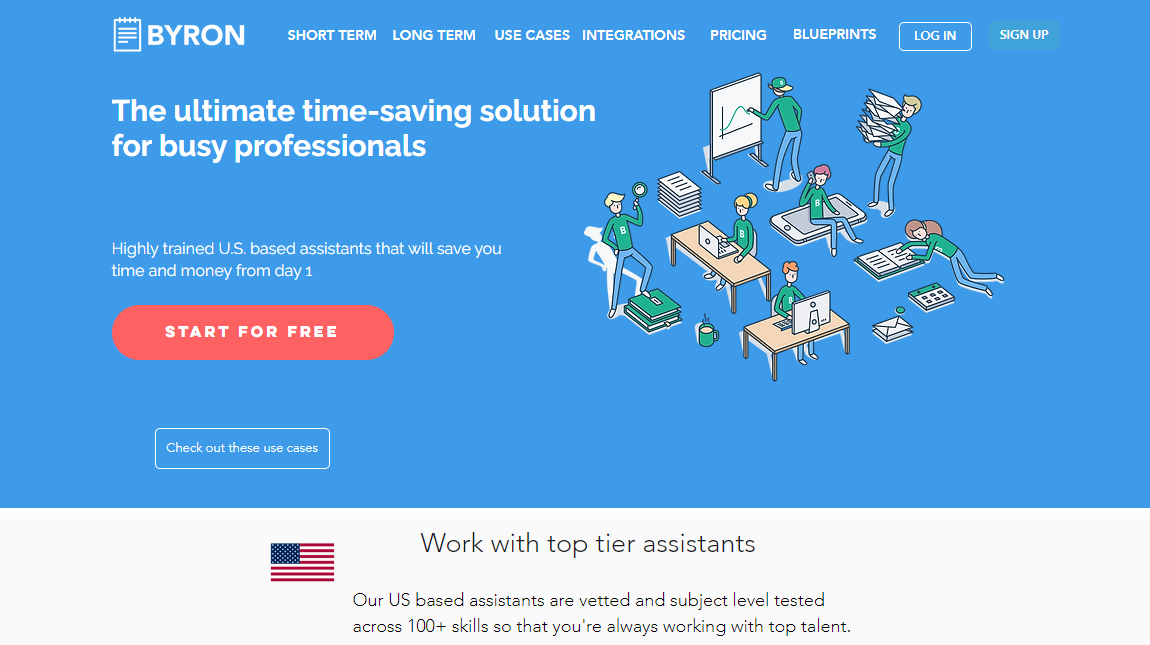 Byron is a worthy name on our list. Their US-based virtual assistants are highly trained and ready to tackle your to-do list from day one, whether that's scheduling appointments, managing your inbox, or even social media marketing. The company subject-level tests their virtual assistants across more than 100 skills, ensuring that you get only the best. 
Byron also provides an advanced and powerful monitoring and scheduling platform that is built for speed. You can track the progress of your virtual assistant in real-time, get alerts, chat with them, and so much more. Byron offers integration with over 1000 tools, including popular apps like Slack, Trello, and Google Drive. This means you can easily add new tasks and data with just one click of a button.
Byron Pricing Plans
Pilot ($290/month): Includes 10 hours.
Regular ($540/month): Includes 20 hours.
Plus ($990/month): Includes 40 hours.
Pro ($1,950/month): Includes 80 hours.
13. Belay – Fastest Growing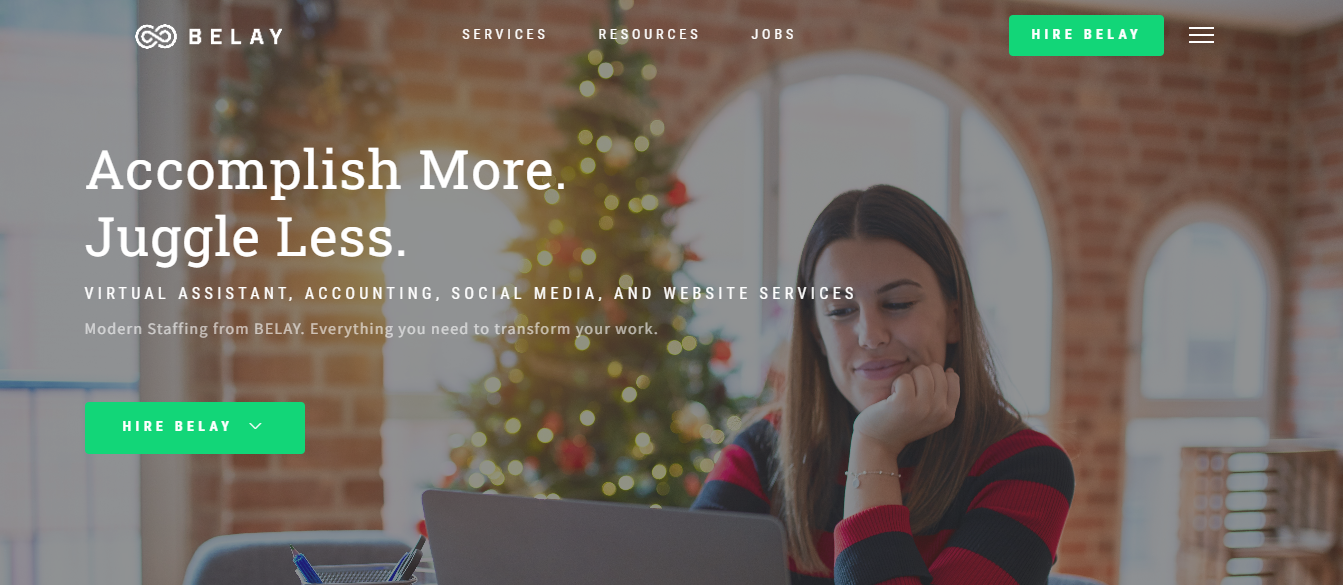 Established in 2010, Belay is a company based in Atlanta that provides virtual assistant services. With a team of 1200 virtual assistants from 48 states, you will have a better chance of finding a virtual assistant in your vicinity.
Belay has been recognized as one of the fastest-growing companies in America and made it to the Inc. 5000 list for 8 consecutive years. They have a thorough recruitment process and include a series of interviews and skill assessments to ensure that they only select highly qualified individuals. 
Belay makes the process of hiring a virtual assistant simple and hassle-free. Once you sign up for their service, your Client Success Consultant will meet with your Placement Team to discuss, vet, and select 2-3 top candidates from their bench of nearly 2,000 U.S.-based talents. Then, they will interview and select the best match for you – all this in a week.
Belay also offers a free replacement if you are not satisfied with the virtual assistant that you are matched with.
Belay Pricing Plan
Their packages start at just $1,380/month for 30 hours. You can get in touch with Belay to get detailed custom quotes.
14. Fancy Hands – Tech-Driven Assistance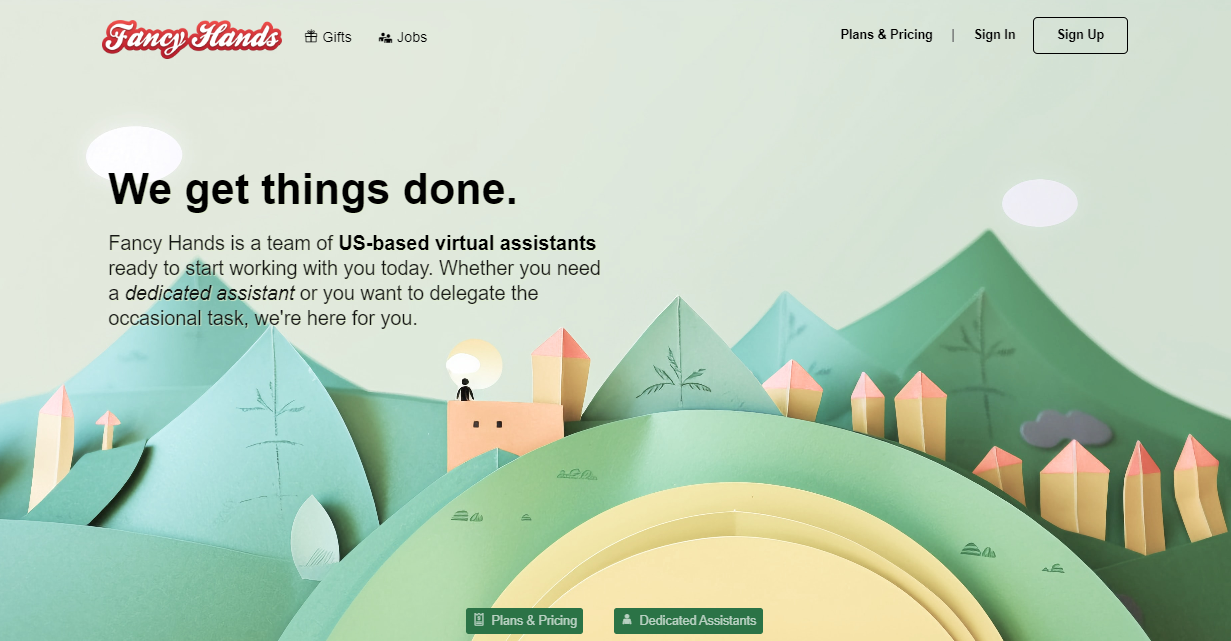 Fancy Hands is a well-known name that connects you with US-based virtual assistants in just 48-72 hours. Their client list includes some of the biggest names in the industry, such as Uber, Duck Duck Go, and Chartbeat. They have a user-friendly app that is available for both Android and iOS users. The app allows you to communicate with your virtual assistant, assign tasks, and track progress, all from the comfort of your phone. 
Fancy Hands use industry-best security measures to ensure that your data and information remain safe and secure at all times. They provide you with a project manager who oversees your tasks and ensures that everything is running smoothly. For businesses and organizations, Fancy Hands even offers an API that can integrate its services into your existing systems and workflows seamlessly.
Fancy Hands Pricing Plans
Small Plan ($17.99/month): Offers 3 requests.
Medium Plan ($29.99/month): Offers 5 requests.
Large Plan ($74.99/month): Offers 15 requests.
XL Plan ($149.99/month): Offers 30 requests.
15. QuickMonday – Fastest Response Time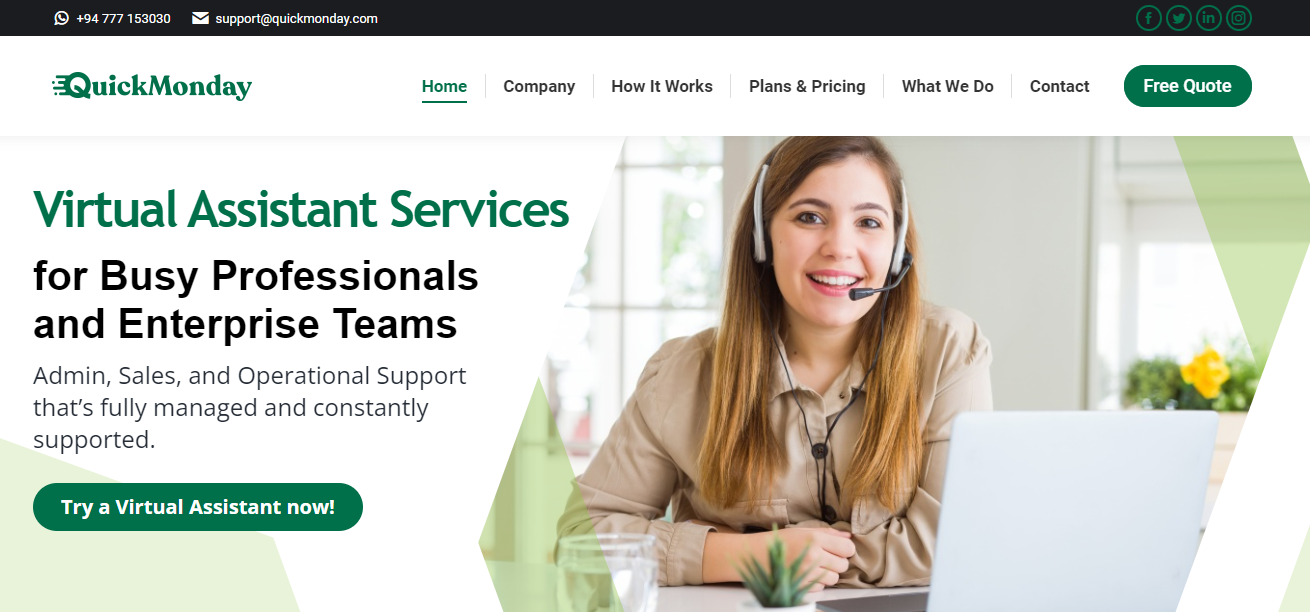 Established in 2013, QuickMonday has been connecting business owners with highly-skilled virtual assistants for over a decade. A client base of over 1000 satisfied customers shows that QuickMonday knows how to deliver results. QuickMonday's customer retention rate is nothing short of impressive – 99%. This just goes to show that their clients are more than satisfied with the level of service they receive.
QuickMonday's virtual assistants are also known for their lightning-fast response times. When you need help with a task or have a question, you don't have to wait around for hours or even days to get a response. All of their virtual assistants undergo thorough background checks to ensure that they are trustworthy and reliable.
If for any reason you're not completely satisfied with the service you receive from your virtual assistant, QuickMonday offers a 100% satisfaction guarantee with a money-back policy.
QuickMonday Pricing Plans
Entry ($60/month): Includes 10 hours from VAs having 2-4 years of experience. 
Intermediate ($140/month): Includes 20 hours from VAs having 4-6 years of experience.
Professional ($160/month): Includes 20 hours from VAs having 6-10 years of experience.
Expert ($360/month): Includes 40 hours from VAs having 10+ years of experience.
16. Virtual Gurus – Prioritizing Diversity & Inclusion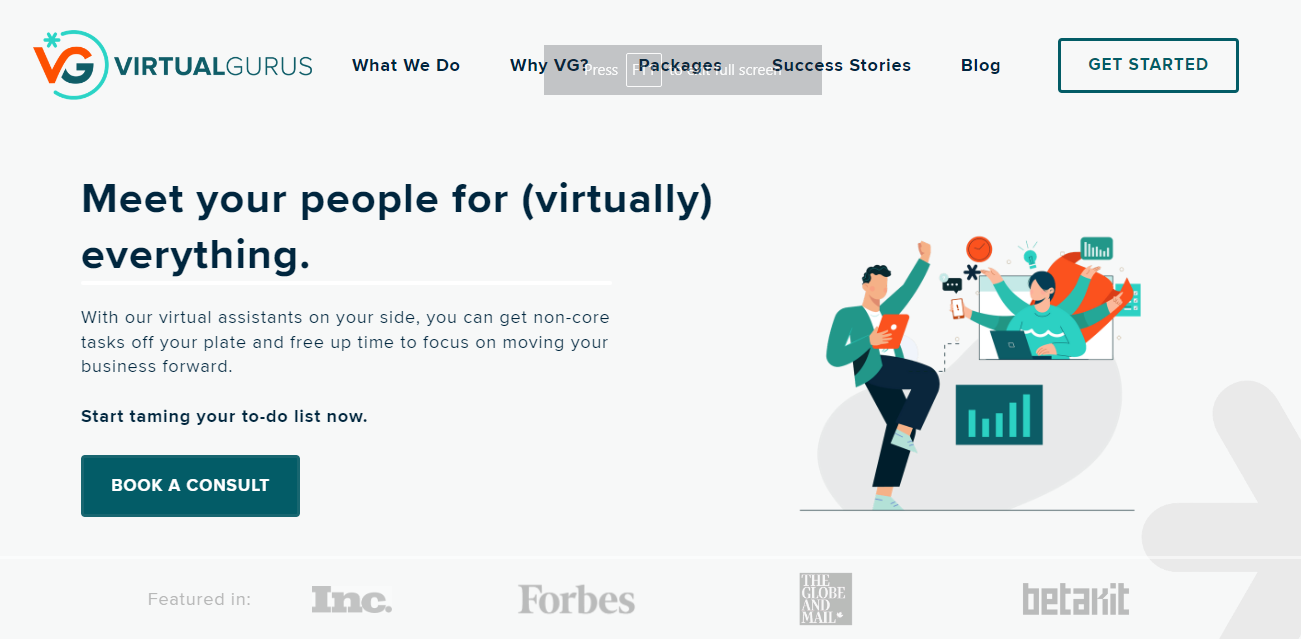 Virtual Gurus was started in 2016 and has since grown to a team of over 800 virtual assistants ready to help businesses of all sorts. They prioritize diversity and inclusion and 65% of their virtual assistants come from underrepresented communities.
Virtual Gurus uses a unique approach to matching you with the perfect virtual assistant. They combine their own algorithm, machine learning, and human expertise to find the best fit for you. So not only will you get matched quickly but you'll also get paired with someone who truly understands your needs.
Virtual Gurus Pricing Plans
Virtual Gurus have three different packages but the pricing is available on demand. 
Conclusion
No doubt this land is your land and this land is my land but only when the time zone is the same. Having a US-based virtual assistant can open doors of efficiency for your business to reach goals that you only dreamt of. On the other hand, hiring a virtual assistant who is not familiar with the grounds of work culture and is not a native speaker can turn out to be a zero instead of a hero. 
Just because you want to achieve bigger goals in life doesn't mean you don't have to miss that much-awaited 4th of July fireworks and barbecue with your family. With Zirtual's language-savvy assistant by your side, you won't have to sacrifice either one. Our virtual assistants here speak your language, quite literally. Fluent in speaking native English and understanding the American culture like nobody's biz, Zirtual virtual assistants are the best in the business. Don't settle for less and get yours today.