You are tied up in tasks around the clock and you want out. These tasks are important yet they are taking you nowhere. Even though you know how crucial a virtual assistant is for you and your business at the very moment but if you don't know where to get the help you need, we have just the thing to pull you out of this catastrophe. Have you heard of the virtual assistant service?
A virtual assistant service provider is a company that offers VA hiring solutions to business owners at maximum ease. With the advent of these companies in the market, it's now possible to hire a virtual assistant without going through the pretzeled hiring processes.
Now comes another twist. This is the last one we promise. With so many virtual assistant services out there, how do you know which one will work out best for your unique needs?
Our article reviews and compares the best virtual assistant services for 2023 with their crown features and pricing. By the end of this guide, you'll be proficient in knowing which company will work out best for you and your business.
16 Of The Best Virtual Assistance Service Providers 
Here's our compilation of the 16 best virtual assistant services of 2023. As a business owner, keep them under the watch for their remarkable features, services, and pricing. They are sure to take the bar of VA services through the skies. Cheers to the new beginnings.
Zirtual – Overall best for vetted services
Prialto – Best For Newer Adaptations
Fancy Hands – Best For Affordability
1. Zirtual – Top Pick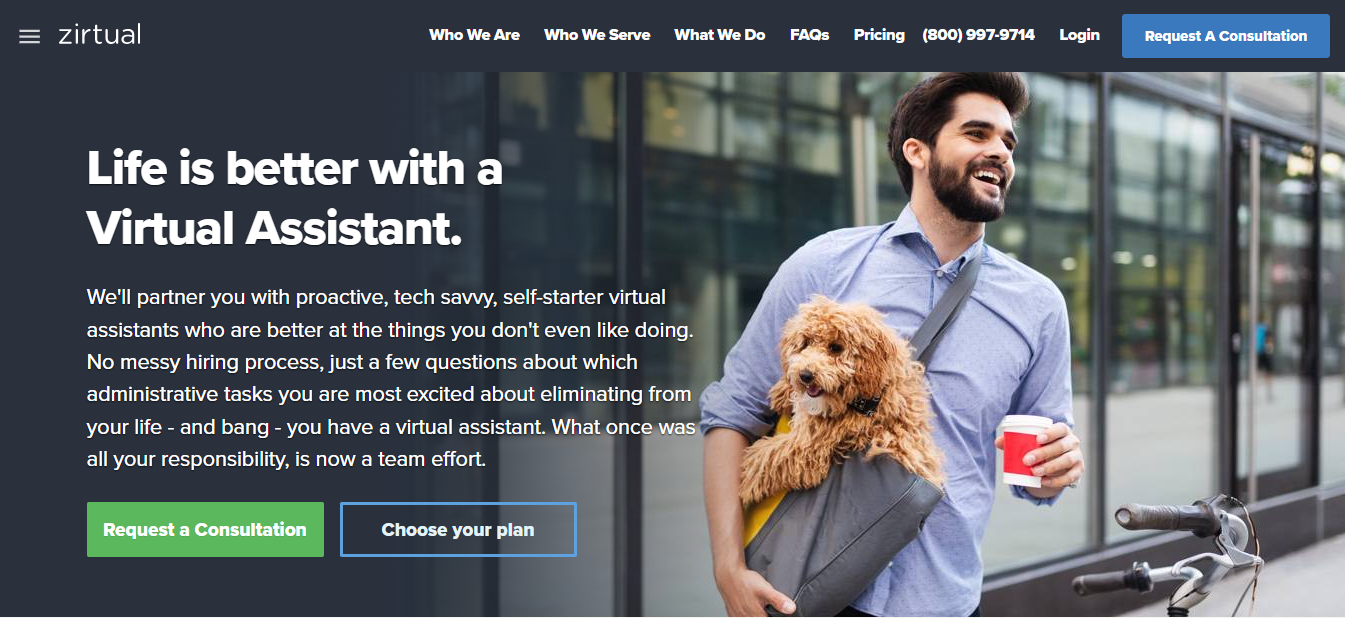 Highly trained, super organized, and having a real passion for helping people, that's how we will describe Zirtual VAs. Zirtual's three Ps; proficiency, professionalism, and personalization make us snag the top spot in this list.
The best part about hiring a Zirtual VA is training them to do the tasks is not even your problem. They are trained to the mark and defined by their proficiency in the tasks. May it be bookkeeping, calendar management, social media management, email management, and more.
Our VAs understand and know how to move with the dynamics of modern businesses. These US-based, college-educated virtual assistants have a full grasp of the modern tech leveraged to get tasks done more efficiently and in a structured manner. You'll be blown away by the number of tasks your Zirtual VA would do in a fraction of the time.
You also get the privilege of having a dedicated assistant so that you can develop a better comfort level. Yet, you have the support of the backup team if the need arises. Zirtual's client portfolio just cannot be ignored. They have one of the leading names attached to their clientele portfolio. This says so much about the reliability of the company. 
Pros And Cons Of Zirtual
| | |
| --- | --- |
| Pros | Cons |
| Affordable pricing plans | The starters plan is limited to 1 user  |
| No contractual obligations | |
| Offer pre-trained professionals | |
| Top US-based college degree holders as VAs | |
Zirtual Pricing Plans
Entrepreneur Plan ($549/month): Offers 12 hours of work. 1 user included
Startup Plan ($849/month): Offers 24 hours of work. 2 users included
Small Business Plan ($1249/month): Offers 36 hours of work. 3 users included
Team Plan ($1699/month): Offers 50 hours of work. 5 users included
2. Prialto – Ever Evolving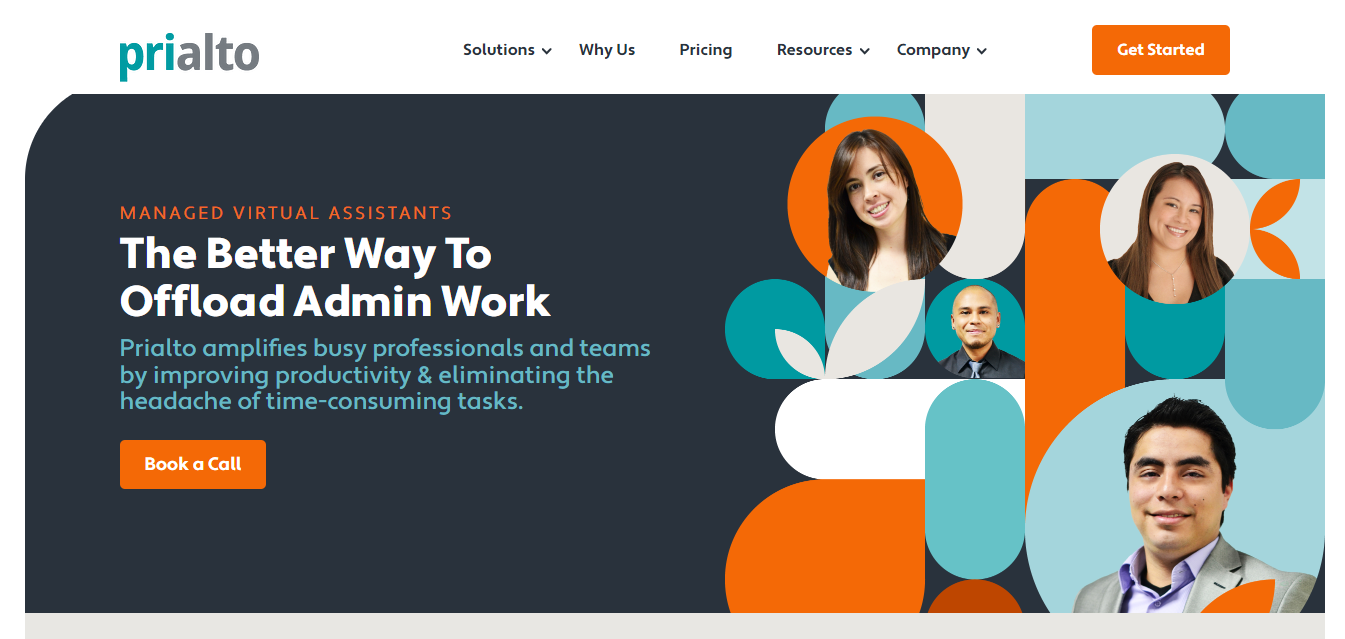 For us, why Prialto stands out from the crowd is partly because it has a state-of-the-art platform that makes it super easy for you to interact with your virtual assistant and get things done. And their top-notch customer support as well.
A Prialto VA can easily mesh in your system and work as he has always been a part of it from day one. Their VAs are supported by the best training and backup management. At Prialto, client data security is their top priority.
Whether it's continuously training their virtual assistants to be even more efficient or adding new features to their platform, they're constantly working to make sure you're getting the best possible experience.
Pros And Cons Of Prialto 
| | |
| --- | --- |
| Pros | Cons |
| Exceptional support team | Pricey option |
| Availability of backup managers | |
| Offer enterprise-level data security | |
| Free consultation for plan implementation | |
Prialto Pricing Plans
"Yourself" Plan ($1350/month): Offers 55 hours of work. 1 user included
"Your Team" Plan ($4050/month): Offers 165+ hours of work. 3+ users 
"Your Organization" Plan (Custom Pricing): Offers 440+ hours of work. 8+ users
3. Fancy Hands – Best Value

We don't call them Fancy Hands for nothing. They have a team of highly skilled and trained assistants who can handle just about any task you throw their way. Whether you need help with scheduling, research, data entry, or even just finding the best deals on travel, Fancy Hands has got you covered.
They have an excellent response time with your assigned assistant just a text away. Not only that, but your security is of utmost importance to them. They prioritize privacy so let loose, because with Fancy Hands your data is safe and protected.
The company has a user-friendly app that makes it easy to communicate with your assistant and track their progress. Plus, you can even rate your assistants to help them improve and provide the best service possible.
With so much going on for this service provider, it's no wonder that it takes the spotlight on our list.
Pros And Cons Of Fancy Hands
| | |
| --- | --- |
| Pros | Cons |
| Excellent response time | The VAs are shuffled every time you book a package |
| They offer referral credits | |
| Availability of yearly plans come with discounts | |
Fancy Hands Pricing Plans
Small Plan ($17.99/month): Offers 3 requests
Medium Plan ($29.99/month): Offers 5 requests
Large Plan ($74.99/month): Offers 15 requests
XL Plan ($149.99/month): Offers 30 requests
4. WoodBows – Multilingual Support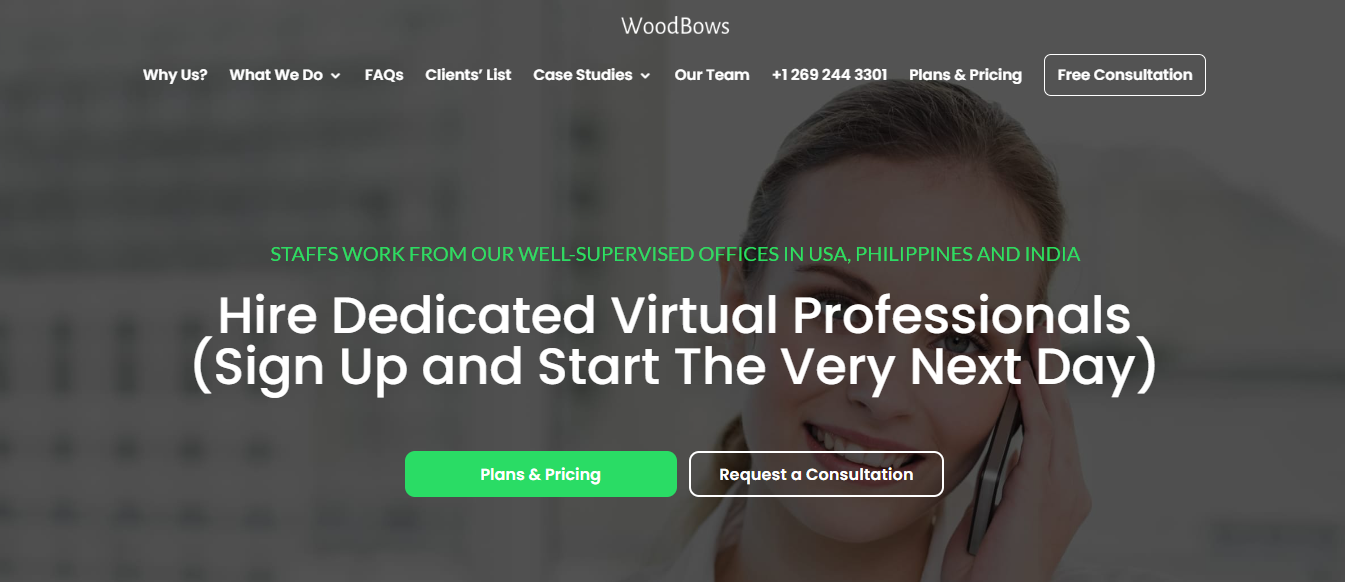 WoodBows targets to provide VA support to entrepreneurs, and small to mid-sized business owners in the US and Canada. The best feature of this VA service provider is the proficiency of support in multiple languages. 
Their team is made up of a diverse group of individuals from all over the world, so you can be sure you're getting a unique perspective on your tasks. WoodBow offers the top skill set with a minimum experience of 10 years that can help business owners delegate a vast number of tasks.
The vetted team is full of creative thinkers who are ready to come up with out-of-the-box solutions to whatever problem you're facing. This all packaged with an ah-mazing response time makes WoodBows one of the ideal choices for hiring a VA.
Pros And Cons Of WoodBows
| | |
| --- | --- |
| Pros | Cons |
| No contractual obligation | No free trial  |
| Offer support in multiple languages | Availability of a dedicated VA is uncertain |
| Booking for custom hours is available | |
WoodBows Pricing Plans
Plan A ($599/month): Offers 40 hours monthly
Plan B ($999/month): Offers 80 hours monthly
Plan C ($1499/month): Offers 160 hours monthly
Value Plan (Custom Pricing): Provides tailor-made solutions
5. MyTasker – Most Reliable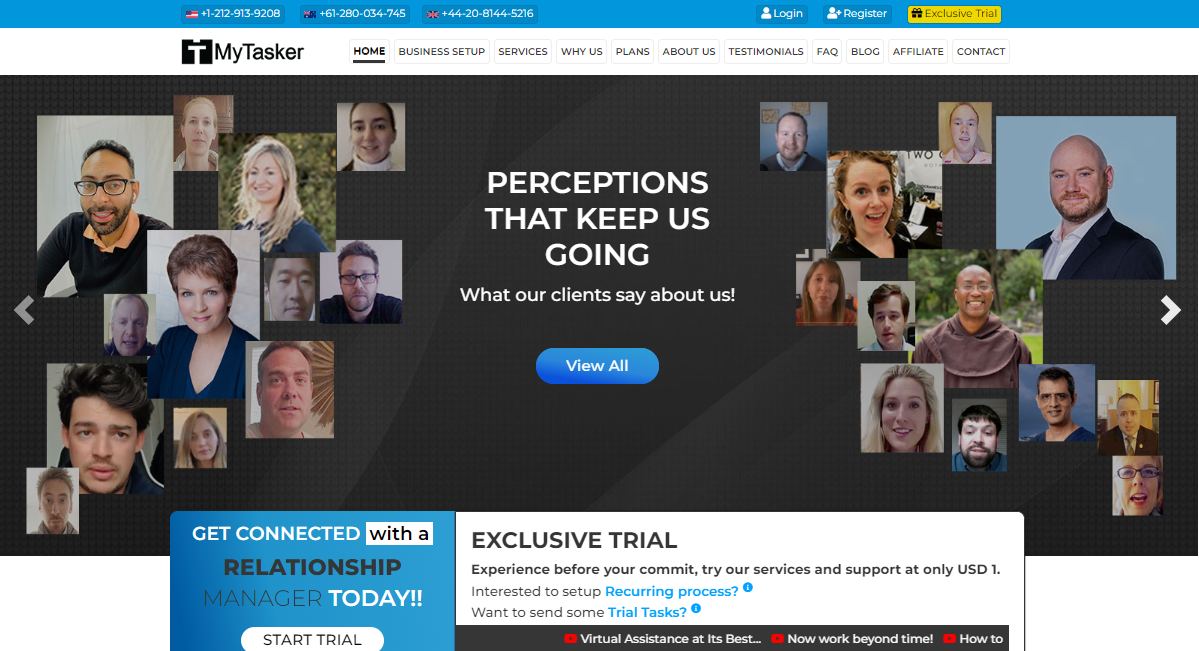 MyTaker takes the fifth spot on our list this year for providing highly skilled and experienced virtual assistants. The team at MyTasker understands how valuable time is for any businessman. 
So they make sure things get rolling as soon as they take charge. They offer administrative, accounting, and writing services. Alongside that, web design, IT, and digital marketing experts are also available.
Their most prized feature is the flexibility they offer in their plans. You can customize your virtual assistant package to fit your specific needs and budget. So at MyTasker, there is something for everyone.
People at MyTasker believe in being responsive and communicative so that the clients always remain updated on the progress. Overall MyTasker is a great service provider even if you don't have a big budget.
Pros And Cons Of MyTasker
| | |
| --- | --- |
| Pros | Cons |
| Affordable pricing | The free trial seems complex |
| Great customer support | The company is not US-based |
| Offers backup management | |
MyTasker Pricing Plans
VA 10 Hours ($140/month): Offers 10 hours of services per month
VA 20 Hours ($250/month): Offers 20 hours of services per month
VA 40 Hours ($450/month): Offers 40 hours of services per month
VA 60 Hours ($600/month): Offers 60 hours of services per month
VA 100 Hours ($900/month): Offers 100 hours of services per month
6. Time etc – Most Lucid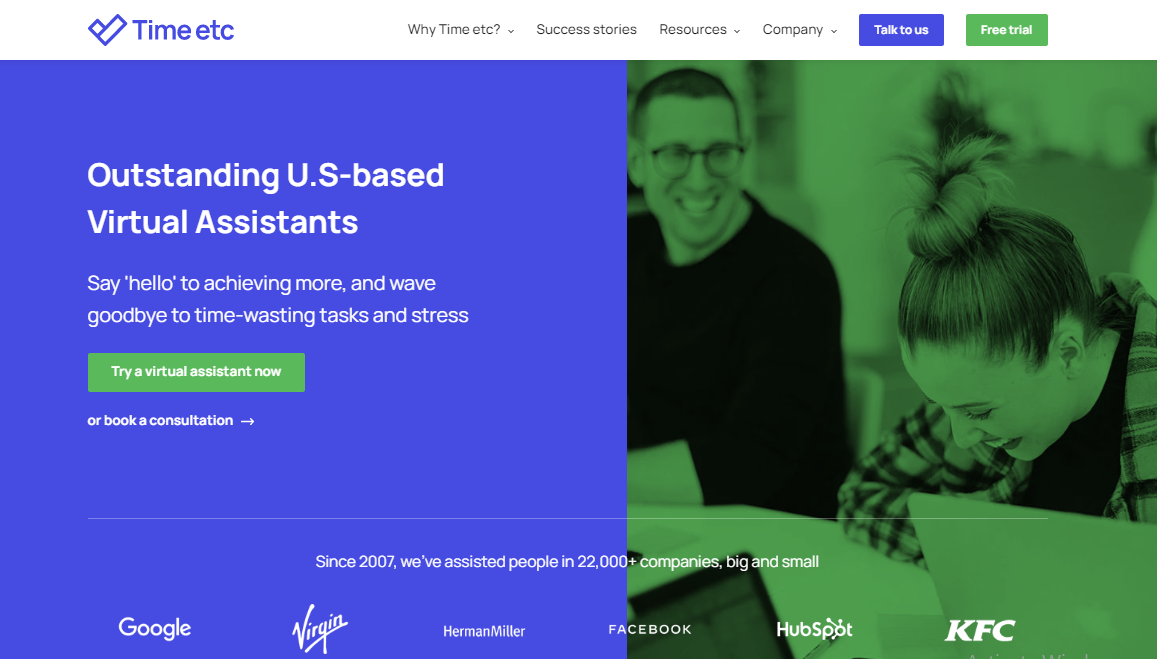 Having some of the leading names of the industry attached to their client portfolio, Time etc must be doing something right. From KFC to Google, they have provided virtual assistance for a whopping 22000 plus companies (big and small) across the globe.
Their team of virtual assistants is competent and well-vetted. These individuals have a wide range of expertise and can handle diverse tasks, from answering phone calls and travel planning to research and data entry. Time etc's task management dashboard and mobile app are one of a kind to aid efficiency.
Along with their expertise, the scalable package they offer has shot their popularity graph amongst small and big companies. The backup support offered is an attribute that cannot be ignored as well.
Pros And Cons Of Time etc
| | |
| --- | --- |
| Pros | Cons |
| Offer only US-based VAs | The service is pricer than an average VA service provider |
| No credit required for free trial | |
| Unused hours in a plan can roll over to the next month | |
| No restriction on the number of VAs in any package | |
Time etc Pricing Plans
Plan A ($360/month): Offers 10 hours of work
Plan B ($700/month): Offers 20 hours of work 
Plan C ($1360/month): Offers 40 hours of work
Plan D ($1980/month): Offers 60 hours of work
7. Vasumo – Highly Trained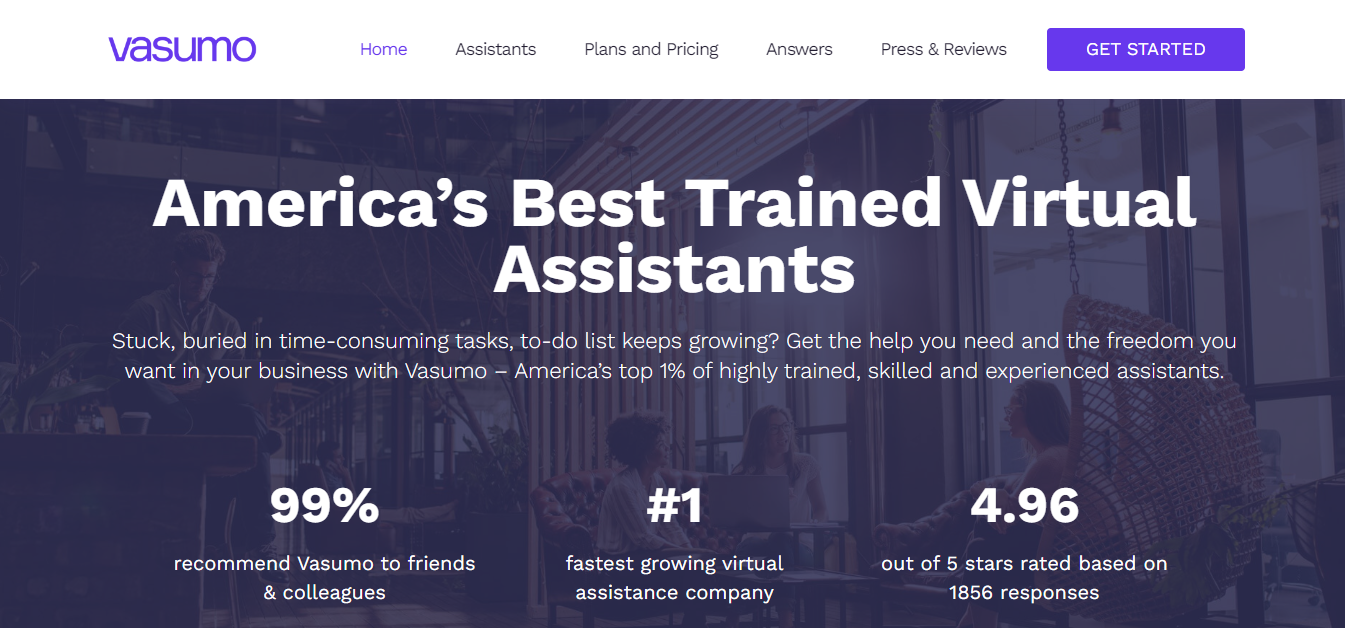 Here is another virtual assistance service that has taken the business world by storm. But is all the hype worth it? Well, let's dig deeper. Vasumo is always on the cutting edge of technology. They've got the latest and most efficient AI algorithms, ensuring that they match you with the finest VAs that can handle any task you throw their way with ease. 
We may root for Vasumo for another valid reason. It's their 24/7 availability coupled with an excellent response time. Vasumo VAs can handle a wide range of tasks, from simple data entry to complex research projects. No task is too big or small for them to handle.
Tesla, Adobe, Bloomberg, and Shopify are some of the biggest names linked to Vasumo's client portfolio for this reason and more.
Pros And Cons Of Vasumo
| | |
| --- | --- |
| Pros | Cons |
| Offer US-based VAs | No free trial |
| No hidden charges or contracts | No money-back guarantee  |
| Task hour tracking available for clients | |
Vasumo Pricing Plans
Economy ($398/month): Offers 20 hours of work a month
Business ($498/month): Offers 30 hours of work a month
First Class ($598/month): Offers 40 hours of work a month
8. Belay – Critically Acclaimed
There are so many grounds why Belay VA service has a great standing in our list of top 16 but the one that makes it stand apart is its commitment to excellence. The company goes above and beyond to ensure that its virtual assistants give you the best experience ever.
Belay also has a fantastic customer service team to reach that committed excellence in their service. That's why they are always there to answer any questions you might have. Their area of expertise lies in VA services, social media management, website, and accounting services.
You know Chick-fil-a and Beverly Hill Publishing, they are numbered in Belay's client portfolio.
Pros And Cons Of Belay
| | |
| --- | --- |
| Pros | Cons |
| Rigorously vetted VAs | Higher rates |
| Award-winning service  | Requesting for choice of VA may be restricted |
| Check-in management available for the partnership | |
Belay Pricing Plans
Belay offers custom pricing on demand.
9. Boldly – For Premium Staffing
Boldly VAs are rigorously tested to ensure that they have the knowledge and expertise to handle the toughest to the easiest tasks. Whether you need help with scheduling appointments, managing your email inbox, or researching a particular topic, Boldly has got you covered.
Boldly makes sure that the main focus is efficiency with leveraged tools and tech. Flexibility in work hours shows how they are willing to bring ease to their clients. Tech, efficiency, and flexibility are their recipe for success. The affordability and security factor is the cherry on top.
This is the main reason Boldly boasts returning clients like Mercedes Benz, Google, Chrysler, and Microsoft who are all praises for their VA services.
Pros And Cons Of Boldly
| | |
| --- | --- |
| Pros | Cons |
| Free Consultation | Does not offer a free trial |
| Offers 1 hour of complementary launch | The minimum plan starts from a reasonably big amount |
| Houses only experienced virtual assistants | |
Boldly Pricing Plans
Plan A ($2200/month): Offers 40 hours of work
Plan B ($2750/month): Offers 50 hours of work 
Plan C ($3300/month): Offers 60 hours of work
Plan D ($4400/month): Offers 80 hours of work
Plan E (Custom Pricing): Offers up to 160 hours of work
10. VEA – Most Scalable
The team at VEA is dedicated to providing hitch-free service, attention to detail, and commitment to innovation and improvement. Whether you're a busy professional looking for help with your workload, or a small business owner in need of support with administrative tasks like scheduling and responding to customer service requests, they have the experience and skills to help you succeed.
Their secret sauce is scalability. With VEA there is no fixed plan but the one you make. However much you mix and match, one thing is guaranteed and that is smashing.
Pros And Cons Of VEA
| | |
| --- | --- |
| Pros | Cons |
| Free consultancy | Restricted task fields  |
| Over 30 years of experience | |
| Option of custom plans available  | |
VEA Pricing Plans
Pricing available on demand
11. Magic – Top-Grade Communication
Magic takes the 11th spot on our list for reasonable insights. It offers a flexible and customizable service model, allowing clients to choose the level of assistance that best meets their needs. This includes options for one-time, short-term, or long-term engagements.
Magic has a user-friendly platform that makes it easy for clients to communicate with their virtual assistants and monitor the status of their work. The platform also includes advanced features such as integrations with popular productivity tools and the ability to assign tasks to multiple virtual assistants. Some of these are Trello, Asana, Slack, Zoho, and many more.
Magic has been featured in New York Times, Fortune, TechCrunch, and Wired for its impeccable service.
Pros And Cons Of Magic
| | |
| --- | --- |
| Pros | Cons |
| Vast range of expertise offered | No free trial |
| Super affordable for small businesses | Expect pricing to be higher than other virtual staffing companies |
| Integration of modern tech for feasibility | |
Magic Pricing Plans
Pricing for the three plans offered is available on request
12. OkayRelax – Best For Solopreneurs
OkayRelax offers customized and personalized assistance to its users, based on their specific needs and requirements. This means that you can get the exact kind of support you need, whether it's for personal tasks, business tasks, or a combination of both. Though their area of expertise revolves more around providing virtual personal assistant services to solopreneurs.
You can choose from various pricing plans to find the one that fits your budget and needs. Unlike most virtual assistant services, the tasks are not restricted by hours but the option of having a dedicated virtual assistant is not available for the lowest-tiered plan.
Pros And Cons Of OkayRelax
| | |
| --- | --- |
| Pros | Cons |
| No setup fee | Main focus is individual task-based |
| Option of annual billing helps you save more | Rolling over tasks comes with a restriction of future subscription. |
| Offers the option to avail tasks based on your budget | |
OkayRelax Pricing Plans
Relief ($29.95/month): Offers 5 tasks 
Comfort ($99.95/month): Offers 25 tasks
Relaxed ($399.95/month): Offers 100 tasks
13. Double – Best For Seasoned Executives
Double is a virtual assistant service that specializes to serve business executives. How do they do it? Simply by leveraging more tech in their routine. The people at Double understand that tech integration is valuable for amplifying the efficiency and productivity of the work done. And isn't that what we all are looking for when we go looking for a virtual assistant?
For the procedure, you just have to fill out a survey about your requirements and that's about it. You will get a call back from Double connecting you with the best VA for your unique business needs. From your personal to-do list to email management and social media handling, the expert VAs do it all.
Pros And Cons Of Double
| | |
| --- | --- |
| Pros | Cons |
| No hidden charges | Additional hour costs are high |
| Flexible plans available | No option for the rollover of unused hours |
| Customer support is very prompt | |
Double Pricing Plans
Starter ($499/month): Offers 10 hours of work 
Pro ($1399/month): Offers 30 hours of work 
Advanced ($2099/month): Offers 50 hours of work 
14. AskSunday – Offering Superior Expertise
All the buzz about AskSunday's virtual assistant service is real. If you knew what level of expertise they offer, you would also become a part of their cheering crowd. Some of them include:
Outbound calling
Expert-level data analysis
Social media management
Graphic and web designing
Internet and database research
There is something for everyone at AskSunday. They cater to individuals, startups, and small businesses for dedicated expertise and services. AskSunday is critically acclaimed and has won numerous awards. And they have been featured in The Washington Post, MSNBC, and other top guns.
Pros And Cons Of AskSunday
| | |
| --- | --- |
| Pros | Cons |
| Offers a free trial | Cancellation required to unsubscribe from any plan |
| Offers premium services like logo designing or corporate videos | |
AskSunday Pricing Plans
Plan A ($129/month): 10 hours of work
Plan B ($219/month): 20 hours of work
Plan C ($389/month): 40 hours of work
Plan D ($699/month): 80 hours of work
Plan E ($1199/month): 160 hours of work
On-Demand ($79/month): Pay as you use it
15. Wing Assistant – Best For Critical Tasks
At Wing Assistant, you can experience virtual assistance like never before. All thanks to human expertise combined with advanced AI tools. The cherry here is the sophisticated service offered to its clients at amazing pricing. 
The VAs are veritably one of the most competent bunch with prestigious college degrees linked with them. It doesn't end here. These assistants are trained and then supervised by the management during any task delegation.
Pros And Cons Of Wing Assistant
| | |
| --- | --- |
| Pros | Cons |
| Amazing response time | No option for rolling back hours |
| Round-the-clock business support | Constrained flexibility in work hours |
| Come with a complimentary task management app | |
Wing Assistant Pricing Plans
Part-time ($499/month): Offers 20 hours of work
Full-time ($899/month): Offers 40 hours of work
Full-time 2X ($1699/month): Offers 40 hours of work with two assistants
16. Remotual – Project-Based Evaluation
For Remotual, customer satisfaction is everything. Customer satisfaction is achieved when their interests, preferences, and benefits are completely understood and not compromised upon. This is exactly what the expert VAs do here.
The expertise Remotual offers are vast. And you can pay based on the task selected. Remotual client portfolio is humongous with services offered in more than 12 countries across the globe. The client onboarding process is kept simple and untaxing. The whole moto behind keeping it simple is to achieve goals for clients without wasting their precious time
Pros And Cons Of Remotual
| | |
| --- | --- |
| Pros | Cons |
| Great response time | No option of rolling leftover hours to the next month |
| Transparent upfront pricing | Pricing plans can get a bit complicated when different tasks are combined |
| Tracking of an ongoing project (progress and costs) | |
Remotual Pricing Plans
Pay as you go ($10,400/month): Offers 40 hours of work per week
Retainer ($9630/month): Offers 40 hours of work per week
Here are 6 things to consider before selecting a virtual assistant service provider.
How To Choose A Virtual Assistant Service Provider? 6 Things To Consider
Consider
Overall, there are many factors to consider when choosing a virtual assistant company. Be sure to take the time to weigh your options and choose the company that best meets your needs and budget.
I. Services Offered
You'll want to make sure the VA provider company offers the types of services you need. Do you need help with scheduling and calendar management? Or do you need more specialized assistance, such as social media management or market research? Make sure the VA provider company offers the services you need before signing up.
II. Experience And Skills Of VAs
It can be helpful if the VA provider company has VAs with relevant experience and skills. For example, if you need help with social media management, it might be helpful to have a VA who has prior experience in the social media industry. This can ensure that you get the best quality assistance possible.
III. Pricing
Price is always a factor when it comes to hiring a VA, so it's important to consider the plans offered by different virtual assistant companies. Some companies offer flexible pricing, while others have set packages. Decide what works best for your budget and needs before making a decision.
IV. Availability
Consider the availability hours of the VAs at the service provider. Do they offer round-the-clock assistance? Or are they only available during regular business hours? This can be especially important if you need assistance outside of regular business hours or if you work in a different time zone.
V. Communication And Connectivity
Effective communication is crucial when working with a VA, so make sure the VA provider company has systems in place to facilitate this. Do they offer email, phone, or chat support? How do they handle communication with VAs? Make sure you feel comfortable with the communication channels offered by the VA provider company before signing up.
VI. Security
Finally, be sure to consider the security measures in place at the VA provider company. Do they have systems in place to protect your data and confidential information? This is especially important if you'll be sharing sensitive information with your VA.
Conclusion
It is pretty evident that virtual assistance services have become an integral part of modern business operations. With the help of these services, you can offload many of your routine tasks and focus on what you do best.
Zirtual stands undefeated on the list of best virtual assistant service providers. We offer a 100% satisfaction guarantee and are always willing to go the extra mile to make sure our clients are happy. We offer flexible plans and a variety of options to suit your specific needs.
If you're looking to streamline your business and free up your time, let's talk and discover how a virtual assistant can transform your business.