You wake up all grouchy as reality looms heavy like a rogue bowling ball. The weight of back-to-back meetings, a dentist appointment you almost forgot about, and your cousin's wedding coming up are enough to make your head heavy. A virtual scheduling assistant is your caffeinated hummingbird that can make waking up sweet.
Emails and calendar management, re-schedules, cancellations, and scheduling conflicts are all under control – what else could you ask for at the moment? But where would you find a person who is capable of taking all this weight off your shoulders while paving the way for you to focus on other important stuff?
Well, your prayers have been answered because we just compiled a list of the 16 best sites to hire virtual scheduling assistants. Read and learn what these sites have to offer. By the time you finish reading this article, you'll be crystal clear about reaching out to that one website that offers the best virtual scheduling assistant for your needs. Adios calendar chaos. 
16 Best Websites For Hiring Skilled Virtual Scheduling Assistants
Here are our top 3 picks for the leading platforms to hire a virtual scheduling assistant:
Zirtual – Best overall 
InboxDone – Most streamlined handover process
Delegated – Best virtual assistant matching
Let's take a detailed look at all 16 platforms to discover the unique features they offer.
1. Zirtual – Top Pick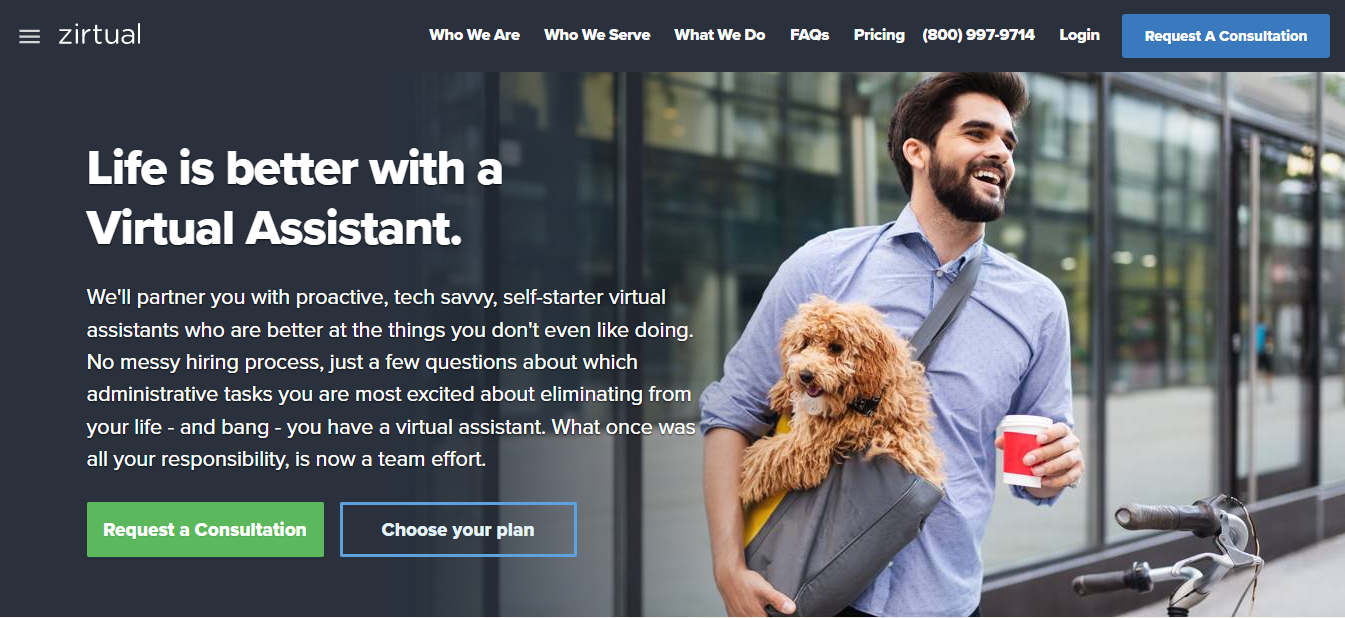 When it comes to finding a virtual scheduling assistant, look no further than Zirtual – the industry leader in this field. Founded in 2011, we're proud to be the largest and most dependable company in the business. What sets us apart is our team of virtual assistants, all located right here in the United States. So you can bid farewell to worries about time zones and language obstacles. 
At Zirtual, we have high standards when it comes to selecting our virtual assistants – we handpick skilled professionals who hold college degrees. Why? Because we believe that a diverse educational background brings a broader perspective and a wealth of experience in various subjects. 
Our virtual scheduling assistants are extensively trained to approach challenges in a systematic manner. They shine in tasks that demand creativity and sharp critical thinking skills. 
What sets our virtual assistants at Zirtual apart is their rich and varied backgrounds. Having worked across different industries, they bring a wealth of experience and a versatile skill set to the table. There's very little they haven't encountered or accomplished before. 
So regardless of the task at hand, our virtual assistants have the expertise and competence to tackle it head-on. We invest ample time in training them, ensuring they adapt seamlessly to new situations, and are always primed to embrace fresh challenges with confidence.
Zirtual Pricing Plans
Zirtual offers 4 pricing plans.
Entrepreneur Plan ($549/month): 12 hours of work with 1 user.
Startup Plan ($849/month): 24 hours of work with 2 users.
Small Business Plan ($1,249/month): 36 hours of work with 3 users.
Team Plan ($1,699/month): 50 hours of work with 5 users.
2. InboxDone – Most Streamlined Handover Process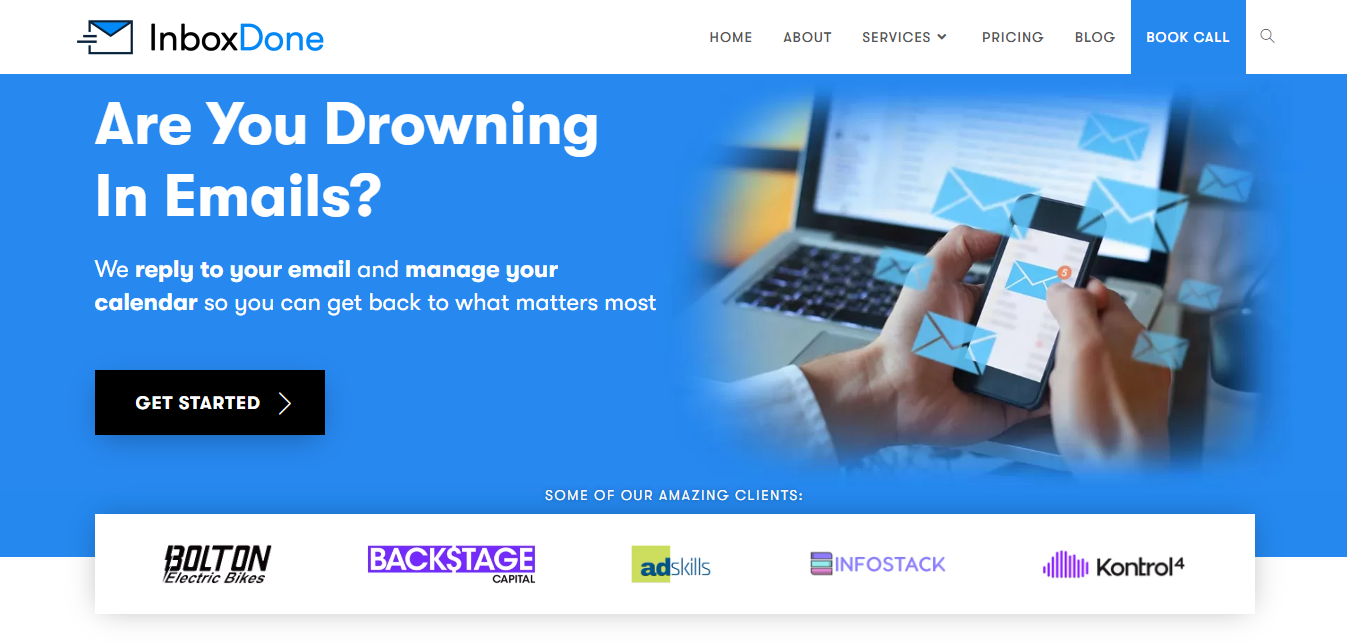 InboxDone was founded in 2017 and is known for its rigorous 10-step hiring and testing process. Each candidate goes through a meticulous screening process to ensure that only the most skilled and reliable professionals make the cut.
At InboxDone, their virtual scheduling assistants are part of the top 1% in the industry. They possess a deep knowledge of appointment scheduling which makes them masters of their craft. With their expertise, you can bid farewell to the chaos of managing your calendar alone.
Now let's talk about InboxDone's proprietary "Handover Process" – a revolutionary system designed to facilitate the seamless transition of tasks from you to your virtual assistant. It ensures that your virtual assistant understands your preferences, methods, and even your voice, to provide a truly personalized experience.
Their customer-centric approach means that they are always ready to listen and adapt to your evolving needs. They understand that effective communication is the key to success and they foster strong relationships between the client and the virtual appointment-scheduling assistant. 
InboxDone Pricing Plans
BasicPlan ($895/month): 22.5 hours of work.
Personal Plan ($1195/month): 30 hours of work.
Standard Plan ($1795/month): 45 hours of work.
Growth Plan ($2395/month): 60 hours of work.
Team Plan ($2995/month): 75 hours of work.
3. Delegated – Best Virtual Assistant Matching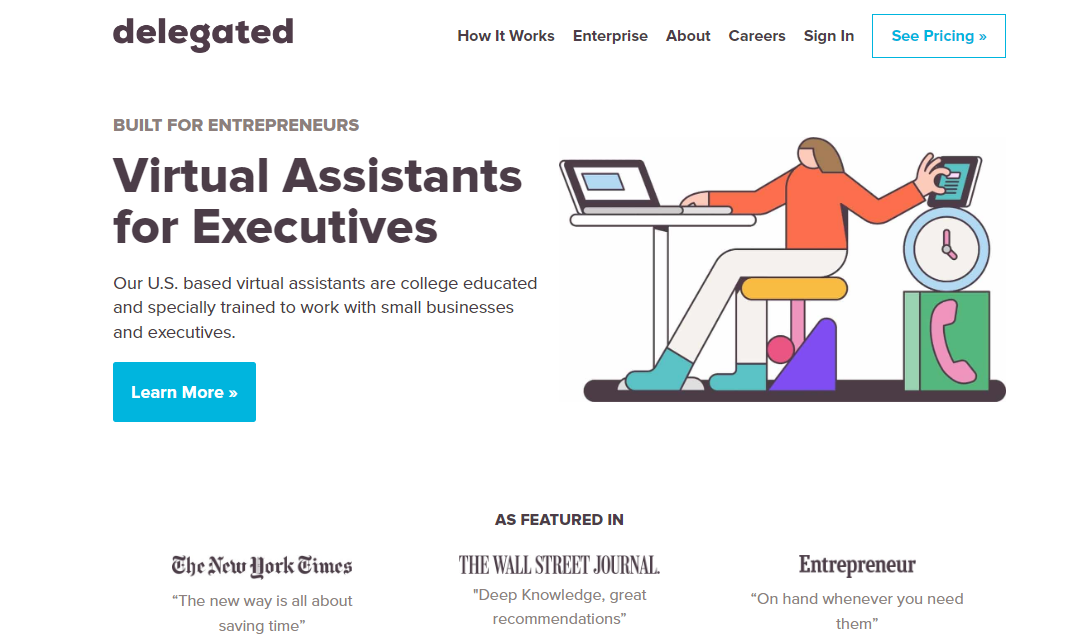 Formerly known as Red Butler, Delegated is a trusted provider of top-tier US-based virtual assistants. So when you hire a virtual scheduling assistant from them, you'll be working with professionals who are not only efficient in scheduling appointments but also well-versed in the nuances of American business culture.
At Delegated, they have a stringent process for verifying the experience and skills of their virtual assistants. They employ personality profiling and behavioral assessment tools such as DISC and PI to get deep insights into the strengths, working styles, and preferences of their virtual assistants.
Delegated has a backup team of capable virtual assistants who are ready to step in seamlessly and provide the same level of exceptional service. They also offer a variety of communication channels to suit your preferences. Whether you prefer email, phone calls, or even video conferences, Delegated ensures that you can easily connect and collaborate with your virtual scheduling assistant in a way that is convenient for you.
Delegated Pricing Plans
Lite ($1,200/month): 25 hours of task work/month.
Ramp ($2,400/month): 50 hours of task work/month.
Pro ($3,600/month): 75 hours of task work/month.
4. Sigrid – Most Advanced Systems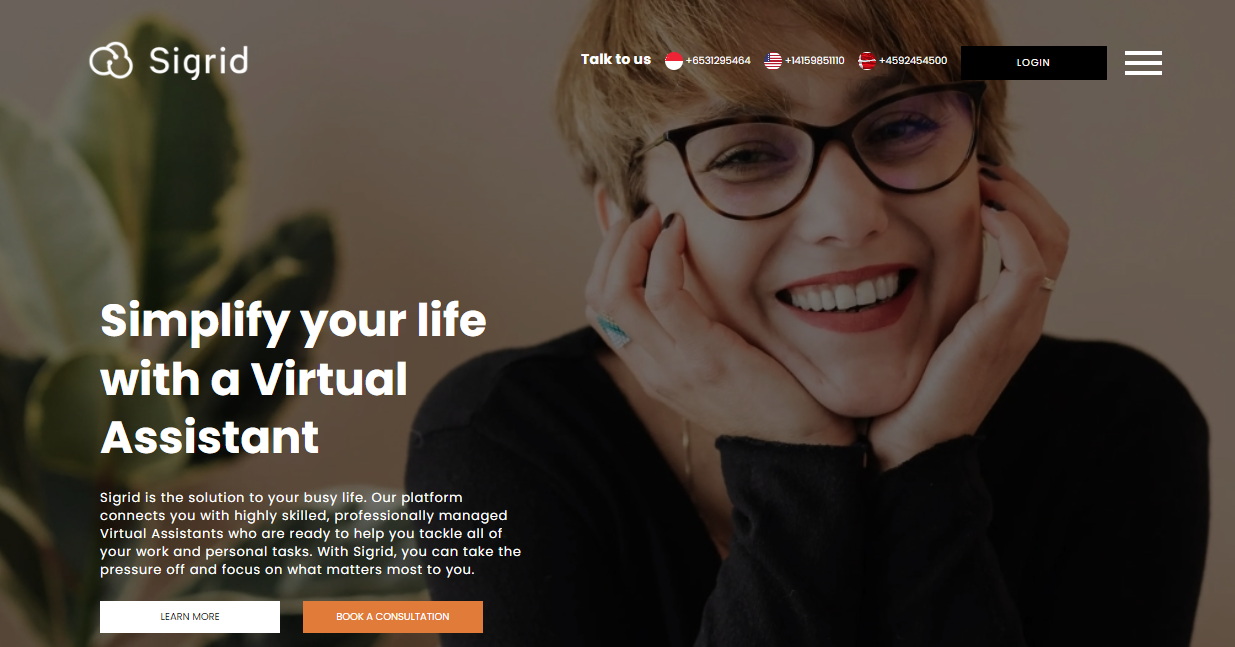 Founded in 2016, Sigrid boasts a team of virtual schedulers who are not only skilled but also undergo extensive training. This enables them to handle all the nitty-gritty details with precision and efficiency.
To further enhance your experience, they provide a free app called MySigrid Assistant To-Do List App. With it, you can assign your tasks to your virtual assistant, prioritize appointments, and stay on top of your work. 
In addition to the convenient app, Sigrid offers a collaboration and task management platform known as MySigrid. This feature-rich platform allows you to seamlessly communicate and coordinate with your virtual scheduler. From scheduling meetings to coordinating projects, MySigrid provides a platform where you can efficiently manage all your tasks and deadlines.
With cutting-edge encryption protocols and robust data protection practices, Sigrid has deployed enterprise-level security measures to protect your confidential data.
Sigrid Pricing Plans
Personal Plan ($450/month): 15 hours of work/month.
Startup Plan ($850/month): 30 hours of work/month.
Growth Plan ($1,500/month): 60 hours of work/month.
Enterprise Plan ($2,400/month): 120 hours of work/month.
5. Express Virtual Assistant – Prioritizing Data Safety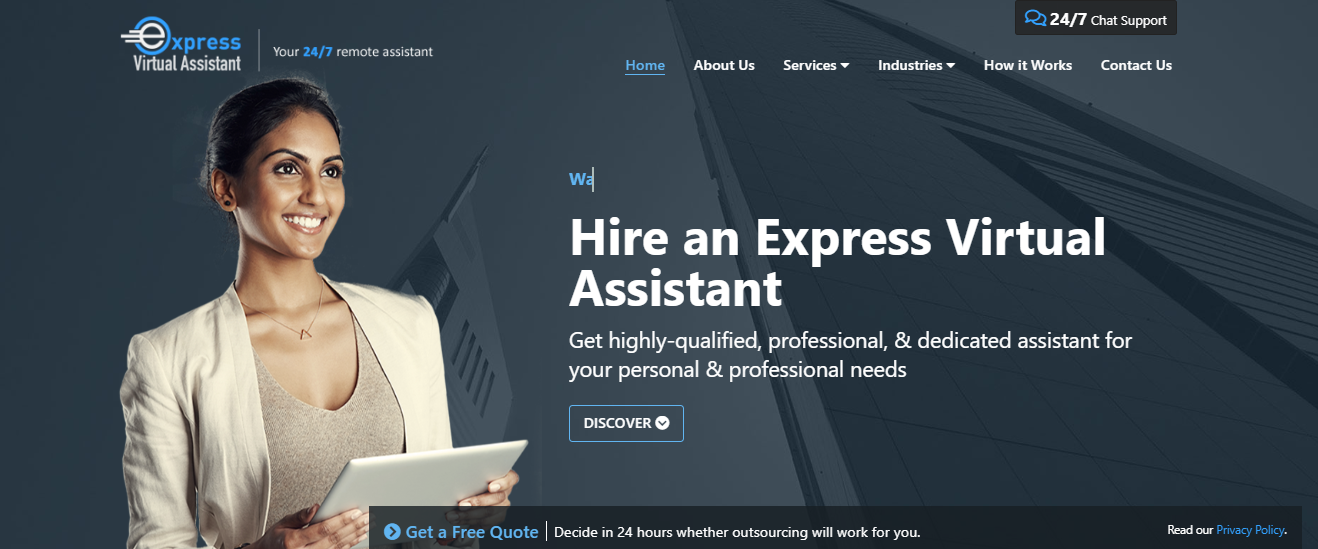 Express Virtual Assistant was established in 2004 and is an ISO 9001 certified and GDPR compliant company, which means they adhere to the highest quality management standards. 
When it comes to protecting sensitive information, Express Virtual Assistant goes above and beyond. They require all their employees to sign Non-disclosure Agreements (NDAs) to ensure that your data remains confidential at all times. Also, completed tasks will be sent to you through secure file-sharing options to ensure the safety of your information during the transfer process.
Express Virtual Assistant's VAs can not only schedule appointments and meetings but they also excel in calendar management and providing comprehensive administrative support. Whether it's coordinating multiple schedules or handling last-minute changes, Express Virtual Assistant's team is equipped to handle it all.
Express Virtual Assistant Pricing Plans
Reach out to their sales team for a custom plan.
6. ProAssisting – Most Personalized Approach
ProAssisting has been in the business since 2009. They exclusively hire virtual assistants who have a minimum of 5 years of experience, possess a deep understanding of scheduling intricacies, and can navigate even the most demanding calendars with ease.
ProAssisting's services have collectively saved their clients 50,000 hours. Imagine the freedom and productivity gained by outsourcing the time-consuming task of scheduling meetings and managing appointments to a virtual remote assistant.
Unlike other companies that overload their virtual assistants with a multitude of clients, ProAssisting understands the importance of providing personalized attention and maintaining a manageable workload. Therefore, each virtual remote assistant at ProAssisting is assigned only 3 clients. 
Compared to the expense of hiring an in-house assistant or even engaging a traditional remote assistant, ProAssisting's virtual assistants cost a remarkable 50% to 80% less. 
ProAssisting Pricing Plan
ProAssisting offers only one plan which costs $3,000/month with full-service support.
7. 24/7 Virtual Assistant – Most Tech-Savvy
24/7 Virtual Assistant was founded in 2006 and has established its name for the highest quality service. They perform thorough background checks and reference checks for every virtual assistant they hire. The company also provides constant training for its virtual assistants to equip them with the necessary skills and knowledge.
24/7 Virtual Assistant's skilled VAs excel at managing and organizing calendars. Whether it's coordinating crucial appointments with clients or you want them to schedule lunch meetings with potential partners, they handle it all with ease. Using tools like Google Calendar, their scheduling assistants ensure that your calendar is meticulously maintained to avoid any conflicts or double bookings. 
24/7 Virtual Assistant goes the extra mile by offering in-house teams for web development, content development, and SEO free of charge. So whether you need assistance in creating a stunning website, optimizing your online content, or improving your search engine rankings, they have you covered.
24/7 Virtual Assistant Pricing Plans
Entrepreneur ($349/month): 30 hours of work.
Professional ($549/month): 60 hours of work.
Office ($799/month): 90 hours of work.
Executive ($999/month): 120 hours of work.
VIP ($1,199/month): 160 hours of work.
8. Pepper Virtual Assistant – Most Reliable
Pepper Virtual Assistant started its operations in 2009 and provides full team support of virtual assistants, their backups, project managers, copywriters, and IT support staff. It goes beyond the basic task of setting up meetings and streamlines the scheduling processes for its clients. They meticulously handle the logistics, like coordinating time zones, arranging conference calls, and even sending timely reminders to all participants.
Pepper Virtual Assistant's virtual scheduling assistants understand that different businesses have different needs, whether it's catering to the schedules of busy executives or managing the calendars of sales teams connecting with prospective buyers.
Their VAs are also experienced in handling scheduling for business conferences. They can coordinate with vendors, manage attendee registrations, and ensure smooth communication between all parties involved. 
Pepper Virtual Assistant Pricing Plans
Plan 1 ($960/month): 80 hours of work.
Plan 2 ($1,400/month): 160 hours of work.
9. Smart VAs – Most Diverse
With an impressive track record of serving over 368 businesses, Smart VAs has proven itself as a reliable and efficient solution for managing administrative concerns and scheduling tasks. They saved 69,000 hours for their clients – imagine the amount of time and effort that can be reclaimed when you delegate your scheduling needs to a team of professionals.
With Smart VAs, you get an entire team for the price of one. Rather than relying on a single assistant, you benefit from a diverse group of skilled individuals collaborating seamlessly to ensure your scheduling requirements are met. 
The hiring process at Smart VAs is nothing short of rigorous. They follow a strict 7-step selection process, placing special emphasis on skills and cultural fit. Their virtual assistants are highly goal-oriented and are equipped with state-of-the-art tools and technologies, ensuring seamless integration with your existing systems.
Smart VAs Pricing Plans
Smart VAs has only one plan which is priced at $1,000/month for a team of virtual assistants.
10. Rock Solid Virtual Assistants – Most Extensive Monitoring
At Rocks Solid Virtual Assistants, each virtual scheduling assistant undergoes a comprehensive evaluation, consisting of 7 online tests that assess their organizational skills, attention to detail, and ability to handle complex scheduling tasks. 
Rocks Solid Virtual Assistants take great care in matching their assistants with clients based on factors like industry knowledge, personality fit, and specific scheduling requirements. They conduct regular meetings with you to gather feedback, understand your preferences, and fine-tune their services accordingly. 
As experts in the field, virtual scheduling assistants at Rocks Solid Virtual Assistants go beyond the traditional role of an executive assistant. They serve as trusted advisors, guiding you in optimizing your operations and systems to enhance efficiency and productivity. To ensure a seamless onboarding experience, they have a dedicated team manager overseeing every aspect of your partnership during the first 90 days.
Rock Solid Virtual Assistants Pricing Plans
Customized pricing plans are available on demand.
11. Vasumo – Most Trained Virtual Scheduling Assistants
Since 2014, Vasumo has catered to the needs of 1000+ companies. With a staggering 99% recommendation rate, it's evident that they have mastered the art of delivering top-notch service.
Vasumo takes training and expertise seriously. Each virtual assistant undergoes an extensive and comprehensive training program that spans over 3 months. These assistants are required to pass 16 certifications, proving their proficiency in various aspects of scheduling, arranging meetings, and facilitating business discussions. In fact, they invest over $10,000 in each assistant's training. 
Vasumo Pricing Plans
Economy ($398/month): 20 hours of work/month.
Business ($498/month): 30 hours of work/month.
First Class ($598/month): 40 hours of work/month.
12. Wishup – Most Versatile Skill Sets
Wishup has been in the business since 2015 and they have fine-tuned their services to cater to the needs of their clients with precision and efficiency. When it comes to talent, Wishup handpicks only the top 1% of individuals. They have a team of 500+ pre-vetted virtual scheduling assistants who are exceptional in managing your schedule and ensuring everything runs smoothly.
At Wishup, their virtual scheduling assistants are well-versed in more than 200 areas. So whether it's managing your calendar, setting up and coordinating a scheduled meeting, or organizing your haphazard to-do list, Wishup has a solution to every problem.
Wishup connects you with a highly skilled virtual assistant in less than 24 hours. If you're not completely satisfied with the virtual scheduling assistant they assign to you or the overall experience, you can get a full refund within the first week.
Wishup Pricing Plans
Contact Wishup for custom pricing plans.
13. Wing Assistant – Most Streamlined Communication
Wing Assistant was founded in 2018 and is known for its unparalleled efficiency and convenience. They have an innovative mobile app named Wink By Wing which allows you to effortlessly communicate and collaborate with your virtual assistant. With built-in chat and video conferencing capabilities, you can engage in real-time conversations to ensure clear and concise communication at all times.
Also, you can easily share training videos and materials with your virtual scheduling assistant through the app. With the app, you have the option to leave video instructions for your assistant for a more personal and detailed approach to task delegation.
Wing Assistant provides comprehensive scheduling and monitoring software to every client. This software not only empowers you with greater control and visibility over your virtual assistant but also serves as a centralized platform for all your scheduling needs. From managing appointments, coordinating meetings, and organizing events, Wing Assistant's software simplifies the entire process.
Wing Assistant Pricing Plans
Part-time ($499/month): 20 hours of work/month.
Full-time ($899/month): 40 hours of work/month.
Full-time 2X ($1699/month): 40 hours of work/month with 2 assistants.
14. ClearDesk – Most Cost-Savvy
Founded in 2007, ClearDesk has established a remarkable reputation in the industry. Their virtual scheduling assistants are not only highly skilled and experienced but are also multilingual and college-educated. This ensures that they can effectively communicate with your clients or partners in various languages and possess the knowledge and intellect to handle complex scheduling tasks with ease.
With a selective approach, ClearDesk hires only the top 1% of applicants. To assess the compatibility and suitability of each candidate, they use the DISC Personality Test to evaluate behavioral traits. They assign each client an HR Manager and a Customer Success Manager for a smooth and seamless experience.
ClearDesk also offers substantial cost savings. By hiring a virtual scheduling assistant through them, you can save up to 70% compared to the expenses associated with a regular in-house employee.
ClearDesk Pricing Plans
Full-time assistant ($1,950-2,500/month): College graduates with 2 years of experience.
Specialized assistant ($3,500-4,500/month): Master's degree holders with 5 years of experience.
15. StaffVirtual – Collaborative Approach
StaffVirtual is an ISO 9001:2015 certified and HIPAA-compliant company that has been in the business for over a decade. The company takes security seriously and has employed cutting-edge security protocols to safeguard your data. 
At StaffVirtual, each assistant undergoes a rigorous selection process, including tests evaluating their cognitive abilities, English language proficiency, and personality traits. For better and customized services, they set and align KPIs for each assistant with your specific business goals. 
StaffVirtual provides a comprehensive 90-day success plan for the seamless integration of the assistant into your business operations.
StaffVirtual Pricing Plans
Customized plans are available on demand.
16. Virtual Staff Finder – Most Detail-Oriented
Virtual Staff Finder was established in 2010 and has a client base in 45+ countries. With over 8,000 virtual assistants successfully hired through their platform, they have built a reputation for delivering exceptional talent.
These highly skilled assistants can schedule meetings, coordinate appointments, and organize meetings. Their attention to detail and efficiency ensure that your schedule is optimized and conflicts are minimized. Their VAs can effectively handle phone calls, respond to emails, and coordinate with different parties.
Moreover, Virtual Staff Finder's virtual assistants are adept at using a variety of scheduling tools and software, saving you from the headache of dealing with administrative complexities.
Virtual Staff Finder Pricing Plans
The company only charges a hiring fee which is available on demand.
Conclusion
Of double-booking disasters and forgotten anniversaries that are about to become distant memories, we all need a virtual scheduling assistant in our lives to give us a heads-up of all the commitments lying ahead. All this and more, so that we can focus on a more harmonious existence. And yes, squeeze in that occasional guilty pleasure binge-watch too.
At Zirtual, we understand how important a person who guides you through the labyrinth of appointments and commitments is so that you have time for bigger strategies and impact. That is why, we offer the best scheduling assistants out there who are tech-savvy, US-based college grads, and highly professional. 
Zirtual assistants are rigorously trained in the core area of their skills and are supported by specialists that can bring more value to their expertise. Intrigued to know more about our process and what it brings to the table? Book a consultation and experience it yourself.