When you are out in the market looking to find a virtual assistant, there are many common mistakes that could lead you astray. From hiring a virtual assistant that's about as useful as a screen door on a submarine to accidentally hiring a bot, the possibilities for mistakes are endless.
While a competent virtual assistant can provide fresh insights and ideas, a bad virtual assistant might even have the audacity to ghost you in the middle of a project. They could be so bad that they end up causing more harm than good and leave you with a bigger mess to clean up.
In this article, we'll be discussing the common mistakes businesses make when finding a virtual assistant and how you can avoid them. By the time you're done reading it, you'll be aware of the strategies on what to look for in a virtual assistant and how to spot the red flags during the hiring process.
Things To Consider When Finding A Virtual Assistant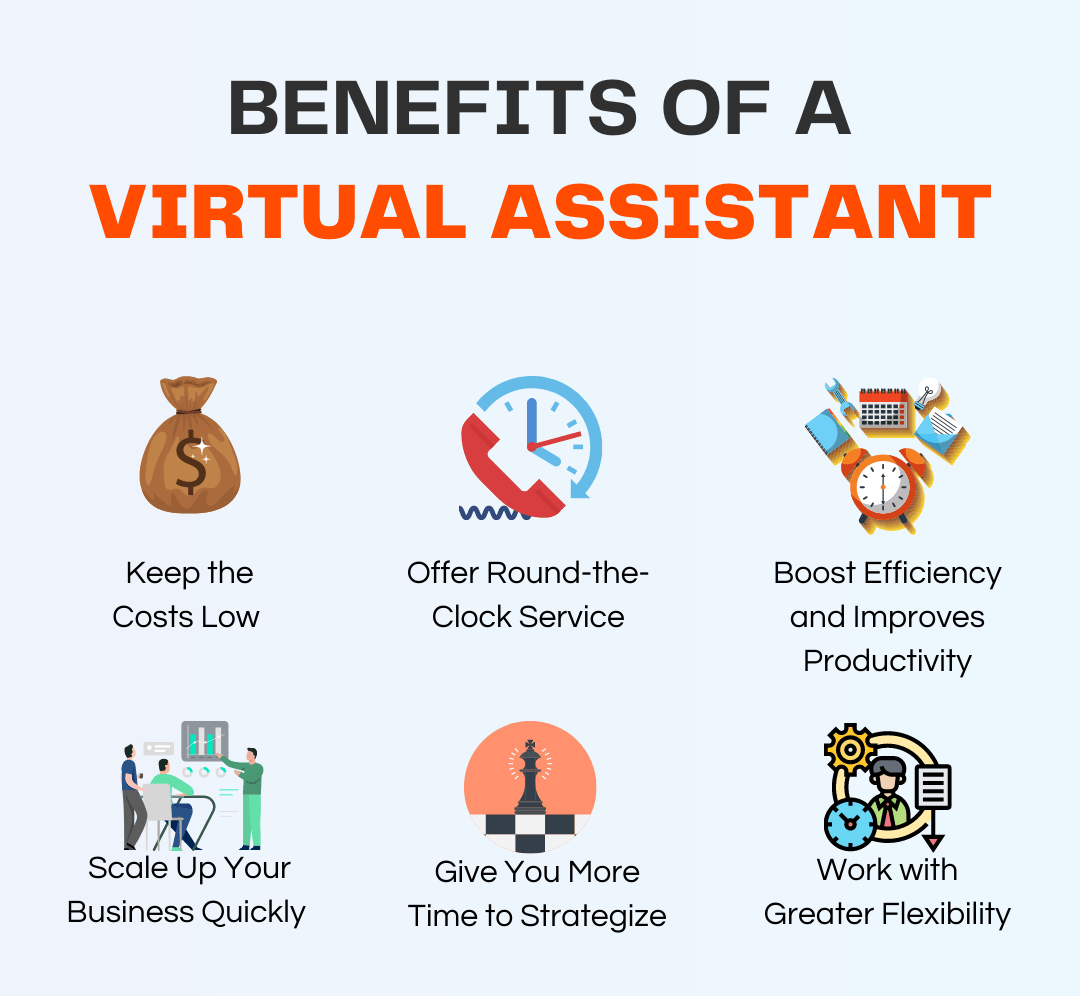 Here are a few things that you must consider when hiring a virtual assistant.
I. Know Your Needs
Before you start your search for a virtual assistant, it's important to determine your business needs. Understanding your needs allows you to set clear expectations for your virtual assistant and they will know exactly what you need from them. This helps prevent any misunderstandings or confusion and allows you to work together more efficiently.
It also helps you manage your budget effectively and you can estimate how much time your virtual assistant will spend on the tasks and budget accordingly. 
II. Identify The Tasks That Need To Be Outsourced
Start by assessing your current workload and identifying tasks that are taking up too much of your time. Make a list of all the tasks you're currently doing and then identify the ones that could be delegated to a virtual assistant. 
This could include administrative tasks such as scheduling appointments, responding to emails, and managing your calendar, or more specialized tasks such as social media management, graphic design, or website maintenance.
Once you've identified the tasks that could be delegated to a virtual assistant, prioritize them. This will help you identify the areas where a virtual assistant could provide the most value.
III. Determine The Skills That You Require In A Virtual Assistant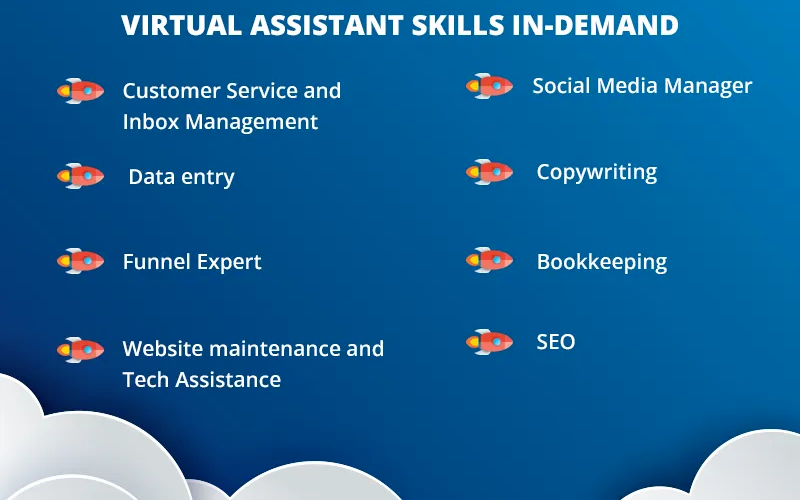 It's really important to figure out what skills you need in a virtual assistant. Each business has its own unique requirements and bringing on a virtual assistant with the right skills can make a huge difference in terms of efficiency and productivity.
If you bring on someone who needs a lot of training, that's time and money that you're spending before they can even start working. But if you hire someone with the right skills, they can start helping from the word go.
Having a clear idea of the skills you need in a virtual assistant can also help you delegate tasks more effectively. If you know what you're looking for, you can make sure you're giving the right tasks to the right people which makes everything run more smoothly. 
Virtual assistants with the right skills can also help improve your business's reputation. If you have someone on your team who doesn't really know what they're doing, it can lead to mistakes and errors that can cause a dent in your business's reputation.
Let's take a look at the best places where you can find a virtual assistant.
Where To Find A Virtual Assistant That Is Perfect For Your Business
Here are the 5 best channels to find and hire virtual assistant services.
A. Zirtual
Zirtual takes away the worries that are associated with traditional hiring mediums. With us, you can hire a virtual assistant quickly and easily. Our virtual assistants are college graduates and are based in the US which ensures that they have the necessary qualifications and language skills to support your business.
Zirtual's process is straightforward. We expertly match you with the right virtual assistant based on your requirements. Whether you need a dedicated virtual assistant for data entry, administrative services, or personal tasks, we have the right set of skills to match your needs.
Our virtual assistants are also experts in using the latest technology and are trained in the most up-to-date software and tools. This expertise in technology allows our virtual assistants to be proactive in their approach and provide the fastest response time for any issue or task.
When you hire a virtual assistant from Zirtual, you'll start noticing the difference in just a week. Our virtual assistants are dedicated and reliable and provide you with the support you need to grow your business. 
B. Online Job Boards
Online job boards like PeoplePerHour and Onlinejobs.ph are some other great ways to find virtual assistants. They provide you access to a wider pool of candidates from all over the world. You can find someone who has the skills and experience that you need regardless of their location.
By posting virtual assistant jobs on these boards, you can often find talented and experienced virtual assistants who work on an hourly or project basis. Their prices are usually less than the virtual assistants found on other platforms.
Hiring a virtual assistant through an online job board can be much faster than traditional hiring methods. You can receive applications within a few hours and you can quickly narrow down your list of candidates and start interviewing them right away.
However, screening can be time-consuming. You need to review each application carefully to ensure that the candidate has the right skills and experience for the job. Also, hiring a virtual assistant from a different country can lead to language and cultural barriers. And you can't ignore the risk of fraud that is always associated with such job boards.
C. Referrals
One of the most effective methods to hire virtual assistants is through referrals. Using referrals, you are more likely to get high-quality candidates since they come from people you trust. You can be assured that the person referred to you has already been vetted and has proven to be reliable and trustworthy.
Using referrals to hire virtual assistants can save you time and money in the long run since you won't have to pay any recruiter fees. The virtual assistants hired through referrals have proven to be a better cultural fit as well. 
However, referrals do come with their share of disadvantages. And the biggest is that the pool of candidates is limited. You'll receive a few referrals which may not be enough to find the right virtual assistant for your business. 
Another disadvantage of using referrals is that they may be biased. People may refer their friends or family members regardless of their qualifications. This can lead to a potential conflict of interest and may not result in the best candidate for your business.
D. Social Media Platforms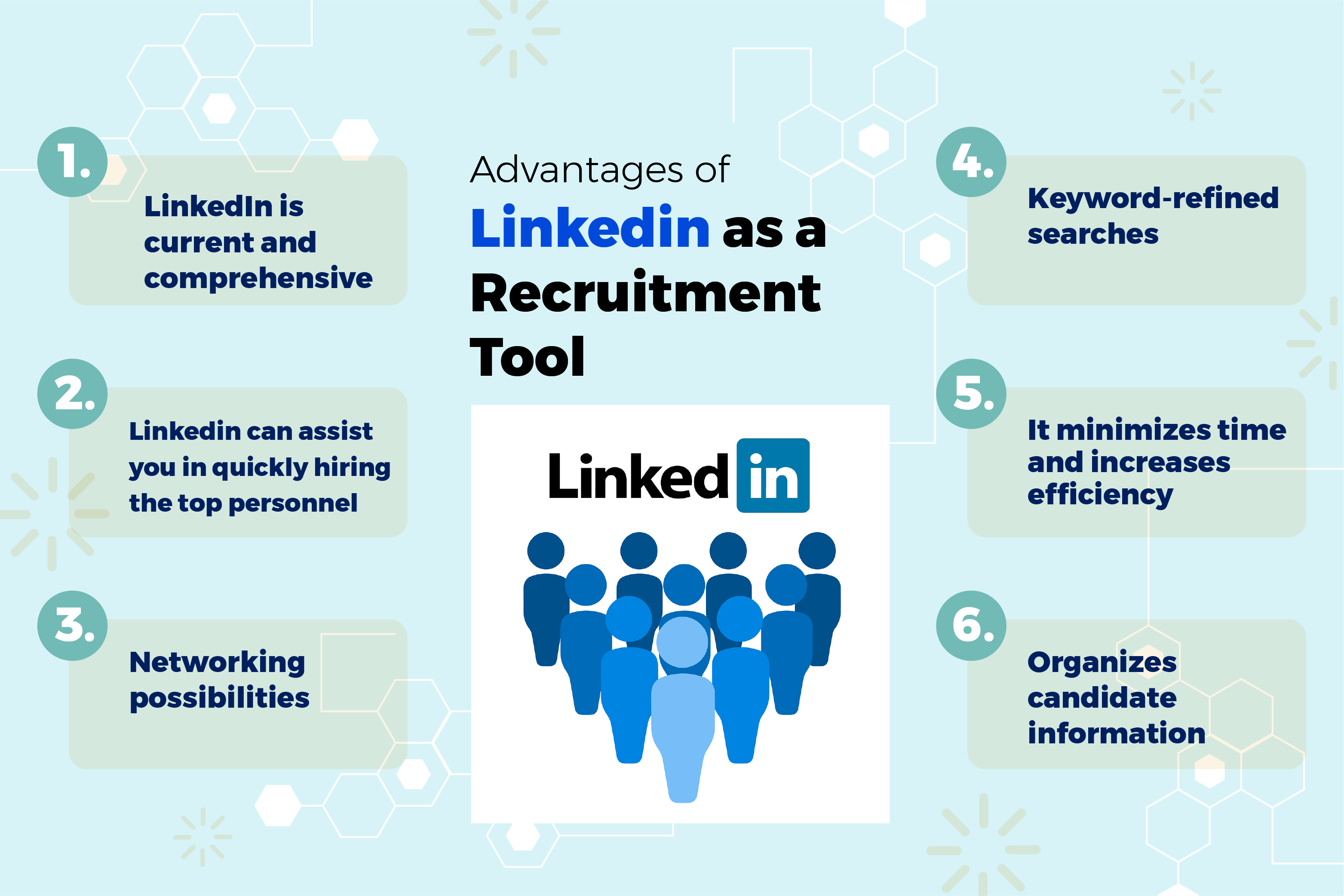 With the rise of social media platforms, it's now easier than ever to find and hire an experienced virtual assistant for your needs. Platforms like LinkedIn, Twitter, and Facebook are a quick and easy way to find a large pool of candidates. They allow you to search for and connect with potential candidates based on their skills and experience. 
By using social media platforms, you can see a candidate's profile and work history. Additionally, you can send a direct message to a candidate to initiate contact and discuss the details of the job which can save time and eliminate the need for lengthy email exchanges.
However, it can be difficult to determine the reliability and credibility of a candidate based solely on their social media profile. Therefore, it's essential to conduct thorough research and verify their credentials 
Another potential issue with using social media platforms for hiring is that there may be a lack of communication and structure in the hiring process. This can lead to confusion or misunderstandings about the scope of the job or the expectations for the virtual assistant's performance.
E. Freelance Websites
Freelance websites like Upwork and Fiverr are great places to start your search for virtual assistants. With virtual assistants from all over the world, you can find the perfect match for your virtual assistant job. These freelance websites also offer flexible pricing and payment options which makes it easier for you to find a virtual assistant who fits within your budget.
Additionally, most freelance websites provide a secure payment system that protects both parties. You can also save a lot of time using these freelance platforms. Simply post your project management job and receive applications within hours.
However, one of the biggest challenges of using freelance websites is quality control. While there are many talented virtual assistants on these platforms, there are also those who may not have the skills or experience they claim to have. Plus, having multiple clients is another reason that can affect the quality of these virtual assistants. 
Another potential disadvantage of using freelance websites is communication issues. Since virtual assistants perform their work remotely, it can be challenging to communicate effectively, especially if there is a significant time zone difference. 
After exploring the primary channels for hiring virtual assistants, let's now discuss the mistakes that should be avoided throughout the recruitment process. 
X Common Mistakes That You Should Avoid When Finding A Virtual Assistant
There are many pitfalls to avoid when looking for the right virtual assistant service. Here are some common mistakes that you should avoid when finding a virtual assistant.
1. Lack Of Clear Job Description
A lack of a clear job description is a common mistake that business owners make when hiring a virtual assistant. Without a clear job description, it can be difficult to determine the tasks that the virtual assistant is responsible for and this will eventually lead to misunderstandings, delays, and mistakes.
You must provide a clear and concise job description that outlines the specific tasks that the virtual assistant will be responsible for. This will help avoid confusion and ensure that both parties are on the same page.
2. Not Defining Clear Expectations
Not defining clear expectations when hiring a virtual assistant can be a costly mistake for any business. Without clear expectations, the virtual assistants wouldn't understand the scope of their job and the level of quality that is expected of them.
Therefore, it is also essential to define clear expectations for the virtual assistant. This includes deadlines, communication protocols, and quality standards. This way, you can ensure that the virtual assistant is set up for success and can deliver quality work on time.
3. Ignoring Communication Skills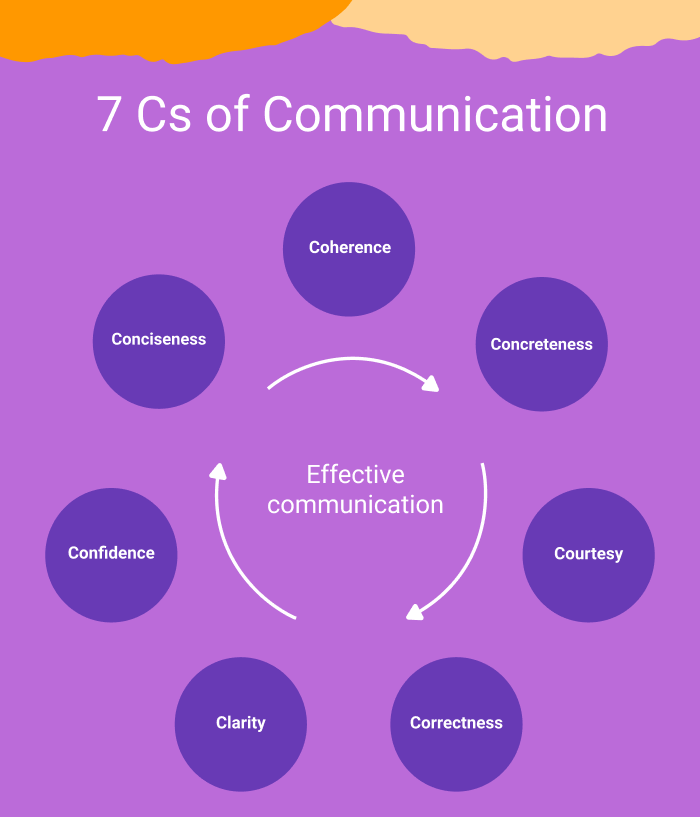 Another mistake that many business owners make is ignoring the communication skills of the virtual assistant. It can lead to a frustrating and unproductive working relationship. You must assess the virtual assistant for their ability to write and speak clearly, their responsiveness, and their ability to understand and follow instructions.
Communication is essential in any business relationship and it is important to find a virtual assistant who can communicate effectively. This includes being responsive to emails, phone calls, and messages, and having a good command of the English language.
4. Relying Too Much On Price
Many business owners make the mistake of relying too much on virtual assistant cost when hiring one. While it is essential to find a virtual assistant who fits within your budget, it is important to remember that you get what you pay for. Hiring the cheapest virtual assistant may end up costing you more in the long run if they do not deliver quality work.
5. Not Considering Cultural Differences
When working with a virtual assistant from a different culture or background, it's important that you should be aware of potential differences in communication styles, work ethics, and cultural norms. You must take the time to learn about these things. It's also important to be respectful of cultural norms and to be open to learning about new perspectives and ways of working.
By considering cultural differences and taking steps to address them, the business owner and virtual assistant can build a productive and collaborative working relationship. 
6. Not Testing Skills & Abilities
Another mistake that many business owners make is not testing the skills and abilities of the virtual assistant. It's important to evaluate the virtual assistant's abilities in the areas where they will be providing support. This could include administrative support, scheduling meetings, delegating tasks, and other job-specific tasks.
One way to evaluate the virtual assistant's skills is to ask for samples of their work to get a better understanding of their abilities. You can also evaluate their skills by giving them a small test task or trial assignment. This will give you an idea of their ability to follow instructions, their attention to detail, and overall work quality.
7. Not Using a Trial Period
It is important to use a trial period when hiring a virtual assistant. This allows both parties to get a feel for working together and ensures that the virtual assistant is a good fit for your business. Using a trial period is particularly important for businesses that are new to outsourcing or working with virtual assistants.
During the trial period, you must provide feedback on the virtual assistant's work. This will give the virtual assistant the opportunity to learn more about the business owner's expectations and work style.
8. Not Having a Communication Plan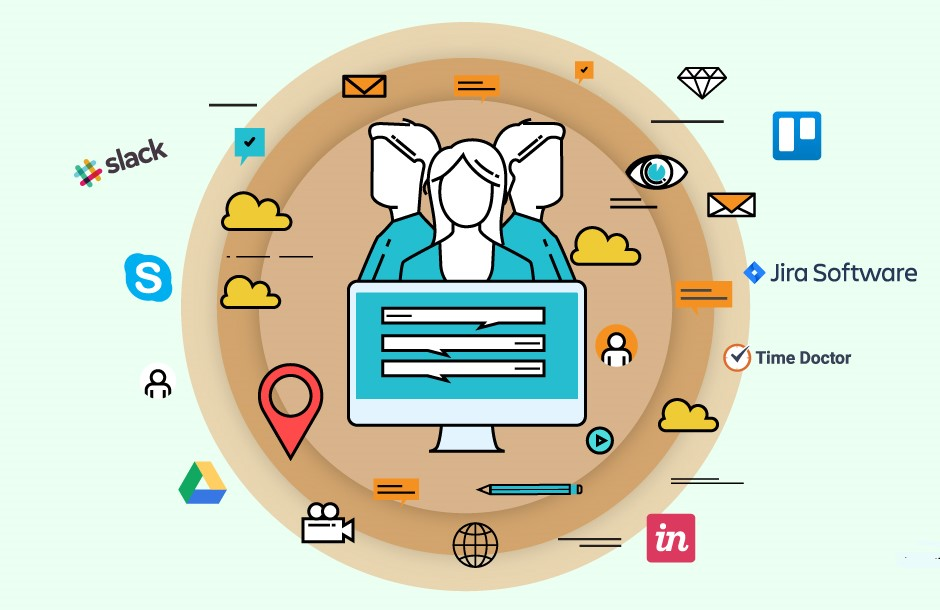 A communication plan is essential when working with a virtual assistant. This includes setting up regular check-ins, outlining communication protocols, and establishing a method for tracking progress. 
You must consider the time zone differences and the virtual assistant's schedule when setting up a communication plan. If the virtual assistant is located in a different time zone, scheduling regular check-ins may require flexibility. So make room for that.
Using the right communication tools is also extremely important so you must define from day one which video conferencing software, instant messaging tools, email, and project management software will be used. 
9. Hiring Without Conducting Proper Research
Hiring a general virtual assistant without conducting proper research is a common mistake that many business owners make. It is important to do your due diligence and research potential virtual assistants thoroughly. This includes checking references, reading reviews, and conducting interviews.
10. Not Providing Adequate Training
Not providing adequate training is another mistake that business owners make when hiring a virtual assistant. A virtual assistant may know what to do but they might not know how your business works or what tools you use. So it's important to give them clear directions on your business operations and tools. This can include providing access to tutorials, manuals, or training videos.
Training should be an ongoing process and it is important to provide feedback on the virtual assistant's performance and offer guidance on areas for improvement. This helps to ensure that the virtual assistant is performing the tasks correctly and to the required standards.
Conclusion
Hiring a virtual assistant is like a game of virtual assistant roulette. You never know what kind of VA you're going to get but that's part of the thrill. Will they be productive or a catastrophe? Only time will tell.
If you are wondering how can you possibly avoid all these mistakes and find a virtual assistant that is perfect for you, we have the answer to all your problems and it comes in the form of one word: Zirtual.
We at Zirtual are the solution to all your virtual assistant problems. No more worrying about whether your VA has the skills you need or if they're going to flake out on you at the last minute. Our virtual assistants are professionals who have all the skills you need to get your work done smoothly.
You won't have to worry about making any costly mistakes when hiring from us. Consult us at Zirtual and we'll take away all your worries.