While Upwork is a popular choice to find virtual assistants, it is like that friend who always shows up late and never has anything interesting to say. So it's time to find a new squad and look for Upwork alternatives that can help you find the perfect virtual assistant without losing your sanity in the process.
If you are also tired of scrolling through the never-ending list of proposals from freelance VAs on Upwork and the sight of the green and white interface makes you want to pull out your hair, then you've come to the right place. 
In our today's guide, we'll be exploring 16 of the best Upwork alternatives to help you find the perfect match for your virtual assistant needs. Whether you're looking for a platform with a more user-friendly interface or a wider pool of talent, we've got one for you. By the end of this article, you'll have all the information you need to make an informed decision and find your perfect VA match. 
16 Best Upwork Alternatives Of 2023 For Finding Skilled Virtual Assistants 
Here are our top 3 Upwork alternatives for hiring virtual assistants to support your business needs:
Zirtual – Best overall for hiring top-class virtual assistants
Fiverr – Ideal for businesses with changing needs
Hubstaff Talent – The only free job board
It's time to explore the world beyond Upwork and discover the 16 sites that have earned a place on our list of the best Upwork alternatives.
1. Zirtual – Top Pick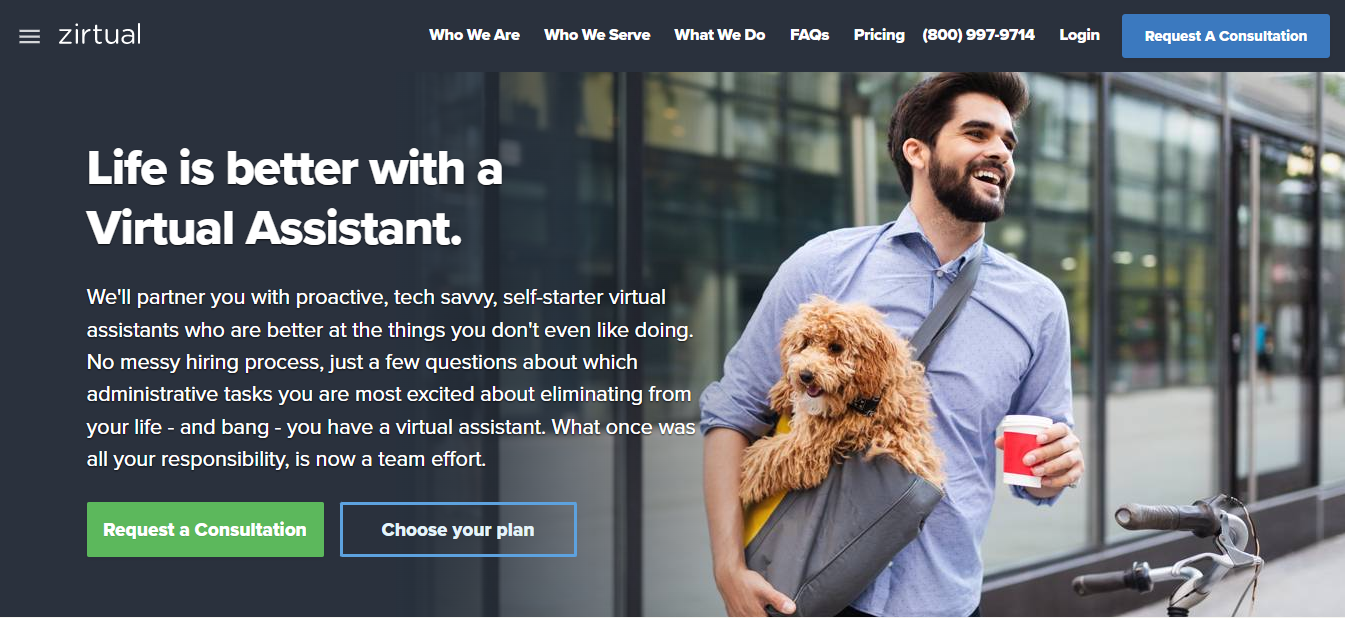 Zirtual is a reputable and top-rated platform that businesses from across the globe use to find and hire virtual assistants. We offer numerous advantages that Upwork lacks, making us the best Upwork alternative for hiring a virtual assistant. 
Our virtual assistants are based in the United States and are college graduates which translates to a higher quality of work. In contrast, Upwork has a pool of freelancers which makes it challenging to find a virtual assistant with the necessary skills and education to complete specific tasks.
Another advantage of hiring our services is that we provide ongoing training on different tools and tasks to our virtual assistants. This ensures that our virtual assistants are up-to-date with the latest technologies and can handle any task assigned to us. On the other hand, Upwork does not provide training to their freelancers, which means that businesses may have to spend more time training their virtual assistants before they can start working on tasks.
When you hire a virtual assistant from us at Zirtual, you also get extra support services. This means that you get more than just a virtual assistant; you get an entire team dedicated to supporting your business. 
Zirtual is known for its rigorous vetting process when it comes to hiring virtual assistants. We conduct extensive interviews, background checks, and skills assessments to ensure that only the most qualified candidates are selected. 
We at Zirtual take data security seriously. We have implemented stringent measures to ensure that all confidential information remains secure. This is especially important for businesses that handle sensitive data.
Zirtual Pricing Plans
Entrepreneur Plan ($549/month): 12 hours of work with 1 user.
Startup Plan ($849/month): 24 hours of work with 2 users.
Small Business Plan ($1249/month): 36 hours of work with 3 users.
Team Plan ($1699/month): 50 hours of work with 5 users.
2. Fiverr – Ideal For For Businesses With Changing Needs

Fiverr is a well-known and popular freelance platform that provides a wide range of freelance services across over 250 categories. When compared to Upwork, Fiverr is a more streamlined platform that is easier to use and navigate. Fiverr has fewer steps involved in hiring a virtual assistant, making it a more convenient and efficient option for businesses. 
Initially, Fiverr was based on the concept of providing services for $5 per gig, but over time, the platform has grown and now offers freelancers the opportunity to price their services based on the complexity of the job. The platform's pricing structure is reasonable and has helped many companies find affordable and experienced virtual assistants.
One of Fiverr's main strengths is its ability to provide businesses with a pool of qualified freelancers with proven experience in the industry. Companies can easily check the status of freelancers based on ratings, reviews, and the quality of past work. This feature allows businesses to choose the best virtual assistants to work on their projects, ensuring that they receive high-quality work that meets their standards.
Fiverr also has a helpful customer service team and a resolution center that is available to provide support whenever it is needed. Additionally, Fiverr's payment system is protected, and payments are only released when tasks are approved, providing an added layer of security for businesses.
Fiverr Pricing Plans
The virtual assistant rates on Fiverr vary and are dependent on the level of complexity of the job.
3. Hubstaff Talent – The Only Free Job Board
Whether you are a startup or a large corporation, Hubstaff Talent is one of the best options for finding the right virtual assistant. The most significant advantage of Hubstaff Talent over Upwork is its pricing model. 
Unlike Upwork, Hubstaff Talent is completely free to use for both businesses and virtual assistant candidates. This allows companies to save on the fees they would have paid on Upwork and can make a significant difference in the long run.
Hubstaff Talent offers a wider selection of virtual assistant candidates. With virtual assistant candidates from 212 countries, businesses can easily find the right fit for their needs. Hubstaff Talent's search function allows businesses to find suitable virtual assistant candidates quickly and the onboarding process is straightforward. In comparison, Upwork's hiring process can be more cumbersome, and the platform's fee structure can make it difficult to manage costs.
Hubstaff Talent provides time-tracking and productivity-monitoring tools that allow businesses to track their virtual assistant's work and ensure they are delivering results. This level of transparency and accountability is particularly valuable for companies that are new to working with remote staff.
Hubstaff Talent Pricing Plans
Hubstaff Talent is free to use. 
4. Hire My Mom – Ideal For Small Businesses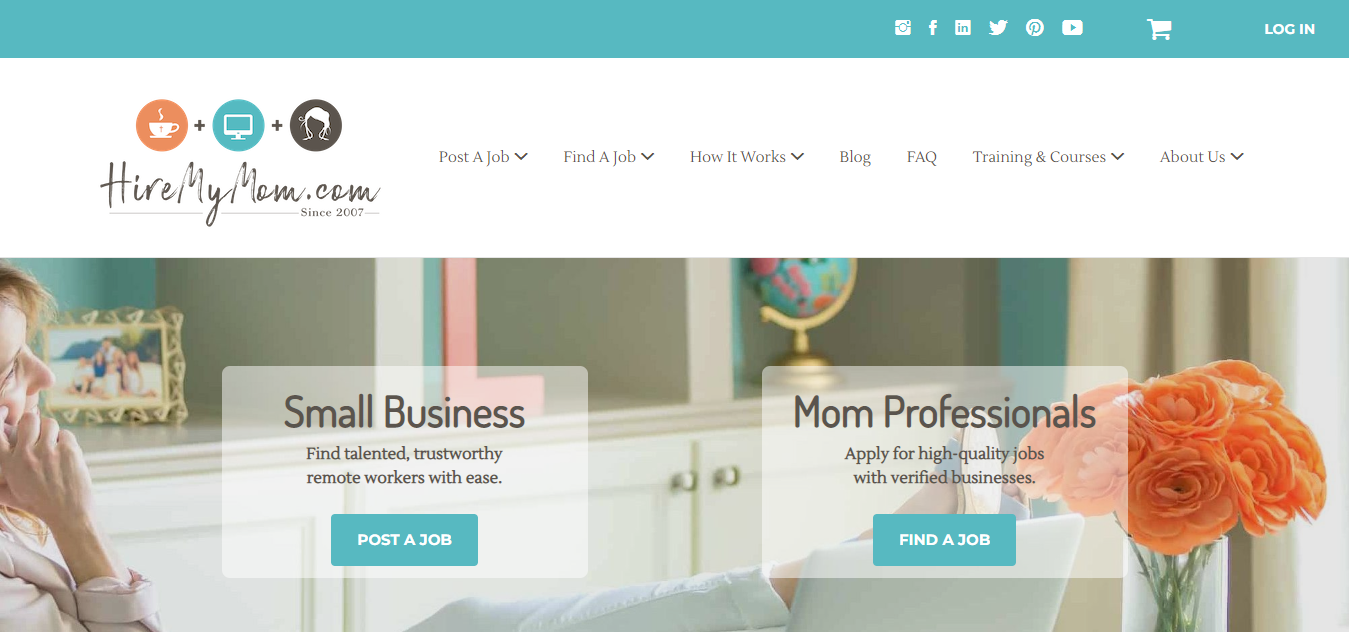 Hire My Mom offers a unique alternative to Upwork that is a better fit for small businesses looking for quality talent. It is a boutique website that was founded in 2007. The platform offers the professional services of highly talented work-from-home moms to small businesses. 
This platform is dedicated to creating a win-win scenario for both parties. Small businesses are seeking skilled virtual assistants with high-quality capabilities that are cost-effective to manage and develop their businesses. 
On the other hand, mothers are searching for trustworthy companies that provide reasonable remuneration, remote work flexibility, and family-friendly schedules. These moms are often highly skilled and experienced professionals who are seeking to balance their work and family commitments. 
Hire My Mom fulfills both needs by providing a platform for these two groups to connect and work together, making it a better alternative to Upwork.
Hire My Mom Pricing Plans
Silver Small Business ($67): 1 job for 7 days
Gold Small Business ($77): 1 job for 30 days
Small Business Concierge Level I ($795): Fully managed service, 1 job for 30 days
5. Workana – Scalability & Agility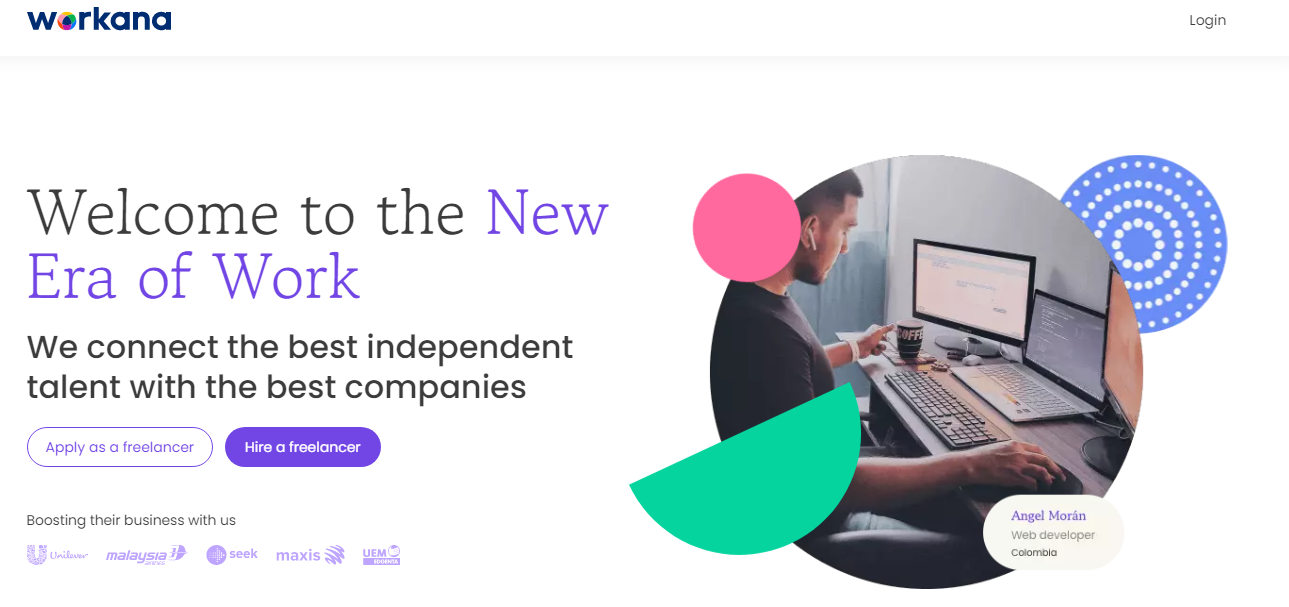 Workana has been a go-to Upwork alternative for businesses looking to hire virtual assistants. It has been in the industry for almost a decade, having been formed in 2012. During this time, they have helped over 600,000 businesses find virtual talent. 
With over 3 million freelancers in their talent pool, Workana is a great platform for businesses looking to find virtual assistants for various tasks, including administrative tasks, web development, or digital marketing.
Workana offers a comprehensive system of freelancers' ratings and reviews which allows businesses to evaluate the performance and quality of their virtual assistants before they hire them. This helps to ensure that businesses are working with top-quality virtual assistants who have a proven track record of success.
Workana Pricing Plans
Workana is free for businesses since they charge fees from freelancers.
6. 20four7VA – Redefining Virtual Assistance

20four7VA is another great Upwork alternative to hiring virtual assistants. It was formed in 2011 when the owners had difficulty hiring freelancers on other marketplaces. Since then, 20four7VA has provided over 17,000 virtual assistants to more than 2,900 clients which is a testament to the company's success in the virtual assistant marketplace.
With 20four7VA, all of their VAs are pre-screened, ensuring that they have the skills and experience necessary to handle the tasks you need help with. They offer a wide range of virtual assistants, including graphic and web designers, Telehealth VAs, real estate VAs, and much more.
Businesses can save up to 80% on staffing costs by using their services. This is a significant amount of money that can be reinvested in other areas of the business, helping it to grow and thrive.
20four7VA Pricing Plans
You can get a custom quote by contacting their support team.
7. We Work Remotely – Widest Reach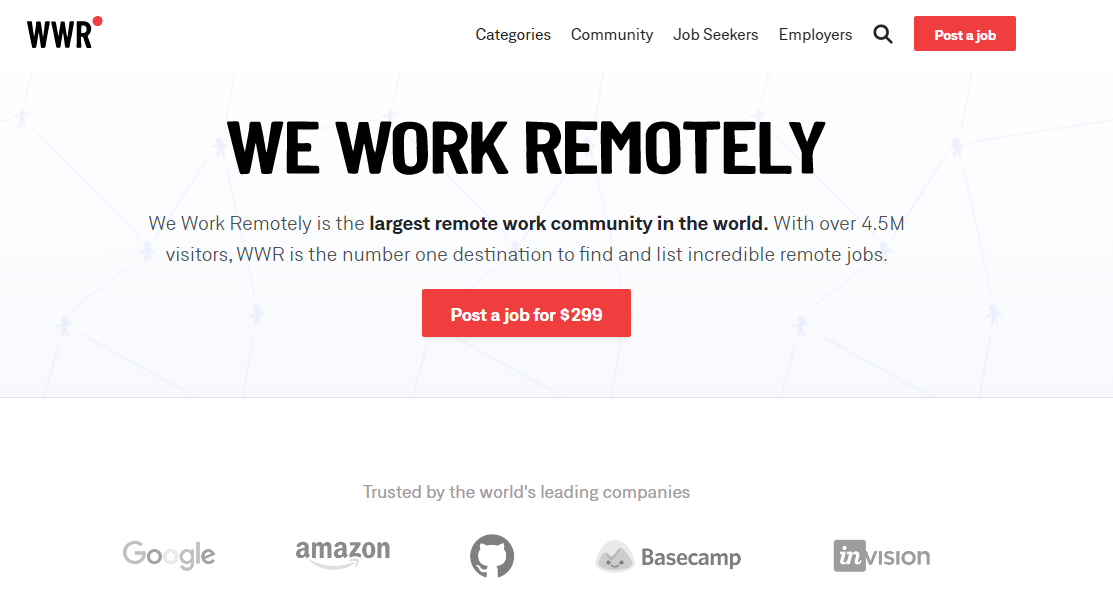 We Work Remotely is a highly reputable online job board that specializes in connecting companies with skilled virtual assistants who work remotely. The platform boasts a high retention rate of over 80% which indicates the satisfaction of both employers and employees.
To attract more attention to your job posting, We Work Remotely shares the job advertisement on its social media handles and Slack channel. Additionally, the platform has a partner network of over 25 other job sites, including Google Jobs Network, SitePoint, and Unicorn Hunt. This feature is beneficial as it ensures that your job ad reaches a wider audience and receives more visibility and reach than it would on Upwork.
With a 90% fill rate for jobs posted on its platform, We Work Remotely is a trusted source for hiring virtual assistants. If you opt for a paid subscription, your job ad is "pinned" to the top of the job board for an entire week, ensuring maximum visibility for potential candidates.
We Work Remotely Pricing Plans
Starter ($299): Basic job posting
Good ($358/month): 2x Social media posts
Better ($398/month): 3x Social media posts and highlighted ad
Best ($448/month): 4x Social media posts and pinned ad for 7 days
8. Freelancer – Largest Freelance Platform For Hiring Virtual Assistance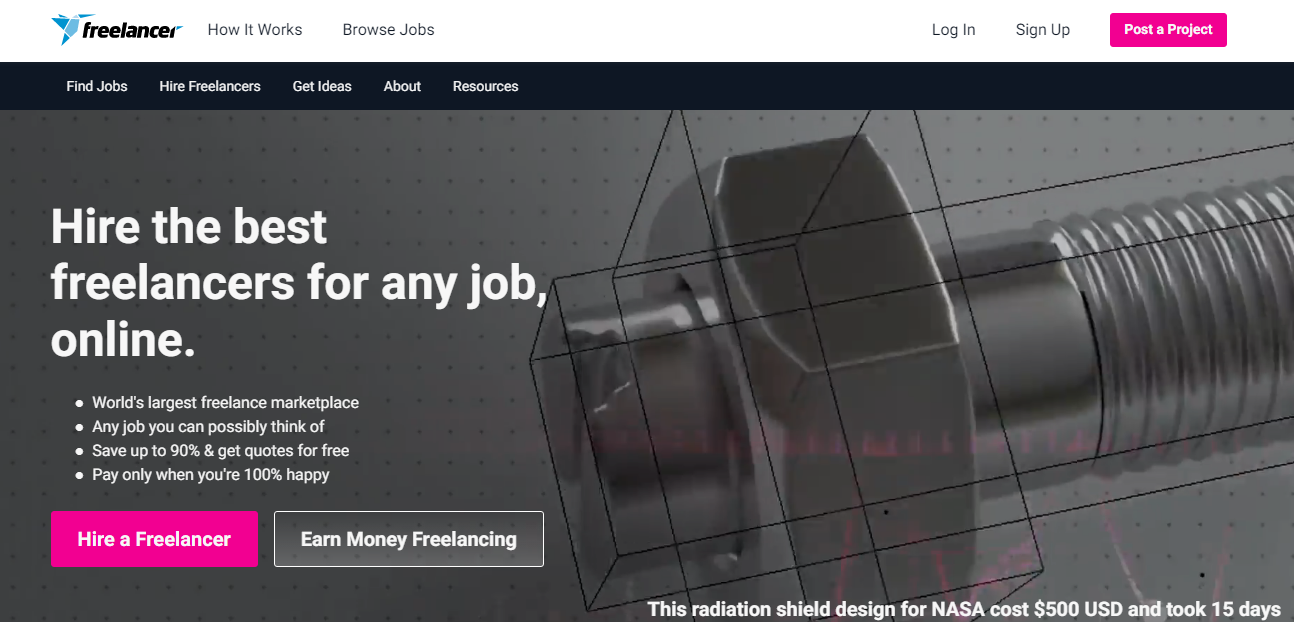 As one of the biggest Upwork competitors, Freelancer has become a highly successful freelance marketplace. In fact, it is regarded as the largest online platform in the world to hire freelancers for virtual assistance. With an impressive average of over 4 million projects posted on a monthly basis, it connects over 63 million freelancers and employers worldwide.
This extensive pool of talented freelancers offers a plethora of options for anyone seeking virtual assistance. The platform's vast array of skilled individuals with varying levels of experience and expertise means that there is someone with the perfect skill set to match your specific requirements.
In addition to this, Freelancer offers an intuitive bidding system that provides users with greater control over their project budget. Employers can set a fixed budget for their project and rest assured that they won't exceed it. To make things even more transparent, Freelancer charges a flat 10% fee on all payments, regardless of their size.
Freelancer Pricing Plans
You can pay freelance virtual assistants a set fee or an hourly rate based on their expertise and skills.
9. OnlineJobs.ph – Best Platform For Hiring Filipino Virtual Assistants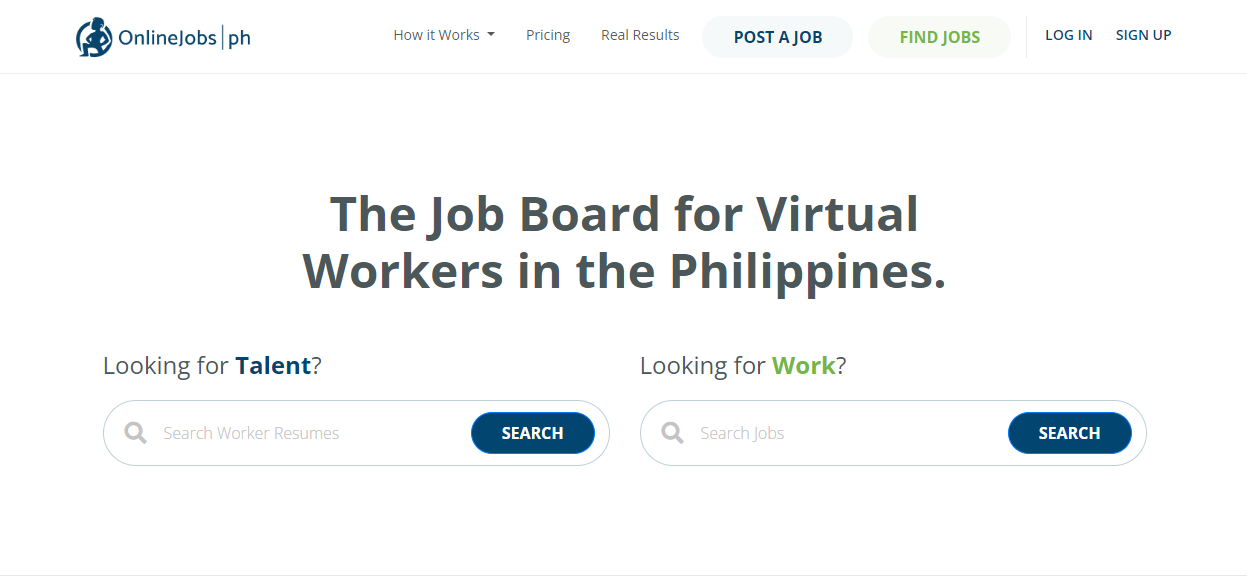 OnlineJobs.ph is a leading platform for hiring virtual assistants from the Philippines. It has a vast database of Filipino virtual workers, with over 1 million profiles and 10,000 new profiles being added each month. Filipino virtual workers are highly sought-after candidates for virtual work and with OnlineJobs.ph, you can easily find the right match for your needs.
Another advantage of using OnlineJobs.ph is the platform's credibility and trustworthiness, with many top brands such as Speedo, Uber, and Canva using the platform for posting freelance jobs. This is a testament to the quality of the candidates available on the platform and the effectiveness of the platform's matching algorithms.
Free: 3 jobs per month with max 15 applications per job
Pro ($69/month): 3 jobs per month with max 200 applications per job
Premium ($99/month): 10 jobs per month with max 200 applications per job
10. Guru – For Businesses Of All Scales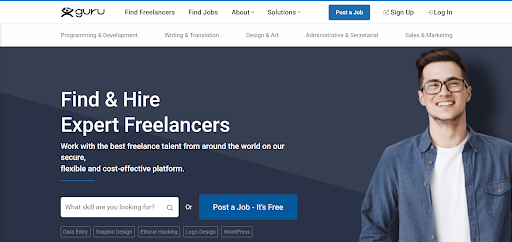 Guru is a freelance marketplace that boasts millions of freelancers and places emphasis on affordability and volume. With a customer satisfaction rating of 99% from more than 800,000 companies worldwide, it has established itself as a highly credible and valuable option for businesses seeking to hire multiple freelancers. Guru has lower fees than Upwork which makes it a more affordable alternative for businesses looking to hire virtual assistants. 
Guru has a dedicated customer support team that is available 24/7 to assist clients with any issues or questions they may have. Upwork's customer support, while available, has been criticized for being less responsive and less helpful. Guru also offers a wider range of payment options and terms than Upwork which makes it easier to find a virtual assistant that fits your budget and project needs.
Guru Pricing Plans
The rates vary for each virtual assistant and are based on their expertise and skills. 
11. PeoplePerHour – For Easy Management & Monitoring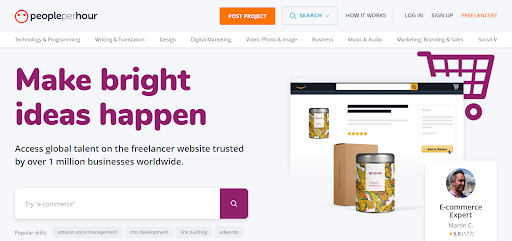 PeoplePerHour is a leading freelance platform trusted by more than 1 million businesses worldwide, providing an excellent alternative to Upwork. One of the key features of PeoplePerHour is its easy-to-use Project Streams, which makes organizing and managing tasks a breeze. This feature enables users to review, communicate, and pay for the services they receive from one central location, improving efficiency and productivity.
Unlike Upwork, PeoplePerHour specializes in providing specialized virtual assistants, including graphic designers and accounting virtual assistants. PeoplePerHour offers real-time monitoring and escrow protection, ensuring that the project is delivered on time and the payment is secure. 
PeoplePerHour Pricing Plans
Each virtual assistant has a different price range.
12. MyOutDesk – Specialists In Handling Confidential Data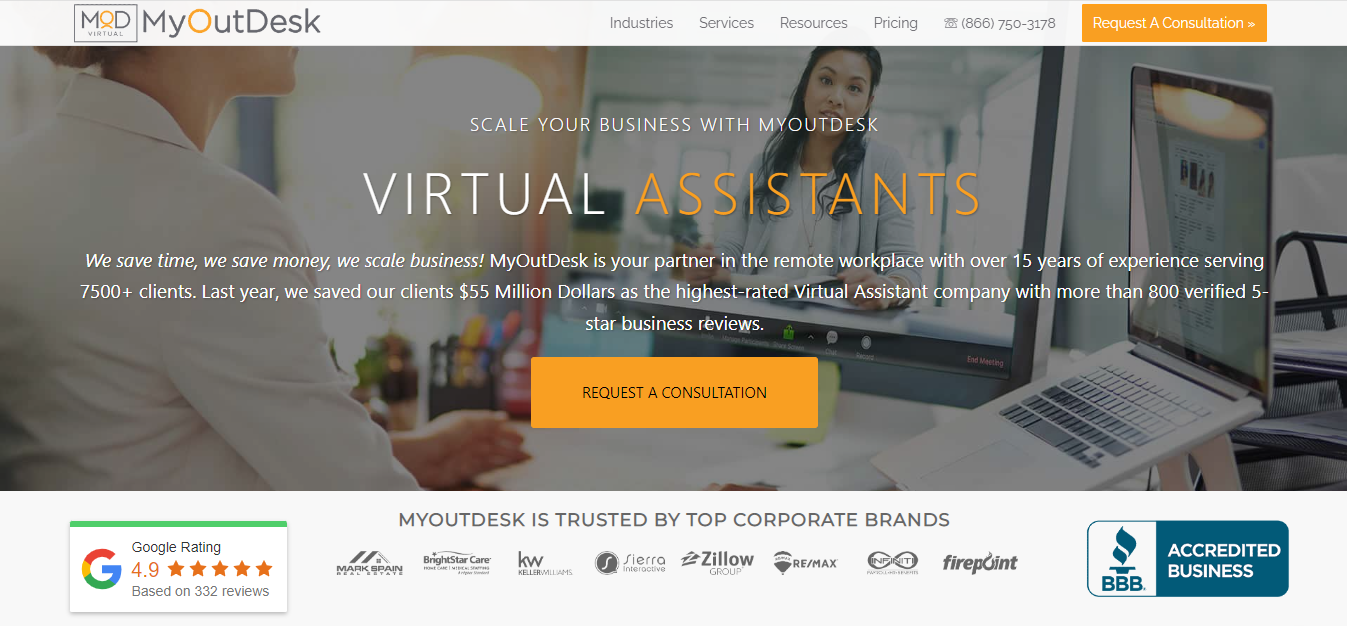 MyOutDesk is a virtual assistant provider that has been in the industry for over 15 years. They have provided virtual assistants to over 7500 clients, making them one of the most experienced and reliable virtual assistant providers in the market. They have a proprietary MyTimeIn software that allows clients to always know exactly where their assistant is and what they're working on.
MyOutDesk conducts personality profiling to match clients with the right virtual assistant. 
Security is another area where MyOutDesk beats Upwork. They conduct FBI-grade security checks on their virtual assistants, ensuring that they have a clean background and can be trusted with sensitive business information.
So whether you are looking to hire legal virtual assistants or ones to work on social media marketing projects, MyOutDesk is a better option than Upwork.
MyOutDesk Pricing Plans
The pricing plan starts at $1988/month and is charged quarterly.
13. Bean Ninjas – Ideal For Hiring Finance & Accounting VAs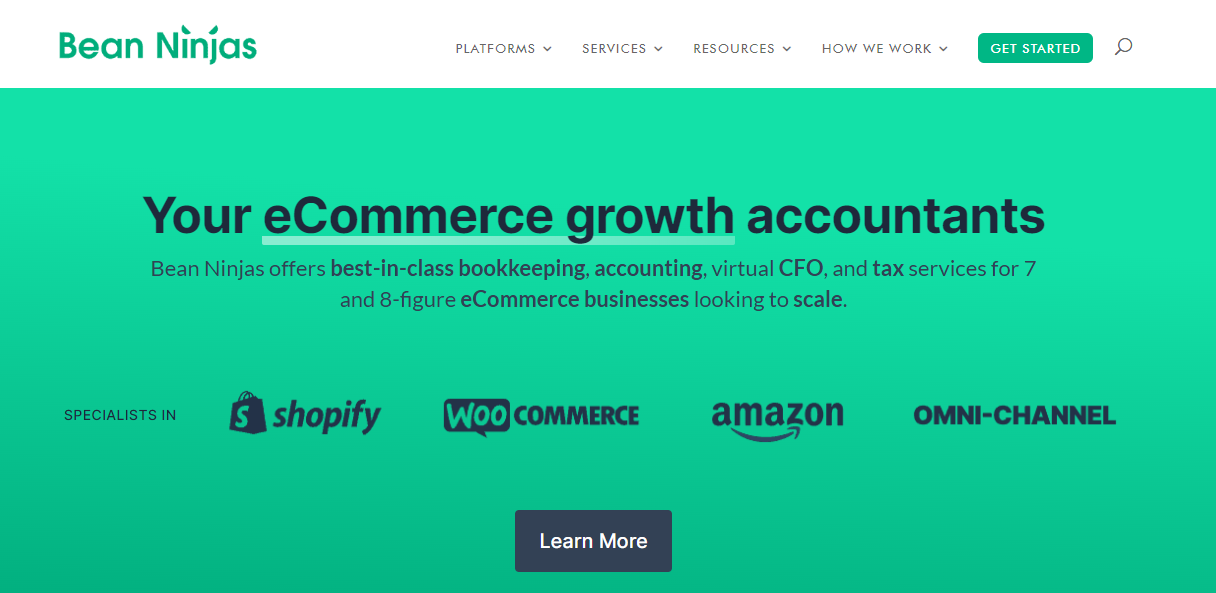 If you're specifically looking to hire virtual assistants for bookkeeping, accounting, or tax services, Bean Ninjas is by far a better alternative to Upwork. While Upwork offers a wide range of services from content writing to web design, Bean Ninjas specializes in finance-related services.
Bean Ninjas has a strict quality assurance process in place. They ensure that their virtual assistants are properly trained and have the necessary qualifications to perform their tasks. Bean Ninjas has a high customer satisfaction rate. They have a proven track record of delivering quality work and meeting deadlines. 
Bean Ninjas Pricing Plans
You can get tailor-made plans by contacting their support team.
14. Time etc – Delivering More For Less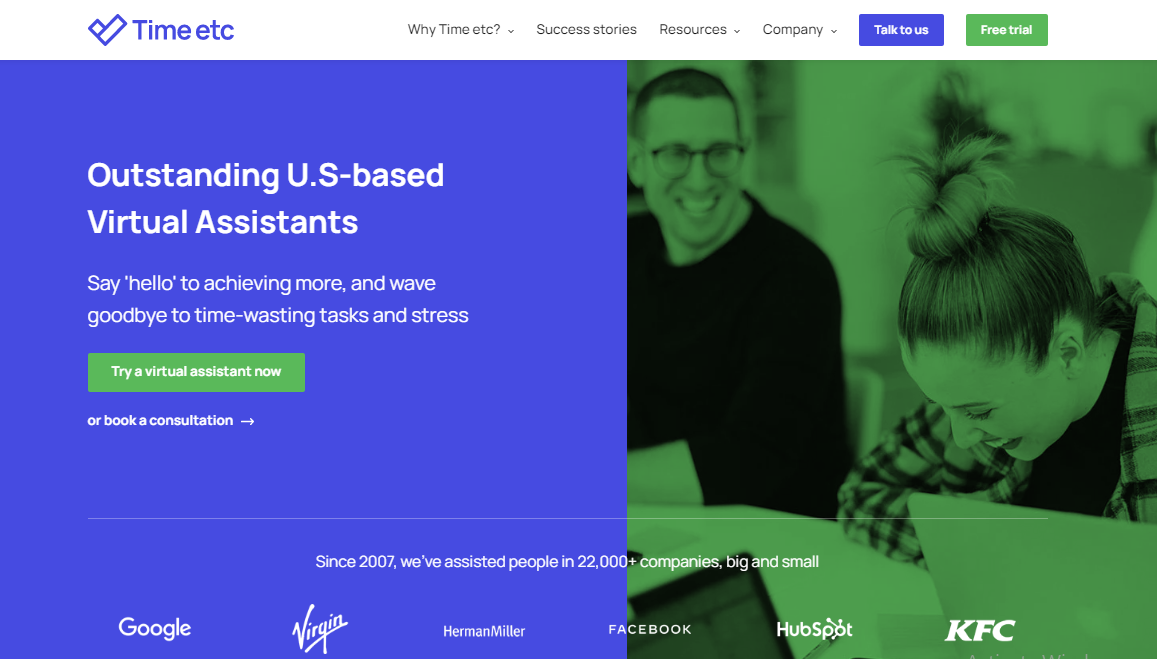 Time etc stands out as a superior choice to Upwork due to its highly selective hiring process. Only the top 2% of applicants successfully pass their rigorous 7-step assessment process, ensuring that their virtual assistants possess extensive experience, with an average of 12 years working at renowned companies like AOL, Apple, and Virgin. 
This level of selectivity means that Time etc can offer a curated selection of virtual assistants capable of providing support in a wide range of areas.
Time etc provides each client with a dedicated account manager who will work with you to understand your business needs and match you with the most suitable virtual assistant.
Time etc Pricing Plans
Plan A ($360/month): 10 hours of work.
Plan B ($700/month): 20 hours of work. 
Plan C ($1360/month): 40 hours of work.
Plan D ($1980/month): 60 hours of work.
15. FreeUp – No Turnover Guarantee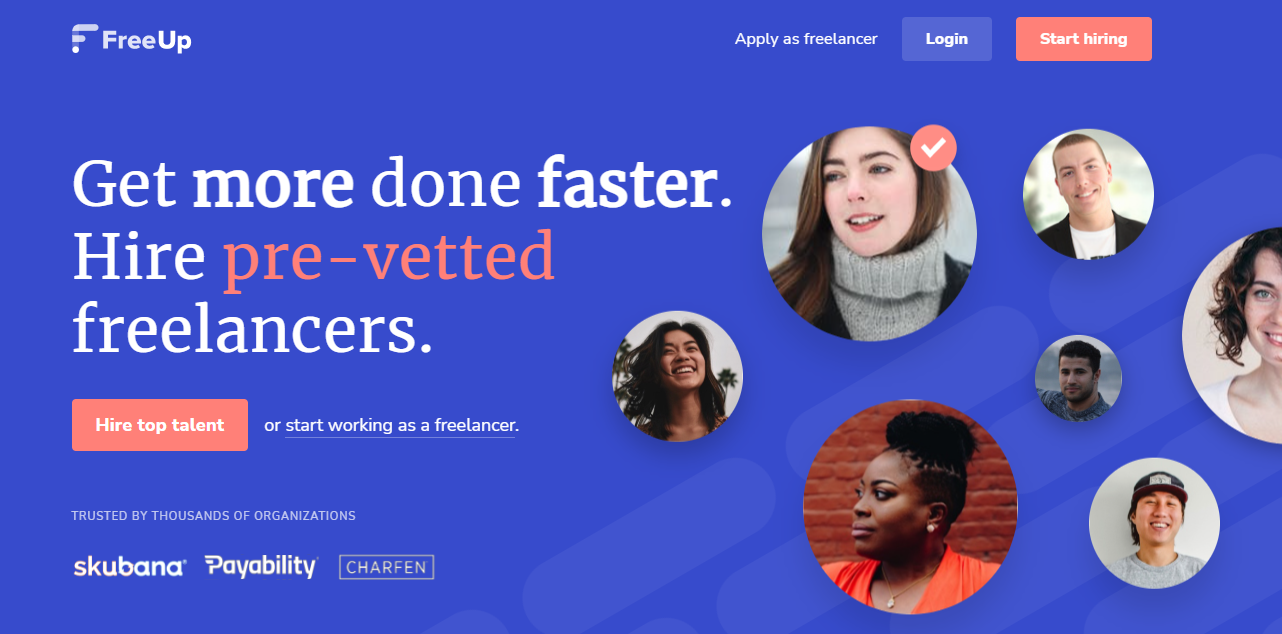 FreeUp is a freelancing platform that focuses on pre-vetting freelancers and hiring only the top 1% of online talent.
The platform has a strict hiring process that includes skills tests, interviews, and background checks, unlike Upwork where anyone can sign up to be a freelancer, regardless of their skills or experience. 
FreeUp can pair businesses with the perfect virtual assistant in 24 hours. Another advantage of FreeUp is that they provide a No Turnover Guarantee.
This means that if a virtual assistant quits, FreeUp will work to replace them immediately and cover applicable replacement costs. This gives businesses peace of mind, knowing that they will not be left without support if their virtual assistant quits unexpectedly.
FreeUp Pricing Plans
You can get in touch with FreeUp to get free estimates.
16. AskSunday – Ideal For Professionals & Small Businesses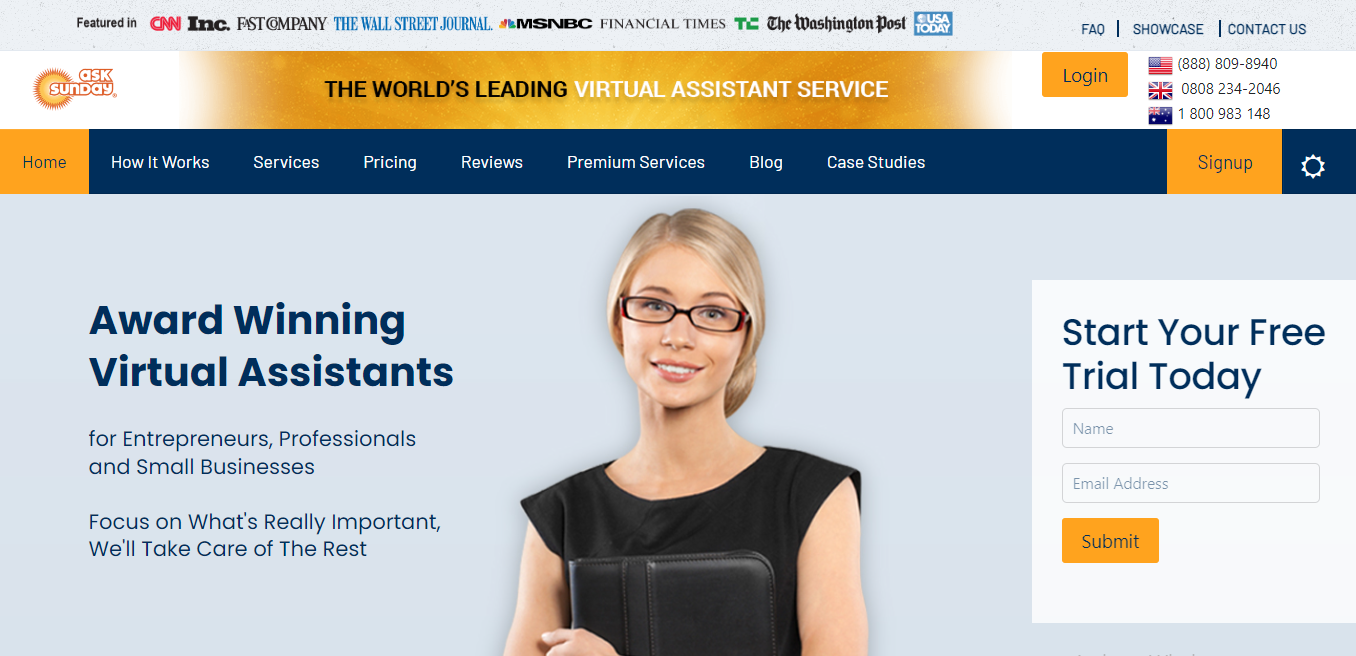 AskSunday is an ideal choice for startups and small businesses that are often low on budget. And no virtual accounting assistant provider understands this better than AskSunday.
One of the most significant advantages of AskSunday over Upwork is that for every virtual assistant you hire, you get a secondary VA who is trained for your tasks. 
This is an invaluable feature that ensures your work never gets delayed and you have backup support in case your primary VA is unavailable. Another advantage of AskSunday is that they offer a range of pricing plans to suit different business needs.
Whether you need a VA for a few hours a week or a full-time assistant, AskSunday has a plan that will work for you.
AskSunday Pricing Plans
Plan A ($129/month): 10 hours of work.
Plan B ($219/month): 20 hours of work.
Plan C ($389/month): 40 hours of work.
Plan D ($699/month): 80 hours of work.
Plan E ($1199/month): 160 hours of work.
On-Demand ($79/month): Pay as you use it. 
Conclusion
There are so many amazing freelance marketplaces for hiring virtual assistants that offer a range of unique features and benefits that Upwork just can't match. From platforms that specialize in niche industries to those that offer more streamlined user interfaces or more thorough vetting processes for freelance talent, the Upwork alternatives are endless.
We at Zirtual are a top-tier VA platform that offers a unique approach to virtual assistance. We go above and beyond to match you with a dedicated virtual assistant that's tailored to your unique industry and work style.
Consult our team of experts today and discover the benefits of having a skilled virtual assistant who can help you tackle any task, big or small.