A virtual assistant is a digital do-gooder who can help you with anything and everything. With them, you have a dedicated support system that never complains about the workload. Your virtual assistant is always there to lend a hand with anything you need, from brainstorming ideas for your social media campaign to creating presentations for your client meetings.
The most pressing question for anyone in need of a virtual assistant is where to find one that is reliable and trustworthy. Luckily, this article is here to help with that. We have narrowed down the top 16 virtual assistant services that are the best of the best.
We've taken the guesswork out of the process by thoroughly vetting each of these services and selecting only the most reputable ones.
After reading this guide, you'll have all the information you need to make an informed decision and find the ideal virtual assistant for your business. 
16 Best Websites To Hire A Virtual Assistant For Unlocking Your Productivity
Our top 3 picks for the leading virtual assistant platforms are:
Zirtual – Best overall 
Belay – Award-winning virtual assistant services
Upwork – World's largest pool of freelance virtual assistants
Let's now explore all 16 platforms for hiring virtual assistants in greater detail. 
1. Zirtual – Top Pick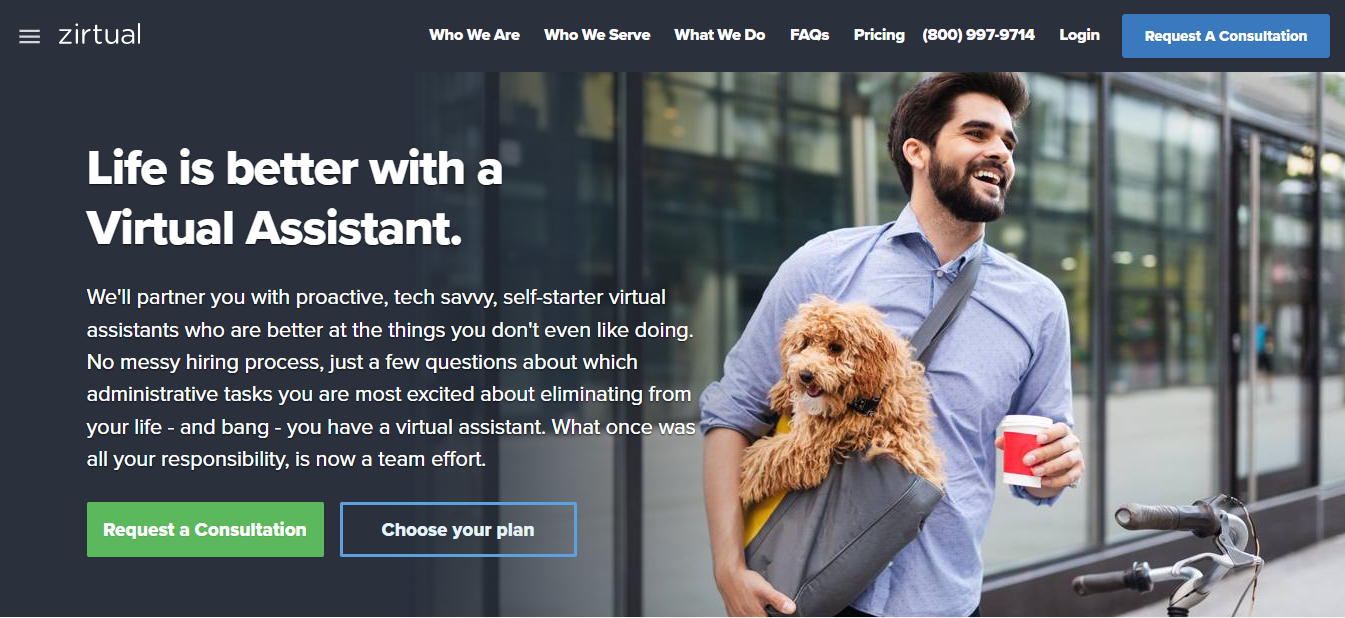 If you're looking to hire a virtual assistant, Zirtual is the biggest and most reliable company in the business. One great thing about us is that all of our virtual assistants are based in the United States. That means you won't have to stress about dealing with time differences or language barriers. 
We're very picky when it comes to hiring virtual assistants at Zirtual – we only bring on talented individuals who are college graduates. This helps us onboard people with a wider perspective and experience in a range of subjects. Our virtual assistants are trained to tackle problems in a methodical way and they excel at tasks that require creativity and critical thinking.
One of the great things about our virtual assistants at Zirtual is that they've diverse experiences. Thanks to their time working in different industries, there's not a lot they haven't seen or done before. No matter what kind of task you need help with, you can feel confident that they have the know-how to handle it. We've put in the time to train them well and help them adapt to new situations so they're always ready to take on a new challenge.
At Zirtual, we're committed to bringing on only the most qualified and capable professionals to join our team. We put each candidate through a rigorous vetting process. We look at their skills, experience, and other important factors to determine if they're the right fit for us. 
We also run thorough background checks to confirm that they have a clean record. This way, you can be sure that the virtual assistant you're working with is both knowledgeable and trustworthy.
Zirtual Pricing Plans
Zirtual offers 4 premium packages.
Entrepreneur Plan ($549/month): 12 hours of work with 1 user.
Startup Plan ($849/month): 24 hours of work with 2 users.
Small Business Plan ($1249/month): 36 hours of work with 3 users.
Team Plan ($1699/month): 50 hours of work with 5 users.
2. Belay – Award-Winning Virtual Assistant Services
Belay was established in 2010 in Atlanta and has since been recognized as one of the fastest-growing private companies in America by Inc. 5000. With a team of over 1200 virtual assistants from 48 different states, the company has strict selection criteria to hire virtual assistants. 
In fact, Belay's acceptance rate is even lower than that of Harvard University. They ensure their virtual assistants are highly qualified by subjecting them to several video interviews and skills assessments. Virtual assistants who pass this selection process are guaranteed to have the necessary skills to handle administrative tasks efficiently.
Belay also provides regular training to their virtual assistants to ensure that their skills are up-to-date and that they are able to provide the best possible service to you. Once you sign up with Belay, they will match you with a virtual assistant in under a week. 
Belay provides a Client Success Consultant who will work with you and your virtual assistant to ensure that you receive the best possible service. They will help you communicate effectively with your virtual assistant and make sure that you are satisfied with the work they are doing.
Belay Pricing Plans
Belay offers affordable packages that begin at a monthly rate of $1,380 for 30 hours. If you require a customized plan, you can contact Belay to receive a detailed quote.
3. Upwork – World's Largest Pool Of Freelance Virtual Assistants
Upwork is a freelance platform that connects businesses and individuals with freelancers who offer virtual assistant services. It was founded in 2013 when two previous freelance marketplaces, oDesk and Elance, merged. Since then, it has become one of the largest platforms in the world with over 70 million registered freelancers.
Upwork offers various features that can help you find the right freelance virtual assistant for your project. You can post virtual assistant jobs by including project descriptions, budgets, and timelines. Then, interested freelancers submit proposals with their portfolios and previous work history. You can also search for freelancers with specific virtual assistant skills, experience, location, and other criteria using Upwork's extensive database.
The virtual assistant salary varies on Upwork and mainly depends on their experience, the complexity of the job, and other similar factors. Upwork also provides tools to help clients screen and evaluate freelancer profiles. You can review their work history, portfolios, ratings, and client reviews. 
You can communicate with freelancers through Upwork's messaging system and video conferencing and screen-sharing tools. Upwork also offers project management tools to help clients manage their projects and track freelancer progress. These include time tracking, milestone tracking, and invoicing.
Upwork Pricing Plans
Upwork charges a fee of 5% on all payments made to freelancers.
4. Time etc – Trusted By Global Brands
Founded in 2007, Time etc is a leading platform for hiring an experienced virtual assistant. With over 22,000 success stories, this platform is trusted by many satisfied clients, including big names such as Virgin, KFC, and Google.
Time etc only hires virtual assistants with a minimum of 12 years of experience and are capable of performing a wide range of tasks, such as: 
Data entry
Scheduling
Accounting
Content marketing
Answering phone calls
Social media management
Time etc's 10-stage selection process ensures that you get matched with the best possible virtual assistant. This process includes a detailed application, multiple interviews, and even a skills test. 
Another great feature of Time etc is its mobile app which allows you to easily manage your virtual assistant on the go. You can communicate with your virtual assistant, assign tasks, and monitor progress all from the convenience of your smartphone or tablet. At Time etc, each virtual assistant signs a non-disclosure agreement (NDA), ensuring that your confidential information is protected. 
The company also offers a free trial to assess its services. You can work with multiple virtual assistants without incurring any additional costs. If you work with a team, you can also share your dedicated virtual assistant with your team members. This allows for better collaboration and ensures that everyone is on the same page.
Time etc Pricing Plan
Plan A ($360/month): 10 hours of work.
Plan B ($700/month): 20 hours of work. 
Plan C ($1,360/month): 40 hours of work.
Plan D ($1,980/month): 60 hours of work.
5. Fancy Hands – Guaranteed Cost-Savings
With over 1,000 clients served, Fancy Hands has established itself as a leading name for hiring virtual assistants. They can find you a virtual assistant in 48-72 hours – great news for people looking to start right away. Fancy Hands takes industry-best security measures to ensure that your information is safe and secure.
When you choose Fancy Hands, you get a project manager who will assist you in finding the right virtual assistant for your needs. The company has an app that allows for easy task assignments, tracking, and providing feedback. Fancy Hands has a strict screening process that only the top 3% of candidates clear. They only hire virtual assistants with at least 10 years of experience. 
Fancy Hands Pricing Plans
Small Plan ($17.99/month): Offers 3 requests.
Medium Plan ($29.99/month): Offers 5 requests.
Large Plan ($74.99/month): Offers 15 requests.
XL Plan ($149.99/month): Offers 30 requests.
6. Prialto – Most Advanced Systems
For over 14 years, Prialto has been a leading choice for companies turning to virtual assistants as a cost-effective way to outsource administrative support tasks. During this time, they have provided 1 million hours of service and developed systems that are impossible to match. 
Their virtual executive assistants undergo rigorous training and are backed by a team of experienced management professionals. Prialto has a state-of-the-art platform that makes communication between you and your virtual executive assistant easy and efficient. This platform streamlines the process of delegating tasks, providing updates and feedback, and communicating in real-time. 
Prialto has a well-managed transition process that helps you seamlessly integrate your new virtual assistant into your team. They provide enterprise-level security and all data and communication between you and your virtual assistant are protected.
Prialto Pricing Plans
"Yourself" Plan ($1,350/month): 55 hours of work. 1 user included.
"Your Team" Plan ($4,050/month): 165+ hours of work. 3+ users.
"Your Organization" Plan (Custom Pricing): 440+ hours of work. 8+ users.
7. WoodBows – Experienced Talent Hub
WoodBows has earned the reputation of one of the best in the business among small business owners and C-level executives. They have been in the virtual assistance business for over 10 years with offices in the US, India, and the Philippines. This gives you access to a large pool of virtual assistants with diverse skill sets and backgrounds at highly competitive rates. 
WoodBows prides itself on only hiring highly-experienced virtual assistants and can match you with a virtual assistant in as little as 24 hours. They boast a 99.7% client repetition rate which shows that their clients are highly satisfied with the services they receive and keep coming back for more. WoodBows has received the "Best Service Guarantee" award from Investopedia USA for providing excellent virtual assistance services. 
WoodBows clients have reported an 89% improvement in ROI and have saved 70% on employee costs because of their virtual assistants' efficient administrative services.
WoodBows Pricing Plans
Plan A ($599/month): 40 hours monthly.
Plan B ($999/month): 80 hours monthly.
Plan C ($1,499/month): 160 hours monthly.
8. Equivity – Reliability At Its Best
Equivity is another worthwhile platform for hiring a virtual assistant. Their virtual assistants are based in the US so you get to work with a native English speaker who understands the culture and communication style of your target audience. 
Equivity provides a dedicated virtual assistant who will always work with you and build a working relationship that helps streamline communication and increase efficiency. They also provide Client Experience Managers who will help you manage your virtual assistant and get the most value out of your plan.
With Equivity, you're not bound by any long-term contract and there's no minimum or maximum time limit to work with them. Their virtual assistants perform all sorts of tasks, from client outreach and event planning to calendar management and scheduling appointments.
Equivity Pricing Plans
Basic ($250/month): 5 hours/month.
Standard ($480/month): 10 hours/month.
Professional ($685/month): 15 hours/month.
Enterprise ($1,250/month): 30 hours/month.
Advantage ($1,920/month): 50 hours/month.
9. Wing Assistant – Most Tech-Savvy Virtual Assistant Company
Wing Assistant provides highly vetted and skilled virtual assistants who are some of the best in the business. They only accept the top 2% of virtual assistants who apply. Wing Assistant has a task management app called Wink By Wing that helps you manage tasks efficiently.
Wink By Wing is a comprehensive tool that comes with a chat feature, a media library, and a Credentials feature. Another benefit of using Wing Assistant is the ability to upload and record onboarding and training videos. This saves you time and effort by allowing your virtual assistant to get up to speed quickly and efficiently.
Wing Assistant also offers a workflow management tool that can be integrated with popular platforms like Slack, Salesforce, Hootsuite, and many others. This allows you to manage your virtual assistant's tasks seamlessly and ensures that they are working efficiently and effectively. 
Wing Assistant Pricing Plans
Part-time ($499/month): 20 hours of work.
Full-time ($899/month): 40 hours of work.
Full-time 2X ($1,699/month): 40 hours of work with 2 assistants.
10. MyVA360 – For Quick Response Time
MyVA360 was founded in 2019 and has since grown to have a team of over 70 virtual assistants. With this sizeable team, they have completed over 4,600 projects proving their reliability and experience in the field. This platform has also been featured on leading platforms like Fox, NBC, and Yahoo, among others. 
MyVA360's virtual assistants are equipped with US telephone numbers, Asana, Slack, and various security tools to ensure efficient communication and data privacy. They also provide a daily report on your virtual assistant's activities to keep you up-to-date on progress and make it easy to manage your virtual assistant job. MyVA360 offers a 14-day money-back guarantee for added peace of mind. 
MyVA360 Pricing Plans
Starter ($419/month): 15 hours of work.
Pro ($780/month): 30 hours of work. 
Master ($1,080/month): 45 hours of work.
Elite ($1,380/month): 60 hours of work.
11. VA Staffer – Visible Results In 30 Days
VA Staffer has been in the business for over 8 years, providing businesses with highly vetted and skilled virtual assistants to assist with various tasks. The company has over 250 active clients and its team comprises 150+ virtual assistants with expertise in different fields. 
Before being hired, each VA goes through a tough vetting process, including background checks, reference checks, and skill assessments, ensuring that only the best candidates are presented to you.
VA Staffer promises visible results in just 30 days, with increased ROI and better customer reach. The company uses AI technology to support its virtual assistants. With AI, VA Staffer's virtual assistants can handle more complex tasks, such as data analysis, customer segmentation, and social media management. This ensures that clients receive exceptional services at an affordable virtual assistant cost.
VA Staffer Pricing Plans
Dedicated Assistant (Starts at $800/month): Offers 20 to 40 hours/week.
Hourly Plan (Starts at $298/month): Available for 20, 50, and 100 hours.
12. Outsourcing Angel – Most Elaborate Training Mechanism
Outsourcing Angel was founded in 2015. It is headquartered in Australia while the virtual assistants are located in the Philippines. They have a 6-step recruitment process that includes a thorough screening of each candidate's skills and qualifications, as well as a personal interview to assess their communication skills and work ethic. 
If you are not satisfied with the virtual assistant provided, you can request a replacement without any additional cost. Outsourcing Angel also offers the flexibility of having virtual assistants available during preferred work hours. 
The company provides virtual assistants with access to Angel Academy which is its ultimate resource hub. Angel Academy provides training on various topics, including communication skills, time management, and project management. This ensures that virtual assistants have the necessary skills to provide the best possible service to you.
Outsourcing Angels Pricing Plans
Basic ($1,500/month): 20 hours of work/week.
Standard ($3,500/month): 20 hours of work/week. Includes system automation along with VA services.
13. VA Matchmakers – Perfectly Matched Virtual Assistants
VA Matchmakers has a team of 500 pre-qualified virtual assistants that have been already screened and evaluated. These virtual assistants are affordable on any budget. Whether you're a small business owner or an individual, VA Matchmakers has a plan that will work for you. They also offer a money-back guarantee if you're not satisfied with your virtual assistant.
VA Matchmakers has a strict Perfect Match vetting process for hiring virtual assistants. It is a personality-matching process that ensures you'll be matched with a virtual assistant who complements your strengths and weaknesses. 
With VA Matchmakers, you can hire a virtual assistant in as little as 7 days. VA Matchmakers also provides a free replacement for your virtual assistant if you're not satisfied with their performance. 
VA Matchmakers Pricing Plans
VA Matchmakers packages start at $997. Get in touch with them for more details.
14. Assistant Match – Most Flexible
Assistant Match is a leading platform for hiring virtual assistants that was founded in 2007. With over 16 years of experience in the industry, they are known for providing US-based virtual assistants who have a deep understanding of the American work culture and are proficient in English.
Assistant Match is a completely remote company so they understand how virtual work works. They know the nuances of virtual work and this makes them better equipped to provide you with a VA who meets your specific needs. The platform is renowned for its meticulous matching process. They match virtual assistants based on skill, experience, availability, work style, and personality. 
Assistant Match Pricing Plans
Assistant Match charges a match fee of $395 which includes a deposit of $95 and goes towards finding the perfect candidate. VA services are charged at an hourly rate depending on the expertise.
15. Virtual Gurus – Making A Difference
Virtual Gurus has 800 pre-vetted virtual assistants on the platform which allows you to easily find someone who fits your needs and budget. The platform is committed to providing opportunities to underrepresented communities, with 65% of their virtual assistants coming from these groups. 
Virtual Gurus uses a combination of algorithms, machine learning, and human expertise to make personalized matches between businesses and virtual assistants. To date, they've provided over 386,000 hours of work for businesses across a wide range of industries. This not only speaks to the quality of their virtual assistants but also the platform's ability to meet the needs of businesses of all sizes and types.
Virtual Gurus Pricing Plans
Virtual Gurus have 3 different packages but the pricing is available on demand. 
16. Premium Help – Collaborative Approach
Premium Help has over 10 years of experience in the industry. They have a team of 70+ virtual assistants who have served over 1100 clients in more than 47 countries. To date, they have successfully completed 23,000 tasks. 
Your virtual assistant will provide daily task status updates so you can stay up-to-date on the progress of your tasks and have peace of mind knowing that everything is being taken care of. When you hire a virtual assistant from Premium Help, you get the benefit of having a dedicated assistant who gets help from their team. So essentially, you get a whole team at the price of one.
Premium Help Pricing Plan
Plan A ($249/month): 20 hours of work.
Plan B ($449/month): 40 hours of work. 
Plan C ($799/month): 80 hours of work.
Plan D ($1299/month): Full-time employee.
Conclusion
Great news – hiring a virtual assistant for your business doesn't have to be a stressful ordeal anymore. We've put together a list of the 16 best sites where you can find a virtual assistant that's perfect for you. With so many options, you'll have no trouble finding a trusty sidekick who can help you take on even the toughest tasks. 
But if you truly want to experience the benefits of working with a virtual assistant, Zirtual is the best option. We are a trusted and reputable provider of virtual assistant services with thousands of satisfied customers to our name. Our full-service platform is designed to meet the needs of businesses of all shapes and sizes, offering a wide range of services to help you grow and succeed.
When you work with a Zirtual virtual assistant, you can trust that they will treat your tasks with the same care and attention that you would. If you're interested in learning more about how Zirtual can help your business, we invite you to book a free consultation with us today.