We are sure you remember that euphoria of winning at whack-a-mole when a buddy was by your side helping you out. Well, entrepreneurship is the whack-a-mole for grown-ups. Only it's not that entertaining and can drain you out immensely. A virtual assistant for entrepreneurs is the reliable sidekick you need to knock off that whack-a-mole of tasks in your work world.
But where in the world would you find that reliable "ol' childhood buddy" that will help you score more in entrepreneurship? What if we told you that we have just the right places that can expose you to the best talent for your business from across the globe? Yes, that's true. Our article is all about the 16 best websites to hire virtual assistants for entrepreneurs.
By the time you reach the end of this read, you will have a clear game plan about which site offers more skilled and knowledgeable virtual assistants that will best fit your company's needs. Because it's time for you to ease up your brain and know that your buddy is there to whack the next task that pops out of nowhere.
16 Best Platforms For Hiring Expert Virtual Assistants For Entrepreneurs
Our top 3 picks for the leading virtual assistant websites for entrepreneurs are:
Zirtual – Best overall 
Time etc – Prioritizing client safety
Fancy Hands – Most streamlined processes
Here's a detailed look at all 16 platforms to discover the incredible features they have to offer 
1. Zirtual – Top Pick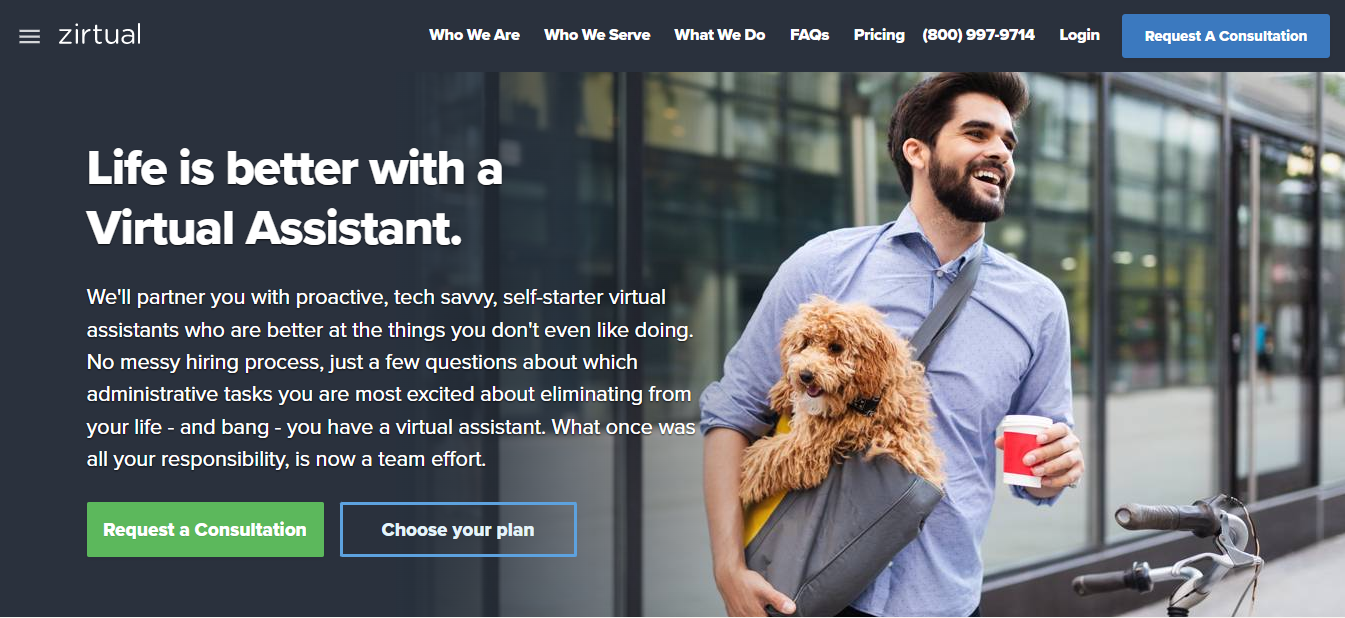 Zirtual is hands down the best place to hire virtual assistants for entrepreneurs. Our team of highly-skilled, US-based VAs is the best in the industry, each one a college graduate with expertise in their respective fields. We have the fastest virtual assistant onboarding process so you can get your VA up and running in no time.
At Zirtual, we understand that even the most incredible virtual assistant might not be able to handle every task. But we have a team of specialized experts who are always ready to jump in and lend a hand. 
We at Zirtual don't settle for anything less than perfection. We've crafted a rigorous vetting and hiring process that ensures we only bring on board the most skilled, experienced, and tech-savvy candidates. We also take security seriously, conducting thorough background checks to guarantee that our virtual assistants have a clean slate.
At Zirtual, we don't just hire virtual assistants – we invest in them because we know that when they're at their best, our clients reap the rewards. That's why we are proud to provide our VAs with ongoing training on the latest tools and trends in their respective fields. 
We understand that in business, there's no room for missed deadlines or shoddy work. That's why we ensure that our VAs are not only talented but reliable and consistent in their work.
Zirtual Pricing Plans
Zirtual offers 4 pricing plans.
Entrepreneur Plan ($549/month): 12 hours of work with 1 user.
Startup Plan ($849/month): 24 hours of work with 2 users.
Small Business Plan ($1,249/month): 36 hours of work with 3 users.
Team Plan ($1,699/month): 50 hours of work with 5 users.
2. Time etc – Prioritizing Client Safety
Time etc the premier virtual assistant services platform founded in 2007. With 22,000 success stories and clients including powerhouses like Virgin, KFC, Google, Time etc is a trusted leader in the virtual assistant landscape. 
Their 10-stage selection process is the gold standard in hiring virtual assistants, ensuring that you're matched with only the best of the best. This process includes a detailed application, multiple interviews, and even a skills test. They only hire virtual assistants with a minimum of 12 years of experience, guaranteeing specialized skills and expertise across a broad range of tasks.
Once hired, each virtual assistant completes an extensive training program to ensure they work efficiently and independently and keep you free to focus on growing your own business. Time etc provides help outside of regular business hours as their virtual assistants are available 24/7.
Time etc's mobile app lets you manage your virtual assistant on the go. You can easily communicate, assign tasks, and monitor progress from your smartphone or tablet. Plus, each virtual assistant signs a non-disclosure agreement (NDA) for keeping your confidential information completely secure.
Time etc provides a free trial so you can experience their exceptional virtual assistant services first-hand. Work with multiple virtual assistants at no additional cost and even share your dedicated assistant with your team for better collaboration.
Time etc Pricing Plan
Plan A ($360/month): 10 hours of work.
Plan B ($700/month): 20 hours of work. 
Plan C ($1,360/month): 40 hours of work.
Plan D ($1,980/month): 60 hours of work.
3. Fancy Hands – Most Streamlined Processes
Fancy Hands has served over 1,000 clients and is a top choice for hiring virtual assistants. The company has a strict screening process that only the top 3% of candidates clear, giving you access to the most experienced and qualified virtual assistants in the market. 
With a minimum of 10 years of experience, their virtual assistants are experts in everything from project management to scheduling posts, data entry, lead generation, and all the specialized tasks that you don't have time for.
With their lightning-fast turnaround time of just 48-72 hours, you'll have a top-tier virtual assistant working for you in no time. Plus, they take industry-best security measures to ensure that your information is safe and secure, giving you complete peace of mind.
At Fancy Hands, you'll be assigned a dedicated project manager who will work with you to find the perfect virtual assistant to suit your unique needs. With their mobile app available on both Android and iOS, you can easily place requests for tasks and services from anywhere, at any time, without the need for a desktop computer.
With the app, you can keep track of your virtual assistant's progress and even rate them to help them improve and provide the best service possible. Ordering tasks through Fancy Hands is easy and convenient with multiple options available. You can send a text message to their dedicated number or even call it to place a request. 
You can connect your Fancy Hands account with other popular tools such as Google Calendar, Slack, and Trello which makes it even easier to delegate tasks and keep track of progress.
Fancy Hands Pricing Plans
Small Plan ($17.99/month): Offers 3 requests.
Medium Plan ($29.99/month): Offers 5 requests.
Large Plan ($74.99/month): Offers 15 requests.
XL Plan ($149.99/month): Offers 30 requests.
4. Insolvo – Dedicated Freelance Platform For Hiring Virtual Assistants
Insolvo is a freelance platform with over 250,000 freelancers on their network and has completed over 193,000 tasks. The platform's cutting-edge technology includes a specially trained artificial neural network that carefully scrutinizes all the parameters of your project to select the best-suited virtual assistant freelancers from their vast pool of talent.
Insolvo offers a unique feature that gives valuable insights into popular price choices for similar projects when you post a job. So no more guessing or negotiating. With their pay-only-when-completed system and full refund guarantee, you can be sure that you'll only pay for work that meets your standards. No more wasted time and money on subpar results.
Insolvo Pricing Plans
Insolvo provides variable pricing plans based on job requirements.
5. Valley Virtual Assistance – Most Strategic
Valley Virtual Assistance has been leading the charge for over 5 years, providing businesses with top-tier virtual assistants who are trained in the Strategic Mapping Model. But they do so much more than just manage the day-to-day tasks – they help business owners create and execute long-term plans for growth and success.
With a keen eye for identifying business goals, analyzing the current state of the business, and developing a plan to achieve those goals, Valley Virtual Assistance is a powerhouse in the world of virtual assistance. They are the ultimate solution for business owners who feel bogged down by all the tasks that come with running a company – from data entry to lead generation and everything in between.
Valley Virtual Assistance Pricing Plans
Helping Hand ($1,300/month): 20 hours of service.
Leg Up ($1,950/month): 30 hours of service.
Run The Show ($2,500/month): 40 hours of service.
6. Persona – Dedicated Virtual Assistant For Every Client
Persona is a worthy contender on our list. Their mission is simple: to match you with the ideal virtual assistant in 48 hours or less. Due to their efficient systems and smart hiring processes, their resources are at least 2X cheaper than the conventional alternatives.
Persona has the strictest hiring criteria and the toughest entrance exams in the industry. They have an 8-step hiring process that only 1 person for every 1000 applicants clears. Persona's virtual assistants are fully dedicated to their clients. They don't have any other clients to distract them so they can focus 100% of their energy on helping you grow your business. 
Persona Pricing Plans
Tailor-made plans are available on demand.
7. GetFriday – Most Expereinced Virtual Assistants
Founded in 2005, GetFriday has been serving entrepreneurs from all over the world for nearly two decades. They have 8,000 satisfied customers from 80 different countries. Not only that, but they are also an ISO 27001-certified company, capable enough to handle your information according to strict standards and keep it safe and secure.
When you hire a virtual assistant from GetFriday, you can expect to be connected with a skilled and experienced professional within just one day. Once you're up and running, you'll have access to an online customer portal where you can keep track of everything your virtual assistant is working on.
GetFriday team is made up of diverse and highly-educated graduates who are equipped to handle even the most complex tasks. If your virtual assistant ever needs a backup or specialized help, GetFriday' multiple teams will cover it for you. 
With 15 years of experience in their respective fields, the virtual assistants at GetFriday have the skills to handle all sorts of tasks. Whether you're a business owner with too many tasks on your plate or a creative with multiple clients to manage, GetFriday has your needs taken care of.
GetFriday Pricing Plans
Basic 5 ($65/month): 5 hours of work.
Basic 10 ($120/month): 10 hours of work. 
Basic 20 ($200/month): 20 hours of work.
Custom Plans: Tailor-made quotes.
8. Boldly – Most Flexible
Established in 2012, Boldly boasts an exceptional team of W2 employees, each with an average of 10-15 years of experience working with top global brands like Google, Microsoft, and Amazon. 
At Boldly, they match virtual assistants with each client's needs and company culture to fit seamlessly into their team. They also offer flexible staffing solutions that are tailored to your specific requirements. Whether you need a full-time assistant or just someone to help out part-time, Boldly will work with you to create a solution that works for you.
Boldly's secret recipe for success is a combination of cutting-edge technology, unmatched efficiency, and unparalleled flexibility. They leverage the latest tools and tech to ensure that every minute of your time is maximized for productivity.
Boldly Pricing Plans
Plan A ($2200/month): Offers 40 hours of work.
Plan B ($2,750/month): Offers 50 hours of work. 
Plan C ($3,300/month): Offers 60 hours of work.
Plan D ($4,400/month): Offers 80 hours of work.
Plan E (Custom Pricing): Offers up to 160 hours of work.
9. Virtual Gal Friday – Scalability At Its Best
Virtual Gal Friday is a premier virtual assistant service that has been transforming businesses since 1998. It all starts with their rigorous hiring process. They handpick the best of the best through a multi-step hiring process and conduct thorough background checks to ensure that their virtual assistants are not only legit but also trustworthy. 
Virtual Gal Friday goes above and beyond to make sure that their team is up-to-date with the latest administrative techniques and skills. They provide intense training programs to ensure that their virtual assistants are ready to tackle any task. Imagine having someone who can schedule posts for your social media accounts, manage your social media presence, and even edit blog posts. With Virtual Gal Friday, the possibilities are endless.
Virtual Gal Pricing Plans
Pay as you go ($325): Pay upfront and replenish when all time is used.
VGF Basic ($500/month): Includes 10 hours/month.
VGF Pro ($920/month): Includes 20 hours/month.
VGF Premium ($1,680/month): Includes 40 hours/month.
VGF Supreme ($2,280/month): Includes 60 hours/month.
10. The Virtual Hub – Most Highly-Trained Virtual Assistants
The Virtual Hub was founded in 2015 and has served over 500 customers since then. When it comes to hiring a virtual assistant, most virtual assistants offer basic administrative services. However, The Virtual Hub goes above and beyond by placing a special emphasis on training its virtual assistants for all aspects of helping an entrepreneur. 
In fact, last year, they invested over 10,000 hours in training their virtual assistants to be skilled in different tasks like accounting, social media management, and more.
The Virtual Hub is known for hiring virtual assistants that have great problem-solving and analytical skills. These professionals have the ability to identify and resolve issues quickly and effectively which can save you a lot of time and hassle.
The Virtual Hub Pricing Plans
Customized plans are available on request.
11. Priority VA – Ideal For SMBs
For over a decade, Priority VA has been providing US-based virtual assistants who are available 24/7. With its proprietary vetting process Gauntlet, Priority VA ensures that only the most qualified and skilled virtual assistants are hired. They are Kolbe-certified and use cognitive brain research to match virtual assistants with clients based on their natural talents and strengths.
Whether you need help with administrative tasks, such as scheduling, email management, or bookkeeping, or more specialized tasks like video editing, Priority VA has virtual assistants for every need. Their team of independent contractors are experts in their fields and are trained to provide you with the highest quality service.
Priority VA Pricing Plans
You can get in touch with the sales time for customized pricing plans.
12. Byron – Built For Quality & Speed
Established in 2016, Byron has become a renowned name in the virtual assistant industry due to its state-of-the-art monitoring and scheduling platform. You can track your virtual assistant's progress in real-time, chat with them, receive alerts, and perform a multitude of other functions.
Byron's virtual assistants are highly skilled and subject to testing across over 100 different skills. They have been trained to take on your to-do list from day one for optimum utilization of your valuable time. Byron also offers seamless integration with over 1,000 tools. This enables you to add new tasks and data with just a single click, streamlining your calendar management and task organization.
Byron Pricing Plans
Pilot ($290/month): Includes 10 hours.
Regular ($540/month): Includes 20 hours.
Plus ($990/month): Includes 40 hours.
Pro ($1,950/month): Includes 80 hours.
13. Ossisto – Best For Innovative Solutions
Ossisto was founded in 2017 to help small businesses and busy entrepreneurs achieve work-life balance by taking care of their administrative tasks. With over 650 satisfied customers, Ossisto has proved that they are the best in the game. They have a team of over 150 virtual assistants located in more than 5 countries, ensuring that clients get their work done according to their time zone.
Ossisto offers access to specialized teams that are experts in various fields. From account management to content creation, their virtual assistants can handle daily tasks with the utmost proficiency. Ossisto's industry-best pricing ensures that virtual assistants for entrepreneurs are now a reality and not just a luxury reserved for big corporations. 
Ossisto Pricing Plans
Ossisto prices start from $8/hour. Contact their sales team to get a customized plan.
14. ProAssisting – All-Round Virtual Assistants
ProAssisting is the ultimate solution for businesses of all sizes, whether you're a small startup or a big corporation. They only hire virtual assistants with a minimum of 5+ years of experience so you know you're getting top-tier service. Their VAs have a maximum of 3 clients at any given time so they can focus more on you and your business needs.
If you have a specific project that you need help with, you can hire an independent contractor from ProAssisting who also specializes in one-off tasks. Whether it's a graphic design, marketing campaign, or research project, they can provide expert assistance. Their virtual assistants work in different time zones and provide round-the-clock support at no extra cost.
ProAssisting Pricing Plan
ProAssisting provides only one plan at $3,000/month with daily full-service support.
15. Rock Solid Virtual Assistants – Most Thorough Monitoring
Rocks Solid Virtual Assistants are known for their highly selective recruitment process which involves rigorous 7-step online testing to ensure that only the best makes it onto their team. The company knows that time is the most precious resource for most entrepreneurs, therefore, they create and follow a thorough job description to make sure that your tasks are handled with the utmost care and efficiency. 
Rocks Solid Virtual Assistants take client satisfaction to a whole new level by conducting regular meetings to gather feedback and address any concerns. During the initial 90-day period, an assigned team manager will keep a close eye on each task to guarantee that it is executed with exceptional quality. 
Rock Solid Virtual Assistants Pricing Plans
Customized pricing plans are available on demand.
16. Virtual Assistant Management – Most Cost-Effective
Virtual Assistant Management has a team of 125 certified executive assistants that are highly skilled and professional. They have strict hiring criteria and they go through an extensive screening and interviewing process to ensure that they find the perfect match for each client. They will then present only the top 3 candidates to you for the final interview.
At Virtual Assistant Management, every VA is rigorously trained to develop the essential skills and competencies needed to excel in their role. Their virtual assistants are fluent in English and are available to work in any time zone.
Virtual Assistant Management Pricing Plans
Custom quotes are available on demand.
Conclusion
With a reliable virtual assistant by your side, you can tackle each challenge your business throws at you with ease and confidence. The right virtual assistant can help you increase productivity, save time, and reduce stress – all while providing valuable support to your business. 
So why keep struggling alone when you can have a trusted sidekick to help you whack those tasks? 
Anxiety who? With Zirtual Assistant as your sidekick, all of your business matters are in check and on lock. Always. So you can say bye-bye to the anxiety that hits every time a pending task pops up out of nowhere.
All of our Zirtual assistants are US-based college grads with a full grasp of administrative tasks and are well-versed in the latest tech. When you work with us, you can trust that you're getting a top-of-the-line virtual assistant who's been handpicked just for you.
So it's time to stop procrastinating and start delegating. Book a free consultation now as this will be your first step towards winning at entrepreneurship.