Bookkeeping, bookkeeping, bookkeeping… it's enough to make anyone want to tear their hair out. But fear not, because help is on the way. Introducing the ultimate guide to finding the best virtual assistant bookkeeping services.
Yes, you heard that right — a virtual bookkeeping assistant. Can you even imagine? A virtual assistant that can take care of all your bookkeeping tasks without ever setting foot in your office. It's like a dream come true, or at least it will be once you find the right one.
But let's be real, finding the right virtual assistant service can be a real pain in the accounting ledger. There are so many options and it's hard to know which ones are legit and which ones will just take your money and run. That's where this guide comes in.
We've brought you the best sites to hire a virtual accounting assistant. Not only will it save you time, but it will also save your sanity. By the end of this quick read, you'll have a list of the 16 best sites to hire a virtual bookkeeping service, making it easy for you to find the right fit for your business needs.
Top 16 Sites To Hire A Virtual Bookkeeping Assistant For Up-To-Date Financial Data
Our top 3 virtual assistant services for hiring a bookkeeping VA are:
Zirtual – Best all-around
Prialto – Most proactive virtual bookkeeping assistants
Virtalent – Experts in managing financial data
Here are 16 virtual bookkeeping services that made it to our list. Let's begin the detailed review.
1. Zirtual – Top Pick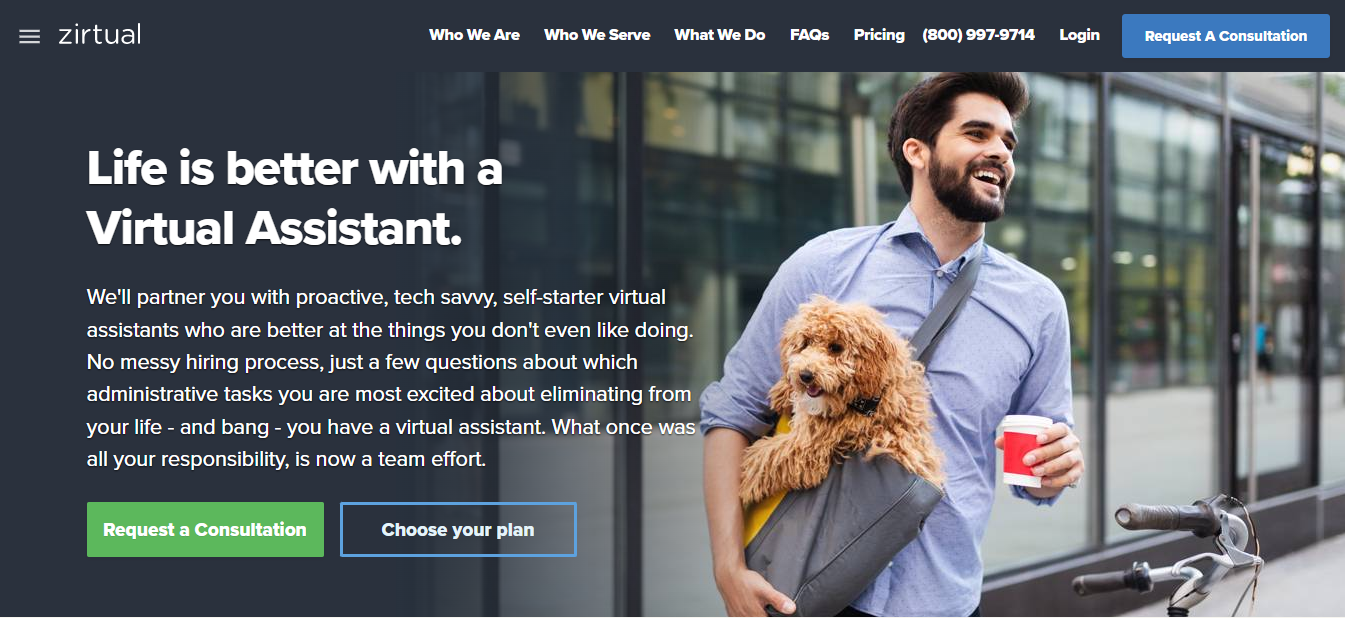 Zirtual is truly the best in the business when it comes to handling all of your bookkeeping needs. Not only are our virtual bookkeepers college-educated and based in the US, but they also go through a rigorous selection process to ensure they are the best fit for your business needs.
One of the best features of Zirtual is our virtual assistant match process. We take the time to understand your business and match you with a virtual assistant who has the skills and experience needed to handle your specific bookkeeping tasks.
Another key strength of Zirtual virtual assistants is their proficiency in using the latest accounting software. We are well-versed in popular platforms such as QuickBooks, Xero, and Wave, and are able to seamlessly integrate these programs into your business operations.
In addition to the technical skills, our virtual assistants also have a strong understanding of financial and accounting principles and can assist in preparing balance sheets, P/L statements, and other financial statements that clearly communicate the financial health of your business.
Our virtual accountants can also assist in tax preparation, ensuring that all relevant information is accurately reported and that you are taking advantage of all available deductions. With the help of a Zirtual virtual assistant, you can have confidence that your financials are in order and that your business is operating in compliance with all tax laws.
Zirtual Pricing Plan
Entrepreneur Plan ($549/month): 12 hours of work with 1 user.
Startup Plan ($849/month): 24 hours of work with 2 users.
Small Business Plan ($1249/month): 36 hours of work with 3 users.
Team Plan ($1699/month): 50 hours of work with 5 users.
2. Prialto – Most Proactive Virtual Bookkeeping Assistants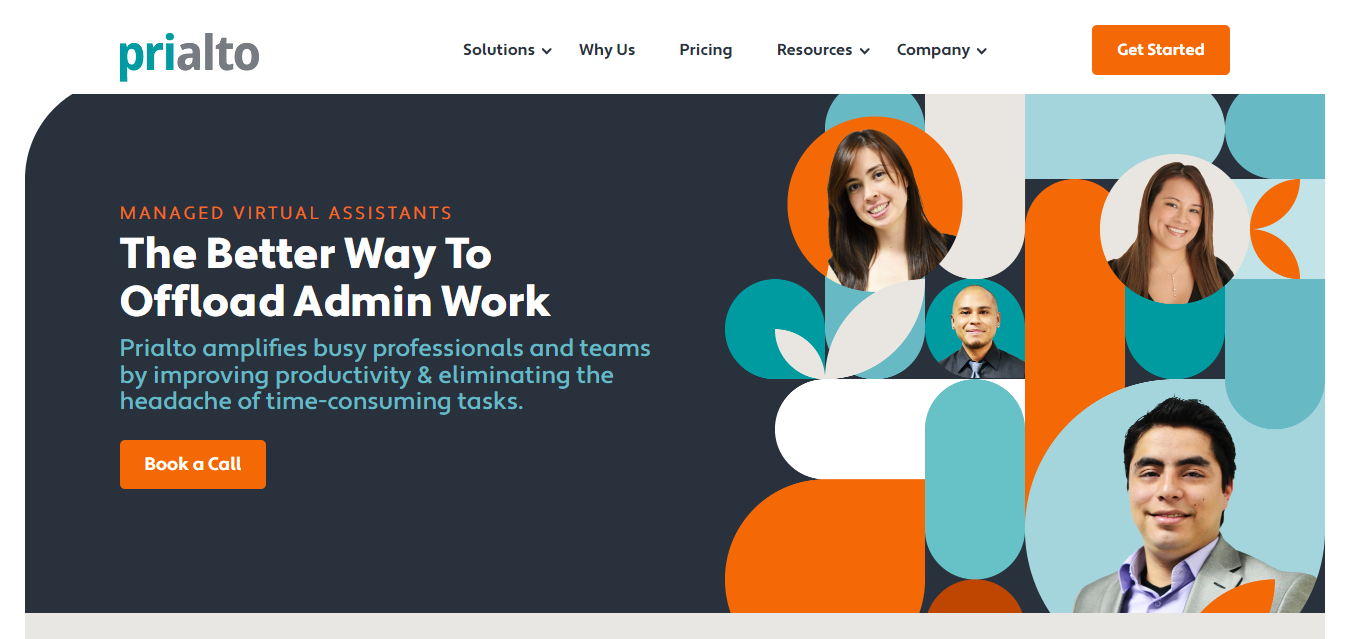 With over 13 years of experience, Prialto offers highly managed services that take the burden of bookkeeping off your shoulders. Their virtual bookkeepers are experts in using all sorts of cloud accounting software and can help with everything from payroll management to cashflow reports and approving expense reports.
Prialto goes above and beyond to ensure that its assistants are fully trained and equipped to handle any task. Each assistant undergoes weeks of intensive training, building on their existing education and skillset, to ensure that they are prepared to provide top-notch support to their clients. This means that as a client, you don't have to spend extra time training or managing your assistant.
Prialto also ensures that the transition process, when an assistant is temporarily out for vacation, is promoted, or leaves, is seamless and well-managed. A replacement assistant with existing knowledge is always ready to step in and take over, while the company's team of managers makes sure that your support remains uninterrupted.
Prialto Pricing Plans
"Yourself" Plan ($1350/month): Offers 55 hours of work. 1 user included.
"Your Team" Plan ($4050/month): Offers 165+ hours of work. 3+ users.
"Your Organization" Plan (Custom Pricing): Offers 440+ hours of work. 8+ users.
3. Virtalent – Experts In Managing Financial Data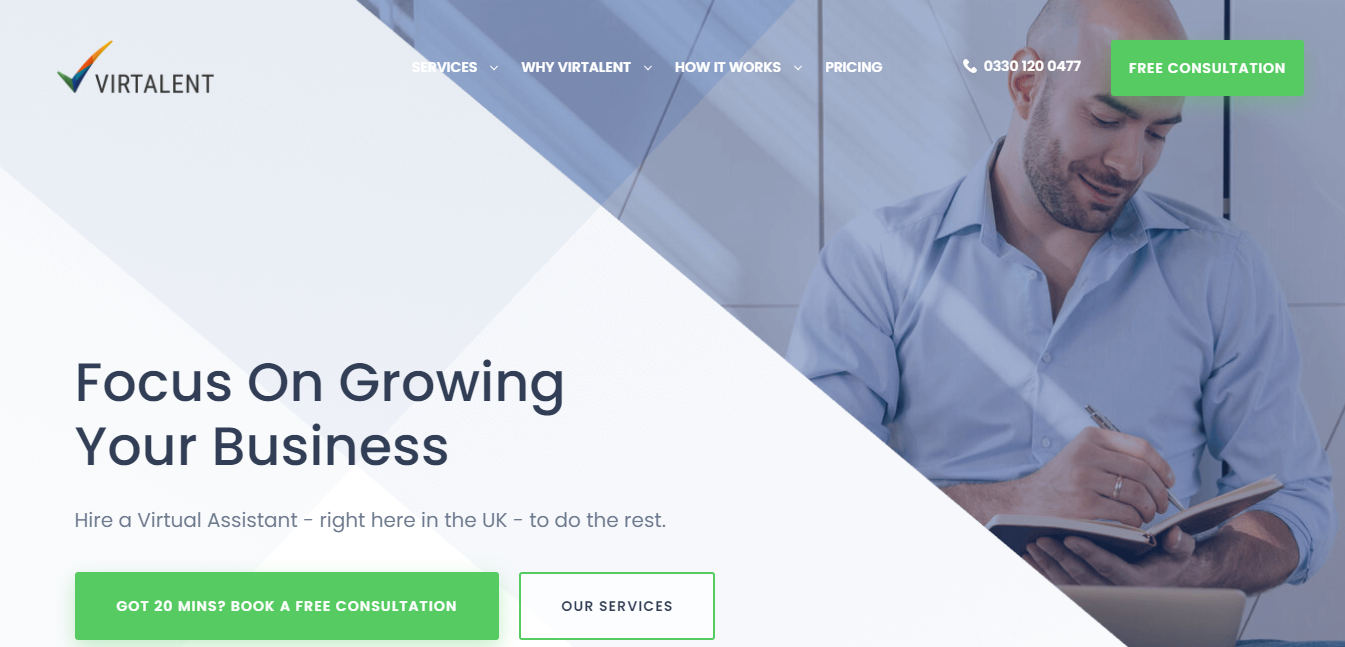 Virtalent is one of the top options for business owners in the UK to hire a virtual bookkeeper for accounting services. With 15 years of experience in the industry, they've honed their skills to provide top-notch support to small businesses.
Their VAs are highly trained and experienced in bookkeeping and accounting, so you can trust that they'll be able to handle any task you throw their way. Whether you need help with invoicing, expense tracking, or anything else, they've got you covered.
One of the things that set Virtalent apart is their tailor-matched approach that ensures that you're getting the most out of your partnership with them. They provide a client success manager who makes sure that everything is running smoothly and that all of your needs are being met.
Virtalent Pricing Plan
Entrepreneur (£270/month): Offers 10 hours of work.
Small Business (£520/month): Offers 20 hours of work.
Executive (£1000/month): Offers 40 hours of work.
Ultimate (£1440/month): Offers 60 hours of work.
4. Delegated – Tailor-Matched Virtual Assistants
Delegated is one of the leading platforms to hire online bookkeeping services. They have a strict recruitment process for its US-based bookkeeping virtual assistants. The company only hires top-tier professionals who have extensive experience in the field and are fully licensed and certified.
In addition to its rigorous recruitment process, Delegated also uses personality profiling and behavioral assessment tools, such as DISC and PI, to ensure that its virtual assistants are the best fit for each client's unique needs. This ensures that a business owner is matched with virtual assistants who are well-suited to their specific business and personality.
Delegated also offers a range of communication channels to make it easy for clients to stay in touch with their virtual assistants. Whether you prefer to communicate via email, phone, or video conferencing, Delegated has you covered.
Delegated Pricing Plans
Lite ($1200/month): Offers 25 hours of task work/month.
Ramp ($2400/month): Offers 50 hours of task work/month.
Pro ($3600/month): Offers 75 hours of task work/month.
5. Vasumo – Preferred By Global Brands
With over 1000 companies relying on Vasumo's virtual assistants, they are the experts in the field of financial management and bookkeeping. They specialize in managing payroll, financial transactions, and financial records for businesses of all sizes.
One of the key reasons businesses trust Vasumo is because of the level of expertise and training that goes into each of their virtual assistants. Each VA undergoes extensive training and certifications, with Vasumo investing over $10,000 per VA to ensure they are fully equipped to handle any bookkeeping challenge that comes their way.
This level of investment in training and certification has led to Vasumo becoming a trusted partner for some of the world's leading brands. Companies like HubSpot, Shopify, and Tesla have all turned to Vasumo for their bookkeeping virtual assistance needs, and the list of satisfied clients continues to grow.
Vasumo Pricing Plans
Economy ($398/month): Offers 20 hours of work a month.
Business ($498/month): Offers 30 hours of work a month.
First Class ($598/month): Offers 40 hours of work a month.
6. Belay – Award-Winning Services
Belay Solutions is a premier provider of bookkeeping virtual assistants to businesses and non-profit organizations. Their recruitment process is highly selective and only the most qualified and experienced individuals are brought on board. Once hired, their team members go through an extensive training program that ensures that they are fully equipped to handle any accounting task.
Belay's team of experts presents complex financial information in a clear and concise manner, making it easy for clients to understand and make informed decisions. They also make sure that all financial transactions are recorded accurately and on time. The VAs also provide accurate monthly and annual reports which give clients a clear picture of their financial health and performance.
Belay Pricing Plan
You can get in touch with Belay to get custom pricing.
7. ClearDesk – Startup-Friendly Services
ClearDesk is a leading name in providing virtual bookkeeping assistants. Its commitment to excellence is evident in its recruitment process. They only hire the top 0.1% of applicants, ensuring that their virtual assistants have the necessary skills and experience to provide the best service possible. They also carefully match each assistant with their clients, taking into account their specific needs and preferences.
In addition to providing top-notch bookkeeping assistance, ClearDesk also offers a variety of management tools and productivity monitoring features. Online timesheets, app and URL activity tracking, and custom real-time activity alerts allow you to easily track your virtual assistant's progress and ensure that they are working efficiently.
ClearDesk Pricing Plans
Full-time assistant ($1950-2500/month): College graduates with 2 years of experience.
Specialized assistant ($3500-4500/month): Master's degree holders with 5 years of experience.
8. Time etc – Most Detail-Oriented
Founded in 2007, Time etc has built a reputation for providing high-quality and reliable bookkeeping virtual assistant services to businesses of all sizes. Time etc's virtual assistants, all based in the United States, offer excellent communication and a thorough understanding of US accounting and bookkeeping regulations.
Having an average experience of 12 years, the VAs of Time etc are highly detail-oriented, which ensures that your books are accurate and up-to-date at all times. The company offers a rollover of hours and any unused hours can be carried over to the next month. This allows you to budget your bookkeeping and accounting expenses more effectively and ensures that you're only paying for the services that you actually need.
Time etc Pricing Plan
Plan A ($360/month): Offers 10 hours of work.
Plan B ($700/month): Offers 20 hours of work.
Plan C ($1360/month): Offers 40 hours of work.
Plan D ($1980/month): Offers 60 hours of work.
9. RemSource – Quality-Assured, Fully-Managed Services
When it comes to bookkeeping virtual assistant services, RemSource is one of the top names in the industry. Founded in 2009, the company has been providing businesses with the fully-managed virtual assistance they need to stay on top of their financials for over a decade.
The virtual assistants at RemSource have a hands-on approach to staying on top of every accounting task. They are experienced bookkeepers who understand the nuances of financial management. RemSource can perform a wide range of bookkeeping tasks ranging from receivables tracking and bill-pay management to statement delivery and revenue & expense tracking.
RemSource Pricing Plan
RemSource provides custom plans for its bookkeeping services. You can get in touch with their team for tailor-made plans.
10. Double – Specially Designed Services For Executives
Virtual bookkeeping assistants from Double are a great option for business executives looking to streamline their financial operations and improve efficiency. One of the key reasons for this is that Double has a rigorous hiring process, only accepting 0.5% of applicants. Their onboarding process is one of the fastest in the industry, taking only one day to complete.
Another advantage of using virtual bookkeeping assistants from Double is the custom app that they provide. This app includes delegation tools that make it easy for businesses to manage their virtual assistants and ensure that tasks are being completed correctly and on time. This level of flexibility and control is not often found with other virtual assistant companies.
Double Pricing Plans
Starter ($499/month): Offers 10 hours of work. 
Pro ($1399/month): Offers 30 hours of work. 
Advanced ($2099/month): Offers 50 hours of work.
11. Wing Assistant – Effortless Communication For Seamless Bookkeeping
Wing Assistant's bookkeeping virtual assistants are highly skilled professionals who provide a range of bookkeeping services to help businesses manage their finances more efficiently.
One of the key benefits of hiring Wing Assistant's services is their ability to integrate with a variety of popular business tools, such as Slack, Salesforce, Trello, Later, and Hootsuite. This allows businesses to streamline their workflow and access all of their financial data in one convenient location.
In addition to their integration capabilities, you also get access to a web and mobile app for Android and iOS devices. The app includes built-in video messaging and a dedicated chat system, making it easy for businesses to communicate with their virtual assistant no matter where they are.
Wing Assistant Pricing Plans
Part-time ($499/month): Offers 20 hours of work.
Full-time ($899/month): Offers 40 hours of work.
Full-time 2X ($1699/month): Offers 40 hours of work with two assistants.
12. 24/7 Virtual Assistant – Unsupervised Excellence In Bookkeeping
Formed in 2006, 24/7 Virtual Assistant specializes in providing efficient US-based remote online bookkeeping assistants. The company takes a stringent approach to the hiring process of their virtual assistants by conducting thorough background checks to ensure that the bookkeeping skills of their VAs are top-notch.
24/7 Virtual Assistant's bookkeeping virtual assistants possess the necessary expertise to execute all bookkeeping tasks smoothly without the need for any supervision. Their capabilities extend beyond the typical data entry and invoicing tasks to include more complex assignments such as budgeting and forecasting.
24/7 Virtual Assistant Pricing Plan
Entrepreneur ($399/month): Offers 20 hours of work.
Starter ($749/month): Offers 40 hours of work.
Professional ($1049/month): Offers 60 hours of work.
Office ($1399/month): Offers 80 hours of work.
Executive ($1999/month): Offers 120 hours of work.
VIP ($2549/month): Offers 160 hours of work.
13. The Virtual Hub – Most Acquainted
The Virtual Hub's virtual assistants are highly skilled and experienced in bookkeeping. They are trained in the latest bookkeeping software and techniques and have a thorough understanding of bookkeeping principles and best practices.
Another key factor that sets The Virtual Hub's virtual assistants apart is their exceptional efficiency. They are able to work quickly and accurately, which means that they can handle large volumes of data in a short amount of time. This can help businesses to reduce their bookkeeping backlogs and get a better handle on their financial data.
The Virtual Hub Pricing Plans
You can visit their website to get custom packages for your bookkeeping needs.
14. Upwork – Most Diverse Pool Of VA Talent
Upwork is a leading freelance marketplace and provides businesses with access to a wide range of bookkeeping virtual assistants, all with varying levels of experience and expertise. It offers diverse hiring models which makes it even more ideal. The Talent Marketplace is an open platform where businesses can browse and connect with freelancers based on their skills and experience.
The Project Catalog, on the other hand, is a curated list of pre-vetted freelancers who have been specifically selected for their bookkeeping expertise. Lastly, Talent Scout is a personalized service where a dedicated Upwork representative will help businesses find and hire the perfect virtual assistant for their bookkeeping needs.
Upwork also offers a suite of hybrid workforce management tools that include features such as time tracking, invoicing, and messaging, making it easy for businesses to stay on top of their bookkeeping tasks and communicate with their virtual team members.
Upwork Pricing Plans
The cost for bookkeeping virtual assistants on Upwork varies depending on the specific freelancer's skills and experience.
15. VaVa Virtual Assistants – Breaking The Hustle Cycle
VaVa Virtual Assistants have set themselves apart as a leader in the virtual bookkeeping assistant industry. Instead of simply relying on resumes, VaVa goes beyond the checklist to gauge intangible talents and overall cultural fit. By using DISC personality results, they are able to match each client with a virtual bookkeeper who is not only qualified but also a good fit for their business.
Another advantage of VaVa Virtual Assistants is that their virtual bookkeepers are true professionals. They don't see this as a side gig but rather as a full-time career. This means that they are able to provide a high level of service and expertise to their clients. In addition, VaVa offers a free replacement guarantee. If for any reason a client is not satisfied with their virtual bookkeeper, VaVa will replace them at no cost.
VaVa Virtual Assistants Pricing Plans
Custom plans are available upon request.
16. Express Virtual Assistant – Flexibility To Scale
Express Virtual Assistant is a well-known company for its virtual bookkeepers. They are known for their flexibility which allows them to scale their services to meet the specific needs of each individual client. Their commitment to confidentiality is second to none. They understand that financial data can be sensitive and they take great care to ensure that all of the information they handle is kept strictly confidential.
Express Virtual Assistant also adheres to all data security compliance regulations. They operate within legal frameworks to ensure that their client's data is always protected. Their VAs are experienced and knowledgeable in various bookkeeping software such as QuickBooks, Xero, and MYOB.
Express Virtual Assistant Pricing Plans
If you would like to obtain an estimate for your specific requirements, you can reach out to their sales team
Conclusion
The search for the perfect virtual assistant bookkeeping service provider is officially over with our list of 16 handpicked sites. These options will make managing your finances feel like a walk in the park.
But let's not beat around the bush, Zirtual is the clear winner here. With our A-team of bookkeepers and dedication to customer service, you'll be singing our praises (or maybe just humming a happy tune) in no time.
So why wait? Let's do this, let's connect and talk about how a virtual bookkeeping assistant can take your business to the next level.