So Fiverr is your comfortable ol' date for every family wedding. Because you have known Fiverr for years, you always know what to expect from the relationship. But it lacks the spark and excitement that you are looking for. Have you given branching out a thought; look for other options and go on a blind date? It's time to spice things up a bit and pay attention to a new Fiverr alternative.
But just like blind dates, chances are trying a new platform can turn into a total disaster, unless you are sure of who you are about to meet. What if we tell you we can play the matchmaker here and introduce you to the best freelance platforms that are true Fiverr alternatives in terms of usage, flexibility, security, talent, and whatnot? 
By the end of this article, you will know what other fish are there in the pond that are worth your time. Don't worry, we will also give you a heads-up on the freelance virtual assistant platforms that your "mom warned you about."
8 Sites Like Fiverr That You Should Consider For Hiring A Virtual Assistant
Here are our top 3 picks for the best Fiverr alternatives for hiring virtual assistants:
Zirtual – Best overall for hiring top-class virtual assistants
Upwork – Ideal for businesses with changing needs
Toptal – The only free job board
It's time to explore the 8 best Fiverr alternatives that have earned a place on our list.
1. Zirtual – Top Pick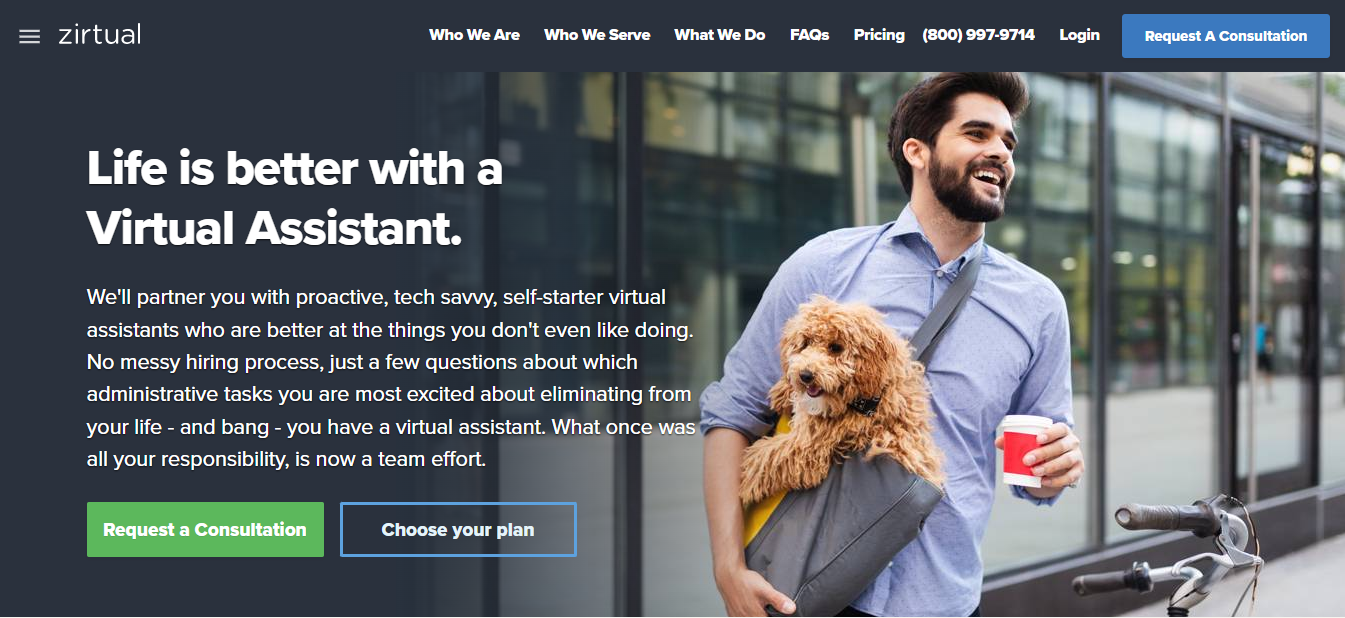 Founded in 2011, Zirtual stands as a renowned and highly acclaimed virtual assistant platform that thrives as the go-to hub for businesses on the global stage. Our cutting-edge advantages set us apart from the competition, particularly Fiverr, positioning us as the ultimate alternative for hiring the perfect virtual assistant.
Our virtual assistants are all based in the United States and are college graduates. So you can expect the best work and a higher level of quality. Unlike Fiverr, where finding a virtual assistant with the right skills and education for specific tasks can be quite challenging. With us, you can skip the hassle, and rest assured that you'll be matched with a skilled professional who can handle the job the way you want.
We at Zirtual have a thorough way of hiring virtual assistants that involve careful evaluation. We do in-depth interviews, check their backgrounds, and assess their skills to make sure we pick only the best and most capable candidates.
Fiverr does not provide training to their freelancers so you'll have to spend more time training your virtual assistants. However, we take a different approach by offering continuous training to our virtual assistants. This ongoing training not only enhances their capabilities but also allows them to adapt and grow alongside your evolving business needs.
When you take the Fiverr route, you may have to wait for weeks before you can actually onboard the virtual assistant. At Zirtual, our virtual assistant onboarding process is designed to be the fastest in the industry. Our dedicated team is experienced in expediting the necessary steps to set up your virtual assistant and we have optimized every aspect of the onboarding journey.
On Fiverr, chances are that you'll be left hanging by your virtual assistant. One minute they're there, the next minute they vanish into thin air, leaving you high and dry. But here at Zirtual, we won't let this happen to you – ever. Our team of dedicated virtual assistants is committed to providing you with consistent and reliable support – without any sudden disappearing acts.
Zirtual Pricing Plans
We offer 4 economical pricing plans.
Entrepreneur Plan ($549/month): 12 hours of work with 1 user.
Startup Plan ($849/month): 24 hours of work with 2 users.
Small Business Plan ($1249/month): 36 hours of work with 3 users.
Team Plan ($1699/month): 50 hours of work with 5 users.
2. Upwork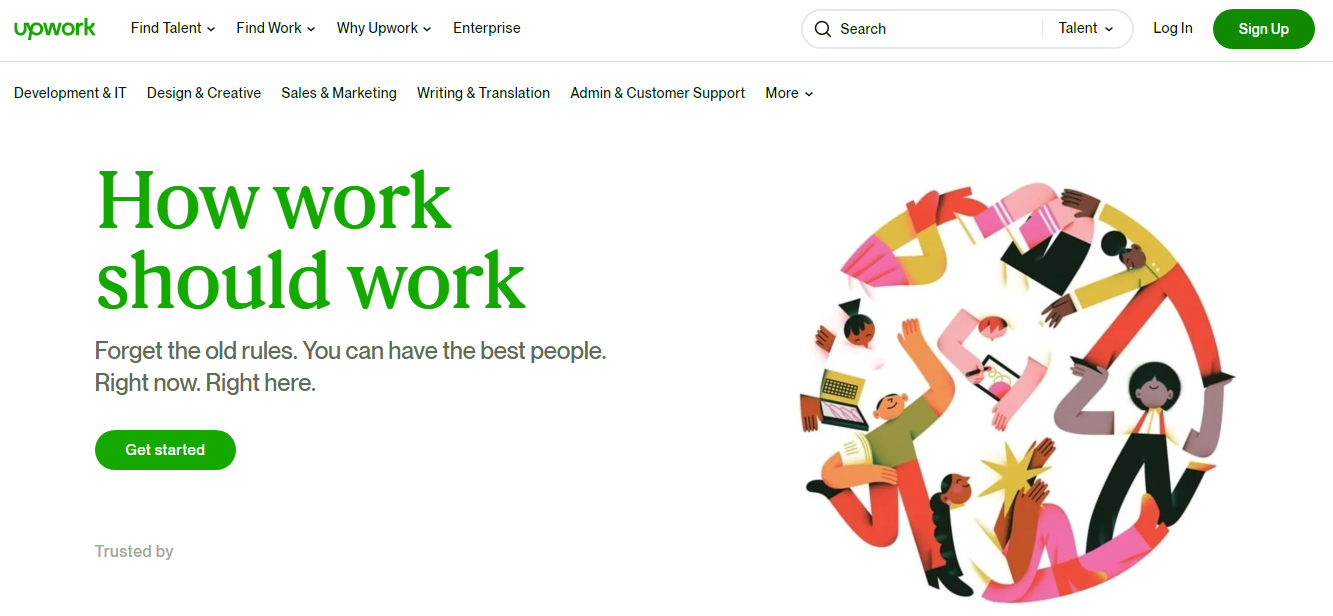 Upwork stands tall as a leading alternative to Fiverr. Born as Elance-oDesk in 2013, it was rebranded to Upwork in 2015. With a staggering 70 million registered freelancers and over 1 million active clients, Upwork offers an unmatched ecosystem that will connect you with the right virtual assistant professionals from around the globe.
Job posting and finding the perfect freelance talent on Upwork to meet your virtual assistant requirements is very easy. Its interface is sleek and intuitive which enables you to swiftly navigate through profiles and applications. With its state-of-the-art screening tools and streamlined screening process, the platform ensures that only the most skilled and qualified virtual assistants are shortlisted.
Upwork also provides a complete suite of communication tools designed for seamless collaboration. After hiring freelancers, you can engage with them through various channels. Whether you prefer real-time chat conversations, face-to-face video conferences, or even screen-sharing sessions, Upwork provides options for all. 
With its effective project management tools, you can keep track of your project's progress with the time tracking feature, set milestones and monitor their completion, and simplify the invoicing process.
Upwork Pricing Plans
Upwork charges a flat fee of 10% from customers on all payments. 
3. Toptal – World's Largest Fully Remote Company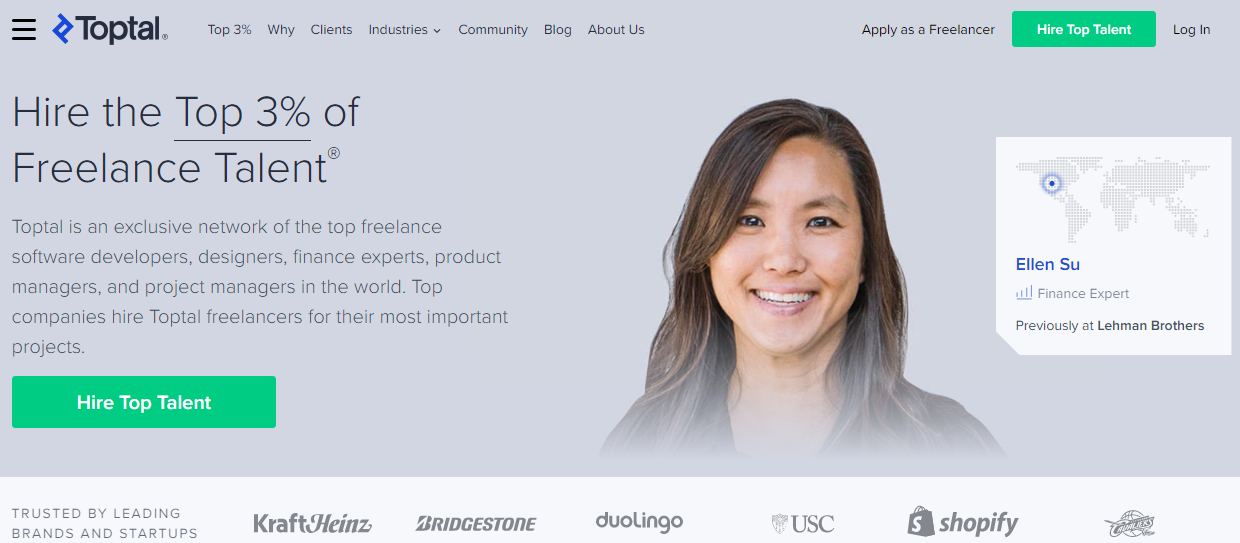 Toptal burst onto the scene in 2010 and has revolutionized the way professional services were sought and delivered. Since then, it has gained unparalleled acclaim and earned rave reviews from prestigious publications like Forbes, Inc., and other influential media outlets. Toptal's 98% trial-to-hire success rate means that the shortlisted virtual assistant will exceed your expectations and you'll eventually end up hiring them for the long term.
Toptal has an expansive pool of quality freelancers from over 140 countries. They have an industry-best 5-step recruitment process which is so strict that a mere 3% of freelancers make it through. Thanks to their streamlined processes, you can start interviewing candidates in just 24 hours and onboard the chosen virtual assistant freelancer in less than 48 hours.
Pricing Plans
Toptal prices vary depending on your specific needs and the project's scope.
4. Freelancer – Largest Freelance Platform For Hiring Virtual Assistance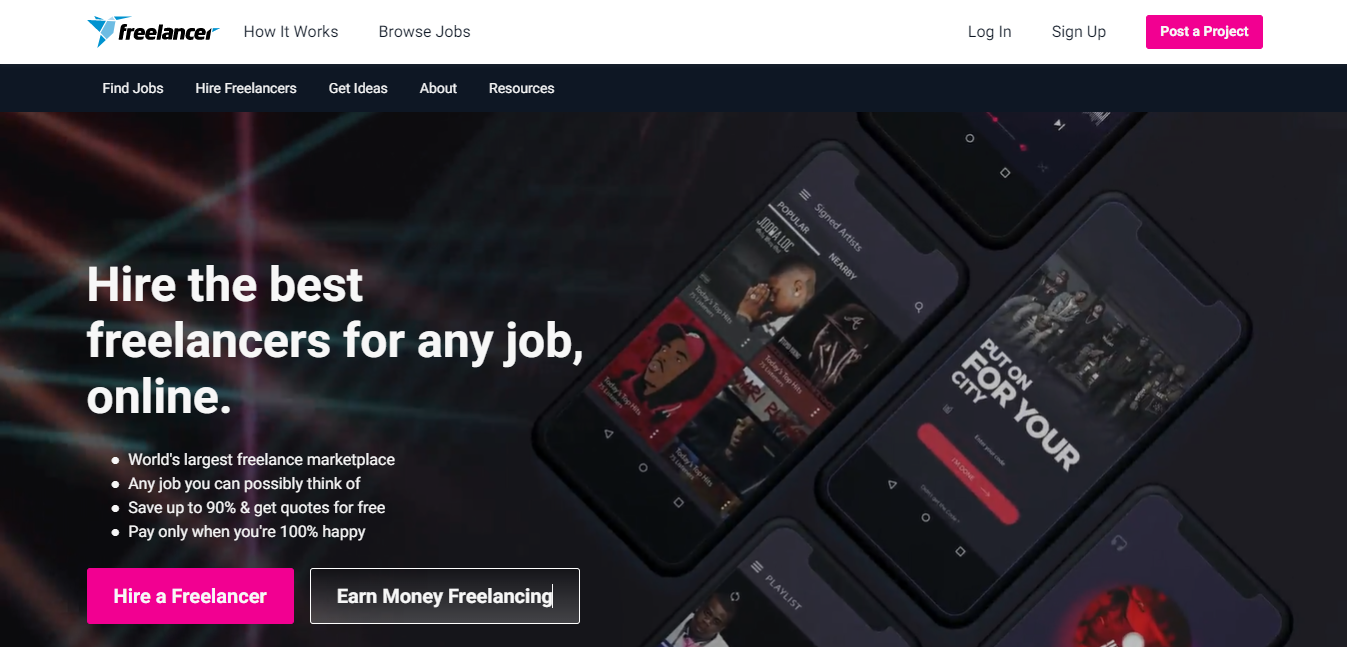 Freelancer was founded in 2009 and is a popular alternative to Fiverr. Boasting an impressive clientele including 80% of Fortune 500 companies, Freelancer has emerged as a trusted destination for those looking to hire exceptional virtual assistants. It has 55 million registered freelancers from 247 countries and a remarkable track record of 4 million successfully completed projects.
Whether you are looking to hire a virtual assistant for digital marketing, web development, or software development, you'll definitely find one on Freelancer. This freelance platform has an innovative managed service known as Freelancer Recruiter. Designed to streamline the hiring process, this service takes the hassle out of finding the perfect virtual assistant for your project. 
At Freelancer, they have a proprietary Technical Co-Pilot™ service where you'll get a dedicated technical expert who will guide you through every aspect of your project's technical requirements. Whether you need assistance with software integration, troubleshooting, or project management, the Technical Co-Pilot™ is your trusted companion.
Freelancer Pricing Plans
Free to post an ad. Freelance virtual assistants can be hired at a set fee or an hourly rate.
5. Hubstaff Talent – The Only Free Job Board
Hubstaff Talent is another worthy Fiverr alternative that was established in 2012. With virtual assistants from more than 212 countries, it is truly a global arena of talent. So whether you need virtual assistance with graphic design, web design, or any other specialized task, the platform has talented individuals for every need.
With Hubstaff Talent's intuitive user interface, you can swiftly create your account, set sail with your job requirements, and easily navigate through potential virtual assistants. Whenever you post freelance jobs, they become the main attraction, appearing on the platform's social feed and catching the interest of many professionals. They also post it on different job boards and websites, attracting the best freelancers, all without any cost to you.
Hubstaff Talent offers a highly useful set of tools that help you monitor productivity and track time. These tools make it easy for you to manage virtual assistants, overcome challenges, and see their progress in real-time. You can improve efficiency and achieve great results no matter where you are located.
Hubstaff Talent Pricing Plans
Hubstaff Talent is free to use.
6. PeoplePerHour – For Easy Management & Monitoring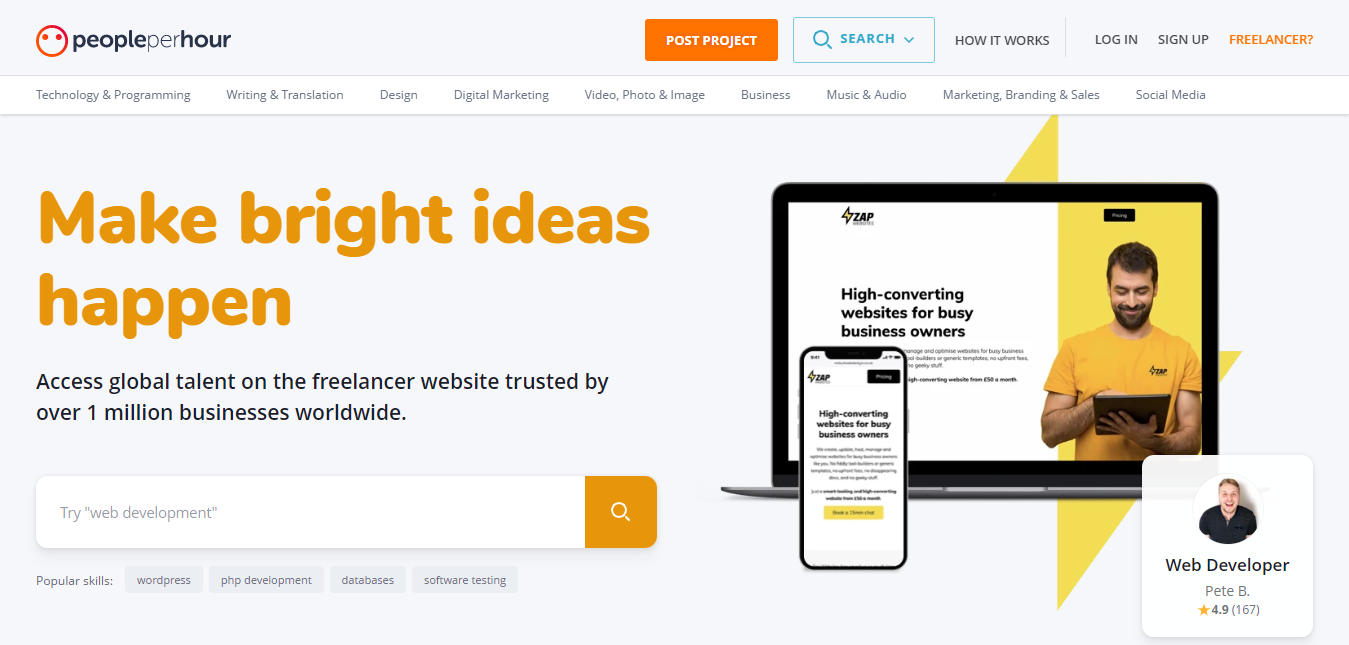 PeoplePerHour is a pioneering freelance platform founded in 2007. It caters to diverse needs through flexible options. You can choose from pre-set bundles which are fixed-price plans offered by virtual assistants. Alternatively, you have the freedom to select freelancers on an hourly basis which gives you full control over the different virtual assistant tasks.
To streamline your collaboration with freelance virtual assistants, PeoplePerHour provides an in-house tool called Project Streams. This powerful tool serves as the nerve center of your project, enabling you to effortlessly monitor progress, communicate with your remote workers, and exchange files securely. 
The platform is equipped with robust anti-fraud protection measures and they take proactive steps to safeguard your interests. PeoplePerHour also offers a comprehensive money-back guarantee. If you're not completely satisfied with the quality of work delivered by a freelancer, you have the option to request a refund.  
PeoplePerHour Pricing Plans
Virtual assistant pricing depends on your project requirements.
7. Guru – For Businesses Of All Scales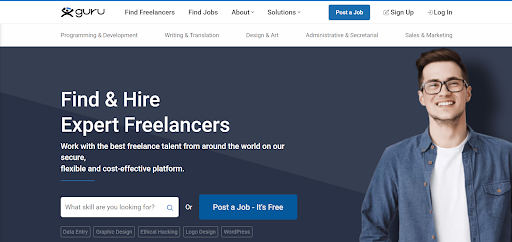 Founded in 1998, Guru is a true pioneer in the freelancing industry and has been one of the best alternatives to Fiverr for hiring skilled virtual assistants. It has a rapid and effortless hiring process that guarantees that you'll have a virtual assistant freelancer working for you in under 72 hours.
With a diverse community of 2 million freelancers on the site, Guru boasts an expansive talent pool that is sure to meet your needs. It also offers one of the lowest fees in the industry, making Guru a cost-effective choice for your virtual assistant needs.
Guru has implemented a secure payment system called SafePay. This system ensures that your payments are protected until you are satisfied with the work delivered. Over 800,000 clients have benefited from Guru's services, resulting in an outstanding 99% customer satisfaction rate. 
Guru Pricing Plans
Freelancers offer custom packages for their services.
8. FreeUp – No Turnover Guarantee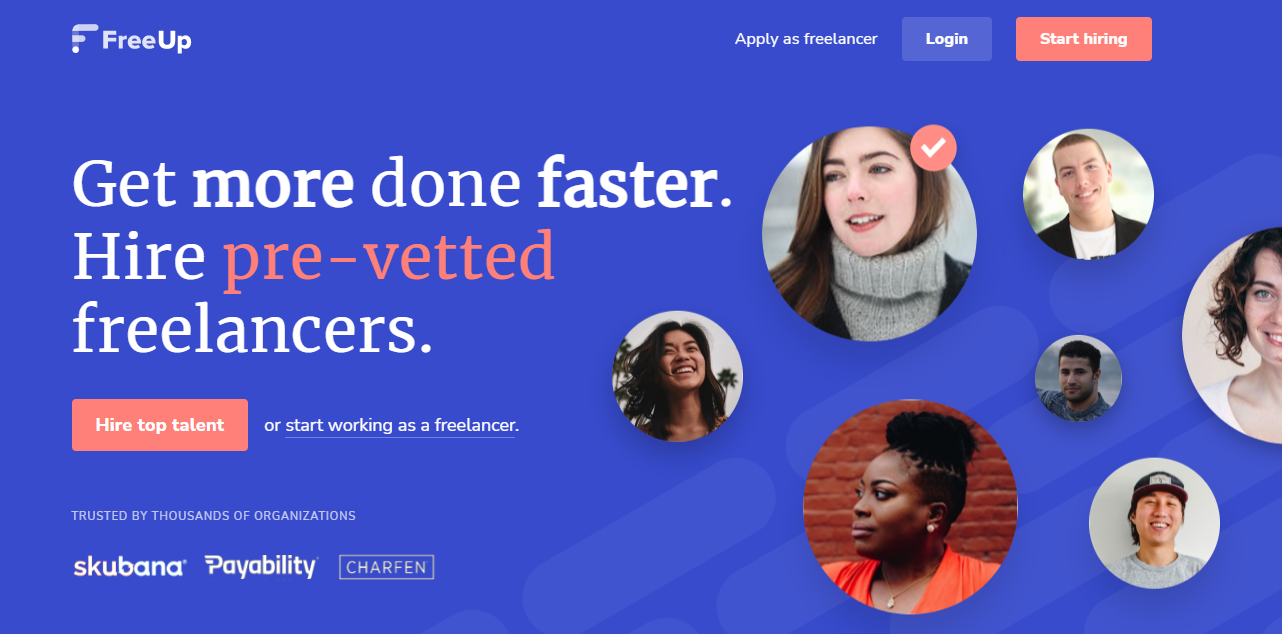 Established in 2015, FreeUp has revolutionized the freelancing landscape with its innovative approach. While Fiverr connects businesses with a wide range of freelancers, FreeUp focuses on curating a handpicked selection of the finest talents across various job categories. 
With the platform's ability to connect you with a freelancer within 24 hours, you can quickly move forward with your projects, knowing that your ideal assistant is just a click away. In comparison, Fiverr may require more time and effort to filter through its pool of freelancers.
FreeUp has a strict hiring process that ensures that only the top 1% of applicants make the cut. Unlike Fiverr, FreeUp conducts rigorous tests, thorough background checks, and in-depth interviews. This stringent selection process guarantees that you work with top virtual assistants who possess the expertise and professionalism you need for your project.
FreeUp Pricing Plans
FreeUp provides tailor-made plans for its services.
4 Fiverr Competitors That You Should Avoid At Any Cost
When you're looking for Fiverr alternatives to hire freelancers, you'd want to work with a reliable and reputable platform. The last thing you need is to end up with subpar work, delays, or even worse, no work at all. 
During your hunt, you'll come across some good options and some not-so-good options. While we have already discussed the best Fiverr alternatives, let's now take a look at the ones that you should steer clear of. 
I. Fourerr
While Fourerr may initially seem similar to Fiverr, it falls short in several key areas that you should be aware of. Unlike Fiverr, which has a vast network of freelancers, Fourerr has a significantly smaller pool of available professionals. This makes it challenging for you to find the perfect virtual assistant match for your business. 
Fourerr's measures for ensuring quality are not up to par. With Fiverr, you know that you'll be working with some skilled professionals who have been thoroughly vetted but that's not the case with Fourerr.
Fourerr also falls short in terms of the services it offers. While Fiverr connects you with virtual assistants who can cover a wide spectrum of needs, including graphic design, content writing, and video editing, Fourerr has a more limited selection. 
II. Zeerk
Although Zeerk aims to compete with Fiverr, there are a few aspects that fall short of Fiverr's high standards. Unlike Fiverr's efficient and streamlined approach, Zeerk's bidding system can be cumbersome and time-consuming.
Another area where Zeerk lacks compared to Fiverr is the availability of project managers. Fiverr ensures smooth communication and successful project completion by providing experienced project managers. This support is something you won't find on Zeerk.
In terms of talent, Zeerk's pool is smaller and less diverse compared to Fiverr's vast community. Customer support is another area where Zeerk will leave you wanting more. It is slow and unresponsive which can be frustrating if you encounter any issues.
III. Microworkers
While Microworkers may have its merits, this platform is not recommended if you are finding the ideal virtual assistant. This marketplace primarily focuses on micro-tasks which leaves little room for specialized services. If you're in search of specific skills or expertise, Microworkers may not be the ideal destination.
Similarly, Microworkers falls short of providing a robust system for communication and collaboration between freelancers and clients. However, Fiverr has fine-tuned this aspect and ensures that you and your chosen freelancer work harmoniously. 
With Microworkers, there will always be nagging doubts about their quality control measures. Unlike Fiverr, their approach will leave you questioning the caliber of work delivered. Also, they have limited dispute resolution mechanisms and safeguards in place which can leave you vulnerable in case of conflicts or unsatisfactory outcomes.
IV. Task Army
While many platforms claim to rival the renowned Fiverr, Task Army should be approached with caution as it lacks the reputation and established track record that Fiverr proudly boasts. The platform doesn't offer the same level of transparency in pricing as Fiverr and hidden costs and unexpected expenses can throw a wrench into your budget. 
Task Army's interface lacks user-friendly convenience which results in the wastage of valuable time and energy navigating through a complex system. The absence of a comprehensive rating and review system for virtual assistants on this platform makes it challenging to assess freelancers' credibility and past performance.
In addition, Task Army's platform doesn't offer the necessary resources to ensure a seamless workflow and project completion. While on the other hand, Fiverr stands out with its dedicated project managers, ensuring that your project progresses smoothly from start to finish. 
Conclusion
Staying in the comfort zone is always secure and easy to opt for but you know what it brings to the table – limitations to growth and potential. What you miss are opportunities, new experiences, and learning to deal with challenges that make you sharper. Replacing the old with something new that offers more specialized freelancers, selection based on rigorous processes, custom workflows, and specialized support is always more rewarding. 
Among all the options, Zirtual is a Fiverr alternative for hiring virtual assistants that stands tall above the rest. We only select the top lot through our methodical hiring scrutiny. Our assistants are only US-based college graduates who are highly skilled and proficient in their work. 
At Zirtual, our assistants are pre-trained and have the industry-specific expertise to match the unique needs of each client. We are completely transparent about our pricing and offer no setup fee or hidden costs. If you have been working in a clogged-up-brain circumstance, it's time to book our free consultation right now.