We all need a little help sometimes. And by "a little help," we mean a lot. Enter virtual assistants, the real superheroes without capes. But choosing the right platform for hiring a virtual assistant is like trying to find a unicorn in a field of horses. To help you decide which platform to use, we're about to compare the holy trinity of freelance platforms: Upwork vs. Fiverr vs. Zirtual.
When it comes to hiring a virtual assistant, Upwork, Fiverr, and Zirtual are three of the biggest names in the game. Each platform has its own unique benefits which make them great options depending on what you're looking for.
In this article, we'll compare the pros and cons of these three leading platforms, give you the lowdown on the types of virtual assistants available on each, and help you figure out which platform will suit your needs.
After reading this guide, you'll be an expert on all things virtual assistant and be ready to take the plunge into the world of remote work. So get ready to say goodbye to your overflowing inbox and hello to your new virtual assistant.
Upwork Vs. Fiverr Vs. Zirtual – A Complete Overview Of The 3 Platforms For Hiring Virtual Assistants
To get started, let's take a deep dive into each platform, exploring the features, unique benefits, and potential drawbacks.
1. Upwork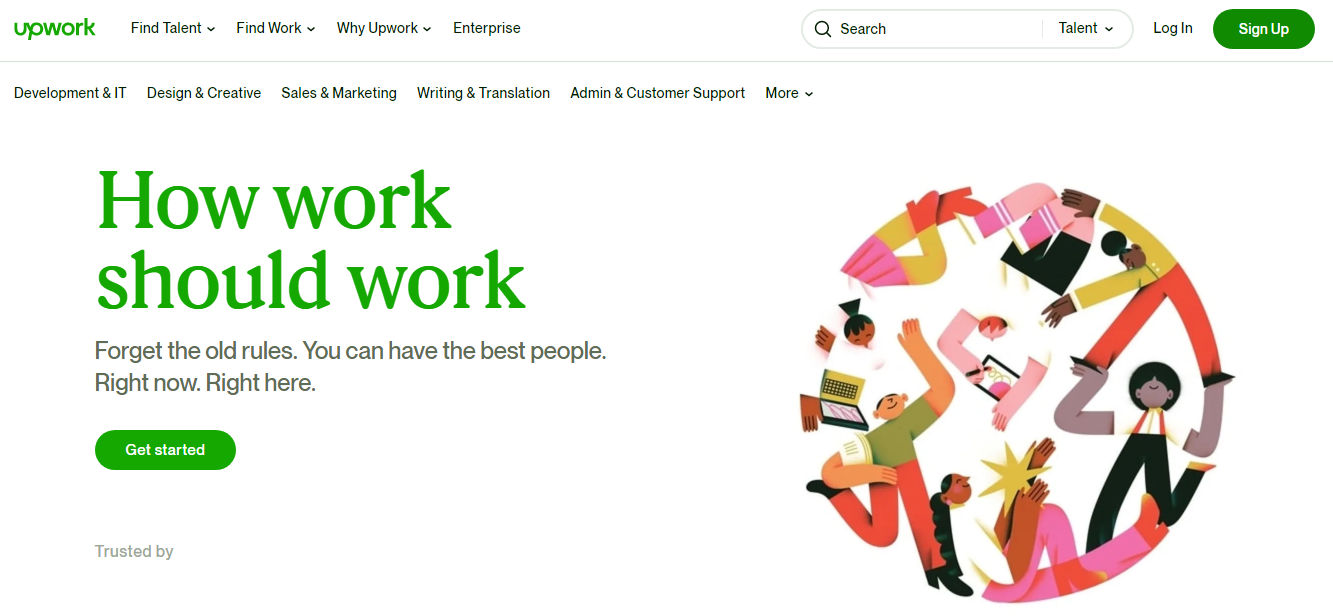 Upwork is one of the largest and most well-established online platforms for freelance work, including virtual assistant services. It was formed in 2013 under the name of Elance-oDesk through the merger of two earlier freelance marketplaces, oDesk and Elance
Later in 2015, it was rebranded to Upwork and has since grown to include over 70 million registered freelancers and 1 million active clients. Upwork's mission is focused on creating economic opportunities so people have better lives by connecting businesses and individuals with top talent from around the world.
Upwork Features 

Upwork platform offers a range of features designed to help clients find and hire the right freelancer for their needs. These include:
Job posting: Clients can create Upwork jobs that include project descriptions, budgets, and timelines, and can receive proposals from interested freelancers.
Freelancer search: Clients can search for freelance virtual assistants based on specific skills, experience, location, and other criteria using Upwork's extensive database. Freelancers can also apply for the job and bid using Upwork's virtual currency called Connects.
Screening tools: Upwork provides various tools to help clients screen and evaluate freelancer profiles, including work history, portfolios, ratings, and client reviews.
Communication tools: Clients can communicate with freelancers through Upwork's messaging system, as well as video conferencing and screen-sharing tools.
Project management tools: Upwork offers tools to help clients manage their projects and track freelancer progress, including time tracking, milestone tracking, and invoicing.
Upwork Pricing & Fees For Clients
Upwork's pricing and fees for virtual assistant services can vary depending on a variety of factors, including the nature and scope of the project, the experience and expertise of the freelancer, and the level of support and services required.
For clients, Upwork charges a fee of 5% on all payments made to freelancers, as well as a sliding scale of service fees based on the total amount billed to a specific client by a freelancer. These fees range from 20% for the first $500 billed to a client to 5% for any amount over $10,000.
Pros Of Using Upwork For Virtual Assistant Services
Here are some benefits of using the Upwork freelance platform: 
Flexible pricing options based on project scope and budget.
Helpful for businesses or individuals who need assistance with a specific project or task on short notice.
Large and diverse pool of talent with a wide range of skills and expertise which makes it easy to hire freelancers.
Wide range of communication and project management tools to help clients and freelancers collaborate effectively.
Dispute resolution process can help clients and freelancers resolve conflicts or issues that may arise during a project.
Cons Of Using Upwork For Virtual Assistant Services
Some of the disadvantages of Upwork are:
Time and effort required to screen and evaluate freelancers can be significant.
Quality of work can vary widely depending on the experience and expertise of the Upwork freelancers.
Competition for top-tier freelancers can be intense, especially for highly specialized skills or in-demand services.
2. Fiverr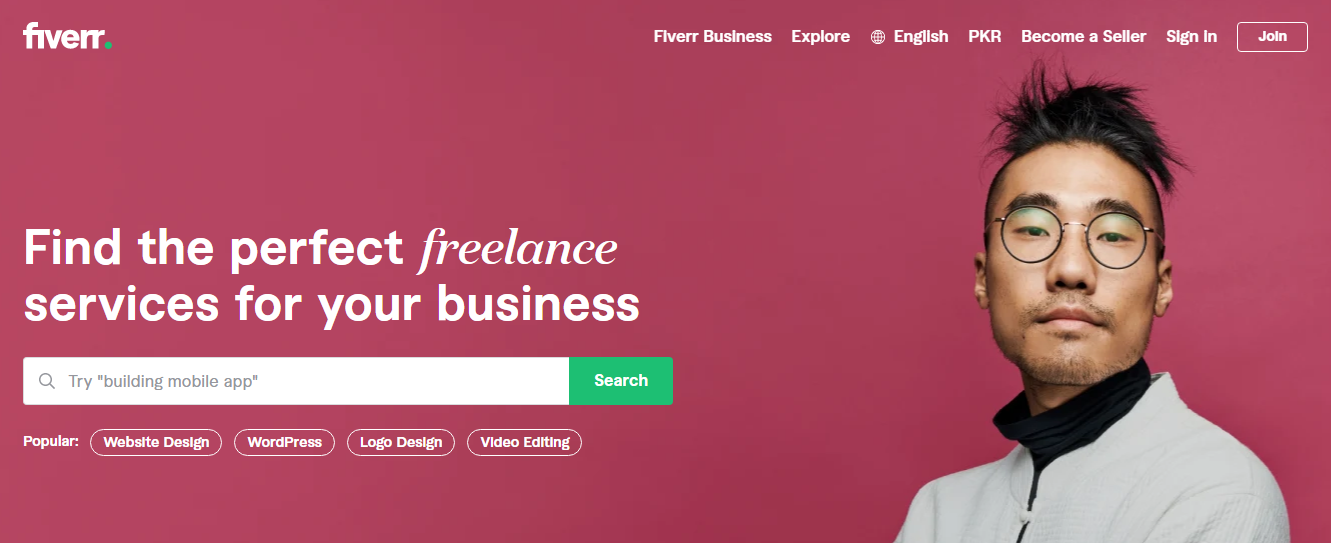 Fiverr is a freelancing platform that allows freelance virtual assistants to sell services to clients around the world. The platform was launched in 2010 and has since grown to become one of the largest freelance marketplaces with over 2.5 million active freelancers and is used by over 3.4 million buyers each year. 
Fiverr offers an extensive range of virtual assistant services, from data entry and administrative support to social media management and digital marketing. It provides a streamlined and efficient way for clients to find and hire the right virtual assistant for their needs.
Fiverr Features
Fiverr offers a variety of features which include:
Gig listings: Fiverr freelancers create "gigs" that outline specific services they offer along with pricing, delivery time, and other details.
Custom Orders: Fiverr offers a custom order option that allows clients to request specific services that may not be listed in a freelancer's gig.
Multiple Packages: Freelancers on Fiverr can offer different packages for their services, with varying levels of features and pricing. 
Fiverr Pro: Fiverr offers a premium service called Fiverr Pro which provides clients with access to top-rated, hand-vetted freelancers who have proven experience in their field. 
Multi-Language Support: Fiverr supports multiple languages, including English, Spanish, French, German, Italian, Portuguese, Dutch, and more.
Live Portfolio Preview: Fiverr offers a live portfolio preview option. Clients can see examples of a freelancer's work before they decide to hire them. 
Fiverr Pricing & Fees For Clients
Fiverr's pricing and fees for virtual assistant services are straightforward and transparent. Freelancers set their own prices for their services which can range from $5 to thousands of dollars. 
Fiverr charges a service fee of 5.5% with a minimum service fee of $2. For purchases under $50, an additional $2 order fee is applied. 
Pros Of Using Fiverr For Virtual Assistant Services
Here are some key advantages of using Fiverr for hiring freelancers:
User-friendly interface and offers a range of collaborative tools
Fiverr's rating system allows clients to leave feedback and rate their experience with freelancers.
Customer support team is available 24/7 to assist clients with any issues they may encounter on the platform, providing added peace of mind and support.
Fiverr offers a feature called "Fiverr Learn," which provides online courses and resources to help clients improve their skills and knowledge.
Cons Of Using Fiverr For Virtual Assistant Services
Some of the drawbacks of Fiverr include:
Many freelancers on Fiverr may prioritize volume over quality which can lead to rushed or subpar work.
Fiverr's screening and evaluation tools may not be as comprehensive as those offered by other platforms.
Some clients may find the transaction-based nature of Fiverr's services to be impersonal or lacking in ongoing support.
3. Zirtual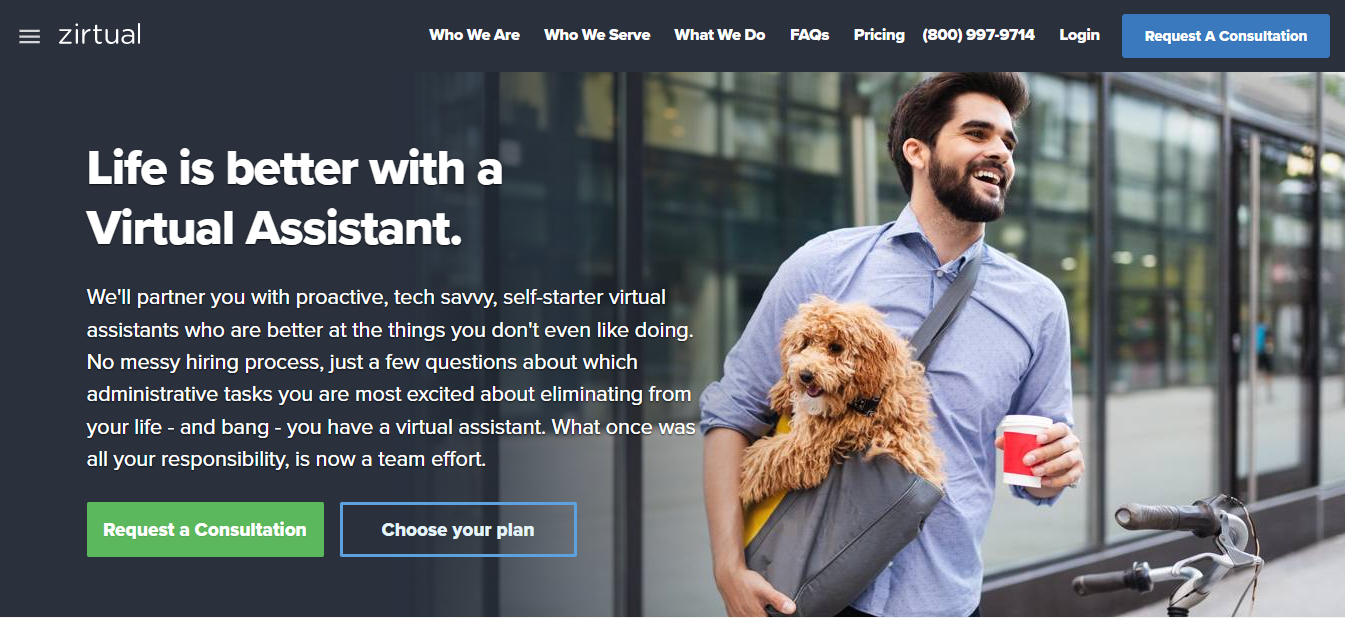 Zirtual is a top virtual assistant services provider that we founded in 2011 with a mission to provide businesses with high-quality, dedicated virtual assistants. We have grown significantly since our inception and have gained a reputation for our rigorous selection process, customized workflows, and personalized service.
Our services are designed to be flexible and scalable which allows businesses to easily adjust their support as their needs change. With a focus on quality and customization, Zirtual is an excellent option for businesses that are looking for virtual assistant services that are tailored to their unique needs and preferences.
Zirtual Features
We at Zirtual offer a range of features that set us apart from Upwork and Fiverr:
Dedicated virtual assistants: We provide clients with a dedicated virtual assistant who is assigned to their accounts and works exclusively for them. This ensures that clients have a consistent point of contact and a personalized experience.
Rigorous selection process: We have a rigorous selection process for virtual assistants, including personality and skills assessments, background checks, and interviews. This helps to ensure that our clients are matched with high-quality virtual assistants who have the necessary skills and experience.
US-based college graduate virtual assistants: Zirtual's virtual assistants are all graduates of colleges in the United States, and are based in the country as well. This feature allows clients to work with assistants who are fluent in the language and familiar with the cultural norms of the United States.
Customized workflows: At Zirtual, we work with clients to develop customized workflows and processes that are tailored to their specific needs and preferences. This allows us to deliver personalized service and efficient support.
Specialized support: We assign a specialist to each virtual assistant to provide technical guidance and support. This specialist serves as a technical resource for the virtual assistant and can help them navigate any technical tasks or challenges that arise.
Fast response times: Our virtual assistants are trained to respond quickly to client requests and queries, ensuring that clients get the support they need in a timely manner.
Use of smart tech: We at Zirtual take security very seriously and use smart technology to ensure that clients' data and information are safe and secure. One of the key tools that we use is LastPass, a secure password manager that allows clients to store and share passwords with their virtual assistants in a safe and secure way.
Zirtual Pricing & Fees for Clients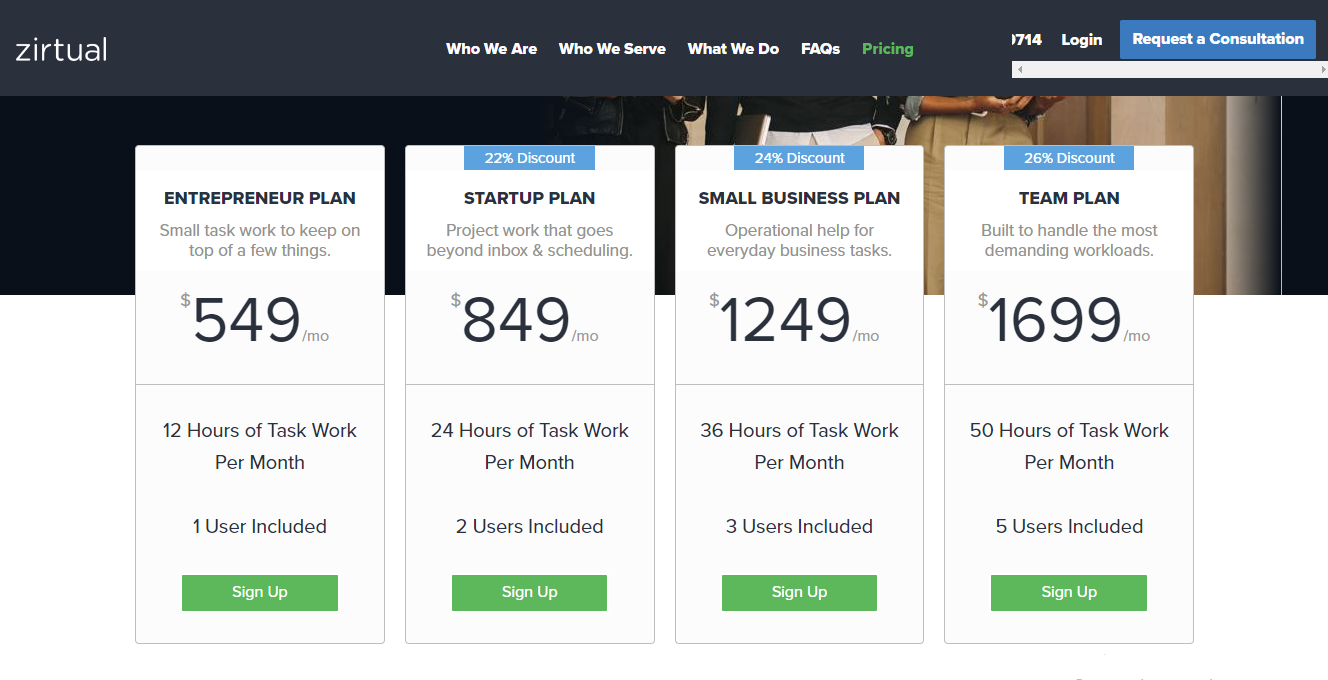 We offer four pricing plans for our clients:
Entrepreneur Plan ($549/month): 12 hours of work with 1 user.
Startup Plan ($849/month): 24 hours of work with 2 users.
Small Business Plan ($1249/month): 36 hours of work with 3 users.
Team Plan ($1699/month): 50 hours of work with 5 users.
Pros Of Using Zirtual For Virtual Assistant Services
Below are some key factors that differentiate us from other competitors:
Our virtual assistants are US-based college degree holders.
We at Zirtual give the option to change their virtual assistant at any time.
Affordable pricing plans for virtual assistant services, making us accessible to clients with varying budgets.
Unlike some other virtual assistant platforms, we do not require clients to commit to long-term contracts or agreements.
At Zirtual, we provide clients with access to pre-trained virtual assistants who have expertise in a range of areas and industries.
Our packages do not come with any setup fees. Clients can get started with their virtual assistant services without any additional costs.
Zirtual's personalized matching process ensures that the clients receive the right level of support from a virtual assistant who is best suited to their unique requirements.
Cons Of Using Zirtual For Virtual Assistant Services
We have to come clean, we're not flawless and have our fair share of quirks, including:
No option for rollover hours
No option to hire virtual assistants on a project-by-project basis.
Now that we know the ins and outs of all three platforms, let's get ready for the ultimate showdown.
Which Platform Reigns Supreme – Comparing Upwork Vs. Fiverr Vs. Zirtual For Virtual Assistant Hiring
While both Upwork and Fiverr are popular platforms for hiring virtual assistants, let's see how they fare against Zirtual.
I. Quality Of Virtual Assistants – Zirtual's Talent Takes the Crown
There are several issues with the quality of virtual assistants available on Upwork and Fiverr. One of the main issues is the lack of vetting and training. Another common problem is the language barrier. Many virtual assistants on these platforms are based in countries where English is not the primary language which can result in communication issues and misunderstandings.
Then there are issues related to the inconsistency of quality among virtual assistants and their unreliability since anyone can sign up to be a freelancer on Upwork or Fiverr.
At Zirtual, we set ourselves apart from the competition by offering high-quality virtual assistants who are thoroughly vetted and trained. Our hiring process is highly detailed oriented with a focus on finding the most qualified candidates. 
Additionally, we provide ongoing training and support to our virtual assistants and ensure that they are equipped with the latest tools and techniques to provide the best possible service to clients. Zirtual's focus on quality has earned us a reputation as one of the best virtual assistant platforms available
II. Client Experiences – Zirtual's Hands-On Approach Wins
Both Upwork and Fiverr have some shortcomings when it comes to client experiences. Upwork's large pool of freelancers can make it difficult to find the right fit and the bidding process can be time-consuming. Fiverr's standardized services can sometimes lack the personal touch that that both clients and freelancers complain about.
On the other hand, Zirtual offers a more hands-on approach to virtual staffing. We assign a dedicated account manager to each client, ensuring that they have a consistent point of contact who is familiar with their needs and preferences. This level of attention helps to build trust and rapport between the client and their virtual assistant and leads to better communication and more effective collaboration.
III. Available Virtual Assistant Services – Zirtual Offers Personalized Matching
All three platforms offer a range of virtual assistant services, including administrative support, customer service, social media management, graphic design, and more. 
However, Zirtual stands out as we offer personalized matching of virtual assistants to clients based on their unique requirements and preferences. This ensures that you get a virtual assistant who is the best fit for your business needs.
IV. Platform Features – Zirtual Offers Smart Tech For Added Security
All three platforms offer communication tools and project management features. However, Zirtual offers the use of smart tech for added security ensuring that your data is protected while working with their virtual assistants. Additionally, we assign a specialist to each virtual assistant who provides them with the right guidance if any technical task comes their way.
V. Pricing and Fees – Zirtual Reigns Supreme
When it comes to pricing and fees, Zirtual is the clear winner. Unlike Upwork and Fiverr, Zirtual offers affordable pricing plans with no hidden fees or contractual obligations. We offer pre-trained professionals and top US-based college degree holders as virtual assistants, ensuring that you get the best talent for your business. 
Additionally, our packages do not come with a setup fee and you have the option to change your assistant anytime without any hassle.
VI. Reputation & Trustworthiness – Zirtual Is Trusted By Businesses Of All Sizes
Both Upwork and Fiverr are not without their shortcomings. Upwork, for instance, has been plagued with issues related to fraudulent activity, including fake profiles and job postings. Meanwhile, Fiverr has faced criticism for its inconsistent standards for quality and customer service.
When it comes to reputation and trustworthiness, Zirtual stands out as a platform that is trusted by businesses of all sizes. We have a strong reputation for providing top-quality virtual assistant services who are hired after undergoing a thorough background check.
Conclusion
Upwork and Fiverr are like the dollar store of freelancing – you can find some gems but you'll have to wade through a sea of questionable quality to get there. Meanwhile, Zirtual is like the luxury boutique of virtual assistants – we handpick the best of the best, train them to be even better, and deliver a premium experience that's worth every penny.
At Zirtual, you'll get top-notch service that's backed by a team of experts who truly care about your success. Our assistants are so good, you'll forget they're not sitting in the same room as you. 
So if you're ready to take your business to the next level and want to do it with a smile on your face, reach out to us for a consultation.