Imagine a world where a virtual assistant for creatives takes care of all your creative needs without ever complaining about their workload. Need help brainstorming new ideas for your next event management project – check. Want to create a wedding day timeline for your client – no problem, your virtual assistant is on it. 
Now comes the yin and yang of virtual assistants. While a competent virtual assistant for creatives can make your work life easier and more enjoyable, an incompetent one will only bring chaos and confusion. End up with a wrong virtual assistant and things can go downhill faster than a unicycle on a steep hill.
Our today's guide will save you from all the woes. We'll spill the tea on 16 of the leading websites that provide virtual assistants to creative entrepreneurs. By the end of this 10-minute read, you'll find the best virtual assistant company to outsource your workload.
16 Best Platforms To Hire Talented Virtual Assistants For Creatives
Here are our top 3 picks for the best websites to hire virtual assistants for creative entrepreneurs:
Zirtual – Best overall 
RemSource – All-rounder virtual assistants
Task Virtual – Systematic approach for guaranteed results
Let's get started with a detailed review of our shortlisted virtual assistance websites for creatives.
1. Zirtual – Top Pick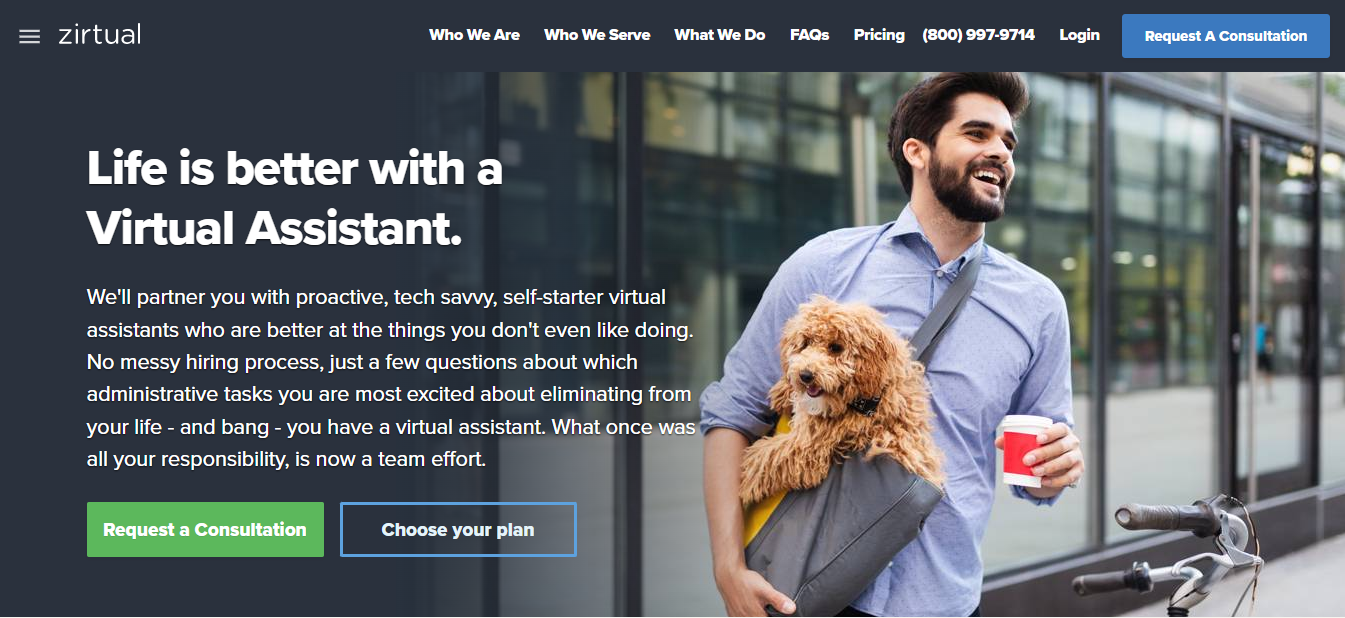 When it comes to hiring virtual assistants for creatives, Zirtual is the most well-known and trusted name in the industry. One of the best things about us is our virtual assistants who are all based in the US. So you don't have to worry about time zone differences or language barriers. 
At Zirtual, we only hire virtual assistants who are college graduates since the education gives them a broad horizon and exposure to different fields. They take a systematic approach to deal with real-life problems and they handle tasks that require a certain level of creativity and critical thinking.
We have a strict vetting and hiring process to ensure that we hire only the best and most qualified virtual assistants. We assess them for different skills, experience, and tech-savviness. We also perform background checks to ensure that they have a clean record. This ensures that you get a virtual assistant who is not only knowledgeable but also trustworthy.
Our virtual assistant onboarding process is the quickest in the industry and our VAs are trained to take charge right away. You don't have to spend time teaching them the ins and outs of your business – they'll already know what to do. We make sure to deliver everything well before time and our turnaround time is also the best in the industry.
Since our virtual assistants have experience across different industries, no business is new for them. They can handle any task you throw at them since they're experienced professionals and we have trained them well to adapt to any situation.
Zirtual Pricing Plans
Our virtual assistant pricing plans include:
Entrepreneur Plan ($549/month): 12 hours of work with 1 user.
Startup Plan ($849/month): 24 hours of work with 2 users.
Small Business Plan ($1249/month): 36 hours of work with 3 users.
Team Plan ($1699/month): 50 hours of work with 5 users
2. RemSource – All-Rounder Virtual Assistants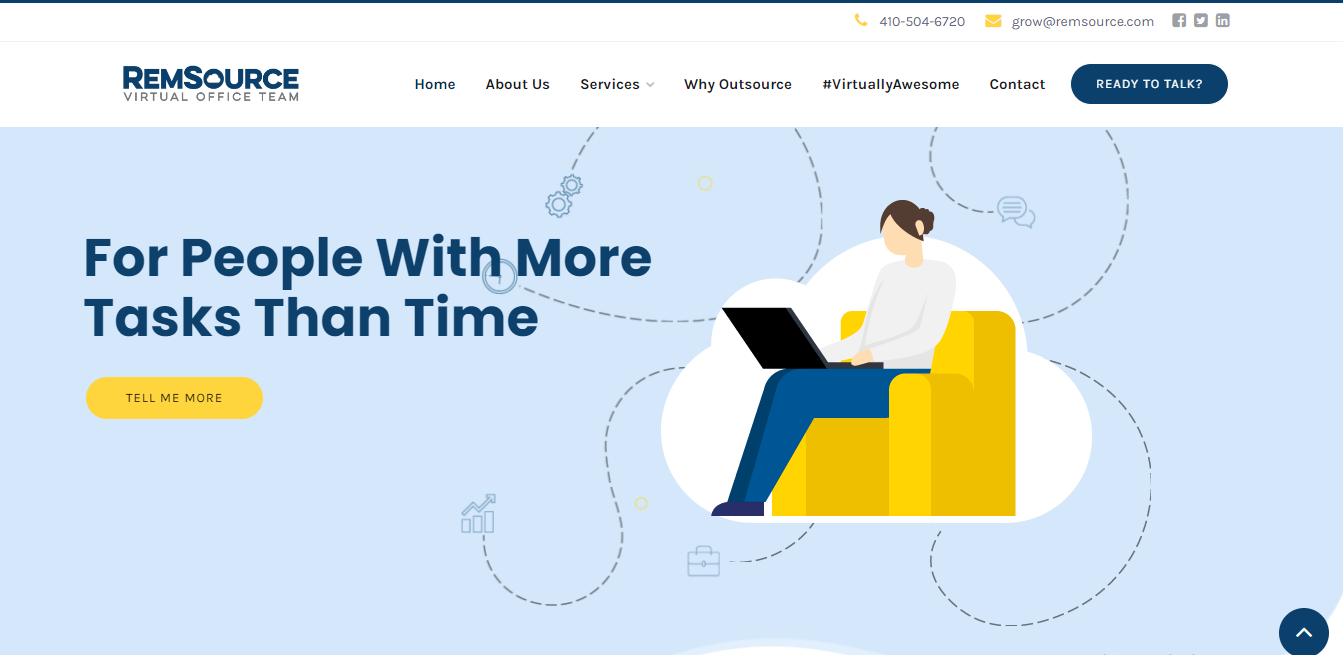 RemSource is a leading name for creatives to hire virtual assistants. Established in 2009, this virtual assistant business has served over 222+ businesses from around the world. Their virtual assistants are US-based and since they're native English speakers, you can be sure that there won't be any language barriers or miscommunications.
RemSource's virtual assistants are known to be super friendly. They're helpful and super approachable which makes it easy for you to communicate with them and get the tasks done. These virtual assistants have been trained to be part of your operations in a very real, hands-on way. 
They don't just handle tasks for you – they work with you to understand your goals, your creative process, and your unique needs. From social media management to calendar management and everything in between, they'll become an integral part of your team, helping you stay on top of everything and freeing up your time.
When you work with RemSource's virtual assistants, you can trust that they won't miss a beat. They have been taught to stay on top of things and pay attention to the details for the timely completion of tasks.
RemSource Pricing Plans
RemSource provides personalized plans. Reach out to their team for a customized solution.
3. Task Virtual – Systematic Approach For Guaranteed Results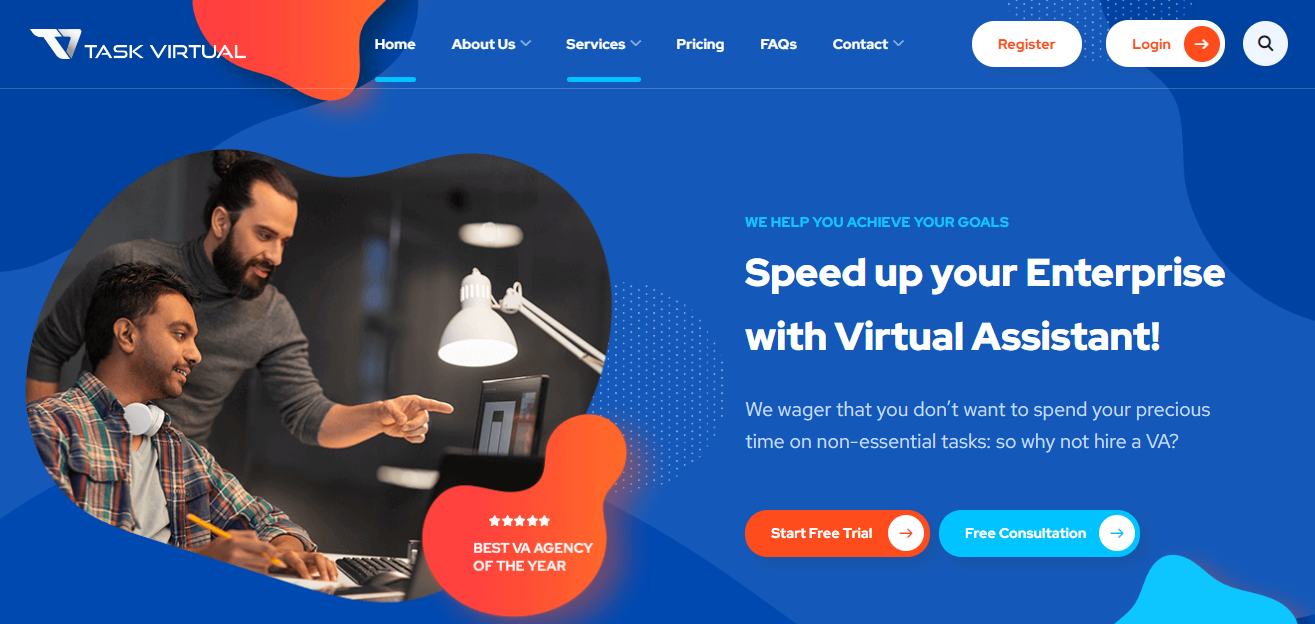 Founded in 2015, Task Virtual has quickly become a go-to resource for creative businesses looking for reliable and efficient support. During this time, they have served over 1300 clients and completed 23500+ projects. The company offers a free trial during which you'll have access to a dedicated virtual assistant and a shift supervisor who will assist you with all the tasks that you have.
Task Virtual is very particular about data security, which is why they use secure servers to protect your information. To ease things for you, they provide a single point of contact – your shift supervisor. This person will be your main point of contact throughout your time working with Task Virtual. They'll be responsible for assigning tasks to your virtual assistant and ensuring that everything runs smoothly. 
Task Virtual offers a task assignment and management module called TaskVirtual CRM. This tool automatically updates all communications between you and your virtual assistant, making it even easier to keep track of everything. You can easily see the status of different tasks and communicate with your creative virtual assistant in real-time.
Task Virtual Pricing Plans
Pay as you go ($15/hour): Billed on an hourly basis.
Part-time ($699/month): Offers 100 hours of work (8 hours a day) with a dedicated assistant.
Full-time ($999/month): Offers 160 hours of work (4.5 hours a day) with a dedicated assistant.
4. Virtual Staff Finder – Experience That Helps Your Business Grow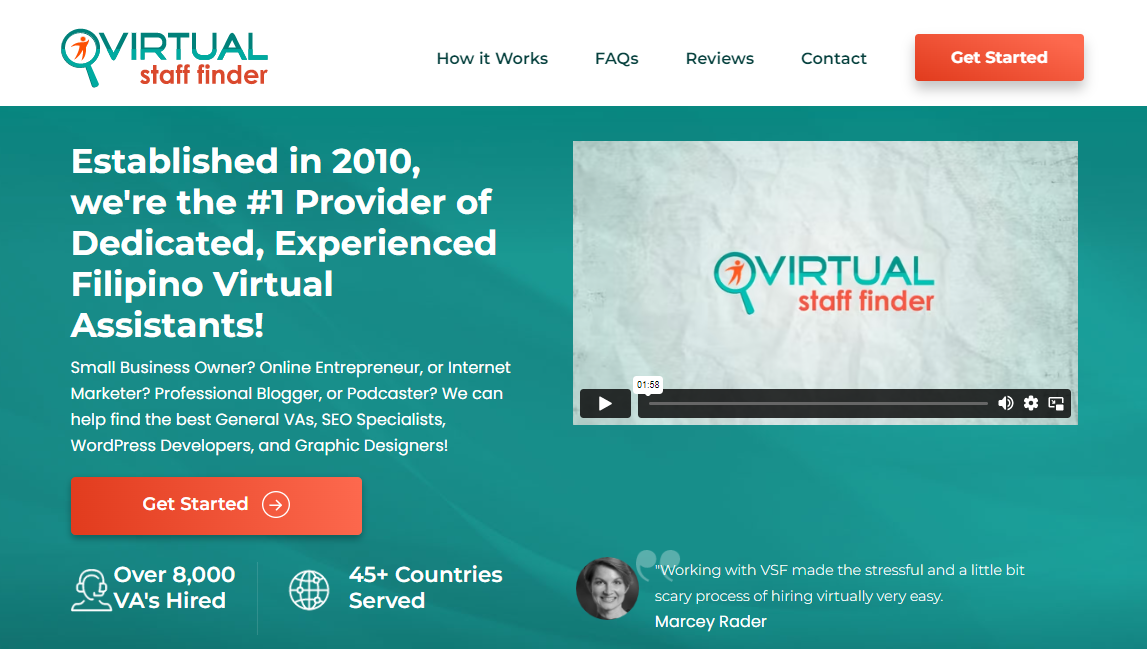 If you are a creative entrepreneur looking for reliable and cost-efficient virtual assistant services,  Virtual Staff Finder might just be the solution you need. It was established in 2010 and is headquartered in the Philippines. They have clients in over 45 countries and over 8000+ VAs hired through their platform.
The company provides ongoing support whether you need a part-time assistant for a specific project or a long-term solution for your business. Virtual Staff Finder has a strict hiring process in which they conduct rounds of interviews with potential VAs and conduct thorough background checks.
Virtual Staff Finder Pricing Plans
The company only charges a hiring fee which is customized according to your needs.
5. Virtual Assist USA – Trusted By Fortune 500 Companies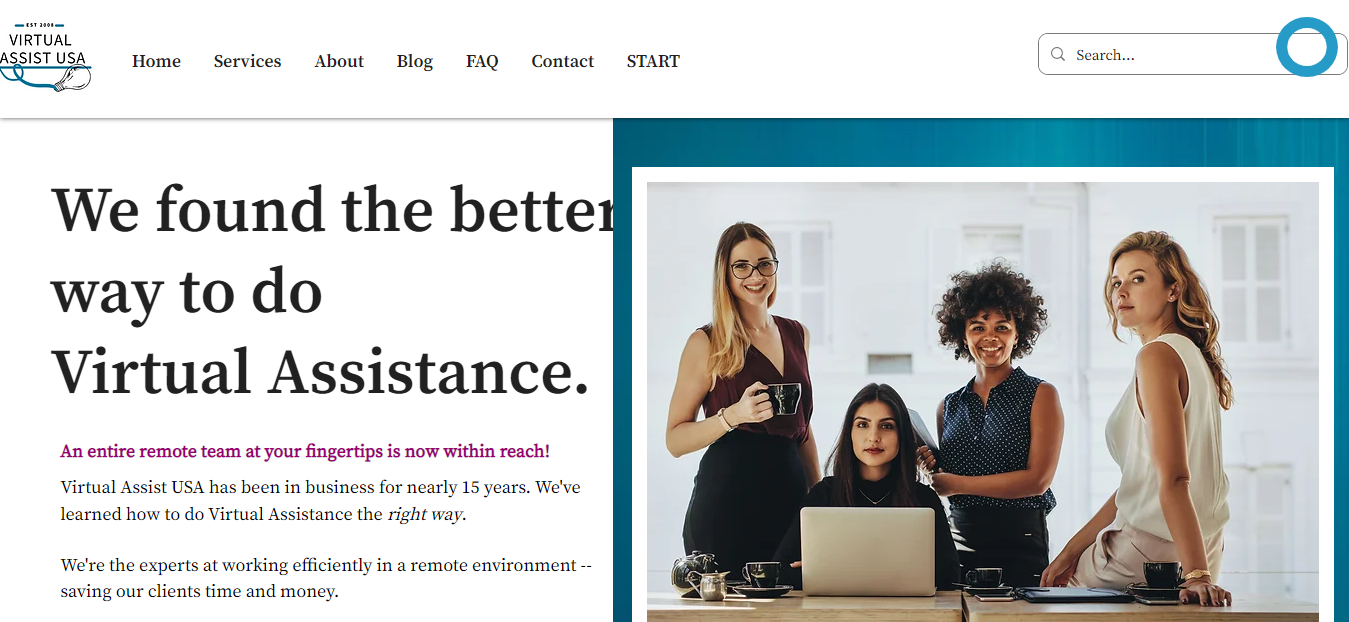 Virtual Assist USA is a well-recognized name in the virtual assistant landscape. The company was founded in 2008 and has been providing services to small businesses, creative entrepreneurs, and even Fortune 500 companies. Their VAs are spread out across the United States in every time zone which makes it easier for a creative business owner to work with them.
Virtual Assist USA has a proprietary personality assessment tool that they use to match VAs with clients. This tool considers factors such as skill sets, work behavior, personality, and communication style to ensure a good match. This is especially important for creative entrepreneurs where personality and work style can be crucial to success.
Virtual Staff Finder hires virtual assistants with at least 10 years of experience which makes them true specialists in their field. They have worked on thousands of projects in over 50 different industries, including the wedding industry, event planning, and interior designing.
Virtual Assist USA Pricing Plans
Option 1 ($570/month): 15 hours at $38/hour.
Option 2 ($1080/month): 30 hours at $36/hour.
Option 3 ($1750/month): 50 hours at $35/hour.
Option 4 (Custom): Special rates based on your requirements.
6. VA Talks – Flexible Working Sturcture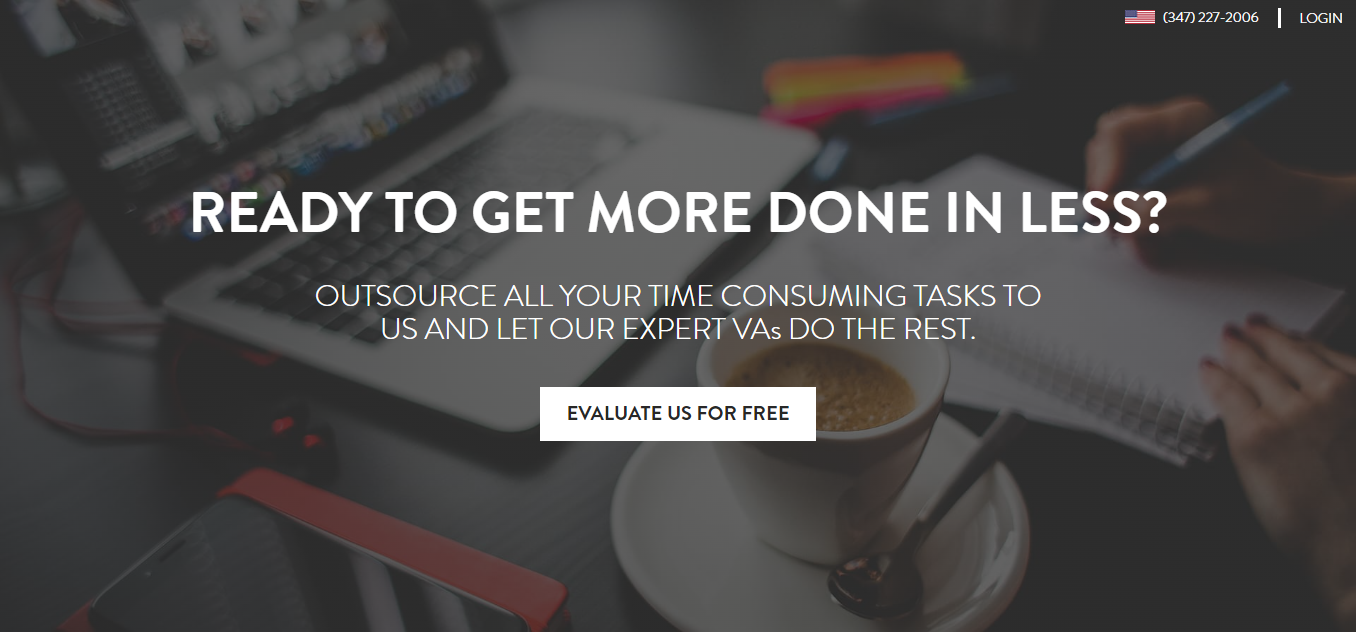 VA Talks was founded back in 2015 and this dynamic virtual assistant company has quickly made a name for itself. They have developed a highly effective working structure that allows them to complete projects with precision. 
VA Talks has a system in place that ensures seamless communication and collaboration between their team and their clients. They use the latest technology and tools to ensure that communication is always clear.
At VA Talks, their virtual assistants are known for their flexibility. They can work around your schedule and adapt to your needs. They have built their reputation on the back of their ability to complete projects within the agreed time frame. So whether it's admin tasks or inbox management, answering phone calls or creating effective sales funnels to boost your revenue, the virtual assistants at VA Talks guarantee timely completion.
VA Talks Pricing Plans
VA 10 ($130/month): Includes 10 hours. 
VA 20 ($240/month): Includes 20 hours.
VA 30 ($330/month): Includes 30 hours.
VA 50 ($490/month): Includes 50 hours.
VA 80 ($690/month): Includes 80 hours.
7. Remote CoWorker – Highly Vetted & Trained Virtual Assistants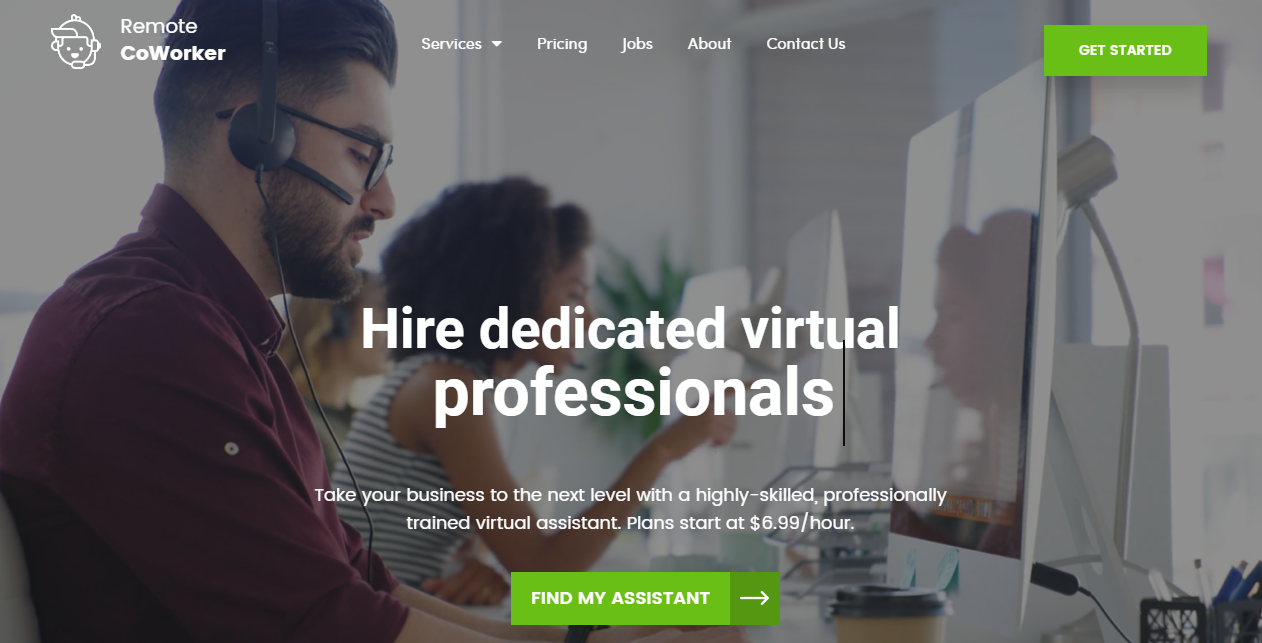 Remote CoWorker is one of the top options for hiring virtual assistants that can help with all the things you need to get done. The company makes sure that your processes are followed and that your virtual assistant always delivers on your expectations. Spending countless hours micromanaging or worrying about whether things are getting done will be the least of your worries.
Remote CoWorker is PCI-DSS validated which means that your sensitive data and information are always secure. Plus, their virtual assistants receive ongoing CPA training to ensure that they're up-to-date on the latest best practices and can provide the best possible service to your business.
Remote CoWorker also prioritizes monitoring the performance of their virtual assistants so that everything runs smoothly. This proactive approach ensures that any issues can be addressed before they become major problems.
Remote CoWorker Pricing Plans
Part-time Starter: $7.99/hour.
Full-time Starter: $6.99/hour.
Full-time Bilingual: $9.99/hour.
8. Pepper Virtual Assistant – Seamless Transitioning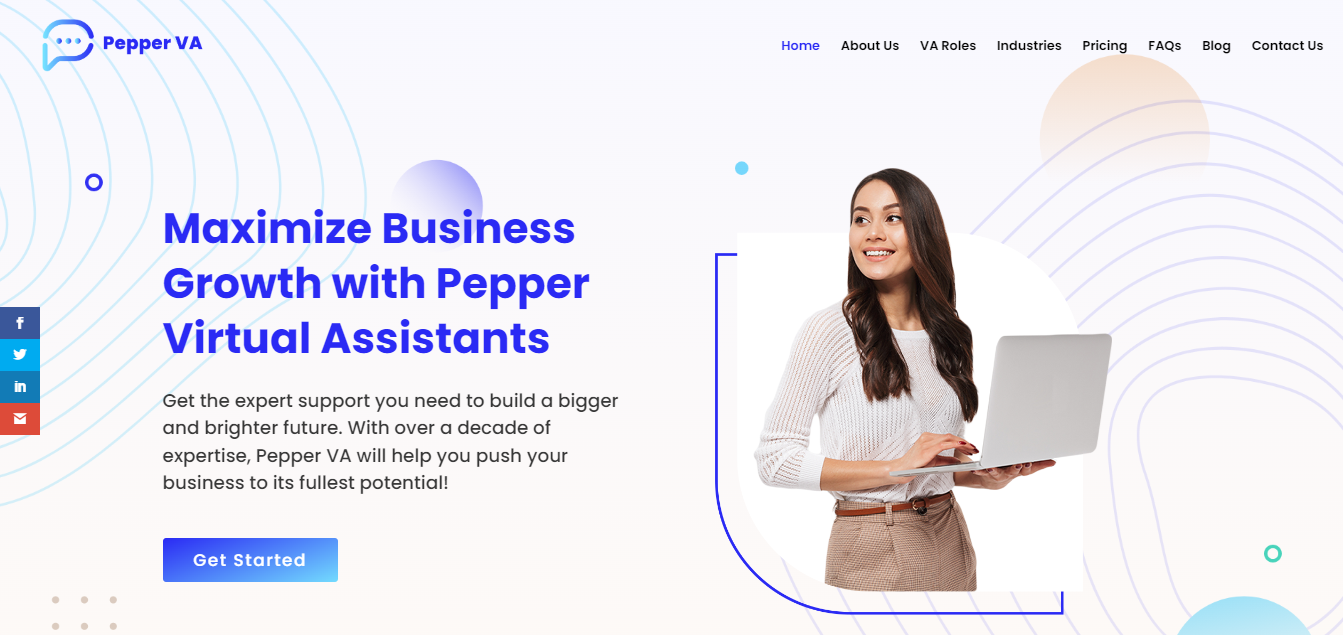 Since 2009, Pepper Virtual Assistant has been helping creative businesses streamline their processes and expand their operations. They've helped countless entrepreneurs focus on the important things in life while they take care of the tedious administrative work. On top of their typical virtual assistants, they have a team of creative professionals ready to provide customized services to fit your unique business needs. 
Pepper Virtual Assistant provides in-depth training to its virtual assistants in client handling, communication skills, and executive assistance. When you sign up with Pepper Virtual Assistant, you get a whole dedicated team. You'll have: 
IT Support
Copywriter
Virtual Assistant
Project Manager
Senior Virtual Assistant
Back-up Virtual Assistant
If that's not enough, they also offer opt-ins to their additional services such as website handling, graphic design, and content creation.
Pepper Virtual Assistant Pricing Plans
Plan 1 ($960/month): 80 hours of work.
Plan 2 ($1400/month): 160 hours of work.
9. Use Per Wish – Highest Level Of Quality Control
Use Per Wish is another leading virtual assistant company to keep on top of your creative business. The company has a streamlined multi-layered quality control system that is designed to guarantee that the work meets your specific needs and requirements. 
After completing a task, the virtual assistant will review their work. Then a second virtual assistant checks the work to check for any errors, omissions, or inconsistencies. Finally, the project manager will ensure that it meets the company's standards of quality and excellence. Use Per Wish provide complete transparency where you are in control of your resources and know exactly what's going on behind the scenes. 
Use Per Wish Pricing Plans
Hour-based subscription ($8/hour): 10 to 60 hours of balance/month.
Part-time subscription ($559/month): Offers assistance for 4 hours/day, 5 days/week.
Full-time subscription ($879/month): Offers assistance for 8 hours/day, 5 days/week.
Unlimited validity subscription (12/hour): Offers unlimited validity with flexible minute-based billing.
10. ClearDesk – Most Cost-Effective
ClearDesk is one of the most cost-effective virtual assistant companies for creative business owners that can save you up to 70% of the cost of a full-time employee. The company also has a strict hiring process in which each virtual assistant has to go through a DISC Personality Test, ensuring that only the best of the best make it through – in fact only 1% actually become a part of this company.
The virtual assistants at ClearDesk are multi-lingual and college-educated. Along with a dedicated virtual assistant, you also get an HR Manager & Customer Success Manager. ClearDesk also offers a 7-day money-back guarantee.  
ClearDesk Pricing Plans
Full-time assistant ($1950-2500/month): College graduates with 2 years of experience.
Specialized assistant ($3500-4500/month): Master's degree holders with 5 years of experience.
11. Virtual Assistant Staffing Agency – Advanced Workflows & Protocols
Virtual Assistant Staffing Agency is a top name that connects creative entrepreneurs with a pool of talented Filipino virtual assistants. They have a 5-step virtual assistant placement process which includes
Detailed assessment of your requirements
Sourcing candidates
Conducting interviews
Checking references
Placing the right virtual assistant with you
Virtual Assistant Staffing Agency uses advanced systems and processes to work smarter. They have established workflows and protocols so you don't have to spend time training your virtual assistant or figuring out how to work with them.
At Virtual Assistant Staffing Agency, the virtual assistants are trained to only focus on the tasks and projects that truly matter. They will work with you to identify the tasks that are taking up too much of your time and find ways to delegate them to your virtual assistant. Their VAs are known to be consistent in their daily, weekly, and monthly actions. 
Virtual Assistant Staffing Agency Pricing Plans
Placement Fee ($250): Per hire.
Placement Fee ($1000): Lifetime hires.
Virtual Assitant Management ($4/hour): For managing the virtual assistant. Charges on top of VA's hourly pay.
12. Vgrow Solution – Best For Small Businesses
Vgrow Solution is a virtual assistant company that has built its name because of its high-quality work and cost-effectiveness. The company has over 75 satisfied US businesses as their clients and they have ongoing 100+ projects. And it's no wonder why – Vgrow Solution has highly skilled Program Managers who understand US businesses very well. They know what it takes to make your business successful and they have the expertise to get it done.
Vgrow Solution is ISO/IEC 27001:2013 certified and adheres to strict international standards for information security management. In addition, Vgrow Solution is compliant with the EU General Data Protection Regulation (GDPR). But perhaps the best part is Vgrow Solution's claims to save you 50% on your costs – while still providing high-quality virtual assistant services.
Vgrow Solution Pricing Plans
Vgrom Solution provides custom plans for its virtual assistant services.
13. Time etc – Backed By Years Of Experience
Time etc is a virtual assistant service that was created in 2007 and has turned out to be a game-changer for creative entrepreneurs. Their virtual assistants are US-based and available during your working hours. On average, their team members have 12 years of experience which has given them enough exposure to handling all sorts of tasks with ease.
Before a virtual assistant is added to the Time etc team, they go through a tough 10-stage selection process and only the best among them are hired. Confidentiality is also a top priority at Time etc and they provide a confidentiality agreement to all clients. Perhaps the most unique feature of Time etc is you can share your dedicated assistant with your team which makes it easier to delegate tasks. 
Time etc Pricing Plan
Plan A ($360/month): 10 hours of work.
Plan B ($700/month): 20 hours of work. 
Plan C ($1360/month): 40 hours of work.
Plan D ($1980/month): 60 hours of work.
14. Wing Assistant – Ensuring Effortless Communication
Wing Assistant is one of the most well-established names in the virtual assistance industry. They provide free software to every creative client and it comes with communication features that make it easy to stay in touch with your assistant. You can communicate through chat, email, and even video conferencing. Additionally, the software comes with a secure password-sharing tool.
Wing Assistant's workflow management tool makes it easy to manage your creative projects and tasks. The company also offers a mobile app called Wink By Wing which is available for both Android and iOS. The app comes with a built-in chat feature and video conferencing system to keep you in touch with your assistant. You can also use the app to record onboarding and training videos.
Wing Assistant can integrate with a variety of business tools, including Slack, Salesforce, Trello, Later, and Hootsuite.
Wing Assistant Pricing Plans
Part-time ($499/month): 20 hours of work/month.
Full-time ($899/month): 40 hours of work/month.
Full-time 2X ($1699/month): 40 hours of work/month with two assistants.
15. Express Virtual Assistant – Strictest Data Protection Practices
Express Virtual Assistant is a well-established company that has been in the virtual assistant field since 2004 and has earned a reputation as a veteran in the field. With offices located in India, the Philippines, Kenya, Bolivia, and Colombia, Express Virtual Assistant has a global reach that lets you leverage the time-zone advantages.
With Express Virtual Assistant, you can save up to 40% on costs compared to hiring an in-house assistant for your creative business. The company is ISO 9001 certified and GDPR compliant and adheres to the highest quality standards and data protection regulations. Their workstations are encrypted to prevent data leaks. 
Additionally, the company only saves your data on their server until your project lasts and is deleted afterward, ensuring that your data is not accessible to unauthorized parties.
Express Virtual Assistant Pricing Plans
You can reach out to their sales team for a custom plan.
16. Assistant Match – For Fast Results
Assistant Match is a virtual assistant staffing solution that was created in 2007 to help creatives and other businesses find the right virtual assistants. This US-based company has established a name for itself by providing fast and guaranteed staffing solutions to creatives. 
Assistant Match provides pre-screened and highly vetted virtual assistants that are reliable and skilled in their areas of expertise. The company has been recognized by many media outlets, including NBC's Today Show, as the go-to place for virtual assistants. This is a testament to the quality of their virtual assistant service and the value they bring to creatives. 
Assistant Match Pricing Plans
Assistant Match charges a match fee of $395 which includes a $95 deposit for finding the right candidate. VA services are charged at an hourly rate depending on the expertise.
Conclusion
There is no denying the fact that a creative business requires your full focus on your craft and vision. But with so many repetitive, not-so-important yet must-do everyday tasks, it becomes difficult to bring out your creativity. Your time is valuable and should be spent wisely.
To make this happen, Zirtual is the best virtual assistant company for creatives. With help from our team of highly-skilled and competent virtual assistants, you can devote your attention to bringing your ideas to life and growing your business. Delegate those tasks to us that don't require your unique skill set and we'll make sure that we complete them the way you would.
Book a consultation with us today and all your worries will vanish into thin air before you know it.