Running a blogging business is like running a one-person circus. One moment you're a content writer, the next a social media manager, and let's not even get started on the tech issues. If that's the case with you as well, it's time you find your very own ringmaster — a virtual assistant for bloggers is the solution to your one-person circus act.
But how to find the right virtual assistant services? Finding a vegan option at a hot dog stand might be easier than finding the perfect virtual assistant business. You can start by Googling but it won't work — it's like going down a rabbit hole. They all claim to be the best thing since sliced bread but most of these blogging virtual assistant services just won't take off.
Our today's guide will be your rescuer. We'll discuss the 16 best sites of 2023 for hiring a virtual assistant for your blogging business and evaluate them on their services, pricing, and overall user experience. 
By the end of this 9-minute read, you'll be able to find your very own blogger virtual assistant who'll be pecking away at tasks that once had you feeling overwhelmed.
16 Best Websites To Hire Virtual Assistants For Running A Successful Blog
Our top 3 picks for best virtual assistant platforms for bloggers are:
Zirtual – Best overall 
Efficise – Most comprehensively trained virtual assistants
Magic – AI-driven systematic approach
Let's now take a look at all 16 sites to see what they have to offer. 
1. Zirtual – Top Pick
Zirtual is the best place to hire dedicated virtual blogging assistants if you're looking for some help with your blogging tasks. We've got a team of virtual assistants who are all college graduates based in the US. All our virtual assistants are super skilled in handling blogging tasks and are familiar with the US work culture, so communication and collaboration are a breeze.
And here's the best part — if your Zirtual executive assistant can't handle a specific task, we have a team of specialists who can step in and help out, at no extra cost to you. So you can be sure that you're always getting some quality assistance, no matter how complex the task is.
At Zirtual, we have a really strict hiring process to make sure we only pick the best of the best for our virtual blogging assistants. And once they're hired, they get continuous training on the latest tools and trends so they're always up-to-date and ready to tackle any blogging task that comes their way — from brainstorming blog post ideas to monitoring website traffic with Google analytics.
At Zirtual, our super-talented blogging assistants can help you out with more than just administrative tasks. They're trained to organize your schedule so that you can have a stress-free day and focus on being creative. You need to be in the right headspace to create some amazing blogs. With our bogging virtual assistants taking care of the routine stuff, you'll have more time and energy to pour into your writing.
Zirtual Pricing Plans
Zirtual offers 4 pricing plans.
Entrepreneur Plan ($549/month): 12 hours of work with 1 user.
Startup Plan ($849/month): 24 hours of work with 2 users.
Small Business Plan ($1249/month): 36 hours of work with 3 users.
Team Plan ($1699/month): 50 hours of work with 5 users.
2. Efficise – Most Comprehensively Trained Virtual Assistants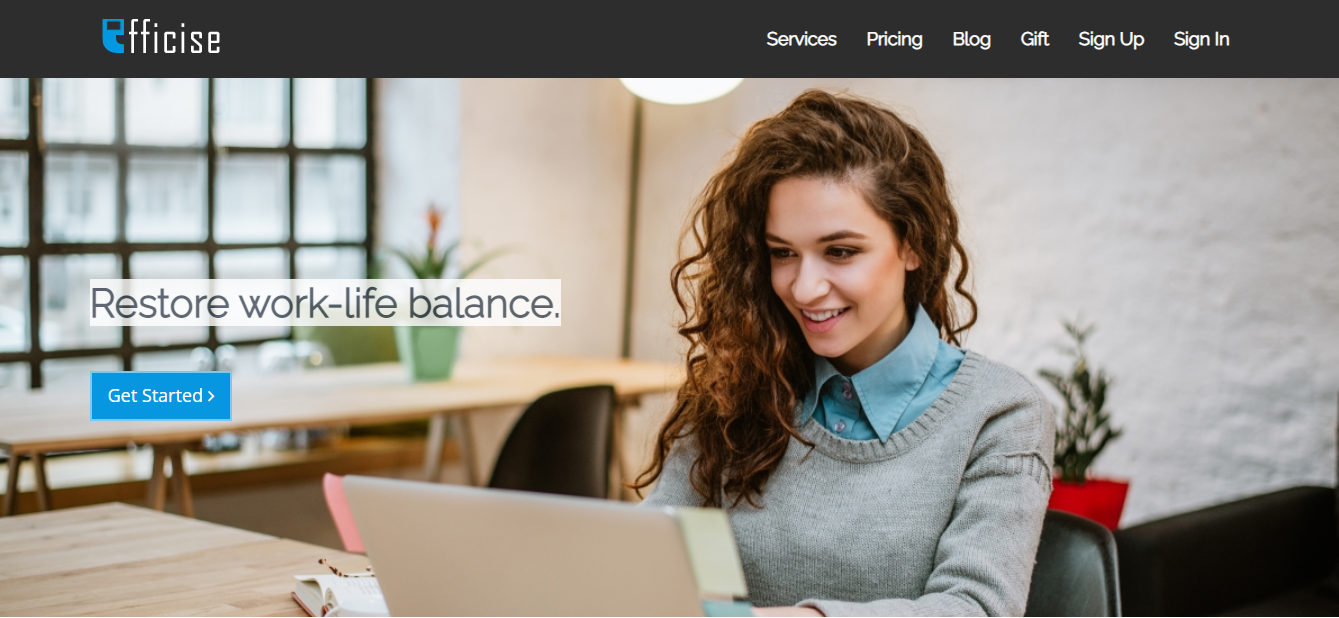 Efficise has become a go-to choice for companies in need of virtual assistants and it's easy to see why. Efficise's comprehensive training program makes sure that their virtual assistants have all the skills they need to handle all sorts of blogging tasks — from WordPress to proofreading to researching blogging tips and social media management.
Efficise has a progress tracking system that lets you log in and assign tasks to your virtual assistant. And you can check on the progress of any task at any time. So you can keep tabs on your virtual assistant's work and make sure everything is on track and meeting deadlines. With Efficise, you'll have the support you need to keep your blogging business running smoothly.
Efficise's virtual assistants are really tech-savvy. They're always up-to-date on the latest tools and trends so they can help you with anything from setting up email campaigns to optimizing your website for SEO. Some of the tools they use include:
Asana for team collaboration
Trello for project management
Hootsuite for social media scheduling
And it's not just about using the tools — Efficise's virtual assistants know how to get the most out of them. They'll help you set up workflows and automate tasks so you can focus on money-making.
Efficise Pricing Plans
Plan 1 ($20/month): 5 tasks of 30 minutes each.
Plan 2 ($45/month): 15 tasks of 30 minutes each.
Plan 3 ($75/month): 30 tasks of 30 minutes each.
Plan 4 ($100/month): 50 tasks of 30 minutes each.
3. Magic – AI-Driven Systematic Approach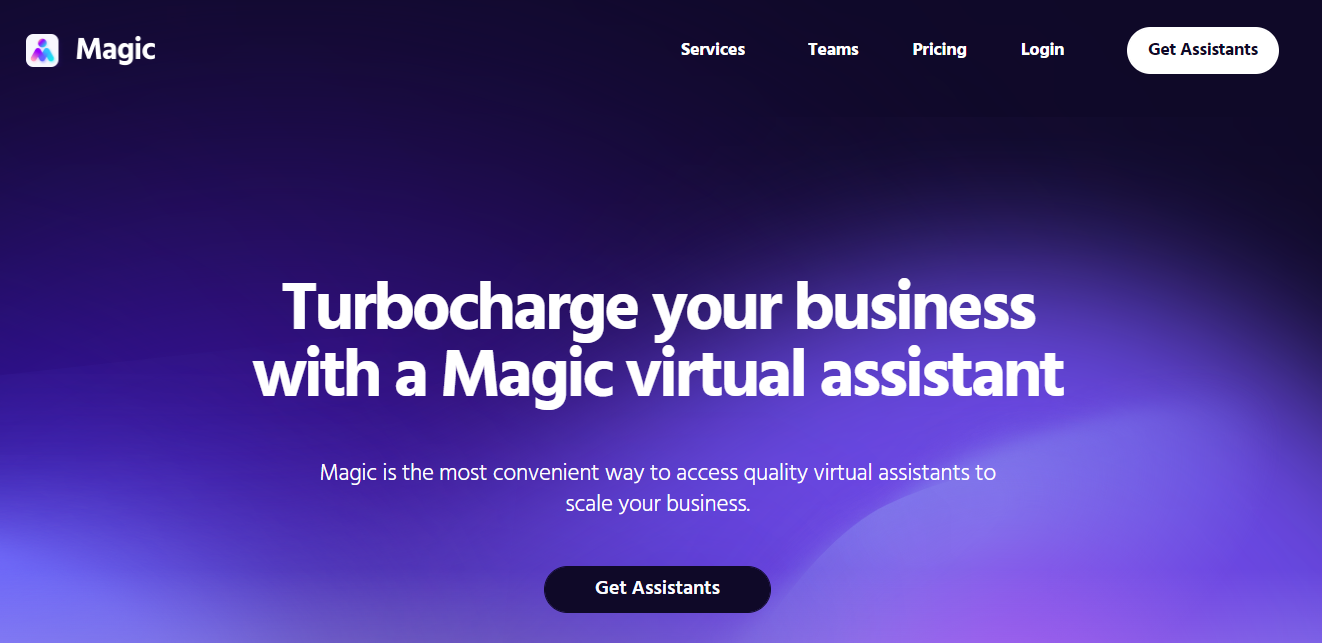 Established in 2015, Magic is a leading choice for bloggers looking to hire virtual assistants. They have caught the attention of major publications like the New York Times, Fortune, TechCrunch, and Wired. It's no wonder they're making waves in the industry.
Magic uses a combination of artificial intelligence and real human expertise to offer comprehensive support to its clients. They use Magic AI which is their own proprietary AI technology that helps their virtual assistants work more efficiently. So when you're working with one of their blogging assistants, you can expect things to be done accurately and quickly.
With Magic, you can hire a team of these virtual assistants in just under a week. This is especially useful for bloggers that need to expand quickly or those that experience sudden surges in demand. Plus, Magic is super selective and only chooses the top 3% of virtual assistant talent so you know you're getting the best of the best.
But the benefits don't stop there. Magic also lets you customize its services to fit your needs. Their platform can be integrated with popular productivity tools like Trello, Asana, Slack, Zoho, and many more. This means you can manage your tasks across multiple platforms with ease.
Magic Pricing Plans
Pricing is available on request.
4. Virtual Gal Friday – Providing VA Services Since 1998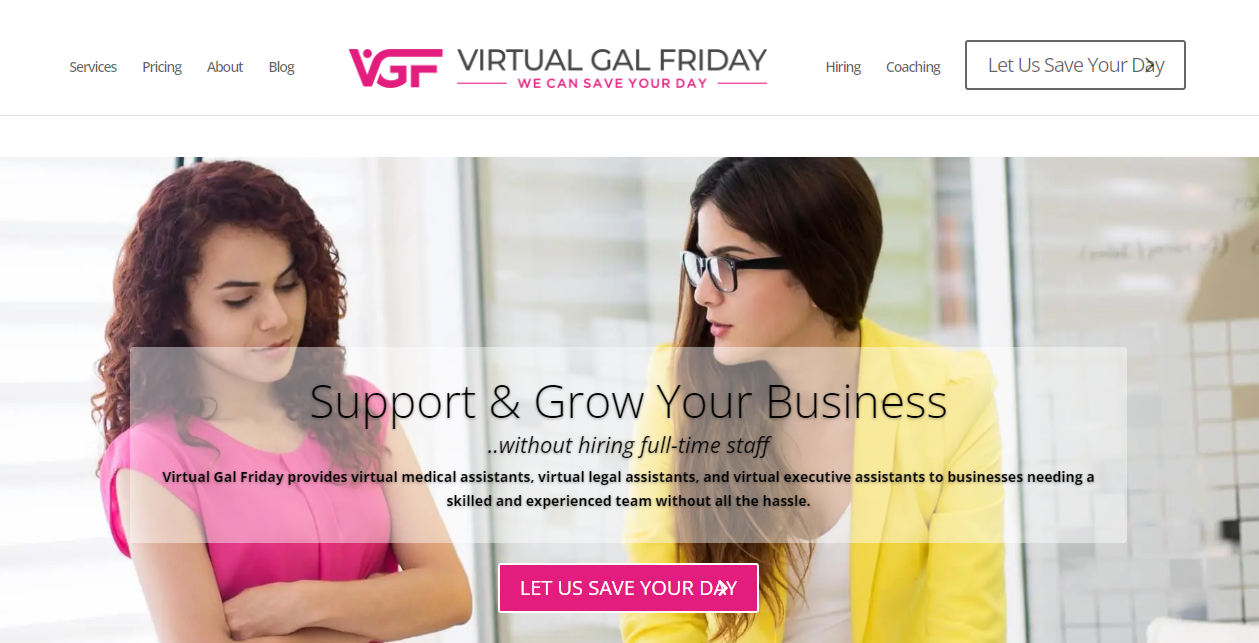 Virtual Gal Friday has been around since 1998 and they're all about providing top virtual assistant services for your blogging business. But what sets them apart from the rest is their rigorous interview process. They thoroughly analyze all their virtual assistants through a multi-step hiring process to make sure they're top-notch.
But that's not all — they also make sure their virtual assistants are highly trained and qualified to handle a variety of administrative and blogging tasks. In fact, they have an intense training program to make sure their team is up to date on all the latest skills and techniques.
And let's not forget about their background verification process – they've hired outside agencies to ensure that all their virtual assistants are legit and trustworthy. Their virtual assistants can handle anything from administrative duties like managing your inbox and scheduling appointments to more specific blogging tasks like editing posts and managing your social media presence. They're a one-stop shop for all your blogging needs.
Virtual Gal Pricing Plans
Pay as you go ($325): Pay upfront and replenish when all time is used.
VGF Basic ($500/month): Includes 10 hours/month.
VGF Pro ($920/month): Includes 20 hours/month.
VGF Premium ($1680/month): Includes 40 hours/month.
VGF Supreme ($2280/month): Includes 60 hours/month.
VGF Supreme Plus ($2880/month): Includes 80 hours/month.
5. Fancy Hands – Most Budget-Friendly

Fancy Hands is another leading name in the virtual assistance landscape. They can get you set up with a virtual assistant in just 48-72 hours. But what really sets them apart is that they provide you with a project manager to oversee your assistant's work. That way, if you ever have any questions or concerns about how things are going, you can just reach out to your project manager and they'll sort everything out for you.
The best part? Your assistant is just a text message away so you can get in touch with them anytime you need to. And don't worry about your data being compromised either — Fancy Hands takes your privacy very seriously and has industry-best security measures in place to keep your information safe.
Fancy Hands has a user-friendly app that makes it easy to communicate with your assistant and keep track of what they're working on. And if you ever feel like your assistant could improve in any way, you can even rate them to give them feedback and help them provide even better service.
Fancy Hands Pricing Plans
Small Plan ($17.99/month): Offers 3 requests.
Medium Plan ($29.99/month): Offers 5 requests.
Large Plan ($74.99/month): Offers 15 requests.
XL Plan ($149.99/month): Offers 30 requests.
6. Use Per Wish – Most Advanced Quality Control Mechanism
Use Per Wish is a VA services provider that specializes in virtual assistants for bloggers. Their team of trained professionals has extensive experience working in the blogging industry and can handle a wide range of tasks, including 
Creating graphics
Writing blog posts
Managing email lists
Scheduling social media posts
Whether you need help with how to post on your blog or manage your entire content strategy, you can count on them.
Use Per Wish has a multi-layered quality control system in place to ensure that the work done by their virtual assistants is of the highest quality. They have regular check-ins, performance evaluations, and a dedicated quality control team that ensures your work is up to par and meets your expectations.
Use Per Wish Pricing Plans
Hour-based subscription ($8/hour): 10 to 60 hours of balance/month.
Part-time subscription ($559/month): Offers assistance for 4 hours/day, 5 days/week.
Full-time subscription ($879/month): Offers assistance for 8 hours/day, 5 days/week.
Unlimited validity subscription (12/hour): Offers unlimited validity with flexible minute-based billing.
7. VA Staffer – Ideal For Content Repurposing
VA Staffer is a top VA business for bloggers who are always scrambling to keep up with their publishing schedule. They have been in the business for over 8 years, providing high-quality virtual assistant services to bloggers and entrepreneurs alike. With a team of 150+ virtual assistants, they can match you with someone who has the skills and experience to help you grow your blog and your business.
VA Staffer guarantees that they can increase your reach and improve your ROI within 30 days. And they have the track record to back it up — just check out their testimonials. 
One area where VA Staffer really shines is content repurposing. Their virtual assistants can take existing content from your blog post and reformat it for different platforms and media. VA Staffer also has virtual assistants who specialize in using various AI tools to complete content repurposing tasks quickly and efficiently. 
They can help you turn your blog posts into videos for YouTube or Instagram, create infographics to share on Pinterest, or break up long-form content into bite-sized pieces for social media.
VA Staffer Pricing Plans
Dedicated Assistant (Starts at $800/month): Offers 20 to 40 hours/week.
Hourly Plan (Starts at $298/month): Available for 20, 50, and 100 hours.
8. MyTasker – Most Trusted & Secure
Founded in 2012, MyTasker is a reputable company that offers exceptional support to bloggers. They offer a secure web login portal that ensures that your personal information is kept safe and confidential. So you can have peace of mind knowing that no one will ever see your password or any other sensitive information.
Another great thing about MyTasker is its team of skilled virtual assistants who have an eye for detail. They are dedicated to providing result-oriented services, ensuring that you get the results you need to grow your business. 
MyTasker provides comprehensive support for its clients. They prepare instructional videos and SOPs for every client. So if you ever need substitute support or want to add new virtual assistants to your team on short notice, you can do so without any hassle.
MyTasker Pricing Plans
VA 10 Hours ($140/month): Offers 10 hours/month.
VA 20 Hours ($250/month): Offers 20 hours/month.
VA 40 Hours ($450/month): Offers 40 hours/month.
VA 60 Hours ($600/month): Offers 60 hours/month.
VA 100 Hours ($900/month): Offers 100 hours/month.
9. QuickMonday – 100% Satisfaction Guarantee 
QuickMonday has been around since 2013 and has helped more than 1000 clients over the years. They have kept an impressive 99% of them as loyal customers which is pretty impressive.
If you're not happy with their service, QuickMonday offers a 100% Satisfaction Guarantee. If you ever feel like they're not meeting your needs, just reach out to their Client Happiness team and they'll credit your monthly fee in full.
QuickMonday uses Lastpass which allows you to share securely passwords with assistants which is really important, especially when working with virtual assistants who might not be in the same location as you.
Another great thing about QuickMonday is that they have a fast response time. This is important for bloggers that need help right away. You can use their virtual assistants as often or as little as you need to, without any long-term commitments. 
QuickMonday Pricing Plans
Entry ($60/month): Includes 10 hours from VAs having 2-4 years of experience. 
Intermediate ($140/month): Includes 20 hours from VAs having 4-6 years of experience.
Professional ($160/month): Includes 20 hours from VAs having 6-10 years of experience.
Expert ($360/month): Includes 40 hours from VAs having 10+ years of experience.
10. Wing Assistant – Most Advanced Communication & Monitoring
Wing Assistant is another great service provider that offers top virtual assistant jobs for bloggers. One of the standout features of Wing Assistant is its task management app. This powerful tool makes it a breeze to manage and track tasks assigned to your virtual assistants. 
With a dedicated chat system, built-in video messaging, a media library, and a Credentials feature, the app has everything you need to stay in touch with your team and keep tabs on their progress.
But Wing Assistant doesn't just provide a great app — they also offer a dedicated customer success manager to ensure that you're getting the most out of their services. This person will work with you to understand your business needs and help you find the right virtual assistants to meet them.
And when it comes to the virtual assistants themselves, Wing Assistant has some of the best in the business. Their team is highly skilled and can handle a wide range of blog-related tasks. 
Wing Assistant Pricing Plans
Part-time ($499/month): Offers 20 hours of work.
Full-time ($899/month): Offers 40 hours of work.
Full-time 2X ($1699/month): Offers 40 hours of work with two assistants.
11. We Are Working – Providing Fully-Supported Services
We Are Working has been making waves in the virtual assistant industry, boasting a 99% client success rate. They have a team of highly trained and experienced blogger VAs who can handle a wide range of tasks, from writing blog posts to managing social media accounts and ensuring that their clients are fully supported throughout the entire process.
But what does "fully supported" mean exactly? Well, We Are Working provides a range of resources to their clients, such as an Account Manager, Client Success Manager, and Client Success Director. These people oversee the VAs during different stages of the process, ensuring that everything is running smoothly and that all of the client's needs are being met.
We Are Working Pricing Plans
You can request an estimate by contacting their sales team.
12. Freedom Makers – Most Flexible Military Spouse Virtual Assistants
Freedom Makers offer amazing virtual assistant services to their blogger clients. But what really sets them apart from other companies is their unique pool of virtual assistants which comprises military spouses. These VAs have been through a lot – being part of military life means being adaptable and flexible when things don't always go according to plan. 
So when it comes to working, they are always prepared to handle any unexpected changes in their schedule without any problems. Freedom Makers' VAs are also known for their strong attention to detail. But what's even more impressive about Freedom Makers' virtual assistants is that they don't just offer their services, they become thought partners to their clients by adding that personalized touch.
Freedom Makers Pricing Plans
You can get a custom quote by contacting their customer support team.
13. Virtual Gurus – Most Diverse Pool Of Virtual Assistants
Virtual Gurus was founded in 2016 with the goal to provide bloggers with virtual assistants that were thoroughly vetted to ensure they were getting the best talent possible. To make sure that their clients receive the best possible virtual assistants, the team at Virtual Gurus put a lot of effort into the matching process. 
They use their own algorithm that takes into account both machine learning and human expertise. This personalized matching ensures that businesses are paired with the perfect virtual assistant for their needs.
Virtual Gurus take pride in their diverse team. Out of the total 800 virtual assistants, 65% of them are from underrepresented communities. This makes their virtual assistant services more inclusive and gives talented and motivated individuals from these communities the opportunity to make a difference in the blogging industry.
Virtual Gurus Pricing Plans
Virtual Gurus have three different packages but the pricing is available on demand. 
14. Delegated – Most Rigorous Hiring Process
Delegated is a great option for blogging businesses and individuals looking to hire virtual assistants. Their team of virtual assistants is based in the US and is carefully selected through a strict recruitment process.
To make sure they find the best virtual assistants for their clients, Delegated uses tools like DISC and PI to evaluate each candidate. By doing this, Delegated can ensure that each virtual assistant they hire is not only capable of completing the tasks at hand but is also a great fit for the client's requirements.
Delegated also offers a variety of communication channels so that clients can easily stay in touch with their virtual assistants. Whether it's through email, phone, or even video chat, you can be sure that you'll always be able to reach your assistant when you need them. 
Delegated Pricing Plans
Lite ($1200/month): 25 hours of task work/month.
Ramp ($2400/month): 50 hours of task work/month.
Pro ($3600/month): 75 hours of task work/month.
15. Virtalent – Ideal For Small Businesses
Virtalent is an excellent option for bloggers looking to hire virtual assistants for their blogging business. They have been in the business for 15 years and with that kind of experience, you know you're in good hands.
90% of Virtalent's clients are startups and scaleups. They understand the needs of growing businesses very well. They know that as a blogger, you're likely to be working on a tight budget and need to be as efficient as possible. With Virtalent, you get a flexible service that can be tailored to your needs so you only pay for the hours you need.
Virtalent offers rolled-over hours, holiday cover, and easy switch plans. Their dedicated Client Success Manager will work with you every step of the way to ensure that you're getting the most out of your virtual assistant service. 
Virtalent Pricing Plan
Entrepreneur ($335/month): 10 hours of work.
Small Business ($645/month): 20 hours of work. 
Executive ($1240/month): 40 hours of work.
Ultimate ($1572/month): 60 hours of work.
16. WorxBee – Fortune 500-Level Virtual Assistants
WorxBee is a leading provider of blogging virtual assistants which can help you better manage your work life. These virtual assistants are highly skilled and trained in providing assistant services similar to those of Fortune 500-level companies.
WorxBee's virtual assistants are trained in the Entrepreneurial Operating System (EOS) which gives them a deep understanding of the blogging industry and can help you navigate the ever-changing landscape with ease.
They understand the ins and outs of the blogging world, from the latest trends to the key players in the industry. So whether you need help managing your social media accounts, scheduling appointments, or creating content, WorxBee's virtual assistants are always at your service.
WorxBee Pricing Plans
WorxBee offers tailor-made plans. You can get in touch with them to get quotes.
Conclusion 
As a blogger, it's easy to get overwhelmed with the never-ending to-do list that comes with running a successful blog. From writing compelling content to responding to comments to managing your social media accounts – it can be a lot for one person to handle. But with a specialized virtual assistant for bloggers, you don't have to do it all alone.
Zirtual is one virtual assistant service provider that's been tried and tested by thousands of satisfied customers. We provide a full-service virtual assistant platform that has been designed specifically for bloggers and offers a wide range of services.
Our virtual assistants are trained to handle your blog with the same care and attention that you would. Book a free consultation with Zirtual today and let us help you grow your blog to the level it deserves.