Poor customer support or having none altogether – both scenarios will result in misunderstandings piling up faster than a tower of Jenga blocks, threatening to topple your reputation with one wrong move. The solution to all this chaos? Hire a trustworthy customer service virtual assistant.
From chat wizards who can magically turn a frustrated customer into a loyal advocate, to email maestros who can tame even the wildest inbox, these highly skilled VAs can restore order and save you from all those hair-pulling moments. 
Interested to know more? Just read our guide as we are going to unveil the ultimate lineup of the 16 best places for hiring promising VA talent. Once you've gone through the complete article, you'll be clear about picking that one website that offers the most skilled customer service virtual assistants.
16 Best Platforms For Hiring Proficient Customer Service Virtual Assistants
Our top 3 picks for the leading websites for hiring customer service VAs are:
Zirtual – Best overall 
Belay – Award-winning virtual assistant services
Boldly – Most experienced customer support virtual assistants
Here's a detailed look at all 16 platforms to discover the incredible features they have to offer 
1. Zirtual – Top Pick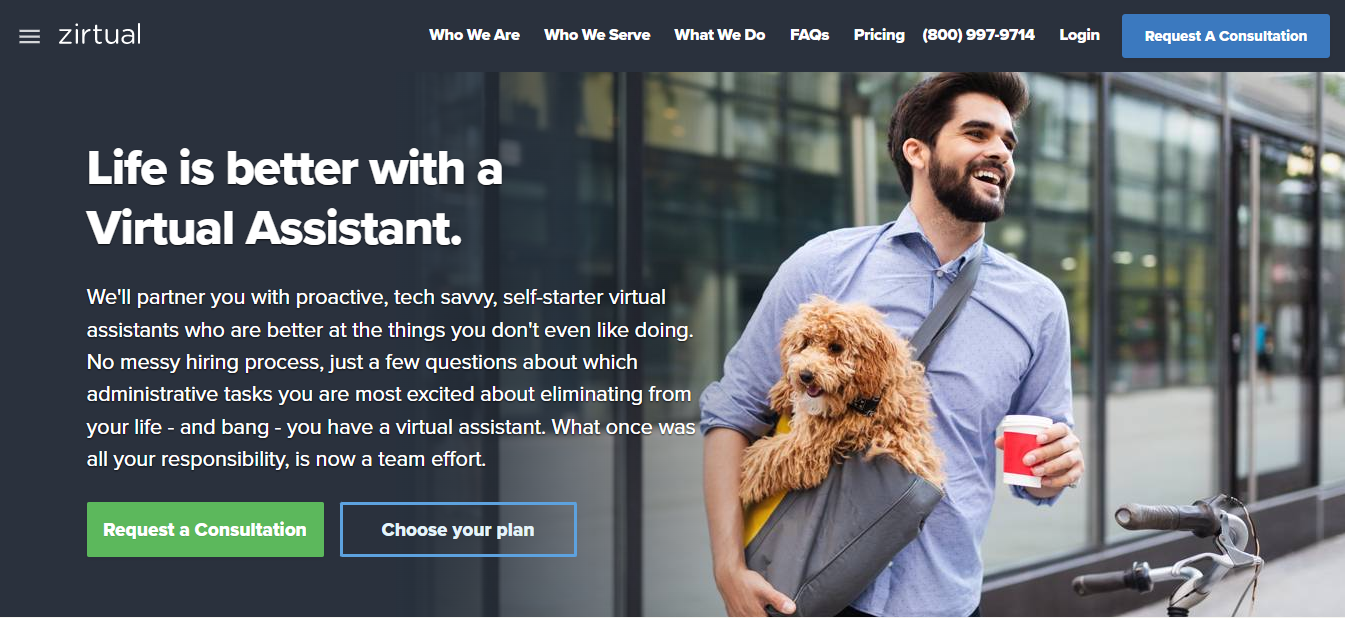 Zirtual stands out as the top choice for recruiting customer service virtual assistants. Our team comprises exceptional virtual assistants based in the US, known for their remarkable skills and expertise in various domains, each holding a college degree.
At Zirtual, we know that different tasks require specialized skills and knowledge, and not every virtual assistant can handle them. Rest assured that when you partner with Zirtual, you're not just getting an exceptional virtual assistant but also gaining access to a full team of specialized professionals.
Our rigorous assessment process leaves no room for compromise and we only hire only the most exceptional individuals. As part of our thorough vetting process, we conduct comprehensive background checks to ensure that each individual on our team has a clean record.
At Zirtual, our streamlined onboarding process ensures that our expert VAs are equipped to start strong. We provide comprehensive training and support to empower our customer support virtual assistants with the skills and knowledge they need to excel in their roles from day one. By focusing on efficiency and effectiveness, we minimize any downtime and maximize the productivity of our virtual assistants.
Zirtual Pricing Plans
Zirtual offers 4 pricing plans.
Entrepreneur Plan ($549/month): 12 hours of work with 1 user.
Startup Plan ($849/month): 24 hours of work with 2 users.
Small Business Plan ($1,249/month): 36 hours of work with 3 users.
Team Plan ($1,699/month): 50 hours of work with 5 users.
2. Belay – Award-Winning Virtual Assistant Services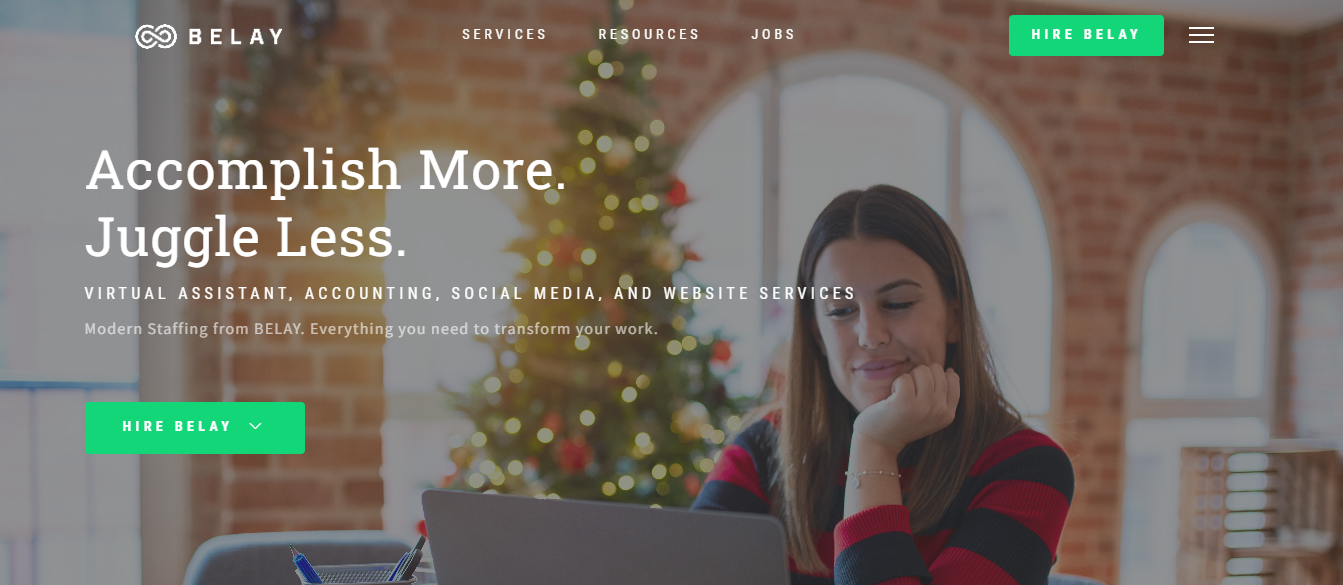 Belay was founded in 2010 and boasts a vast network of more than 1,200 highly skilled virtual assistants located in 48 states across the USA. With such wide geographic coverage, you'll get a virtual assistant who is familiar with regional dialects, cultural sensitivities, and time zones, ensuring seamless customer interactions.
Belay has earned a prestigious spot in the Inc. 5000 list of fastest-growing private companies in the United States. They have streamlined their processes to connect you to a customer service virtual assistant in less than a week. Their efficient onboarding process ensures that you can quickly integrate the virtual assistant into your operations. 
To maintain their high standards of quality, Belay has implemented a rigorous hiring process for their customer support virtual assistants. They conduct thorough video interviews and skills assessments to assess their abilities, expertise, and dedication to customer service. Belay's commitment to excellence is reflected in its acceptance rate, which is lower than that of Harvard University.
Belay Pricing Plans
Belay's pricing plans start at $1,380 for 30 hours. Contact Belay for a customized plan.
3. Boldly – Most Experienced Customer Support Virtual Assistants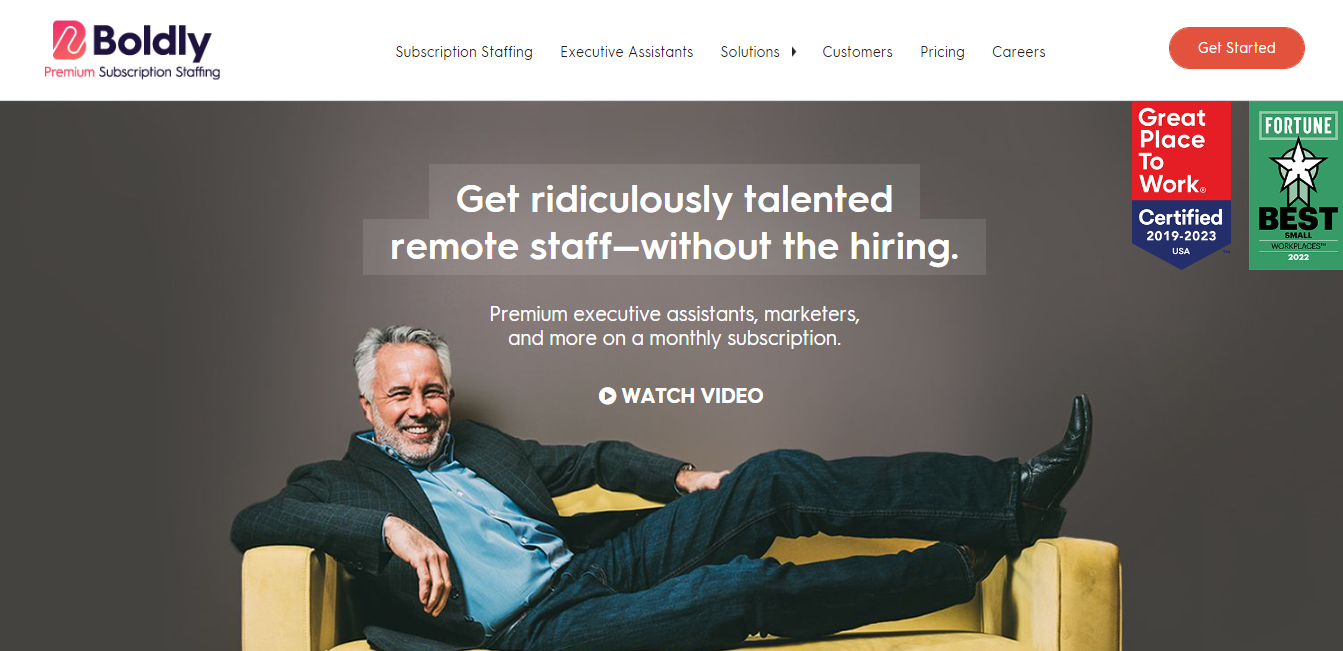 Boldly has been in the business since 2012. With over a decade of experience, they have fine-tuned their processes and perfected the customer service approach. Their customer service virtual assistants have worked with renowned companies such as Google, Microsoft, and Amazon.
At Boldly, they only select virtual assistants who have 10-15 years of experience in customer support roles. The company has a highly competitive selection process and only 1% of applicants make it through their rigorous screening.
Their virtual assistants are not only highly skilled but also friendly and customer-centric. They are trained to empathize with your customers, ensuring that every interaction is personalized and leaves a lasting impression.
With Boldly, you get access to their extended team of specialized virtual assistants. Whether it's technical support, social media management, or any other specialized area, their extended team is ready to assist you. The company also provides a fully-trained backup for your virtual assistants.
Boldly is confident in the capabilities of their virtual assistants and that's why they offer a 100% satisfaction guarantee with a refund policy. 
Boldly Pricing Plans
Plan A ($2,200/month): Offers 40 hours of work.
Plan B ($2,750/month): Offers 50 hours of work. 
Plan C ($3,300/month): Offers 60 hours of work.
Plan D ($4,400/month): Offers 80 hours of work.
Plan E (Custom Pricing): Offers up to 160 hours of work.
4. Prialto – Enterprise-Level Security Protocols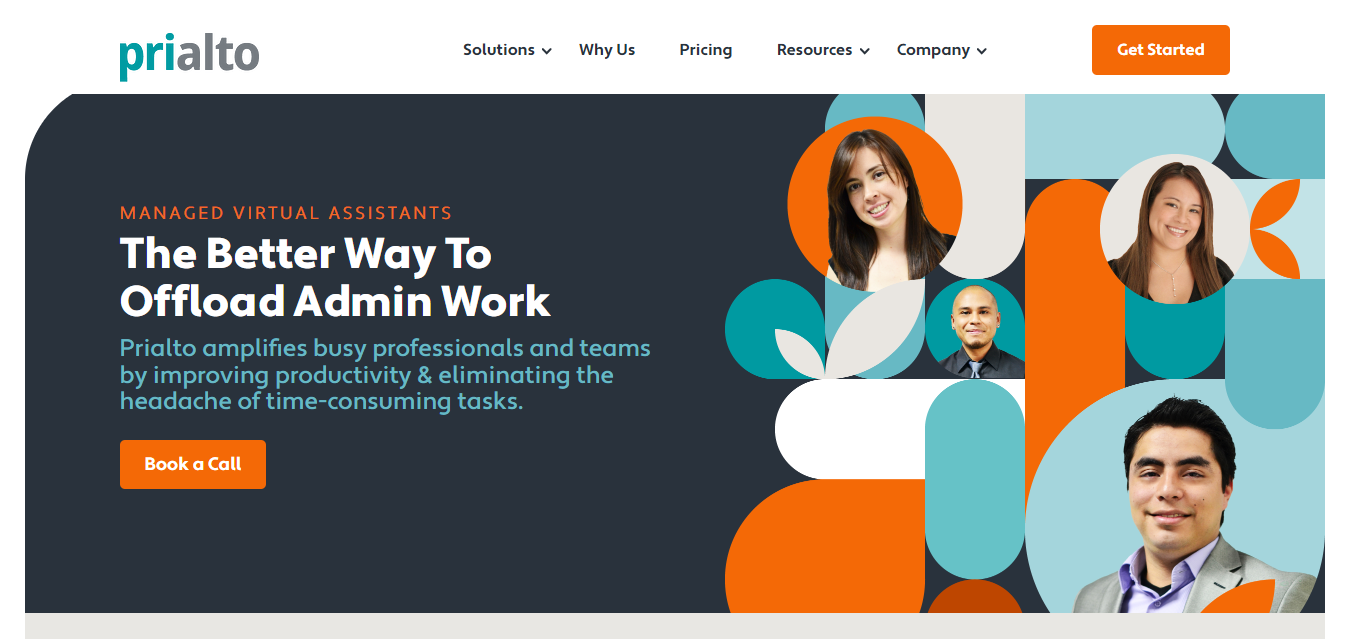 Since 2009, Prialto has provided over 1 million hours of service to various businesses, making them ready for the challenges and requirements of different industries. Prialto's virtual assistants take a consultative approach. So they don't simply address customer inquiries or concerns – they actively listen, empathize, and offer personalized solutions to create a positive customer experience. 
To ensure a seamless workflow, your customer service tasks are divided among a team of skilled virtual assistants. This distributed approach minimizes downtime and guarantees that your customers receive prompt and consistent support. Prialto has enterprise-level security protocols in place and adheres to strict data privacy regulations.
The company provides a state-of-the-art platform that streamlines the entire customer service process. This platform enables efficient communication between your team and Prialto's virtual assistants.
To make the transition process as smooth as possible, they have developed a streamlined mechanism. Their experienced team guides you through the onboarding process to ensure a smooth integration of their virtual assistants into your existing operations.
Prialto Pricing Plans
"Yourself" ($1,350/month): 55 hours of work. 1 user included.
"Your Team" ($4,050/month): 165+ hours of work. 3+ users.
"Your Organization" (Custom Pricing): 440+ hours of work. 8+ users.
5. Fancy Hands – For Effortless Communication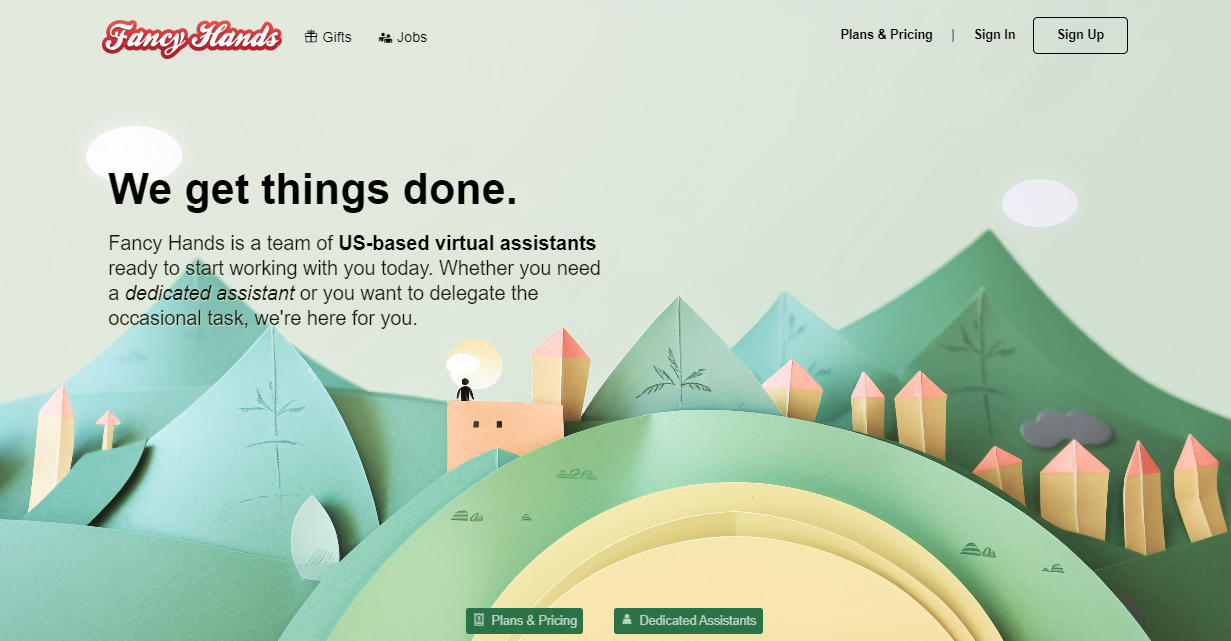 Fancy Hands was founded in 2010 and has successfully served over 1,000 clients. Their platform features a user-friendly app designed to make your experience seamless and efficient. The intuitive interface allows you to easily manage and communicate with your customer support virtual assistant.
At Fancy Hands, they assign a dedicated project manager to oversee your customer service virtual assistant's work and ensure clear communication, effective coordination, and high-quality outcomes. Their platform employs state-of-the-art security measures to safeguard your data and ensure confidentiality. 
Fancy Hands will match you with a highly skilled virtual assistant within 48-72 hours of your request, thanks to their efficient matching process. They hire only the top 3% of talent with a minimum of 10 years of customer service experience and their VAs undergo meticulous screening for skills, experience, and professionalism.
Fancy Hands Pricing Plans
Small Plan ($17.99/month): Offers 3 requests.
Medium Plan ($29.99/month): Offers 5 requests.
Large Plan ($74.99/month): Offers 15 requests.
6. Bizee – Ideal For Multi-Platform Support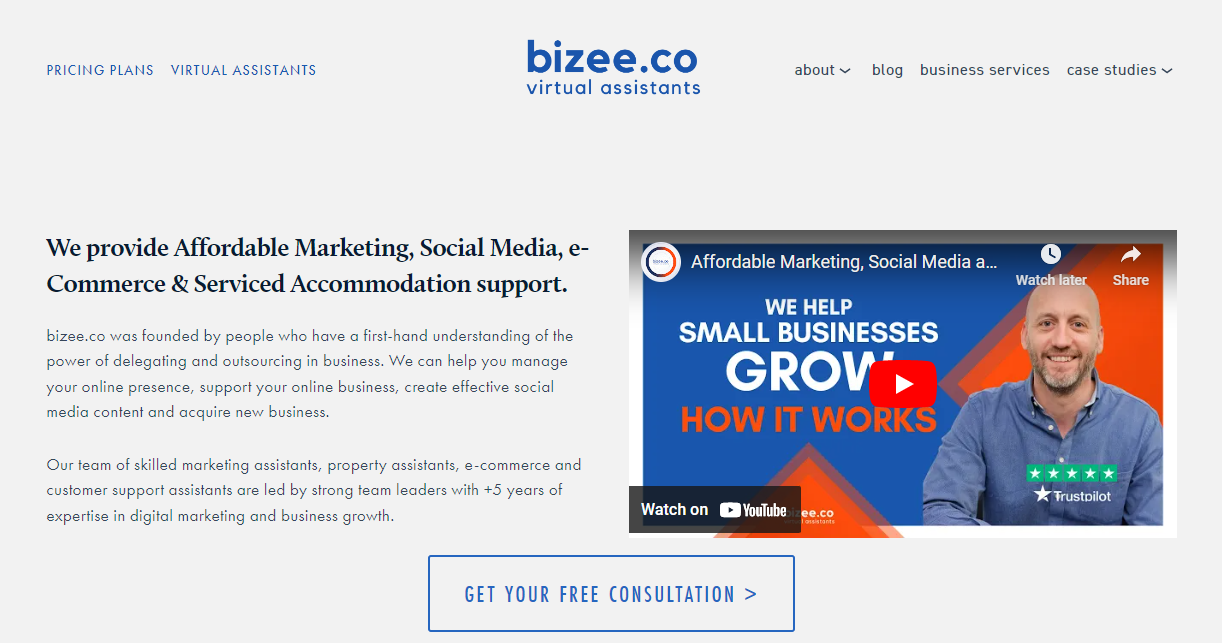 Bizee has been providing Europe-based customer service virtual assistants since 2017. So if your business is located in Europe, Bizee's VAs will minimize language barriers and cultural differences that might affect the quality of customer service.
Their skilled virtual assistants are trained to provide multi-platform support. Whether your customers prefer real-time interactions through live chat or require phone support, their customer service VAs are well-versed in all channels. 
At Bizee, they provide rigorous training programs to equip their virtual assistants with the necessary skills for handling various customer service scenarios. They are adept at managing inquiries, resolving complaints, and providing accurate information to your customers.
Bizee provides tailor-made solutions for enhanced customer satisfaction. So whether you need assistance during peak hours, after-hours support, or even 24/7 coverage, their customer service virtual assistants are flexible and adaptable.
Bizee Pricing Plans
Contact Bizee to get custom quotes for their customer service VA plans.
7. Virtual Gal Friday – Oldest Virtual Assistance Company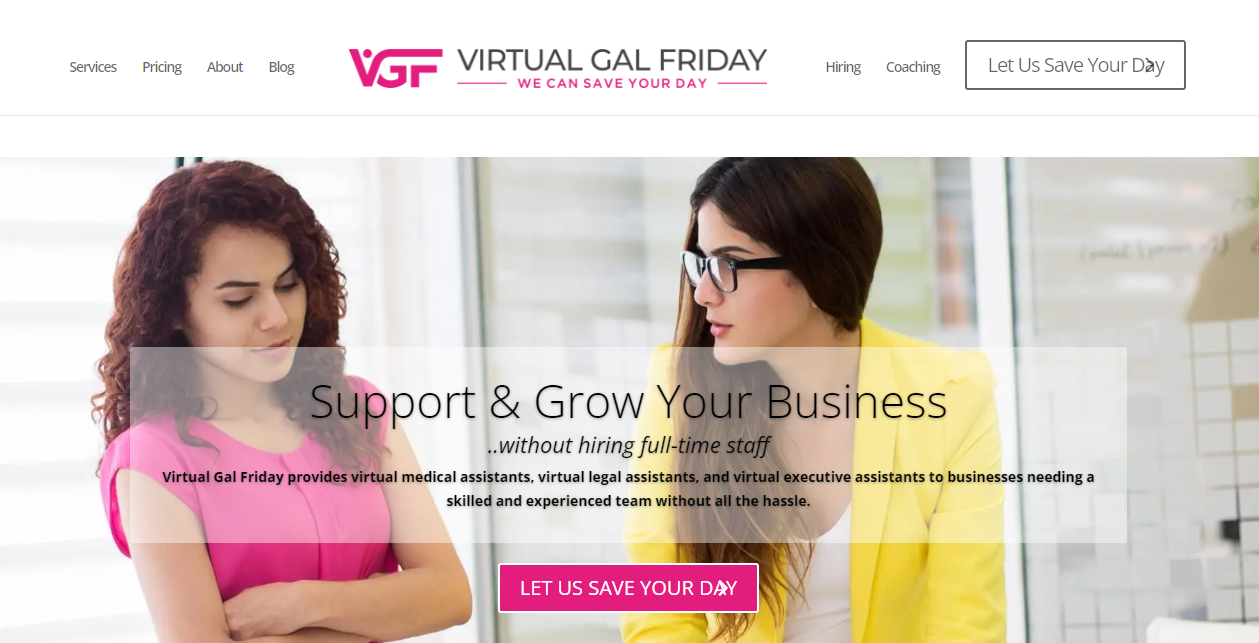 Since its establishment in 1998, Virtual Gal Friday has consistently proven its expertise in the field of customer service virtual assistance. Their team of virtual assistants is carefully selected through a multi-step hiring process. 
At Virtual Gal Friday, they have implemented a strict background verification process for all their virtual assistants. This process involves comprehensive checks and assessments to ensure the credibility and reliability of their team members. The company has partnered with trusted outside agencies specializing in background verifications, providing an extra layer of security and confidence in its hiring procedures.
The customer support virtual assistants at Virtual Gal Friday have extensive experience in the industry that has given them deep insights into the specific challenges and requirements of various businesses. They have equipped their virtual assistants with the latest tools and technologies to streamline customer interactions and ensure efficient communication.
Virtual Gal Pricing Plans
Pay as you go ($325): Pay upfront and replenish when all time is used.
VGF Basic ($500/month): Includes 10 hours/month.
VGF Pro ($920/month): Includes 20 hours/month.
VGF Premium ($1680/month): Includes 40 hours/month.
VGF Supreme ($2280/month): Includes 60 hours/month.
VGF Supreme Plus ($2880/month): Includes 80 hours/month.
8. QuickMonday – Prioritizing Customer Satisfaction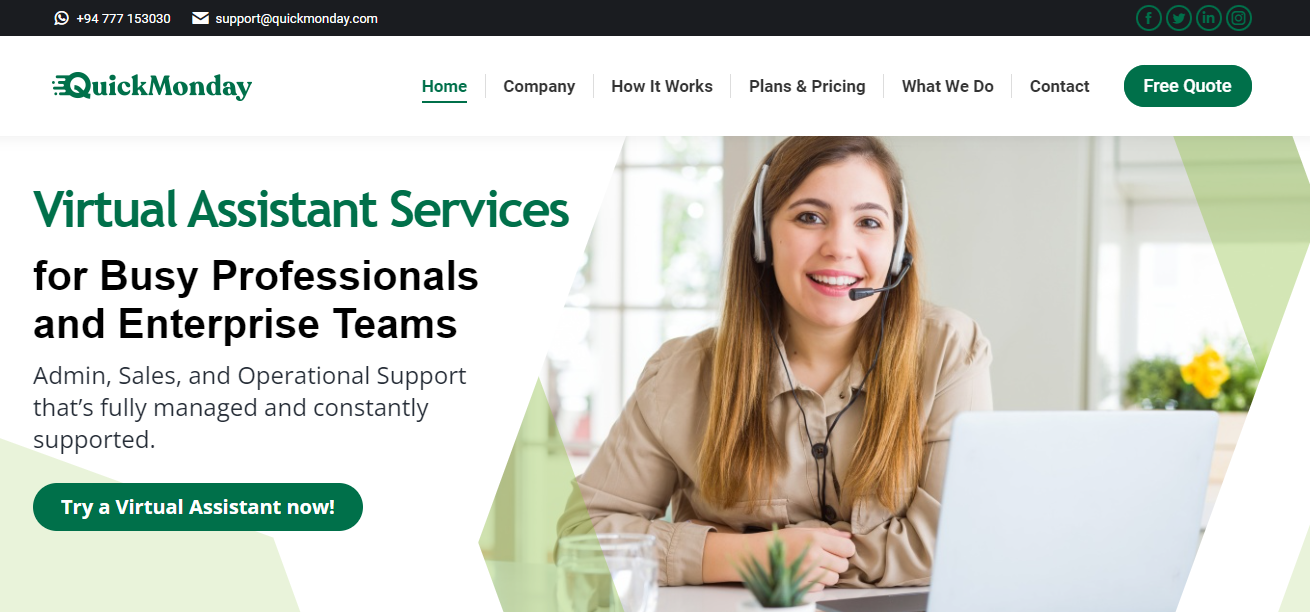 QuickMonday started its operations in 2013 and since then they have served 1,000+ clients, accumulating extensive experience in the field. QuickMonday's exceptional service is further exemplified by its remarkable 99% customer retention rate. 
Understanding the importance of timely interactions with customers, QuickMonday's virtual assistants are trained to address customer inquiries and concerns promptly and efficiently. The company prioritizes the protection of sensitive customer information and employs tools like LastPass to ensure secure data management. 
Another significant advantage QuickMonday offers is its 100% satisfaction guarantee. If, for any reason, you are not completely satisfied with the service, QuickMonday provides free VA replacement or they will refund your money. 
QuickMonday Pricing Plans
Entry ($60/month): 10 hours from VAs having 2-4 years of experience. 
Intermediate ($140/month): 20 hours from VAs having 4-6 years of experience.
Professional ($160/month): 20 hours from VAs having 6-10 years of experience.
Expert ($360/month): 40 hours from VAs having 10+ years of experience.
9. The Virtual Hub – Most Highly-Trained VAs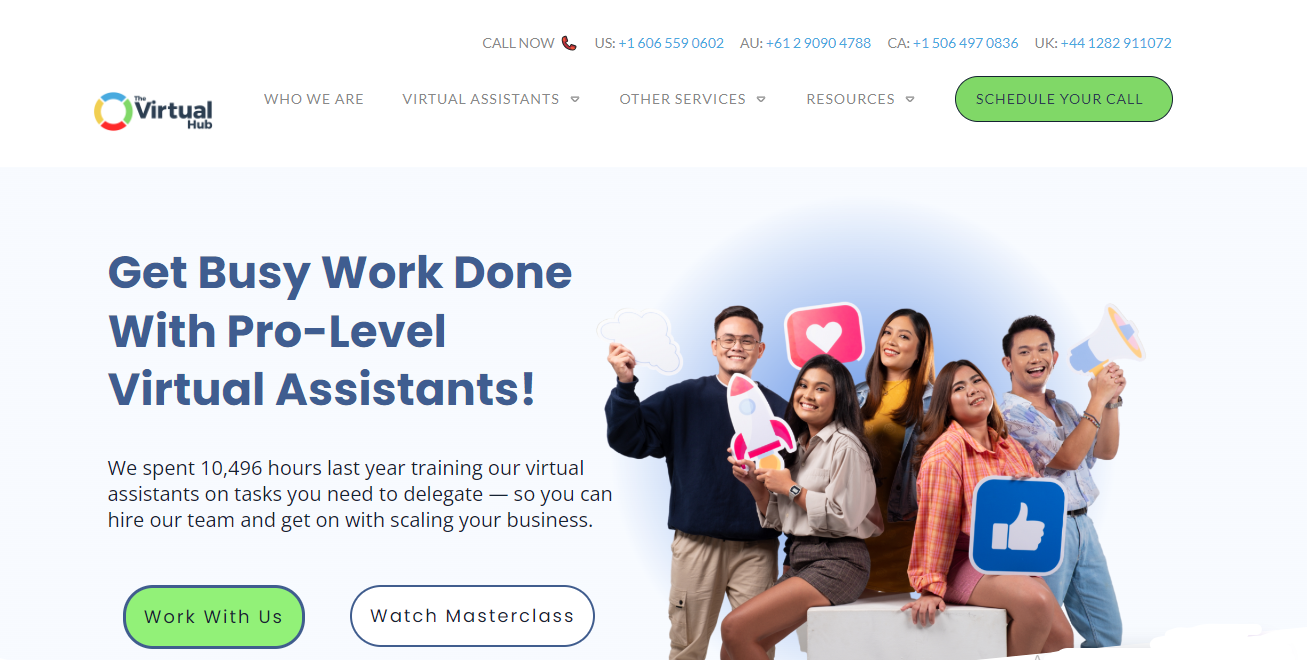 Established in 2015, The Virtual Hub has emerged as one of the leading companies in the industry. They have successfully served over 500 customers across various industries. The company knows that good customer service is crucial for business growth and success. For this, they have invested over 10,000 hours in training their virtual assistants through comprehensive training programs. 
This investment in training guarantees that virtual assistants are equipped with the knowledge and capabilities to handle customer queries, resolve issues, and provide personalized support effectively.
The Virtual Hub is highly customer-centric and places great emphasis on customer feedback. This helps them refine their processes and improve customer service.
The Virtual Hub Pricing Plans
Customized plans are available on request.
10. Virtual Assistant Talent – Most Systematic Approach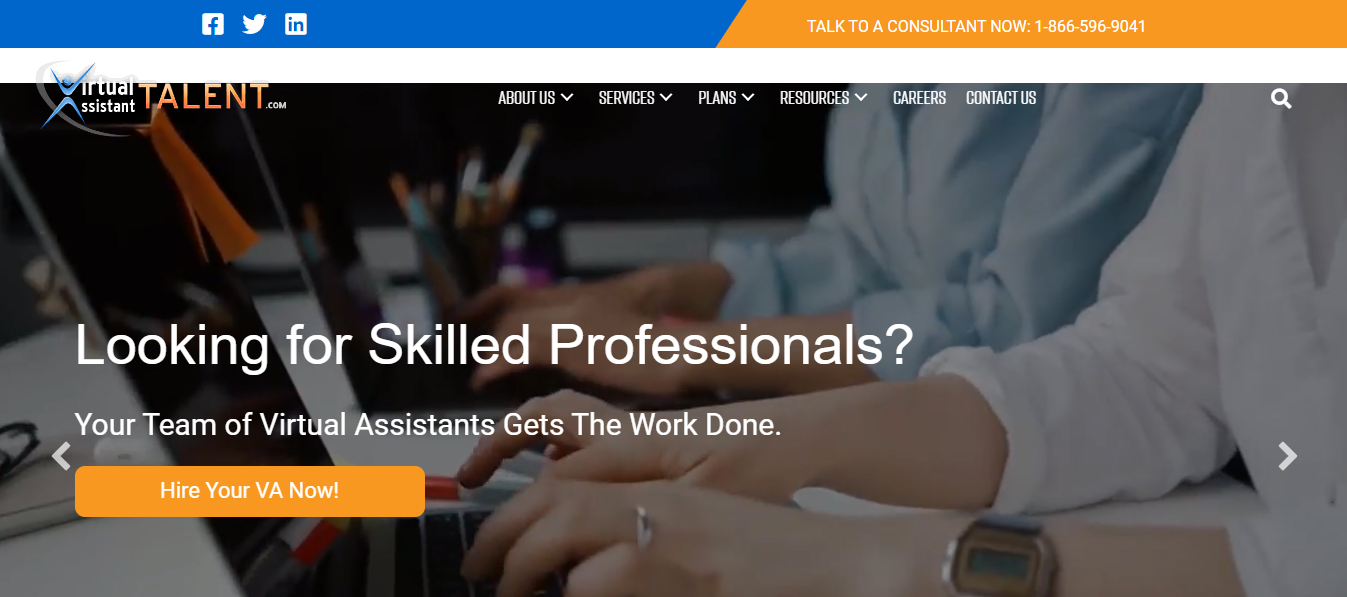 Virtual Assistant Talent was established in 2010 and has experience serving businesses across various industries, including eCommerce, healthcare, technology, and more. The company is accredited by Better Business Bureau (BBB) with an A rating.
Virtual Assistant Talent employs a stringent screening process to select highly skilled and qualified virtual assistants. They provide thorough training to their virtual assistants, equipping them with the tools to handle customer complaints and inquiries and provide exceptional service. Their virtual assistants are proficient in handling customer interactions across various channels, including phone calls, emails, live chat, and social media. 
At Virtual Assistant Talent, the customer service virtual assistants proactively engage with customers to address their concerns promptly and effectively. This proactive approach helps in resolving issues before they escalate, enhancing customer satisfaction and loyalty.
Virtual Assistant Talent Pricing Plans
Their rates start at $13.95/hour. They have multiple options of weekly plans that start from $139.50 and go up to $558/week. For monthly plans, their starter package is priced at $558 and goes up to $2,232/month.
11. GetFriday – Quickest Onboarding Process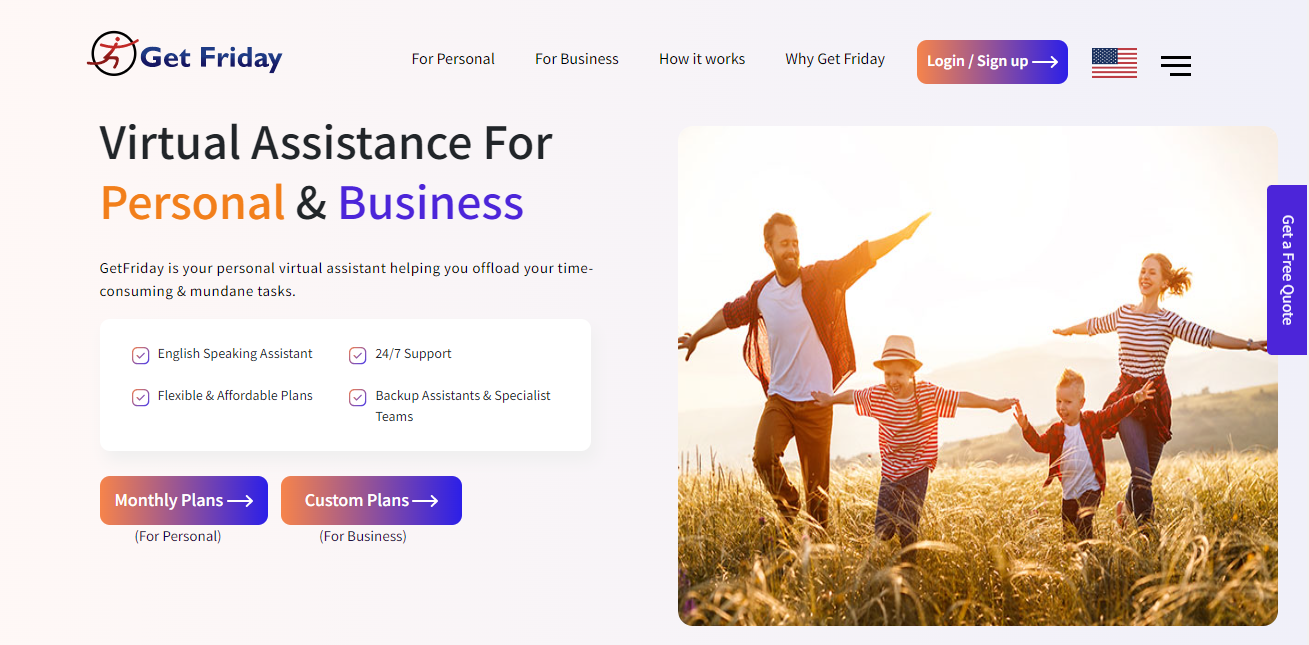 GetFriday was established in 2005 and as an ISO 27001-certified company, it prioritizes data security and confidentiality to protect your sensitive business information. They only hire graduates, ensuring that you have access to a highly educated and skilled workforce. 
GetFriday also offers access to a specialized team for technical tasks at no additional cost. To date, the company has served over 8,000 customers from 80 different countries. Their vast experience working with diverse businesses gives them valuable insights into various business processes. 
GetFriday will connect you with the perfect virtual assistant who matches your requirements within just 24 hours.
GetFriday Pricing Plans
Basic 5 ($65/month): 5 hours of work.
Basic 10 ($120/month): 10 hours of work. 
Basic 20 ($200/month): 20 hours of work.
Custom Plans: Tailor-made quotes.
12. Virtual Gurus – Most Diverse Team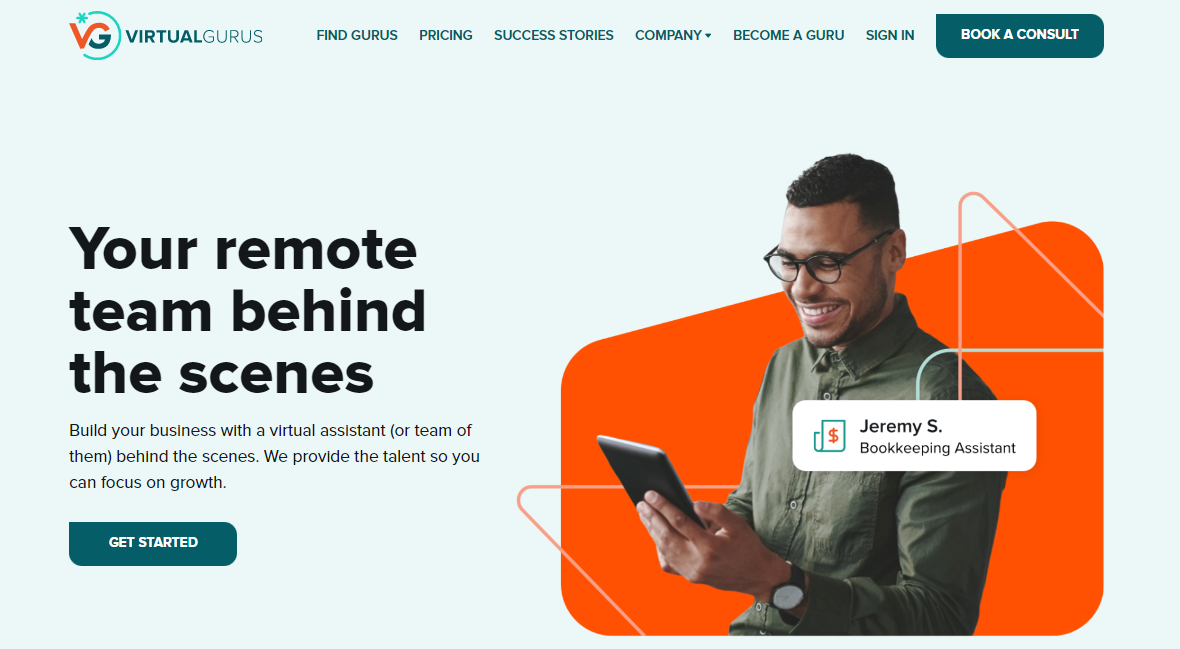 Established in 2016, Virtual Gurus has steadily grown its team to include over 800 highly skilled and experienced virtual assistants. Their commitment to diversity and inclusion is remarkable as more than 65% of their virtual assistants come from underrepresented communities, creating a rich and varied talent pool.
Virtual Gurus has employed a unique and meticulous matching process. They use an advanced AI algorithm that combines the power of machine learning with human expertise to ensure the best possible match between you and your virtual assistant. By building this connection, Virtual Gurus helps to cultivate customer loyalty as the virtual assistant becomes an integral part of the business's support system.
Virtual Gurus Pricing Plans
Virtual Gurus have 3 different packages but the pricing is available on demand. 
13. Byron – Ideal For Seamless Integration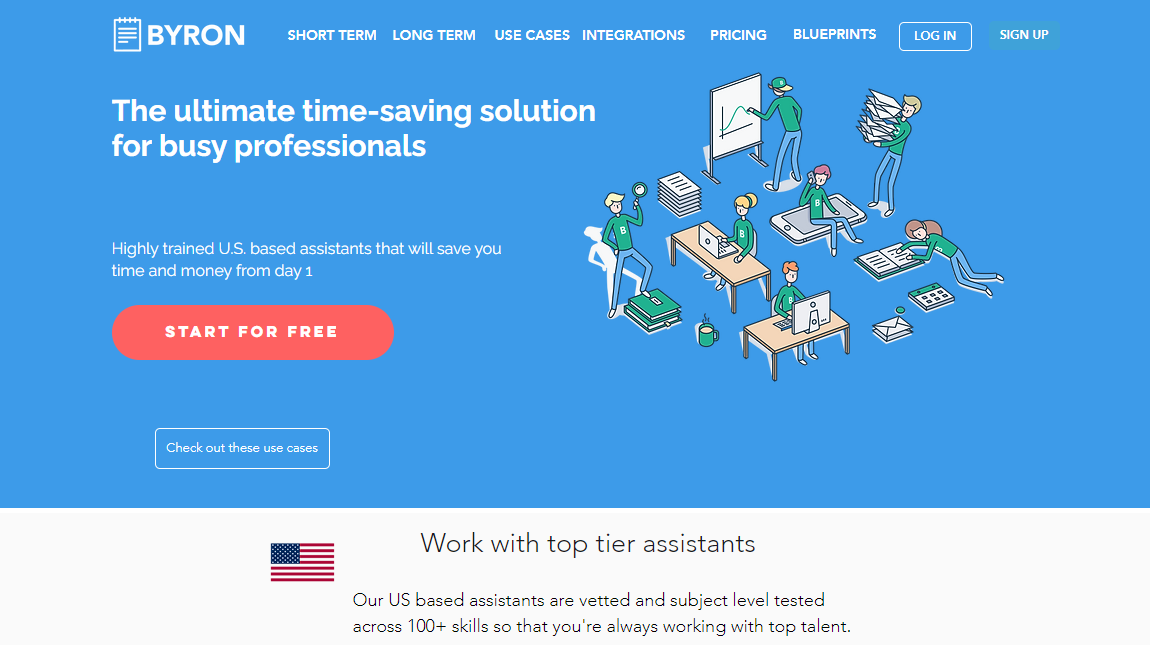 Byron, founded in 2016, is recognized as one of the leading companies to hire a customer service virtual assistant. They have one of the most strict hiring processes where they subject their virtual assistants to thorough testing, assessing them for over 100 different skills. 
Byron offers an advanced monitoring and scheduling platform which is a valuable asset for any business owner looking for customer service support. With it, you can keep track of the performance of your virtual assistant and assign new tasks effortlessly.
Byron's platform is designed to seamlessly integrate with over 1,000 tools commonly used in business operations. Whether you rely on CRM software or other essential tools, Byron's platform can be integrated to enhance efficiency and improve business operations.
Byron Pricing Plans
Pilot ($290/month): Includes 10 hours.
Regular ($540/month): Includes 20 hours.
Plus ($990/month): Includes 40 hours.
Pro ($1,950/month): Includes 80 hours.
14. Premium Help – Most Collaborative VA Team
With over a decade of experience in the industry, Premium Help has served over 1,100 international clients from 47 countries. This extensive experience has equipped Premium Help with a deep understanding of customer service dynamics and the ability to deliver exceptional results.
Premium Help has a team of 70+ highly skilled customer support virtual assistants who are experts in their field. Each virtual assistant is carefully handpicked for their excellent communication skills, ensuring that they can effectively engage with customers and provide top assistance.
When you hire a virtual assistant from Premium Help, you not only get an individual dedicated to your business but you also gain access to a whole team of professionals who are ready to support your virtual assistant in various tasks. The best part about this offering? They won't charge you anything extra.
Premium Help Pricing Plan
Plan A ($249/month): 20 hours of work.
Plan B ($449/month): 40 hours of work. 
Plan C ($799/month): 80 hours of work.
Plan D ($1,299/month): Full-time employee.
15. Ossisto – Most Budget-Friendly
Ossisto has been a trusted player in the virtual assistant industry since 2017. Their team comprises over 150 skilled virtual assistants located in 5 countries, ready to provide round-the-clock assistance to you. Having served over 650 customers, Ossisto has a proven track record of delivering exceptional customer service solutions.
Ossisto provides high-quality assistance at competitive rates so you can save on operational costs without compromising on service quality. Their services can be easily scaled up or down to meet the changing needs of your business. Ossisto's customer service virtual assistants are well-versed in using various communication platforms, CRMs, and ticketing systems, enabling seamless integration with your existing systems.
Ossisto Pricing Plans
Ossisto prices start from $8/hour. Custom plans are available on demand.
16. WorxBee – Most Advanced Workflows
WorxBee has been providing Fortune 500-level virtual assistant services since 2013, guaranteeing the same level of professionalism and quality. Their virtual assistants are trained in the Entrepreneurial Operating System (EOS), a highly effective framework for businesses seeking to improve their operations and achieve long-term success. 
WorxBee has consistently helped businesses increase their income by 40% through their customer service virtual assistants. The company invests heavily in training and development and provides ongoing coaching and professional development opportunities to its VAs. Due to their proactive problem-solving approach, they can anticipate potential issues, resolve customer concerns efficiently, and turn challenging situations into positive experiences. 
WorxBee Pricing Plans
Tailor-made plans are available on demand.
Conclusion
The convenience and flexibility of hiring a customer service virtual assistant cannot be understated, especially in a world where exceptional customer service is a key differentiator. Improved customer relations, more leads, better lead conversions – these are just a few of the perks of having an expert customer service VA by your side.
At Zirtual, we understand the power of exceptional customer service in today's competitive landscape. That's why our customer service virtual assistants are here to revolutionize your business. We'll reshape the way you interact with your customers, leaving a lasting impression that sets you apart from the competition.
Book a free consultation and feel the Zirtual difference.