Having an inbox that is a wild lion, a calendar that is no less than a labyrinth maze, and ever-increasing paperwork towering like Jenga blocks, you are no less than a ringmaster who is juggling more acts than the circus performers. What you need is a virtual administrative assistant to make you the P.T. Barnum of your greatest show on earth.
Pumped to read more? Well here's the deal: If you need to team up with a talented VA who can transform your chaos into a harmonious symphony of productivity, you are at the right place. Our article enlists 16 of the best virtual landscapes to hire virtual administrative assistants.
By the end of this whimsical journey of unveiling the best sites for hiring a virtual administrative assistant, you will have a clear picture of what each site offers in terms of unique features, what they offer, and the pricing that suits your requirements the most.
16 Best Platforms To Hire Talented Virtual Administrative Assistants
Here are our top 3 picks for the best websites to hire the right virtual administrative assistant:
Zirtual – Best overall 
Delegated – Best VA matching mechanism
Wishup – Most diverse skill sets
Let's get started with a detailed review of the 16 best sites for hiring a virtual administrative assistant.
1. Zirtual – Top Pick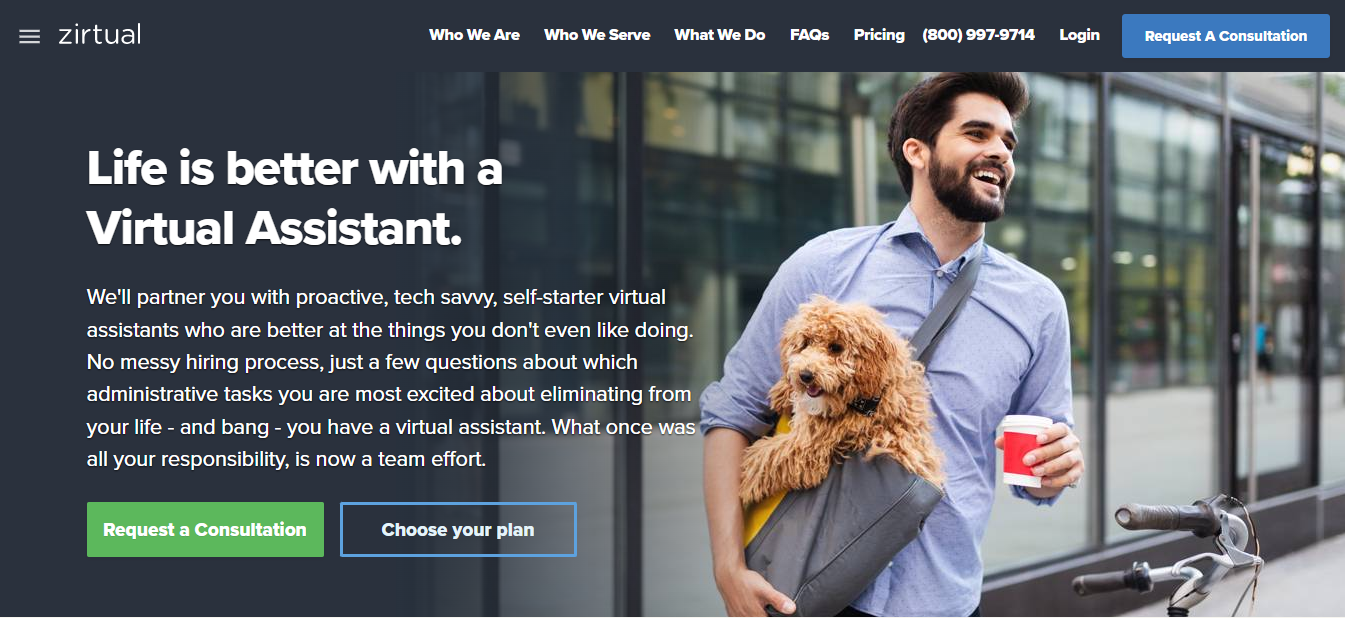 With a firm foundation laid in 2011, Zirtual has been at the forefront of the virtual administrative assistance industry, continuously evolving and adapting to meet the ever-changing needs of clients. 
At Zirtual, we exclusively hire virtual administrative assistants who are college graduates and are based in the United States so that you receive the highest level of professionalism, language proficiency, and cultural understanding. 
At Zirtual, we don't settle for anything less than the best. Our hiring process is rigorous and thorough, ensuring that only the most qualified and capable candidates become part of our team. We scrutinize each applicant's qualifications, experience, and skills, enabling us to handpick only the best. 
Our virtual administrative assistants at Zirtual possess a systematic approach to problem-solving and have honed their ability to think creatively and critically. This unique skill set allows them to tackle complex tasks and find innovative solutions to even the most challenging problems.
Our onboarding process at Zirtual is best-in-class. From the moment you engage with Zirtual, you will experience a level of professionalism and attention to detail that sets us apart. Our onboarding process is meticulously designed to gather comprehensive information about your business, objectives, and expectations.
Zirtual's team of virtual administrative assistants comes from diverse industries. This diversity translates into a broader perspective and a deeper understanding of various business sectors. Their industry-specific insights and hands-on experience will prove invaluable as they navigate tasks and challenges tailored to your field.
Zirtual Pricing Plans
Our virtual administrative assistant pricing plans include:
Entrepreneur Plan ($549/month): 12 hours of work with 1 user.
Startup Plan ($849/month): 24 hours of work with 2 users.
Small Business Plan ($1,249/month): 36 hours of work with 3 users.
Team Plan ($1,699/month): 50 hours of work with 5 users.
2. Delegated – Best VA Matching Mechanism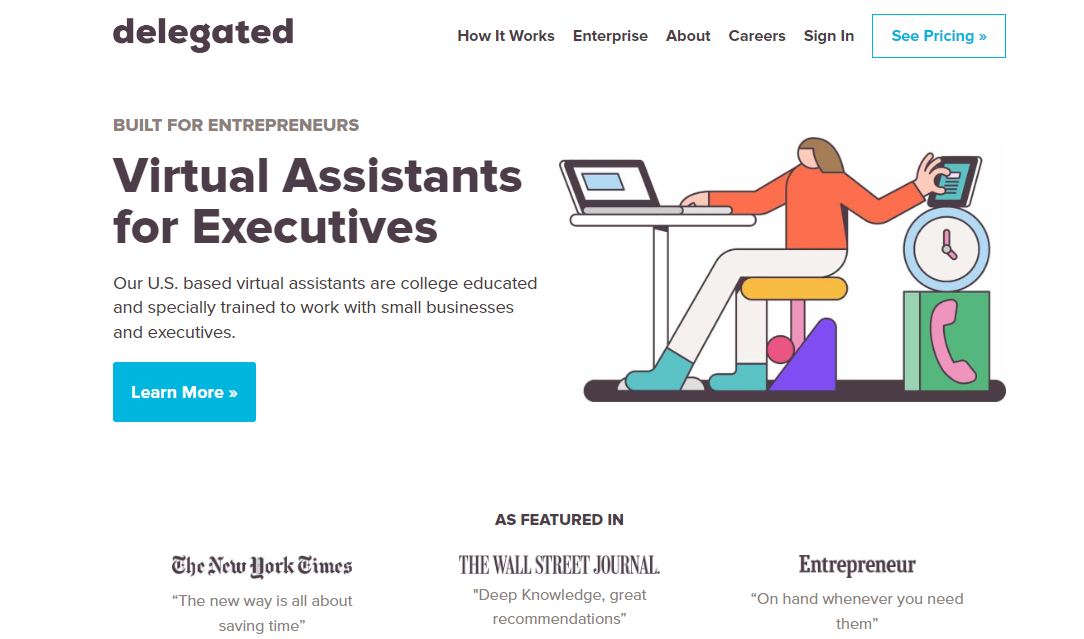 Delegated has been providing highly experienced and skilled virtual administrative assistants since 2013. It has received recognition from prestigious publications like The New York Times, The Wall Street Journal, and Entrepreneur. They provide you with talented virtual administrative assistants who are based in the US and have a deep understanding of local business practices, culture, and communication nuances. 
Delegated takes the selection process of virtual administrative assistants very seriously. They meticulously verify the experience and skills of each candidate to guarantee that only the most qualified professionals join their team. This rigorous vetting process involves assessing candidates' past work experience, skill set, and educational background.
By ensuring that their virtual assistants have real-world experience, Delegated provides you with professionals who are well-equipped to handle a wide range of administrative tasks efficiently and effectively. 
Delegated goes the extra mile by using cutting-edge tools like DISC and PI for personality profiling and behavioral assessment. These assessments provide valuable insights into the work style, communication preferences, and problem-solving abilities of each virtual assistant. To mitigate such risks, they provide a backup team of virtual administrative assistants.
Delegated Pricing Plans
Lite ($1,200/month): 25 hours of task work/month.
Ramp ($2,400/month): 50 hours of task work/month.
Pro ($3,600/month): 75 hours of task work/month.
3. Wishup – Most Diverse Skill Sets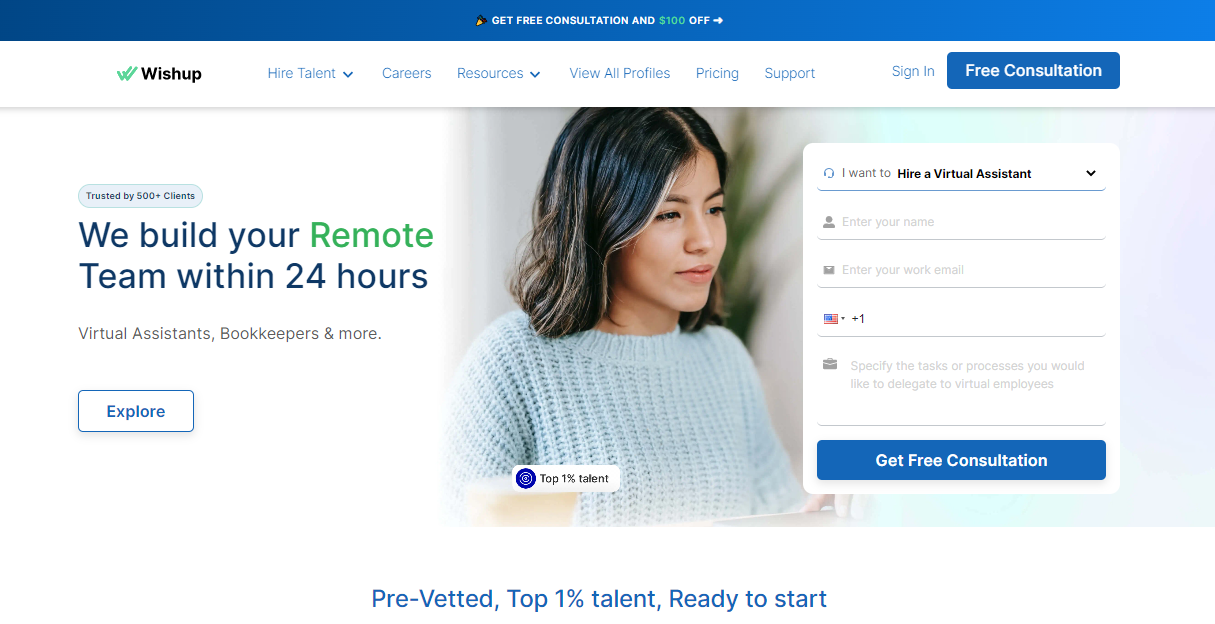 Wishup boasts an impressive 15-year legacy in the industry. This extensive experience has helped them refine their services and understand the unique challenges faced by businesses in various sectors. Wishup is trusted by over 500 businesses which speak volumes about its reliability and effectiveness. 
Wishup maintains a rigorous hiring process and accepts only the top 1% of applicants. With a pool of 500 pre-vetted virtual administrative assistants, each possessing expertise in various areas, you can find the perfect match for your specific needs – whether you require assistance with data entry, phone calls, or even social media management.
Wishup is confident in the quality of its services and offers a 7-day money-back guarantee.  With expertise spanning over 200 different areas, from finance and marketing to project management and customer support, you can trust Wishup to cater to your business's unique needs. 
Their quick onboarding process ensures that you can hire a virtual administrative assistant within a mere 24 hours. Their virtual assistants are trained and equipped to deliver a 12-hour turnaround time for tasks.
Wishup Pricing Plans
Wishup provides custom pricing plans for its services.
4. 24/7 Virtual Assistant – Most Proactive Virtual Administrative Assistants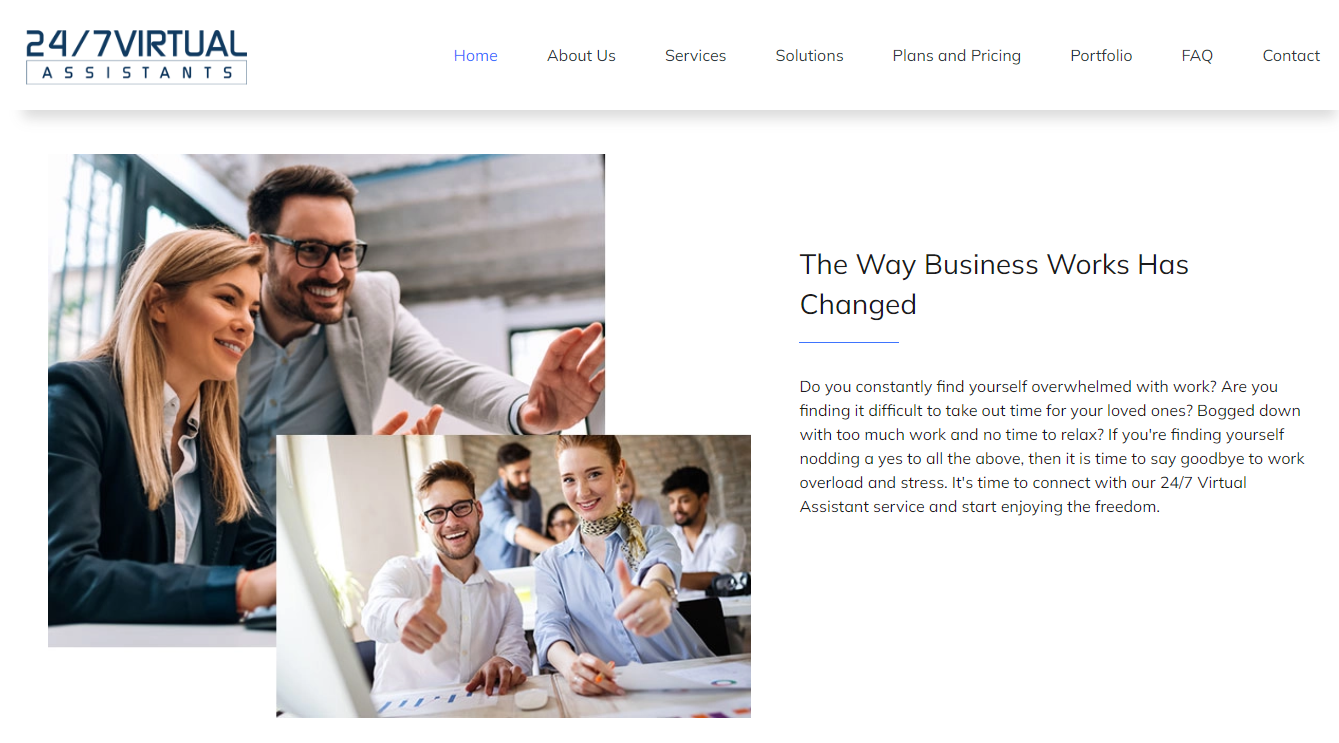 Since its inception in 2006, 24/7 Virtual Assistant is providing affordable VA services without compromising on quality. Whether you're a solopreneur or a growing business, their budget-friendly options make it easier to streamline your operations and free up valuable time for core business activities.
24/7 Virtual Assistant handpicks its virtual administrative assistants to ensure that each one possesses the commitment needed to go above and beyond. They also thoroughly verify the backgrounds of their virtual assistants. From conducting rigorous background checks to assessing their skill sets, this platform ensures that only the most qualified and trustworthy individuals become part of their team. 
At 24/7 Virtual Assistant, their VAs are so well-trained that you don't have to invest time and resources in training them. They come equipped with a deep understanding of administrative support best practices and with their proactive and self-starting approach, they take charge of your chores from the word go.
To provide you with a holistic virtual support experience, 24/7 Virtual Assistant includes dedicated in-house teams for web development, content development, and SEO in all their plans. This gives you a comprehensive suite of services at no additional cost.
24/7 Virtual Assistant Pricing Plans
Entrepreneur ($349/month): 30 hours of work.
Professional ($549/month): 60 hours of work.
Office ($799/month): 90 hours of work.
Executive ($999/month): 120 hours of work.
VIP ($1,199/month): 160 hours of work.
5. Smart VAs – Entire Team Of VAs At The Price Of One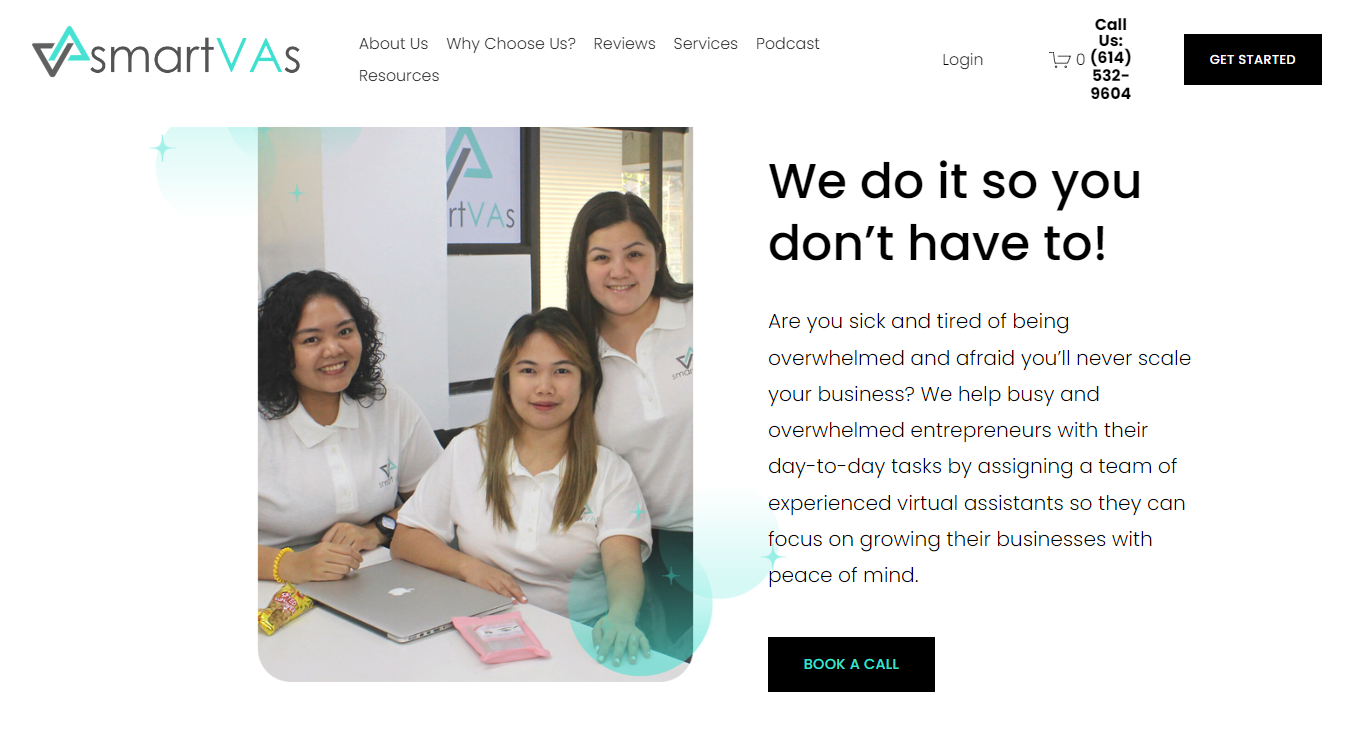 Established in 2019, Smart VAs has already served an impressive 368 businesses, saving them over 69,000 hours and transforming the way they operate. With their industry expertise and comprehensive knowledge, their virtual assistants are well-equipped to handle routine administrative tasks with finesse. 
Through a 7-step hiring process, they thoroughly vet and shortlist candidates who are capable of seamlessly integrating into your team. When you hire from Smart VAs, you get an entire team of virtual administrative assistants at the price of one. 
In case you need specialized assistance, Smart VAs gives you access to an additional special team. These experts excel in niche areas, such as graphic design, social media management, or content creation, allowing you to tap into their specialized skills when needed. 
Smart VAs will provide you with exclusive access to their cutting-edge client portal. From project management software to task-tracking tools, this portal helps you stay organized, streamline communication, and monitor progress effortlessly. 
Smart VAs Pricing Plans
Smart VAs offers one plan which is priced at $1,000/month for a team of virtual assistants.
6. StaffVirtual – Most Comprehensive Hiring Process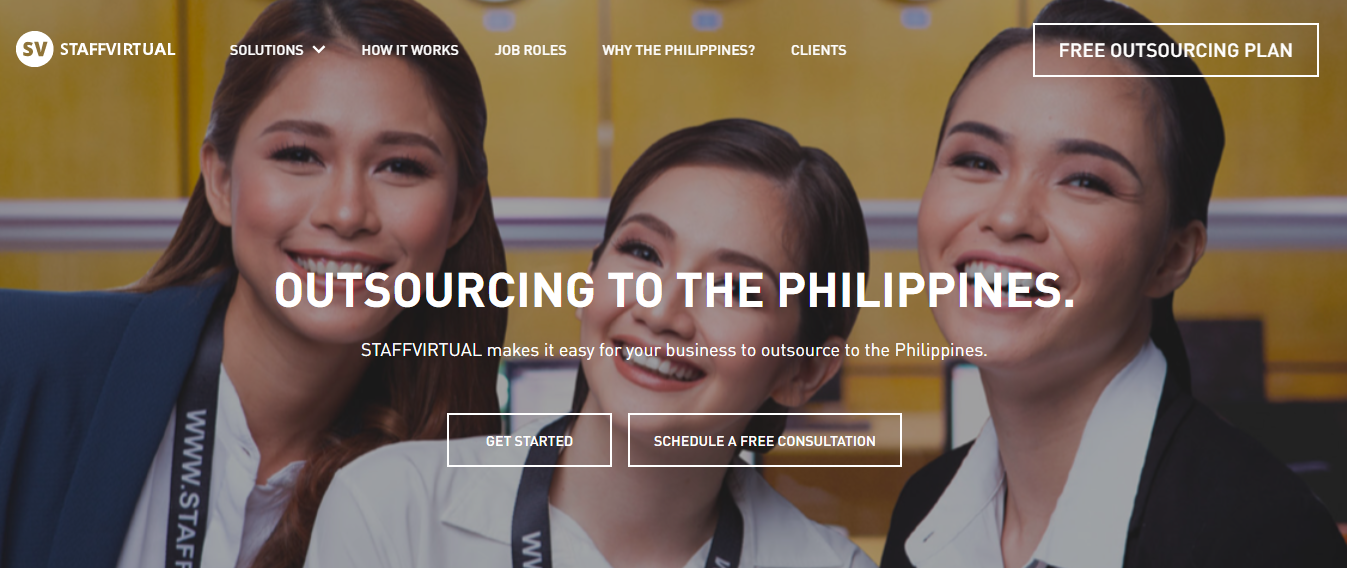 StaffVirtual has been providing top virtual services to small business owners and enterprises since 2009. The company holds the prestigious ISO 9001:2015 certification which guarantees its commitment to consistently delivering high-quality services. 
At StaffVirtual, their candidate assessment process is a comprehensive evaluation of cognitive abilities, English language proficiency, and personality characteristics. The result? An administrative superstar who can efficiently handle your day-to-day tasks. They align KPIs for each executive assistant with your specific business goals. 
Hiring a virtual administrative assistant is just the beginning of your journey with StaffVirtual. They provide a comprehensive 90-day Success Plan that encompasses 4 vital steps: hiring, training, identifying matrices, and managing. This assistance helps navigate the hurdles and ensures a successful long-term partnership.
StaffVirtual Pricing Plans
Custom plans are available on demand.
7. MyOutDesk – Most Flexible Virtual Assistants
With a stellar track record since its establishment in 2008, MyOutDesk is a BBB-accredited company that has become a go-to choice for over 7,500 corporate brands. Their extremely strict vetting process includes extensive FBI-grade background checks. Their virtual administrative assistants, equipped with a diverse skill set, can perform a wide range of tasks that an office manager or executive assistant would typically handle.
At MyOutDesk, they provide a dedicated Client Success Coordinator who acts as a bridge between you and your virtual administrative assistants. Whether you need assistance with administrative issues, the HR department, or any other aspect of your business, the Client Success Coordinator ensures efficient communication, swift issue resolution, and overall satisfaction.
MyOutDesk offers its advanced MyTimeIn Productivity & Time Tracking Software that will help you monitor work progress, set tasks and deadlines, and analyze the overall efficiency of your virtual administrative assistant. 
MyOutDesk Pricing Plans
Pricing plans start at $1,988/month (charged quarterly).
8. Fancy Hands – Most Experienced
Founded in 2010, Fancy Hands has been a trusted partner for over 1,000 clients. They cherry-pick their virtual administrative assistants, handpicking only the top 3% of talent in the industry. Each virtual assistant on their platform boasts a minimum of 10 years of experience.
Within 48-72 hours, they will connect you with a highly skilled virtual administrative assistant perfectly suited to meet your specific remote work needs. Whether you require a full-time employee or assistance on a project basis, Fancy Hands ensures you're paired with the ideal administrative professional who understands the intricacies of your industry.
Through their user-friendly Android and iOS apps, you can conveniently manage and communicate with your virtual administrative assistant on the go. These apps empower you to stay connected and in control, effortlessly overseeing the progress of tasks and projects.
Fancy Hands Pricing Plans
Small Plan ($17.99/month): Offers 3 requests.
Medium Plan ($29.99/month): Offers 5 requests.
Large Plan ($74.99/month): Offers 15 requests.
XL Plan ($149.99/month): Offers 30 requests.
9. ProAssisting – Most Cost-Effective Solution
Established in 2009, ProAssisting's virtual administrative assistants have diligently worked behind the scenes and collectively saved their clients 50,000 hours. Compared to the hefty costs associated with hiring in-house administrative staff, their services come at a fraction of the cost – 50%-80% less than what you would spend on a full-time, in-house hire.
At ProAssisting, its virtual assistants are ready to tackle tasks in different time zones. Whether you need someone to answer incoming calls, manage travel arrangements, or create reports, their virtual administrative assistants offer round-the-clock support at no extra cost. 
ProAssisting only hires individuals with a minimum of 5+ years of experience. They limit their virtual administrative assistants to a maximum of 3 clients. By maintaining this client-to-assistant ratio, ProAssisting ensures that you receive individualized care and prompt responses to your requests. 
ProAssisting Pricing Plan
ProAssisting has only one plan at $3,000/month with full-service support.
10. Virtalent – Ideal For Startups & Scale-ups
Established in 2014, Virtalent has made its mark by catering to the needs of startups and scale-ups. With 90% of their clients falling into this category, Virtalent has developed a deep understanding of the challenges faced by emerging businesses. 
With over 160 virtual administrative assistants at their disposal, Virtalent boasts an impressive roster of highly skilled professionals. The quality of their virtual administrative assistants is unmatched with an average of 15 years of industry experience. 
Their virtual assistants are trained to work efficiently and deliver results promptly, ensuring that your needs are met with speed and precision. With Virtalent, you can quickly and effortlessly bring a virtual assistant on board, thanks to its user-friendly interface and streamlined procedures. 
Virtalent Pricing Plan
Entrepreneur ($335/month): 10 hours of work.
Small Business ($645/month): 20 hours of work. 
Executive ($1,240/month): 40 hours of work.
Ultimate ($1,572/month): 60 hours of work.
11. Magic – Unleashing The Power Of AI-Infused Human Expertise
Magic was founded in 2015 and has been showcased in prominent publications such as the New York Times, Fortune, TechCrunch, and Wired. With strict screening processes and meticulous evaluation, only the top 3% of candidates make the cut. Within a mere week, Magic will connect you with your ideal virtual administrative assistant so that you can swiftly conquer your tasks.
At the heart of Magic lies their proprietary AI technology, aptly named Magic AI. It serves as a powerful assistant to their virtual assistants and provides them with intelligent suggestions, automates repetitive tasks, and enhances overall efficiency.
Magic has ingeniously crafted an ingenious blend of artificial intelligence and real human expertise. While their advanced AI technology streamlines processes and boosts efficiency, it's the human touch that adds the personal connection, adaptability, and critical thinking required for complex tasks. 
Magic Pricing Plans
Custom pricing plans are available on request.
12. VA Staffer – Ensuring Quick ROI
Established in 2013, VA Staffer has swiftly emerged as a leading platform to hire virtual administrative assistants. They have an extraordinary team of over 150 dedicated and talented virtual assistants and each team member undergoes a rigorous selection process. With VA Staffer, you get access to a versatile team that can handle multiple aspects of your business.
The company has an impressive base of 250 active clients including startups and established enterprises. By utilizing VA Staffer's services, you can experience a tangible boost in your ROI within a mere 30 days. 
Their onboarding process is designed to be hassle-free, allowing you to quickly integrate a virtual assistant into your operations. Additionally, they provide ongoing support and communication channels to ensure that you and your virtual assistant are always in sync.
VA Staffer Pricing Plans
Dedicated Assistant (Starts at $800/month): Offers 20 to 40 hours/week.
Hourly Plan (Starts at $298/month): Available for 20, 50, and 100 hours.
13. Sigrid – Most Secure
Sigrid has been in the business since 2016. They are known for providing professionally managed virtual administrative assistants who are well-versed in a wide range of administrative tasks. These VAs are backed by a team of other virtual assistants and specialists who possess specific skills for tackling specialized and critical tasks. 
Sigrid's proprietary Collaboration & Task Management Platform, aptly named MySigrid, is an intuitive platform that acts as a centralized hub and facilitates seamless collaboration between you and your virtual assistant. 
To further enhance the delegation process, Sigrid offers the MySigrid Assistant To-Do List App, available for free. Simply add tasks, set deadlines, and stay connected with your virtual assistant, even when you're away from your desk. To protect your data, all staff members are bound by stringent non-disclosure agreements. Sigrid employs state-of-the-art encryption and industry best practices to protect your data from unauthorized access.
Sigrid Pricing Plans
Personal Plan ($450/month): 15 hours of work/month.
Startup Plan ($850/month): 30 hours of work/month.
Growth Plan ($1,500/month): 60 hours of work/month.
Enterprise Plan ($2,400/month): 120 hours of work/month.
14. Virtual Assistant Staffing Agency – Backed By A Lifetime Guarantee
Virtual Assistant Staffing Agency has been providing quality virtual administrative assistants to business executives across the world since 2020. They have a 5-step virtual assistant matching process that ensures that you are connected with the most suitable virtual assistant who possesses the required skill set and expertise. 
By hiring virtual administrative assistants from them, you can save up to 80% on payroll expenses. Virtual Assistant Staffing Agency has developed pre-defined advanced workflows and protocols that allow for efficient task management, timely communication, and prompt deliverables. 
They have robust data protection measures in place, including secure communication channels, encrypted file transfers, and strict adherence to privacy policies.
Virtual Assistant Staffing Agency Pricing Plans
Placement Fee ($250): Per hire.
Placement Fee ($1,000): Lifetime hires.
Virtual Assistant Management ($4/hour): For managing the virtual assistant. Charges on top of VA's hourly pay.
15. Virtual Assistant Management – Most Diverse Virtual Administrative Assistants
At Virtual Assistant Management you gain access to a lineup of more than 125 virtual administrative assistants, each handpicked for their expertise, professionalism, and dedication. These assistants come from diverse backgrounds and possess a wide range of skills and industry knowledge. 
They have a Virtual Assistant Academy program which is designed to train and certify individuals using a signature method honed through years of industry experience. By enrolling in this program, virtual administrative assistants undergo comprehensive training, acquire essential skills, and learn best practices for effective virtual assistance.
Virtual Assistant Management continuously trains and assists their virtual administrative assistants even after they are hired. For an entire month, these assistants receive ongoing guidance, support, and training to further enhance their skills and adapt to your business requirements.
Virtual Assistant Management Pricing Plans
Quotes are available on demand.
16. Task Virtual – For Easy Liaisoning
Task Virtual, founded in 2015, has successfully served over 1,300 clients to date, completing 24,500+ projects. They employ state-of-the-art secure servers to ensure that all data shared remains confidential and protected. 
At Task Virtual, they assign a dedicated shift supervisor as your single point of contact. Once you submit a task, this supervisor becomes your trusted liaison, thoroughly reviewing your requirements and subsequently delegating the task to the most suitable virtual administrative assistant with the required expertise to get it done.
During the task execution, the shift supervisor remains closely involved, monitoring the performance of the VA to maintain the highest standards of quality work.
Task Virtual Pricing Plans
Pay as you go ($15/hour): Billed on an hourly basis.
Part-time ($699/month): Offers 100 hours of work (8 hours a day) with a dedicated assistant.
Full-time ($999/month): Offers 160 hours of work (4.5 hours a day) with a dedicated assistant.
Conclusion
Time to bring on the top hat, slip into the showman jacket, and get hold of the famous cane. Because with a perfect caped crusader who is armed with the right administrative skills by your side, you are ready to take on the entrepreneurial circus with your stellar performance.
What you and your business demand is the superpower of time management. That is exactly what a virtual administrative assistant brings to the table along with a fresh dose of efficiency.
It's time you un-pretzel your mind and allow it to focus on value-packed activities that drive your business growth upward. In our case at Zirtual, we offer you a dynamic, experienced, and tech-savvy savior aka our virtual assistant who is ready to get down to work the moment you say yes. 
Request a free consultation to hire a dedicated Zirtual administrative assistant minus the chaos of any hiring process. And yes, you'll be amazed by our zappiest response time.