Virtual assistants are the secret weapon that we all want for winning our everyday battles. But finding that one virtual assistant is like finding Waldo at a crowded medieval fair unless you search the right platform. But which platform is the best? This Freelancer vs Upwork vs Zirtual faceoff will reveal.
This article is our very own clash of the Titans – the ultimate showdown. In one corner we have Zirtual and in the other two corners, we have Upwork and Freelancer; all 3 of them virtual assistant outsourcing giants.
It's not just about who can offer the best virtual assistants but also about who can innovate faster to stay up to date with the modern world's demands and make the whole hiring journey an unhindered one for hiring virtual assistants.
So whether you're looking for a one-time project or an ongoing partnership, this guide will compare the strengths and weaknesses of each platform and find the perfect virtual assistant for you. By the end of this face-off, you will know exactly which giant offers the most suitable VA for your unique needs. So sit back, grab some popcorn, and witness history in the making. 
Exploring The Best Platforms For Hiring Virtual Assistants: Freelancer vs Upwork vs Zirtual
To have an in-depth understanding, we will start by reviewing each platform individually from scratch that includes their special features, their pros and cons as well as their pricing.
1. Freelancer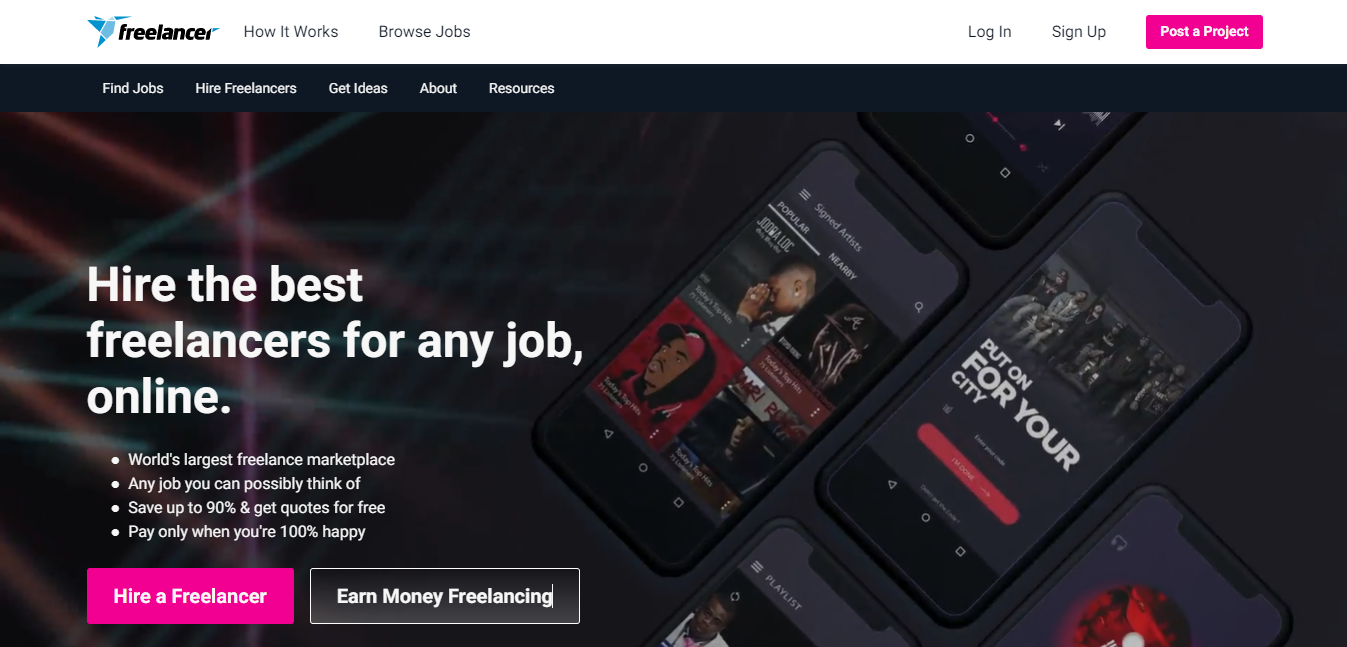 A robust freelance management system, Freelancer is known through its user network of over 66.5 million in 247 countries. This is the reason why their website is offered in 10 international languages. 
Freelancer was founded in 2009 in Sydney, Australia, and has become one of the biggest freelancing platforms. It allows businesses and individuals to connect to freelancers from around the world via posting projects and tasks.
Recent stats show that Freelancer currently houses 55 million freelancers and the number is growing by every second. Talk about diverse global talent. You will find virtual assistants with expertise in web development, data entry, accounting, legal services, sales and marketing, and design engineering.
A preferred freelancer program of 80% of the Fortune 500 companies, Freelancer has successfully facilitated the completion of 4 million projects to date which showcases the reliability and effectiveness of hiring a virtual assistant through this platform.
Freelancer Features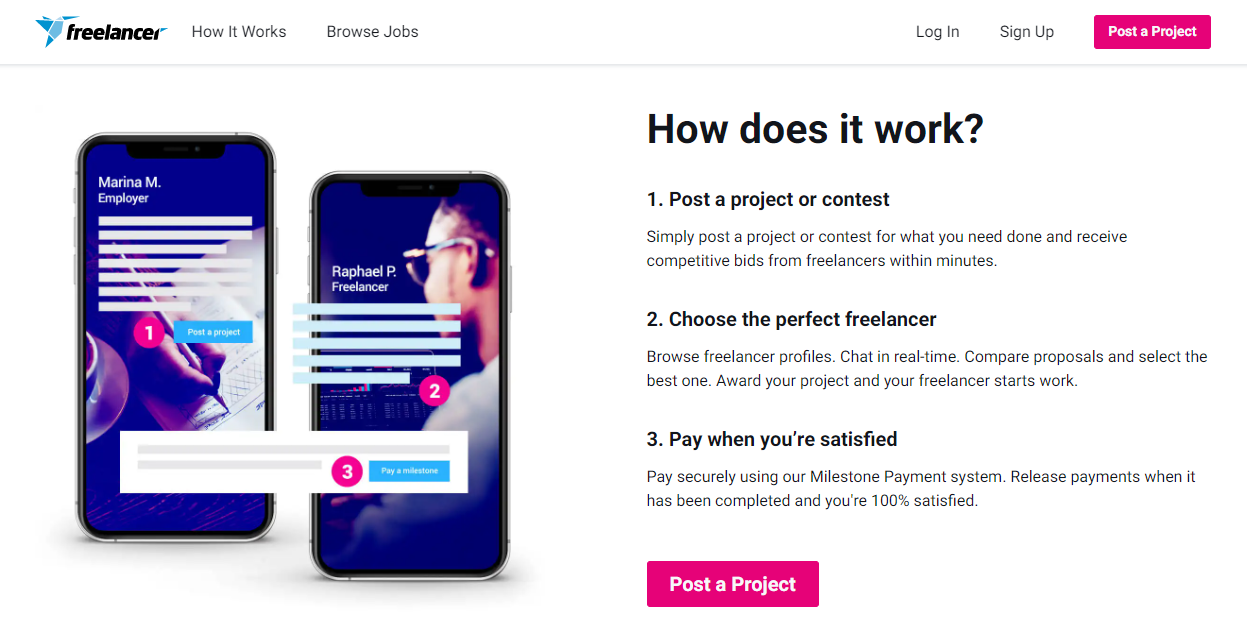 Freelancer offers a variety of features specifically designed to help you easily find and hire freelancers for your needs. Some of these are:
Customized Job Postings: With Freelancer, you can create detailed and customized job postings and precisely outline your project requirements and expectations. 
Detailed Freelancer Profiles: Each freelancer on Freelancer has a comprehensive profile that showcases their experience, skills, portfolio, and client reviews. This detailed information allows you to assess their capabilities and pick the right virtual assistant.
Real-Time Communication: Freelancer has a built-in chat system and real-time messaging so that you can collaborate with freelancers, exchange files, and discuss project details, all within the platform itself.
Project Management Tools: Managing tasks and deadlines becomes a breeze with Freelancer's project management tools. You can create milestones, set deadlines, and monitor progress, keeping everyone involved on track and accountable.
Escrow Payment Protection: The platform ensures that your payments are secure through its escrow payment system. You can deposit funds into an escrow account which will be released to the freelancer upon the satisfactory completion of the project. 
Competitive Bidding System: One of the most exciting features of Freelancer is its competitive bidding system. After posting a job, freelancers will submit proposals to you, complete with their proposed budgets and timelines. This allows you to compare different offers and select the one that aligns perfectly with your needs.
Pros Of Freelancer 
Here are some of the reasons why Freelancer is loved by so many:
Since Freelancer supports a massive database, you will find a diverse and experienced pool of talented virtual assistants.
Freelancer offers tools like job post templates that help in the hiring process. This makes posting easier and more accessible for everyone. 
The Verified By Freelancer program is a valuable initiative that includes verifying the identity, qualifications, and professional background of freelancers.
The Freelancer Recruiter program gives you access to a dedicated talent sourcing team that works on your behalf to identify and recruit the best freelancers for their specific needs. 
In the rare event of a dispute, Freelancer provides a robust dispute resolution process. Their support team will step in to mediate and find a fair resolution to safeguard your interests and ensure a positive outcome.
To break down larger projects into manageable phases, Freelancer offers milestone payments. This feature helps you define specific project milestones and release payments accordingly, ensuring a systematic and transparent workflow.
Cons Of Freelancer 
Below stated are some of the points where we believe Freelancer can amp their game a bit to stay in the competition.
The interface may be a little tricky for some users, especially for the non-techies. That makes tracking your freelancer's work much more complex than it should be.
When using Freelancer, if you choose to make a direct bank transfer for payments, be aware of potential transaction fees imposed by banks or payment processors. 
While many freelancers possess exceptional talent, there will be instances where you encounter VAs who lack the necessary expertise or fail to deliver work up to your expectations. 
With the vast number of freelancers available on Freelancer, there is fierce competition for the best talent. So you have to put extra effort into attracting and securing the most qualified virtual assistants.
Many freelancers on the platform work with multiple clients simultaneously. As a result, their availability is divided among various projects and you have to negotiate and coordinate timelines with your virtual assistant.
Freelancer Pricing
Pricing can get a little complicated in Freelancer because it varies from project to project. Signing up, posting a job, and discussing with the potential virtual assistant about a certain project is free. 
Once the contract for fixed-price projects is finalized, Freelancer charges 3% of the amount that is set for that project. For hourly projects, the rate is set based on per hour. The 3% service fee applies here too.
2. Upwork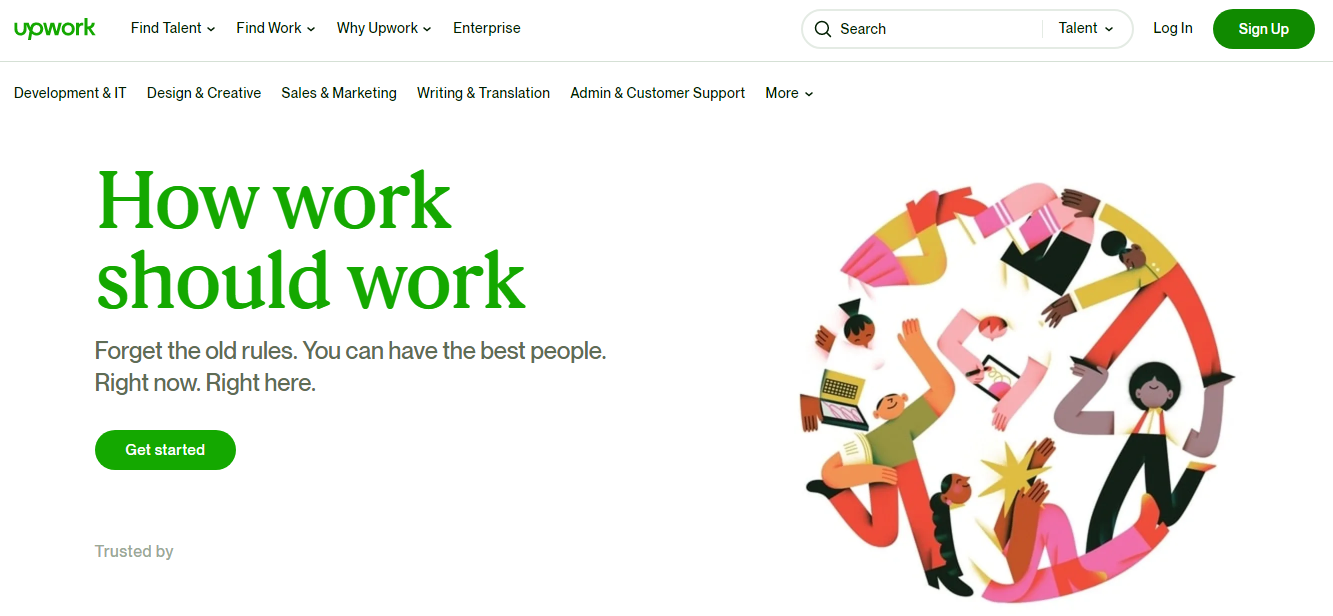 With Upwork's roaring popularity, it is safe to say it is a go-to platform for most. So here is how it all started for this company. In 1998, an MIT student and a wall street veteran founded Elance which merged to become Elance-oDesk in 2013. In 2015, it was rebranded to Upwork.
With over 70 million registered freelancers and 1 million active Upwork clients, the platform offers a bustling marketplace for virtual assistant services. Upwork's reputation as a trusted platform is built on the strong community of freelancers and clients who actively engage and collaborate. With millions of successful projects completed on Upwork, you can feel confident in the platform's ability to facilitate successful virtual assistant engagements.
Upwork Features

Upwork offers a range of unique features that make it a standout platform for hiring virtual assistants. Let's explore some of these in detail:
Talent Scout: Upwork's Talent Scout feature uses artificial intelligence to help you find the right virtual assistant quickly. 
Talent Search Filters: Upwork provides advanced search filters that allow you to narrow down your options when looking for virtual assistants.
Real-Time Collaboration Tools: Features like shared whiteboards, screen sharing, and video conferencing enhance real-time communication.
Upwork Protection: The platform offers Upwork Payment Protection which ensures that the client pays only for satisfactory results and protects freelancers from payment-related issues.
Upwork Messages: Upwork offers a user-friendly interface and a messaging system where clients can easily exchange project details, discuss requirements, and clarify any queries directly with the virtual assistant. 
Workroom Collaboration: The Upwork Workroom serves as a centralized hub for project collaboration. Within the Workroom, clients and virtual assistants can share files, track project progress, set milestones, and communicate. 
Upwork Work Diaries: With this feature, you can monitor the progress of your virtual assistants in real-time. Automated screenshots and activity snapshots track the hours worked and ensure that the assigned tasks are being actively addressed.
Pros Of Upwork
Using the Upwork freelance platform offers a multitude of advantages that include:
Upwork offers a fee reduction of 3% for US-based clients who qualify by paying via their checking account (ACH).
Upwork offers competitive rates since talent can be outsourced from countries that have a comparatively low salary rate.
Availability of independent talent from across the globe. This allows you to reach out to a diverse pool of skilled virtual assistants.
Flexibility is the topmost advantage of Upwork, whether it is in terms of pricing, project durations, milestone, or even contracts.
Upwork provides detailed work histories and profiles for each freelancer. You can review a virtual assistant's previous projects, ratings, and client feedback.
Upwork's job posting feature is user-friendly and intuitive. You can post jobs effortlessly with detailed job descriptions and outlining project specifications, deliverables, and preferred qualifications.
Cons Of Upwork
Here are a few things that we found disadvantageous when hiring virtual assistants from Upwork:
Upwork's popularity means that there are many freelancers vying for projects. The high number of freelancers can make it more challenging to stand out and land jobs.
With millions of registered freelancers on Upwork, certain virtual assistant skill categories become oversaturated. 
Upwork encourages clients to keep most communications on their platform for transparency and security purposes. While this approach has its benefits, it can sometimes limit direct communication options.
While Upwork strives to maintain a high standard of freelancers, the platform cannot guarantee consistent quality for most freelancers.
Clients bear the responsibility of managing projects and ensuring that virtual assistants deliver the desired results. You must invest time and effort in overseeing projects to maintain control and ensure successful outcomes.
Upwork Pricing
There is no upfront cost to use Upwork. However, you'll be charged a flat 10% client marketplace fee on each amount that you pay to your freelance virtual assistant. 
3. Zirtual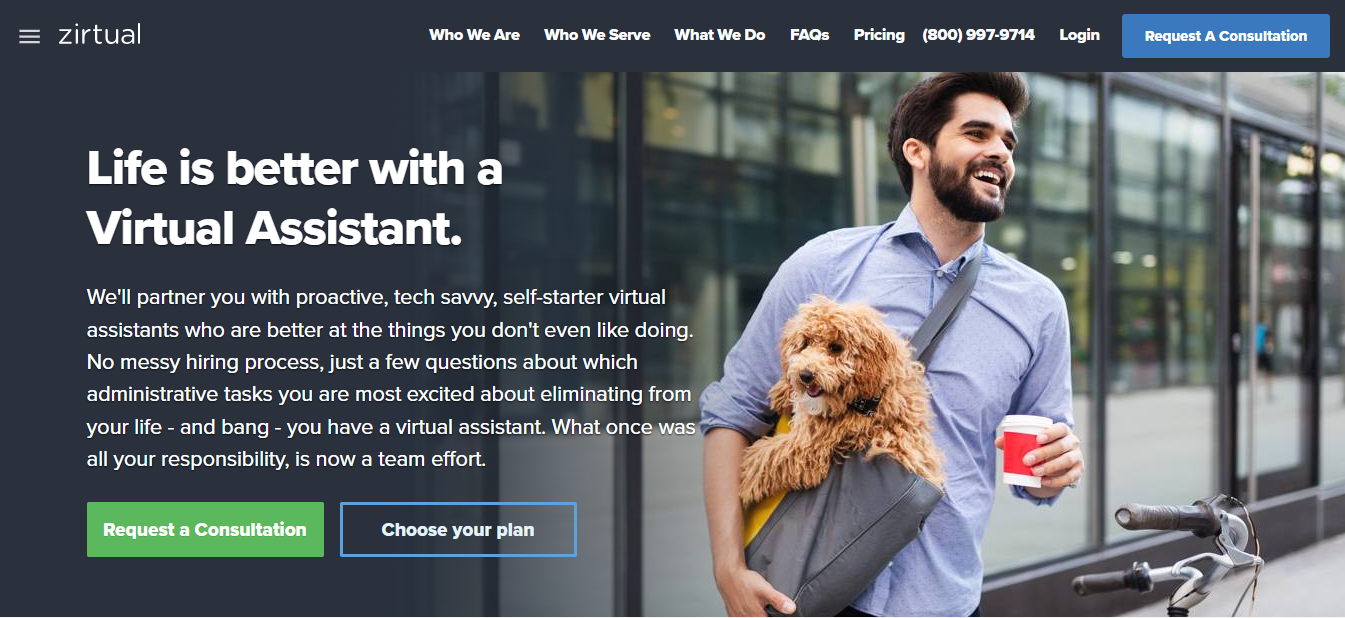 Founded in 2011, Zirtual is a renowned virtual assistant service that offers professional remote assistance to individuals and businesses. At Zirtual, we specialize in connecting clients with dedicated virtual assistants who can help with a range of tasks and responsibilities. 
From managing calendars, scheduling appointments, and organizing travel arrangements to conducting research, handling email correspondence, and providing general administrative support, our virtual assistants are skilled in various areas to cater to your diverse needs.
At Zirtual, we've always focused on refining our processes and building a network of talented virtual assistants. We prioritize the recruitment and vetting of professionals who can deliver exceptional support and meet your expectations. 
Zirtual Features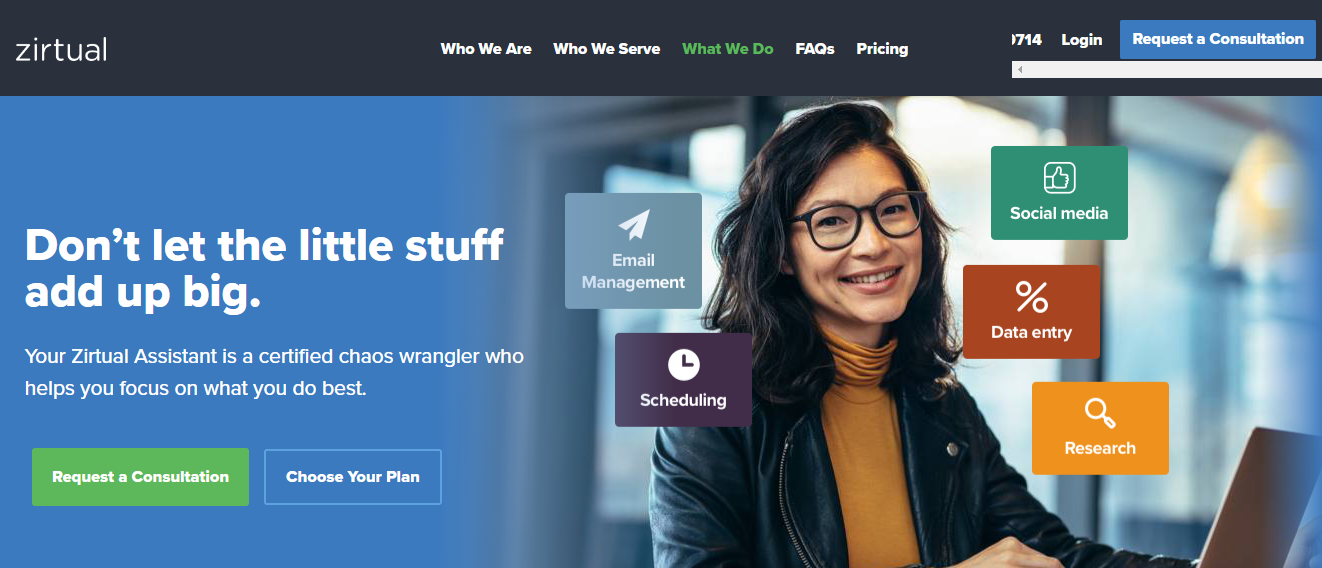 Here are some features that make Zirtual stand tall above both Upwork and Freelancer:
Dedicated, U.S.-Based Assistants: We at Zirtual take pride in providing you with dedicated, U.S.-based virtual assistants who are highly skilled and experienced in their respective fields. 
Rigorous Talent Selection: We place great importance on the quality of our virtual assistants. We have established a rigorous talent selection process in which prospective virtual assistants undergo thorough screening, including assessments, interviews, and reference checks, to ensure they possess the necessary skills and expertise.
Versatility and Flexibility: At Zirtual, we offer versatility and flexibility where you can adjust your virtual assistant's workload, hours, and tasks as your business demands evolve. 
Proactive Support and Account Management: Our dedicated account managers actively engage with clients to ensure satisfaction, address any concerns, and provide guidance as needed. 
Commitment to Confidentiality and Security: At Zirtual, we have robust data protection measures in place to protect sensitive data and business-critical information.
Task Management and Accountability: We have robust task management systems to ensure clarity and accountability. You can assign tasks, set priorities, and track progress through centralized platforms. 
Quality Assurance: We at Zirtual are committed to maintaining a high standard of service delivery. We have implemented quality assurance measures like periodic performance evaluations, client feedback analysis, and ongoing professional development opportunities for virtual assistants.
Pros Of Zirtual
Let's look at some of the advantages of using Zirtual's virtual assistance services.
We do not charge any setup or upfront fee to clients.
At Zirtual, we have the quickest onboarding process in the virtual assistant industry.
With Zirtual, you get the flexibility to request a replacement virtual assistant if necessary. 
Our selective approach to talent acquisition ensures a higher caliber of virtual assistants.
We only hire college graduates so that you have access to well-rounded individuals with strong educational backgrounds. 
At Zirtual, we carefully match you with virtual assistants who possess the right skill set and expertise for your specific tasks.
We use advanced technology tools and platforms for better communication and collaboration between you and your virtual assistant.
Our virtual assistants have already undergone training in various areas of expertise. So you can leverage the skills and knowledge of these trained professionals right from the start.
Zirtual virtual assistants are known for their consistent availability and responsiveness. You can rely on your virtual assistant to be available during agreed-upon working hours.
Cons Of Zirtual
We must confess, we're not flawless. Time to spill the beans:
Unused hours can't be rolled over to the next month.
While Zirtual's virtual assistants are adaptable and learn new systems quickly, there may be a learning curve or limitations in integrating with highly specialized or industry-specific tools that require extensive training or expertise.
Zirtual Pricing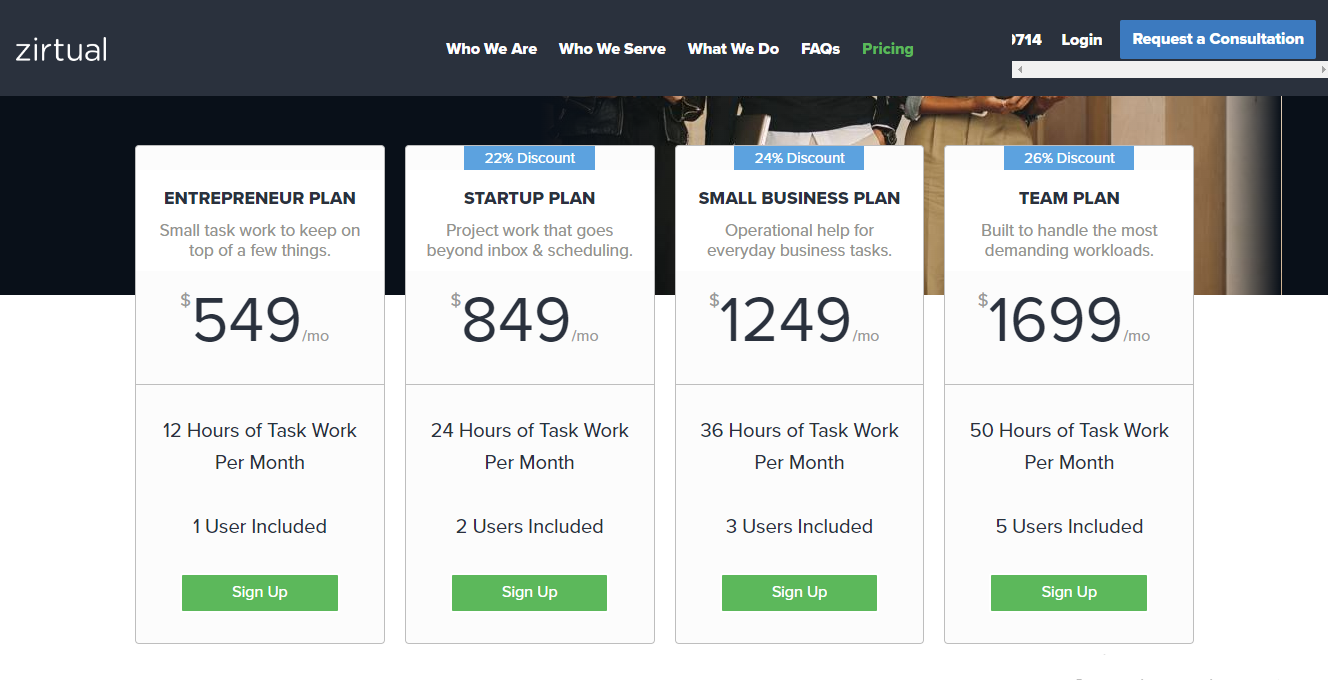 We offer 4 premium pricing plans for our clients:
Entrepreneur Plan ($549/month): 12 hours of work with 1 user.
Startup Plan ($849/month): 24 hours of work with 2 users.
Small Business Plan ($1,249/month): 36 hours of work with 3 users.
Team Plan ($1,699/month): 50 hours of work with 5 users.
Now that we have explored Freelancer, Upwork, and Zirtual individually, let's put them against each other and weigh them out across different categories to discover which platform emerges as the clear winner.
The Ultimate Dominance For Virtual Assistant Hiring – Weighing Out Freelancer vs Upwork vs Zirtual
When it comes to virtual assistant hiring, the options seem endless. Freelancer platforms and online marketplaces like Freelancer and Upwork have gained popularity in recent years but Zirtual stands out above the rest. Let's discuss various aspects of virtual assistant hiring and see why Zirtual emerges as the clear winner.
1. Excellence Of The Team – Zirtual Talent Is Unparalleled
When it comes to the quality of virtual assistants, Zirtual stands head and shoulders above the competition. Our selection process is meticulous and we ensure that only the most skilled and qualified virtual assistants make it onto our teams. 
With rigorous screening, in-depth interviews, and thorough background checks, Zirtual handpicks individuals that are so capable that you'll start noticing the difference in less than a week.
One potential challenge that arises when hiring virtual assistants is the language barrier. At Zirtual, we take pride in our US-based highly language-proficient virtual assistants, eliminating any language barriers and ensuring seamless communication between you and your virtual assistant.
We provide regular training sessions, workshops, and resources to keep their virtual assistants at the top of their game. Whether it's learning new software, staying updated on industry best practices, or acquiring specialized skills, we at Zirtual ensure that our virtual assistants receive continuous training opportunities.
2. Market Credibility – Zirtual Scores High With Masses
Zirtual is the most credible platform in the virtual assistance landscape. Our unwavering commitment to excellence has earned us a remarkable reputation and established our trustworthiness among clients from various industries. Unlike Freelancer and Upwork, Zirtual has proven time and again that we are the go-to choice for businesses seeking reliable and top-tier virtual assistant services.
Do you know what our secret sauce is? Uncompromising dedication to client satisfaction. We know how important it is to build strong and lasting relationships with clients. We'll y go the extra mile to ensure that your needs and goals are met with precision and care. 
3. Pricing Structure – Zirtual Emerges Victorious
While Freelancer and Upwork may initially tempt you with lower pricing options, opting for their services can ultimately cost you more in the long run due to inexperience and the limited availability of their virtual assistants. 
Our pricing model provides a transparent and all-inclusive approach so that you can enjoy the services of a dedicated virtual assistant without any hidden costs or surprises. It is designed to offer maximum value for your investment. Our competitive rates, coupled with the caliber of their virtual assistants, make Zirtual an attractive choice for businesses of all sizes.
4. Services Offered – Zirtual's Comprehensive Offerings Win
Zirtual's comprehensive range of services sets us apart from Freelancer and Upwork. From administrative tasks to project management, Zirtual covers a wide spectrum of support services and caters to the diverse needs of our clients. Our virtual assistants are skilled in various areas, including scheduling, email management, research, social media management, and more.
With Zirtual, you have the flexibility to tailor your virtual assistant's responsibilities according to your specific requirements. Whether it's handling day-to-day operations, coordinating meetings and appointments, or providing specialized assistance, our team is equipped to handle the demands of any task, ensuring a seamless and efficient workflow.
5. Client Journey – Nobody Does It Better Than Zirtual
At Zirtual, we are known across the industry for our personalized approach. From the moment you sign up, you are greeted with a warm and attentive onboarding process. We'll thoroughly understand your unique needs and goals and then create a customized experience that aligns with your specific requirements.
Throughout the client journey, we maintain open and transparent communication, keeping you informed and involved at every step. Our responsive and dedicated support team is always ready to address any queries or concerns to ensure a smooth and enjoyable experience for you.
Conclusion
We all know how that a virtual assistant is the ultimate wingman in our crazy chaotic lives. So it is crucial to find the right places that offer even better support. You can go to platforms like Upwork and Freelancer where you will have to rummage a lot and spend a fortune of time to find a rare keeping.
Or simply choose a platform where you only find the lux top quality like Zirtual that saves you your precious time. Because hey, wasn't that the core motive why you wanted to hire a virtual assistant in the first place? 
We at Zirtual specialize in virtual assistant service and our VAs have the skill power and resources to dominate any field they set their sights on. We are dedicated to working with one client at a time, so if you are looking to build a long-term working relationship with your assistant, book a free consultation now.