Batman has Robin, Iron Man has Jarvis and a realtor has their virtual assistant to help them navigate the ever-changing real estate landscape. The only difference here is the virtual assistant for realtors doesn't wear a cape but they sure do have their back.
If you are a realtor who wants to focus more on managing client relationships, marketing properties, and coordinating with other professionals involved in a real estate transaction, virtual assistants can save your day. 
The good news is your web surfing landed you at the right place. Just read our guide as it will reveal the hotspots aka the best websites for finding and hiring a professional real estate virtual assistant.
Once you have gotten all through our value-packed content, nothing can stop you from hiring a highly skilled virtual assistant who knows the A to Zs of the real estate business. It's time for you to start making your real estate moves.
16 Best Platforms To Hire Talented Virtual Assistants For Realtors
Here are our top 3 picks for the best websites to hire a real estate virtual assistant:
Zirtual – Best overall 
MyOutDesk – Most vetted virtual assistants
ShoreAgents – Most systematic approach for guaranteed results
Let's get started with a detailed review of the 16 best virtual assistance websites for realtors.
1. Zirtual – Top Pick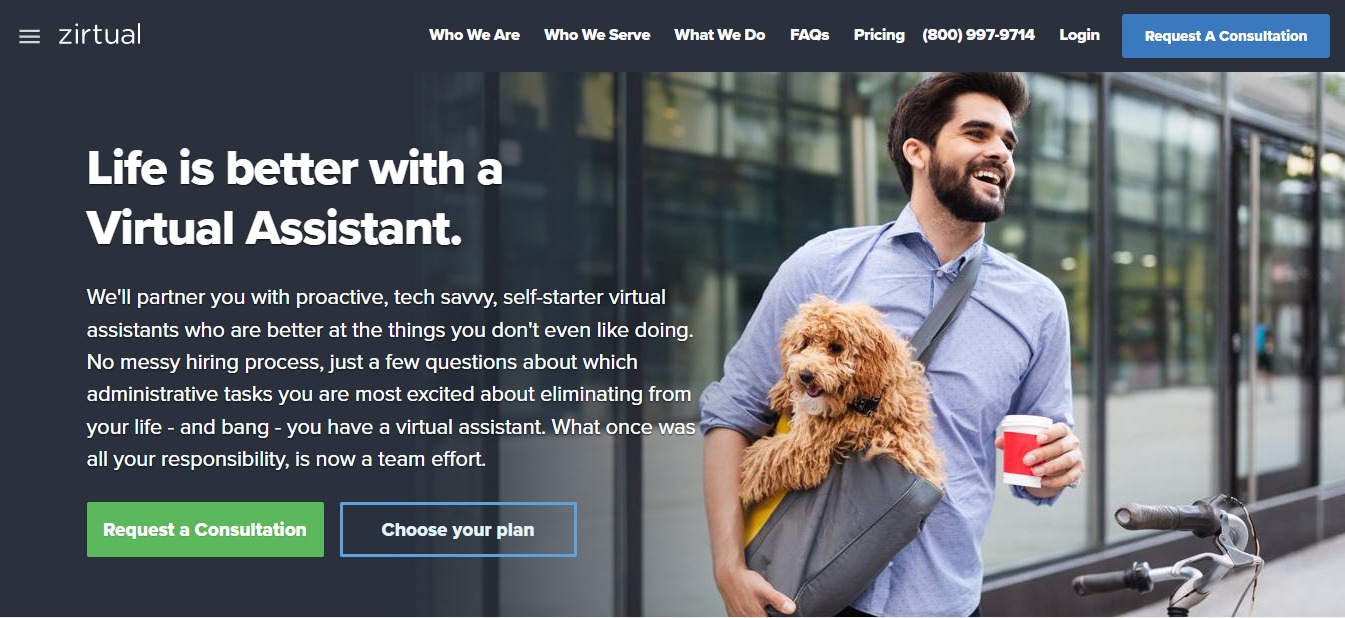 We at Zirtual are the undisputed champions of the real estate virtual assistant industry. Our team of expert assistants, all based in the United States, will blow you away with their skills and dedication. No more time zone headaches and language barriers – only a smoother, more efficient way of working.
At Zirtual, we pride ourselves on our team of talented college graduates who bring an unparalleled level of knowledge and expertise to the table. Their well-rounded education means they can tackle any task with ease. With a systematic approach to problem-solving and the ability to think creatively and critically, our virtual assistants are the dynamic force you need for your real estate.
The expert VAs at Zirtual come from a variety of industries so naturally they bring a wealth of experience. No matter what type of real estate business you run, our team has seen it all and can handle any task with ease. 
Our virtual assistant onboarding process is the most efficient in the business and our expert VAs are trained to take charge right out of the gate. That means no more wasted time teaching them the ropes – they'll already be experts in the real estate game.
We at Zirtual take hiring seriously and that means only the absolute best of the best make it onto our team. With a strict assessment process that includes evaluating skills, experience, and tech-savviness, we leave no stone unturned to find the ultimate VAs. And that's not all – we also perform thorough background checks to ensure that our team members have a clean record.
Zirtual Pricing Plans
Our virtual assistant pricing plans include:
Entrepreneur Plan ($549/month): 12 hours of work with 1 user.
Startup Plan ($849/month): 24 hours of work with 2 users.
Small Business Plan ($1249/month): 36 hours of work with 3 users.
Team Plan ($1699/month): 50 hours of work with 5 users
2. MyOutDesk – Most Vetted Virtual Assistants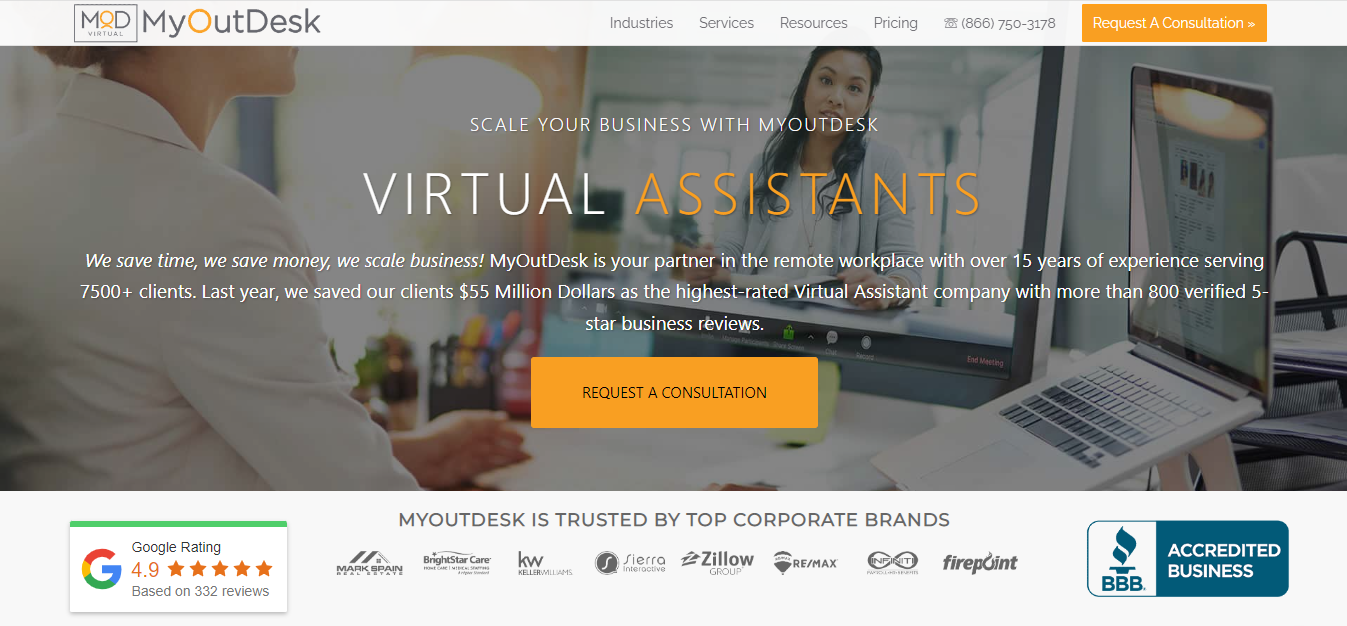 Founded in 2008, MyOutDesk is one of the most reputable and reliable real estate virtual assistant services. It has even been accredited by the BBB with an A+ rating. The company has strict hiring policies and rigorous training programs for its real estate virtual assistants. Each virtual assistant undergoes extensive FBI-grade background checks and vetting to ensure that you only work with the best of the best. 
Having served more than 7500 corporate brands, MyOutDesk has a wealth of experience exceeding most other real estate virtual assistants. The company also offers a proprietary MyTimeIn Productivity & Time Tracking Software. With this software, you can easily monitor your virtual assistant's progress and productivity and stay up to date with the status. 
Each client is assigned a dedicated Client Success Coordinator who trains, monitors, and assesses the performance of your virtual assistant. 
Database management is the most important aspect for real estate professionals and MyOutDesk VAs are well-versed in the latest tools and techniques. From organizing and categorizing leads to ensuring that your contact information is accurate, their VAs will help you streamline your operations.
MyOutDesk Pricing Plans
Pricing plans start at $1988/month (charged quarterly).
3. ShoreAgents – Most Systematic Approach For Guaranteed Results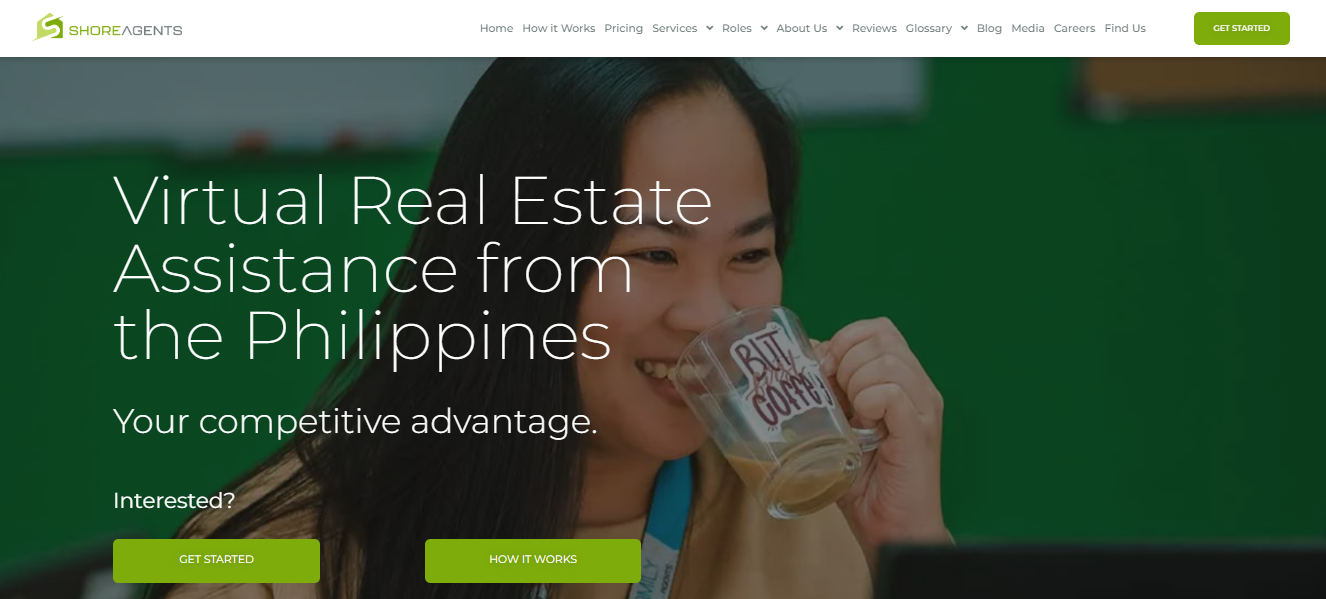 ShoreAgents specializes in providing real estate virtual assistants. It was founded in 2019 and is based in the Philippines. The company has served over 100+ clients and their team consists of over 200 people, all of whom are highly vetted and trained. ShoreAgents only hires trained and licensed real estate professionals who have a deep understanding of the industry. Their virtual assistants specialize in: 
Property sales
Property mortgage
Property development
Property management
The company takes care of staff management, from recruitment to onboarding and training. They also handle performance evaluations, payroll, and benefits. ShoreAgents provides 24-hour coverage to make sure that your virtual assistant is always available when you need them. 
ShoreAgents also offers a 3-month free replacement guarantee. If you are not satisfied with your virtual assistant, they will provide a replacement at no additional cost. 
ShoreAgents Pricing Plans
ShoreAgents offers 5 different plans which are based on the number of virtual assistants and types of services you need. Contact their sales team for a detailed customized quote.
4. Elite Virtual Assistant – Most Inclusive Virtual Assistance Team
Elite Virtual Assistant was established in 2015 in Cleveland, US, and has been making waves since then. The company has an incredibly rigorous screening process, ensuring that only the top 2% of applicants make it onto their team. 
Elite Virtual Assistant knows the importance of investing in their team and provides free training and resources to all of its team members. They hold 3 certifications for diversity and equity that reflect their ongoing efforts to create an inclusive workplace where everyone feels welcome and respected.
Elite Virtual Assistant takes a boutique approach to client relationships where they tailor their services to meet the individual needs of each client they work with. They can help with social media management, data entry, print and web publications, and creating stunning marketing materials that to help you stand out in a crowded market. 
Elite Virtual Assistant Pricing Plans
Customized pricing plans are available on demand.
5. Crewbloom – Most Experienced
Crewbloom has been providing virtual assistant services for the real estate business since its founding in 2016. Their vetting process is rigorous and only the top 2% of global talent makes it into their pool of virtual assistants. With such a stringent process, for every 100 applicants, only 2 qualify to join the team.
Crewbloom has clients in over 22 countries and is trusted by leading brands like Pfizer, Broadly, and MonoPrice. Hiring a virtual assistant through Crewbloom can reduce staffing costs by as much as 70% which is a massive reduction in expenses for real estate agents. 
Crewbloom's virtual assistants have logged over 1,500,000 hours which gives them enough experience to handle all sorts of tasks. They also provide a client success manager who works closely with clients to maximize output.
Crewbloom Pricing Plans
Contact the support team for tailor-made pricing plans.
6. Virtual Gurus – Highly Diverse Virtual Assistants
Virtual Gurus has been in the business since 2016. They have a team of 800 highly vetted and handpicked virtual assistants. With 65% of their team hailing from underrepresented communities, they're truly making a difference in the world of virtual assistance.
Virtual Gurus' VAs are trained to manage all the administrative tasks that a real estate agent simply doesn't have time for. From scheduling appointments to transaction coordination, their VAs are the ultimate support system for sales agents looking to grow their businesses.
Unlike most VA services, Virtual Gurus has a personalized matching system. Rather than being assigned a random virtual assistant, agents are carefully matched with an assistant that has the required skills and expertise. This system is powered by its own proprietary algorithm – a cutting-edge blend of both machine learning and human intelligence.
Virtual Gurus Pricing Plans
Virtual Gurus offers 3 different packages but the pricing is available on demand. 
7. StaffVirtual – Most Affordable Talent
StaffVirtual has been providing virtual assistance services to realtors since 2009. Their commitment to quality is reflected in their ISO 9001:2015 certification. They can match you with an experienced virtual assistant in a short turnaround time of just 2-3 weeks.
The company has a well-documented "90-day Success Plan" that is designed to maximize results. This 4-step process includes hiring, training, identifying matrices, and managing, and it is crafted and executed to perfection. 
StaffVirtual has a rigorous candidate assessment process and they evaluate candidates based on their cognitive abilities, English language proficiency, personality characteristics, and knowledge of the real estate market. To ensure that your virtual assistant is delivering the expected results, StaffVirtual sets KPIs for each executive assistant that are aligned with your specific business goals.
StaffVirtual Pricing Plans
Custom plans are available on demand.
8. We Are Working – Most Personalized Approach
At We Are Working, the virtual assistants come equipped with a team of experts that includes an Account Manager, a Client Success Manager, and a Client Success Director. The sole purpose of this team is to ensure that you receive personalized attention and guidance throughout your journey.
With a track record of a 99% client success rate, their real estate virtual assistants have extensive experience working with a wide range of clients, from individual agents and brokers to large real estate firms. 
Virtual assistants at We Are Working are specially trained to generate leads by creating custom email campaigns, running Facebook ads, and managing your online presence to attract potential buyers and sellers. They can also perform market research and analysis to help you identify new opportunities in your local real estate market. 
We Are Working Pricing Plans
Contact their sales team for a pricing estimate.
9. Office Beacon – Largest Pool Of Virtual Assistants
Founded in 2001, Office Beacon is an ISO 27001-certified company. They have a robust information security management system in place and are also HIPAA-compliant and GDPR-ready. The company has a strict data protection policy that is regularly audited to ensure compliance with these regulations.
With over 4,000 clients served, Office Beacon has a deep understanding of the administrative support needs of real estate agents. They provide over 150 managed services and are well-equipped to handle large volumes of work. They have 4 delivery centers housing 5,500 virtual assistants. 
Office Beacon offers an immediate 40% savings on administrative support costs compared to hiring an in-house assistant. They regularly assess the performance of their virtual assistants, sending weekly quality reports and bi-weekly feedback emails to address any concerns about staff productivity or management.
Office Beacon Pricing Plans
You can contact Office Beacon for a custom price quote.
10. Vasumo – Most Highly-Trained Virtual Assistants
Founded in 2014, Vasumo is one of the fastest-growing virtual assistant companies in the US. Their customers simply adore them and it's no wonder with their 99% recommendation rate. With over 1000 satisfied clients, including big names like Tesla, HubSpot, and Shopify, these virtual assistants are making a name for themselves in the real estate industry. 
The company has a 3-month training program where they spend $10,000 on training for each virtual assistant so that they are equipped with all the necessary skills that you need for your real estate business management. Vasumo offers an advanced project management platform where you can schedule appointments, keep track of them and organize listings. 
Each virtual assistant Vasumo must pass 16 different certifications before they can start working with you. These certifications cover different skills and areas of expertise, from customer service and communication to project management and marketing.
Vasumo Pricing Plans
Economy ($398/month): 20 hours/month.
Business ($498/month): 30 hours/month.
First Class ($598/month): 40 hours/month.
11. Virtual Staffing Solutions – Putting Clients First
Virtual Staffing Solutions has been in the business since 2018. With an impressive team of 1500+ virtual staff, this dynamic company is currently serving over 75 clients across 5 countries. The main USP of the company is their business services in person. While the real estate industry may have traditionally been face-to-face, these virtual assistants are here to change that. 
With their expertise and cutting-edge technology, they're able to perform all sorts of tasks remotely, all while providing the same level of personalized attention you'd expect from an in-person assistant.
Virtual Staffing Solutions Pricing Plans
The company provides tailor-made plans based on your requirements.
12. Use Per Wish – Pinnacle Of Quality Control
Established in 2017, Use Per Wish has helped over 300 customers. They offer a wide range of services that cater specifically to the needs of real estate professionals, including:
Managing listings 
Coordinating open houses
Conducting market research
Handling administrative tasks
Managing social media accounts
Creating and distributing brochures, flyers, and other promotional materials
Use Per Wish has a multi-layered quality control system that ensures the best results every single time. Once your virtual assistant has completed the assigned task, a second review will be conducted to double-check the work and ensure there are no errors or mistakes. Finally, the project manager will perform a final check to ensure the work is of the highest quality.
Use Per Wish Pricing Plans
Hour-based subscription ($8/hour): 10 to 60 hours of balance/month.
Part-time subscription ($559/month): Offers assistance for 4 hours/day, 5 days/week.
Full-time subscription ($879/month): Offers assistance for 8 hours/day, 5 days/week.
Unlimited validity subscription (12/hour): Offers unlimited validity with flexible minute-based billing.
13. Virtual Assistant Staffing Agency – Most Advanced Processes
Virtual Assistant Staffing Agency has a pool of highly skilled Filipino virtual assistants. These virtual assistants are equipped with advanced systems and processes that allow them to work smarter and more efficiently than ever before. They have a set of advanced workflows and protocols that enable them to complete their tasks with great accuracy and attention to detail. 
By hiring virtual assistants from Virtual Assistant Staffing Agency, you can save up to 80% on your payroll expenses. The 5-step virtual assistant placement process is designed to ensure that you get the perfect fit for your real estate business. Once they're on board, they receive specialized training to help them prioritize and focus on the most important tasks and projects.
Virtual Assistant Staffing Agency provides a lifetime guarantee. If you are not satisfied with your virtual assistant, they will replace them free of charge. 
Virtual Assistant Staffing Agency Pricing Plans
Placement Fee ($250): Per hire.
Placement Fee ($1000): Lifetime hires.
Virtual Assistant Management ($4/hour): For managing the virtual assistant. Charges on top of VA's hourly pay.
14. 2nd Office – Trusted By Fortune 500 Companies
Established in 2012, 2nd Office is a premier virtual assistant service provider for real estate agents and brokers. With over 550 highly skilled virtual assistants on their team, they have served 80+ customers, including Fortune 500 companies, and have a 92% client retention rate.
2nd Office has perfected the art of efficiency, thanks to its cutting-edge systems and processes. By taking on time-consuming administrative tasks such as data entry, appointment scheduling, and lead generation, they can reduce your costs by 70%. 
2nd Office's virtual assistants can help you develop and implement strategies to drive sales, manage your social media presence, and even assist with property management tasks. With their expertise in real estate and cutting-edge technology, they are an invaluable asset to any real estate professional.
2nd Office Pricing Plans
Customized pricing plans are available on demand.
15. Outsourcing Angel – Hassle-Free & Reliable
Outsourcing Angel is an Australian-based company that was founded in 2015. Their delivery center is located in the Philippines, providing access to a highly skilled and diverse workforce. The company has a dedicated training setup for its virtual assistants which is called "Angel Academy" and provides extensive training and resources to them. 
From managing client relationships to marketing and administrative tasks, their virtual assistants are skilled in different tasks. Outsourcing Angel has a rigorous 6-step hiring process. They carefully screen and select only the most qualified and experienced virtual assistants to join their team. With a dedicated account manager, you get not just one, but two resources at the price of one.
Outsourcing Angels Pricing Plans
Basic ($1500/month): Offers 20 hours of work/week.
Standard ($3500/month): Offers 20 hours of work/week. The system includes system automation along with VA services.
16. 20four7VA – Most Accredited Company
Established in 2014, 20four7VA has since served 2,900 clients from 47 different industries. It is a BBB Accredited business and prioritizes ethics and transparency in all its dealings. With a staggering 17,000 virtual assistants matched with clients to date, it's no wonder they have been recognized as an Inc. 5000 company and a finalist for the BBB Torch Awards for Ethics. Their VAs can handle tasks related to real estate, including:
Email marketing
Lead generation
Property research
Appointment setting
Database management
Social media management
With over 40 training and upskilling modules, their VAs are continuously improving their skills and can help you cut costs by up to 80%.
20four7VA Pricing Plans
The rates start at $5/hour. Contact their sales team to get a custom quote.
Conclusion
As a realtor, you be the busy bee you are by being on the constant move and doing what you do best. Leave the rest for your virtual assistant to save the day. A virtual assistant for realtors can take over the grunt work so that you can focus on your strongest suit – putting a closure to a winning deal.
Here's to efficient calendar management, travel arrangements, cold calling, bookkeeping and so much more. Let our Zirtual virtual assistant team supercharge your real estate business. Our pool of virtual assistants for realtors is nothing short of superheroes themselves. They are skilled, they are pros, they are Zirtual Assistants. Book a free consultation now and you'll wonder how you ever managed without our virtual assistants.