A growing client base, a vicious cycle of meetings, research, and endless paperwork – that is enough to make even the most experienced financial advisors want to pull their hair out. You need out – big time and fast. A virtual assistant for financial advisors is the only person who can rescue you from your time-consuming administrative tasks. 
These guys are equipped to handle the A to Zs of scheduling appointments, managing client communications, conducting research and so much more. They are the masters of the craft to unburden you and let you focus on building client relationships and growing your business.
But to find a skilled and true virtual assistant for financial advisors may take a whole lot of your patience and a keen eye. Or wait, we have a better suggestion. You can read this article to learn about the 16 best sites that offer virtual assistant services for financial advisors.
By the end of these power-packed 8 minutes, you'll be a more relaxed and happier person, all knowledgeable about how to pick that one person who'll take over the administrative work from you.
16 Best Platforms To Hire A Proficient Virtual Assistant For Financial Advisors
Here are our top 3 picks for the best websites to hire the most ideal financial advisor virtual assistant:
Zirtual – Best overall 
RemSource – Most self-driven VAs
20four7VA – Most versatile competency
Let's get started with a detailed review of the 16 best sites for hiring financial advisor virtual assistants.
1. Zirtual – Top Pick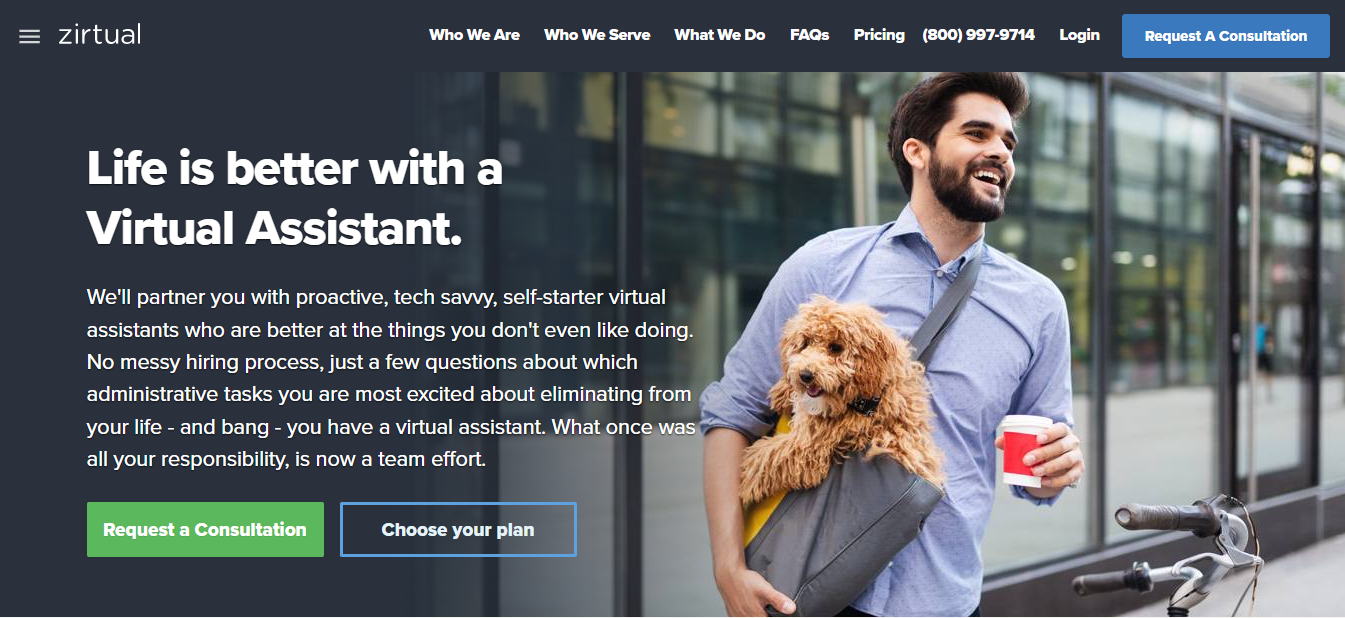 Zirtual leads the way in the virtual assistance industry, always staying ahead of the curve to fulfill clients' evolving requirements.
At Zirtual, we specialize in recruiting top-notch virtual assistants exclusively for financial advisors. Our assistants are college graduates based in the United States, ensuring they possess the utmost professionalism, language expertise, and cultural awareness to meet your needs. 
Our Zirtual virtual assistants are equipped with a systematic problem-solving approach, coupled with a knack for creative and critical thinking. This unique combination empowers them to take on intricate tasks with ease and discover inventive solutions for even the toughest challenges.
At Zirtual, we have a strict policy of aiming for excellence. Our hiring process is meticulous and comprehensive, leaving no room for anything but the best. We thoroughly evaluate each candidate's qualifications, experience, and skills, handpicking only the most qualified and capable individuals to join our team.
At Zirtual, our virtual assistants bring a wealth of experience from diverse industries. This diversity is a major advantage as it offers a wider outlook and a deeper comprehension of various business sectors. Their industry-specific insights and practical know-how are invaluable assets when it comes to tackling tasks and overcoming challenges customized to your specific field.
When it comes to onboarding, Zirtual sets the gold standard. From the very first interaction, you'll witness our unparalleled professionalism and meticulous attention to detail which makes outsourcing operational tasks a breeze. Our onboarding process is carefully crafted to gather all the necessary information about your business, objectives, and expectations. 
Zirtual Pricing Plans
Our virtual assistant pricing plans include:
Entrepreneur Plan ($549/month): 12 hours of work with 1 user.
Startup Plan ($849/month): 24 hours of work with 2 users.
Small Business Plan ($1,249/month): 36 hours of work with 3 users.
Team Plan ($1,699/month): 50 hours of work with 5 users.
2. RemSource – Most Self-Driven VAs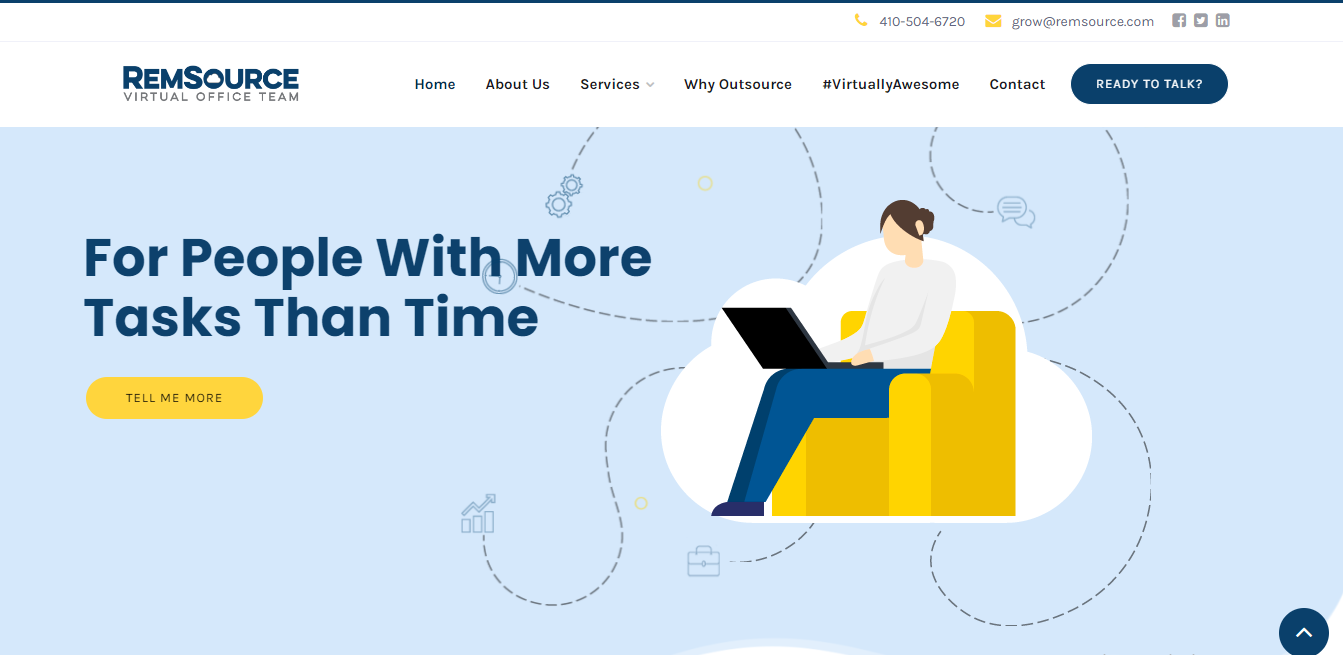 Since 2009, RemSource has been providing US-based virtual assistants who are native English speakers. Having served over 222 businesses, they have developed a deep understanding of the specific needs and challenges faced by financial advisors. 
RemSource's virtual assistants are not only highly skilled but also friendly and approachable. You can expect a warm and professional interaction every time you delegate tasks to them. They genuinely care about supporting you and ensuring your success.
Whether it's managing your inbox, conducting research, or preparing reports, their virtual assistants are capable of handling a wide range of tasks efficiently and with the utmost confidentiality.
RemSource Pricing Plans
Reach out to RemSource for customized plans.
3. 20four7VA – Most Versatile Competency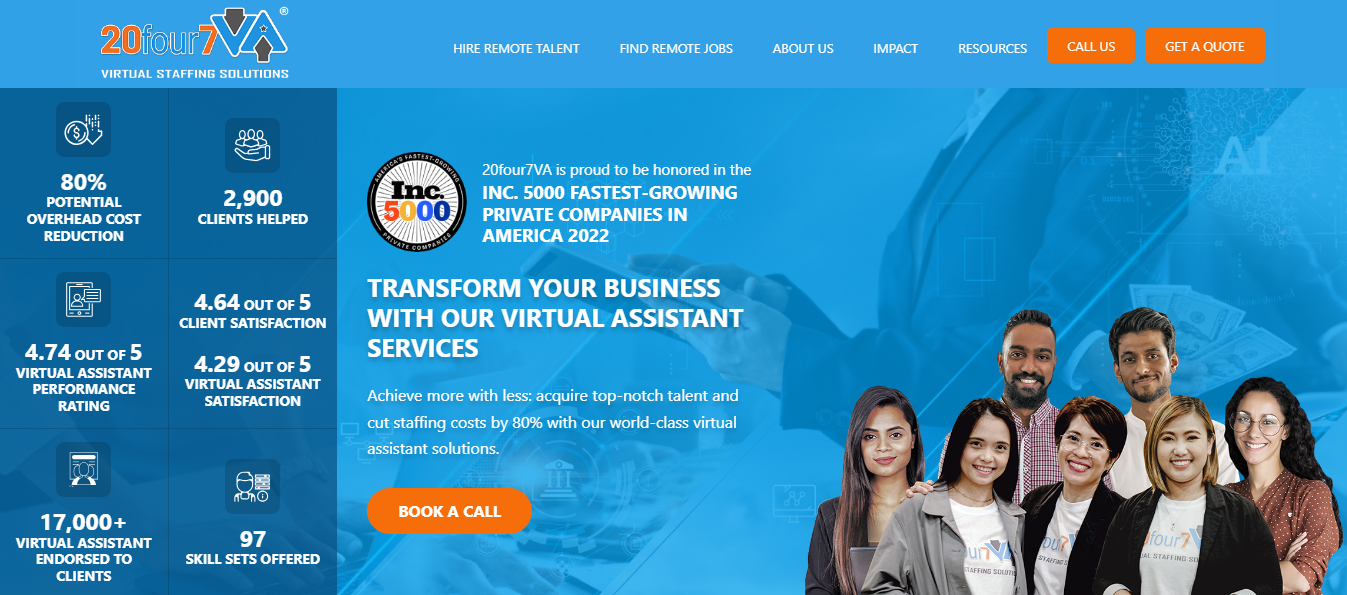 20four7VA has been in the business since 2014. It is not just another run-of-the-mill virtual assistant service. They are a BBB-accredited business with an A+ rating. They have also been featured on Inc. 5000 as one of the fastest-growing companies in the US.
20four7VA provide a robust project management system that ensures seamless communication and efficient collaboration between you and your virtual assistant. From administrative support, appointment scheduling, and CRM management to research, report generation, and data analysis, their services are specifically tailored to meet the needs of financial advisors.
20four7VA has stringent measures in place to protect your sensitive information and ensure that your client's privacy is safeguarded at all times. You can leverage virtual assistants knowing that they will handle your data with care and professionalism. 
20four7VA Pricing Plans
Customized pricing plans are available on demand.
4. VirtuDesk – Most Careful Matching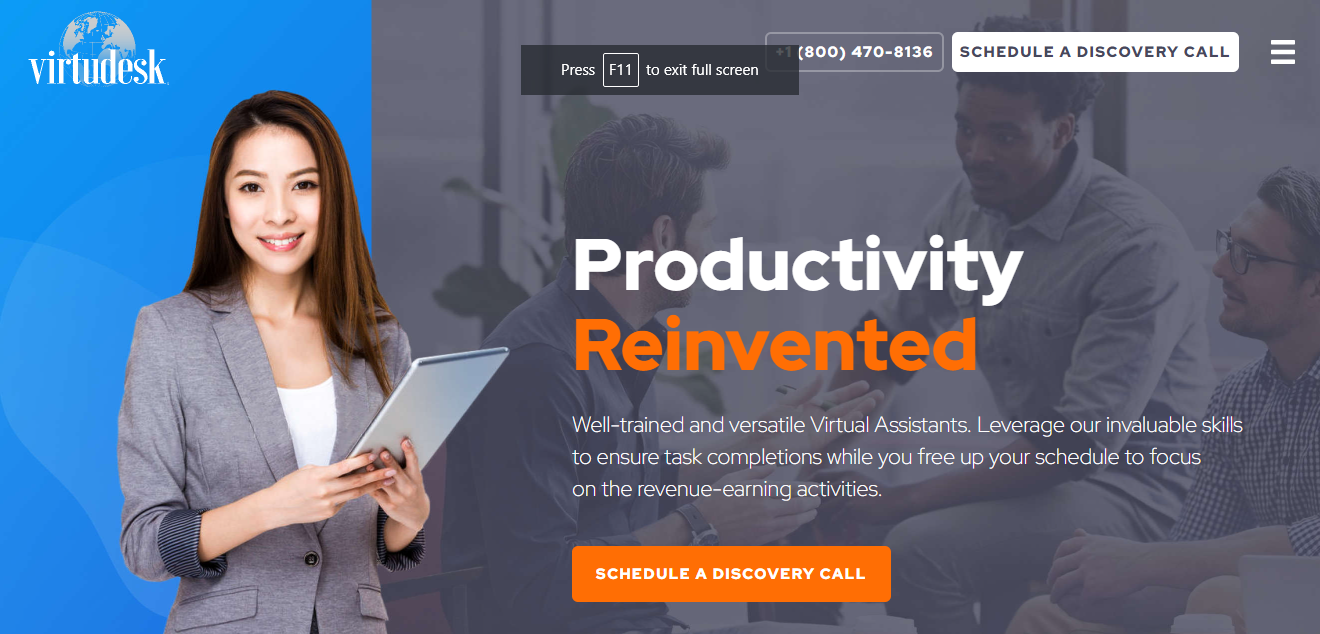 VirtuDesk is a BBB-accredited business that was founded in 2016. It has also been featured in the renowned Inc. 5000 list. When you hire a virtual assistant from VirtuDesk, you can rest assured that you're getting a dedicated professional who understands the intricacies of the financial advisory industry.
Their virtual assistants are adept at managing client inquiries, scheduling appointments, and providing personalized support. They can handle client onboarding, follow-ups, and even assist in preparing presentations or reports so you can focus on the strategic side of the business.
VirtuDesk offers virtual assistants across different time zones, allowing you to extend your business hours and provide round-the-clock support to your clients. They carefully match you with a virtual assistant who complements your needs to ensure a productive and harmonious working relationship.
VirtuDesk Pricing Plans
VirtuDesk's pricing starts at $9.55/hour. Reach out to their support team for a tailor-made quote.
5. MyOutDesk – Most Vetted Team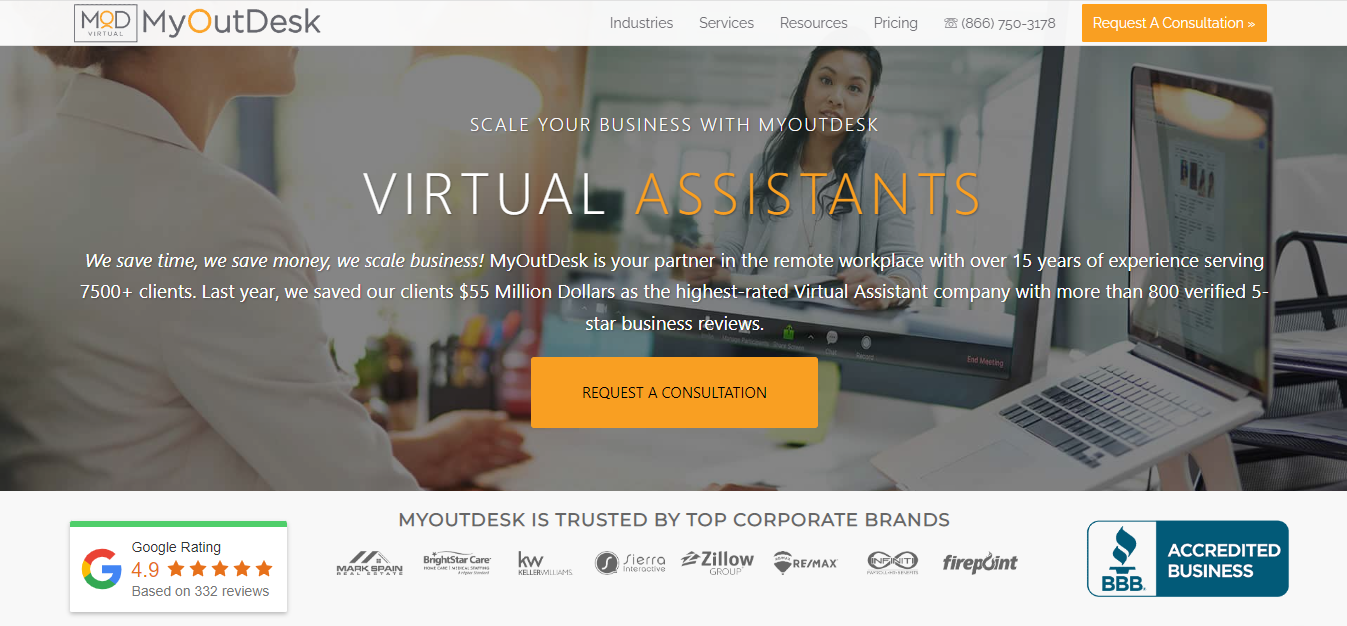 With a solid foundation dating back to 2008, MyOutDesk has served over 7,500 clients and has earned a reputation for being one of the best in the business. They have a strict hiring process and select only the best to join their team. They conduct FBI-grade background checks and thorough vetting of every candidate to ensure that each candidate has a clean record.
MyOutDesk has developed a comprehensive training program for specialized back-office tasks required in the financial advisory field. They equip them with the knowledge and skills needed to excel in assisting financial advisors, whether it's managing client communication, providing marketing support, or conducting market research. 
To enhance productivity and efficiency, MyOutDesk provides its clients with the powerful MyTimeIn Productivity & Time Tracking Software. With this tool, you can track time spent on specific tasks, ensure timely completion of assignments, and maintain clear communication with your virtual assistant.
MyOutDesk Pricing Plans
Pricing plans start at $1,988/month (charged quarterly).
6. Outsourcing Angel –  Most Accomplished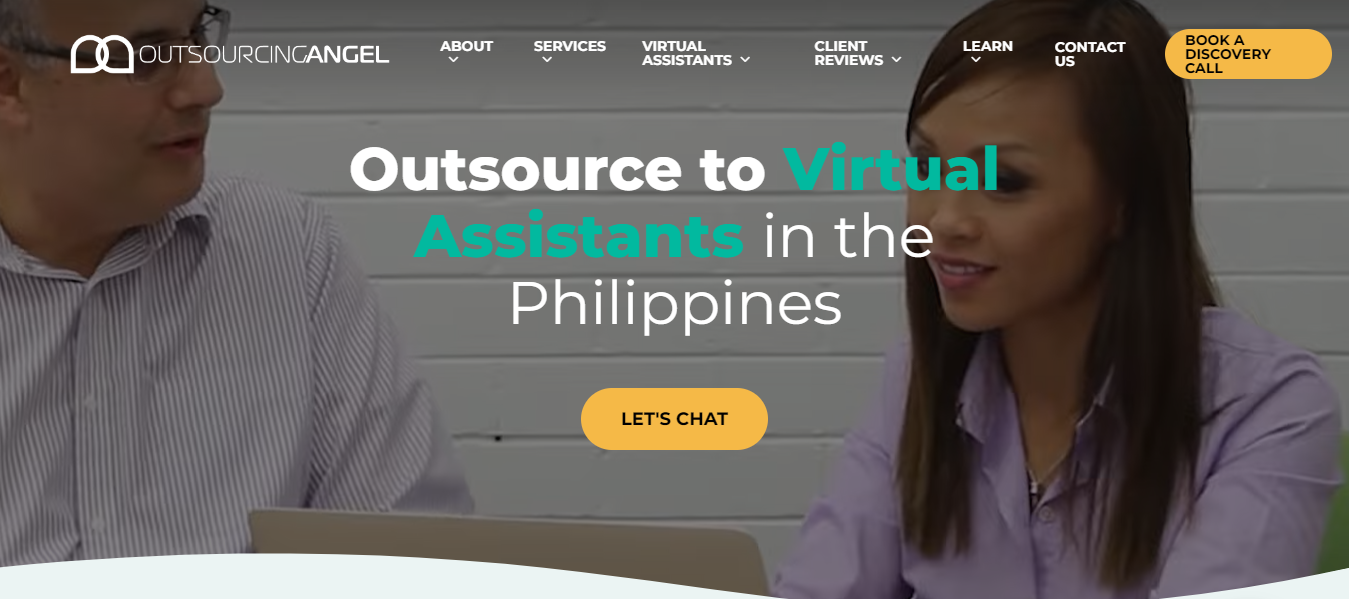 Founded in 2015, Outsourcing Angel is an Australian company with a delivery center located in the Philippines. This strategic positioning enables them to provide top-notch virtual assistant services at a fraction of the cost without compromising on quality. 
Outsourcing Angel has established the highly acclaimed "Angel Academy." This dedicated training program covers a wide range of topics specific to the financial advisor industry, including handling client agreements, financial planning, administrative tasks, and more.
Within just 24 hours of engagement, they will provide you with a roadmap outlining the process and next steps. Outsourcing Angel has developed their proprietary 4-Step GROW model that serves as a blueprint for success, guiding virtual assistants to understand your specific goals, define actionable tasks, monitor progress, and achieve desired outcomes.
Outsourcing Angels Pricing Plans
Basic ($1,500/month): 20 hours of work/week.
Standard ($3,500/month): 20 hours/week. The system includes system automation along with VA services.
7. Aristo Sourcing – Fully-Supported Services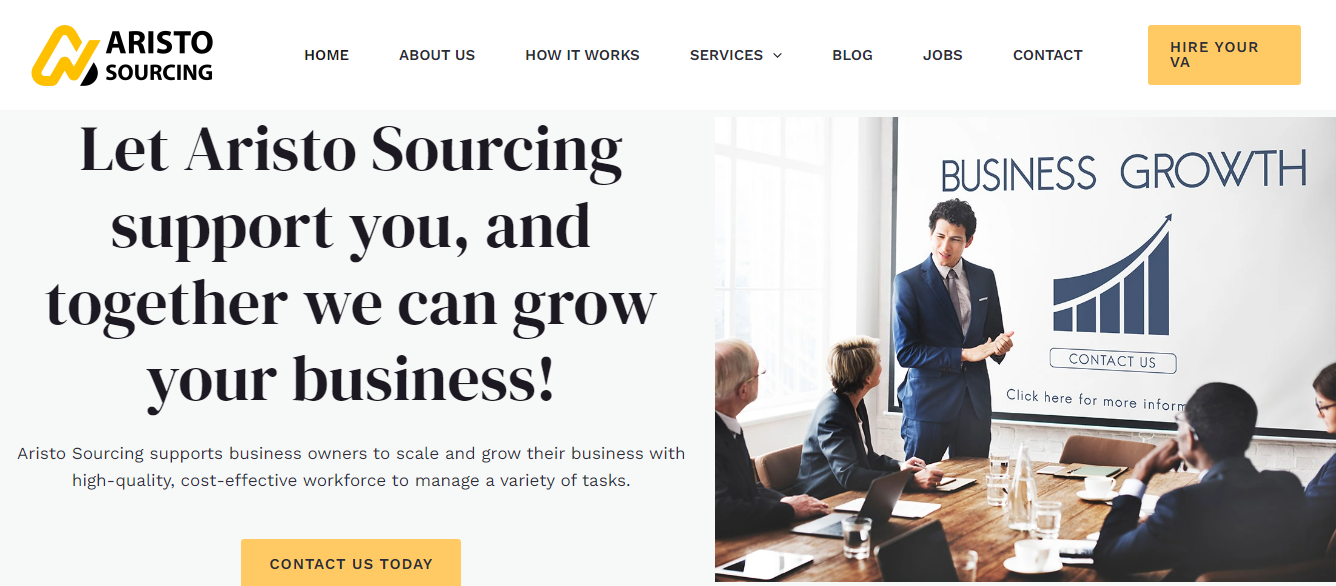 Aristo Sourcing was established in 2014. The company carefully selects and rigorously vets its virtual assistants to ensure they possess the necessary skills, experience, and dedication to meet the expectations of financial advisors. They have implemented stringent security measures to protect your data and ensure that your clients' trust remains intact.
With Aristo Sourcing, you have the flexibility to scale up or scale down your virtual assistant's hours based on your specific needs. Their virtual assistants are equipped with the latest technology and tools to collaborate effectively. From video conferencing to project management platforms, your virtual assistant is readily accessible and seamlessly integrated into your workflow. 
Their dedicated support team is available to address any questions or concerns that may arise during your collaboration with your virtual assistant.
Aristo Sourcing Pricing Plans
Custom plans are available on demand.
8. Belay – Most Systematic
Founded in 2010, Belay has quickly established itself as one of the premier platforms for hiring virtual assistants. It has been featured on the prestigious Inc. 5000 list. They have a vast network of over 1,200 virtual assistants, strategically located across 48 states. They promise to match you with a highly qualified virtual assistant in under a week so you can start sooner rather than later.
Belay's virtual assistants are well-versed in a wide range of financial software, including customer relationship management (CRM) platforms, portfolio management systems, and portfolio accounting software.
To ensure seamless integration with your practice, Belay provides customized training for your virtual assistant. They take the time to understand your specific processes, software, and tools, and tailor the training accordingly.
Belay Pricing Plans
Packages start at $1,380/month for 30 hours. Contact their support team for a customized plan.
9. VA Staffer – Ideal For Diverse Tasks
VA Staffer has been in the virtual assistant industry for over 8 years. They have a team of over 150 skilled and experienced virtual assistants. They are specifically trained to optimize your productivity and efficiency. In fact, they have increased the ROI for most of their clients by 30%.
VA Staffer's virtual assistants have a deep understanding of the compliance requirements of your industry. Whether it's managing client databases, social media marketing, or even conducting research for investment opportunities, they possess the domain-specific knowledge to execute these tasks seamlessly.
Thanks to their collaborative environment, if your assigned virtual administrative assistant encounters a challenge or needs guidance, they have a network of experienced professionals to consult and take help from.
VA Staffer Pricing Plans
Dedicated Assistant (Starts at $800/month): 20 to 40 hours a week.
Hourly Plan (Starts at $298/month): Available for 20, 50, and 100 hours.
10. Virtual Gal Friday – Oldest In The Business
Virtual Gal Friday has been in the business since 1998. They have a rigorous hiring process and they partner with trusted agencies for thorough background verifications. The company invests in continuous training and professional development for its virtual assistants. 
They offer customized training programs that cater specifically to the needs of financial advisors so they can stay up to date with the latest industry trends, software applications, and best practices.
Virtual Gal Friday embraces the latest technology to enhance productivity and collaboration. They leverage advanced communication tools, project management software, and cloud-based platforms to ensure seamless integration with your existing systems. This tech-savvy approach streamlines workflows, facilitates real-time communication, and enables efficient task management, ultimately saving you time and effort.
Virtual Gal Pricing Plans
Pay as you go ($325): Pay upfront and replenish when all time is used.
VGF Basic ($500/month): Includes 10 hours/month.
VGF Pro ($920/month): Includes 20 hours/month.
VGF Premium ($1680/month): Includes 40 hours/month.
VGF Supreme ($2280/month): Includes 60 hours/month.
VGF Supreme Plus ($2880/month): Includes 80 hours/month.
11. Bizee – Most Flexible Working Structure
Established in 2017, Bizee sources its virtual assistants from Europe. They are well-versed in the regulations, compliance requirements, and market dynamics that financial advisors in Europe encounter on a daily basis. Bizee's virtual assistants are adept at assisting financial advisors in client communication and relationship management. They can handle client inquiries, respond to emails, and even participate in initial client meetings
Bizee has a robust quality assurance process in place to monitor and assess the performance of its virtual assistants. Regular performance evaluations, feedback mechanisms, and customer reviews are all part of this process. Their virtual assistants have access to a vast network of professionals, including other financial advisors, industry experts, and service providers. This network can be leveraged to benefit financial advisors in various ways.
Bizee Pricing Plans
Custom pricing plans are available on demand.
12. Task Virtual – Most Cost-Effective
Task Virtual virtual assistant services is a renowned name in the industry. If we talk numbers, the company has successfully served more than 1,300 clients to date while accomplishing 24,500+ projects in just 6 years of being. Task Virtual uses cutting-edge secure servers to guarantee the utmost confidentiality and protection of all shared data.
At Task Virtual, their virtual assistants possess strong analytical skills and can handle data analysis tasks efficiently. They can generate comprehensive reports, analyze key performance indicators, and present data in a visually appealing manner.
Task Virtual's virtual assistants excel in client onboarding and engagement. They can assist in the creation of client welcome packages, coordinate onboarding processes, and provide ongoing support to clients, ensuring a seamless experience from the first interaction.
Task Virtual Pricing Plans
Pay as you go ($15/hour): Billed on an hourly basis.
Part-time ($699/month): 100 hours of work (8 hours/day) with a dedicated assistant.
Full-time ($999/month): 160 hours of work (4.5 hours/day) with a dedicated assistant.
13. Use Per Wish – Most Advanced Quality Control
Use Per Wish thrives on efficiency and reliability when it comes to providing virtual assistant services for financial advisors. The team comprises trained professionals who have expertise in providing administrative support for financial advisors and can handle an array of tasks without breaking a sweat.
Use Per Wish's is known for its quality control. They house a multi-layered quality control system that ensures that the work delivered by their team is exceptional. So how do they do it? Via regular check-ins, performance evaluations, and a dedicated quality control team that is responsible for delivering work as per your expectations. 
They do offer a 5-hour smart trial period for your convenience with no contractual obligations.
Use Per Wish Pricing Plans
Hour-based subscription ($8/hour): 10 to 60 hours of balance/month.
Part-time subscription ($559/month): Assistance for 4 hours/day, 5 days/week.
Full-time subscription ($879/month): Assistance for 8 hours/day, 5 days/week.
Unlimited validity subscription (12/hour): Unlimited validity with flexible minute-based billing.
14. Crewbloom – Trusted By Global Brands
Since its establishment in 2016, Crewbloom has been delivering virtual assistant solutions specifically designed for financial advisors. They have some big client names from over 22 countries linked to its portfolio, including Pfizer, Broadly, and MonoPrice. They are known for their meticulous vetting process that results in only the top 2% of global talent making it to their team.
With a track record of over 1,500,000 hours of logged experience, the virtual assistants at Crewbloom possess the expertise and proficiency required to manage different tasks. Additionally, they provide a client success manager who collaborates closely with clients for optimal productivity and output. Crewbloom can reduce the cost of hiring virtual assistants by 70%. 
Crewbloom Pricing Plans
Tailor-made pricing plans are available on request.
15. Office Beacon – Largest Pool Of Virtual Assistants
An ISO 27001-certified virtual assistant company, Office Beacon was founded in 2001. They are also HIPAA-compliant and GDPR-ready. This shows that the company adheres to a vigilant data protection policy that is regularly audited to ensure compliance with these regulations.
Currently, Office Beacon has 5500 virtual assistants working from 4 delivery centers. They have an equally big clientele as well. With over 4,000 clients served and 150 managed services, Office Beacon has the complete know-how of the administrative needs of financial advisors. 
At Office Beacon, they perform regular checks on their virtual assistant's work. They send weekly quality reports and bi-weekly feedback emails to their clients. The best news is that Office Beacon offers an instant 40% savings on administrative support costs compared to hiring an in-house assistant. 
Office Beacon Pricing Plans
Contact the Office Beacon support team for custom pricing.
16. GetFriday – Ideal For Small Financial Advisories
GetFriday was founded in 2005 and has served 8,000 satisfied customers from 80 countries. They are also an ISO 27001-certified company, handling your information under strict compliance to keep it safe and secure.
Bagging a 15-year experience in their respective fields, the virtual assistants at GetFriday ensure that your tasks don't remain your worry anymore. They offer backup help as well as experienced teams for specialized tasks.
Within 24 hours of your request, you'll be connected with a virtual assistant. With GetFriday, you also get access to an online customer portal to help you track down all the work activity of your hired virtual assistant. 
GetFriday Pricing Plans
Basic 5 ($65/month): 5 hours of work.
Basic 10 ($120/month): 10 hours of work. 
Basic 20 ($200/month): 20 hours of work.
Custom Plans: Tailor-made quotes.
Conclusion
So whether you're a solo practitioner, a small firm, or work for a larger financial institution, virtual assistants will not only offload the tasks that are crucial for running a business but also assist you in providing exceptional financial services to your clients.
What is crucial is that you find the right match for your unique requirements. Consider their experience and qualifications and thoroughly analyze their skills. But be prepared that the process itself may give you burnout.
At Zirtual, we take care of all these things for you to save you from your troubles. We offer the best US-based virtual assistant for financial advisors who have college degrees. Not only our people are highly qualified but they are proactive beings, great at taking care of tasks that you are not thrilled about. Sounds fun, right? Contact us now to discover ways we can help you with revolutionizing your productivity and reclaiming your time.