As a business or life coach, you're used to transforming people's lives but who's going to transform yours? Meet your new MVP – the virtual assistant for coaches. These super beings understand the unique challenges of the coaching business and can take care of the administrative tasks so you can focus on perfecting your "you got this" speech.
Ok, so now that you know you need a virtual assistant in your life. But where in the world would you find this Godsent person, valuable enough to turn your life around? Because a) Finding the right virtual assistant isn't that easy. b) Even if you do find one, who says it's going to work out just the way you want, and c) Who cares about "c" when "a" and "b" are not working in your favor? 
Buckle up, as we are going to take you on a journey of discovering 16 of the best virtual assistant websites for coaches.
You can count on us when we say, by the end of this 10-minute guide, you'll know exactly which site to knock on for help you need to clear the chaos in your life so you can rise to the real challenge.
16 Best Websites For Coaches To Hire Efficient Virtual Assistants 
Here are our top 3 picks for the best websites where online coaches can hire virtual assistants:
Zirtual – Best overall 
Prialto – Enterprise-level security
24/7 Virtual Assistant – Self-driven virtual assistants
Let's get started with a detailed review of our shortlisted platforms.
1. Zirtual – Top Pick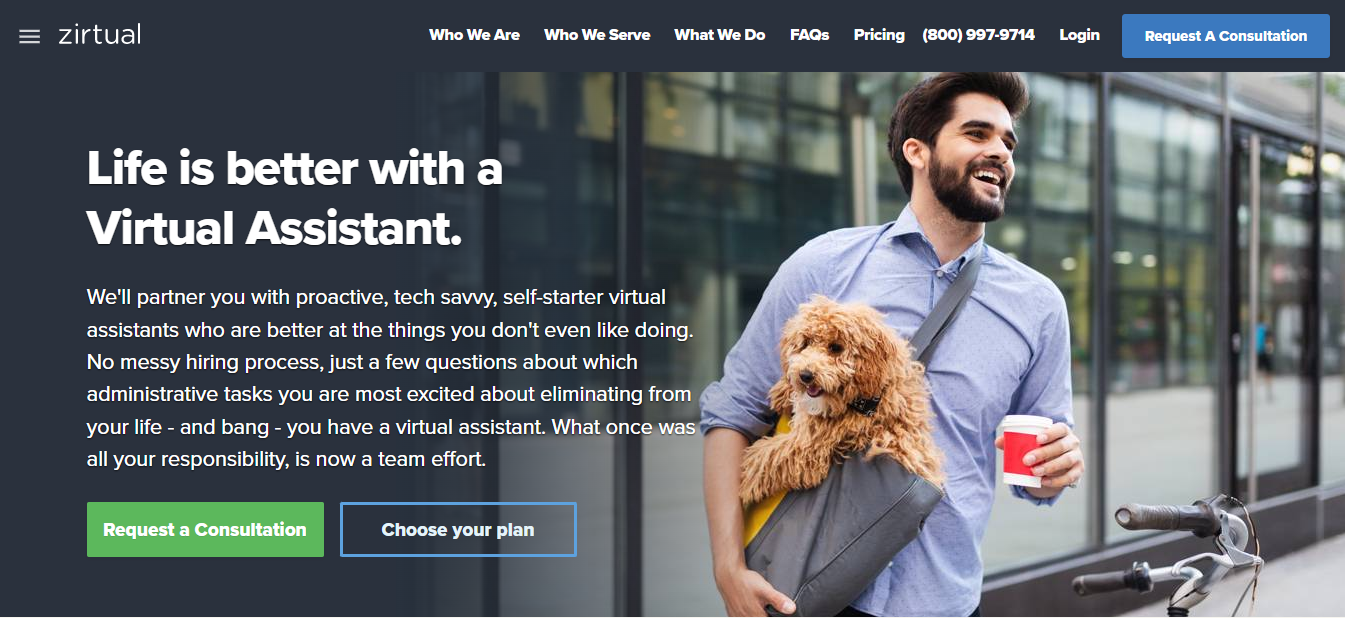 Zirtual is the best website to hire virtual assistants for life coaches and business coaches. Our virtual assistants are all college graduates so you get only the VA who have a solid foundation of knowledge and skills that they can apply to their work.
At Zirtual, we only hire virtual assistants that are based in the US as we know that business coaches prefer to work with VAs who are located in the same country. Our virtual assistants are independent workers that take charge of their tasks without constant supervision. They are proficient in the latest technology and are motivated to take on new challenges.
At Zirtual, we are very picky when it comes to choosing our virtual assistants. We have a rigorous screening process that includes multiple interviews, background checks, and skill assessments. This ensures that they are capable of handling a variety of tasks, from calendar management to answering phone calls to generating leads by finding more clients. 
The best thing about our virtual assistants – they can jump right in and start working on your projects right away. Unlike other VAs who may require a long onboarding process or constant guidance, our VAs are experienced and skilled enough to get going from day one.
At Zirtual, we train our virtual assistants to be regular deliverers every single time. We understand the importance of consistency and reliability in a coaching business, which is why we ensure that our VAs are consistent in their work and meet deadlines every time.
Zirtual Pricing Plans
Our virtual assistant packages are:
Entrepreneur Plan ($549/month): 12 hours of work with 1 user.
Startup Plan ($849/month): 24 hours of work with 2 users.
Small Business Plan ($1249/month): 36 hours of work with 3 users.
Team Plan ($1699/month): 50 hours of work with 5 users
2. Prialto – Enterprise-Level Security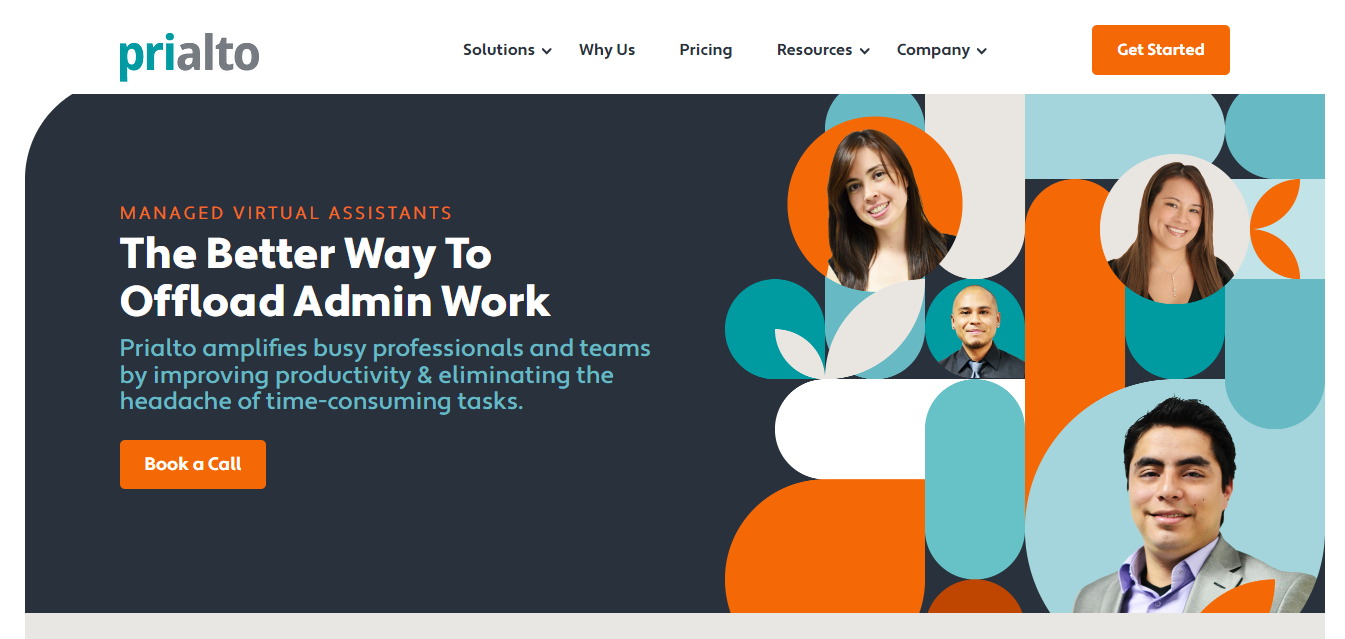 Founded in 2009, Prialto has become a renowned name in the virtual assistant business landscape. They have a proactive, "can-do" culture that sets them apart from other virtual assistant services. They're always looking for ways to help their clients succeed and make their lives easier.
And this is all result of their best practices. Prialto has developed these practices from over 1 million hours of experience working with clients across a wide range of industries. This means that they know what works and what doesn't and they can help you get the most out of your virtual assistant.
Prialto believes in continuity which is why they provide backup assistants to ensure that you never lose a day. They also back each of their assistants with an Engagement Manager who'll oversee your virtual assistant to ensure that everything is running smoothly. This is like having a full-time employee but without the overhead costs.
Security is also a top priority for Prialto. They use enterprise-level security to protect your data and provide a comprehensive set of safeguards for client data. Their data security infrastructure segments physical, electronic, and human security to ensure that your data is always safe.
Prialto Pricing Plans
"Yourself" Plan ($1350/month): 55 hours of work. 1 user included.
"Your Team" Plan ($4050/month): 165+ hours of work. 3+ users.
"Your Organization" Plan (Custom Pricing): 440+ hours of work. 8+ users.
3. 24/7 Virtual Assistant – Self-Driven Virtual Assistants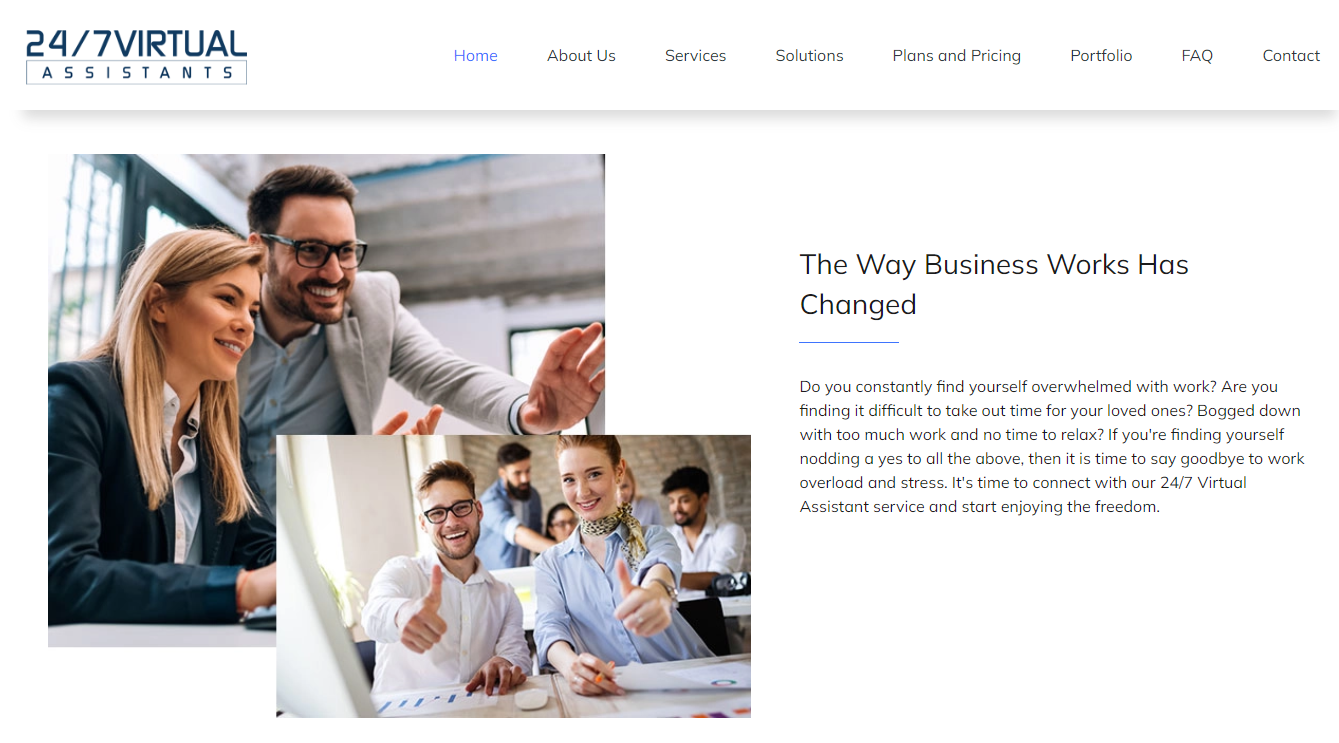 Established in 2006, 24/7 Virtual Assistant has years of experience providing virtual assistant services to coaches worldwide. With 24/7 Virtual Assistant,  you won't have to worry about miscommunication or errors in your work since their virtual assistants are native English speakers who understand, read, and write the language with ease.
Whatever your specific needs as a business coach or online coach, 24/7 Virtual Assistant has a VA who can handle the job with professionalism and expertise. They ensure that the job is done with minimal supervision and zero errors. You won't have to worry about micromanaging or double-checking their work, giving you more time to focus on other important aspects of your coaching business.
Virtual assistant from 24/7 Virtual Assistant are available round the clock. You can delegate tasks at any time, knowing that your VA will be available to complete them promptly. This flexibility is particularly useful for coaches who work across different time zones or have a tight schedule.
24/7 Virtual Assistant Pricing Plans
Entrepreneur ($399/month): 20 hours of work.
Starter ($749/month): 40 hours of work.
Professional ($1049/month): 60 hours of work.
Office ($1399/month): 80 hours of work.
Executive ($1999/month): 120 hours of work.
VIP ($2549/month): 160 hours of work.
4. WoodBows – Award-Winning Virtual Assistant Services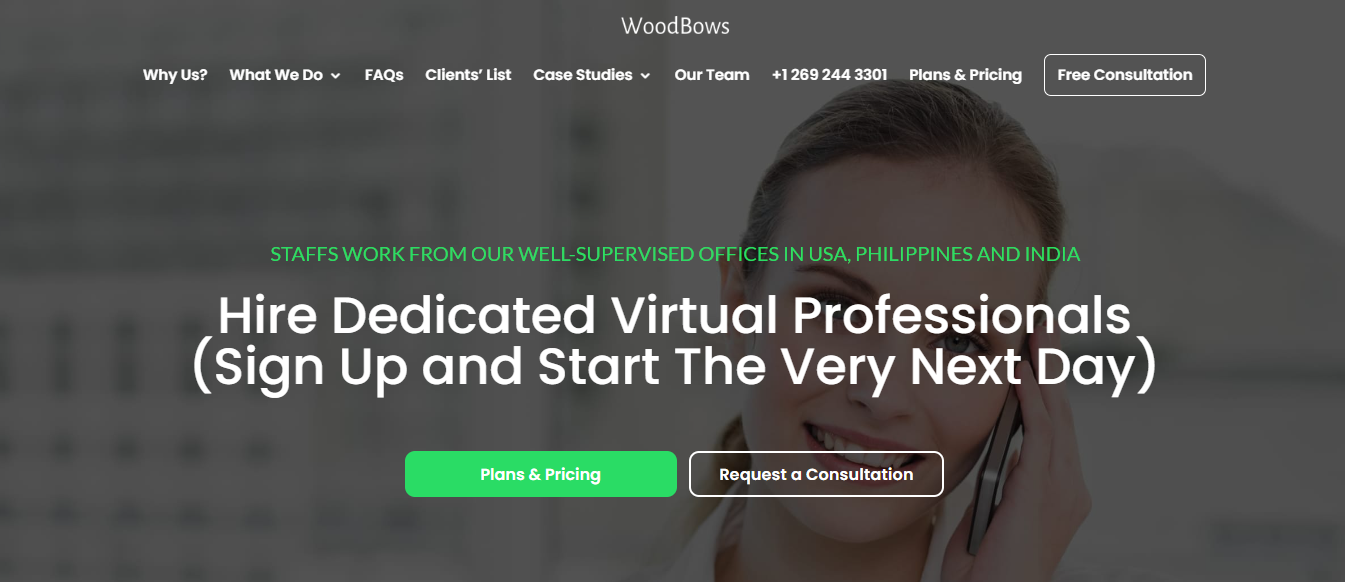 WoodBows is one of the leading virtual assistant service providers with over a decade of experience in the industry. They have served over 1000 customers, with a 99.7% client repetition rate which shows their commitment to delivering quality service to their clients. It's no surprise that WoodBows has received recognition from Forbes USA, winning the "Best For Customer Satisfaction" award. 
WoodBows has a quick turnaround time that lets you hire a virtual assistant in just a day. With a virtual assistant from WoodBows, you can save up to 75% of your time, allowing you to focus on your business and closing new deals.
Some clients have reported an 89% increase in sales after hiring a virtual assistant from them. This is because WoodBows virtual assistants are highly skilled and experienced in various business tasks, including lead generation, customer support, and social media management, among others.
A virtual assistant from WoodBows can also serve as a personal assistant, taking care of your scheduling, email management, and other administrative tasks so you can focus on delivering high-quality services to your clients. 
WoodBows Pricing Plans
Plan A ($599/month): 40 hours monthly.
Plan B ($999/month): 80 hours monthly.
Plan C ($1499/month): 160 hours monthly.
Value Plan (Custom Pricing): Tailor-made solutions.
5. Delegated – Comprehensive Hiring Standards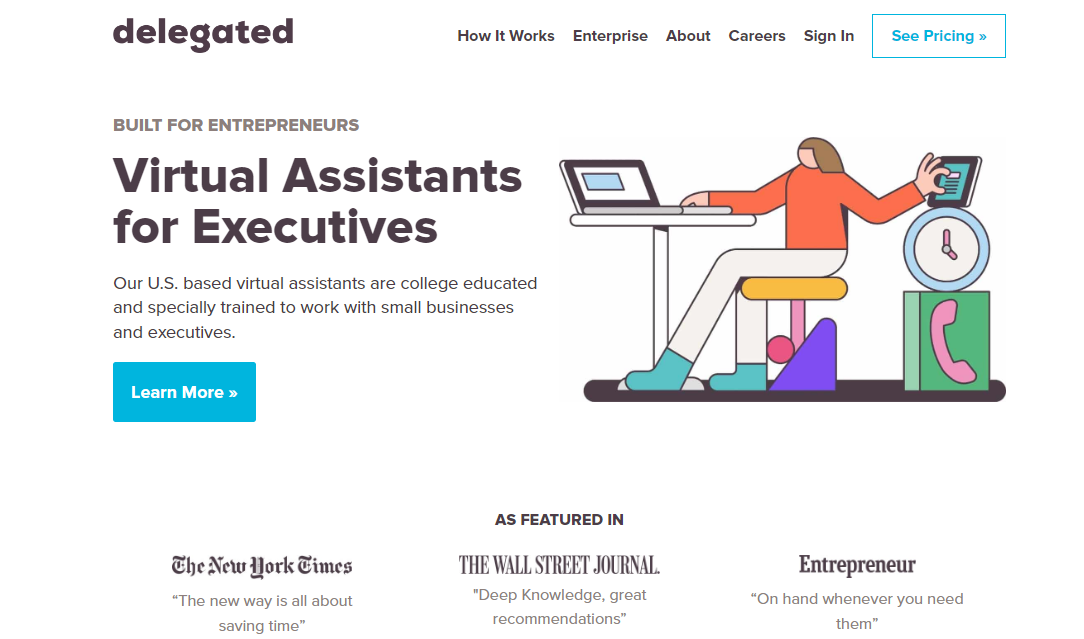 Delegated is another great option in our list for coaches looking to hire virtual assistants. They only hire U.S.-based virtual assistants, taking away the worries about communication barriers, time zone differences, or cultural misunderstandings.
Delegated takes the vetting process a step further by conducting intense screening and interview processes for all potential virtual assistants. They want to make sure that they are only bringing the best and most qualified candidates into their system. 
They do profiling for virtual assistants to make sure they are a good fit for their client's needs. They use various profiling tools such as PI, DISC, and other methods to evaluate each VA's strengths and weaknesses, working style, and communication preferences. Delegated also provides proprietary training and ongoing education to all of their VAs.
Delegated Pricing Plans
Lite ($1200/month): 25 hours of task work/month.
Ramp ($2400/month): 50 hours of task work/month.
Pro ($3600/month): 75 hours of task work/month.
6. InboxDone – Most well-Defined Hand Over Process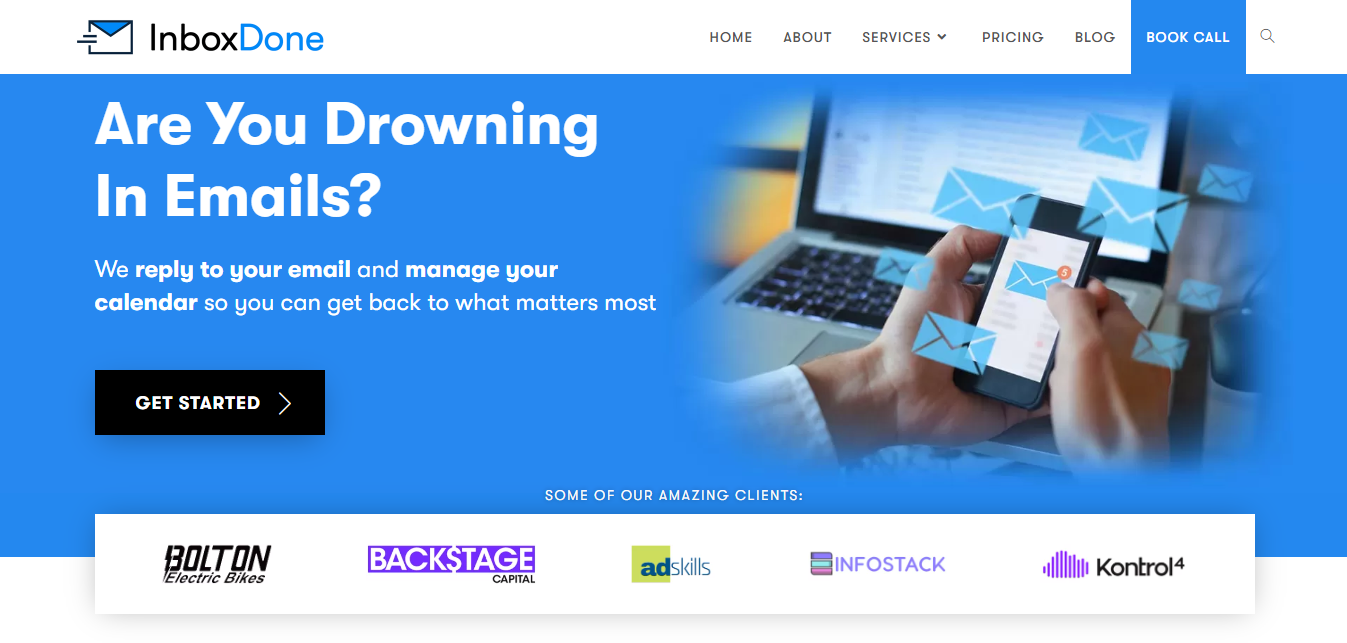 InboxDone was founded in 2017 and stands out from other virtual assistant services by hiring only the top 1% of talent through a rigorous 10-step testing process. They provide two dedicated assistants for every client which ensures that your needs will always be met.
InboxDone's special focus is on the handover process where every virtual assistant is trained to learn what you do and how you do it so they can seamlessly take over tasks that would otherwise take up your valuable time.
From scheduling sessions to onboarding new clients and ensuring they show up for coaching, your virtual assistants can take care of all sorts of administrative tasks. The virtual assistants at InboxDone can also help you generate leads for new clients.
InboxDone Pricing Plans
BasicPlan ($895/month): Offers 22.5 hours of work.
Personal Plan ($1195/month): Offers 30 hours of work.
Standard Plan ($1795/month): Offers 45 hours of work.
Growth Plan ($2395/month): Offers 60 hours of work.
Team Plan ($2995/month): Offers 75 hours of work.
7. 20four7VA – Most Upskilled Virtual Assistants

20four7VA is a top-rated virtual assistant agency that was launched in 2014. It has served more than 2900 clients across 47 different industries, making them experts in a variety of business needs. They have an 8-step hiring and vetting process in which they take the time to thoroughly screen and evaluate each potential virtual assistant. 
This process ensures that their clients are matched with highly-skilled, college-educated virtual assistants with excellent English communication skills. 20four7VA also has an in-house training team that continuously upskills and trains their virtual assistants to ensure that their skills are kept current and relevant.
20four7VA Pricing Plans
You can get a custom quote by contacting their support team.
8. Hire My Mom – Best For Small Coaching Businesses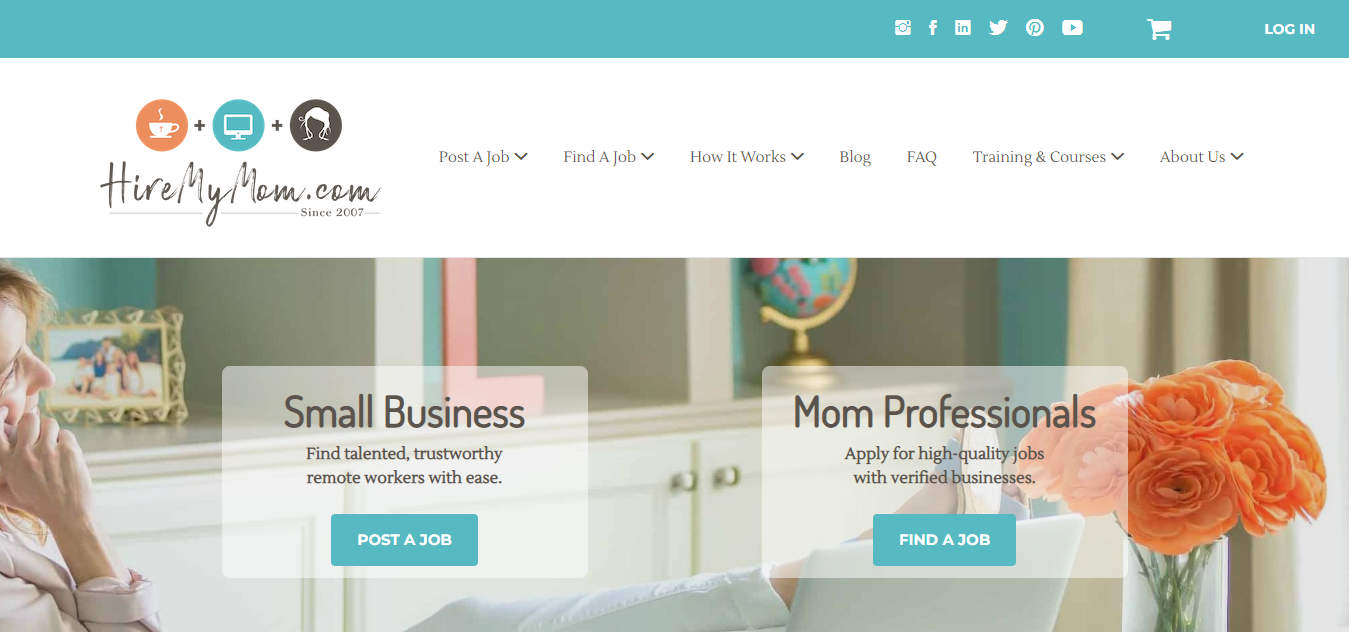 Hire My Mom is a virtual assistant service that was founded in 2007. It is an ideal platform for small coaching business owners who are looking for cost-effective services. The platform matches business owners with highly skilled mothers who work from home and are looking for flexible work hours. 
For personal coaches, this platform can be especially helpful in managing their business. As a personal coach, you are responsible for providing personalized support to your clients. This can be taken up by the virtual assistants from Hire My Mom who can help you in setting appointments, managing schedules, and creating marketing campaigns. 
Hire My Mom Pricing Plans
Silver Small Business ($67): 1 job for 7 days
Gold Small Business ($77): 1 job for 30 days
Small Business Concierge Level I ($795): Fully managed service, 1 job for 30 days
9. Belay – Most Accomplished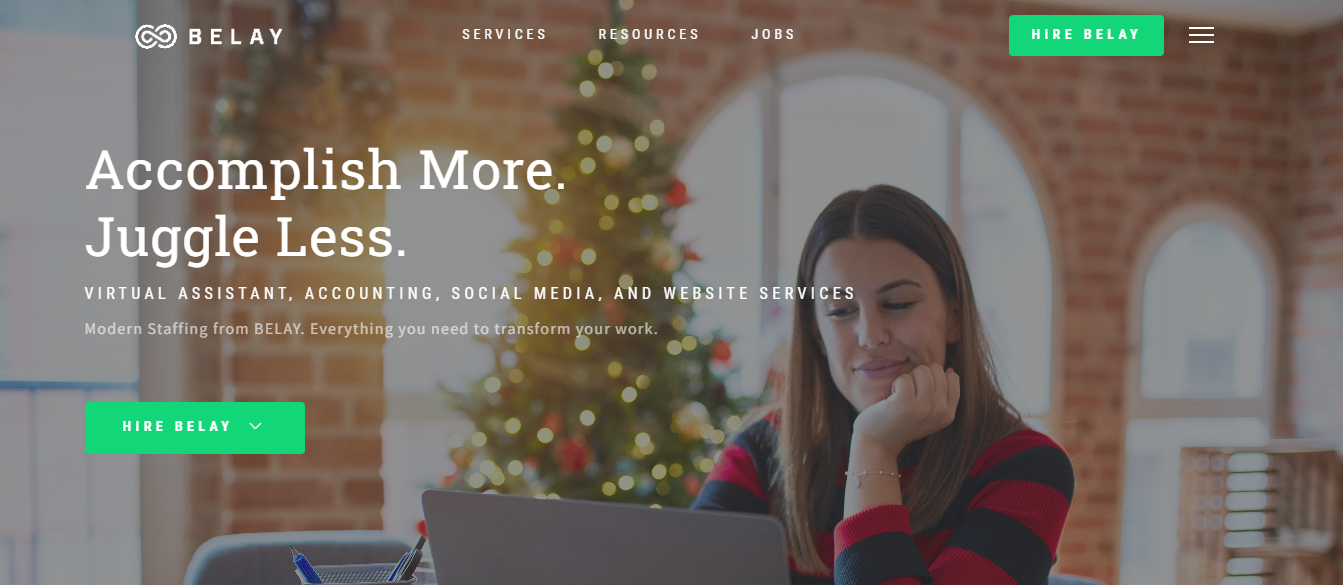 Belay is a virtual staffing solutions company that was formed in 2010. They specialize in providing virtual assistants to coaches, entrepreneurs, and other small business owners. With over 1200 virtual assistants in 48 states, they are a well-established company that has been helping people for over a decade.
Belay has a rigorous recruitment process in which they put potential VAs through a series of video interviews and skills assessments to make sure that they are the right fit for the job. They only hire self-driven and self-motivated individuals who are committed to delivering exceptional service and getting things done without needing constant supervision or direction.
Belay Pricing Plan
You can get in touch with Belay to get custom pricing.
10. Vasumo – Trusted By Global Brands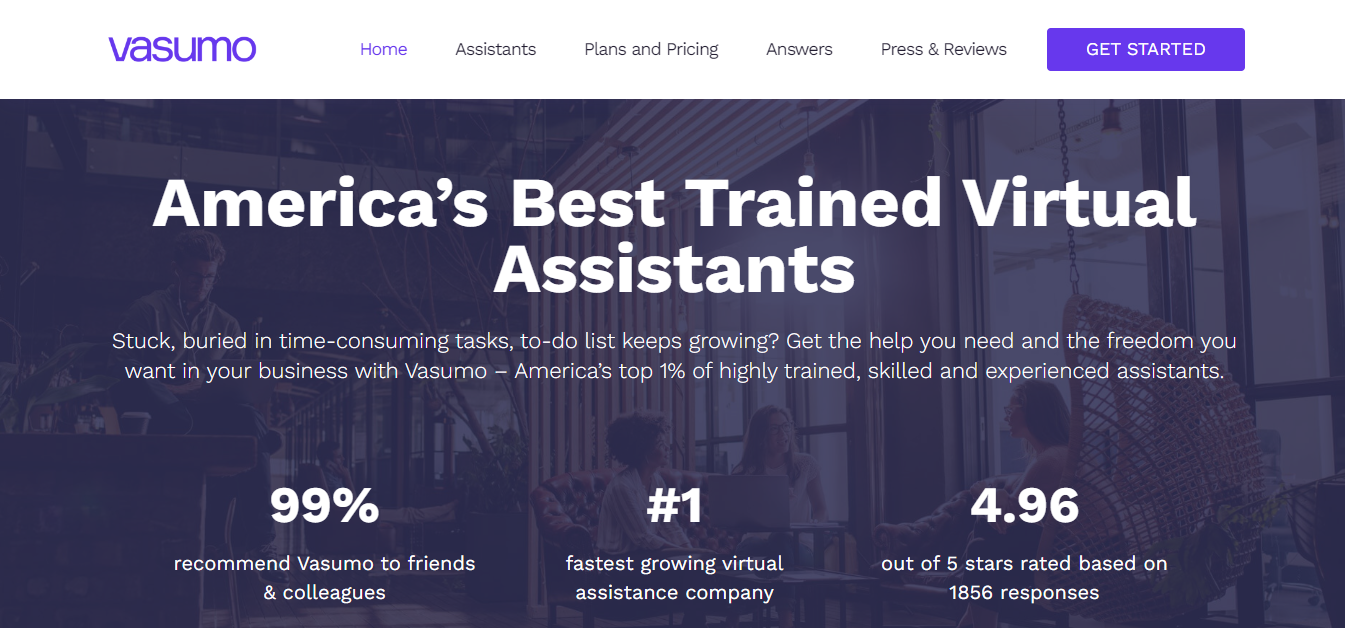 Vasumo is the leading platform for coaches looking to hire virtual assistants. With over 1000 companies, including Tesla, HubSpot, and Shopify, trusting Vasumo, it's clear that they are on top of their game. These leading names are not just clients of Vasumo, but advocates as well.
Vasumo has a 99% recommendation rate from its existing customers which is a testament to its dedication to excellence. They provide extensive training and certifications for their VAs. In fact, they invest over $10,000 in training for every virtual assistant on their platform. This ensures that coaches who hire virtual assistants through Vasumo are getting the highest quality service possible.
Vasumo Pricing Plans
Economy ($398/month): 20 hours of work/month.
Business ($498/month): 30 hours of work/month.
First Class ($598/month): 40 hours of work/month.
11. Outsourcing Angel – Strategic Approach Toward Virtual Assistance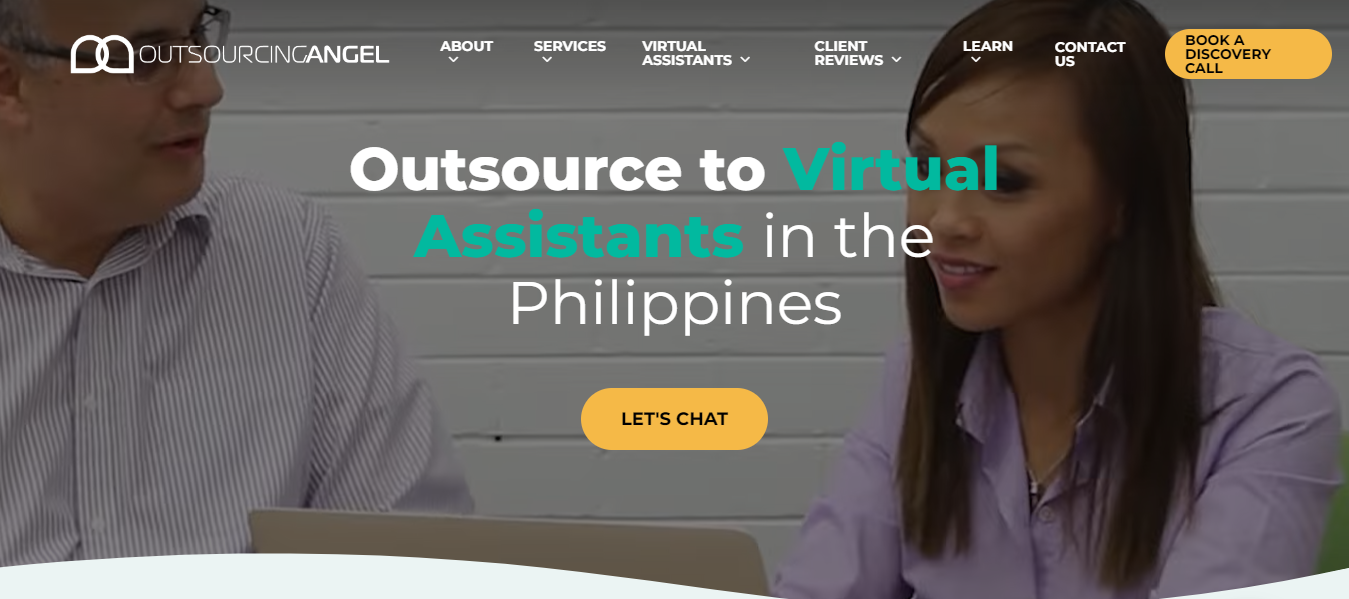 Headquartered in Australia, Outsourcing Angel has been in the business for over a decade, giving them a wealth of experience in providing virtual assistant services to coaching businesses. They understand the unique needs of coaches and how to match them with the right virtual assistant who can help them achieve their goals.
Their strict 6-step recruitment process ensures that their virtual assistants are a perfect match for the tasks you need help with. If you're not satisfied with your VA, they'll provide a replacement at no extra cost. Outsourcing Angel will take you through their strategy map within 24 hours of your initial call. This map includes their VA recommendations and their proprietary 4-Step GROW model.
Outsourcing Angels Pricing Plans
Basic ($1500/month): Offers 20 hours of work/week.
Standard ($3500/month): Offers 20 hours of work/week. The system includes system automation along with VA services.
12. We Are Working – Fully-Supported Services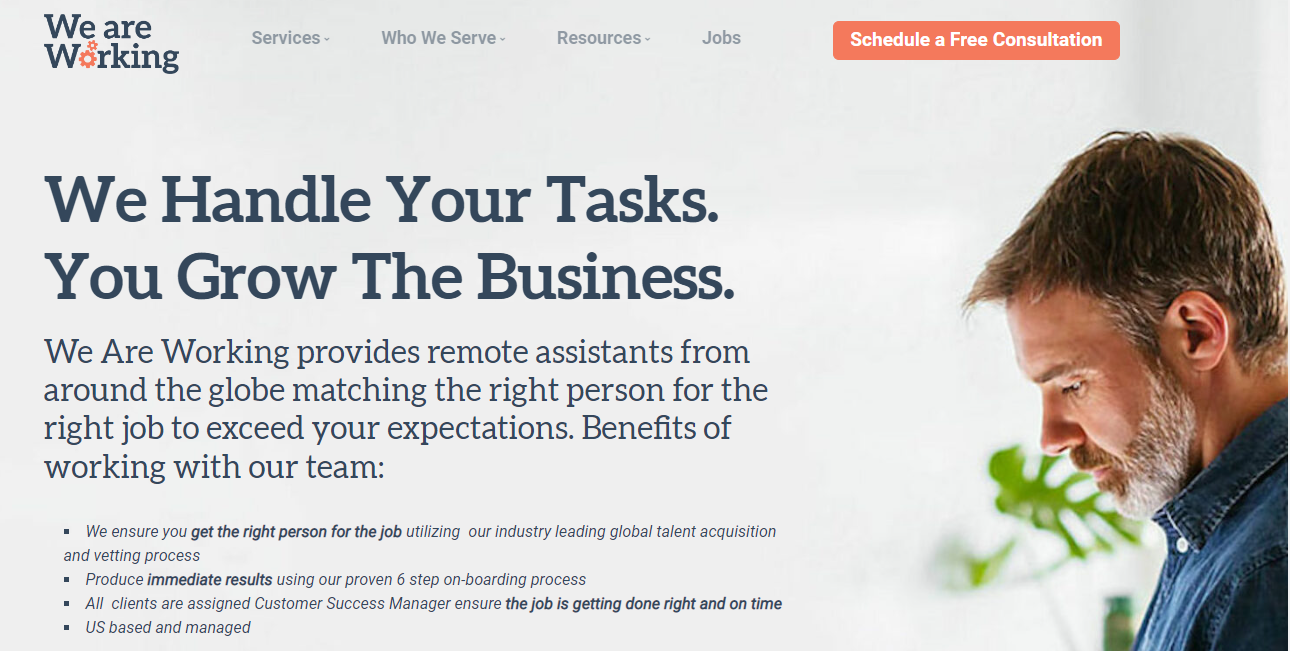 When you work with We Are Working, you can expect a phased approach to matching you with a virtual assistant. They take the time to understand your needs and business requirements and they match you with a VA who has the necessary skills and experience to help you in your coaching business.
One of the most significant benefits of working with We Are Working is their team approach. You won't just be working with a single virtual assistant; instead, you'll have layers of support and accountability. This includes:
SOP specialist
Account manager
Account supervisor
Client success director
Client success manager
We Are Working Pricing Plans
Contact their sales team to get a price estimate.
13. Elite Virtual Assistant – Promoting Diversity & Inclusion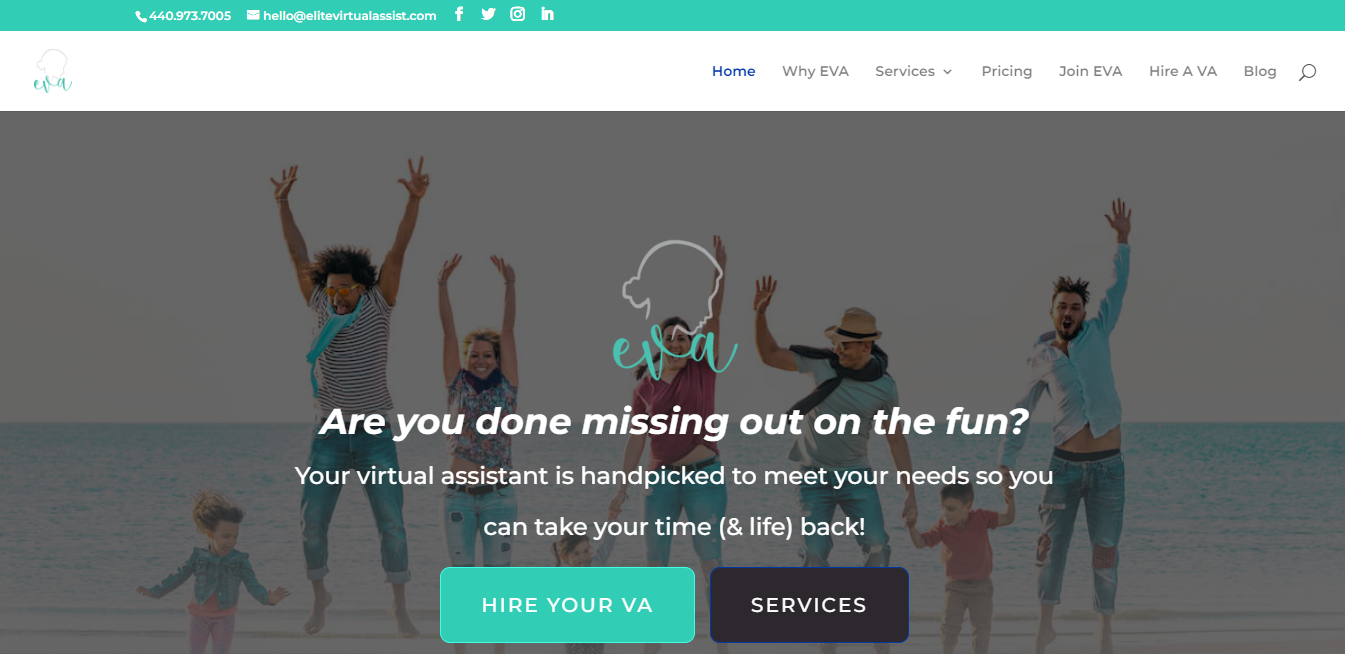 Founded in 2015 and based in Cleveland, US, Elite Virtual Assistant has quickly established itself as a leader in the virtual assistance industry. Thanks in part to its rigorous screening process, only the top 2% of applicants make it onto their team
Elite Virtual Assistant apart has a boutique approach to client relationships where they take the time to get to know you and your business, tailoring their services to your specific needs. The company provides free training and resources to all its team members, ensuring that they're always up-to-date on the latest industry trends and best practices. 
Elite Virtual Assistant also holds three certifications that reflect their dedication to promoting diversity and equity:
Elite Virtual Assistant Pricing Plans
Elite Virtual Assistant offers flexible pricing plans suitable for every budget. 
14. MyVA360 – Most Responsive Virtual Assistants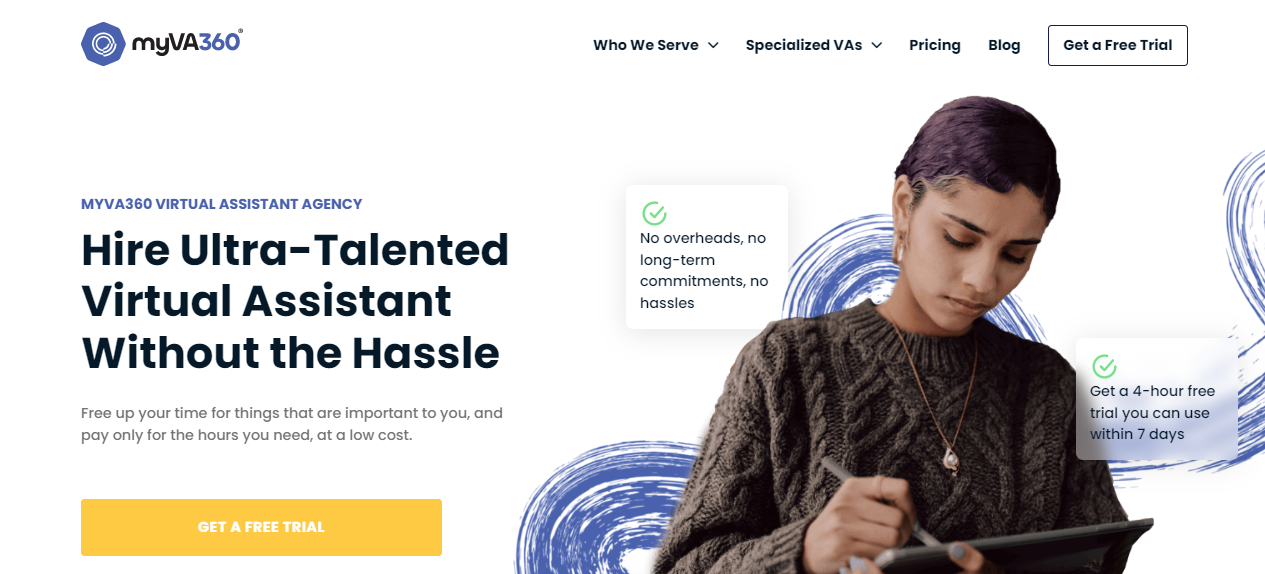 MyVA360 was formed in 2019 and in a short span of time, it has become a virtual assistance powerhouse. Their virtual assistants are trained to remain highly responsive and be available and ready to assist you whenever you need them. 
MyVA360 takes an uncomplicated approach to virtual assistance. They understand that not everyone is tech-savvy or familiar with virtual assistance, which is why they make sure that the whole process is straightforward and easy to understand. 
MyVA360 offers a free 4-hour trial to give you a taste of their services. They also offer free rollover in every plan.
MyVA360 Pricing Plans
Savvy Officer ($360/month): Offers 15 hours of work.
Life in harmony ($690/month): Offers 30 hours of work. 
Pro master ($945/month): Offers 45 hours of work.
Virtual Jedi ($1200/month): Offers 60 hours of work.
15. AVirtual – Most Economical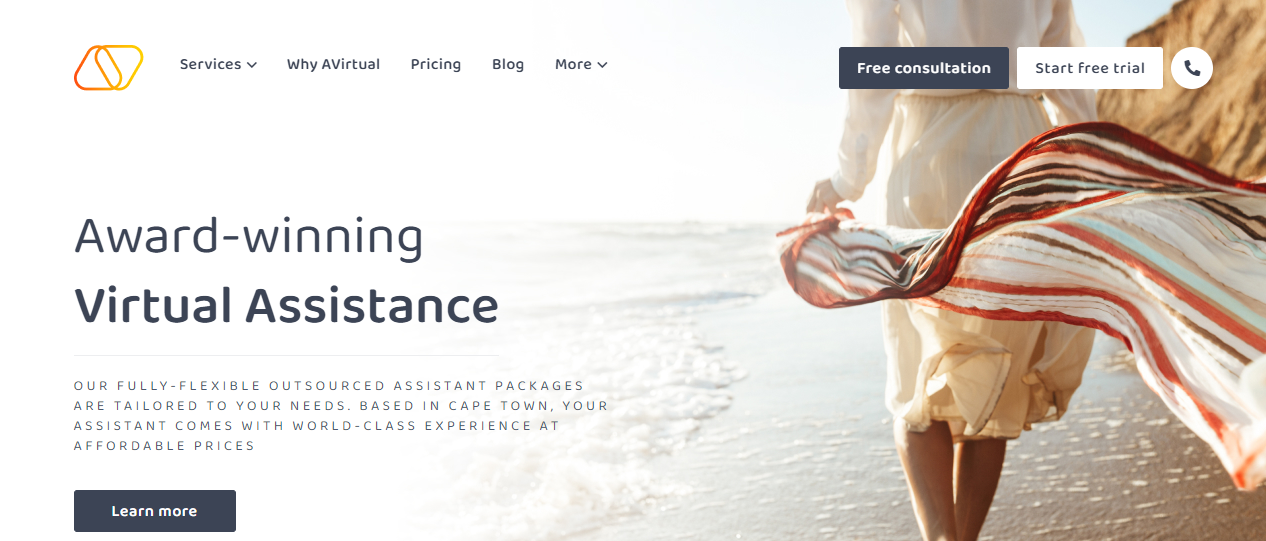 AVirtual was founded in 2015 to help coaches and other business owners with their virtual assistance needs. Their virtual assistants are available round the clock to take care of your business. Compared to other virtual assistant services, their fees are 50% less. This means that you can get the help you need without paying a king's ransom.
AVirtual's assistants are trained in data confidentiality. They make sure that your confidential information is handled with the utmost care and professionalism and are bound by strict confidentiality agreements. They invest in their virtual assistants and their growth by providing them with ongoing training, support, and feedback
AVirtual Pricing Plans
AVirtual offers custom plans starting at $145/month.
16. LongerDays – Most Systematic
LongerDays is a Muskegon, Michigan-based virtual assistant service that specializes in a systematic approach to virtual assistance. Their virtual assistants are known for accuracy and getting things right the first time. 
LongerDays has a different approach where they begin by building a step-by-step set of instructions for each task. Once they have a solid understanding of the task at hand, they turn it into a system. This way, anyone on the team can complete the task, ensuring that there are no bottlenecks or delays in your business operations.
LongerDays Pricing Plans
Plan A ($695/month): Offers 16 hours of work. 
Plan B ($995/month): Offers 24 hours of work. 
Plan C ($1625/month): Offers 40 hours of work.
Conclusion
Establishing your coaching company and seeing it grow to new levels may be your ultimate dream right now. But unless you give your client's growth a full shot by being the most effective personal coach out there, you won't see yourself going anywhere. So it's about time you take that first step towards that growth by hiring a virtual assistant asap. 
We know you have your hands full, so it's time for our Zirtual assistants to take charge of that free hit that you deserve. In other words, we will connect you with an energetic virtual assistant from our team who is ever so ready to take on everyday work challenges with 100% efficiency. 
You get to have all this and more minus the pitfalls of a messy hiring process right here at Zirtual. It's time to take your first step toward a more streamlined you by booking a consultation with us today.