Imagine yourself trying to juggle flaming knives on a unicycle. It's pretty thrilling but one accidental drop can end you up in a big disaster. This is what one-man show-ing is in businesses. Wouldn't it be nice to have another pair of steady hands to keep the show running? This pair of steady hands is what you call an online business manager (OBM). 
The secret ingredient, the glue that holds everything together, or the wizard behind the curtain, take the concept however you want. An online business manager is a professional virtual support for businesses to manage day-to-day operations, oversee the team, and track metrics. 
Finding online business managers may not be hard but finding the true talent who can help your business thrive with expert handling can be petrifying. Not to mention the hours wasted on searching and shortlisting ideal candidates.
What if we told you we have already done all the dirty work and shortlisted the 16 best sites to hire an online business manager? All you got to do is read the article and by the end, you will be proficient in selecting the best site to hire an online manager. Did we just hear a whoopee?
16 Best Websites To Hire An Online Business Manager For Effective Management
Here are our top 3 picks for the best platforms to hire online business managers:
Zirtual – Best overall 
Valley Virtual Assistance – Helping clients stay in their zone of genius
The Assistant Quarters – Transparent & honest communication
Let's get started with a detailed review of our shortlisted websites.
1. Zirtual – Top Pick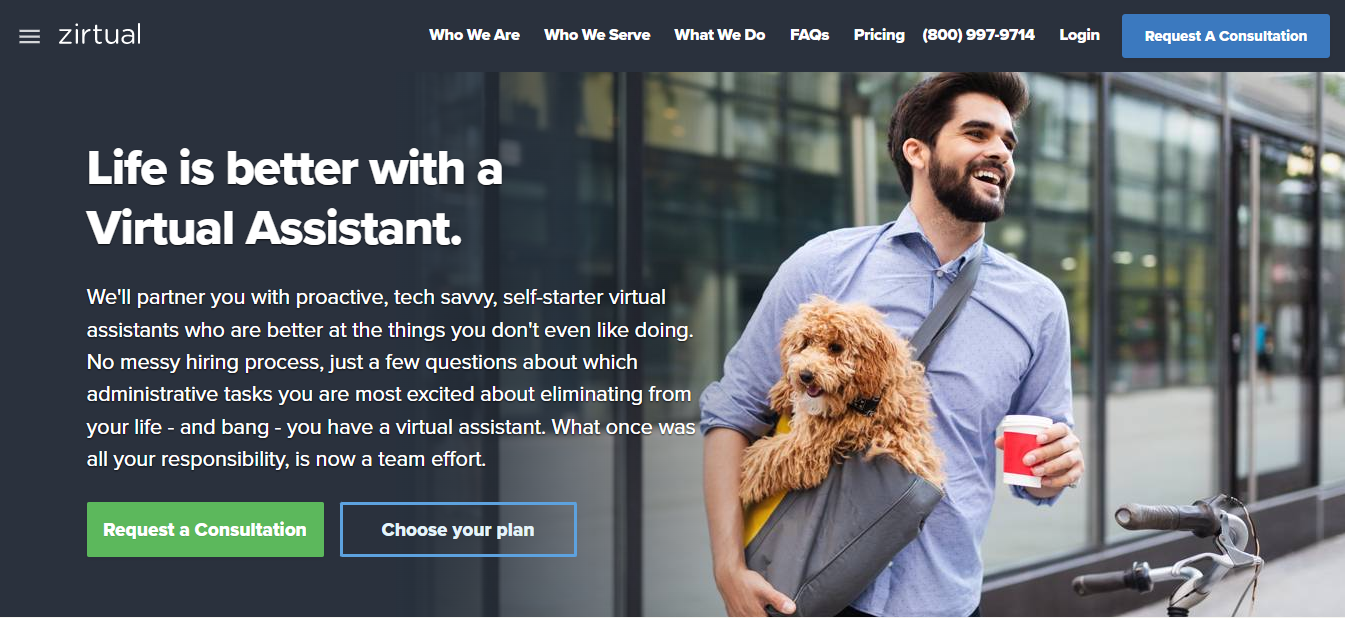 Founded in 2011, Zirtual is the No. 1 choice to hire an online business manager for companies of all sizes. They have a rigorous screening process that ensures that only the best candidates are chosen to be their online business managers. It includes a thorough background check, a series of interviews, and skill assessments.
 Zirtual's online business managers are US-based college graduates with diverse skill sets. They have a solid understanding of business processes and can provide valuable insights and recommendations to improve them. They are tech-savvy and skilled in using automation tools that can help streamline your business operations.
Zirtual's online business managers are also skilled in team management. They can help you build a cohesive team that works together to achieve your business goals. They create a culture of collaboration, accountability, and high performance, which is critical to the success of any business.
Zirtual's online business managers are experts in strategic planning. They can help you develop a roadmap for your business, identify growth opportunities, and create a plan to achieve your objectives. 
Zirtual Pricing Plans
Our online business manager packages are:
Entrepreneur Plan ($549/month): 12 hours of work with 1 user.
Startup Plan ($849/month): 24 hours of work with 2 users.
Small Business Plan ($1249/month): 36 hours of work with 3 users.
Team Plan ($1699/month): 50 hours of work with 5 users
2. Valley Virtual Assistance – Helping Clients Stay In Their Zone Of Genius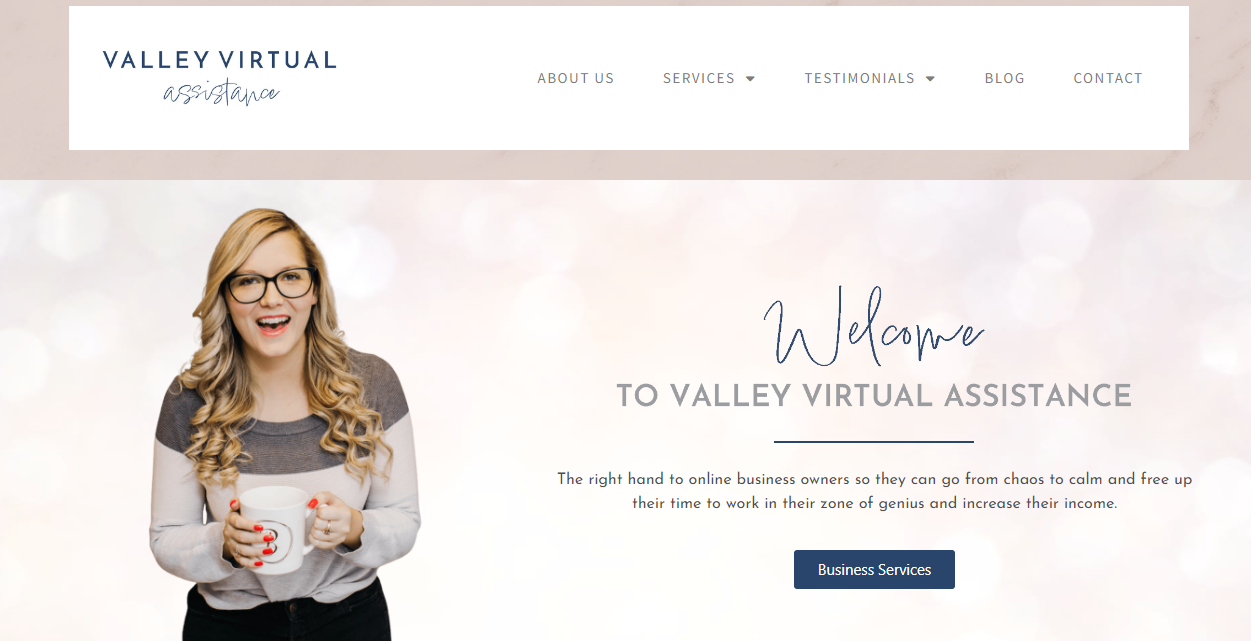 Valley Virtual Assistance has been in the business for over 5 years, providing businesses with skilled online business managers who are certified "Director of Ops" and trained in the Strategic Mapping Model. They are experts in identifying business goals, analyzing the current state of the business, and developing a plan to achieve those goals.
Valley Virtual Assistance doesn't just offer online business managers; they provide strategic partners to business owners. Their online business managers will not only help manage the day-to-day operations of the business but also help owners create and execute long-term plans for growth and success.
Valley Virtual Assistance is the best choice if you have no processes, systems, or simplification in your business. Their online business managers can help you streamline your operations, create systems and processes, and simplify your business, making it easier to manage and grow. They can also help with hiring, project management, or expansion.
Valley Virtual Assistance Pricing Plans
Helping Hand ($1300/month): 20 hours of service.
Leg Up ($1950/month): 30 hours of service.
Run The Show ($2500/month): 40 hours of service. 
3. The Assistant Quarters – Transparent & Honest Communication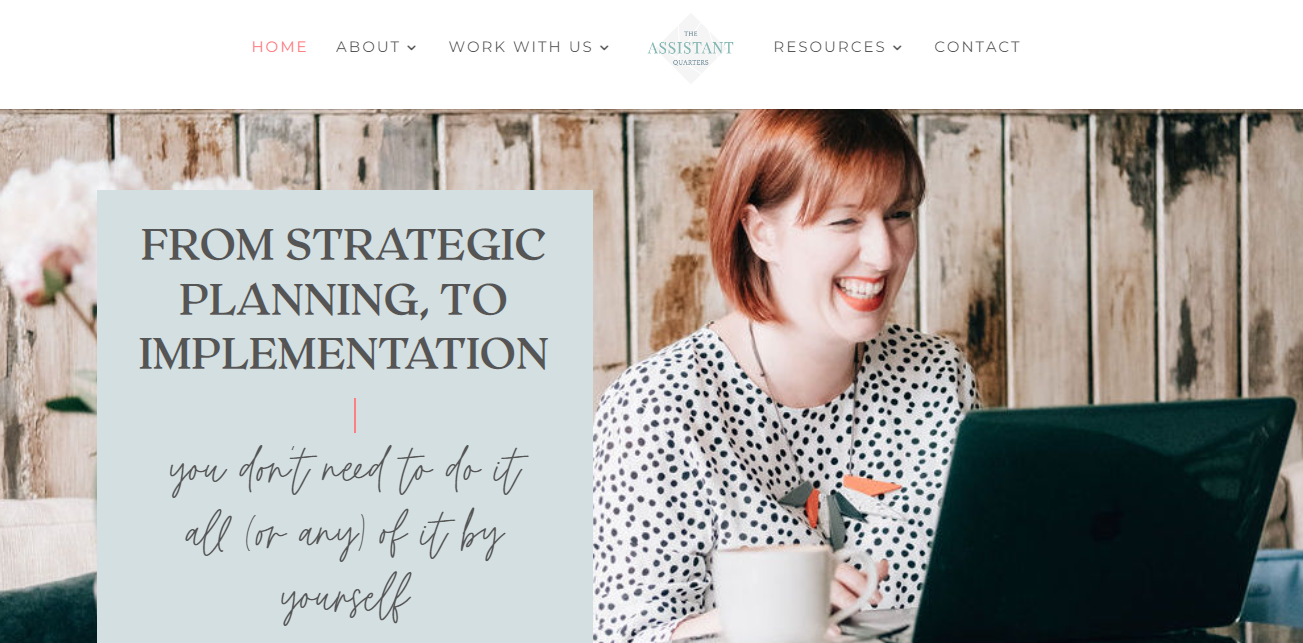 The Assistant Quarters was founded in 2017 and has since grown to become one of the best platforms for hiring an OBM. They have a team of certified online business managers who come from diverse backgrounds and work independently yet collaboratively within a well-defined structure. The structure ensures that you receive consistent service and support regardless of which OBM you work with. 
At The Assistant Quarters, they prioritize transparent and honest communication with clients. Your certified online business manager will regularly update you on progress and take proactive measures to ensure that you feel supported and confident. This lets you focus on your core business rather than micromanaging your virtual assistant.
OBMs on The Assistant Quarters platform are trained to take a proactive approach to their work. They possess a natural inclination towards continuous improvement and consistently look out for new and innovative methods to enhance processes, procedures, and service delivery. They are experts at recognizing opportunities for improvement and implementing effective solutions.
The Assistant Quarters Pricing Plans
Operations & Business Management ($1,240/month): Provides two members.
Extra Pair of Hands ($460/month): 10 hours of support.
Your Virtual Team ($930/month): 20 hours of support.
Take the Reins ($1,840/month): 40 hours of support.
One-off Projects (Starting from ($745): For short projects or intense workloads.
4. 20four7VA – For Maximum Cost Saving

20four7VA is one of the best platforms to hire an online business manager. Established in 2014, 20four7VA is a BBB-accredited business with an A+ rating. It has been featured on Inc. 5000 as one of the fastest-growing businesses in the US. With a team of highly educated and skilled OBMs, they have served 2900 businesses in 47 different industries.
This OBM hiring platform has a rigorous 8-step hiring and vetting process. They ensure that only the most qualified and experienced OBMs are hired for managing projects and teams for their clients. By streamlining your business processes and flows, your online business manager from 20four7VA can cut up to 80% of your overhead costs.
To ensure a high level of performance from their online business managers, 20four7VA has a standard set of performance monitoring tools in place. These tools can be customized upon request to meet your specific business needs. This ensures that your online business manager is meeting your performance expectations.
20four7VA has an in-house training team that ensures their OBMs' skills are kept current. This team constantly develops new training modules to upgrade their skill set. This ensures that your online business manager is always up-to-date with the latest trends and best practices in project management and team management.
20four7VA Pricing Plans
Get a custom quote by contacting their sales team.
5. Vasumo – Most Well-Trained OBMs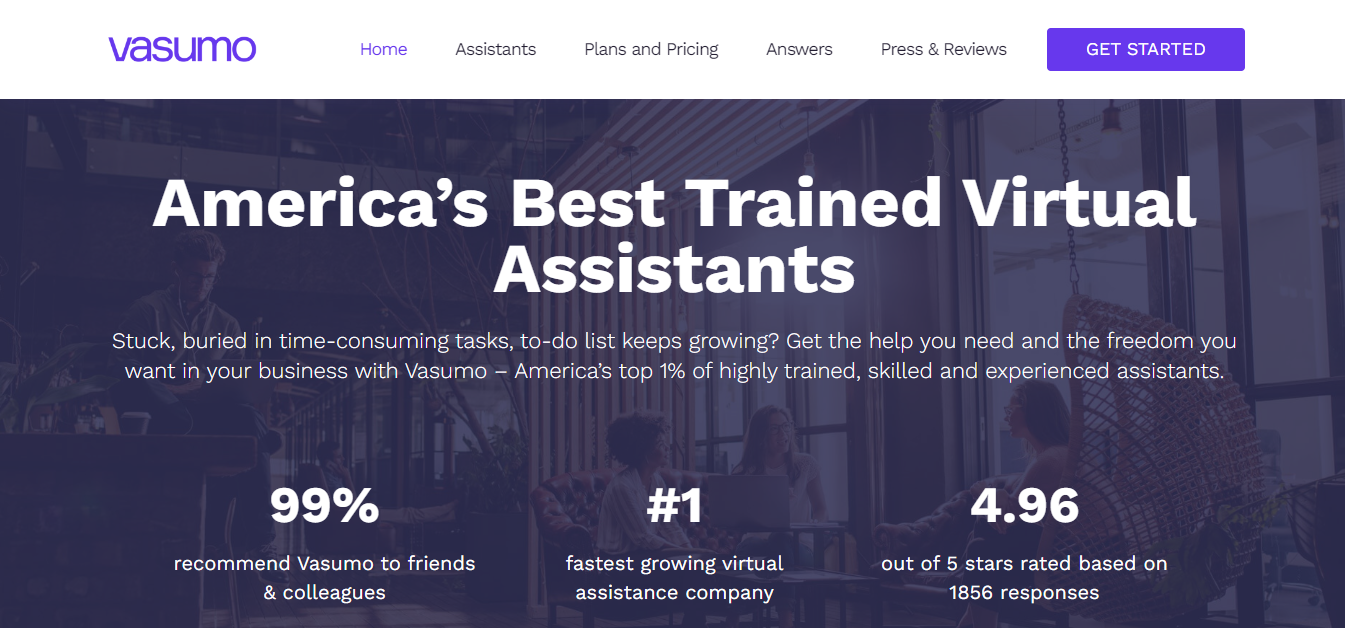 Vasumo has an impressive track record of serving over 1000 businesses making it a trusted platform for any business owner. They hire America's top 1% of highly trained OBMs and the online business managers on their platform have undergone rigorous training to deliver quality services.
In fact, Vasumo invests over $10,000 in training every online business manager on their platform. This investment is aimed at ensuring that their OBMs have the necessary skills and knowledge that they need for project and operations management. Every Vasumo OBM undergoes 3 months of training and passes 16 certifications to make them fully prepared for handling various aspects of business management.
Vasumo has a 99% recommendation rate from its existing customers. This high rate of customer satisfaction is a testament to the quality of services offered by the platform.
Vasumo Pricing Plans
Economy ($398/month): 20 hours of work/month.
Business ($498/month): 30 hours of work/month.
First Class ($598/month): 40 hours of work/month.
6. Virtual Staff Finder – Most Streamlined Onboarding Process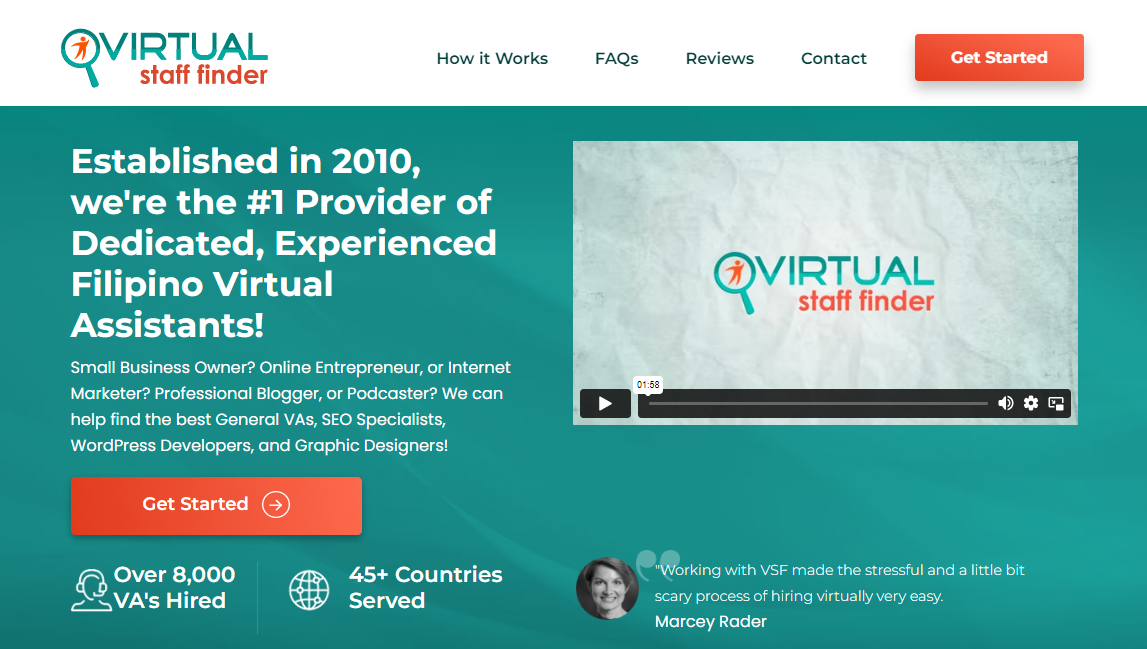 Established in 2010,  Virtual Staff Finder has served customers from 45 countries, providing them with over 8000 online business managers and virtual assistants. They have a rigorous hiring process where all OBM candidates undergo online testing, rounds of interviews, and background checks, ensuring that you'll only be working with the top talent.
Virtual Staff Finder has streamlined the onboarding process to make it as fast and efficient as possible. With their help, you can have your own OBM within 7-14 days. They have strong management skills and can handle various tasks, from implementing strategies for business growth to serving as a social media manager. 
Virtual Staff Finder's OBMs can also serve as your operations manager to ensure that your day-to-day operations run smoothly. Virtual Staff Finder also offers a 10-day guarantee if the OBM doesn't fit your needs. In this case, they'll provide you with a new one so you get the right fit for your business.
Virtual Staff Finder Pricing Plans
The company only charges a hiring fee while you pay directly to your online business manager.
7. Virtual A Team – Complex Tasks Made Easy
Virtual A Team is a top-rated website that was established in 2013 for providing valuable services to businesses with complex needs. They have built a team of 35 online business managers who are trained to help businesses that require specialized support in managing projects, developing and implementing systems and processes, or creating strategic plans to achieve business goals.
Their virtual business managers provide valuable insights and strategic thinking to help you streamline your daily operations and achieve your objectives. Virtual A Team gives you access to a client portal that has a suite of tools and resources. This portal makes it easy to manage your virtual projects, collaborate with your team, and stay up to date on progress.
At Virtual A-Team, they offer their Never Without© Guarantee to all clients. This guarantee ensures that if your online business manager is unavailable for any reason, they will provide an instant replacement so that your project can continue without interruption.
Virtual A Team Pricing Plans
You can contact their sales team for custom plans.
8. Vgrow Solution – Cost-Effective & Practical
Vgrow Solution is a BBB-accredited business with an A+ rating. Also, they are ISO/IEC 27001:2013 certified and have implemented strong security measures to protect their clients' data. To date, Vgrow Solution has provided online business managers to over 75 clients. These virtual business managers are highly trained in project management and implementing strategies that can help your business run smoothly and effectively.
Vgrow Solution guarantees a 50% saving on your operational costs by implementing more efficient processes and streamlining your team's workflow. In addition to being cost-effective, Vgrow Solution is also compliant with the EU General Data Protection Regulation (GDPR). They offer a free trial so you can see firsthand how they can help you streamline your operations and increase your profitability.
Vgrow Solution Pricing Plans
Vgrom Solution provides custom plans for its OBM services.
9. Remote CoWorker – Healthy Profits For Long Term
Remote CoWorker makes running your own business exciting and fun. Their online business managers have a strategic approach to managing your business and can help you with crafting and implementing strategies and plans to take your business to the level you've always aimed for.
Remote CoWorker is PCI-DSS validated and is compliant with the payment card industry standards. This is crucial if your business handles sensitive customer information. All online business managers hired through Remote CoWorker receive intensive CPA training.
Remote CoWorker continuously monitors the performance of their OBMs. If your OBM is not performing as expected, Remote CoWorker will work with you to find a solution, whether that's replacing the OBM or providing additional training.
Remote CoWorker Pricing Plans
Part-time Starter: $7.99/hour.
Full-time Starter: $6.99/hour.
Full-time Bilingual: $9.99/hour.
10. TAKO Virtual Solutions – Best For Tech Startups
TAKO Virtual Solutions is a service provider that helps busy service-based business owners and tech start-ups in managing their online businesses. It is a single-person service provider with over 20 years of experience in the field. The online business manager is resourceful, organized, and reliable, making them the perfect choice for your business needs.
TAKO Virtual Solutions is skilled in providing all-around solutions. They can write out your processes (SOPs), set up your systems, and ensure that your operations are running smoothly. The online business manager will implement the structure and systems that your business needs which will help ensure a proper work-life balance.
TAKO Virtual Solutions is ideal if you are looking for assistance in integrating tech or new tools into your systems. You can also count on them to provide strategic solutions to your business needs and help with process analysis, problem-solving, and brainstorming. They can help you track your business performance and provide insights to make informed decisions. 
TAKO Virtual Solutions Pricing Plans
Ad-hoc Hourly Rates ($56/hour): Admin consultancy services.
Monthly Retainer ($1465/month): Min 3-month commitment.
Custom Projects: Available on demand. 
11. Efficise – Easy To Manage
Established in 2012, Efficise has established itself as a reliable and trustworthy platform for businesses in need of efficient management. They have a team of highly tech-savvy online business managers who are equipped with the latest technology. They are competent enough to manage your team, set strategies, and provide the right direction for your business.
Efficise has extensive training programs for its online business managers. It covers various topics such as team management, setting strategies, and project management. This enables Efficise OBMs to provide you with a well-rounded service. Efficise also provides a progress tracking system that allows you to monitor the progress of your OBM in real-time. 
Efficise Pricing Plans
Plan 1 ($20/month): 5 tasks of 30 minutes each.
Plan 2 ($45/month): 15 tasks of 30 minutes each.
Plan 3 ($75/month): 30 tasks of 30 minutes each.
Plan 4 ($100/month): 50 tasks of 30 minutes each.
12. The Virtual Solution – Ideal For Coaches & Consultants
The Virtual Solution is a certified online business manager based in Canada. Their primary goal is to help businesses identify and implement the right systems and technology to support their growth and achieve their goals. As a single-person service provider, they offer personalized attention and customized solutions for each business's unique needs.
The Virtual Solution has the ability to work on the level between you and your team. They specialize in setting up systems, streamlining processes, and automating tasks to save time and increase efficiency. They can help you with:
Team management
Project management 
Day-to-day operations 
Strategically planning and building a new online course
Creating or overhauling SOPs, team handbooks, and communications guides
The Virtual Solution Pricing Plans
The Virtual Solution provides custom plans on demand.
13. Prialto – Most Diversely Experiecned
Prialto has been providing online business management services since 2009 and has established a solid reputation in the industry. They have robust internal management and quality assurance processes. These processes include regular performance evaluations, feedback sessions, and training programs for online business managers. 
Prialto's online business managers have over 1 million hours of experience in the industry which makes them versatile and adaptable. They provide enterprise-level security and have implemented strict security measures to protect against cyber threats and ensure data privacy. Their can-do attitude makes them always willing to take on new challenges and find innovative solutions to problems.
Prialto Pricing Plans
Yourself ($1350/month): 55 hours of work. 1 user.
Your Team ($4050/month): 165+ hours of work. 3+ users.
Your Organization (Custom Pricing): 440+ hours of work. 8+ users.
14. Magic – Efficiency & Accuracy With Speed
Magic was founded in 2015 and has since become a leading platform for hiring online business managers. It has been featured in prestigious publications such as the New York Times, Fortune, TechCrunch, and Wired. These endorsements attest to the trust it has earned in the industry.
Magic is highly selective about the talent it works with. Only the top 3% of applicants make it through their rigorous screening process. You can hire an online business manager through their platform in as little as a week. Magic also leverages its proprietary tool, Magic AI, to help online business managers be more productive and focus on strategic initiatives that can drive growth.
Magic Pricing Plans
You can request a custom quote through their sales team.
15. VaVa Virtual Assistants – Most Adaptable
VaVa Virtual Assistants is a women-owned business founded in 2011, based in the United States. They use the DISC assessment tool to evaluate their online business managers. They measure personality traits and behavioral styles and each client is paired with an online business manager who has the skills and personality to meet their needs.
VaVa Virtual Assistants provides test projects and trial periods for clients. They are an excellent way for you to assess the quality of work you can expect from the OBM. The company also offers a free replacement guarantee. If you are not satisfied with your OBM, VaVa will replace them with a new one free of charge. 
VaVa Virtual Assistants Pricing Plan
Custom pricing plans are available on request.
16. The Process Boss – Best For Female Entrepreneurs
The Process Boss is a single-person service provider specializing in providing online business management services to women entrepreneurs. The personalized approach allows for a deeper understanding of your business needs and goals. They understand the unique challenges that women face when it comes to running a business and is passionate about helping them overcome those obstacles.
The Process Boss helps in the development of business processes, systems, and automation. They analyze your current business operations and identify areas that could benefit from streamlining or automation. They provide laser-focused solutions for quick results. The company can also help you with the hiring process, from identifying the right talent to creating a cohesive and productive team environment.
The Process Boss Pricing Plans
90-Minute Intensive ($777): One-time fee. For providing clarity and a blueprint.
Voxer Support (Starts from $777): One-time fee. Support for strategy formulation and execution.
Team Acquisition & Development Framework ($5,555): One-time fee.
Client Onboarding Process Implementation ($8,888): One-time fee.
Conclusion
With so many moving parts, from marketing to finance to team management, running a business can quickly become overwhelming, leaving you feeling like you're drowning in a sea of to-do lists or dropping those flaming knives.
It's time to get that fireproof glove aka online business manager that will help you keep running the show. But you can truly benefit from an online business manager only if one is the right fit for your business and can work seamlessly with your existing team.
At Zirtual, we understand the intricacies that come with hiring an expert that can let you focus on the bigger picture without any distractions of overseeing daily business operations. That is why we offer a mess-free hiring process that leads to the most lit online business managers with fluency in the latest tech in your desired industry. 
Time to hit that button for a free consultation that can open doors to the best online business manager outsourcing experience.