Running a law firm can be a tough gig, especially when it feels like you have a million tasks and not enough hours in the day. But what if we told you that by hiring a virtual assistant for law firms, you can wave goodbye to distractions and hello to winning those cases? 
Now you may be thinking that these virtual assistants are just people who can make me a cup of coffee but not a legal cup of coffee. But let us tell you – these virtual legal assistants are highly trained legal eagles who can help you with all sorts of tasks – from drafting legal documents to conducting legal research.
But the real burning question is where can you find these legal virtual assistants? This is where this article comes in. We've handpicked the 16 best virtual legal assistant services where you can find the ideal resource.
By the end of this 10-minute read, you'll have all the information you need to find the perfect virtual legal assistant for your law firm. 
16 Of The Best Virtual Legal Assistant Service Providers 
Our top 3 companies for virtual legal assistants are:
Zirtual – Best all-around
We Are Working – Equipped for immediate results
Virtual Paralegal Pros – Recognized partner of choice for law firms
Here's your insider's guide to the 16 most promising virtual assistant services for law firms.
1. Zirtual – Top Pick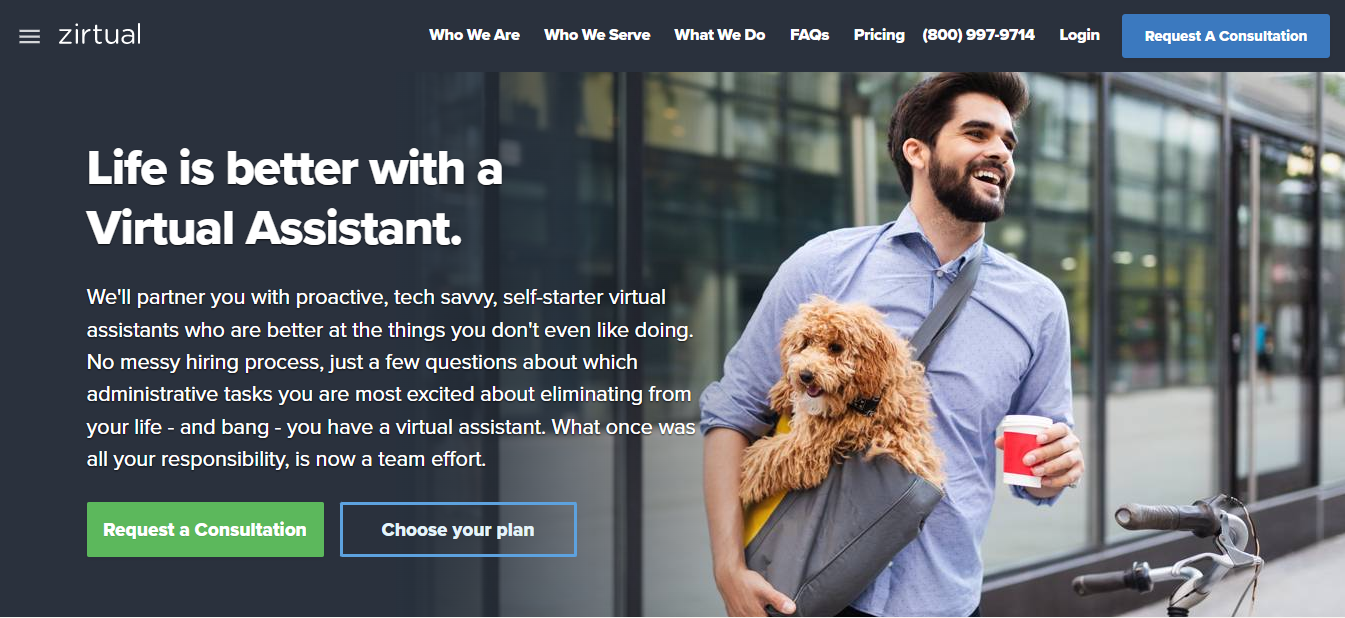 Zirtual has earned its reputation as the best platform for hiring virtual legal assistants. Our VAs are not only based in the US but they are also college graduates, making them the ideal choice for your legal support needs. These individuals have the education and training necessary to provide you with the level of support you need to succeed.
Our VAs are specifically trained to be a part of your legal support team and help you with tasks such as conducting legal research, preparing legal documents, and much more. This level of specialized training ensures that your virtual assistant is fully equipped to handle even the most complex of legal tasks with ease and efficiency.
Our VAs are eager to jump in and start making a difference from the word go. This readiness to work not only saves you time but also gives you peace of mind knowing that your support team is fully prepared to handle whatever legal challenges you may face.
When you choose Zirtual as your source for legal VAs, you are not just getting a virtual assistant, you are gaining a valuable member of your legal support team. Our VAs are here to help you succeed and make your life easier and you can rest assured that they will do so with the highest level of professionalism and expertise.
Zirtual Pricing Plan
Entrepreneur Plan ($549/month): 12 hours of work with 1 user.
Startup Plan ($849/month): 24 hours of work with 2 users.
Small Business Plan ($1249/month): 36 hours of work with 3 users.
Team Plan ($1699/month): 50 hours of work with 5 users.
2. We Are Working – Equipped For Immediate Results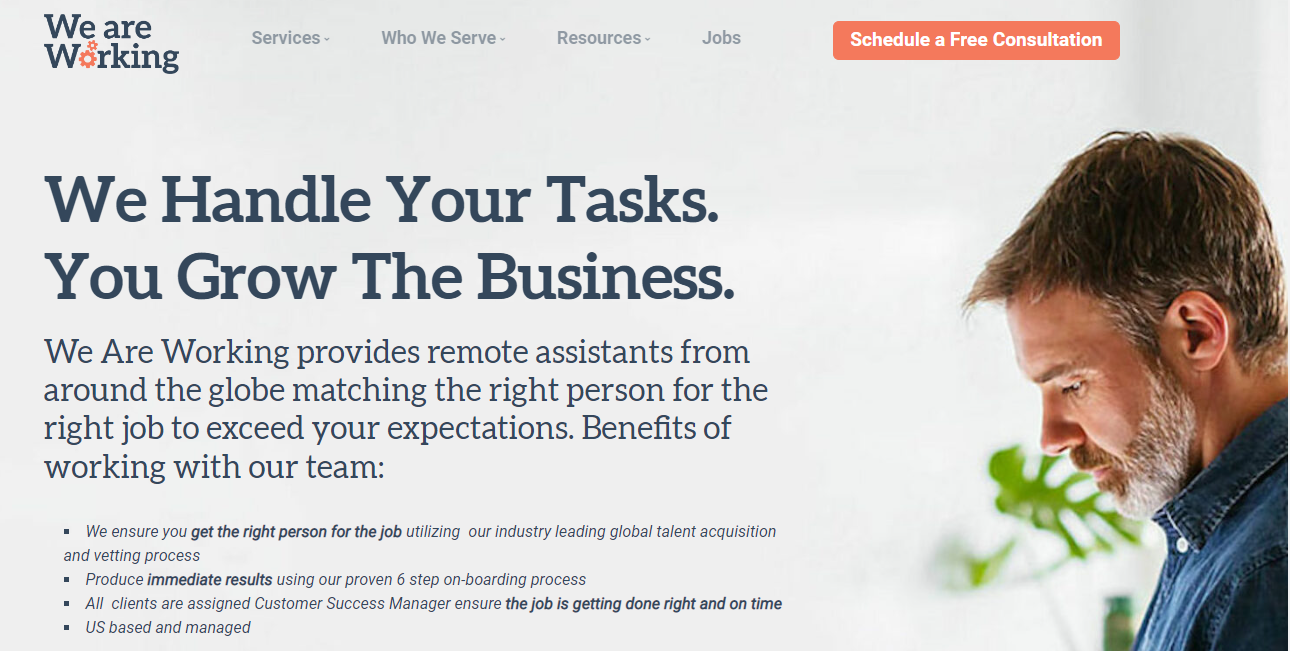 We Are Working stands out as one of the best choices for law firms looking to outsource their virtual assistant needs. With a 99% client success rate, the company has proven to be a leader in the virtual assistant industry. Their team of highly trained and experienced legal VAs can handle everything from agreements, deeds, trusts, insurance claims, and court forms with ease and precision. 
We Are Working goes above and beyond to ensure that each and every client is fully supported throughout the entire process. This is achieved through the provision of different resources like an Account Manager, Client Success Manager, and Client Success Director who oversee the legal VAs during different stages. These resources provide personalized support to clients and ensure that all of their needs are met.
One of the key factors that set We Are Working apart is its commitment to confidentiality and data protection. The company understands the sensitive nature of legal documents and takes extra measures to ensure that all of your information is handled with the utmost care and security.
We Are Working Pricing Plan
You can request an estimate by contacting their sales team.
3. Virtual Paralegal Pros – Recognized Partner Of Choice For Law Firms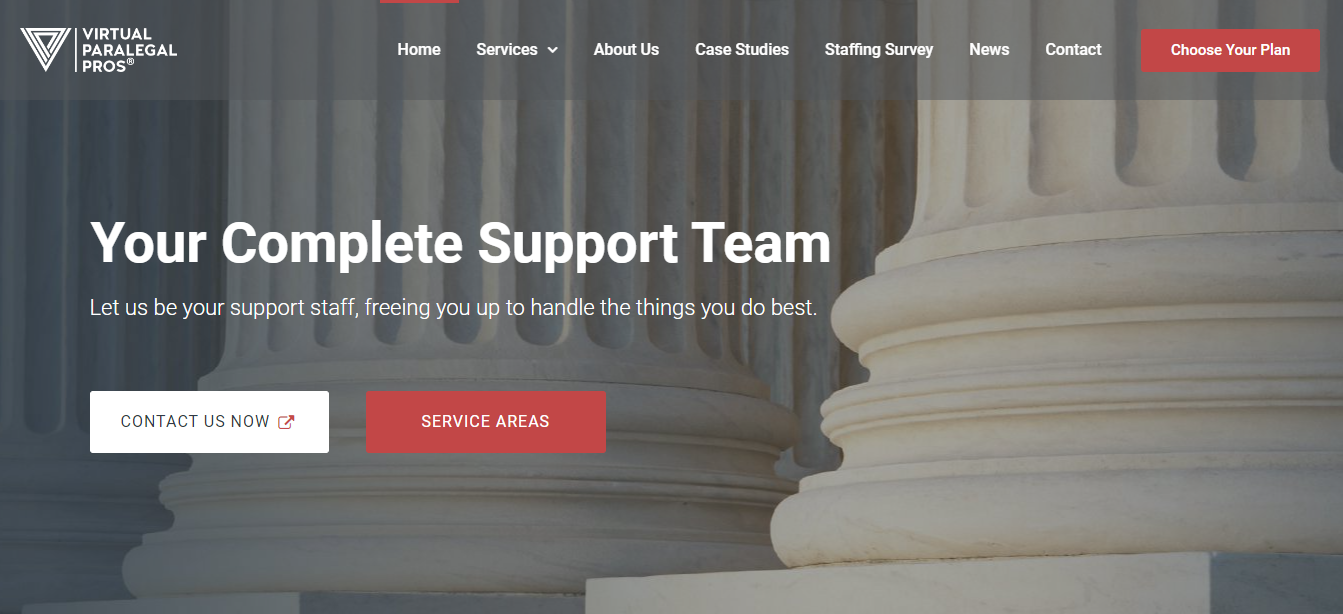 Virtual Paralegal Pros is the leading provider of virtual legal support services. The company offers a unique approach to legal support that sets them apart from other virtual assistant companies i.e. being highly collaborative which makes sure that you are paired with the best professional to match the culture and demands of your firm. 
VPP's virtual assistants are capable of working with all parties involved in a case, from clients to opposing counsel to the courts. This means that you can rely on Virtual Paralegal Pros to provide comprehensive support for your legal cases.
One of the key benefits of working with Virtual Paralegal Pros is the level of customization that they offer. They understand that every law firm is unique, and therefore, their virtual assistants are trained to work with you in a way that suits your specific needs. Some of the services offered by the company include:
Legal research
Invoicing & billing
Intake & discovery
Back office support
Case management & development
Virtual Paralegal Pros Pricing Plan
Full-Time ($2250/month): Offers a dedicated assistant
Full-Time Pro ($2450/month): Offers a dedicated senior assistant
Full-Time Premium ($2750/month): Senior resource with full-time backup and 10 hours of overtime.
4. Freedom Makers – Most Unique Pool Of Military Spouse VAs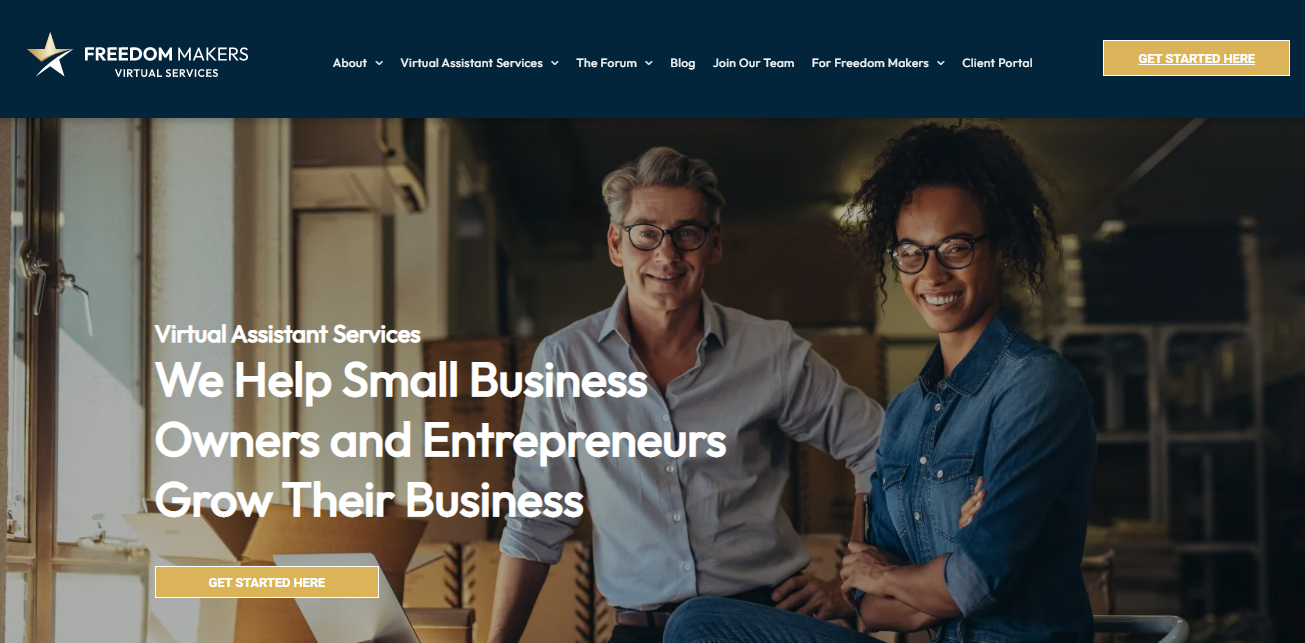 Freedom Makers is a company that provides top-notch virtual assistant services to its clients, but what sets them apart is its unique pool of virtual assistants – military spouses. These VAs are used to the unpredictable nature of military life. They understand the importance of being flexible and adapting to new situations. 
This means that they are always ready to handle any unexpected changes in their work schedule without missing a beat. Freedom Makers legal VAs are also known for their strong attention to detail. They take pride in their work and always double-check it before submitting it to their clients. 
Freedom Makers' legal virtual assistants are more than just virtual assistants, they become thought partners to their clients, helping them to achieve their goals and grow their businesses.
Freedom Makers Pricing Plan
You can get a custom quote by contacting their customer support team.
5. Equivity – Hassle-Free & Reliable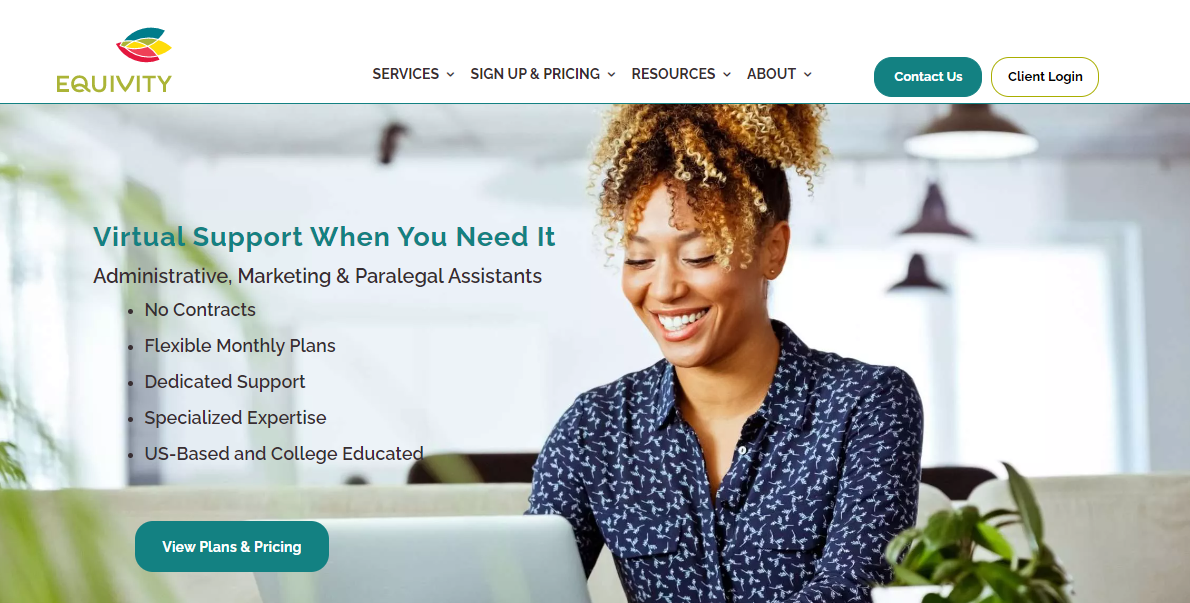 Equivity offers a comprehensive solution for those looking to outsource their legal administrative tasks. With their team of virtual assistants based in the US and boasting a college education, you can trust that your legal matters will be handled with competence and expertise.
What sets Equivity apart from other legal virtual assistant companies is their commitment to providing a personalized and seamless experience for their clients. Instead of simply assigning you a virtual assistant and leaving you to figure things out on your own, Equivity assigns each client a dedicated Client Experience Manager who acts as your main point of contact and provides support and guidance for anything and everything related to your legal virtual assistant.
Equivity Pricing Plans
Basic ($250/month): 5 hours/month.
Standard ($480/month): 10 hours/month.
Professional ($685/month): 15 hours/month.
Enterprise ($1250/month): 30 hours/month.
Advantage ($1920/month): 50 hours/month.
6. Virtual Gurus – Most Diverse Pool Of Virtual Assistants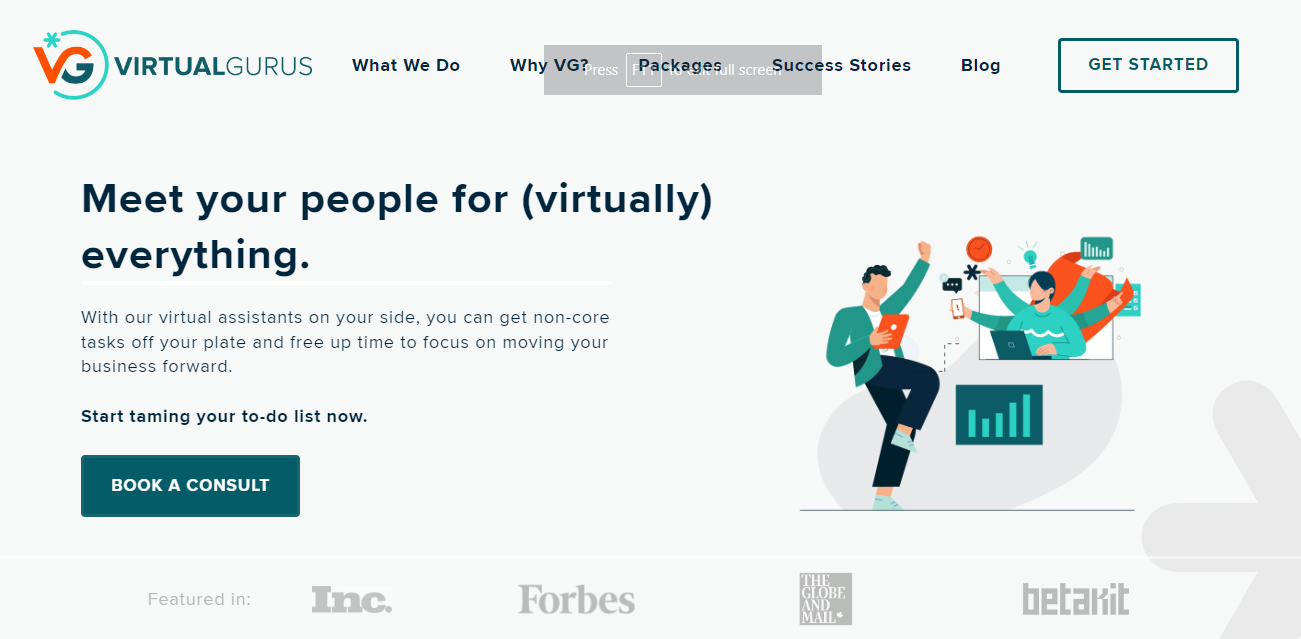 About 65% of virtual assistants of Virtual Gurus are from underrepresented communities. This not only makes their virtual assistant services more diverse but also helps to provide access to a talented and motivated pool of individuals who are eager to make a difference in the legal industry. 
The virtual services team at Virtual Gurus thoroughly vets countless resumes to ensure that their clients are accessing the best talent available. They conduct thorough training sessions for all their virtual assistants to ensure that they have the necessary knowledge and skills to perform their legal tasks to the highest standards. 
Virtual Gurus Pricing Plans
Virtual Gurus have three different packages but the pricing is available on demand. 
7. Belay – Award-Winning VA Service Provider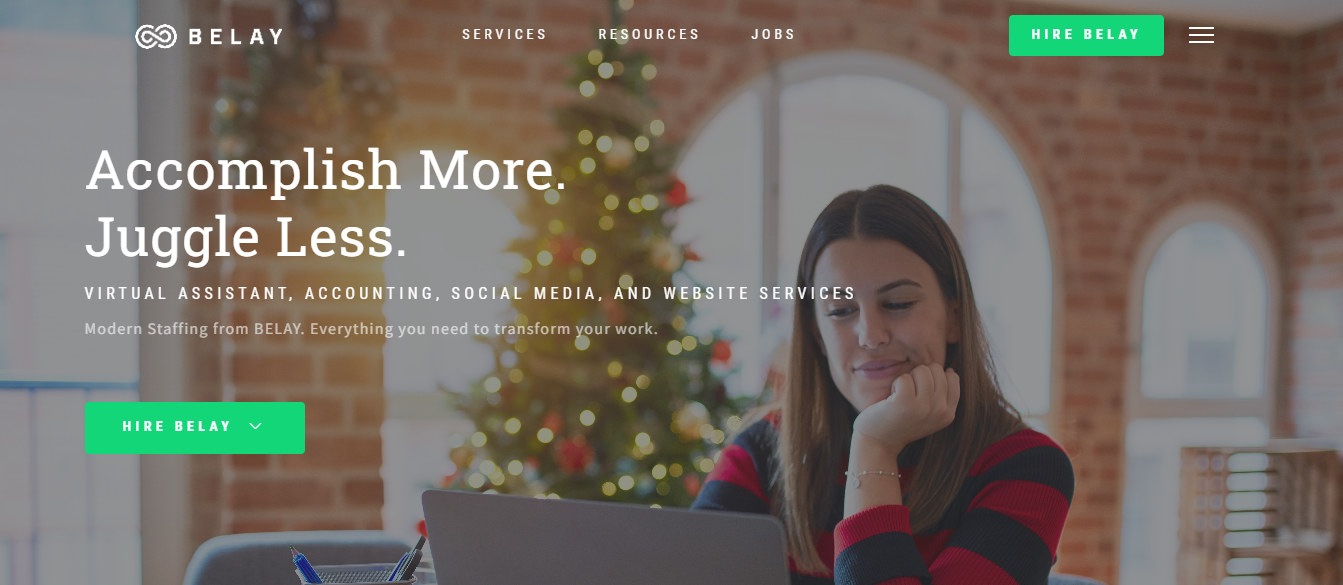 Belay stands out as one of the top providers of virtual legal assistants to both law firms and solo practitioners. Their hiring process is incredibly rigorous and only the most talented and seasoned individuals are selected to join their team. Upon joining, these individuals undergo an intensive training program that equips them with the skills and knowledge necessary to tackle any legal task with ease.
The team at Belay is renowned for its ability to present complex legal information in a straightforward and easy-to-comprehend manner, allowing clients to make informed decisions with ease. The virtual assistants are trained to assist with a wide range of legal services, all in accordance with established protocols and training. Some of these include:
Schedules
Appeals process
Trial proceedings
Post-trial proceedings
Preparation of petitions and pleadings
Belay Pricing Plan
You can get in touch with Belay to get custom pricing.
8. 24/7 Virtual Assistant – Quick Scaling Up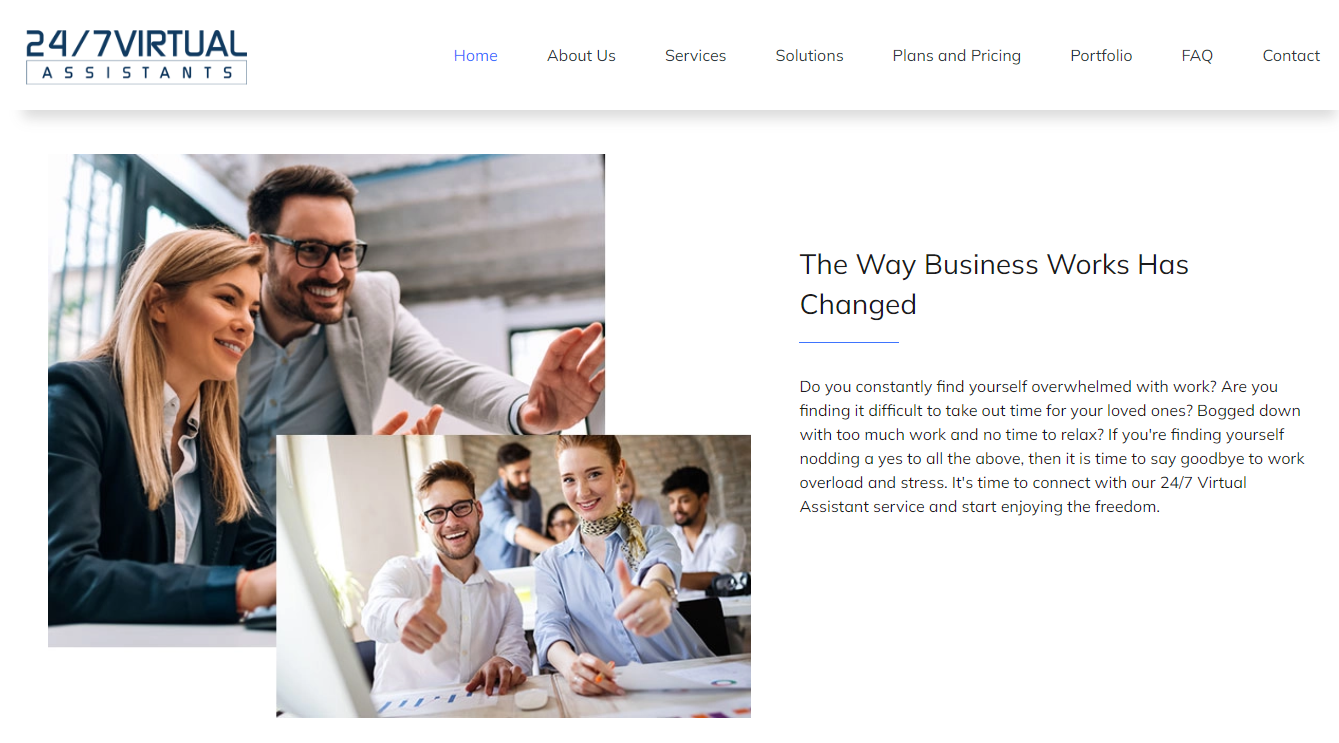 24/7 Virtual Assistant, based in the US, prioritizes hiring only the most qualified professionals after undergoing a thorough verification process. The company's goal is to make its services accessible to even small law firms with limited budgets.
With a singular focus on streamlining work for their clients and freeing up their time to focus on crucial business matters, 24/7 Virtual Assistant provides invaluable administrative support in your law practice by organizing and managing case files and meticulously reviewing documents to ensure compliance with client requirements for smooth case progress.
24/7 Virtual Assistant Pricing Plan
Entrepreneur ($399/month): 20 hours of work.
Starter ($749/month): 40 hours of work.
Professional ($1049/month): 60 hours of work.
Office ($1399/month): 80 hours of work.
Executive ($1999/month): 120 hours of work.
VIP ($2549/month): 160 hours of work.
9. Premium Help – Most Collaborative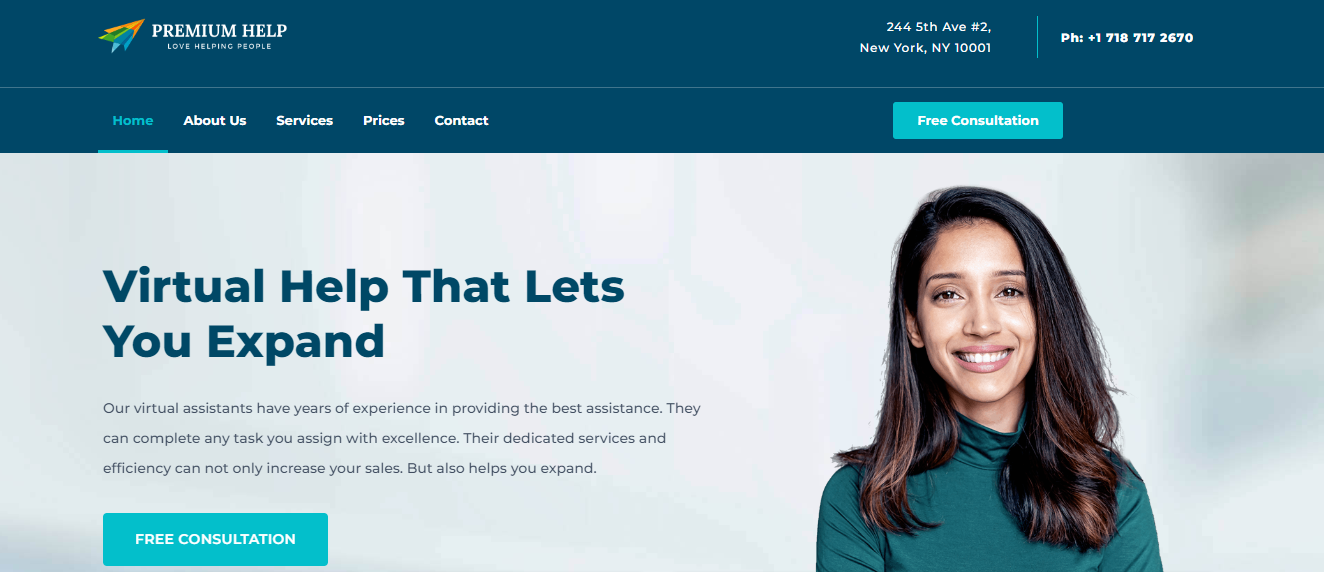 With a decade of expertise in providing law firms with highly skilled legal support, Premium Help has garnered numerous awards for its exceptional work. Premium Help places great value on teamwork and collaboration through its team of over 70 individuals who excel in reviewing depositions and efficiently analyzing and tracking essential information.
In the event of a task delay, additional assistants are readily available to ensure that efficiency is never compromised. For each assignment, a dedicated virtual assistant is assigned a supervisor to oversee their work and ensure that it meets Premium Help's high standards before being returned to the client. 
Premium Help Pricing Plan
Plan A ($249/month): 20 hours of work.
Plan B ($449/month): 40 hours of work. 
Plan C ($799/month): 80 hours of work.
Plan D ($1299/month): Full-time employee.
10. Wishup – Quickest Onboarding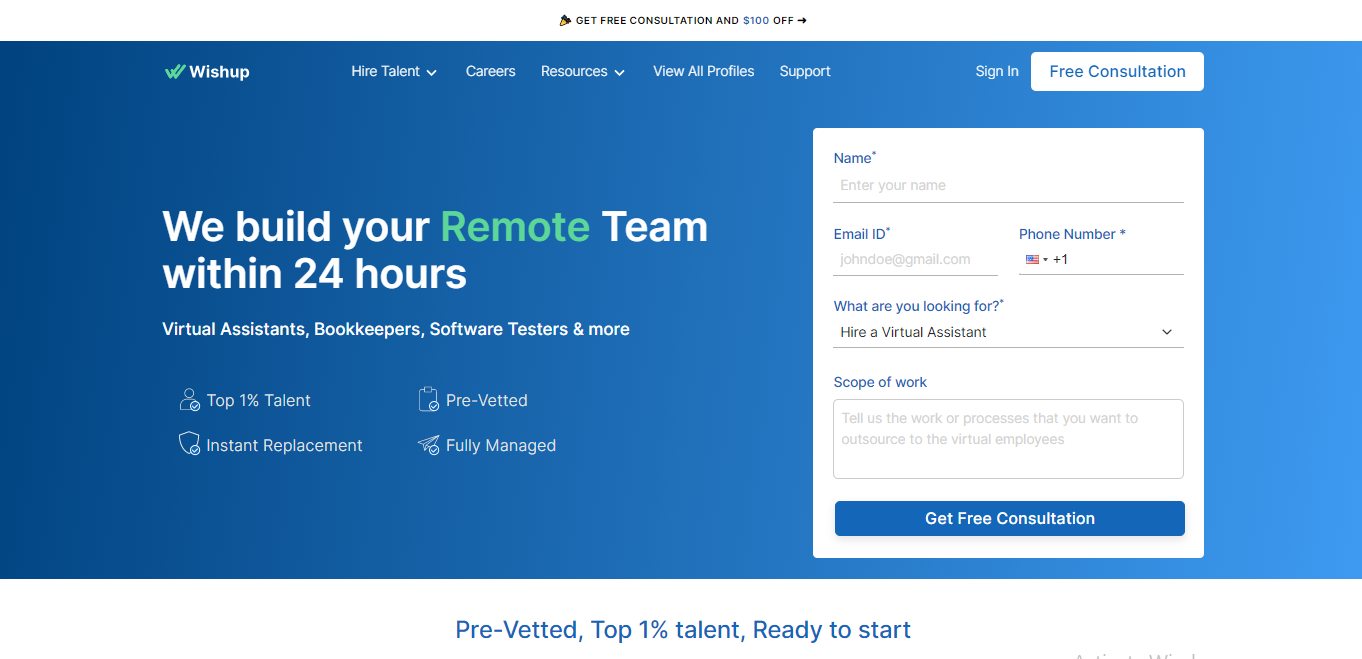 With over 15 years of experience in providing support to business owners, Wishup has a deep understanding of what it takes to be an effective assistant. They possess a broad range of expertise, including everything from simple tasks such as communicating case status and drafting responses to complex tasks like conducting claim investigations and preparing settlement proposals.
Wishup offers lightning-fast response times, ensuring that you can have your personal assistant up and running within 24 hours of your request. The virtual assistants are thoroughly vetted and expertly managed, but if for any reason you feel that you and your dedicated assistant are not a good match, you can request an immediate replacement.
Wishup Pricing Plan
Pricing is available on demand.
11. WoodBows – Experienced Talent Hub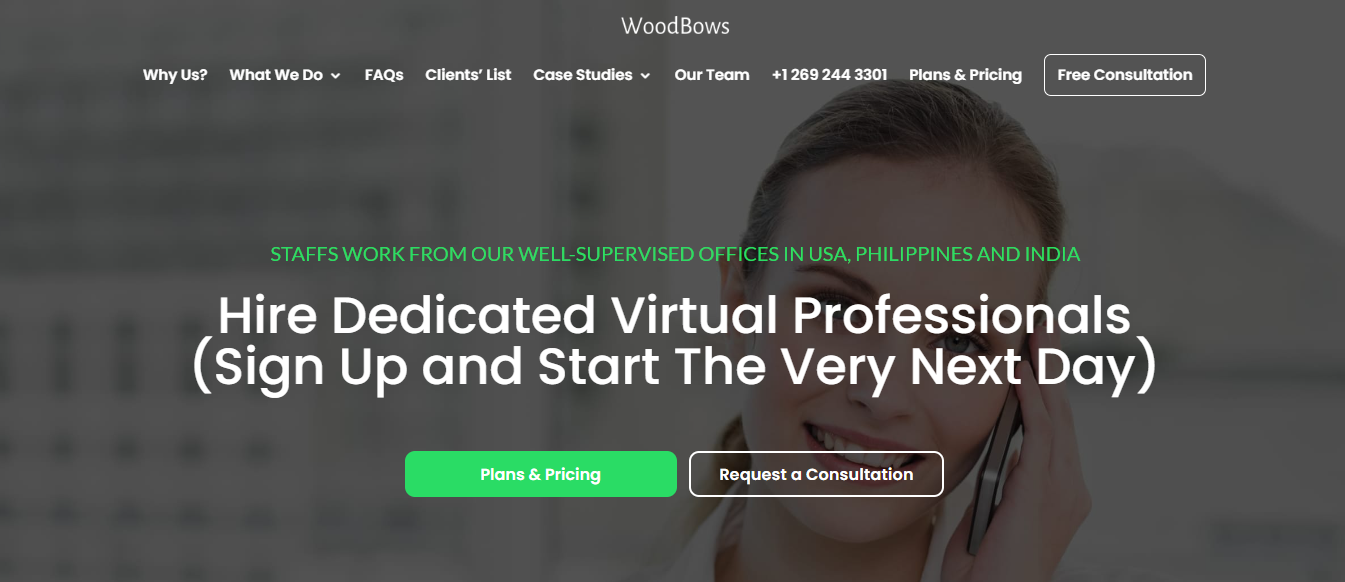 WoodBows aims to deliver top-notch legal virtual assistant support to law firm owners in the US and Canada. The company boasts a highly skilled team with a minimum of 10 years of experience, allowing law firms to delegate an extensive range of tasks with ease. 
From requests for the production of documents to interrogatories, scheduling depositions, and preparing and filing Discovery requests, their legal virtual assistants possess the necessary expertise to get the job done.
A standout feature of WoodBows is their exceptional multi-lingual support proficiency. Their diverse team hails from all corners of the world, offering a unique perspective on your tasks and ensuring that you receive support in the language of your choice. 
WoodBows Pricing Plans
Plan A ($599/month): 40 hours monthly.
Plan B ($999/month): 80 hours monthly.
Plan C ($1499/month): 160 hours monthly.
Value Plan (Custom Pricing): Tailor-made solutions.
12. Vasumo – Most Tech-Oriented Approach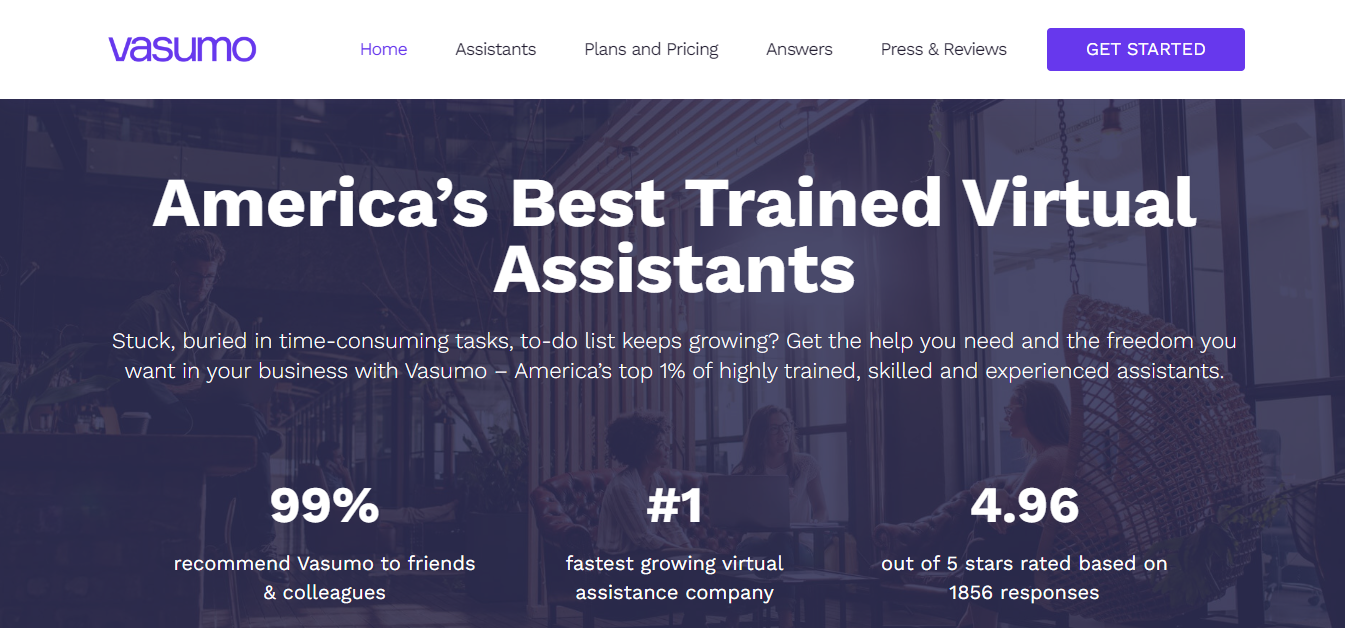 Vasumo's virtual assistance service has revolutionized the legal industry. With its cutting-edge technology and state-of-the-art project management system, tracking and monitoring your virtual assistants has never been easier. Their advanced AI algorithms guarantee that you are paired with the best virtual assistants who have the capacity to tackle any task with ease.
Available 24/7 with exceptional response times, Vasumo's virtual assistants are equipped to handle an extensive range of tasks, from assisting in trial and post-trial proceedings to liaisoning with opposing and cooperating counsel and the courts. Nothing is too big or too small for them to manage.
Vasumo Pricing Plans
Economy ($398/month): 20 hours/month.
Business ($498/month): 30 hours/month.
First Class ($598/month): 40 hours/month.
13. AskSunday – Superior Award-Winning Expertise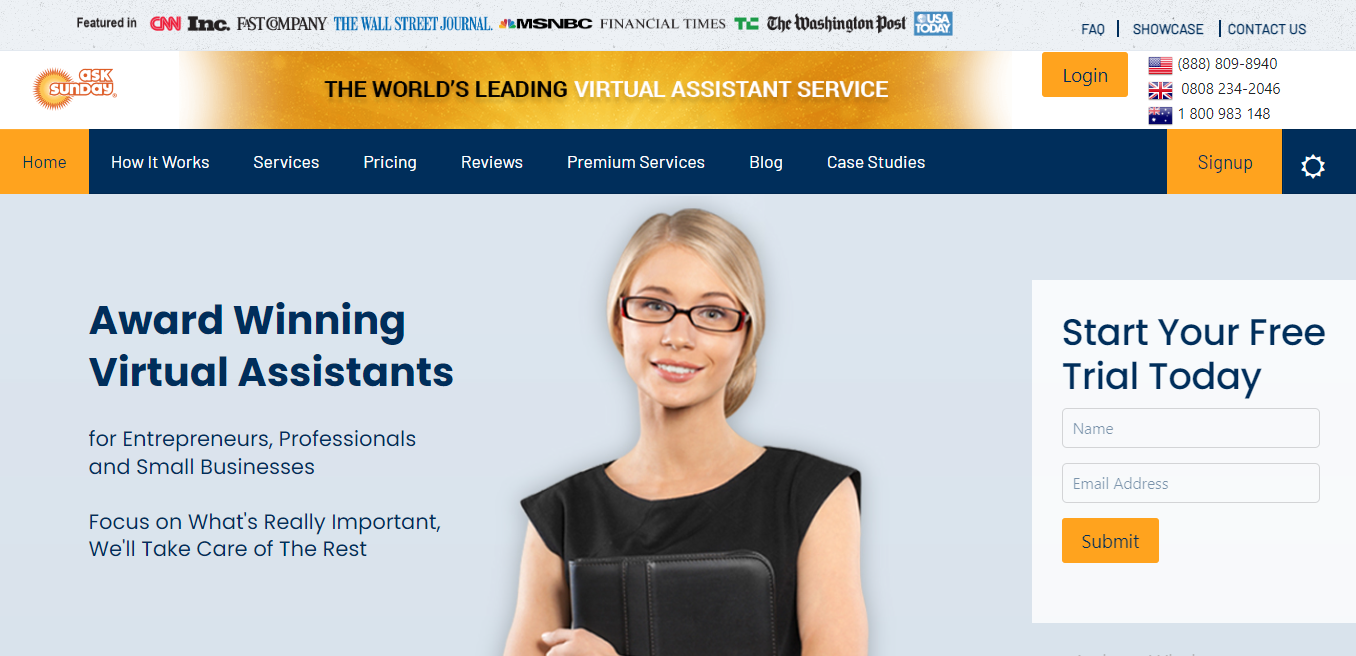 AskSunday is critically acclaimed and has won numerous awards. They have been featured in The Washington Post, MSNBC, and other top media outlets. This virtual legal assistant service offers more than just support – it offers peace of mind. The company is known for its rigorous hiring process and only the most qualified and experienced individuals are brought on board. 
Once hired, the virtual assistants undergo an extensive training program to ensure they are fully equipped to handle any legal task. The legal VAs are able to assist with everything from the preparation of petitions and pleadings to schedules, trial and post-trial proceedings, and even the appeals process. And, if at any point you feel like your dedicated assistant is not meeting your expectations, AskSunday offers an instant replacement.
AskSunday Pricing Plans
Plan A ($129/month): 10 hours of work.
Plan B ($219/month): 20 hours of work.
Plan C ($389/month): 40 hours of work.
Plan D ($699/month): 80 hours of work.
Plan E ($1199/month): 160 hours of work.
On-Demand ($79/month): Pay as you use it.
14. The Virtual Hub – Result-Driven Approach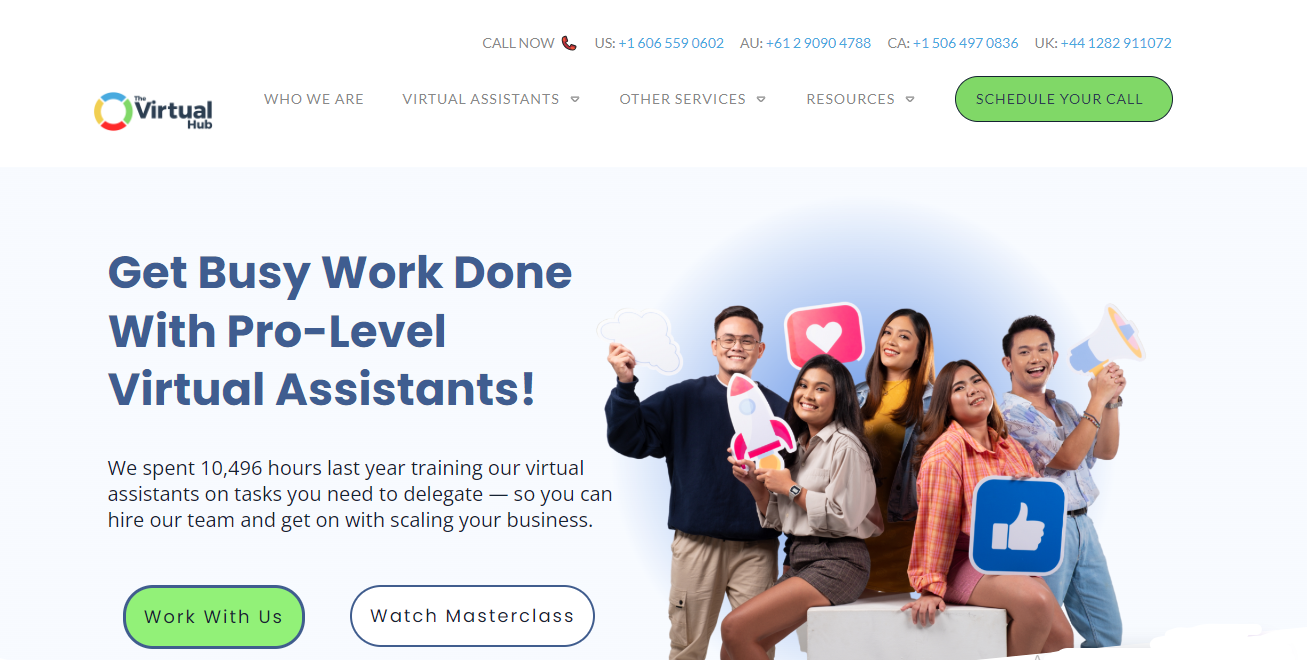 The Virtual Hub is a well-respected provider of legal virtual assistant services, known for its team of highly skilled problem-solvers and analysts. By working with The Virtual Hub, you can offload your legal research and case development to their experienced team, freeing up your own professionals to focus on other important tasks.
Their legal VAs have experience using a range of research platforms and tools and are able to conduct thorough and comprehensive research for a variety of cases. Whether you need help with legal research, case development, or other legal tasks, The Virtual Hub's virtual assistants are equipped to handle it all.
The Virtual Hub Pricing Plans
Customized plans are available on request.
15. MyTasker – Most Secure Mechanism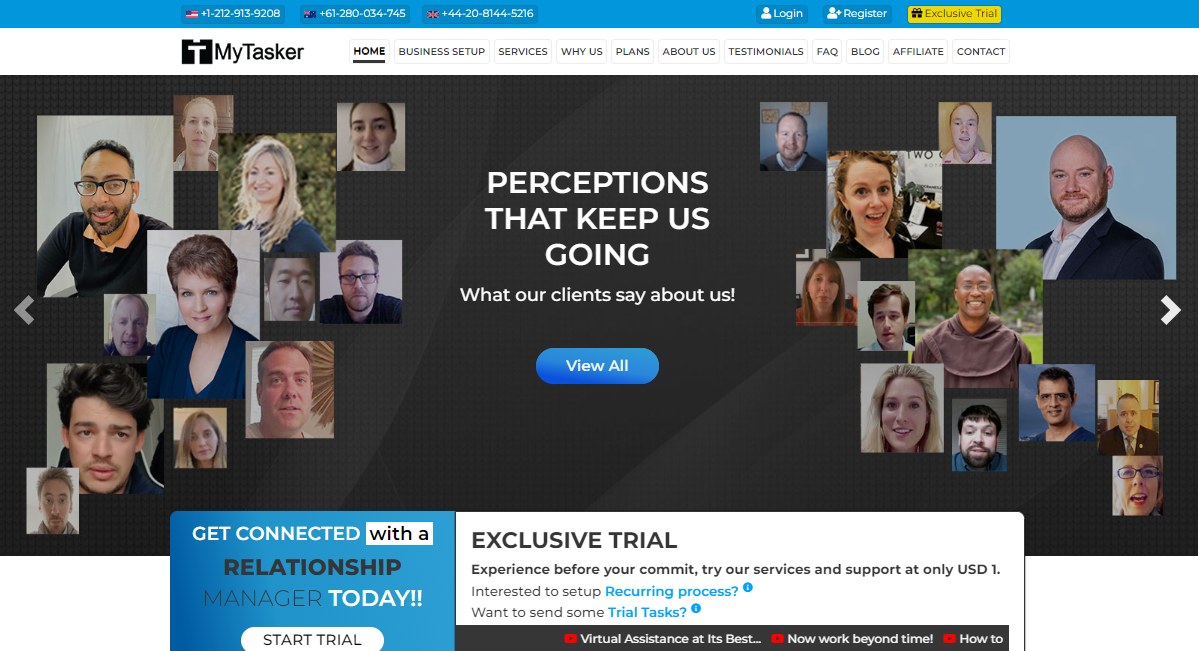 MyTasker is committed to delivering top-notch legal support through its team of carefully selected legal virtual assistants. With years of experience and a deep understanding of HIPAA and labor regulations, these professionals are equipped to tackle even the most complex personal injury and family law cases with accuracy and efficiency.
At MyTasker, client satisfaction is a top priority. Their virtual assistants are always available for consultation and to assist with any questions or modifications you may have. With open communication lines, MyTasker ensures that your legal needs are always taken care of.
MyTasker Pricing Plans
VA 10 Hours ($140/month): 10 hours/month.
VA 20 Hours ($250/month): 20 hours/month.
VA 40 Hours ($450/month): 40 hours/month.
VA 60 Hours ($600/month): 60 hours/month.
VA 100 Hours ($900/month): 100 hours/month.
16. ClearDesk – Specialized Talent For Best Results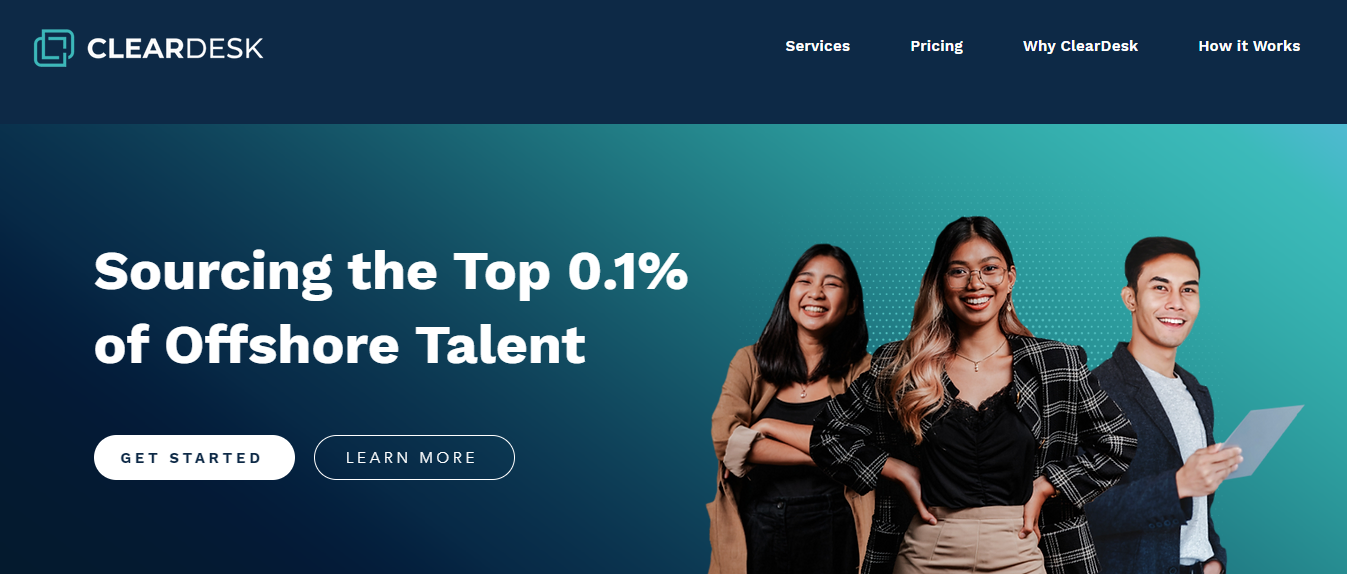 ClearDesk strives for excellence and this is reflected in its rigorous hiring process. Only top-tier candidates who have the necessary skills and experience are selected to join their team of virtual assistants. This helps to ensure that clients receive the best possible service and the team at ClearDesk carefully pairs each assistant with clients to ensure a personalized experience.
Not only does ClearDesk offer exceptional legal support but they also provide a suite of management tools and productivity monitoring features. With features like online timesheets, app and URL tracking, and real-time activity alerts, clients can easily keep tabs on their virtual assistant's progress and ensure that they are working efficiently.
ClearDesk Pricing Plans
Full-time assistant ($1950-2500/month): College graduates with 2 years of experience.
Specialized assistant ($3500-4500/month): Master's degree holders with 5 years of experience.
Conclusion
Well, it looks like hiring a virtual assistant for your law firm doesn't have to be a legal battle anymore. With our list of the 16 best sites to hire a virtual assistant for law firms, you can now easily find the perfect legal sidekick to help you tackle the toughest cases.
But if you want to make sure your law firm truly takes flight, Zirtual is the best option. With a team of expert virtual assistants, Zirtual offers top-notch legal support that will leave you feeling like you have your own personal super-lawyer. Don't wait any longer. Schedule a consultation with us and discover the benefits you're missing out on. Let us help you elevate your law firm and make it the talk of the legal community.