While confidently navigating the complex world of law, you are no less than a skilled conductor leading an orchestra. You know you have got this but you need a trusted virtual assistant for attorneys who will bring life to your harmonious symphony.
Think of a virtual assistant as your key musician who is always in sync with your goals and ready to perform at the highest level. But where do you find someone who would bring precision and expertise and has a keen understanding of the administrative tasks that align with the legal world?
This article is just the answer that you are looking for. Our power-packed read reviews the 16 best companies for hiring a virtual assistant for attorneys in 2023.
By the time you finish reading, you'll be prepared for the upcoming transformative impact of this partnership. Just as a first-chair violinist brings precision, expertise, and a keen understanding of music, you'll find a virtual assistant who can bring efficiency, organization, and a wealth of skills to elevate your legal practice.
16 Best Platforms To Hire Proficient Virtual Assistants For Attorneys
Here are our top 3 picks for the best websites to hire virtual legal assistants:
Zirtual – Best overall 
Virtual Paralegal Pros – Most experienced
Legal Soft – Most streamlined processes
Let's get started with our detailed review and see which of the 16 virtual legal assistant sites best suits your needs.
1. Zirtual – Top Pick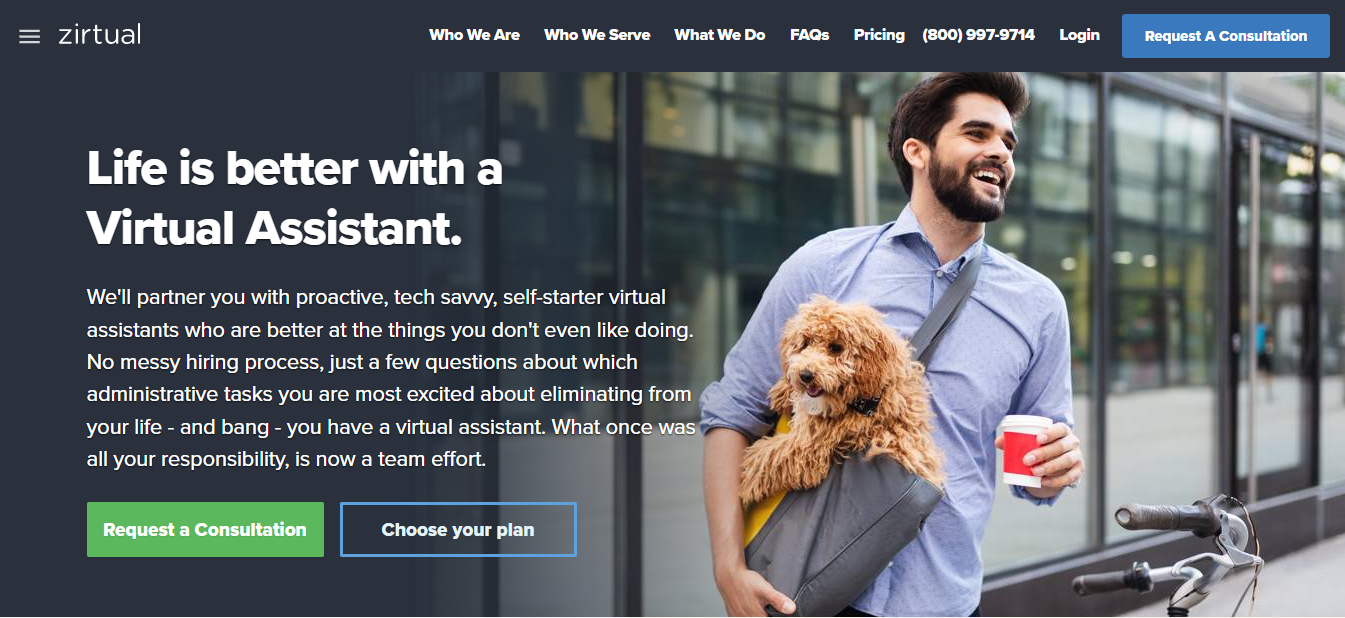 Since our inception in 2011, Zirtual has been the top place to hire a virtual assistant for attorneys. All of our virtual legal assistants are based in the United States and have been handpicked after a rigorous vetting process. These VAs are college graduates and equipped with the academic foundation to comprehend legal terminologies and complexities.
Zirtual's virtual assistants bring a systematic approach to problem-solving to ensure efficiency and accuracy in every task they perform. They have the ability to analyze complex legal issues, identify relevant information, and provide concise solutions. 
We at Zirtual will also connect you with a dedicated team of specialized individuals who are well-versed in technical tasks. From managing databases and document management systems to conducting electronic discovery and preparing trial presentations, our virtual assistants can handle them all with the utmost professionalism.
Document drafting and review is another area in which our virtual assistants shine. They have a keen eye for detail which enables them to draft and review different legal documents like contracts, pleadings, and briefs. They also possess strong interpersonal skills and can effectively communicate with clients to address their inquiries. 
Zirtual's legal VAs are also trained to streamline your billing processes and maintain efficient financial management. They can track billable hours, prepare invoices, and manage accounts receivable.
Zirtual Pricing Plans
Our virtual assistant packages include:
Entrepreneur Plan ($549/month): 12 hours of work with 1 user.
Startup Plan ($849/month): 24 hours of work with 2 users.
Small Business Plan ($1,249/month): 36 hours of work with 3 users.
Team Plan ($1,699/month): 50 hours of work with 5 users.
2. Virtual Paralegal Pros – Most Experienced

Since its establishment in 1996 (and a rebranding in 2016), Virtual Paralegal Pros has shown great consistency, both in retaining its skilled team and in keeping its valued clients with a near-zero turnover. 
Virtual Paralegal Pros specializes in helping attorneys with all necessary aspects of their law practice. Their virtual assistants are trained in tasks like organizing legal documents, conducting thorough legal research, and drafting motions. They have access to reputable legal databases and resources which helps them gather relevant case law, statutes, and legal precedents to support you in building strong legal arguments.
Virtual Paralegal Pros can also assist your law firm in preparing petitions, pleadings, and other necessary paperwork. They follow established protocols and receive proper training to ensure accurate completion and timely filing of these documents. At Virtual Paralegal Pros, the virtual assistants are well-equipped to handle scheduling, trial proceedings, post-trial matters, and even the appeals process. 
Virtual Paralegal Pros Pricing Plans
Virtual Paralegal Pros offers only one plan which is priced at $1,750/month and includes a virtual legal assistant with a dedicated team of support people to assist you and your VA. 
3. Legal Soft – Most Streamlined Processes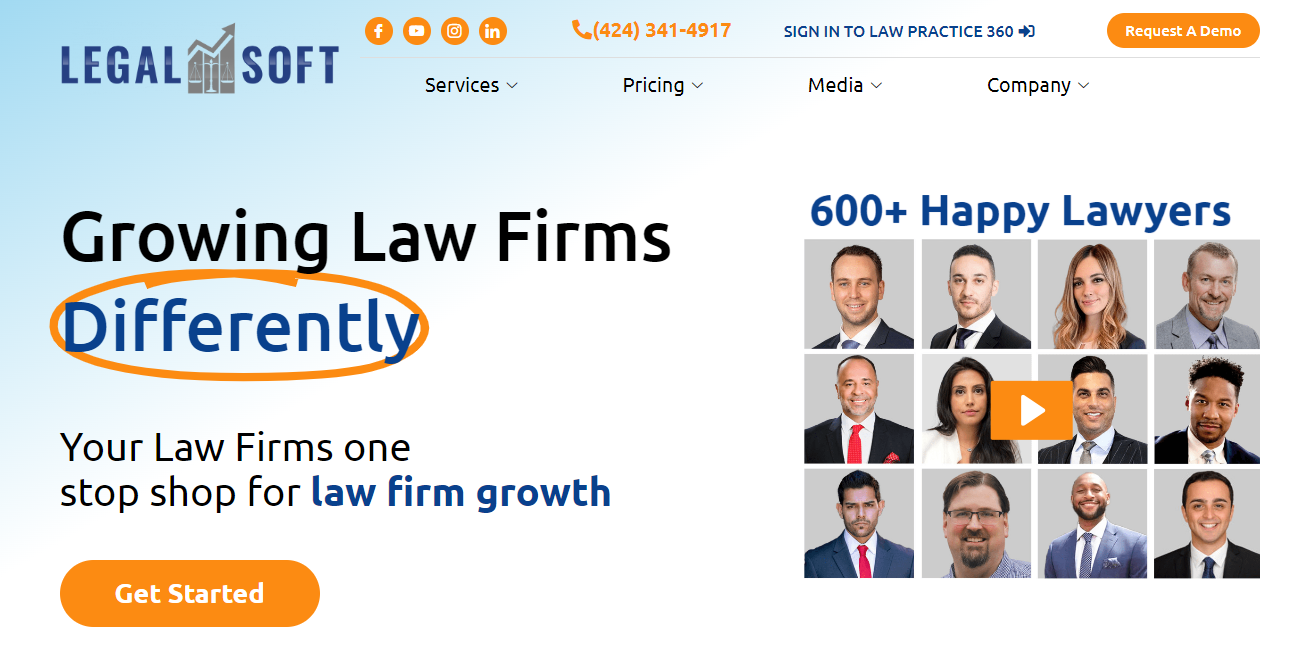 Legal Soft has been providing exceptional virtual legal assistant services for over 20 years. They have a team of 50+ skilled legal virtual assistants who have been selected and trained by attorneys themselves. 
Having served more than 600 lawyers and law firms, Legal Soft has a proven track record of assisting legal professionals across 12+ practice areas. Whether it's litigation, corporate law, intellectual property, or family law, Legal Soft's virtual assistants can handle it all. They are also experts in legal research, document review, and case analysis and can significantly reduce the burden of administrative tasks.
Legal Soft employs advanced tracking and monitoring systems to ensure that its virtual assistants consistently meet the high standards expected by attorneys and law firms. They also provide daily and weekly task completion reports so that you always stay on top of matters. 
Legal Soft has implemented advanced protocols and technologies to protect your information and ensure compliance with applicable legal and ethical standards.
Legal Soft Pricing Plans
Legal Soft offers different plans which start at $2,097. Contact their sales team for a customized quote.
4. 20four7VA – Most Diverse Skill Set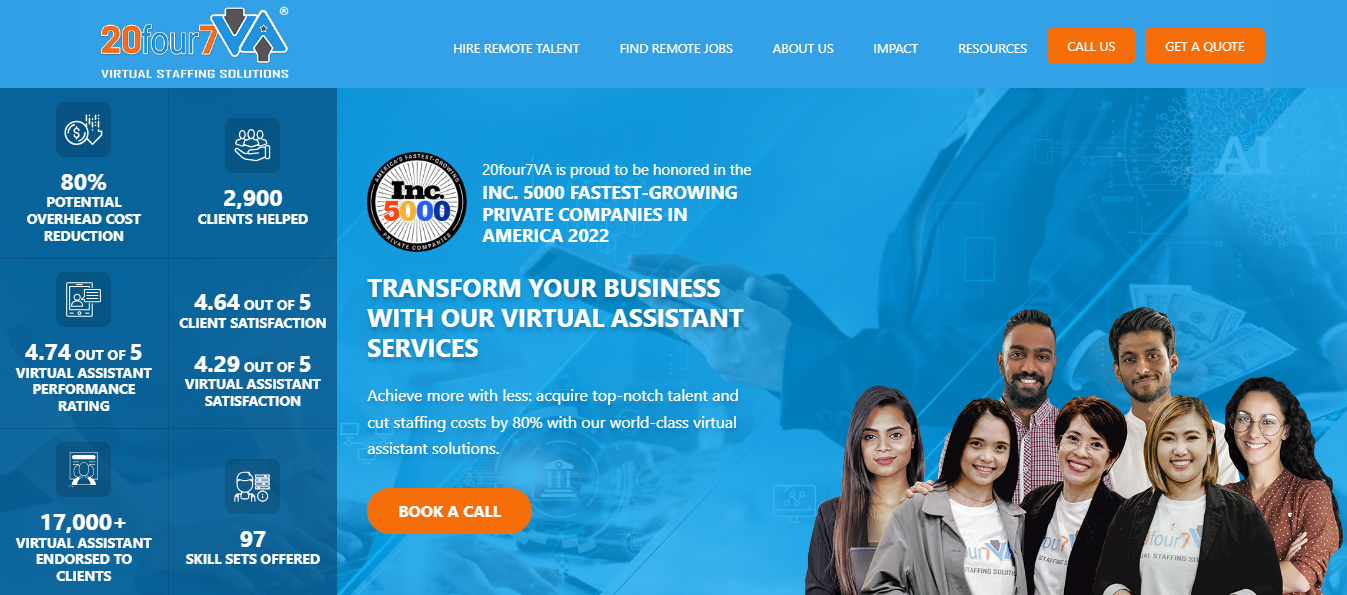 20four7VA has been supporting legal professionals, particularly those in small law firms, with their comprehensive range of virtual assistant solutions since 2014. The company has been included in Inc. 5000 list as one of the fastest virtual legal assistance firms in the US. It is also a BBB-accredited business with an A+ rating.
Their virtual assistants are skilled at carefully following your instructions for drafting complaints, preparing powers of attorney, crafting settlement proposals, and composing acceptance letters. 
But that's not all – they are trained to provide a full spectrum of legal services. Need assistance with legal research to support your case preparation? No problem. Require document review and analysis to streamline your workflow? They can handle it with precision. From preparing court forms to transcribing recorded interviews or depositions, their virtual assistants possess the know-how to support your legal practice.
20four7VA provides a user-friendly project management system to easily monitor your virtual legal assistant's progress and track tasks. 
20four7VA Pricing Plans
Custom pricing plans are available on demand.
5. Aristo Sourcing – Most Tech-Savvy Virtual Assistants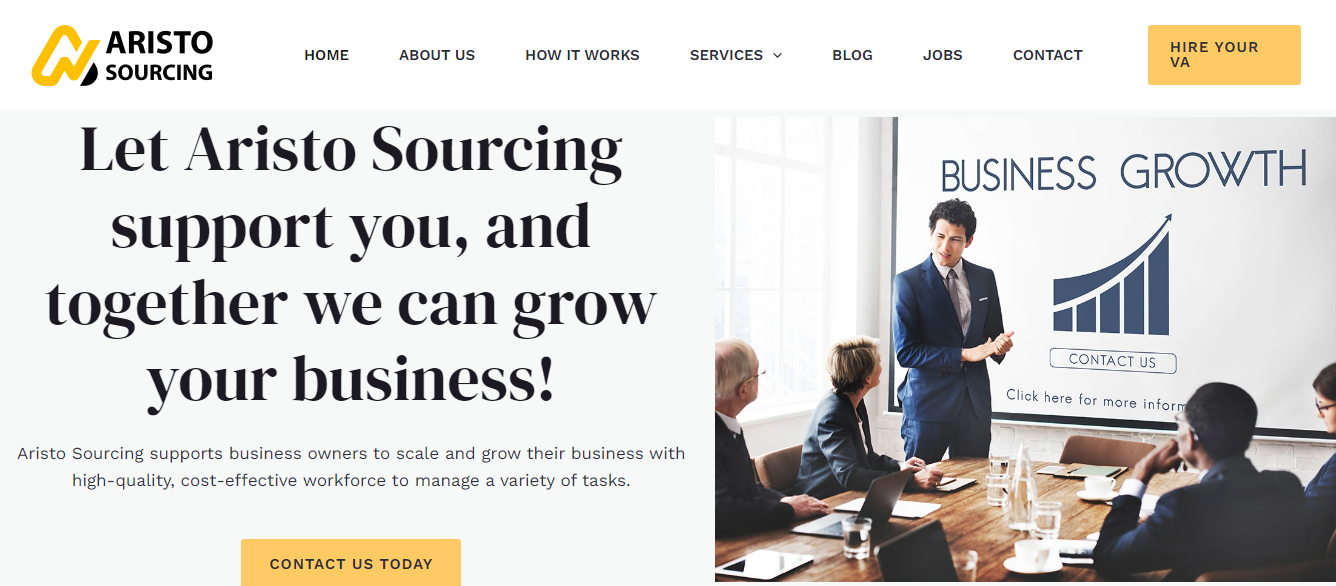 Founded in 2014, Aristo Sourcing is known for providing cost-effective administrative support to lawyers and legal firms. Their virtual paralegals offer specialized assistance in various practice areas. Whether it's family law, litigation, or personal injury cases, these VAs have the knowledge and expertise to provide invaluable support. 
Aristo Sourcing helps with tasks like preparing discovery requests, managing case files, and proofreading documents for accuracy and proper citation. These legal VAs possess excellent research skills and have access to legal databases. They can help you in conducting legal research, summarizing case law, and providing relevant information to support legal arguments.
Aristo Sourcing's virtual assistants are also well-versed in commonly used legal software and technology. They can assist you in using tools like case management software, document management systems, and e-discovery platforms. The company also has a regular feedback cycle to maintain a stringent quality control process.
Aristo Sourcing Pricing Plans
Contact Aristo Sourcing for tailor-made plans.
6. Freedom Makers – Most Strategic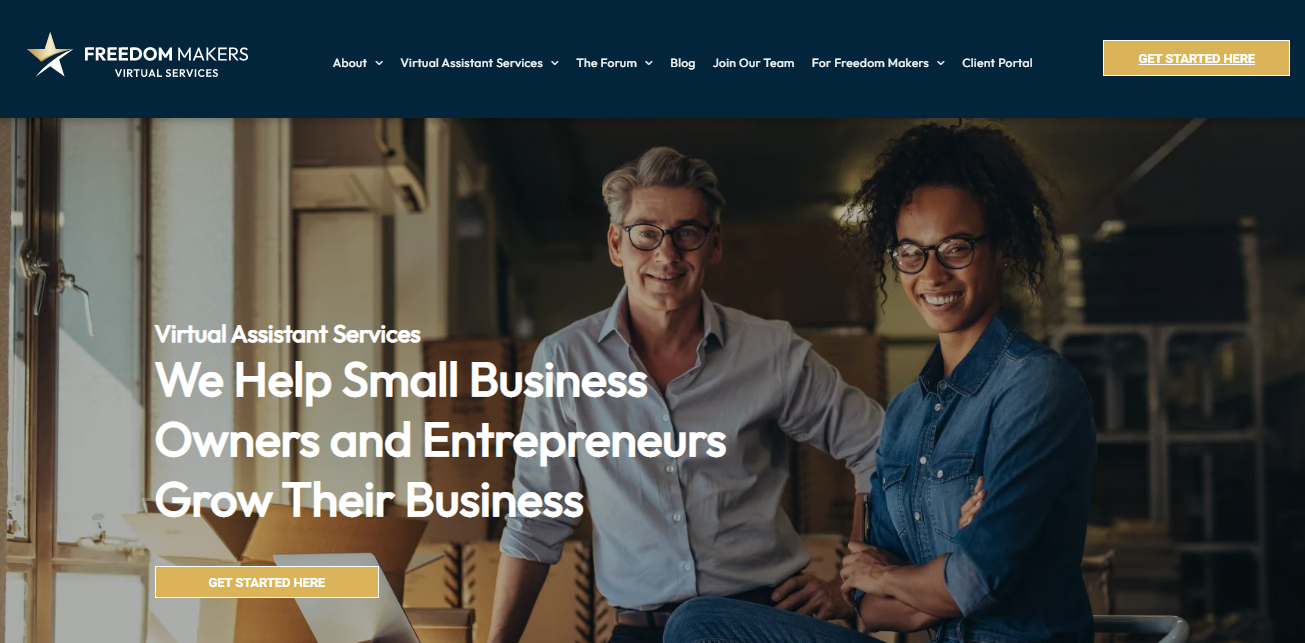 Freedom Makers was founded in 2015 and has a VA team of military housewives who possess an inherent understanding of the challenges and demands faced by attorneys and lawyers. These virtual legal assistants, with their military background, handle the fast-paced nature of legal work, juggle multiple tasks efficiently, and maintain the utmost professionalism and confidentiality.
Freedom Makers' legal VAs can draft important legal documents, including motions, judgments, orders, and cover letters. They also offer comprehensive transcription services to help you efficiently review and analyze legal proceedings, client interviews, depositions, and more. 
Beyond legal assistance, these virtual assistants are also trained in scheduling appointments, social media management, bookkeeping, and accounting.
Freedom Makers Pricing Plans
Contacting their customer support team for a customized quote.
7. VirtuDesk – Best For Automating Systems & Workflows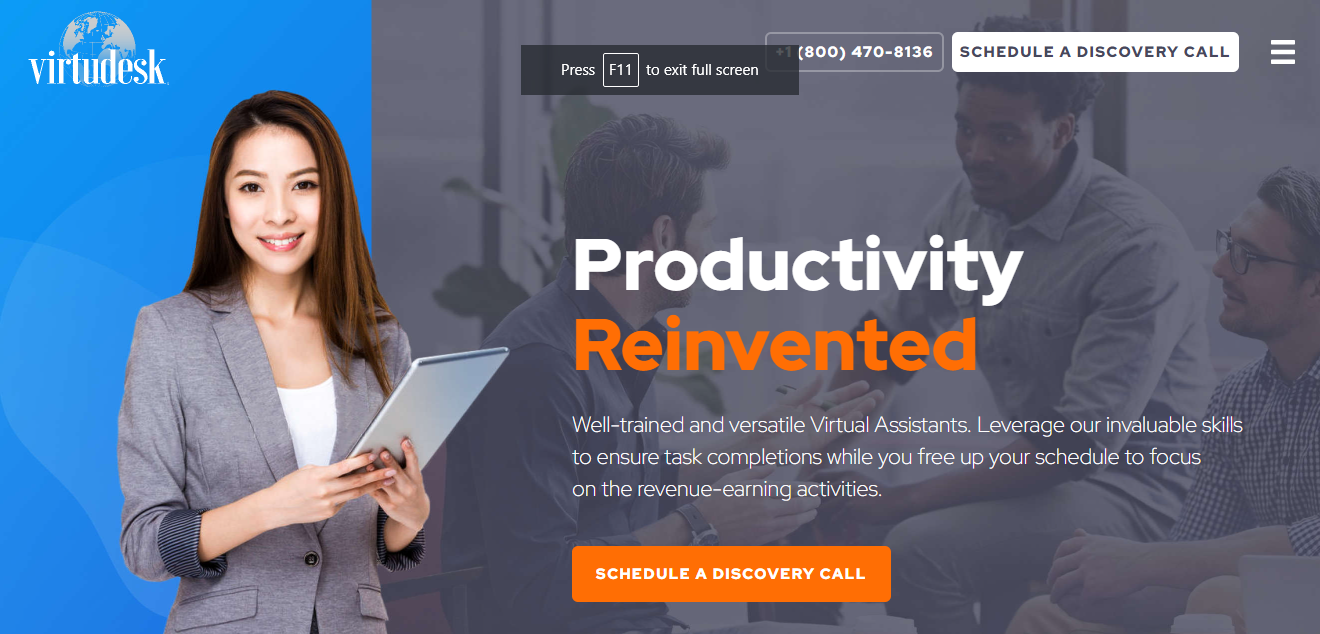 VirtuDesk is a BBB-accredited company that was established in 2016. It is included in Inc 5000 list as one of the fastest-growing companies in the US. Recognizing the demands of the legal profession, VirtuDesk has made it incredibly easy for attorneys to integrate virtual legal assistants seamlessly into their practice. 
VirtuDesk's virtual professional team is trained to optimize and automate the systems and processes of any law office. Their virtual legal assistants play a crucial role in ensuring cases proceed smoothly. By efficiently managing and categorizing case documents, they can also help you access critical information quickly.
With VirtuDesk's virtual legal assistants, your law office can benefit from the expertise of a dedicated professional without the costs and logistics associated with hiring an in-house employee. 
VirtuDesk Pricing Plans
VirtuDesk's pricing starts at $9.55/hour. Contact their sales team for a custom quote.
8. We Are Working – Guaranteed Immediate Results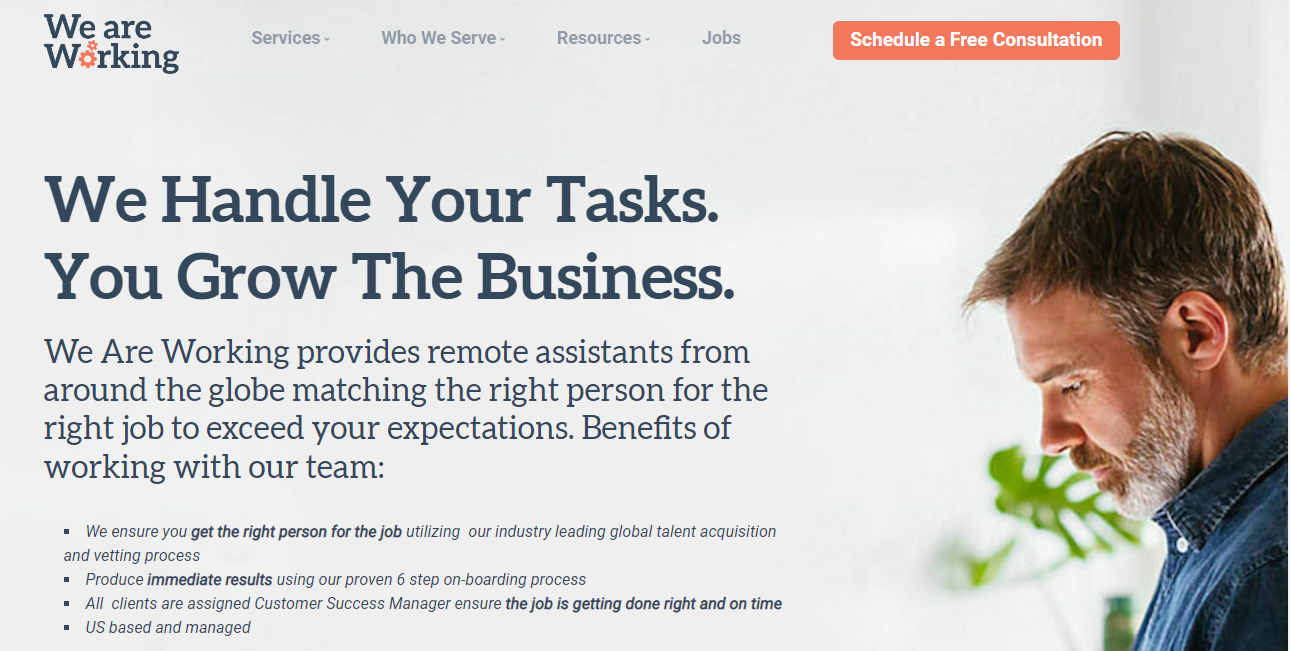 We Are Working is another worthy name in the legal virtual assistant industry. Their virtual assistants are experts in performing claim investigations and gathering crucial evidence and information. They also have expertise in preparing and managing case files for smooth and efficient workflows.
We Are Working's virtual assistants possess excellent communication skills and can effectively interact with clients and outside counsel on behalf of the attorney. Whether it involves conveying case updates, sharing relevant information, or addressing client inquiries, the virtual assistants at We Are Working can handle these tasks with ease.
The team at We Are Working also has extensive experience in court filings and document preparation. They are well-versed in the specific requirements and formatting guidelines of various courts and jurisdictions. You can rely on their virtual assistants to draft, review, and finalize legal documents while ensuring accuracy.
We Are Working Pricing Plans
Price estimate is available on demand.
9. Equivity – Hassle-Free & Reliable
Equivity is a renowned virtual legal assistance company founded in 2014. Their legal VAs are college graduates and possess a strong educational foundation to provide exceptional support to attorneys. Along with every virtual legal assistant, the company assigns a dedicated Client Engagement Manager to each attorney. This individual serves as a central point of contact and will teach you how to effectively use the capabilities of your virtual assistant. 
Considering the time-sensitive nature of legal work, Equivity's virtual assistants have been trained to manage such tasks, prioritize assignments, and deliver high-quality work within the required timeframes. The company employs a rigorous vetting process that includes comprehensive background checks and assessments to ensure that only the most qualified individuals are hired.
Equivity Pricing Plans
Basic ($250/month): 5 hours/month.
Standard ($480/month): 10 hours/month.
Professional ($685/month): 15 hours/month.
Enterprise ($1,250/month): 30 hours/month.
Advantage ($1,920/month): 50 hours/month.
10. Attorney Assistant – Most Scalable
Attorney Assistant has a talented team of virtual assistants who have a firm grip on legal terminology, procedures, and documentation. So if you are looking for someone for drafting pleadings, conducting legal research, or managing case files, their virtual assistants are a perfect choice.
The virtual assistants at Attorney Assistant have exceptional writing skills, thanks to their legal education and practical experience. Their virtual assistants are also experts in courtroom procedures and can assist you during trials and hearings. From managing exhibits and documents to coordinating with witnesses and court personnel, Attorney Assistant's virtual assistants provide invaluable support.
Attorney Assistant Pricing Plans
You can contact Attorney Assistant for a price estimate.
11. Belay – Most Wide-Spread Team
Since 2010, Belay has been providing unparalleled virtual assistant services. They have a vast network of 1,200 virtual assistants located across 48 states in the United States. The company is featured in Inc. 5000 list, highlighting its rapid growth and success in the legal support industry. Due to Belay's efficient systems, you can expect to be matched with a virtual legal assistant within a week to quickly tap into the expertise and assistance you need. 
Belay virtual assistants possess a comprehensive understanding of legal terminology, procedures, and best practices. They are experts in various legal tasks, like the production of documents, conducting legal research, and preparing and filing discovery requests. Belay's virtual assistants are also adept at managing case calendars, scheduling depositions, and coordinating with multiple parties involved in the legal process. 
Belay Pricing Plans
Belay packages start at $1,380/month for 30 hours. Contact them for a customized plan.
12. LawFecta – Most Empowering Platform
Founded in 2017, LawFecta is known for its rigorous hiring process. Each candidate undergoes a series of thorough interviews, skills tests, and comprehensive background and reference checks to ensure they have the necessary legal acumen and proficiency.
When you hire LawFecta's services, you get access to a suite of tools and platforms tailored to enhance productivity and streamline operations. They offer a state-of-the-art project management system for delegating tasks, tracking progress, and monitoring deadlines. Additionally, the retainer portal and client dashboard let you easily manage client relationships and maintain transparent communication.
The virtual legal assistants at LawFecta are trained in providing comprehensive support across different legal tasks. Whether it involves drafting pleadings, managing clients, or calendaring, LawFecta's virtual assistants can efficiently handle these responsibilities. 
LawFecta Pricing Plans
Flex Retainer ($55/hour): No long-term commitment.
Subscription Retainer ($44/hour): 90-day commitment required.
13. Magic – AI-Driven Approach
Magic is one of the pioneering virtual assistant companies that was established in 2015. With its stringent hiring process and focus on recruiting top-tier talent, they ensure that only the top 3% of virtual assistant talent becomes part of its team. Unlike other providers, Magic can swiftly assemble a dedicated team of virtual assistants in less than a week.
Central to Magic's success is its proprietary AI technology known as Magic AI which is used for matching between attorneys and virtual assistants. Their virtual assistants are experts in preparing case materials – a task that often requires extensive research, organization, and analysis. 
They can also help you with essential legal documentation tasks, including drafting answers to complaints, powers of attorney, settlement proposals, and acceptance letters.
Magic Pricing Plans
Custom pricing plans are available on demand.
14. Elite Virtual Assistant – Most Diverse & Inclusive
Elite Virtual Assistant was founded in 2015 and has established a strong foothold in the legal industry. With its strict selection procedure, a mere 2% of applicants make it through to their team.
Elite Virtual Assistant's virtual assistants are well-versed in organizing and maintaining case files, tracking deadlines, managing court filings, and coordinating with other legal professionals involved in the case.
The company offers flexible solutions for attorneys and law firms. Whether it's on-demand assistance for specific projects or ongoing support for daily administrative tasks, their services can be customized to accommodate changing priorities.
Elite Virtual Assistant Pricing Plans
Customized pricing plans are available on demand.
15. Crewbloom – Most Cost-Effective
Crewbloom was founded in 2016 and has an extensive client base across more than 22 countries. They have logged over 1,500,000 hours of service which has given them enough experience to handle all sorts of tasks. By leveraging their services, you can reduce your operational expenses by up to 70%.
If you are an Attorney practicing in multiple jurisdictions, you can benefit from Crewbloom's virtual assistants who possess knowledge of diverse legal systems. This enables them to assist with legal research, document preparation, and case management across different jurisdictions, facilitating cross-border legal work.
Crewbloom Pricing Plans
Contact Crewbloom for customized pricing plans.
16. Office Beacon – Most Security-Compliant Company
Office Beacon was founded in 2001 and has a long-standing reputation in the legal support industry. As an ISO 27001-certified company, they adhere to strict information security protocols to protect sensitive legal data. They have served over 4,000 clients and their expansive network comprises 4 delivery centers with a team of 5,500 virtual assistants.
Office Beacon places great emphasis on meeting industry-specific regulations like the Health Insurance Portability and Accountability Act (HIPAA) and the General Data Protection Regulation (GDPR). They have implemented strict measures to ensure that all client data is handled in accordance with these regulations. 
In order to maintain transparency and accountability, Office Beacon provides weekly quality reports and bi-weekly feedback emails to attorneys that give insight into the productivity and performance of their virtual assistants. 
Office Beacon Pricing Plans
Contact Office Beacon for a custom price quote.
Conclusion
A conductor brings a unified vision to the music. But only with the help of its trusted musician. In the legal world, success is dependent not only on individual brilliance but also on a synchronized team. You along with a skilled virtual assistant make a dynamic duo capable of taking on the world.
Virtual assistant for attorneys brings order and efficiency to their practice. These key players possess a range of skills, from managing appointments to conducting legal research, ensuring that your practice comes together flawlessly. 
Our team at Zirtual promises to take a load of overwhelming administrative tasks off your shoulder by offering our expertise in various industries. From the preparation of petitions to reviewing documents, we have skilled experts to take charge, leaving you free to focus on your competence. Book a free consultation to hire our virtual assistants who are ready to jump right in.