When you are running an Amazon store, tasks keep popping up faster than you can bat them down. Passing the baton from listing optimization to order fulfillment to customer service – all while trying to avoid a faceplant. You eventually start feeling like Jeff Bezos has a personal vendetta against you and your business. But an Amazon virtual assistant can help you clear the air between you and Jeff. 
Pass off that baton to an Amazon virtual assistant and they'll make running your Amazon store a breeze. It's like having a full-service agency at your fingertips without any of the hassles. But how do you find one? Sure, there are plenty of Amazon virtual assistant companies but finding the right one who can help your business grow can be downright petrifying.
Fortunately, we have shortlisted the 16 best sites of 2023 to hire an Amazon virtual assistant. After reading this 7-minute guide, you'll be equipped with everything you need to make a savvy decision and discover the perfect virtual assistant for your Amazon business.
16 Best Platforms For Hiring Amazon Virtual Assistants
Our top 3 picks for the leading Amazon virtual assistant websites are:
Zirtual – Best overall 
20four7VA – Most detail-oriented
Team4eCom – Prioritizing customer satisfaction
Let's get started with a detailed review of our shortlisted websites.
1. Zirtual – Top Pick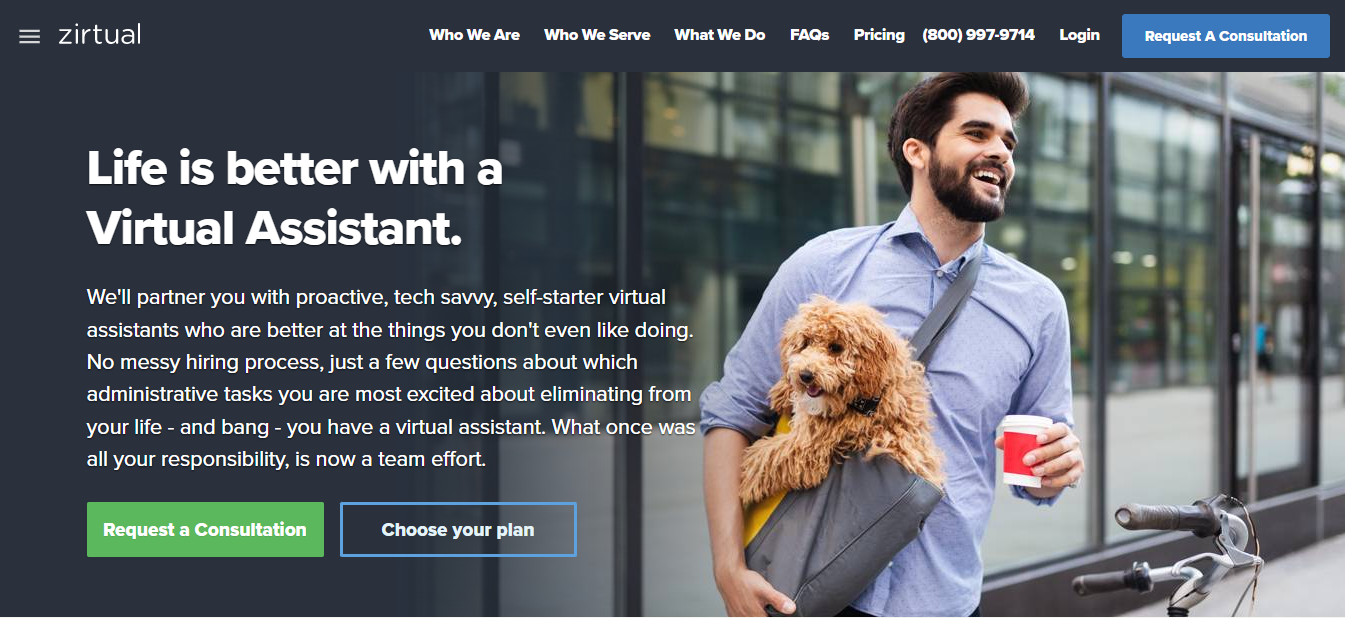 Zirtual is the number one website for hiring an Amazon virtual assistant. Achieving the top spot in Amazon virtual assistant services industry where competition is fierce and the stakes are high is not easy. It takes hard work, dedication, and a commitment to excellence to reach the top and stay there. At Zirtual, we have all of these qualities and more.
We only hire college graduates from the United States who have the expertise to manage your Amazon account from start to finish. They are experts in Amazon Seller Central Management Services and if you're just starting out your Amazon store, we're here to help. Our virtual assistants can handle everything from creating product listings to managing customer orders and handling returns. 
Our virtual assistants are experts in creating product descriptions that are clear and easy to read while still providing all the information your customers need to make a decision. We highlight the key attributes of your products and make it easy for your customers to find your listings. 
At Zirtual, we know that the Amazon algorithm is all about making sure customers have the best experience possible. That's why we have virtual assistants who specialize in fixing Amazon-suppressed listings that are not showing up in Amazon's search results. Our virtual assistants identify and fix these issues so your products will be more visible and accessible to potential customers.
We take the burden of order fulfillment off your shoulders and take control of customer orders right from the start and handle them until delivery is confirmed. We provide real-time updates on every step of the order process, including the invoice, delivery date, and product returns. 
Zirtual Pricing Plans
Zirtual offers 4 pricing plans.
Entrepreneur Plan ($549/month): 12 hours of work with 1 user.
Startup Plan ($849/month): 24 hours of work with 2 users.
Small Business Plan ($1249/month): 36 hours of work with 3 users.
Team Plan ($1699/month): 50 hours of work with 5 users.
2. 20four7VA – Most Detail-Oriented
20four7VA was established in 2014 and specializes in providing Amazon virtual assistants. They have a deep understanding of the platform and can provide valuable insights to help you grow your business. They can conduct proper product research to identify which products are in demand and have high-profit margins. 
20four7VA's virtual assistants are also trained to handle inventory management and ensure that your inventory levels are always optimized. The website has been featured on Inc. 5000 as one of the fastest-growing private companies in the United States due to consistently delivering quality services to its clients. 
20four7VA is a BBB-accredited business with an A+ rating and has met its standards for trustworthiness, transparency, and customer service. The company has helped 2900 businesses from 47 different industries. This has enabled them to develop effective solutions regardless of your industry and reduce your overhead costs by up to 80%.
20four7VA uses performance monitoring tools to ensure that its virtual assistants are delivering quality work. This technology helps them keep track of their VAs' productivity and helps identify areas for improvement. 
20four7VA Pricing Plans
You can request a custom quote by contacting their sales team.
3. Team4eCom – Prioritizing Customer Satisfaction
With over 20 years in the business, Team4eCom has worked with over 5000 clients which has given them a deep understanding of the challenges that Amazon sellers face. They have a 100% customer satisfaction rate that not many businesses can boast of.
Team4eCom has a team of 500+ experts who has the expertise to provide consistent customer service and handle different Amazon support services. They are familiar with all the aspects of Amazon's platform, policies, and procedures, so they know how to navigate the site efficiently and effectively. 
Team4eCom's virtual assistants work with you to create message templates that will save you time and ensure that your customers receive consistent, high-quality service. They are also experienced in running Amazon ad campaigns and know how to analyze data, make data-driven decisions, and optimize your Amazon campaigns for maximum results. 
The company also offers a free trial so you can check if they are the right fit for your Amazon business.
Team4eCom Pricing Plans
Contact the sales team at Team4eCom for a tailor-made pricing plan.
4. Upwork – World's Largest Freelance Platform
Established in 2013, Upwork is one of the largest freelance marketplaces in the world with over 70 million registered freelancers. Since its incorporation, it has been a trusted option for Amazon store owners to hire virtual assistants. Whether you need help with customer service, product research, order processing, or other related tasks, you can find a virtual assistant on Upwork with expertise in your specific niche. 
When it comes to hiring a virtual assistant on Upwork, it's easy to find someone who is a good fit for your business with their large database of freelancers. Simply create a job post that includes a description of the project, your budget, and the completion date. 
Interested freelancers will then submit proposals that include their portfolios and previous work history. Alternatively, you can search for freelancers using Upwork's extensive database and filter them by location, experience, and other criteria.
Upwork has the right set of tools that help you manage your virtual assistant efficiently. The built-in time tracking tool allows you to monitor the hours worked by your assistant. To simplify communication and keep everything organized in one place, you can use Upwork's messaging system for communicating with your Amazon virtual assistant.
Upwork Pricing Plans
Upwork charges a fee of 5% on all payments made to freelancers.
5. 2nd Office – Level Up Productivity With Self-Starter Virtual Assistants
2nd Office started its operations in 2012. With over 80 global customers, the company has worked with a range of businesses, including Fortune 500 companies and top 100 resellers on Amazon and eBay. The company houses over 550 team members which means they have a deep bench of talent to draw from. 
2nd Office's virtual assistants are known for being self-starters who take the initiative. When you hire an Amazon VA from the 2nd Office, you can expect them to be proactive in identifying ways to improve your Amazon operations. They are familiar with Amazon Seller Central tools and will be able to perform a range of order-processing tasks on your behalf. 
But 2nd Office's virtual assistants are more than just order processors. They can also help you develop and implement an Amazon business strategy. This includes optimizing your product listings, improving your seller feedback score, or expanding your reach to new customers.
2nd Office Pricing Plans
Custom quotes are available on demand.
6. Trusty Oak – Onboarding Made Easy
Trusty Oak is a BBB-accredited business with an A+ rating so as an Amazon business owner, you can trust that you are working with a reliable and trustworthy platform. They provide a Growth Starter Pack (GSP) to get you and your virtual assistant started. This includes a detailed onboarding process, training materials, and ongoing support to ensure that you and your virtual assistant are on the same page.
Trusty Oak virtual assistants have expertise in running ad campaigns to drive traffic to your Amazon store. They know how important it is to maintain positive reviews and eliminate unnecessary spending. 
They input negative key terms to ensure that your ads are only shown to the most relevant audience, monitor analytics to check the performance of your campaigns, and make appropriate adjustments to the ads to improve performance over time.
Trusty Oak provides Cloverleaf coaching software for you and your Amazon's virtual assistant. This tool helps you identify your strengths and weaknesses as a team and provides actionable insights and recommendations to help you work together more effectively.
Trusty Oak Pricing Plans
Acorn ($449/month): 10 hours of work.
Sprout ($808/month): 20 hours of work. 
Oak ($1,580/month): 40 hours of work.
Grove (2,209/month): 60 hours of work.
7. Alive Virtual Assistants – Practical & Cost-Effective
Alive Virtual Assistants is another leading name that will connect you with the right virtual assistant in the smoothest manner. The team at Alive Virtual Assistants makes the effort to get to know your business systems to seamlessly integrate with it. 
You don't have to spend time training them on your business processes or systems. They come prepared to get to work from the word go, whether it's answering customer questions, providing graphic design services, creating content, or even preparing shipping labels.
At Alive Virtual Assistants, their Amazon virtual assistants know the importance of brand consistency. They learn about your brand, tone of voice, and customer service approach. This ensures that any communication with your customers is consistent with your brand messaging.
The virtual assistants at Alive Virtual Assistants are familiar with over 30 software programs and tools commonly used in the Amazon selling space. This enables them to handle all sorts of Amazon-related tasks, from managing your inventory and listings to optimizing your PPC campaigns and monitoring your sales metrics. 
Alive Virtual Assistants Pricing Plans
Backup Receptionist ($49.95/month): 30 minutes included.
Receptionist & Scheduler ($249.95/month): 200 minutes included.
Full-Service Virtual Assistant ($1,299.95/month): 1,000 minutes included.
8. eComVA – Experience Enhanced Cost Savings
eComVA is one of the leading platforms to hire Amazon virtual assistants. They have been assisting 350+ Amazon businesses which has equipped them to handle all types of Amazon FBA stores. Their virtual assistants are trained to conduct product research for you and find the best products that are in demand and have low competition. 
eComVA's virtual assistants have a complete grip on Amazon central tools. One of the biggest benefits of hiring an eComVA Amazon VA is the cost savings. They claim that their clients have seen a 75% reduction in costs after hiring their VAs due to a deep understanding of the intricacies of Amazon FBA and expertise in implementing Amazon's best practices. 
They can help you with a range of tasks, including:
Product listing
Managing offers
Bulk product upload
Inventory management
Product review request
Order processing & tracking
Keyword analysis & research
Current products optimization
eComVA Pricing Plans
You can get in touch with their support team for a custom pricing plan.
9. Fiverr – Most Diverse Pool
Launched in 2010, Fiverr is a freelance marketplace with over 2.5 million active freelancers. Each year, it's used by over 3.4 million buyers. Freelancers create gigs that outline specific services they offer, along with pricing, delivery time, and other details. Fiverr also offers a custom order option that allows you to request specific services that are not listed in a freelancer's gig. 
If you're looking for top-tier freelancers, Fiverr Pro is a premium service that gives you the access to hand-vetted freelance Amazon virtual assistants who have proven experience in their field. This can be a great option for Amazon sellers who need expert help with their FBA store.
Fiverr's user-friendly interface and range of collaborative tools make it easy to work with freelance Amazon VAs remotely. You can communicate with them through the platform and share files and information for smooth sailing.
At Fiverr, you can leave feedback and rate your experience with freelancers, ensuring that the platform maintains a high standard of quality. They also offer a feature called "Fiverr Learn" which provides online courses and resources to help you manage your Amazon business and stay up-to-date with the latest industry trends.
Fiverr Pricing & Fees For Clients
Fiverr charges a service fee of 5.5% with a minimum service fee of $2. Orders under $50 will have an additional $2 order fee. 
10. Delegated – Fast-Track Your Success
Delegated is one of the leading names to hire an Amazon virtual assistant. Their virtual assistants are based in the United States, ensuring effective communication with clients without the risk of language barriers or cultural misunderstandings. They have a deep understanding of Amazon's policies and procedures as well as its search algorithms and customer behavior.
Delegated's virtual assistants go through a rigorous screening and interview process to ensure that they have the right skills and expertise to provide high-quality Amazon virtual assistant services. They also perform a thorough analysis of their personality traits and working style using the PI and DISC profiling tool.
The company's Amazon virtual assistants help businesses to optimize their product listings, conduct market research, and manage advertising campaigns. 
Delegated Pricing Plans
Lite ($1200/month): 25 hours of task work/month.
Ramp ($2400/month): 50 hours of task work/month.
Pro ($3600/month): 75 hours of task work/month.
11. XpertVA – Most Comprehensive Solutions
XpertVA is another top choice for Amazon sellers. With over a decade of experience and an impressive 97% customer satisfaction rate, they have helped over 500 Amazon businesses all over the globe. 
XpertVA is known for helping Amazon sellers increase their store revenue and product profitability. They know how to optimize product listings to rank higher in search results. They use data-driven strategies to analyze customer behavior and identify opportunities for growth.
If you're just starting with your Amazon store, XpertVA can help you with store set-up. They will ensure that it is set up correctly and optimized as per Amazon's best practices. With XpertVA, you can be sure that your Vendor Central account is being managed by experts who understand the platform and can help you maximize your sales.
XpertVA's virtual assistants also employ a variety of marketing strategies and methods to help boost your Amazon sales. These strategies include listing Amazon Sponsored Ads, using tools like Amazon's Subscribe & Save program, and leveraging Amazon's customer review system to build social proof and credibility.
XpertVA Pricing Plans
For a custom plan, contact XpertVA.
12. MyVA360 – Easy To Manage
Founded in 2019, MyVA360 has quickly become a popular choice for Amazon sellers looking for help managing their businesses. They have a team of 70+ virtual assistants and successfully delivered more than 4600 successful projects. When you hire an Amazon virtual assistant from MyVA360, you'll receive daily reports on their progress and performance so that you are always in the loop.
MyVA360's virtual assistant can help you identify profitable products to sell on Amazon. For this, they research popular niches and analyze trends. They can handle customer inquiries, process returns, and refunds, and ensure that your customers are satisfied with their purchases.
Their Amazon VAs are also experts in inventory management and help you with tracking sales data and reordering products when required. If you are looking to promote your product through Amazon PPC ads, MyVA360's virtual assistant can help create and execute marketing campaigns.
In case you are not satisfied with the service you receive, you can get a full refund within two weeks of hiring your virtual assistant.
 MyVA360 Pricing Plans
Starter ($419/month): 15 hours of work.
Pro ($780/month): 30 hours of work. 
Master ($1,080/month): 45 hours of work.
Elite ($1,380/month): 60 hours of work.
13. Virtual A Team – Trained For Complex Tasks
Virtual A Team was founded in 2013 and has a diverse range of 35 expert virtual assistants on its team. Their hiring process is intense and only about 1% of applicants make it to the final stage. At Virtual A Team, they train their virtual assistants specifically for Amazon store management. They understand the complexities of Amazon and can navigate the platform with ease.
Virtual A Team provides a "Never Without© Guarantee" to ensure that you'll always have your virtual assistant's replacement ready. This guarantee means that if your virtual assistant is unavailable or unable to complete their tasks for any reason, they will provide a replacement assistant within 24 hours. 
To make the process of working with a virtual assistant as seamless as possible, Virtual A Team provides a customer portal that has a host of tools and resources. It allows you to communicate with your virtual assistant, track progress, and access training materials. You can also view detailed reports on your Amazon store's performance.
Virtual A Team Pricing Plans
You can get in touch with their customer support team for custom plans.
14. Byron – Most Systematic
Byron has a strict screening process for its Amazon virtual assistants where each assistant is assessed for over 100 skills. Their Amazon virtual assistant can help you manage your Amazon account, including setting up new accounts, managing billing and payments, and navigating Amazon's policies and guidelines.
Byron's VAs assist you to research your competitors to see what they're doing well and identify areas where you can improve. They can also analyze your sales data to identify trends and opportunities for growth. These virtual assistants are trained to optimize your product listings with persuasive copy and engaging images for improving sales.
Byron also provides powerful monitoring and scheduling software to help you manage your Amazon virtual assistant. It allows you to easily track your assistant's progress and monitor their work. You can also use the software to schedule tasks and set deadlines.
Byron Pricing Plans
Pilot ($290/month): Includes 10 hours.
Regular ($540/month): Includes 20 hours.
Plus ($990/month): Includes 40 hours.
Pro ($1,950/month): Includes 80 hours.
15. Virtual Staff Finder – Best-In-Class Support
Virtual Staff Finder was founded in 2010 and since then, it has matched over 8000 virtual assistants with different businesses. Virtual Staff Finder provides continuous training to its virtual assistants which keep them stay current with Amazon's best practices.
Virtual Staff Finder is known for its best-in-class support that ensures that businesses get the most out of their virtual assistant. The company performs regular check-ins, performance reviews, and feedback to ensure that arrangements are working well for all stakeholders.
Their Amazon virtual assistants are trained to carry out all sorts of tasks for your Amazon FBA store. They are also apt at handling customer inquiries, complaints, and feedback, and help resolve issues to ensure customer satisfaction. This way, you can maintain a good reputation on Amazon and increase customer loyalty.
Virtual Staff Finder Pricing Plans
The company only charges a hiring fee which is customized according to your needs.
16. Pepper Virtual Assistant – Empowering Success With Full Team Support
Established in 2009, Pepper Virtual Assistant has been providing Amazon virtual assistant services to customers across the globe. When you hire a virtual assistant from Pepper, you're not just getting the support of one individual — you get the support of a whole team of experts including IT support, copywriters, project managers, and more.
Pepper also offers additional creative services to enhance your Amazon account. You can request help with creative writing, social media management, and graphic design. Pepper's Amazon virtual assistants are also skilled in using various Amazon tools such as Amazon PPC and Amazon Marketing Services to help you achieve your targets.
Pepper Virtual Assistant Pricing Plans
Plan 1 ($960/month): 80 hours of work.
Plan 2 ($1400/month): 160 hours of work.
Conclusion
Hiring an Amazon virtual assistant is more like automating your online business's A to Z's. Taking off your mind from niche viability, finding the right suppliers, keyword searching, and giving you peace of mind to start a new store — an Amazon VA can do it all.
But to bring in fresher ideas to scale your Amazon store, you just can't hire any virtual assistant. That's why Zirtual is the perfect solution for finding the best Amazon virtual assistant to help you expand your single-store venture to multiple ones. 
At Zirtual, we have a diverse team of highly skilled virtual assistants who specialize in Amazon store management. They constantly stay up-to-date with the latest Amazon trends and best practices so you can be sure you're getting the most cutting-edge solutions for your business. Book a consultation with us today and feel the Zirtual difference.