We have an ultimate life hack for all you overworked, overstressed, and under-caffeinated CEOs and executives out there: virtual executive assistants. Since you can't just clone yourself and get everything done twice as fast, it's time to embrace the virtual world and let someone else handle the nitty-gritty details of your work life.
But when you decide to take that leap of faith, you're bound to get stuck with the age-old problem of trying to find a competent executive assistant. From hiring someone who turns out to be a professional procrastinator to someone who thinks "reply-all" is the only option in their email settings, it can be a nightmare.
But we are here to save the day. We've compiled a list of the 16 most reliable, trustworthy, and efficient sites to hire a virtual executive assistant. By the end of this guide, you'll be able to rest easy and have a clear idea of where to find the best virtual executive assistants and what to expect from them. 
16 Best Platforms Of 2023 To Hire Virtual Executive Assistants 
Here are our top 3 sites to hire virtual executive assistants in 2023:
Zirtual – Best overall 
WorxBee – Fortune 500-level executive assistants
Sigrid – Solving tasks efficiently & collectively
Let's roll up our sleeves and dive deep into the world of the 16 sites that have made it onto our list. We'll take a closer look at each one and explore the factors that have earned them a spot on our prestigious list.
1. Zirtual – Top Pick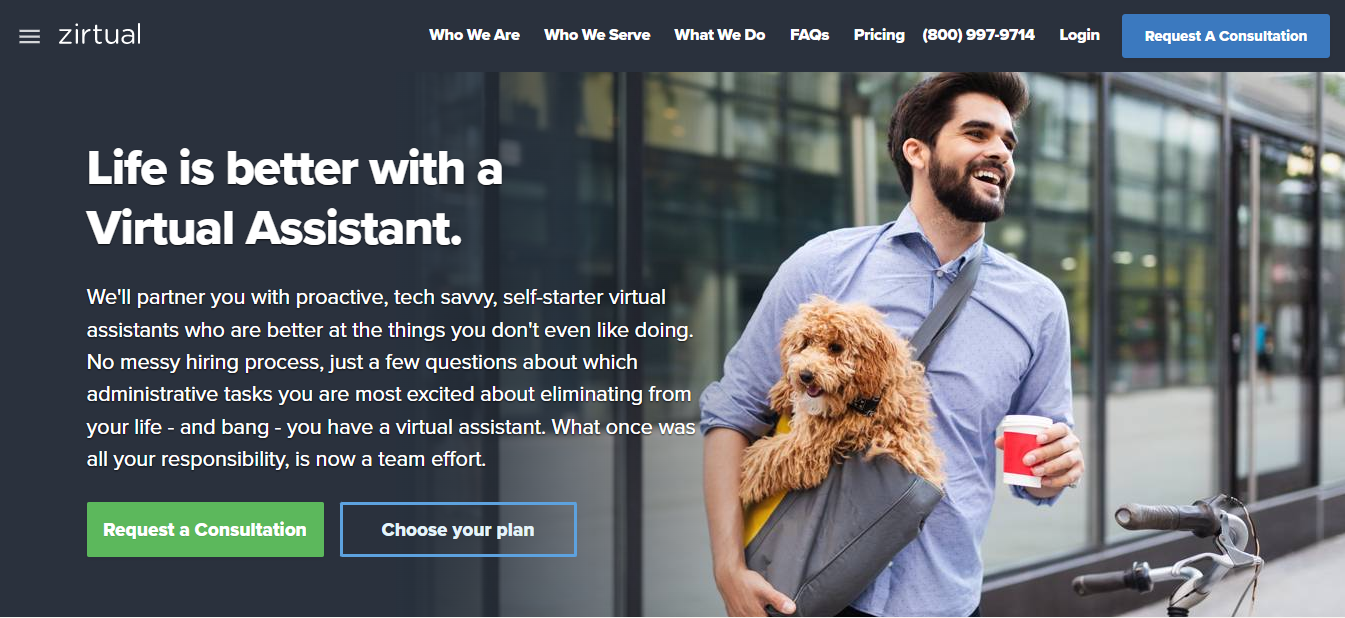 Zirtual is by far the best place to hire virtual assistants for busy executives. One of our standout features is that all executive assistants are US-based college graduates. They have received a high-quality education and have a strong foundation in the skills needed to perform administrative tasks at a high level. We are also familiar with the US work culture which can make communication and collaboration much smoother.
Zirtual's rigorous hiring process ensures that only the best candidates are chosen to be virtual executive assistants. The hiring process includes a thorough review of each candidate's resume and cover letter followed by multiple rounds of interviews. This ensures that each executive assistant hired by Zirtual has the necessary skills, experience, and personality traits to excel in their role.
Once hired, Zirtual's executive assistants receive constant training on different tools and tasks. This ensures that they are up-to-date on the latest technologies and trends and are ready to start assisting you from the word go. This training also ensures that they are able to handle a wide range of tasks, from project management to calendar management to answering phone calls and more.
If your Zirtual executive assistant cannot handle a specific task at any time, they have access to a team of specialists who can provide advice or even take over the task at no extra cost to you. This ensures that you are always receiving the highest quality assistance, regardless of the complexity of the task at hand.
Zirtual Pricing Plans
Entrepreneur Plan ($549/month): 12 hours of work with 1 user.
Startup Plan ($849/month): 24 hours of work with 2 users.
Small Business Plan ($1249/month): 36 hours of work with 3 users.
Team Plan ($1699/month): 50 hours of work with 5 users.
2. WorxBee – Fortune 500-Level Executive Assistants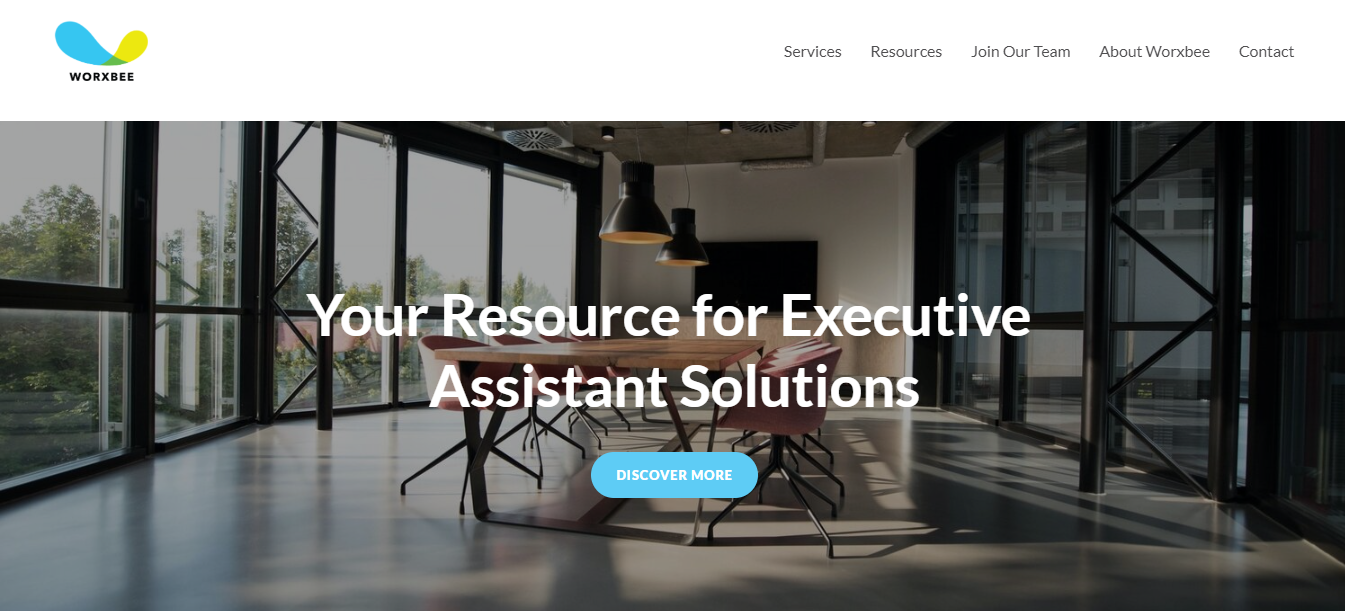 WorxBee is one of the top providers of executive assistants, making it easier for busy senior executives to manage their work and personal lives with ease. They offer Fortune 500-level executive assistant services to their clients that are highly skilled in performing administrative duties, email management, and handling a variety of other tasks that executives need assistance with. 
WorxBee executive assistants can also take care of your personal tasks to create a work-life balance. They can assist with personal errands such as booking travel or making reservations for personal events. 
WorxBee's executive assistants have been trained in Entrepreneurial Operating System (EOS) with a proven track record of success. They have worked with a wide range of clients from different industries, including finance, technology, and healthcare, and have delivered exceptional results consistently. They have a deep understanding of the business landscape and are adept at navigating complex and dynamic environments.
WorxBee Pricing Plans
WorxBee offers tailor-made plans. You can get in touch with them to get quotes.
3. Sigrid – Solving Tasks Efficiently & Collectively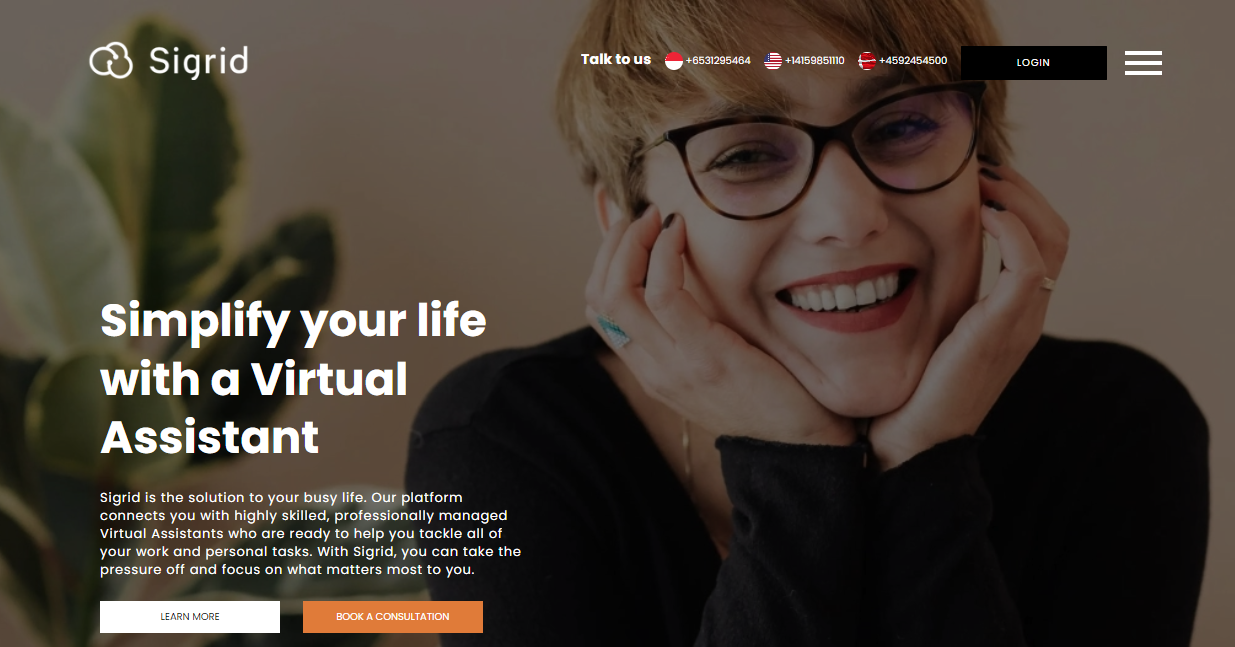 When it comes to executive assistants, Sigrid is one of the best in the industry. What sets Sigrid apart is its team of pre-vetted, trained, and managed executive assistants who have deep business experience and are equipped to handle any task that comes their way. They have experience working with executives and understand the importance of confidentiality and discretion.
Sigrid's proprietary Collaboration & Task Management Platform called MySigrid is another unique feature that sets them apart from its competitors. This platform is designed to ensure that tasks are solved efficiently and collectively. The platform is user-friendly and allows for easy collaboration and task management between the executive assistant and the executive. 
Sigrid Pricing Plans
Personal Plan ($450/month): 15 hours of work/month.
Startup Plan ($850/month): 30 hours of work/month.
Growth Plan ($1500/month): 60 hours of work/month.
Enterprise Plan ($2400/month): 120 hours of work/month.
4. InboxDone – Two Assistants For Every Client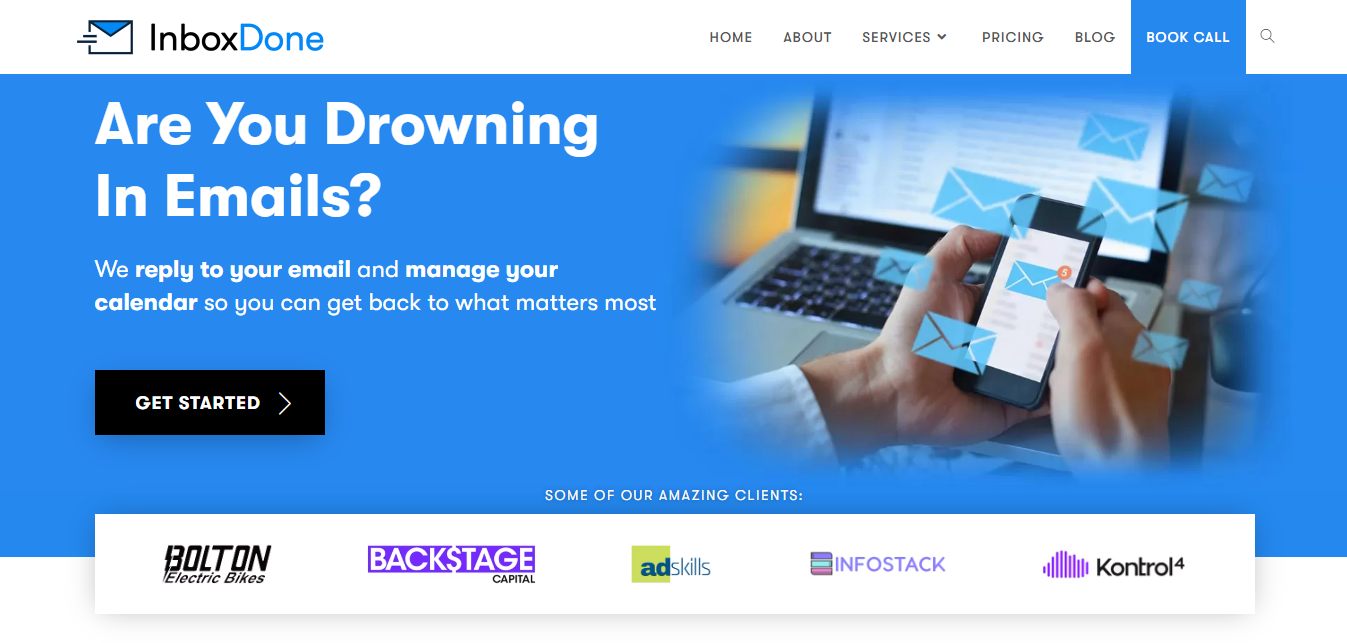 InboxDone has a team of highly trained and experienced executive assistants who are committed to providing their clients with top-quality service. Whether it is scheduling meetings with investors or following up on overdue payments, InboxDone's executive assistants can handle any task thrown their way.
InboxDone assigns two virtual executive assistants to each client for a higher level of productivity and a quicker turnaround time. The company also has a rigorous 10-step hiring process in place to ensure that they only hire individuals who are highly skilled, reliable, and trustworthy.
InboxDone has developed a proprietary 3-step system over the last 10 years that they call the handover process. This process is designed to ensure that the executive's tasks are assigned to the VAs in a smooth and efficient manner.
InboxDone Pricing Plans
BasicPlan ($895/month): 22.5 hours of work.
Personal Plan ($1195/month): 30 hours of work.
5. Pepper Virtual Assistant – Backed By A Full-Team Support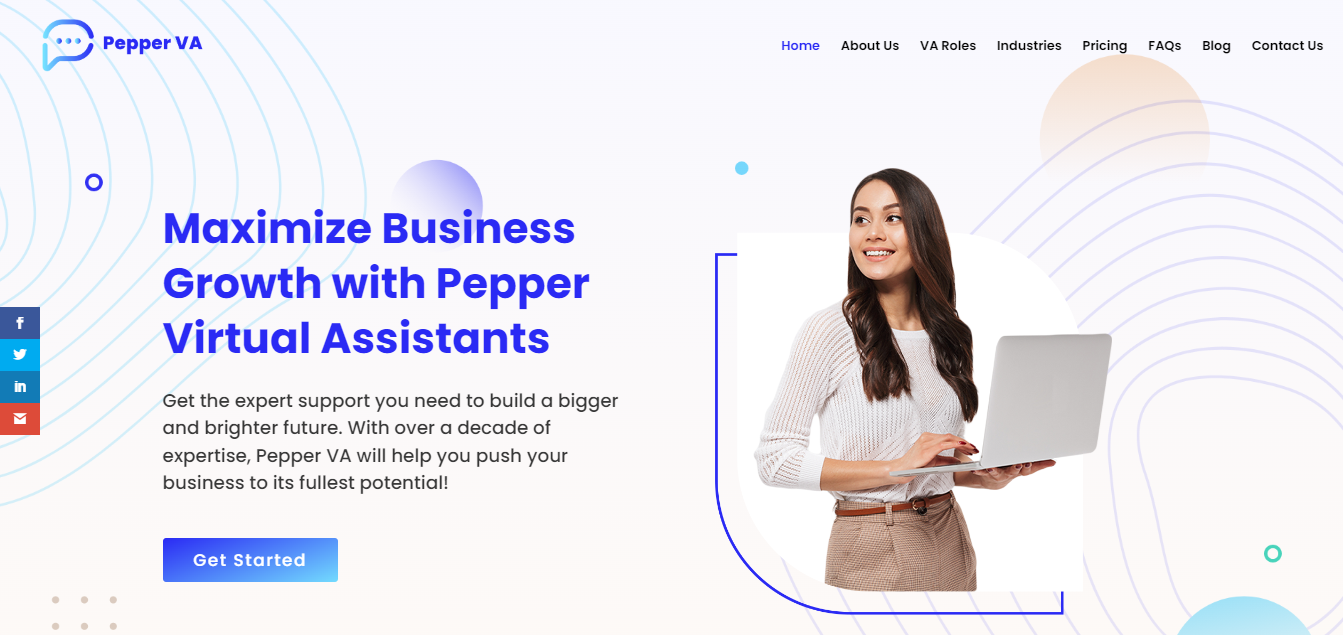 Established in 2009, Pepper Virtual Assistant has built a reputation for providing exceptional executive assistant services to small business owners. 
With every executive administrative assistant, you get full team support that includes a backup executive assistant, project manager, copywriter, and IT support staff. This team-based approach ensures that clients receive a high level of support even in the absence of the primary executive assistant. 
Pepper Virtual Assistant has placed strict security checks in their office to protect your data. They have a strong commitment to data protection, ensuring that all their employees sign strict non-disclosure agreements. Their clients can be confident that their data is secure and their confidentiality is protected.
Pepper Virtual Assistant Pricing Plans
Plan 1 ($960/month): 80 hours of work.
Plan 2 ($1400/month): 160 hours of work.
6. LongerDays – Most Transparent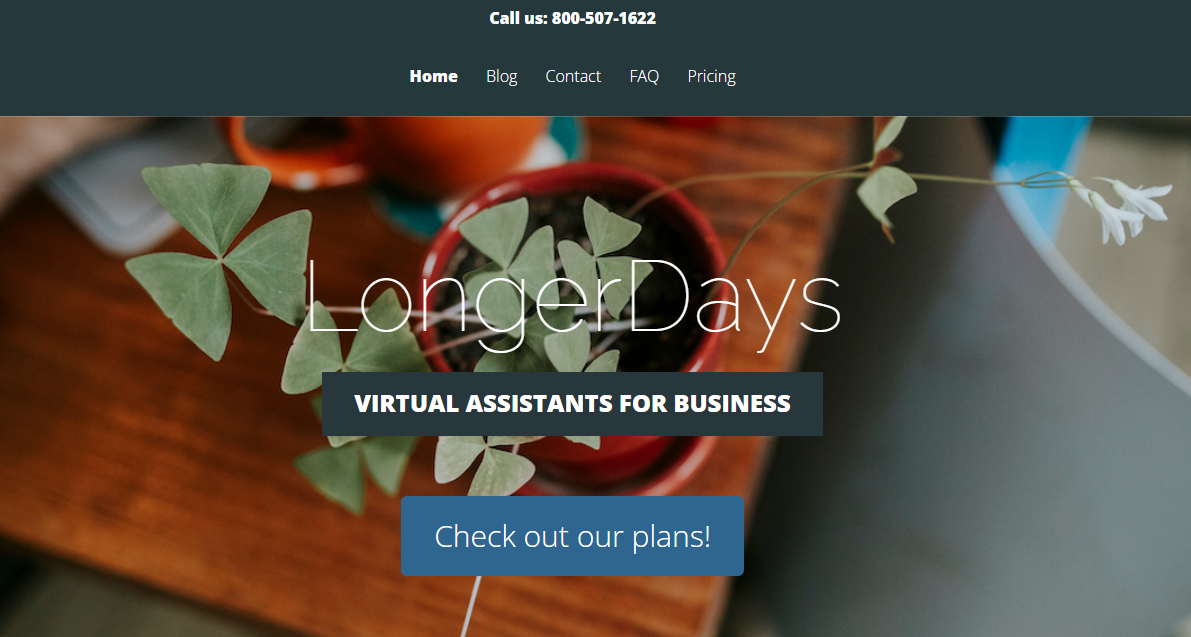 LongerDays is a reputable executive assistance provider based in Michigan. They take the time to understand their customers' unique needs and preferences and tailor their services accordingly. 
The company has a backup VA in place in case the executive assistant is on leave. This means that the client can be assured that their work will not be affected even if their executive assistant is unavailable. One of the standout features of their billing system is that clients are only charged for the actual hours worked and there are no minimums in terms of the number of hours required for their services.
LongerDays Pricing Plan
Plan A ($695/month): Offers 16 hours of work. 
Plan B ($995/month): Offers 24 hours of work. 
Plan C ($1625/month): Offers 40 hours of work.
7. ProAssisting – Reimagining Executive Assistant Support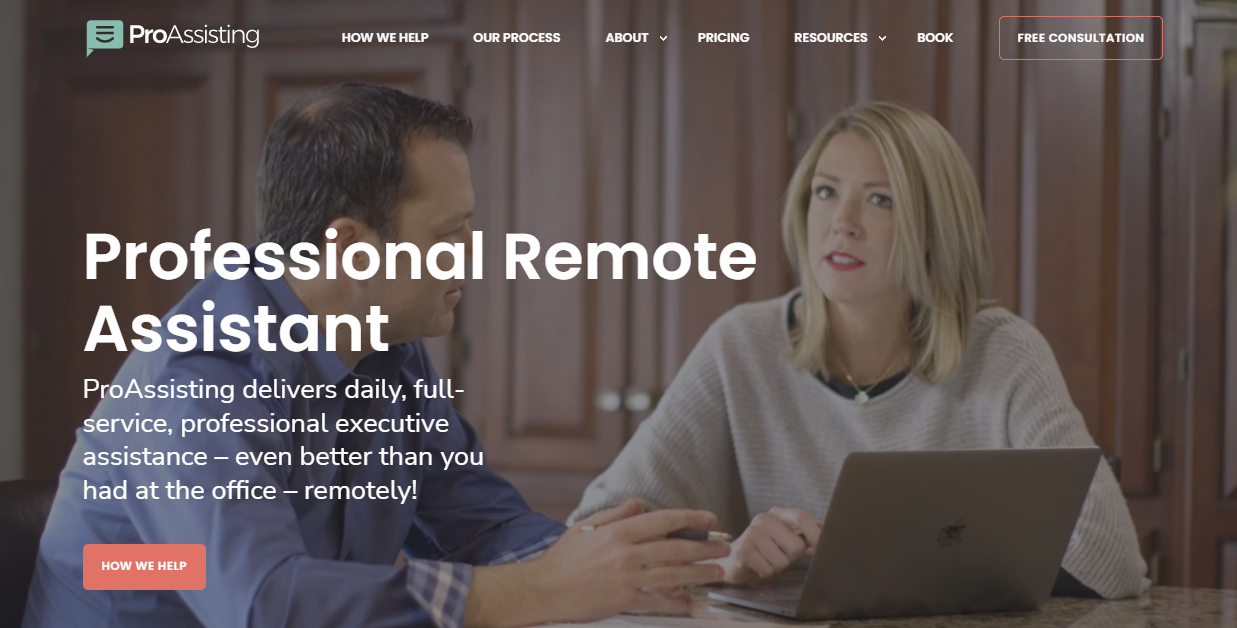 ProAssisting is a top-tier company that provides executive assistant services to busy C-Suite executives, board members, and business owners. Their team of executive assistants has a minimum of 5+ years of experience. They understand the needs of executives and business owners and are adept at managing their workload which allows them to focus on the most important aspects of their business.
One of the unique features of ProAssisting's executive assistant services is that their executive assistants have a maximum of 3 clients. This ensures that each executive assistant can provide daily, full-service support to each of their clients. 
ProAssisting Pricing Plan
The company offers only one plan at $3000/month with daily full-service support.
8. Fancy Hands – Most Convenient

Fancy Hands is an ultimate executive assistant provider that offers a wide range of services to busy professionals. One of the unique features of Fancy Hands is its mobile app which is available on both Android and iOS. The app allows users to easily place requests for tasks and services on the go without the need for a desktop computer.
Ordering tasks through Fancy Hands is easy and convenient. Users can send a text message to their dedicated number or even call it to place a request. Additionally, users can use the app to submit a request with just a few taps. This makes it easy to quickly delegate tasks and free up time to focus on high-level strategic initiatives. 
Users can connect their Fancy Hands account with other popular tools such as Google Calendar, Slack, and Trello, making it even easier to delegate tasks and keep track of progress.
Fancy Hands Pricing Plans
Small Plan ($17.99/month): Offers 3 requests.
Medium Plan ($29.99/month): Offers 5 requests.
Large Plan ($74.99/month): Offers 15 requests.
XL Plan ($149.99/month): Offers 30 requests.
9. Ossisto – Industry-Best Pricing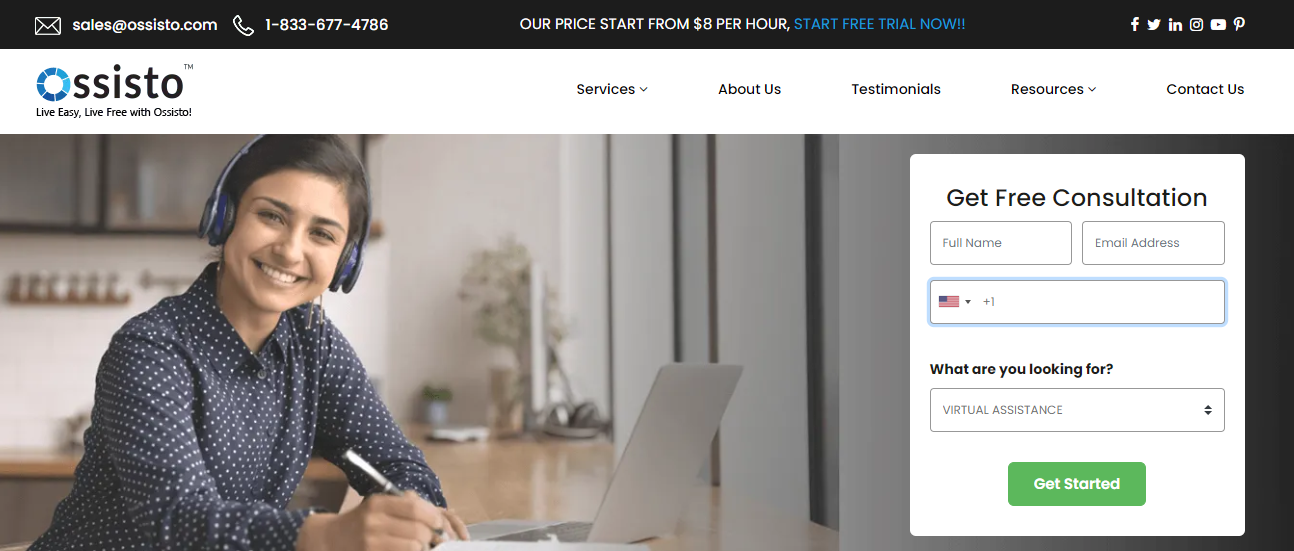 Ossisto is a leading provider of virtual assistant services that can help companies and entrepreneurs with their administrative tasks. They have a team of over 150 virtual assistants located in more than 5 countries that can offer services according to the client's time zone. They have already served over 650 happy customers which prove that they know what they are doing. 
Another benefit of using Ossisto is their industry-best pricing. They offer competitive rates for their virtual assistant services which makes it an affordable option for businesses of all sizes. Ossisto provides clients with access to specialized teams who are experts in various fields, including customer service, social media management, email marketing, and more.
Ossisto Pricing Plans
Ossisto prices start from $8/hour. You can get in touch with their sales team for a customized plan.
10. Prialto – Enterprise-Level Security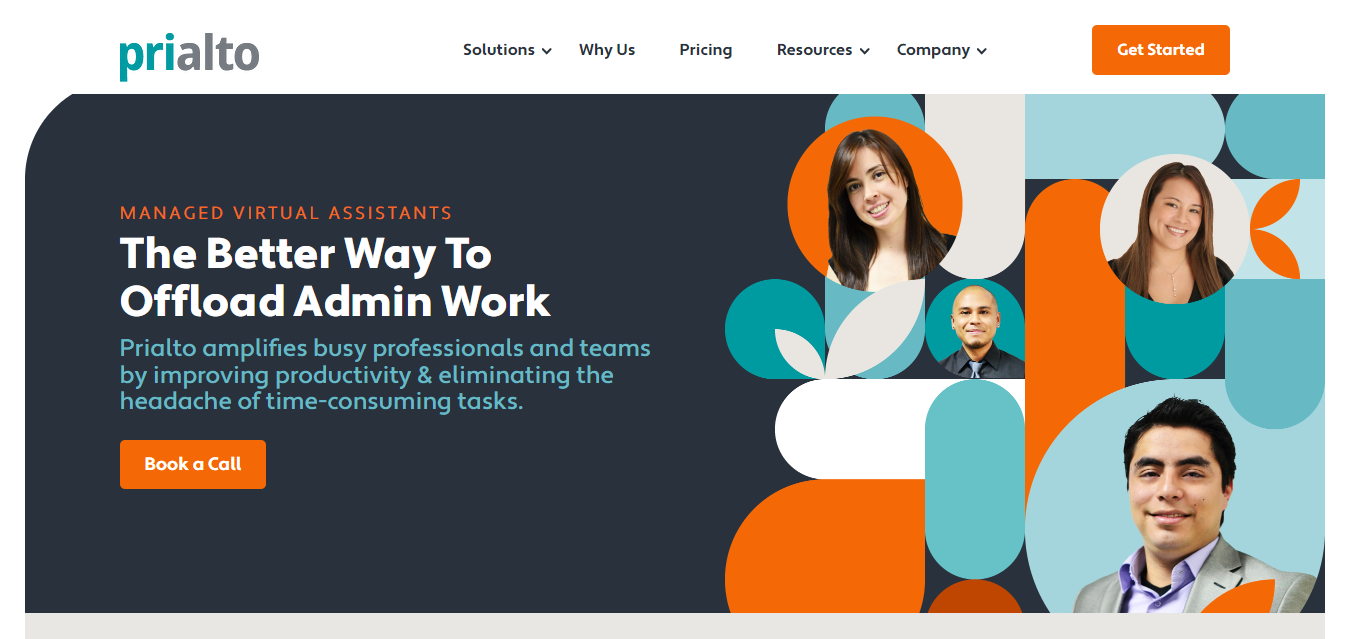 With over 13 years of experience in the industry, Prialto has established itself as one of the leading companies for hiring executive assistants. One of the reasons why Prialto stands out is its consultative approach. This means that you won't just get a generic assistant who can handle basic tasks but rather someone who can work with you on a deeper level and help you achieve your specific goals.
Another key feature of Prialto is that your work is cross-trained among a team of people so you are not reliant on just one assistant but rather you'll have a team of people who are familiar with your work and can step in to help as needed. Consistent documentation is another important aspect of Prialto's service. They also provide enterprise-level security which is essential when it comes to managing sensitive information. 
Prialto Pricing Plans
"Yourself" Plan ($1350/month): 55 hours of work. 1 user included.
"Your Team" Plan ($4050/month): 165+ hours of work. 3+ users.
"Your Organization" Plan (Custom Pricing): 440+ hours of work. 8+ users.
11. Rock Solid Virtual Assistants – Extensive Monitoring & Training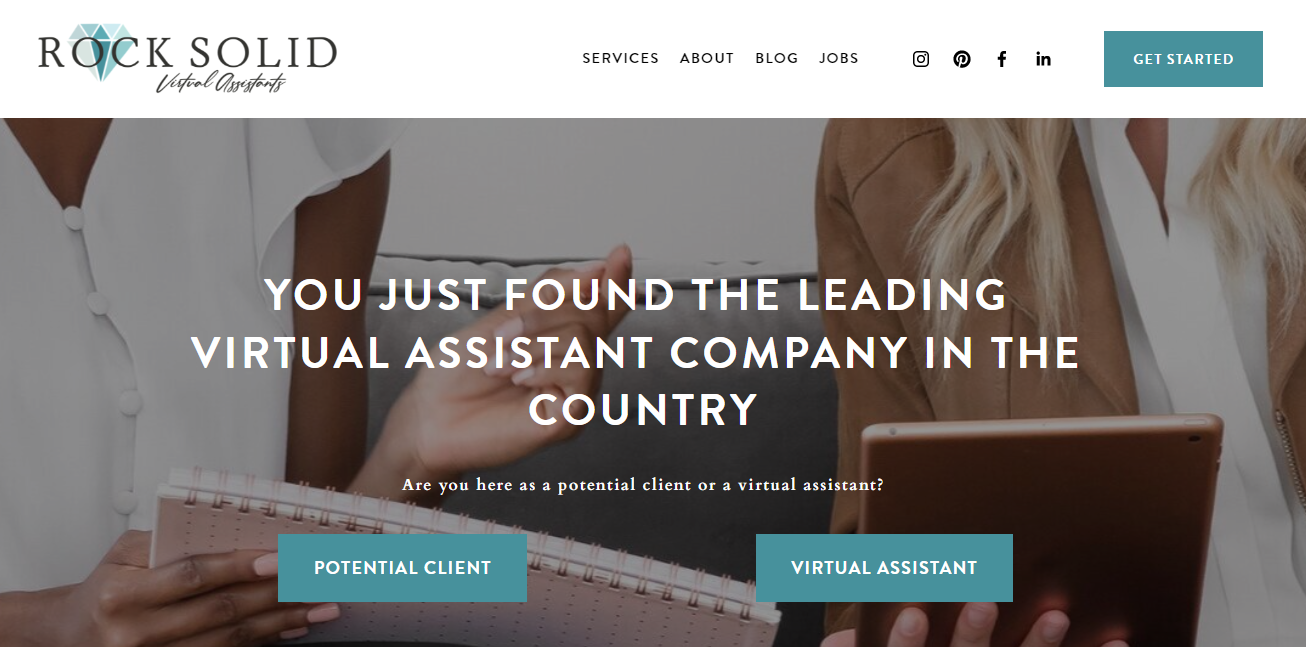 Rocks Solid Virtual Assistants is a renowned provider of top executive assistant services. They have a strict evaluation process and the candidates are required to go through 6-7 online tests to assess their skills and abilities. They are then matched with clients based on personality and work style characteristics. This is important because it ensures that the executive assistant and client are compatible and can work well together.
For the first three months, a team manager monitors every task to ensure that it is completed to a high standard. This provides an extra layer of quality control to ensure that everything runs smoothly and that the client is satisfied with the service. Rock Solid Virtual Assistants also conduct regular meetings with clients to gather feedback and address any concerns.
Rock Solid Virtual Assistants Pricing Plans
Contact their customer support for customized pricing plans.
12. Boldly – Most Talented Executive Assistants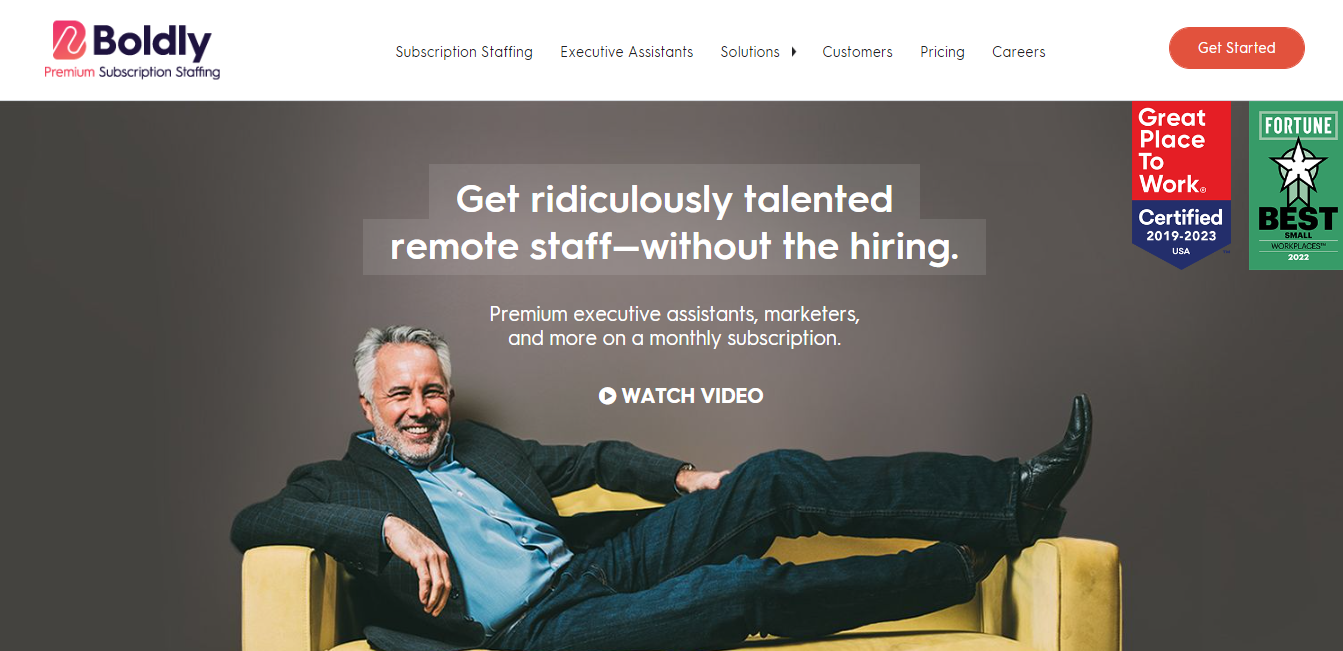 Boldly, a company founded in 2012, is a fantastic option for those in need of an experienced, top-quality executive assistant. Each of their premium executive assistants has between 10 and 15 years of experience in the industry, meaning they have seen and handled a wide range of business scenarios. 
Boldly has a team of W2 employees based in the United States and is also dedicated to ensuring that its assistants are perfectly matched to each client's specific skill requirements and company culture. Their personal assistants have a high level of commitment and attention to detail which is invaluable for executives who need to focus on the big picture.
Boldly Pricing Plans
Plan A ($2200/month): 40 hours of work.
Plan B ($2750/month): 50 hours of work. 
Plan C ($3300/month): 60 hours of work.
Plan D ($4400/month): 80 hours of work.
Plan E (Custom Pricing): up to 160 hours of work.
13. GetFriday – Most Diverse Exposure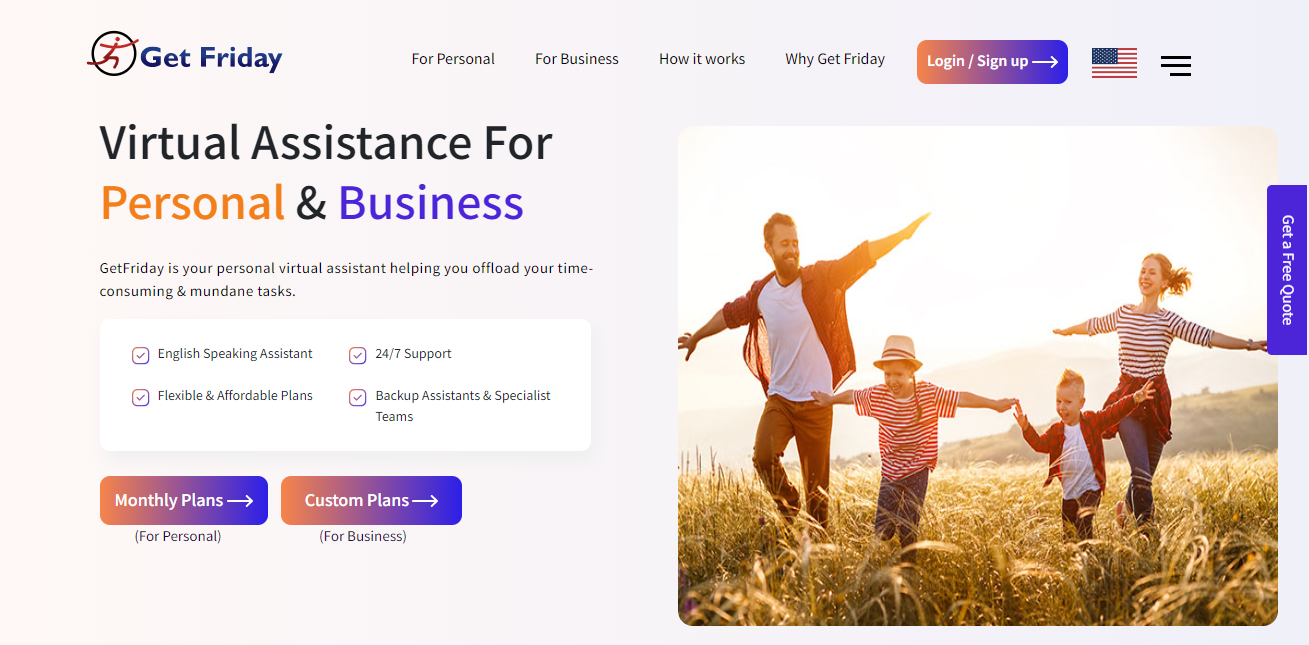 GetFriday is another leading company that provides executive assistant services to businesses and individuals. They have been in business since 2005 and have gained a reputation for their highly skilled and experienced executive assistants. Their team is made up of graduates who have over 15 years of experience in their respective fields. GetFriday has served over 8,000 clients from 80 countries.
GetFriday's executive assistants are highly process-driven and have developed a set of standard operating procedures that they follow to ensure consistency and quality in their work. GetFriday's 24/7 support is another major advantage for businesses and individuals who need assistance outside of regular business hours. 
GetFriday Pricing Plans
Basic 5 ($65/month): 5 hours of work.
Basic 10 ($120/month): 10 hours of work. 
Basic 20 ($200/month): 20 hours of work.
Custom Plans: Tailor-made quotes.
14. Magic – AI-Driven Productivity
Magic is a virtual executive assistant service that uses artificial intelligence and human expertise to provide high-quality support to clients. Magic's AI algorithms allow them to automate many of the tasks traditionally performed by executive assistants, freeing up time for their human assistants to focus on more strategic and high-level work.
Companies can hire a team of virtual executive assistants from Magic in less than a week. This is a significant advantage for businesses that need to scale up quickly or for those that have a sudden surge in demand. Magic only selects the top 3% of executive assistant talent, ensuring that clients receive support from the very best. 
Magic Pricing Plans
Pricing for the three plans offered is available on request.
15. Virtual Assistant Management – Most Professional Executive Assistants
With a team of 125 certified executive assistants, Virtual Assistant Management is widely known for its reliability and professionalism. All their executive assistants are certified and have undergone extensive training and have demonstrated mastery of key skills and competencies. 
Virtual Assistant Management takes great care in selecting the best executive assistants for their clients. They screen and interview multiple candidates before presenting the top three to the client for the final interview.
Virtual Assistant Management Pricing Plans
Quotes are available on demand.
16. VaVa Virtual Assistants – High-Performing Executive Assistants
VaVa Virtual Assistants was established in 2011 and has served hundreds of busy executives and business owners. They use the widely recognized assessment tool DISC (Dominance, Influence, Steadiness, and Compliance) personality results to match each client with a virtual executive assistant. 
At VaVa, they offer a free replacement guarantee. If a client is not satisfied with their assistant, VaVa will replace them with another assistant who is a better fit. This ensures that clients receive the best possible service and that their needs are always met. All of their assistants are US-based, work in the same time zone and have a good understanding of American culture and business practices. 
VaVa Virtual Assistants Pricing Plan
Tailor-made pricing plans are available on request.
Conclusion
If you're a busy CEO or just trying to get your life in order, a virtual executive assistant is an absolute necessity. Without them, the world would be in utter chaos. They keep the gears of the office turning and make sure you don't forget your lunch.
With our list of the 16 best sites for hiring a virtual executive assistant, you'll have your pick of the crop. And the cherry on top? Zirtual has topped our list. Our executive assistants are absolutely amazing and they can help you take your life from a "hot mess" to "cool, calm, and collected".
So if you're ready to transform your life and be the superhero you were always meant to be, book a consultation today. We'll help you find the perfect virtual executive assistant to suit your needs and before you know it, your calendar will disappear, your inbox will levitate, and your to-do list will vanish into thin air.