Are you tired of drowning in paperwork and feeling like you're stuck in an endless cycle of invoicing and expense reports? Well, get ready to wave goodbye to those accounting woes because, with an accounting virtual assistant, you'll have a pro handling all those boring yet important tasks for you. 
Hiring an accounting virtual assistant is like having a superhero sidekick for your business. They'll swoop in and save the day by taking care of all those tedious tasks that are keeping you up at night. But here's the thing – finding the right VA for your accounting needs can be a bit of a challenge. There are a lot of virtual assistant sites out there but not all of them have the expertise you need to keep your finances in order.
That's where this guide comes in. We've compiled a list of the 16 best sites of 2023 to hire accounting virtual assistants. By the end of this article, you'll know exactly where to go to find the perfect accounting virtual assistant for your business. 
Top 16 Platforms Of 2023 To Hire An Accounting Virtual Assistant 
Our top 3 websites for finding a virtual bookkeeping assistant are:
Zirtual – Best overall 
MyTasker – Most transparent
MyOutDesk – Growth-focused services
Here's our list of the 16 most promising accounting virtual assistant services out there. We've gone through each one with a fine-toothed comb and have only included the best of the best, so you can trust that you're getting the most bang for your buck
1. Zirtual – Top Pick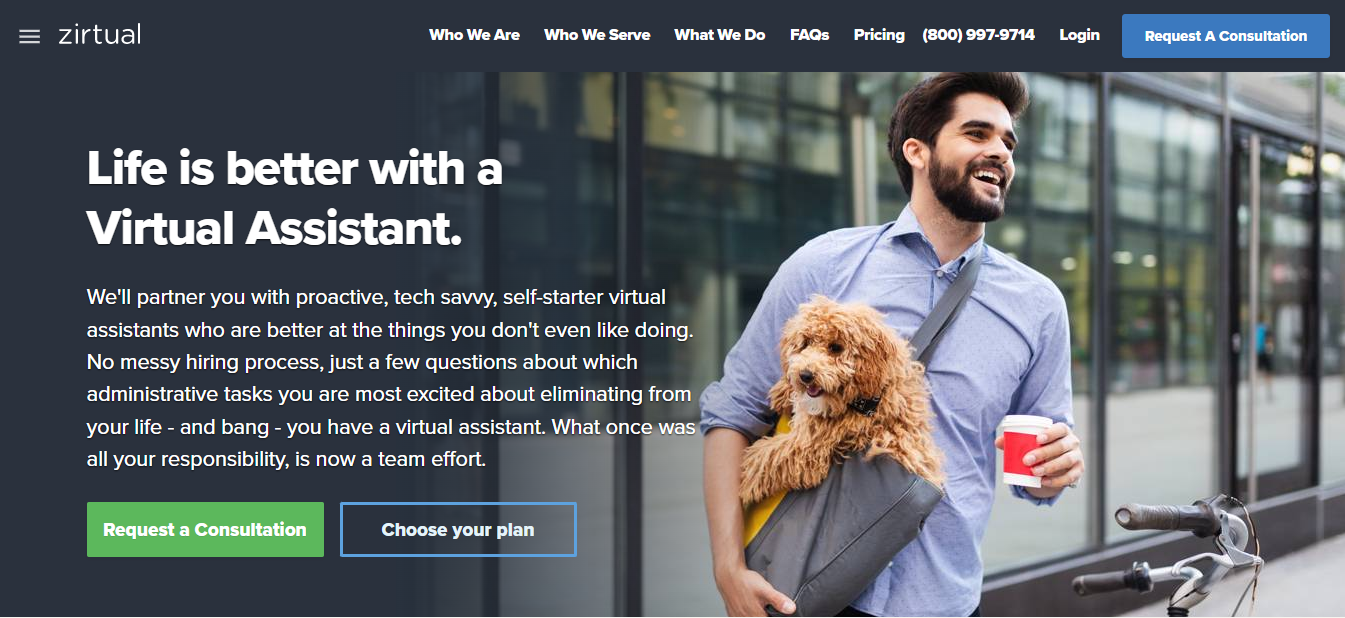 Zirtual has been in the virtual assistant bookkeeping services for a while now and we know a thing or two about what it takes to keep a business's finances in order. Our team of accounting virtual assistants is not only highly skilled and experienced but they're also dedicated to making sure your business runs smoothly.
One of the things that set Zirtual apart is the level of customization we offer. Every business is unique, and Zirtual understands that. We'll work with you to create a custom plan that fits your specific needs and budget. Whether you need help with invoicing, expense tracking, or something else entirely, we've got you covered.
Another thing that makes Zirtual stand out is our commitment to communication. They understand that bookkeeping is an integral part of running a business, and they'll keep you in the loop every step of the way. This level of communication and transparency will allow you to focus on other essential aspects of your business.
But that's not all, Zirtual's college-educated and US-based accounting virtual assistants are also dedicated to making sure your finances are in compliance with all the laws and regulations that apply to your business. This will give you peace of mind and ensure that your business remains compliant and in good standing.
Zirtual Pricing Plans
Entrepreneur Plan ($549/month): Offers 12 hours of work with 1 user.
Startup Plan ($849/month): Offers 24 hours of work with 2 users.
Small Business Plan ($1249/month): Offers 36 hours of work with 3 users.
Team Plan ($1699/month): Offers 50 hours of work with 5 users.
2. MyTasker – Visibly Reliable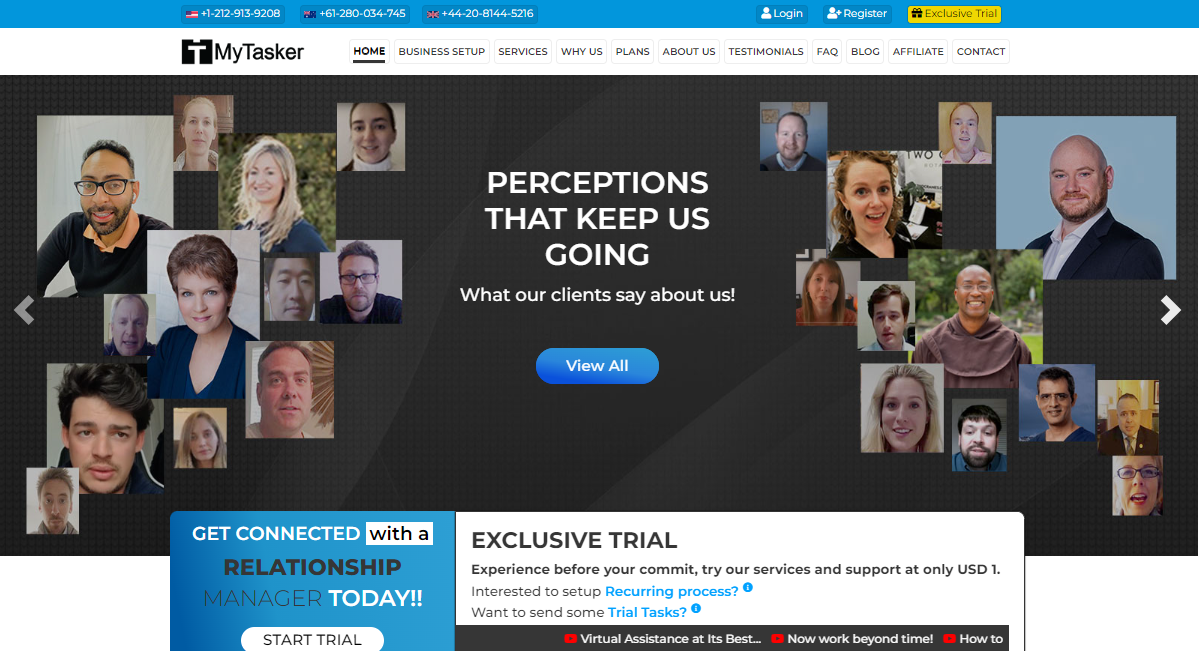 MyTasker understands the importance of accurate and efficient bookkeeping for any business. That's why they offer a wide range of virtual bookkeeping services, all carried out by highly skilled and experienced virtual assistants.
Their team of virtual assistants is hand-picked for their experience and expertise in the field of bookkeeping. This means that you can trust that your financial records are in good hands. Their virtual accounting assistants can handle a variety of bookkeeping tasks, including:
Budgeting and forecasting
Preparing financial reports
Recording financial transactions
Managing accounts payable and receivable
Reconciling bank and credit card statements
MyTasker always makes sure to keep open lines of communication with their clients at all times. Whether you have a question or need to make a change to your bookkeeping plan, their virtual assistants are always available to help.
MyTasker Pricing Plans
VA 10 Hours ($140/month): Offers 10 hours of services per month.
VA 20 Hours ($250/month): Offers 20 hours of services per month.
VA 40 Hours ($450/month): Offers 40 hours of services per month.
VA 60 Hours ($600/month): Offers 60 hours of services per month.
VA 100 Hours ($900/month): Offers 100 hours of services per month.
3. MyOutDesk – Best For Growing Businesses
MyOutDesk is one of the leading virtual bookkeeping services among small and medium-sized businesses. Their virtual assistants are highly skilled and experienced professionals, who are proficient in using the latest accounting software and can help you with a wide range of accounting tasks such as preparing financial statements, tax preparation, financial data and analysis, and more.
MyOutDesk only hires the most qualified and experienced professionals, who have been thoroughly screened and tested for their skills and qualifications. They are well-versed in the latest accounting and tax regulations to ensure that your books are always accurate and up-to-date and that you are in compliance with all of the relevant laws and regulations.
MyOutDesk Pricing Plans
The pricing plan offered by MyOutDesk starts at $1988/month (charged quarterly)
4. Delegated – Hassle-Free Processes
Delegated is a virtual bookkeeping service provider that has a thorough hiring process for its virtual bookkeepers to ensure that businesses are provided with highly proficient and expert professionals. The company carefully screens and selects virtual bookkeepers who are experts in financial reporting, cash flow management, and payroll management. 
These virtual bookkeeping assistants are apt at using cloud accounting software such as QuickBooks or Xero. This provides real-time access to financial data and facilitates collaboration between the business owner and the virtual bookkeeper. 
Delegated Pricing Plans
Lite ($1200/month): Offers 25 hours of task work per month.
Ramp ($2400/month): Offers 50 hours of task work per month.
Pro ($3600/month): Offers 75 hours of task work per month.
5. Virtual Staffing Solutions – Exceeding Expectations
Virtual Staffing Solutions is a recognizable name in the virtual assistance domain with over 1500 team members. Their accounting VAs possess a deep understanding of accounting principles and regulations and are able to provide accurate and timely financial reports. They also provide support in budgeting and forecasting that helps businesses can make informed decisions about their finances.
Virtual Staffing Solutions also provides businesses with the flexibility to scale their bookkeeping services up or down as needed. This allows businesses to easily adjust their bookkeeping services according to their changing financial needs.
Virtual Staffing Solutions Pricing Plans
The company provides tailor-made plans as per your needs. You can contact their sales team for the quotes.
6. Fiverr – Bookkeeping Virtual Assistants For Every Budget
Fiverr is a great platform for recruiting freelance VAs for virtual bookkeeping services. The platform has a wide variety of freelancers with different skills and experience allowing you to hire a VA as per your budget. Additionally, the platform has a user-friendly interface and a robust search function, making it easy to find the right freelancer for the job. 
To help you with your search, Fiverr Business provides you with a dedicated account manager who will take care of all your requirements and match you with the best-suited VAs. It also gives you a powerful workspace to manage teams remotely. And the best part, it has a money-back guarantee so you can be sure that you're getting quality work.
Fiverr Pricing Plans
The virtual assistant rates vary based on their expertise and experience.
7. WishUp – Quick Hiring, Instant Replacement
WishUp is a popular choice among businesses of all scales for hiring virtual accountants. When you post your requirements on their platform, the algorithm will match you with a list of virtual assistants who have the skills and experience that align with the requirements.
WishUp also provides a dedicated support manager for each business to ensure that there is always someone available to answer questions and provide support throughout the process. This helps to facilitate communication between the business and the virtual bookkeeper, making it easier for you to manage your finances. And if you are not happy with your virtual assistant, the company will replace it with a better resource.
Wishup Pricing Plans
Pricing is available on demand.
8. Virtual Assistant Talent – Most Customer-Centric
Virtual Assistant Talent is BBB accredited company with an A rating and has been providing virtual bookkeeping services since 2010. One of the main reasons why Virtual Assistant Talent is the best site to hire accounting and finance virtual assistants is that they only hire the most qualified candidates. 
Their virtual assistants are all highly trained and have extensive experience in accounting and finance. They have an easy-to-use platform and the prices are highly competitive. Their customer service is second to none and the team is always available to answer any questions you may have and to help you find the perfect bookkeeping virtual assistant for your business.
Virtual Assistant Talent Pricing Plans
The accounting VAs rates start at $13.95 per hour. They have multiple options of weekly plans that start from $139.50 and go up to $558 per week. For monthly plans, their starter package is priced at $558 and goes up to $2,232 a month.
9. Time etc – Achieving More With Best Practices
What really sets Time etc apart from other virtual assistant bookkeeping service-providing companies is its commitment to providing its clients with the best possible service. With virtual bookkeepers from Time etc, you can rest assured that your accounting tasks will be handled with the utmost care and professionalism. 
Timeetc.com's hiring process is highly selective, with only the top 2% of applicants passing their rigorous 7-step assessment process. These successful candidates have extensive experience, with an average of 12 years working at reputable companies such as AOL, Apple, and Virgin. That's the reason why Time etc offers a selection of accounting VAs who can help with everything from bookkeeping to tax preparation.
Time etc Pricing Plans
Plan A ($360/month): Offers 10 hours of work.
Plan B ($700/month): Offers 20 hours of work. 
Plan C ($1360/month): Offers 40 hours of work.
Plan D ($1980/month): Offers 60 hours of work.
10. The Virtual Hub
The Virtual Hub is another leading name in the VA services industry. One of the key benefits of hiring from them is the problem-solving and analytical skills of their accounting virtual assistants. These professionals are able to identify and resolve financial issues quickly and effectively. 
The Virtual Hub places a particular emphasis on training its virtual assistants for creating financial statements, generating budget reports, and providing insights into financial performance. They have the ability to analyze financial data and provide valuable insights to businesses to make informed decisions and stay ahead of the competition.
The Virtual Hub Pricing Plans
Customized plans are available on request.
11. PeoplePerHour – Best Value For Hiring Accounting VAs
One of the best platforms to find and hire freelance virtual assistants for bookkeeping tasks is PeoplePerHour. Trusted by over 1 million businesses, it is a digital marketplace that connects them with freelancers of the highest quality. The platform offers a variety of options for filtering and searching for candidates, making it easy to find the perfect virtual assistant for your specific needs.
PeoplePerHour offers competitive pricing for accounting services. This makes it a great option for small businesses and individuals who need to outsource accounting tasks but have limited budgets. The platform's review system allows you to see the ratings and feedback from other clients of a particular freelance virtual assistant, which can help you make an informed decision about who to hire.
PeoplePerHour Pricing Plans
PeoplePerHour offers a wide range of contract options, including hourly and project-based contracts. Each virtual assistant has different fees.
12. TaskBullet – Highly Effective Delegation System
When you choose to work with a TaskBullet, you can have peace of mind knowing that they are fully equipped and motivated to provide exceptional service. Their virtual assistants possess exceptional interpersonal skills and have a wealth of experience in executing virtual accounting tasks perfectly. 
You can rely on TaskBullet VAs to seamlessly integrate into your workflow and accomplish accounting tasks to your exact specifications. The company is diligent in its hiring process, only selecting top-tier talent, who in turn, will give you their very best effort. TaskBullet has a money-back guarantee policy giving you that much-needed extra peace of mind.
TaskBullet Pricing Plans
Philippines-based VAs
Mini Bucket ($150): Provides 10 hours at $15 per hour
Starter Bucket ($220): Provides 20 hours at $11 per hour 
Light Bucket ($540): Provides 60 hours at $9 per hour
Expert Bucket ($1560): Provides 240 hours at $6.50 per hour
US-based VAs
Starter Bucket ($300): Provides 10 hours at $30 per hour 
Light Bucket ($780): Provides 30 hours at $26 per hour
Expert Bucket ($1500): Provides 60 hours at $25 per hour
13. AskSunday – Ideal For Startups
AskSunday is a valuable partner for startups and small businesses looking to hire professionals for virtual accounting services. Startups and small businesses often have limited resources and need to be strategic about how they allocate those resources. And no virtual accounting assistant provider understands this better than AskSunday.
The cost-effectiveness and expertise of AskSunday's virtual accounting professionals, combined with the flexibility and 24/7 availability of the service make it a valuable partner for startups and small businesses looking to manage their finances effectively and efficiently.
AskSunday Pricing Plans
Plan A ($129/month): 10 hours of work.
Plan B ($219/month): 20 hours of work.
Plan C ($389/month): 40 hours of work.
Plan D ($699/month): 80 hours of work.
Plan E ($1199/month): 160 hours of work.
On-Demand ($79/month): Pay as you use it.
14. Equivity
Look no further than Equivity if you are tired of handling your own bookkeeping and looking for someone to take on the task. All of Equivity's virtual assistants are based in the US and have a college education. Not only that, but they also have years of professional experience under their belts. This means you can trust that your financials are in capable hands.
Equivity doesn't just hand you off to a virtual assistant and leave you to figure things out on your own. They assign each client a dedicated Client Experience Manager who acts as your go-to person for anything and everything related to your accounting virtual assistant.
Equivity Pricing Plans
Basic ($250/month): Includes 5 hours of work.
Standard ($480/month): Includes 10 hours of work.
Professional ($685/month): Includes 15 hours of work.
Enterprise ($1250/month): Includes 30 hours of work.
Advantage ($1920/month): Includes 50 hours of work.
15. Express Virtual Assistant
Express Virtual Assistant offers not only highly qualified virtual accountants to handle your bookkeeping, but also a support system to ensure that the experience is as seamless and effective as possible. Say goodbye to the stress of managing your finances on your own and hello to the convenience of a virtual assistant from Express Virtual Assistant.
Their virtual assistants know that when it comes to bookkeeping, accuracy, and attention to detail are of the utmost importance. Whether you need help with bookkeeping on a weekly, monthly, or quarterly basis, they're happy to accommodate. This allows you to focus on what you do best – growing your business.
Express Virtual Assistant Pricing Plans
You can get a free quote for your requirements by contacting their sales team.
16. MyVA360
MyVA360 understands the importance of finding the perfect fit for your organization. That's why they take the extra step to measure the cultural fit of their virtual assistant bookkeeping experts before delegating any tasks. This ensures that your virtual assistant not only has the necessary skills but also aligns with your organizational philosophy for utmost compliance.
MyVA460's virtual assistants are not only adept at manual bookkeeping but also proficient in automated tools that outperform any traditional method. The company routinely measures the competence of its experts to make sure they are delivering the expected results and making the most impact on your organization.
MyVA360 Pricing Plans
Savvy Officer ($360/month): Offers 15 hours of work.
Life in harmony ($690/month): Offers 30 hours of work. 
Pro master ($945/month): Offers 45 hours of work.
Virtual Jedi ($1200/month): Offers 60 hours of work.
Conclusion
As a business owner, you understand the importance of keeping your finances in order. But between running the day-to-day operations of your business and trying to keep up with the latest accounting regulations, it can be difficult to find the time to handle all of your bookkeeping and accounting tasks. This is where an accounting virtual assistant saves the day, like a knight in shining armor for your finances.
After comparing every company that provides online bookkeeping services, we present to you the cream of the crop: the top 16 companies to hire an accounting virtual assistant. But let's be real, the actual MVP is Zirtual. 
Once you hire a Zirtual VA, say goodbye to your stress and hello to a smooth-running business. Get in touch with us and explore how our accounting virtual assistant can free up your time and give you a competitive edge through efficient and high-quality bookkeeping services.