The freelance world is constantly evolving, and staying on top of the latest trends can mean a difference. If you're not up-to-date on the latest freelance statistics and trends, you might as well be using a flip phone in the world of iPhones. And we're sure that you don't want to be that person. We want you to be the cool VA on the freelance block with all the insider knowledge on what's hot and what's not.
In this article, we'll explore 75 fascinating statistics, facts, and trends related to the freelance world. We'll talk about everything from the most in-demand freelance services to the benefits of freelancing, and we'll even touch on some of the challenges that freelance workers face in today's competitive market.
By the time you finish reading this article, you'll be armed with the knowledge and data you need to become that successful freelance virtual assistant everyone turns to when they need the inside scoop on the latest trends.
75 Most Interesting Freelance Statistics, Facts & Trends Of 2023 For Better Industry Insights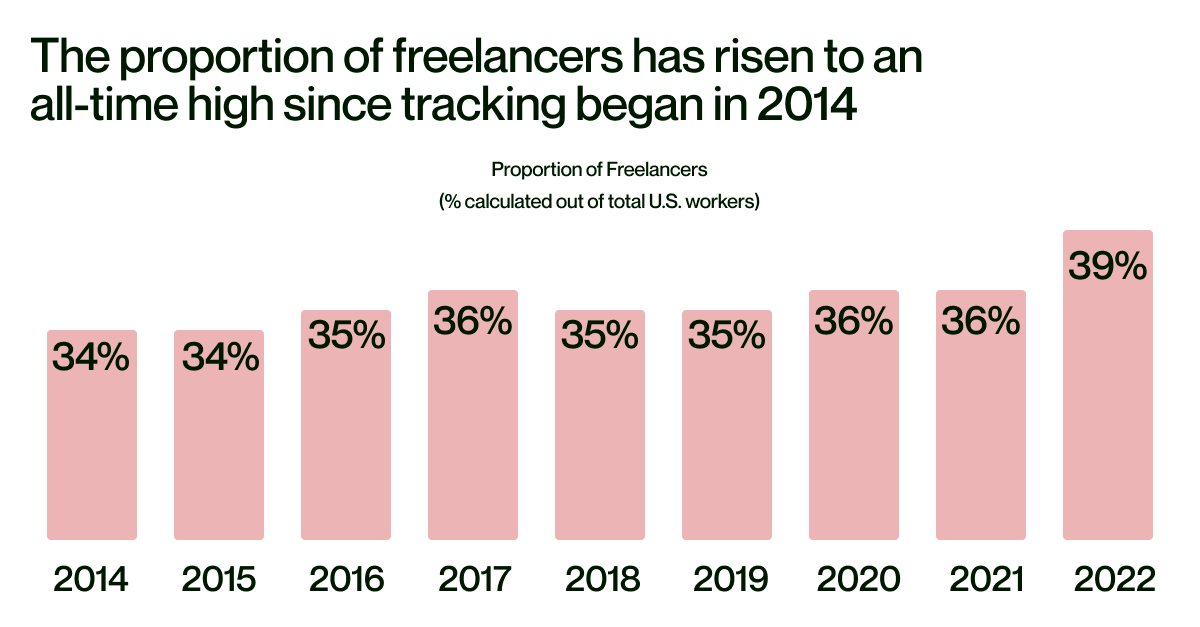 Here are our top three picks for the best freelance statistics:
Freelancing is on the rise: According to a report by Upwork, 39% of the US workforce freelanced in 2022, up from 36% in 2021.
Freelancers are earning more: The same Upwork report found that 75% of full-time freelancers reported earning the same amount of money or more than they did before they started freelancing.
Freelancers are more satisfied with their work: A survey found that 79% of freelancers are satisfied with their work, compared to 59% of traditional employees. 
Hold on to your hats because we're about to dive into the exciting world of freelance statistics. Get ready to learn more than you ever thought possible about the fascinating and exhilarating world of freelancing.
9 Exciting Freelance Statistics About Virtual Assistants
Here are some interesting facts about virtual assistants.
1. The Virtual Assistant Industry Is Booming At 11.8% CAGR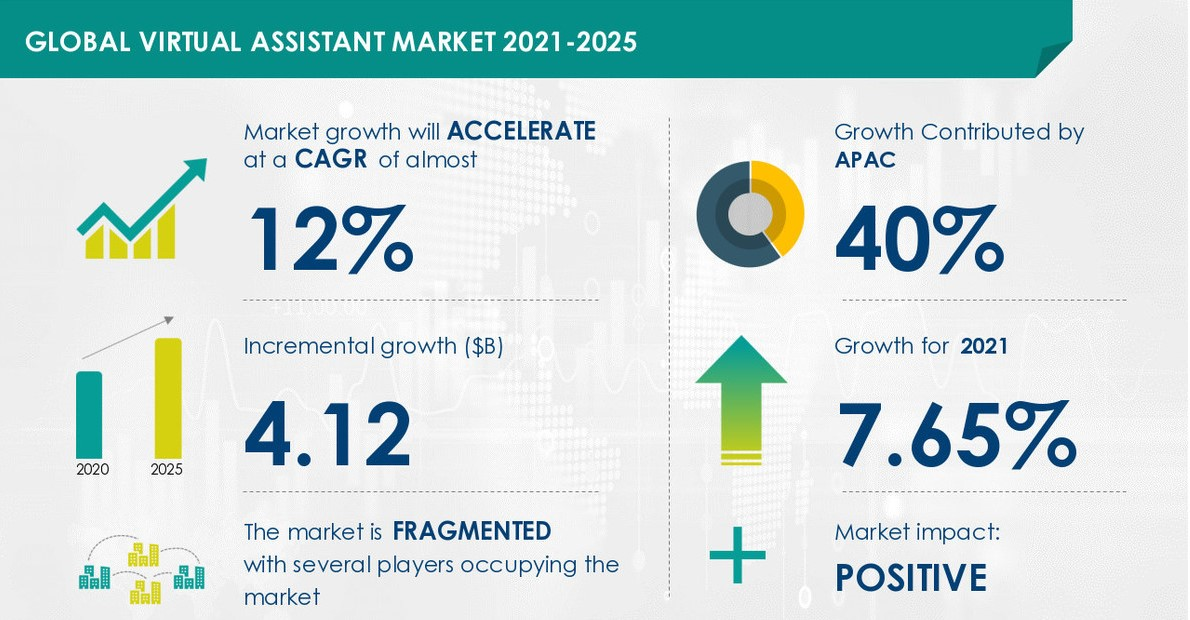 The freelance virtual assistant industry is projected to reach $4.12 billion by 2026, with a compound annual growth rate (CAGR) of 11.8%.
2. Virtual Assistants Are Dominated by Women
Over 70% of virtual assistants are women with only 29% of men working in the industry.
3. 78% Of Virtual Assistants Have 5 Years Of Experience
Around 78% of virtual assistants have at least 5 years of experience in their field and 30% have 10 or more years of experience.
4. Virtual Assistants Save Businesses Money By 78%
Hiring a virtual assistant can save businesses up to 78% on operating costs, such as office space, equipment, and benefits.
5. Virtual Assistants are Highly Skilled
As per the reports, virtual assistants are highly skilled freelancers, with 75% of them having a college degree and 38% holding a graduate degree.
6. 90% Of Businesses Are Happy With Virtual Assistants' High-Quality Work
Over 80% of virtual assistants say they take pride in their work and 90% of businesses that use virtual assistants are satisfied with the quality of work they receive.
7. Virtual Assistants Are In High Demand
As of 2022, virtual assistant was the second most in-demand remote job, with a 91% increase in job postings on remote job boards.
8. Virtual Assistants Help Boost Productivity By 30%
Hiring a virtual assistant can increase a business's productivity by up to 30% as it frees up time for business owners to focus on core tasks.
9. Virtual Assistants Are Key To The Success Of 80% Of Small Businesses
Over 80% of small business owners who use virtual assistants say it has helped their business grow and become more successful.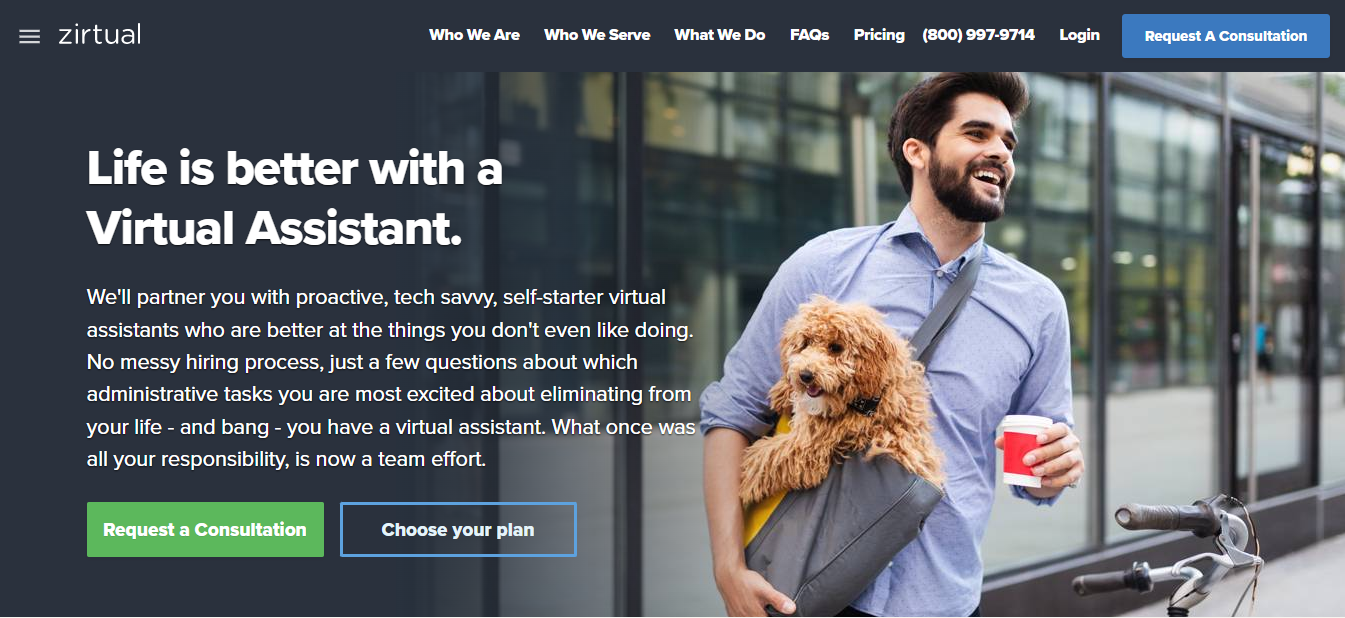 Zirtual is a premium virtual assistant service that is your partner in productivity. We offer personalized support to busy professionals, entrepreneurs, and small business owners. Our team of dedicated assistants is trained to handle a wide range of tasks and streamline your workflow.
With Zirtual, you'll be able to focus on the tasks that matter most to you, whether it's growing your business, spending more time with family, or pursuing your passions. Our virtual assistants will take care of the rest, allowing you to achieve a better work-life balance.
10 Key Stats On Motivations For Freelancing & Satisfaction With Freelance Work
Here are some key stats and facts about why people opt for freelance careers and what makes it so lucrative for them.
10. Better Work-Life Balance As The Top Choice For 74% Of Freelancers
According to a survey, 74% of freelancers say they became freelancers for a better work-life balance.
11. Flexible Working Cited As The Top Benefit By 82% Of Freelancers
82% of freelancers say that the ability to work when and where they want is the most significant benefit of freelancing.
12. Freelancers Earn 45% More Than Traditional Employees On Average
Freelancers earn, on average, 45% more than their traditional employee counterparts.
13. 77% Of Freelancers Enjoy More Creative Freedom Than Traditional Employees
According to a survey, 77% of freelancers have reported having more creative freedom as a freelancer than they would in a traditional job.
14. 70% Of Freelancers Feel Empowered By Autonomy
70% of freelancers feel more empowered working as a freelancer than they would in a traditional job.
15. 67% Of Freelancers Get To Work On A More Diverse Range Of Projects
67% of the freelance workforce say they get to work on a more diverse range of projects than they would in a traditional job.
16. 53% Of Freelancers Feel More Job Security As A Freelancer
According to reports, 53% of freelancers feel more job security as independent contractors than they would in a traditional job.
17. 63% Of Freelancers Report More Opportunities For Career Growth
63% of freelancers say they have more opportunities for career growth as a freelancer than they would in a traditional job.
18. 77% Of Freelancers Are Happier Working For Themselves
77% of freelancers report being happier working for themselves than they would in a traditional job.
19. 84% Of Freelancers Report Reduced Stress Levels Through Freelancing
As reported, 84% of freelancers say that freelancing has reduced their stress levels.
10 Important Statistics & Facts On The Demographics Of Freelancing Workforce
Now let's take a look at the stats of freelancer demographics.
20. The Freelancer Industry Is Dominated By Males
According to the survey, 37% of freelancers identify as female, while 63% identify as male.
21. Millennials Are The Largest Generation Of Freelancers
Another survey found that 46% of freelancers are millennials, followed by 43% Gen Xers and 10% baby boomers.
22. Freelancers Are More Diverse Than The Traditional Workforce
According to a survey, 35% of freelancers identify as non-white, compared to only 25% of the traditional workforce.
23. Most Freelancers Are Located In Urban Areas
63% of freelancers live in urban areas while 28% live in suburban areas and 9% live in rural areas.
24. Freelancers Have Higher Levels Of Education
A survey found that 65% of freelancers have a bachelor's degree or higher, compared to only 43% of the traditional workforce.
25. Freelancers Are More Likely To Be Single
57% of freelancers are single compared to 42% of the traditional workforce.
26. Freelancers Are More Likely To Be Parents
Another survey found that 41% of freelancers are parents, compared to 33% of the traditional workforce.
27. The Highest Number Of Freelancers Are In The US
According to a 2023 report, the US has the highest number of freelancers with 73.3 million people working as independent workers.
28. Freelancers Work in a Wide Range of Industries
The top industries for freelancers are: professional services at 30%, creative services at 26%, and technical services at 21%.
5 Staggering Stats About Most Popular Freelancing Platforms
Here are 5 key statistics and facts on the most popular freelance platforms:
29. Upwork Dominates The Market With Over 18 Million Registered Freelancers
Upwork is the largest freelance platform, with over 18 million freelancers worldwide. It offers a range of job categories, from web development and design to customer service and marketing.
30. Freelancers On Fiverr Have Earned Over $2 Billion
Fiverr is a popular platform that offers a range of services starting at $5. Freelancers on Fiverr have earned over $2 billion to date.
31. 99designs Has Paid Out Over $310 Million To Freelancers
99designs is a platform that connects businesses with freelance designers. It has paid out over $310 million to freelancers since its inception in 2008.
32. Revenue For Upwrok Has Increased By 23%
Upwork's revenue for 2022 was $618 million which was up by 23% from 2021.
33. Upwork Has The Largest Freelance Market Share At 9%
Upwork holds the largest market share in the freelance industry, accounting for 9% of the market. Toptal follows closely behind with an 8% market share, while Fiverr holds 5% of the market.
10 Must-Know Facts & Figures About Salaries & Wages Of Freelancers
Let's take a look at some important statistics about the payout structure for freelancers:
34. The Gig Economy Is Booming: Freelancers Earn More Than Full-Time Employees
Freelancers are earning an average hourly wage of $28 an hour which is higher than the $24.57 earned by full-time employees.
35. A Gender Pay Gap In Freelancing Too: Men Earn More Than Women
Male freelancers make 48% more than their female counterparts.
36. Experience Pays Off: Veteran Freelancers Earn Almost Double Than Novices
Freelancers with over 10 years of experience earn an average hourly rate of $50 while those with less than 1 year of experience earn an average of $26 per hour.
37. Location Matters: Freelancers In Big Cities Earn More Than Those In Rural Areas
Freelancers living in urban areas earn an average of $31 per hour while those in rural areas earn an average of $23 per hour.
38. Freelancers Prefer Project-Based Pay: Only 13% of Freelancers Charge Hourly Rates
56% of freelancers charge project-based fees while only 13% charge hourly rates.
39. Niche Freelancers Earn More
Freelancers with specialized skills, such as web development or marketing, earn an average hourly rate of $30 or more.
40. Age Is Just A Number: Older Freelancers Earn More Than Younger Ones
The average freelancer over 50 can earn an hourly rate of $31 while those under 30 earn an average of $23 per hour.
41. Freelancers In Creative Fields Earn More Than In Administrative Roles
Freelancers working in creative fields, such as graphic design or writing, earn an average hourly rate of $35, while those in administrative roles, such as virtual assistants, earn an average of $13 per hour.
42. Education Pays Off For Freelancers Too: Those With Higher Degrees Earn More
Freelancers with advanced degrees, such as a Master's or Ph.D., earn an average hourly rate of $40 or more while those with only a high school diploma earn an average of $20 per hour.
43. Size Matters: Freelancers Who Work With Large Companies Earn More
Freelancers who work with large companies (over 1,000 employees) earn an average of $34 per hour while those who work with small companies (under 10 employees) earn an average of $22 per hour.
9 Stats About The Challenges Freelancers Face
Here are 9 stats related to the challenges and difficulties faced by freelancers:
44. 68% Of Freelancers Say That Income Instability Is A Significant Challenge
68% of freelancers have reported that the unpredictable nature of freelance work can make it difficult to maintain a consistent income stream.
45. Finding Work Is A Top Challenge For 62% Of Freelancers
62% of freelancers say that they struggle to find new clients and projects, particularly during slow business periods.
46. Many Freelancers Say That Competition Is High
As more people enter the freelance industry, competition for clients and projects can be fierce and 32% of the freelancers have mentioned it is a major threat to them.
47. Negotiating Rates Is Challenging
25% of freelancers said that they struggle with setting and negotiating rates for their services. This can be particularly challenging for those just starting out.
48. Lack Of Benefits Is A Challenge
21% of freelancers say that a lack of benefits such as health insurance or retirement savings is a significant challenge and they are responsible for their own benefits and retirement savings.
49. 19% Of Freelancers Say That They Face Isolation And Loneliness
As reported by 19% of freelancers, their work has led to feelings of isolation and loneliness.
50. Managing Finances Can Be Difficult
18% of freelancers say that managing finances is a significant challenge, especially invoicing, tracking expenses, and paying taxes.
51. Marketing & Self-Promotion Issues
According to 13% of freelancers, it is difficult to market themselves effectively in order to attract new clients and win projects.
52. Unpredictable Workloads Are Challenging
11% of freelancers say that unpredictable workloads can make it difficult to plan and budget for the future.
6 Astonishing Statistics & Facts About Freelancers
Let's take a look at 6 facts and figures about the future outlook of the global freelance platform market:
53. The Rise Of The Freelancer
According to a study by FinanceOnline, the number of freelancers in the US is expected to reach 90.1 million by 2028.
54. Globalization & Freelancers
The global freelancing industry is projected to grow to $455.2 billion by 2023.
55. The Future Of Work
In a survey conducted by Statista, it was found that 51% of the US workforce will be made up of freelancers by 2027.
56. Increased Demand For Independent Talent
58% of US businesses plan to increase their use of independent workers over the next three years and planning for hiring freelancers for the job.
57. The Role Of Freelancers In Innovation
A study found that freelancers play a key role in driving innovation, with 72% of companies reporting that freelancers helped them enter new markets or launch new products.
58. A Positive Outlook For Freelancers
A survey by Upwork found that 77% of freelancers feel optimistic about the future of their careers, indicating a positive outlook for the freelance industry as a whole.
Some General Freelance Statistics, Facts & Trends
Let's take a look at some other major freelance facts and figures:
59. Technology Is The Most In-Demand Freelance Skill, With 61% Of Buyers Looking For It
According to a survey by Upwork, technology is the most sought-after skill on freelance platforms. Freelancers offering skilled services such as software development, web development, and data science are in high demand.
60. Tech Accounted For 45% Of All Freelance Jobs
The technology sector created 45% of all freelance jobs, with web and mobile development being the most sought-after skills.
61. Creative Sector Is The Second Most Popular With 21% Of Freelance Jobs
The creative sector, which includes graphic design, writing, and photography, is the second most popular industry for freelancers and accounts for 21% of all freelance jobs.
62. Freelancers Have Contributed $1.3 Trillion To The US Economy
Freelancers in the US earned an estimated $1.3 trillion in 2022 which is approximately $100 million more than the last year.
63. Freelance In Emerging Markets To Grow By 12%
According to a report, the number of freelancers in emerging markets is expected to grow by 12% per year, with countries such as India, the Philippines, and Pakistan leading the way.
64. 208% Rise In The Philippine Freelance Market Revenue
It was astonishing to see how many freelancers in the Philippines benefited from freelancing. In terms of year-over-year revenue growth, the Philippines saw the highest increase at 208% among freelancers, followed by India at 160% and Japan at 87%.
65. Freelance Project Duration
The average length of a freelance project is 3 months, with 25% of projects lasting less than a month and 17% lasting more than 6 months.
66. Solo Vs. Collaborative Work
61% of freelancers prefer to work alone, while 39% prefer collaborative work, according to a survey by Upwork.
67. 57% Of Businesses In The Us Have Hired A Freelancer
A report by Upwork and Freelancers Union found that 57% of businesses in the US have hired a freelancer in the past year.
68. Technology Is Making It Easier For 64% Of Freelancers To Find Work
According to a report, 64% of freelancers say that technology has made it easier to find freelance work.
69. 59% Of Freelancers Started Freelancing By Choice
As reported, 59% of freelancers say they started freelancing by choice while 41% say they did so out of necessity.
70. Number Of Global Freelancers By Age
| | |
| --- | --- |
| Age | Freelance Workforce |
| 18-24 | 16% |
| 25-34 | 48% |
| 35-44 | 23% |
| 45-54 | 9% |
| 55+ | 5% |
71. 84% Of Hiring Managers Opt For Freelancers
According to a recent survey, 84% of hiring managers in the Asia Pacific have turned to freelancers to outsource work.
72. 81% Of European Freelancers Became Independent Contractors To Manage Their Time Freely
81% of European freelancers opt for independence to actively manage their own schedules.
73. 1.57 Billion People Freelance
Almost 47% of the global workforce or approximately 1.57 billion people are freelancers.
74. 56% Of Freelancers Have Skills In 3 Or More Areas
According to a report, 56% of freelancers have skills in 3 or more areas which help them to stay competitive and appeal to a broader range of clients.
75. Freelancers Work Over 40 Hours A Week
According to a survey, over 57% acknowledged that they work more than 40 hours per week.
Conclusion
As we wrap up our journey through the world of freelance statistics and facts, we can't help but reflect on just how important it is to keep up with the latest trends and data. Freelancing is a rapidly-evolving industry and those who don't keep up with the changes risk falling behind the competition.
But let's not forget about the most important takeaway from all of this – virtual assistants are the backbone of the freelance world. They are the ones who keep businesses running smoothly, juggling tasks like pros, and making the clients' lives easier. And if you're looking for the best virtual assistants out there, look no further than Zirtual.
As the leading platform for hiring top-notch virtual assistants, we understand the importance of staying on top of the latest trends and technologies. That's why our virtual assistants are always up-to-date on the latest skills and tools, ensuring that they can provide our clients with the best possible service.
Book a consultation with us today and experience the difference that a top-notch virtual assistant can make for your business.
Sources