If you are already juggling multiple responsibilities, it's impossible to be everywhere. So why miss out on new challenges and exciting opportunities when these are the clinchers that need your maximum focus as a small business owner? What if we told you that you don't have to? Hiring a virtual assistant for a small business is just what you need right now.
Small businesses may find it difficult to hire an assistant because of space and budget limitations. Finding the one with the right experience and skills is another issue since most virtual assistants lack them. Even if you know what you're looking for, there is no guarantee that you'll find someone who is a good fit.
A sure-shot way of successfully finding virtual assistants for your business' growth is to look for virtual assistant providers. These sites help small businesses hire a virtual assistant without having to go through the turmoil of a long hiring process and spending too much.
To help you find the right platform, we have compiled a list of the top 17 sites to hire virtual assistants for small businesses. By the end, you'll have a clearer picture of what these sites offer and how they fit your unique small-scale needs.
17 Best Sites To Find & Hire Virtual Assistants For Small Business
Here our are top three finalists for sites to hire virtual assistants for small businesses:
Zirtual – Best overall for its unmatched services

VA Staffer – Best for diverse experience

Time etc – Critically acclaimed
Let's get the detailed review rolling. Here are 17 sites that made it to our list:
1. Zirtual – Top Pick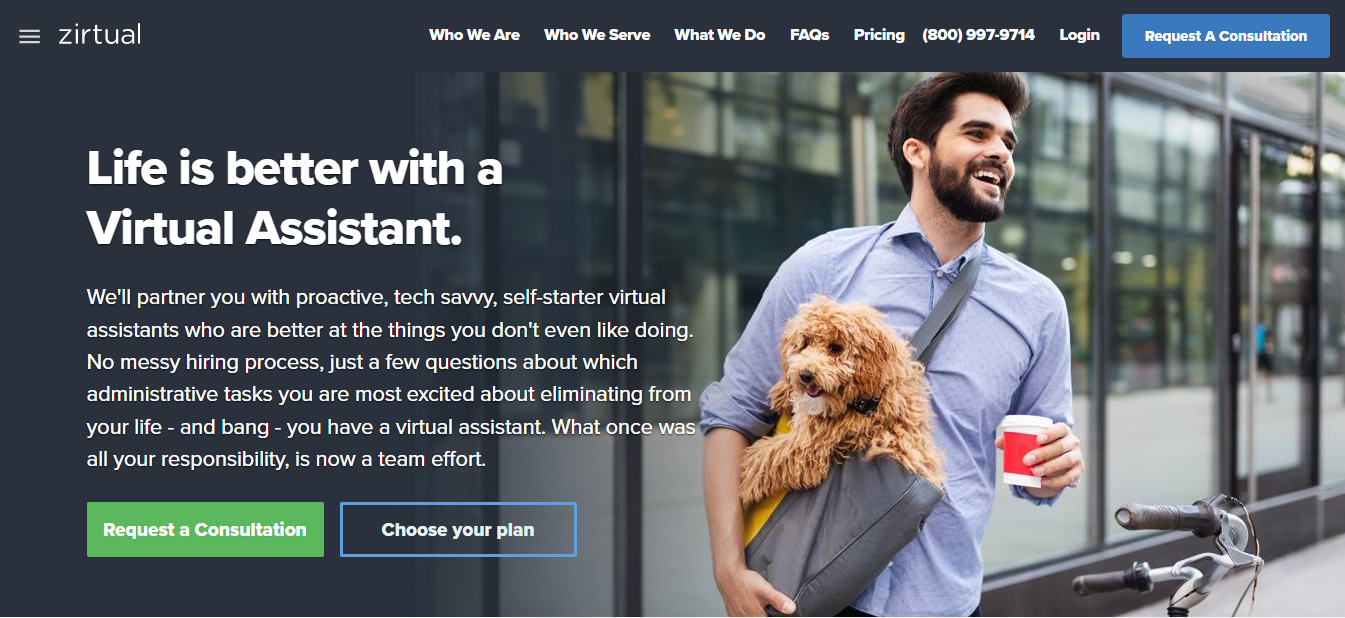 Zirtual is a US-based outsourcing company for VAs and stays unbeatable by taking the first spot on our list. And why not? Our virtual assistants have unmatched skills in their field. Not only that, they hold college degrees and are trained by our management team to bring out the best where ever they work.
At Zirtual, we resonate with the needs of small businesses and understand that their budget is not enormous. Yet, they still need help dealing with the smallest of personal and professional tasks since the business is growing every day.
Based on this, Zirtual provides trained virtual assistants that have been meticulously vetted and hand-picked. We only work with VAs who have experience and skills in a variety of industries, and who are able to work independently and efficiently. If for some reason they don't mesh well, you can reach out to us and we'll provide you with another expert virtual assistant from our team.
We take the time to get to know your business and match you with a VA that is the perfect fit for your needs. This ensures that your VA will be able to hit the ground running and make an immediate impact on your business.
We have packages that are just what the small businesses or solopreneurs can afford in the beginning. Our plans come with no strings attached. When you hire from us, you have no contractual obligations.
From online research to data entry, from social media management to website maintenance, we have expert support for every task. Business owners have a 100% success rate with our skilled assistants.
2. VA Staffer – Diverse Assistance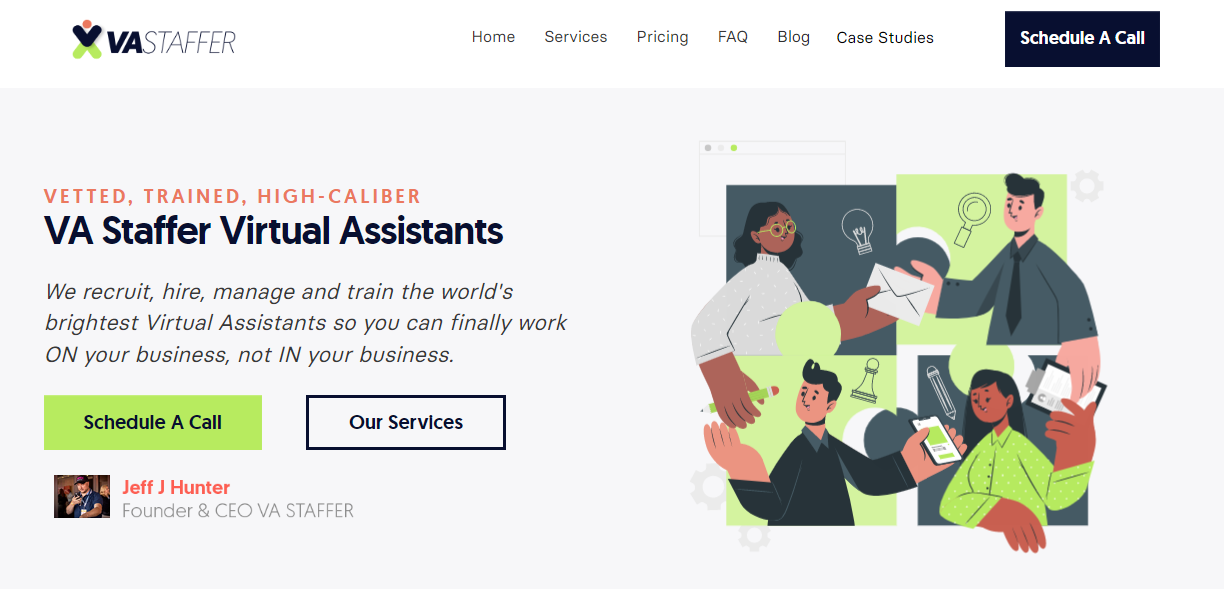 If you are a small business owner who is looking for accomplished and trained virtual assistance, VA Staffer is another site to keep on your watch list. The best thing about this Philippines-based virtual assistant provider is that it offers hourly virtual assistant tasks which can be a great initiative for small business owners with budget constraints.
All virtual assistants on the site go through a rigorous screening process to ensure they have the skills and experience needed to provide high-quality services. You'll find virtual assistants with a variety of skills and expertise which means that no matter what your specific needs are, you'll be able to find a virtual assistant who can help you achieve your goals.
VA Staffer also offers a dedicated project coordinator along with your hired VA to ensure quality and timely deliveries. The packages are also super affordable. They have a set-up fee but only for leveraging tools for better efficiency.
3. Time etc – Award Winning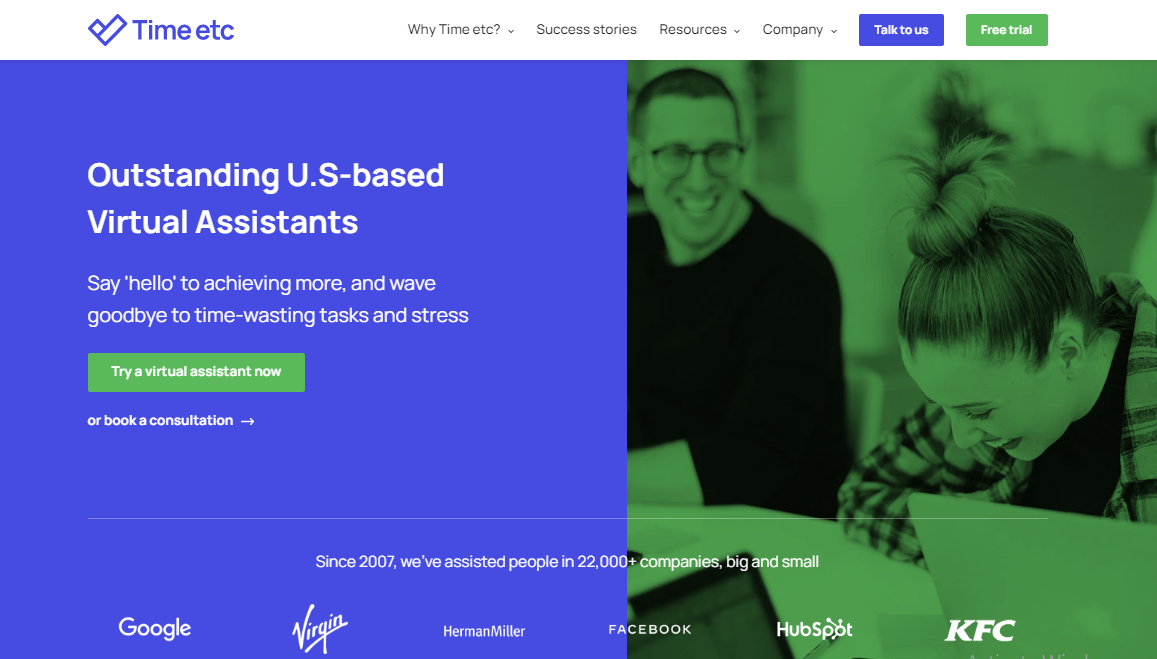 Another of our all-time favorites, Time etc is a critically acclaimed company that provide efficient virtual assistants for small business. Even though they have worked with some of the biggest names like Google, Virgin, and Facebook, that does not make them any less effective in providing administrative support to small businesses.
Their screening process and constant training guarantee that any virtual assistant you hire through the site will be professional, reliable, and competent. The assistants are not only experts but super friendly. They make sure they move on the same wavelength as yours when providing assistants to your business. They have reliable customer support since the company is US based.
The pricing is affordable with a cushion to try out their service for free for the first task. So when it comes to hiring a virtual assistant for your small business, we would suggest not thinking twice.
4. WoodBows – Best Bilingual Support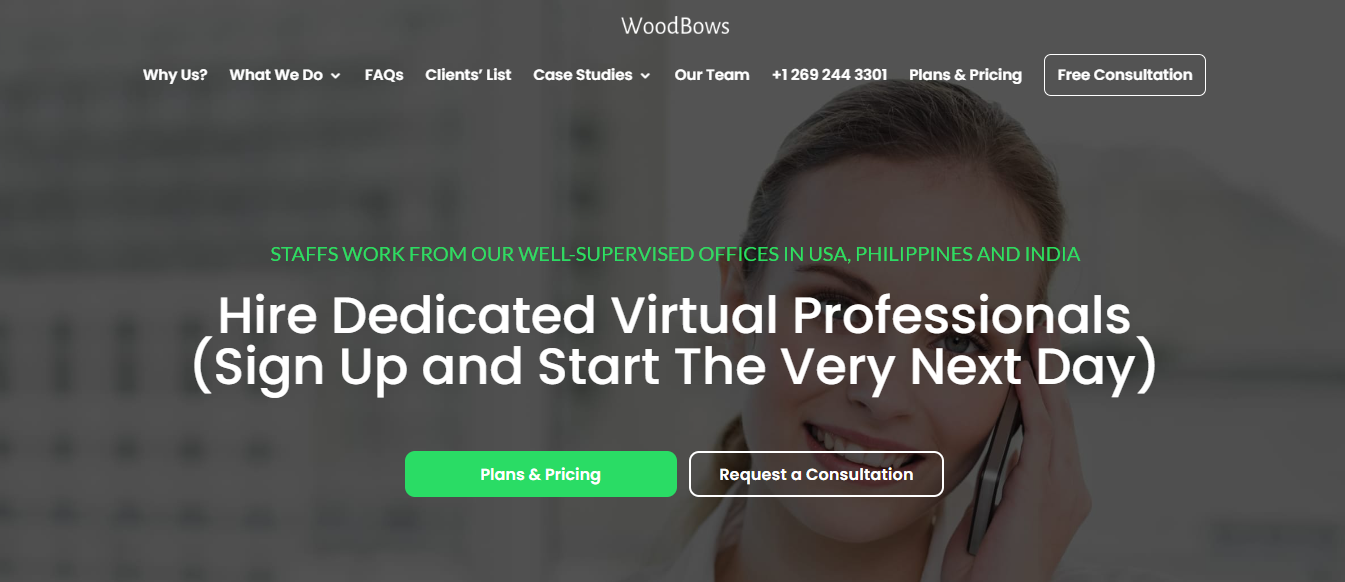 WoodBows is a sought-after virtual assistant service provider with head offices in India and the Philippines. It offers best-in-class bilingual support along with talent from across the globe. They offer a wide range of expertise in real estate, social media marketing, and graphic and web design.
The company only hires VAs that have a decade of experience in relevant industries. So whether you need help with scheduling appointments, managing your finances, or even handling customer service, a WoodBows virtual assistant can do it all. Their assistants are supported by supervisors so that you can completely relax. With WoodBows at work, your goals are in safe hands.
For WoodBows, having virtual assistants at different timezone does not matter as they provide their clients with complete flexibility in choosing their work hours. They also have 24/7 support via phone call or live chat which means you don't have to worry about your virtual assistant being unavailable during key business hours.
5. Virtual Staff Finder – Most Experienced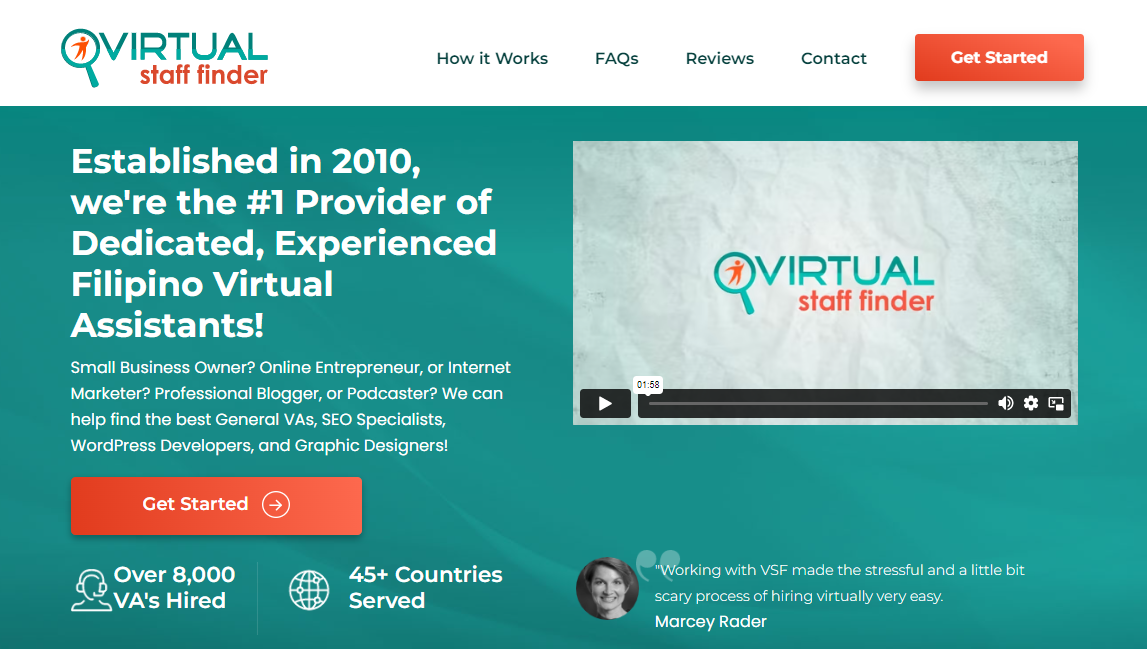 Virtual Staff Finder is a Philipines-based virtual assistant outsourcing service that was established in 2010. Within this span, they have gained immense recognition for providing top virtual assistant services to small businesses and entrepreneurs.
Having clientele in more the 45 countries, their work hours are flexible to match yours. One of the best things about WoodBows virtual assistants is that they are highly skilled and experienced. They are not just "generalists" – they are experts in their field, which means they can help you with whatever you need, in a quick and efficient manner.
To cater to small businesses in every possible way, they offer part-time assistance along with long-term positions. The payment is between you and the VA but yes, there is a sign-up fee that goes to the company.
6. Upwork – Ideal For Hiring Freelance VAs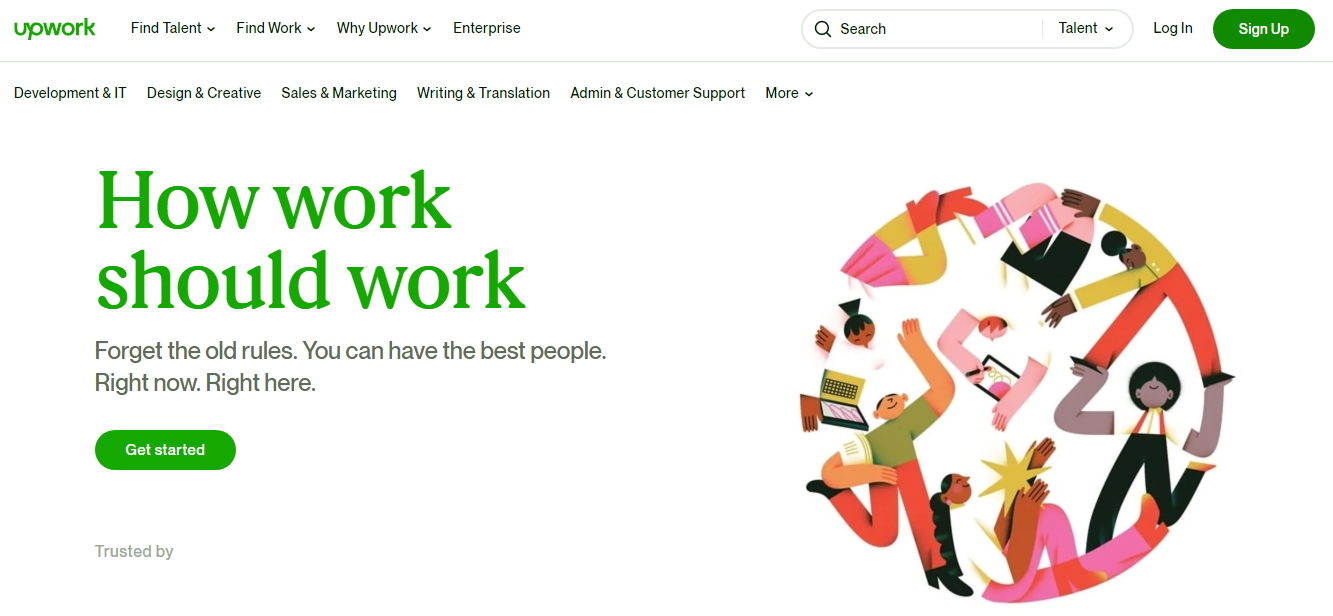 Upwork is all the rage when it comes to hiring freelance virtual assistants for small businesses. Upwork gained immense popularity because of its structure and easygoing model. The price and the time of delivery are set before going in for the deal which ensures reliability.
The platform's search and filter options allow you to narrow down your options based on factors such as skills, experience, and hourly rate. This makes it easy to find the perfect fit for your business.
There is no upfront fee and the virtual assistants' pay depends on the experience and the task they are hired for. Like most virtual assistant services, you can also hire VAs at an hourly rate, and to track their productivity, Upwork provides you with an advanced built-in time-tracking tool.
7. VaVa Virtual Assistants – Best For Social Media Management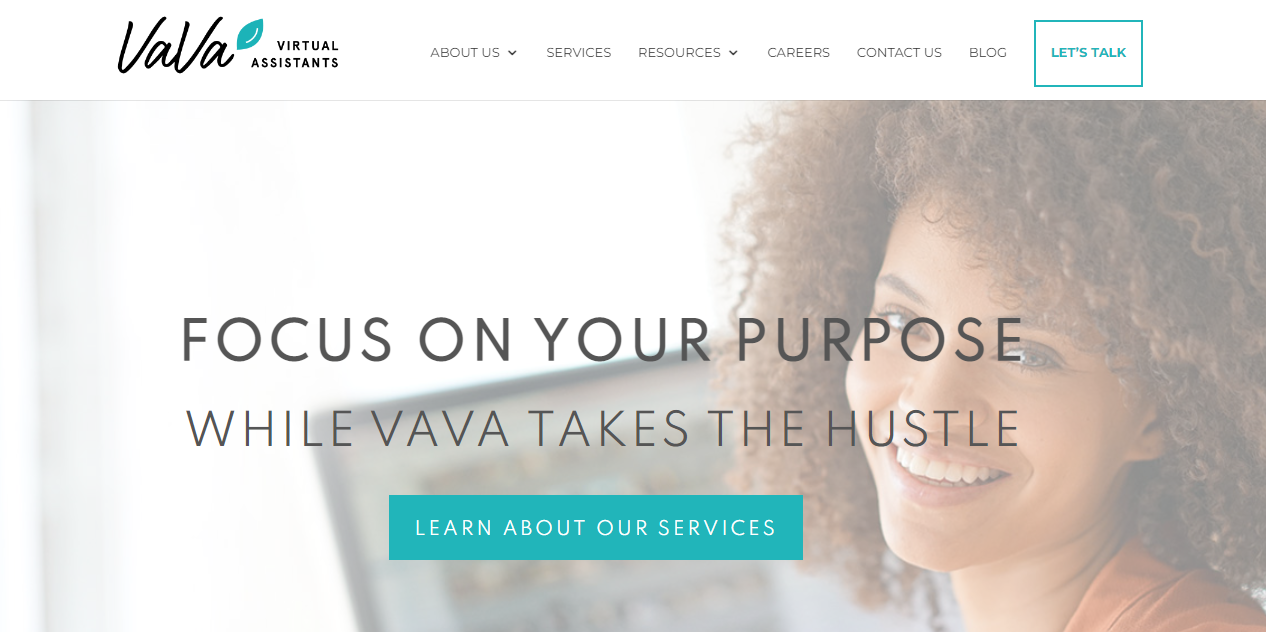 Looking to jump-start your business? VaVa Virtual Assistants is a company that aims to help small businesses develop by providing them with expert virtual assistants. One of the founders of this company is a part of the Forbes Business Council.
Focused, devoted, and easy to work with is how we would describe VaVa Virtual Assistants executive VAs to be. Their virtual assistants are trained to ensure consistency and continuity in your business operation. The cherry on top is that the assistant and support is US based.
Besides the dedicated assistant you hire, you get to have the back-end support of the entire VaVa Virtual Assistants team. Their area of expertise is social media marketing and management, web designing, and daily administrative tasks.
8. Ask Sunday – Scaleability & Flexibility At Its Best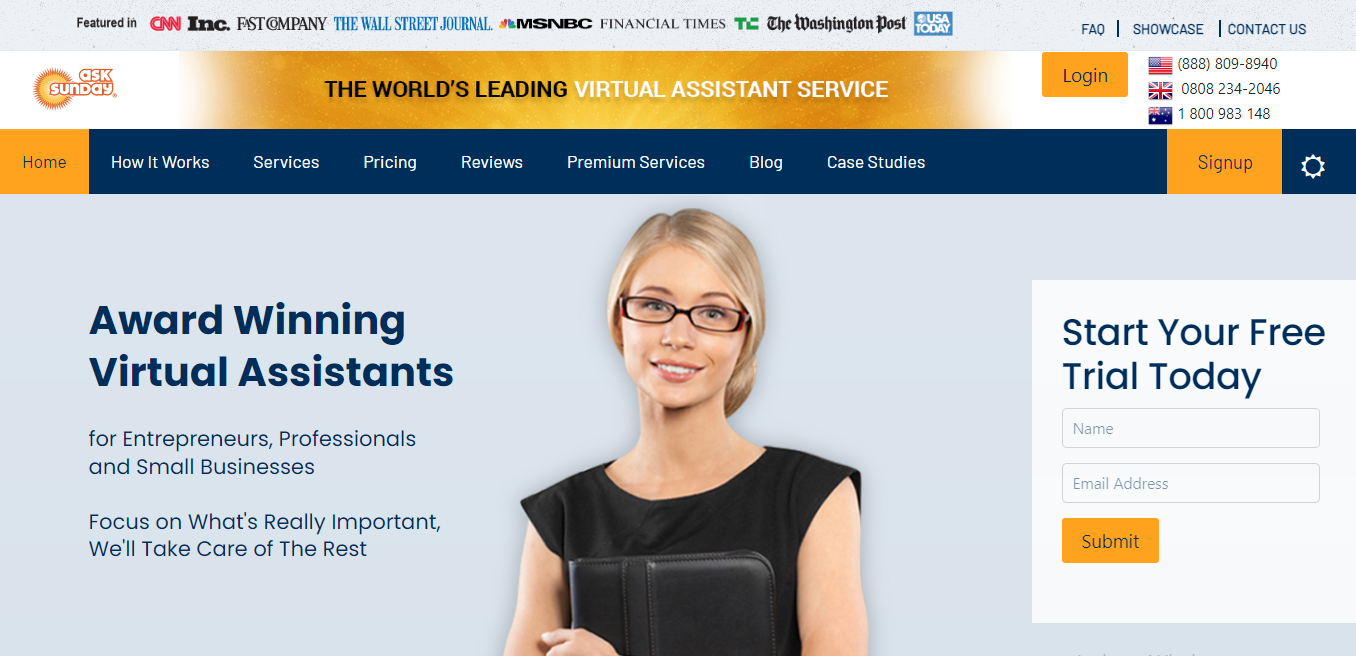 Ask Sunday has been featured on CNN, The Washington Post, and many other recognized platforms for their leading virtual assistant service, particularly to small businesses and startups. The company has also won several awards for its brilliant service.
Ask Sunday is a favorite amongst top-rated startups because of its services in social media marketing, graphic designing, and website development. You will have a dedicated virtual assistant who will work on tasks just how you like them. Ask Sunday offers a backup VA in case the first one is unavailable so that nothing can stop your tasks from being completed.
The company offers a free trial so that small business owners can experience proficiency firsthand. The pricing packages are super economical which is supported by the option of rolling over unused hours to the next month.
9. Outsourcing Angel – Highly Supervised Assistance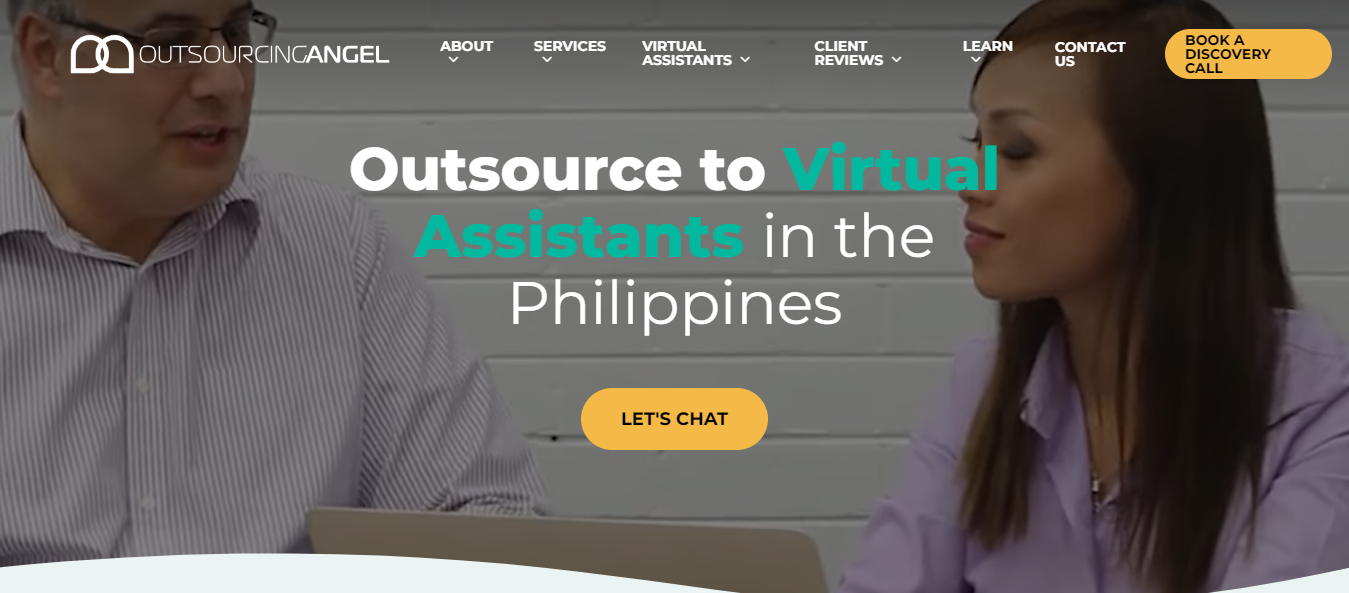 Outsourcing Angel is another top virtual assistant company based in Australia with Filipino VAs. Their business model is based on providing vetted help to businesses for various management tasks like social media management, calendar management, inbox management, web design management and so much more.
Vigilance is top-notch at Outsourcing Angel. For every VA, there is a dedicated account manager to ensure that the work meets your standards. So technically you get to have an assistant and a supervisor for the price of one.
Outsourcing Angel facilitates you with the option of replacement. It comes free of cost during the first week of hiring. They also offer services to systemize and automate your business with tech tools. The pricing plans are perfectly suitable for small business owners with an option of part-time or full-time assistance.
10. Fancy Hands – Fastest & Most Affordable

Fancy Hands is a US-based virtual assistant site that offers remarkable work at even more special pricing. Whether you want to delegate occasional administrative tasks like answering phone calls or scheduling or you want full-time help, Fancy Hands has got you covered.
The highlight of this service provider is the pricing. It is so affordable yet there is no compromise on the efficiency of work. Not only that but the packages come with many perks like the option of rolling over unused hours to the next month. This is why Fancy Hands is a favorite amongst many small business owners.
Their work has been featured in the New York Times, Forbes, and Time Magazine. And yes, customer support is extremely vigilant and understands how valuable your time is. Fancy Hands also has an app that makes delegation of tasks untwisted.
11. Belay – Highly-Vetted Virtual Assistants
Even though Belay has big guns linked to its client portfolio, it does not mean they don't have anything for small businesses. Their virtual administrative assistants are as proficient in dealing with small business tasks as they are with big companies.
Belay offers US-based virtual assistants with high professionalism to serve you better. Their hiring system is tough and claims that the acceptance rate is lower than that of Harvards. So you can imagine the cream of virtual assistants they provide. They have the expertise for every niche that any small business requires.
Yes, at Belay good quality does come with a price tag. Unfortunately, the pricing is high for Belay VAs as compared to other competitor sites. The virtual assistant experience at Belay starts at $1380 per month.
12. Freelancer – Largest Freelancer Marketplace
Freelancer is another site to hire virtual assistants that fall in the league of Upwork. Freelancer has a huge client portfolio with name companies like Amazon, Facebook, NASA, Google, and Delloite hiring freelance assistants from them.
Do you have a small budget? No problemo, Freelancer offers resources for every budget, size, and skill. They offer time tracking so that you get your job done timely.
Like Upwork, it comes with no setup or consultation fee. All you have to do is follow the hiring process which starts with making your profile on the site. Follow it up by posting your job ad and going through potential candidates' applications. They also have a talented team of recruiters to help you make the best choice for your small business.
13. Prialto – Managed VA Services
Prialto offers managed support for small businesses at the best possible rates. Their target is to help you achieve the ROI that you deserve. That is why they have made the whole process the least complicated, especially the pricing plans.
Prialto is a trusted name in the circle of solopreneurs, small business owners, and even large-sized companies. They offer expert virtual assistants for admin tasks, inbox management, CRM management, and more.
With every virtual assistant comes an engagement manager whose role is to provide you with guidance every step of the way. It not only eases task delegation but also results in increased productivity and better resource management.
14. Fiverr – For Growing Businesses
If you are a small business owner and are new to the idea of hiring a virtual assistant, you can try your luck with Fiverr. Once you go on their website, you will understand why this freelance hiring platform has gained immense popularity.
Hiring for even the smallest of tasks at cost-effective rates is possible at Fiverr. The best about this mode of hiring virtual assistants is there are no strings attached; no sign-up or contractual fee. The response time is very fast once you reach out to a VA. You can also post your job ad with your desired requirements and also check the feedback provided by previous clients.
The only snag that we feel here is that there is no supervision and not much reliability as offered by vetted virtual assistant companies like Zirtual.
15. Virtual Employee – Best For IT Assistance
Virtual Employee is an India-based company that offers virtual assistant services with flexible work hours to suit your time zone. When you hire from Virtual Employee, you get to work with diverse and bilingual talent. The communication is hitch free as the assistants are fluent in the English language.
Their IT-related virtual assistance is one of a kind since they only hire highly experienced VAs with solid tech backgrounds. But their services are not limited to IT. From personal assistance to data entry experts and customer support management, Virtual Employee has it all.
The pricing plans are accommodating for small businesses and startups. You can hire part-time, full-time, and task-based virtual assistants. On top of all, the company offers one week of a free trial. And you can hire task-based virtual assistants which can be quite profitable for small business owners.
16. Elite Virtual Assistant – Dependable Staffing Solution
Coming from Clevland US, Elite Virtual Assistant is the largest and one-of-a-kind virtual assistant service in its location. But yes, they do offer their expert services throughout the US. Their expert virtual assistants can help you with legal, marketing, and personal tasks. Along with that, they specialize in providing the best admin work services.
In addition to their rigorous hiring process, Elite Virtual Assitant also provides ongoing training and development for their virtual assistants. They make sure their VAs are always up-to-date on the latest tools and technologies so they can provide the best possible service to our clients. Their virtual assistants are friendly, professional, and dedicated to providing an exceptional experience for our clients.
Elite Virtual Assistant offers flexible pricing plans suitable for every budget. You get to have the expertise of a VA, a dedicated account manager, and a support team for any plan you opt for.
17. 24/7 Virtual Assistant – For Custom Solutions
24/7 Virtual Assistant is a US-based website for providing cost-effective solutions to small businesses for the help they require. When hiring virtual assistants, their filter is based on how educated they are and the amount of time they have spent working in this industry. The VAs are highly trained and are always willing to go the extra mile to make sure their clients are happy and satisfied.
Another thing that sets 24/7 Virtual Assistant apart is their commitment to security and privacy. They use the latest security measures to protect your data and have strict policies in place to ensure that all information is handled in a confidential and professional manner.
When it comes to pricing, there are no long-term contracts and you pay as you go for the services you avail.
Conclusion
Hiring a virtual assistant can be a game-changer for small businesses, so don't hesitate to explore the options available and take the first step toward growing your business today. And what better way to discover this than virtual assistant outsourcing sites?
If you are a small business owner, we suggest looking for the right talent from the hub of virtual talent sites; Zirtual. Outstanding communication, assistants who know their work, super affordable costs, and the simplest hiring process–welcome to Zirtual.
At Zirtual, our team of cultured virtual assistants and supervisors knows what it takes for a small business to achieve goals and reach new heights. It is time to experience the journey with us to know the real deal. Just hit the Request A Consultation tab because once you start with us, there is no looking back.